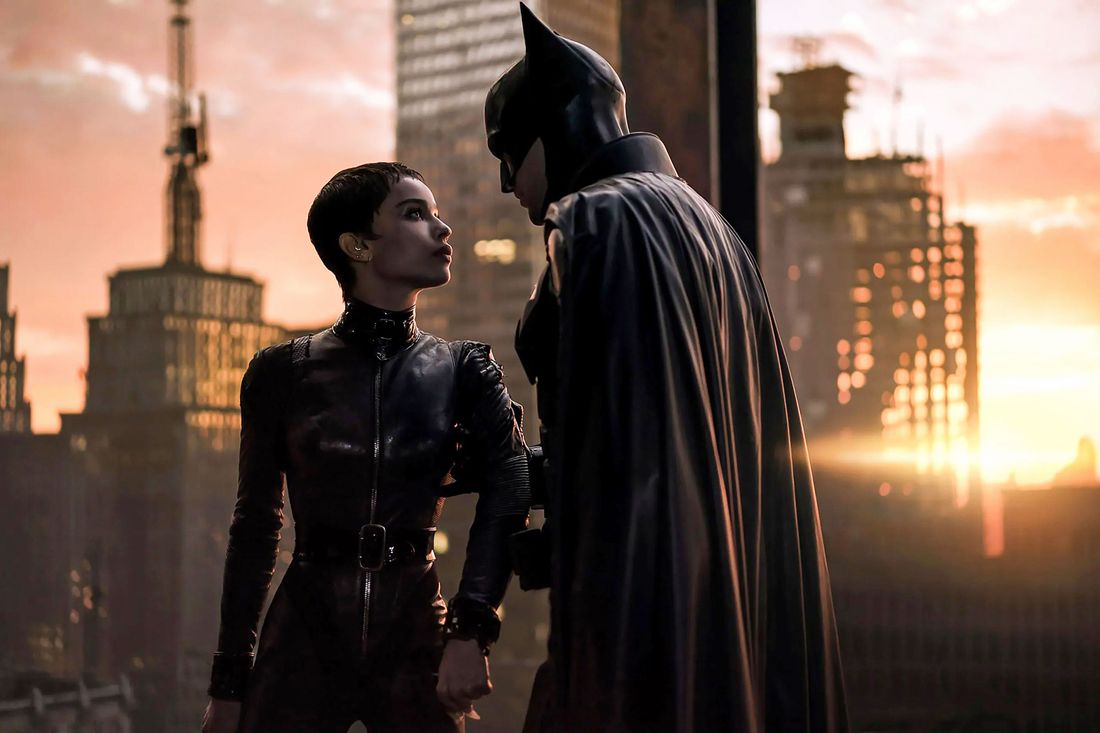 Zoë Kravitz and Robert Pattinson in
The Batman
.
Photo: Warner Bros.
There is one place where there's a clear winner: Comic books, where Batman is the undisputed king. He's appeared in more individual stories, series, and issues than any other superhero, and that dominance isn't just because he's been around longer than other characters: Last year, the Dark Knight appeared in roughly 100 more issues and more than twice as many series as any other DC or Marvel character. In March 2020, the last complete month the two companies used the same distributor, Comichron recorded its estimated shipments of Batman comics at more than 400,000 issues; Spider-Man was second, at around 250,000. (The gap was even larger when it came to graphic novels: 12,696 to 3,532.)
The massive number of Batman stories poses a challenge for anyone looking for a toehold into that world. A couple of years ago, I began systematically reading and cataloging everything written during what's referred to as Batman's "Modern Era" to figure out what's actually worth reading — and in what order. The Modern Era began in 1986, the year that, as anyone who's geeked about comics take pains to tell you, comics like Frank Miller's The Dark Knight Returns upended the entire industry by showing that superhero narratives could be both artistically relevant and profitable at the same time.
In The Dark Knight Returns, Miller, artist Klaus Janson, and colorist Lynn Varley transformed Bruce Wayne from a seemingly ageless and good-natured playboy into a lonesome and bitter 55-year-old man who is a long hard decade removed from his crime-fighting days. Wayne's return to Batman's cape and cowl seemed more driven by disgust than duty, more Dirty Harry than Don Diego de la Vega. The four-issue miniseries was dense and brutal, overtly political and ultraviolent. Its success showed what was possible when one of the world's best-known superheroes was removed from the constraints of his back catalog. Once Batman wasn't weighed down with continuity questions and the conventions of the category, it was possible to make his motivations more blurred, his personality more mature. As Time's Lev Grossman put it when he named The Dark Knight Returns one of the best graphic novels ever written, "A major superhero had never felt this real before" — although I think what he really meant was that a major superhero had never felt that real to adults before.
The Dark Knight Returns was published at a pivotal moment for DC: Its first two issues came out just as the company was wrapping up a massive crossover event called "Crisis on Infinite Earths," which blew up the company's comically complicated multiverse in favor of one all-encompassing reality. That type of across-the-board hard reboot had never been done in comics before, and it set the stage for "Year One," a four-issue Batman origin story by Miller that came out in 1987 and changed Batman forever. Miller kept the most basic elements of Bruce Wayne's past intact: His parents were still murdered coming out of a movie theater and his alter ego was still inspired when a bat flew through a window at Wayne Manor. But in Miller's hands, the character was grounded in the real world in a way that he'd never been in the past. Wayne's success was anything but preordained: In the first issue alone, he is stabbed by an underage sex worker, shot by the police, arrested, and at risk of bleeding out. The antagonists were corrupt cops, crooked politicians, and the mob, not purple-haired clowns or clay monsters.
That shift in tone — an expanded emotional palette, moral ambiguity, and an ever-present possibility of failure — would define the character for the next quarter-century. It was so successful that DC started creating new monthly Batman-focused titles, including ones with stories that appeared in no particular order but were from the first decade of Batman's career — years before the stories appearing in the main Batman titles at the time took place. By the time DC's next reboot occurred in 2011, the Modern Era included more than 1,000 issues of Batman-focused content and an additional 1,000-plus issues of Gotham-centric titles like Catwoman, Gotham Central, Nightwing, Robin — you get the idea. The era ended with Grant Morrison's awesomely vertiginous multiyear run on three separate Batman titles, a sprawling and joyous capstone overstuffed with references and allusions to the decades of Batman stories that had already been written. It was a brilliant concluding counterweight to the saga Miller had started, and it left diehard fans ecstatic … and newbies with absolutely no idea where to start.
DC does a singularly awful job at managing its legacy: The company is rarely explicit about what stories exist within normal continuity and what are non-canonical one-offs, and its collected editions are of wildly varying quality, often incomplete, and seem to go out of print as soon as they appear. Numerous Batman timelines are available online, but almost all of them are either too confusing to be helpful or they're obviously wrong, woefully incomplete, or too complete.
Some people learned new languages or wrote novels during COVID; I made spreadsheets. At press time, my Modern Era Batman timeline/chronology has mushroomed to more than 400 pages. It has become the data set I've used to put together a comprehensive, chronological list that doesn't include everything written — just the titles that are important touchstones or actually worth checking out.
The selections here focus on the first five years of the Modern Era, covering Batman's formative pre-Robin period. They take on an added relevance with the release of director Matt Reeves's film The Batman, starring Robert Pattinson, which takes place during Batman's second year — a time when the Caped Crusader was still unsure of himself and his place in Gotham City. While Reeves ​​has cited several of these titles as inspiration, The Batman draws from a deeper well of comic-book source material than any previous big-screen adaptation. I've included both the titles Reeves has explicitly referred to as well as a handful of other stories that are referenced in his movie; taken together, this loosely chronological selection provides an excellent entrée into the character and his world.
Note: This list includes multi-issue stories that were later packaged as trade paperbacks, stories that were told in single issues of preexisting titles, and "one-shots," or stand-alone publications that did not appear in an ongoing series. All of the titles below can be purchased in digital format on Amazon's comiXology and are also available on DC Universe Infinite, the company's subscription-based online portal; several are also available in book form.