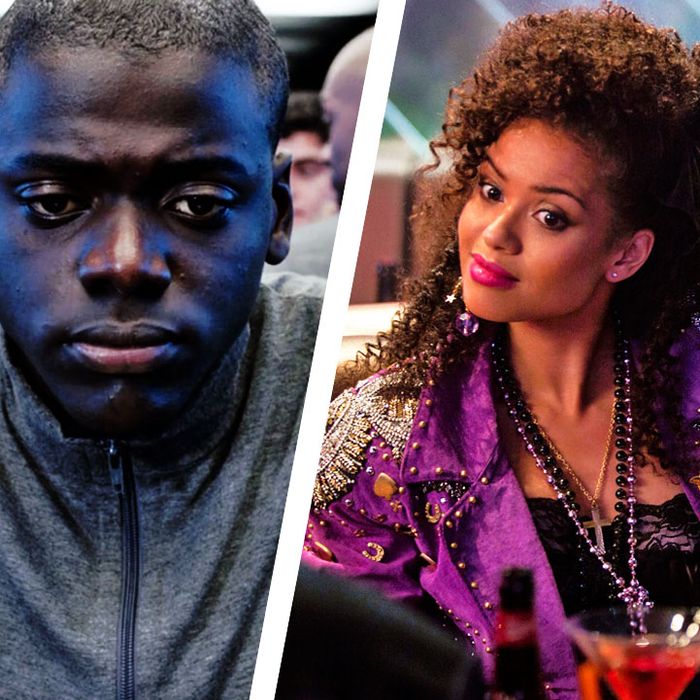 Photo: Vulture and Netflix
Charlie Brooker's Black Mirror has become a phenomenon largely due to its clever storytelling and insidious ability to tap into our fear of technology. Enhanced virtual reality, implanted consciousnesses, social networks run amok — these visions may exist in a distant future, but they exploit modern concerns and relatable human emotions.
For the emotion part, the performances on Black Mirror have been essential. Just as The Twilight Zone didn't get enough credit for some of the incredible acting featured on it, when people write about Black Mirror, they have a habit of focusing on plot instead of the talented people bringing it to life.
Over the course of five seasons and a few one-offs, there have been a couple dozen excellent acting displays, and it was remarkably difficult to pare this list down to just a dozen — honorable mentions go to Will Poulter, Kelly Macdonald, Mackenzie Davis, Cristin Milioti, Leonora Crichlow, Rafe Spall, Jessica Brown Findlay, Domhnall Gleeson, and, yes, Miley Cyrus. These missed the cut only because the following were just too powerful to be ignored. Here are the 12 best acting performances on Black Mirror.
12. Jon Hamm in "White Christmas"
The 2014 Christmas special between seasons two and three was the first time Brooker & Co. attempted a triptych style of storytelling, offering a trio of stories within one long episode. The interconnected tales played up the themes of the first six episodes by envisioning a world in which consciousnesses could be copied and people could be blocked not just online but in real life, but what really holds this episode together is the performance of Jon Hamm, arguably his best work outside of Mad Men (and maybe Baby Driver). Hamm gets to play so many registers in one episode, at first seemingly incarnating the suave, smooth-talking character we recognize from Mad Men, then showing his range as his voyeuristic riff on Cyrano de Bergerac falls apart. His final scene, where he realizes he's been blocked by everyone in the entire world, allows the actor a moment of silent horror that leads one to wish he would make an actual genre film.
11. Alex Lawther in "Shut Up and Dance"
The star of The End of the F**king World broke through in this season-three episode, one of the darkest of the entire run of Black Mirror. The final twist of Shut Up and Dance still feels a little cheap, but what makes Lawther's performance special is how much he's forced to convey without dialogue. Early in the episode, Lawther's withdrawn Kenny is forever changed when he's sent a video clip taken via his own webcam. As Kenny watches the clip of himself masturbating and realizes the many implications of what would happen if it were released, Lawther doesn't have any acting partners to respond to other than the judgmental screens of his laptop and phone. Most of his best beats in this episode are silent, as he captures a boy forced to do increasingly weird things by the people who know his darkest secret. "Shut Up and Dance" hinges on one of Brooker's most ridiculous plots, but we go on the journey with Kenny because of how much we believe in Lawther's performance.
10. Rory Kinnear in "The National Anthem"
Do you think people make pig jokes to Rory Kinnear in person? They probably do, as the actor is not quite famous enough to shed the image of Prime Minister Michael Callow, a role he embodied so completely that if you put an image of him online with no context, half the people would probably guess he was a former politician. Think about the degree of difficulty of this role. Brooker opened his series with perhaps the most ludicrous plot he would ever devise — the story of a politician forced to have sex with a pig after the kidnapping of a member of the royal family. Brooker is playing with celebrity, politics, and the image of the royals, but he never veers into pure satire, keeping the insanity of his story grounded in that of a man who is watching his political, personal, and even sexual lives fall apart. Most actors would look at that premise and pass with a scoffing laugh. But Kinnear jumped right in, and it's his emotional commitment to the character and concept that allows this episode to work at all.
9. Andrea Riseborough in "Crocodile"
Director John Hillcoat helmed this fourth-season story of a woman whose crimes catch up with her via a device that can access people's memories. Being able to witness someone else's POV and/or memories has been a recurring theme in Black Mirror, but this episode contains one of its darkest iterations. The incredibly talented Riseborough plays Mia, a woman who covers up a hit and run with her boyfriend, whom she later kills after he wants to confess. In a twist that Hitchcock would have liked, Mia witnesses an accident the same night she dispatches with her ex, and that leads an insurance investigator to her door. A lot of performances in Black Mirror, even some of the best ones, allow for broad emotions and behavior, but Riseborough's work here is some of the most subtle in the history of the show. It's like watching someone dig her own grave.
8. Andrew Scott in "Smithereens"
The most recent standout Black Mirror performance comes in the latest season's centerpiece and best episode, a vision not of the future but the tech-addicted present. Set in 2018, "Smithereens" is about a man so torn apart by feelings of guilt over the death of his fiancée that he kidnaps someone just so the powers that be can hear his confession. Like a lot of season five, the writing is a little thin (social media is bad!), but Scott holds it all together with a powerfully emotional portrayal. He's not allowed a lot of the twists and turns other Black Mirror protagonists must navigate, instead playing a role that wouldn't be out of place on a cop show. But he makes his character's anguish feel truthful as he realizes there's no way out of his nightmare. There are a lot of great performances that are elevated by the smart writing of their episodes (see "USS Callister" and "San Junipero"), but this is one of the few installments that works almost solely because of its acting, and that's a credit to Scott's talent.
7. Jesse Plemons in "USS Callister"
It's tempting to put the entire cast of this Emmy-winning episode here, but that feels like cheating. Still, much love to Cristin Milioti, Jimmi Simpson, Michaela Coel, and Billy Magnussen. If this was a list of best Black Mirror ensembles, they'd top it. For the purposes of this article, let's consider the always excellent Jesse Plemons as the de facto leader of this troupe, just as his character imagines himself on the USS Callister starship, speeding through space. Much has been written about the way this episode plays with genre and comments on toxic masculinity and fandom, but Plemons plays the text and not the theme. A lot of actors have a habit of trying to convey the writer's message through their performance, but Plemons knows that's not the right angle. You have to play character. Plemons finds the miserable self-entitlement in his and brilliantly balances the real Robert Daly with the monster living inside him, the one who finds freedom through technology.
6. Wyatt Russell in "Playtest"
Black Mirror's best performances are able to access a sense of reality within fantastical conceits. We won't buy Brooker's out-there premises if we don't believe the fear, anger, passion, etc. of the characters plunged into his nightmares. There may be no better example of this than "Playtest," an episode that simply comes apart at the seams if we don't find the abject terror of its protagonist believable. That's why Wyatt Russell's great work here earns a high spot on this list. As Cooper, a test subject for a new horror game designed by the legendary Shao Saito, Russell battles both the perceived physical demons in front of him and waves of mental and emotional ones related to the death of his father. It's a reminder that Russell can be a truly charismatic and engaging actor given the right material. Let's hope he gets more roles like this one.
5. Daniel Kaluuya in "Fifteen Million Merits"
Long before his Oscar nomination for Get Out and his supporting turn in the Marvel Cinematic Universe, Daniel Kaluuya was the unforgettable Bing in one of the most futuristic episodes of Black Mirror, way back in season one. In a very Orwellian vision, Kaluuya plays a man who lives in a world in which he is forced to ride an exercise bike every day and watch mind-numbing television for "merits," or credits. He meets a fellow worker bee named Abi (the also-excellent Jessica Brown Findlay) and finally finds something to work for. Kaluuya's performance is delicate and subtle — the kind of nuanced turn you appreciate more on repeat viewing, when you know the arc of the character. It's a slow burn to that brutal, emotional speech he's allowed at the end of the episode, one of Black Mirror's most unforgettable scenes.
4. Gugu Mbatha-Raw in "San Junipero"
This Emmy winner from 2016's third season is beloved for a reason. A lot of Brooker's episodes could be considered deeply cynical and even depressing, but there's beauty at the center of "San Junipero" in the relationship between Yorkie (the almost-as-good Mackenzie Davis) and Gugu Mbatha-Raw's Kelly. Long before the twist is revealed — that the relationship we're watching is merely a virtual-reality simulation of a beachside-resort love affair and not the real thing — Mbatha-Raw has carved out a genuinely three-dimensional character. That these two people who have fantastic chemistry aren't real is such a shock because of how much we come to like and believe in Kelly and Yorkie from their very first scene together. Mbatha-Raw remains the emotional center as the story gets more intensely philosophical about what it would be like to live in an afterlife without consequences.
3. Toby Kebbell in "The Entire History of You"
As much fun as Black Mirror has been, the series has never topped the ingenuity of its initial two seasons, and this first-year masterpiece is one of the reasons why. The concept is one of Brooker's most ingenious — people in the future have implants that allow them to record their POV — and his Hitchockian plotting is incredibly clever. But none of it works without Toby Kebbell's performance as a man whose world collapses around him and who gets to watch it fall again and again and again. Watch the beat in which he realizes that his suspicions about his wife's infidelity are well grounded. He sees the truth before we do, and you can see Kebbell's mind turning through regret, sadness, and anger before the narrative even reveals why. He takes a character who's not exactly likable and makes him into a heartbreaking protagonist, driven to carve out his own memories in a way that everyone who has loved and lost can at least partially understand.
2. Hayley Atwell in "Be Right Back"
Most people will remember her for her role in the Marvel Universe, but Hayley Atwell's best acting work to date is on what is arguably still the best episode of Black Mirror. She goes through pretty much every emotion ever in a relatively short episode as Martha, a woman who, dealing with the loss of her boyfriend Ash (Domhnall Gleeson), is presented with the chance to have him back — sort of. Atwell proves her range as she grieves her loss and then celebrates her reunion, only to find out that this Ash will never be the one she lost. Every choice she makes feels right, and she gets both broad emotional beats and incredibly subtle character-driven moments. It's a smart, nuanced performance that makes one hope she gets more dramatic work now that she's seemingly been freed from the MCU.
1. Bryce Dallas Howard in "Nosedive"
Speaking of range, it doesn't get broader than what Bryce Dallas Howard brings to the best performance so far in the history of Black Mirror. The great Joe Wright (Atonement) directs Howard to new heights in her turn as Lacie, a woman who lives in a future in which every interaction we have with one another can be rated. As so many people do in their online lives today, Lacie obsesses over being liked. When a comedy of errors makes Lacie's rating plummet, Howard's performance only grows deeper. At first, she's a ball of desperation, wanting to be as highly rated as she can be, but then anger starts to creep into Howard's portrayal, culminating in the most memorable final beat of the show to date. The best performances in Black Mirror history have helped created some truly iconic science-fiction characters (Daly in Callister, Kelly in Junipero, Bing in Merits), and Lacie deserves a spot among them. Thanks to Bryce Dallas Howard's unwavering commitment, Lacie is unforgettable.