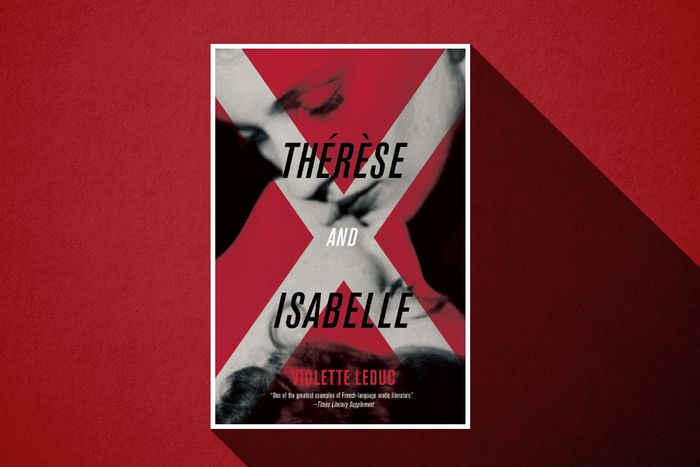 Photo-Illustration: Vulture
Early in Carmen Maria Machado's career, she decided to merge the two styles of writing she was pursuing: the literary and the erotic. Her first two books, Her Body and Other Parties and In the Dream House, are marked by her skillful blending of emotional incisiveness and erotic physicality. It was Machado's interest in works that demolish the assumed boundary between the literary and erotic texts that led her to Violette Leduc's infamous novella Thérèse and Isabelle.
Originally the opening section of Leduc's 1955 novel Ravages, Thérèse and Isabelle follows the two eponymous characters through their love affair at a boarding school. The novella-length arc was cut from Ravages after being deemed too controversial and did not appear in full until it was published as a novella half a century later.
One passage in particular, which you can read below, captures both the lust and the fraught power dynamics of Thérèse and Isabelle's relationship. In trying to satisfy Isabelle, Thérèse is at her mercy, following her directions in order to deliver pleasure. Confusion, anticipation, desire, and demands clash alongside one another until the two women reach a physically overpowering conclusion. Machado was drawn to the vivid sensuality — the soaking and the stigmata — of this scene, which on its surface might appear overwritten, but is only overwritten to those who have never known the sort of passion that overtakes Isabelle and Thérèse. Here's that section from Thérèse and Isabelle, rife with what Machado calls "the delicious physicality of sex," followed by her thoughts on what makes the scene so gripping.
"What if someone discovers us," I dreamed aloud.




"I can't wait any longer," whimpered Isabelle. Her hands were clutching at her face.




I fell to my knees before the medallion, I gazed rapt at the shining in her tangle. I ventured in like a smuggler, my face first. Isabelle gripped me between scissoring legs.




"I'm looking; I'm caught," I said.




We waited.




Sex was filling our minds. Isabelle was spit from head to toe. An incalculable number of hearts were beating in her belly, against my head.




"Yes, yes … slower. I said slower … higher. No … lower down. Almost … almost there … Yes … yes … That's almost it … Faster, faster, faster," she said.




My tongue was searching in the salty darkness, in the sticky darkness, over fragile flesh. The more I labored, the more mysterious became my efforts. I hesitated around the pearl.




"Don't stop. I tell you that's it."




I was losing it, regaining it.




"Yes, yes," moaned Isabelle. "You're there, you're there," she cried in ecstasy. "Go on. Please … there … yes, there … just there …"




Her anguish, her mastery, her order, her contradictions were confusing me.




"You don't want to guide me," I said, alone outside our universe of fantasy.




I spoke to her between the lips of her sex.




"I'm doing nothing else," she said. "You're not thinking about what you're doing."




"I'm thinking too much," I said.




Tears of my sweat are soaking her pubic hair.




"Teach me … teach me …"




"Lift your face, look."




Lying on the steps of the stage, Isabelle sought within herself, found it.




"Come closer, look, look. That's it. If you lose it, you'll find it again. Oh, oh … No. Not now. You! You!"




I looked through her fingers' angle at her gilded hair, I shivered with the shivering of the muscles in her hand. The finger was twisting. Soon I would spew out the delights of her orgasm.




Her neck tensed, her mind was elsewhere. Her eyes opened: Isabelle was staring at paradise.




"You. Not me," she said.




She withdrew from herself, clenched her fist.




"A minute past 12! They're in the refectory. Past 12 … I'm afraid I might be wrong."




"Yes, yes … Go on until tonight if we have to," she said.




I labored so hard that I tasted the flesh of fantasy. Too near her sex I thought that I wanted to give her what she desired. My mind was caught up in flesh, my abnegation growing. When I lacked saliva I would make it. I did not know if it was mediocre or indeed wonderful for her, but when the pearl slipped away I would find it again.




"It will be there, it will always be there," said Isabelle.




Nostalgia and bliss were mixing together.




"That's it," she said.




She fell silent, she kept watch over her sensations.




I received what she was receiving, I was Isabelle. My effort, my sweat, my rhythm were exciting me. The pearl wanted what I wanted. I was discovering the little virile sex that we have. A eunuch was gathering courage.




"I'm going to come my love. So good: I'm going to come. It's too good. Keep going. Don't stop, don't stop. Forever, forever, forever …"




I sat up; I wanted to see a prophesy on our bellies.




"Don't let me go, don't leave me here," cried Isabelle panicking.




"Tell me when, won't you," I said, my face in the furnace of her sex.




"Yes, but don't leave me."




"I persevered, nothing but a reflection of her.




"It's started. It's starting. It's rising. Through my legs, through my legs … Yes, my love, yes. Forever … go on … In my knees, in my knees …"




She was observing the sensation, she was seeking relief.




"It's rising, it's rising higher."




She fell silent. I was submerged and swept away with her. There were stigmata in my guts.
Sex has played a role in my work for a while, and remains so vital to my projects of bodies and fatness and queerness and sexuality — it all feels very entangled together. Which of course has created terrible problems. But it remains central to what I'm doing. Sometimes when I'm writing a story and it feels like a big billowing sheet, a sex scene is a nice giant rock I can throw into it.
Sex is weird, and it has all these stages and surprises. In a good sex scene, the writing will feel real and unreal, which is how sex feels — good sex at least. On one hand it's so bodily and so physical. Then on the other hand, there's this sense of ecstasy, or an increased emotional state. A good sex scene gets at both, the delicious physicality of sex. What I love about Thérèse and Isabelle is that it has this heightened, overwritten quality that is really intentional. And it's so hot because this is what it feels like to have a first really erotic experience.
In this scene, the characters are having sex, and the protagonist, Thérèse, goes down on Isabel, and I love that it goes on for a very long time as the two of them negotiate their desire. Isabelle telling Thérèse what to do, Thérèse trying to do it, and getting a little confused, as Isabelle gets close and close and close but she can't get there. The rest of the scene is really hot, with Isabelle trying to have an orgasm and giving instructions. Then there's a break where they're talking, this whole negotiation in the middle. This pattern reappears throughout the whole book. In between all the sex, there's so much passion in how they talk to each other, where they're saying, If I died, what would you do? and insisting You'll never die! It's beautifully overwritten in a way that is appropriate to the scene and their relationship.
Sex scenes need to be good at the sentence level as well. Sometimes they fail because there isn't a sentence-level engaging with the sensation of sex. There's a line in the passage I love about Isabelle "rotting my knees with her ecstasies," and later, after Isabelle comes, Thérèse says, "I was submerged and swept away with her. There were stigmata in my guts." That's why it works, the humanness, the perversion of it, which makes the scene feel so specific.
We think of writing as so cerebral and so lofty, but writing about fucking — similar to writing about eating — is a really important piece of literature. We are bodies before we are minds, and there's something delicious about getting to access that on that page. Good sex writing is so exciting to encounter because it's a reminder that there is a body in here. Something physical exists at the core of this novel, or this writer, and I find that really intriguing as a writer myself.
Photo: The Feminist Press