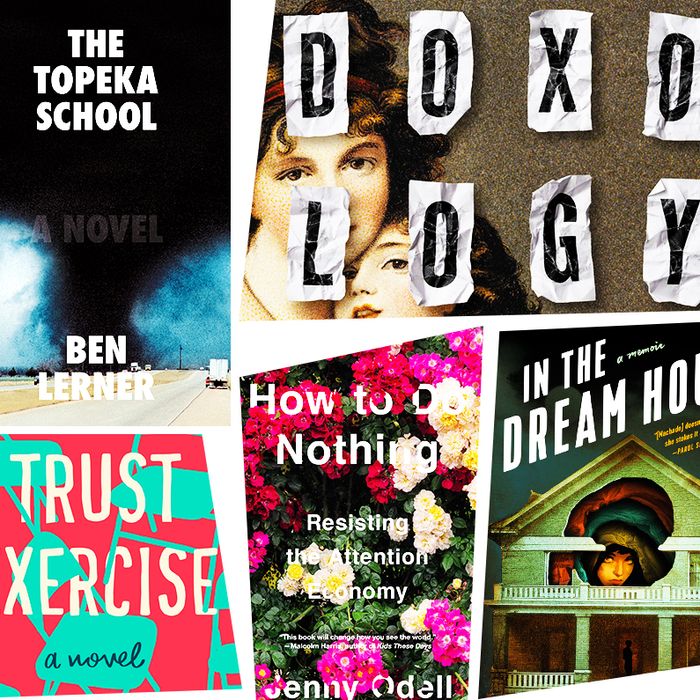 If you follow Vulture literary critic Molly Young's monthly newsletter, you know she reads a mind-boggling number of books each year. In 2019, these are the ones she loved the most.
10. Doxology by Nell Zink
It's acidic, it's absorbing, and it's chunky enough to provide a bulwark against unwanted conversations with people you're obligated to see during the holiday season.
9. Machines Like Me by Ian McEwan
The only time I think about cryonics is when my mind turns to the few dozen people (Iris Murdoch, Shakespeare, Goethe, etc.) whose brains I wish were still available so they could comment on modern moral dilemmas such as climate-change denial, privacy, animal rights, and AI. Luckily there is Ian McEwan, who is alive, operating at a normal temperature, and writing what I can only describe as literary moral thrillers at a satisfying clip.
8. How to Do Nothing by Jenny Odell
Ah, the book that broke 10,000 brains. Or maybe fixed them. You be the judge. Odell's polymathic joyride is the antivenin to a sea of dreadful self-improvement TED Talks and Medium manifestos touting the benefits of mindful attention. It's about art, it's about technology, it's about birdwatching, it's about garbage, it's about you.
7. Trust Exercise by Susan Choi
Trust Exercise is a teenage love story with a plot like sorcery, and it is riddled with bullets of social insight. This formula (wizardry plus insight bullets) is like the Traveling Wilburys or buttered popcorn: a sum even greater than its formidable parts. Halfway through there's a "gotcha" moment in the Gone Girl vein, but it is nimble enough that the twist feels momentous instead of head-spinning.
6. Vernon Subutex 1 by Virginie Despentes
If "Martin Amis, but make it French and female" gets your salivary glands a-lubricating, step right up.
5. Oval by Elvia Wilk
Oval is Don DeLillo's White Noise updated for 2019 minus the satire of academia plus a layer of millennial discontent. Anja is a scientist who lives in a "socio-environmental living experiment" in Berlin, which means a campus of ecohouses that are poorly ventilated and smell like human waste. She works for a sinister company in a dystopian future where climate change is a daily hassle and art galleries have been converted into venues for initial coin offerings. Swift plot, lotta underline-able sentences, what's not to love?
4. The Book of X by Sarah Rose Etter
There are very few good reasons to use the word oneiric in a sentence and here is one of them: It's one of the few English adjectives appropriate to Sarah Rose Etter's novel about a woman born with a stomach disfigurement who navigates the world (as we all do) with the trepidation and fury and occasional exultation that results from having a disappointing body.
3. Stay and Fight by Madeline ffitch
Having spent part of my childhood in a secluded xenophobic community, I have a soft spot for novels about secluded xenophobic communities. This one takes place in Appalachian Ohio. It's about three women who push a certain "Don't Tread on Me" philosophy to a punishing extreme by living off the grid in a DIY hut, eating groundhog stew, getting in trouble with multiple authorities, and focusing every trick of human resourcefulness onto a situation of wretched poverty.
2. In the Dream House by Carmen Maria Machado
If you told me a few months ago that the most page-turn-y book of 2019 would be a formally experimental memoir of domestic abuse I would have said, "Haha, nice. I'm also in the market for a bridge if you have one to sell." Joke's on me.
1. The Topeka School by Ben Lerner
I dunno if Ben Lerner was reading a lot of Faulkner when he wrote The Topeka School or if he naturally shares some of that writer's fixations (clan, memory, language) and modes (doom-filled, funny, allusive), but either way: damn. Channeling W.F. in a work that is wholly nonderivative and frighteningly contemporary is a feat I can't adequately evaluate, only admire. This is a book that simultaneously gives no fucks and all of the fucks.
*This article appears in the December 23, 2019, issue of New York Magazine. Subscribe Now!