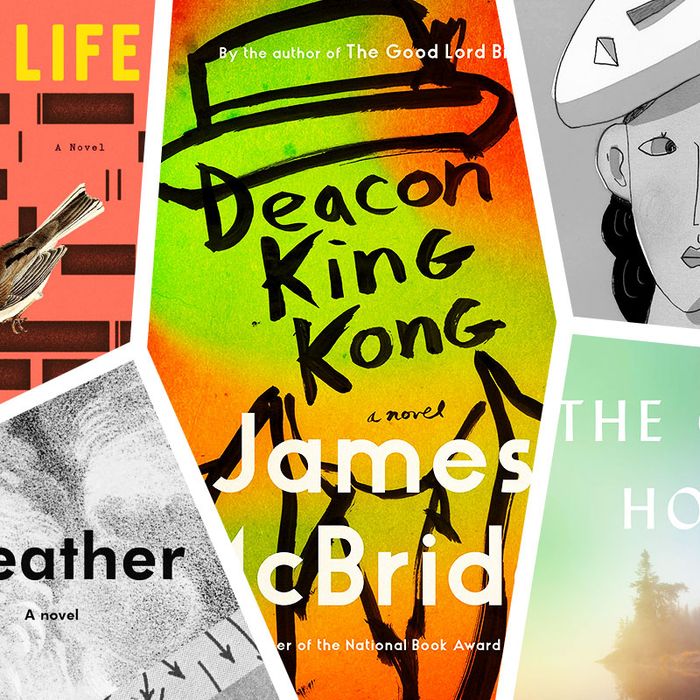 Photo: Courtesy of the publishers
Since the coronavirus descended on America, interruptions to the publishing world have been scattershot and hard to predict. Some novels, like Hilary Mantel's The Mirror and the Light, squeaked out just before supply chains went wonky and fears about disinterested audiences sent publishers scurrying. A gush of other big books were pushed to the fall (Elena Ferrante's Lying Life of Adults, Otessa Moshfegh's Death in Her Hands, David Mitchell's Utopia Avenue), when our collective attention will most likely be swallowed up by the presidential election. It's a damned hard year, in what's been a damned hard decade, to release a work of fiction.
And yet the literary landscape — dotted with formally inventive debuts, English-language translations of foreign masterpieces, and long-awaited conclusions to hit historical series — glows in technicolor, like one of David Hockney's renderings of lime hills and orchid country lanes. Fiction is rising to contemporary challenges and demands, confronting the certainty of a climate disaster and the exhaustion of gig workers and the infiltration of spying tech without sliding down a cliff into sheer advocacy or zeitgeisty drivel. It's been a bad year for virtually … everything, but there is still a lot of pleasure to be found in these essential works.
This list includes includes novels published between January 1 and May 31 and will be updated regularly.
It's actually pretty hilarious that this novel comes with a Haruki Murakami blurb on the front, in which he declares that Breasts and Eggs "took my breath away." Murakami, the only contemporary Japanese novelist many Americans read or have even heard of, notoriously trots out disturbing older male characters who leer at or fetishize young women's bodies, and in an onstage conversation, Kawakami directly questioned Murakami, asking, "Where does this obsession with breasts come from?" This novel, a long, glistening extrapolation of how three women poke at and consider their flesh and figures — one considers breast implants, another endures puberty, and the third heads into the wilds of sperm donation — is essentially a jab right in Murakami's eye (or, you know, wherever). It's also, in its own right, a clear, vivid story about the shame that comes along with a woman's body, and the multitude of ways we can reject that shame.
New Yorkers, this one is for you. Jemisin has only been publishing for a little over a decade, but in that time she's written nine novels, won three Hugo Awards (in a damn row!), and put out some of the most innovative and riveting sci-fi of the past 50 years. The City We Became moves in a new direction from her Inheritance and Broken Earth series, situating itself in today's New York where, alongside the mundanity of daily life, there also happens to be a supernatural contest between the five boroughs — each represented by an avatar — and The Enemy, which represents exactly what you think it might: police brutality, the criminalization of poverty, etc., etc., etc. Jemisin is down in the nitty-gritty of how New York operates, moving through particular streets and neighborhoods, fully aware of what each represents. And she creates a fizzy, practically joyous world where battle is excruciating but forces of good find wildly inventive methods for keeping diversity and faith alive. Read it right now, people, if you want a dose of hope and resistance.
The titular character in McBride's novel isn't really named Deacon King Kong — he's a church deacon, sure, but he's actually known around his Brooklyn community as Sportcoat, and the King Kong bit is a reference to his beer of choice. He's 71, a bit of a drunk, a product of a housing project, and for a reason entirely unknown even to him, one day in 1969 he walks up to a teenage drug dealer and shoots him in the head, setting off a chain of reactions half-desperate and half-comic, in that way that only entrenched societal malaise can be. McBride has a knack for building minutely detailed and colorfully charactered historical worlds, places, and people with accents, agendas, and proclivities so idiosyncratic they call to mind Dickens, if the prolific Victorian had given a real rat's ass about racial injustice. In Deacon King Kong, he adds on layer after layer — like that pile of nicknames the protagonist carries around — but whips them up into a delicate, coiling web, the sequenced genome of despair and restoration.
The sound I heard in my head while I read Kate Zambreno's Drifts was of bare feet unsticking themselves from a wood floor as they pattered through an empty old house, windows open to a hot wind. That's how sensory this novel is, despite being set almost entirely in the mind of a Kate Zambreno character who is working, and avoiding, her own novel called Drifts. When Fictive Kate (if she is fictive? the eternal question) doesn't write, she spends equal time obsessively reading about Rilke and Wittgenstein and playing with her dog, Genet. It's a creation story that ably leaves in the in-between bits, drawing a startlingly accurate account of what it means to be in the process of writing while barely putting words to paper. Zambreno has been putting out smart, underrecognized novels for a decade — she ought to be Rachel Cusk'd, but perhaps the world isn't fair enough for that.
Emily St. John Mandel is the great disaster artist of our time. Station Eleven, her (freshly relevant) world-ending pandemic novel, has sold over a million copies and developed a cult of zealous proselytizers, including me. In The Glass Hotel, a financial-apocalypse tale, she tells the story of a Bernie Madoff–like white-collar criminal named Jonathan Alkaitis who bilks investors out of billions and is caught when the 2008 downturn begins; she buttresses his story with a cast of characters including his Wall Street accomplices and the victims whose futures are completely upended. The novel's centrifugal force, however, is Vincent, Alkaitis's thoughtful, unlikely trophy wife who disappears in and out of what she calls "the kingdom of money" as seamlessly as if she's made of vapor — and goes over the side of a ship on the first page. Like all of Mandel's work, The Glass Hotel links together far-flung stories and dips in and out of multiple timelines. The term "transportive" is used far too frequently to describe literature that takes us, well, anywhere, but in this case, it's the perfect descriptor for an exquisitely structured adventure across oceans and into unseen worlds.
Originally published in 2016 and released this year in translation, Kim Jiyoung, Born 1982, has been, rightfully, a knockout hit in Korea, where it's sold over 1.3 million copies and launched its author to fame. One day, Kim Jiyoung, a South Korean millennial housewife and mother, wakes up and thinks she's turned into her mother. Not in the "I can't believe my hands look like this" way but quite literally; she's having a dissociative break. The novel's plot is relatively simple: Jiyoung is aimless and dissatisfied, slowly losing her mind to the steady tick of entirely ordinary and unremarkable grievances. On the post-Handmaid's Tale literary scene, the trend has veered toward depicting unreal horrors in women's lives. Kim Jiyoung swings as far as possible in the other direction: Its absolute mundanity is startling and effective. Is there any woman in the world who can't relate to the emotional death caused by a thousand stacks of laundry, spilled cracker crumbs, and trips to the pediatrician? This is a defining novel for young South Koreans and deserves a massive readership in the U.S., too.
"The first thing they did was show their tits." And so begins Samanta Schweblin's Little Eyes, the latest unsettling offering from the relatively underground Argentinian novelist. Kentuki — what appear to be tiny plushies armed with cameras, some weird combination of Tamagotchi, Amazon's Alexa, and animatronic pets — are a technological craze, spreading around the globe until, as one character succinctly puts it, even old people know what they are. First we meet teen girls in South Bend, Indiana, who put theirs to use by baring their chests for it. Then Schweblin darts around the world, to Oaxaca and Antigua and Zagreb and more, cities and nations that come to follow Forster's infamous maxim to "only connect" — to potentially luminous or insidious degrees. What does it mean to build a relationship on transmitted pixels? Who really lurks inside the connective streams wrapping around the globe? Schweblin's work has been passed from novelist to novelist over the past few years — her work has informed all the Kafka-esque up-and-comers who see the world as too strange to portray inside the bounds of realism. Little Eyes isn't dystopian horror so much as a delightfully warped representation of the societal consequences of keystrokes.
Occasionally, you watch a period piece in which the language and costumes and gestural ticks of the characters are so in tune with their historical setting that it stops feeling like a bravura performance and turns into your complete idea of what that time period was really like. Reading this third and final installment of Mantel's double Booker-winning Thomas Cromwell trilogy offers that same time hop, it's so replete with the minutiae of daily Tudor life, right down to the ingredients for various meat dishes. But it's Mantel's dedication to Cromwell's singular voice (and to his redemption from the slums of history) that keeps The Mirror & the Light on par with Wolf Hall and Bring Up the Bodies — no small feat considering the ecstatic reception over those two. This final book traces the last few years of Henry VIII's closest adviser's life, right up until his own walk to the chopping block. Yet again Mantel brings to gruesome life the quivering, bowel-tightening horror of death by sharpened steel.
How many campus novels with a black protagonist have you read? I admit I hadn't read a single one until Real Life, partly out of my own ignorance and partly because the genre leans so, so heavily toward white stories. (David Lodge, Richard Russo, Chad Harbach, Donna Tartt, and so on.) With this debut, Taylor reclaims the genre, setting Real Life over the course of a weekend, as Wallace, a biochemistry grad student with an experiment spinning out of control and serious doubts about his place in a predominantly white program, flits between contemporary skirmishes and indignities, and his personal history of abuse and alienation. What's miraculous about Wallace's story is the varieties of strength he draws on without ever devolving into a trite tale of woe or superhuman achievement. Instead, Taylor's writing, which is as strategically formulated as any of Wallace's calculations and as thoughtfully parsed as any of his experiments, bandies back and forth between the many strains of humanity that live inside one man.
Everybody's working for the weekend. And on the weekend. And until rather late at night — or at 5 in the morning. The cultural emphasis on productivity surely isn't new (you try being a factory worker in the North of England during the Industrial Revolution), but a slew of sly, witty fiction — Helen Phillip's The Beautiful Bureaucrats, Halle Butler's The New Me, Catherine Lacey's The Answers — has awakened new interest in chronicling the absurdity and degradation of piecemeal underemployment. Hilary Leichter's debut novel, Temporary, carries this idea to a brilliant new height, following its narrator through the 23 jobs her temp agency sends her way. They range from the mundane (managing traffic) to the bizarre (pretending to haunt a house). Leichter's voice is lively, practically sprightly, and offers a smart balance to the big question she asks — When everything is considered work, how do we live outside of it?
The Rachel Cusk "Faye trilogy" comparisons are apt, it's true, for this debut novel, a set of conversations the unnamed narrator conducts over a decade and a half. But Topics of Conversation is not some auto-fictive Xerox of better-known work. The unnamed narrator (raised by tippling, privileged Californians but unable to settle into any kind of steadiness) is unreliable, not a trustworthy teller of her own story, and wants you to know it. The conversations — mostly revolving around the relationship between desire and revelation, ("Speaking desire … it's like telling people how to hurt you, handing them instructions," she says) — slowly chart out the story of her young adult life, through a divorce, a pregnancy, etc., but also through her morphing ability to understand why we share bits of ourselves and what sorts of traps we end up in when we do. It's a remarkably put-together debut that, ironically enough, undoes the very notion of fiction as a way to better understand other people.
Civilization is probably ending. You don't need to be a prepper to believe that. A mass sixth extinction, city-drowning hurricanes, oceans turning into acid dumps. Weather, a climate crisis–obsessed novel, traces a few months in the life of a librarian who is coming up against what Offill calls "the twilight knowing," i.e., the admission to herself that we cannot solve the climate problem and that the world as we know it cannot sputter on indefinitely. Told in Offill's signature fragmentary style, it skitters around in her brain, which is crammed full of worrying facts about our sagging planet ("There are 6,000 miles of sewer in New York City, and all of them lie well below sea level") and is also trying to come to terms with the future she knows her child will one day inhabit. "Climate novels" are too often doddering, scoldy affairs that end in some lamely delivered plea to recycle or something. But Offill lets readers fill the space between her paragraphs with their own fears and then walks with them to the abyss. It's a plea to feel climate desperation and then cross over to the other, unknown side.
I wanted to bottle up this novel into some sort of youthful essence, an eau de parfum comprising heavy notes of writerly nostalgia and wispier whiffs of long, stretched-out afternoons gazing out the window waiting for the Muses to waltz in. Over the course of a year, Casey, the struggling young writer protagonist, works long hours as a waitress, bikes around late-'90s Cambridge, cries about her recently dead mother, agonizes over her (non)progressing novel, and drifts between two men. King's last novel, Euphoria, was an innovative love triangle set in New Guinea, based on the life of anthropologist Margaret Mead. Another three-sided affair with a brilliant woman at its center seemed redundant — thanks, but we've read this already! But Writers & Lovers is so certain of its individuality and written with such meticulous style that every page is like an heirloom piece of silver, shined up until all the intricate carvings gleam.
Physically, A Burning is a little slimmer than most hardbacks, with short, rapid-fire chapters. But it's jam-packed with voices and torrents of information, like you're wading through a crowded, noisy, heavily scented city street and zooming in on the singular lives that constitute the masses. Jivan is a bright, hardworking young woman from the Kolkata slums who is jailed after she witnesses a terrorist attack, posts about it on Facebook, and is accused of perpetrating it. Lovely is a bombastic hijra (a third gender recognized by India), tutored by Jivan, who dreams of Bollywood stardom. And PT Sir, a company man through and through, is Jivan's former teacher, headed for a life in politics. Majumdar manages the nearly impossible feat of creating a signature prose style for each character (Lovely's practically bounces off the page) and weighting the three stories against one another in perfect proportion. Propulsive and still thoughtful — about everything from the thirst for social media attention to the persecutions of Muslim Indians — A Burning is a rare debut novel that earns book club accolades and a James Wood endorsement, and deserves both.