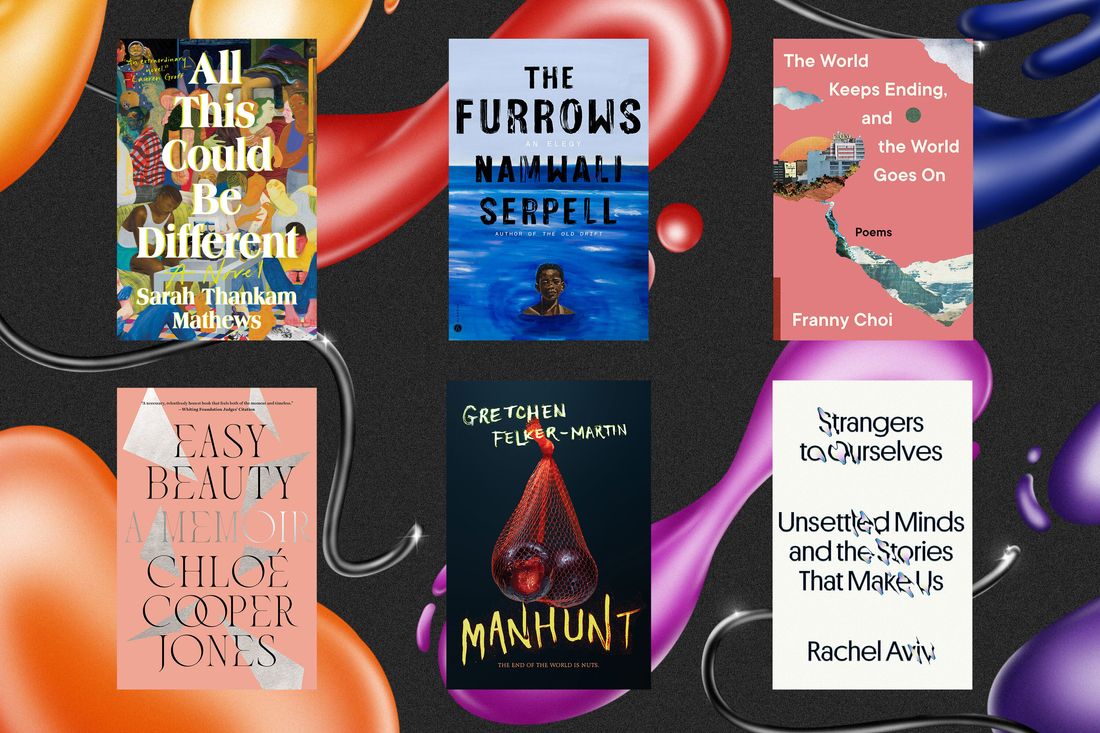 Photo-Illustration: Rowena Lloyd and Susanna Hayward; Photos: Courtesy of the Publishers
In a year when mega-best-selling authors and literary heavy hitters published new books (it's okay — Cormac McCarthy won't be reading this), how thrilling to see less familiar names and voices flourish. It's a perfect time to pick up a book by a writer you've never read before. And, yes, this list features more than one book set in a postapocalyptic world, but have you checked social media lately?
10.

X, by Davey Davis
Davey Davis's neo-noir novel reads like a cross between Raymond Chandler and Jean Genet. The book follows Lee, a sadist, through a near-future underground queer scene as they go on the lookout for X, a woman they met at a warehouse party and can't stop thinking about. Rumor has it that the fascist government has served her export papers (an Orwellian term for what is essentially expulsion of undesirables), and if Lee doesn't find her soon, they never will. Davis is an excellent stylist who skillfully blends the hard-boiled tone of classic detective novels with the ironic detachment of millennials raised on the internet. Equal parts funny, insightful, and ruthless, X is a sexy and paranoid thriller about the lengths we go to get what we want — and the toll obsession can take. —Isle McElroy
9.

Seduced by Story, by Peter Brooks
Society's obsession with the résumé, and its use to construct an aura of credibility, is such a pervasive element of contemporary life that it inevitably implicates even the author and his own field of "literary humanities." But that dynamic is exactly what Peter Brooks parses in his terrific critical survey: the essential differences between surface stories and the ways in which they're constructed. It culminates in a postscript about how narratives impose themselves on the American judicial system that articulates a deeper parable about the ease of manipulating facts to one's ends. The parameters of one's story are personal; the onus of calling bullshit rests on us. —J. Howard Rosier
8.

All This Could Be Different, by Sarah Thankam Mathews
Set in the wake of the Great Recession, All This Could Be Different is primed for a long life as a canonical queer coming-of-age novel. It follows Sneha, a woman who moves to Milwaukee after college for a job she despises and who decides, in her words, to "be a slut." Sneha is a perfectly imperfect narrator. Her mistakes are massive, her desires contagious, her lies unjugglable. Sarah Thankam Mathews's debut, written in prose as sharp and bright as a sword in the sun, offers an honest portrait of how alluring it is to hide from yourself in the process of finding yourself. And though Mathews includes a gripping romantic thread in the novel, All This Could Be Different truly shines as a love letter to the role that friendships play in times of crisis, as Sneha must reluctantly accept how deeply she needs community to survive. —I.M.
7.

2 A.M. in Little America, by Ken Kalfus
Ken Kalfus has spent his decades-long career mostly out of the mainstream — a writer's writer with a blurb from David Foster Wallace to prove it — but 2 A.M. in Little America belongs among the year's biggest hits. The speculative novel finds Ron Patterson, a humble security technician, in a world post–America's fall. Avoiding specifics about what exactly happened to destroy the U.S. — does it really matter? — and how the rest of the world is responding, Kalfus follows Patterson as he moves from country to country, searching for asylum in a place that hasn't closed its borders to U.S. citizens. Throughout, a sense of paranoia pervades, growing as Patterson is thrust unwillingly into the center of a conflict between factions that refuse to take advantage of their new ad hoc homes on the margins of a country that barely tolerates them. It's bewildering and alarming and often darkly funny at the hapless Patterson's expense, a scarily believable future. But it's also a humbling glimpse of the circumstances millions of refugees are actually facing — a there-but-for-the-grace-of-God experience that shouldn't be necessary to evoke empathy but certainly maximizes it. —Arianna Rebolini
6.

The Furrows, by Namwali Serpell
Namwali Serpell's provocative second novel follows C, a young biracial girl in Baltimore who witnesses the death of her younger brother, Wayne. What seems like a simple premise quickly becomes dark and twisted through the author's expert use of repetition: Every few chapters, the book resets and C is forced to watch Wayne die yet again. As the book progresses, C finds more ways to attempt to cope with her grief — from distancing herself from her mother's delusions that Wayne will one day return to developing an intimate relationship with a man who deeply reminds her of Wayne — but in the end, C and her family are forced to face their sorrows head-on. Unflinching first-person narration and lyric prose make C's grief feel visceral, allowing the reader to mourn along with her each time Wayne passes away. At once heartfelt and dizzying, The Furrows is a powerful meditation on riding out the waves of grief. —Mary Retta
5.

Siren Queen, by Nghi Vo
In an alternate version of pre-Code Hollywood, in which aspiring actors often meet their ends as fodder for the sinister ritual magic that powers the studio system, Luli Wei is determined to be a star. The odds, of course, are stacked against her as a gay Chinese American woman, but, driven by her ambition and willingness to play the studio heads' dark game, she finds her breakout role — not as a heroine but as a monster. As she sinks further into the murk of the industry, risking her own soul in the process, Luli finds love (and a greater purpose, if she has the strength to see it through). Coming hot on the heels of last year's The Chosen and the Beautiful, a queer, immigrant reimagining of The Great Gatsby, Siren Queen establishes Vo as an uncommonly talented new voice in fantasy, one who writes from a place of anger, insight, and deep compassion. —Emily Hughes
4.

Strangers to Ourselves, by Rachel Aviv
Rachel Aviv set herself a seemingly impossible task in her mindful debut: to write about people who occupy the "psychic hinterlands, the outer edges of human experience, where language tends to fail." Her language assuredly does not fail. Strangers to Ourselves plaits personal narrative — it opens with Aviv being hospitalized at age 6 for anorexia — with stories of other tough cases, including a Brahman woman diagnosed with schizophrenia and a nephrologist who ran a successful dialysis business until he was institutionalized for depression ("a Horatio Alger story in reverse," as he wryly puts it). Where conventional case studies might freeze erratic or socially deviant behaviors in the aspic of pathology, Aviv sensitively fills in what those narratives leave out. The result is a work of fierce moral intelligence: In withholding judgment and letting her subjects speak for themselves, Aviv grants them the dignity that society has so often denied. —Rhoda Feng
3.

The World Keeps Ending, and the World Goes On, by Franny Choi
The notion, so enthusiastically propagated by many news outlets, that our current moment is careering toward catastrophe may leave an audience on high alert. But to a certain reader — BIPOC/ALAANA, diasporic, marginalized — that's old news. That position animates Franny Choi's latest collection of poetry, which neutralizes the feeling of apocalyptic panic by showing that xenophobia and brutality within an unequal society are, indeed, nothing new. Compounding the weariness of the past several years with that of the ages flies rather close to despair, but World eludes cynicism to cast generational trauma as a paean to survival: "Every day, an extinction misfires, and I put it to work." —J.H.R.
2.

Easy Beauty, by Chloé Cooper Jones
Pulitzer Prize finalist, doctor of philosophy, and general multi-hyphenate Chloé Cooper Jones's debut shifted my understanding of a world I've experienced only while able-bodied. Easy Beauty follows Jones — who was born with a rare congenital condition known as sacral agenesis, a disability that visibly sets her apart from the general population and that has caused a lifetime of underlying pain — through a series of trips in pursuit of meaning, both personal and existential. This narrative propels the book while providing detours for the exploration of her life, and theories about beauty, a concept that has defined much of it. The through-line is the titular theory and its opposite — i.e., easy versus difficult beauty; i.e., beauty that is obvious versus beauty that makes you work for it — and the genius of Easy Beauty is in its functioning as the latter. It's heady but accessible. Jones puts us through the wringer a bit, trusting us to keep up with her analyses and forcing us to stay close to her physical and emotional pain, but the result is extraordinary. —A.R.
1.

Manhunt, by Gretchen Felker-Martin
In an era of cultural remakes, remixes, knockoffs, and infinite bland variations on corporate IP, it's all too rare to encounter a book like Manhunt — a true original that not only eviscerates an existing subgenre (gender-based apocalypse stories like Y: The Last Man, in this case) but also plants a flag in its steaming corpse and says, "This is the future of queer horror."
Anger simmers underneath every word of Gretchen Felker-Martin's prose as she tells a story of trans women and men fighting for survival after a plague transforms anyone with a certain amount of testosterone in their system into a feral monstrosity. In the world of Manhunt, the already life-or-death nature of transition is taken to new heights: Protagonists Beth and Fran have to scavenge enough estrogen to keep from succumbing to the virus, while Robbie tries to forge a life in a state of persistent dysphoria since taking testosterone is a death sentence. Their odyssey across a postapocalyptic New England showcases an array of threats, from feral men to militant TERFs, self-loathing chasers to rich-idiot survivalists. The book is timely, visceral, grotesque, unflinching, and unexpectedly fun, full of sex and gore and messy, beautiful humanity; think of it as The Road with a sense of humor and 110 percent more queer sex. —E.H.
Honorable Mentions
All books are listed by U.S. release date.
Fiona and Jane, by Jean Chen Ho
Fiona and Jane, by Jean Chen HoIn the short stories of Jean Chen Ho's Fiona and Jane, the author tracks the titular characters' childhood friendship into adulthood through everything from romantic betrayal to grief to dropping out of law school. The pair reinforce one another's foibles — oversharing and navel-gazing — by feeding on one another's psychic supply: An interchangeable sister-mother-friend-annelid dynamic ripe for transference is constructed in alternating perspective shifts that are like jump scares in their abrupt changeover. The result is a confidently nonlinear debut collection that sluices through the interiority of its protagonists without diminishing the passion and powerfully mysterious intimacy of female friendship. — Safy-Hallan Farah
Last Resort, by Andrew Lipstein
Last Resort tells the story of Caleb, a frustrated writer who, after being told a gripping, true story by a college friend, Avi, steals the tale to serve as the plot of his own novel. What follows, at first, is entertaining drama — industry hype builds around the manuscript, Avi angrily finds out about the theft, and in one memorable scene, a bizarre contract is made between the two to resolve the dispute. But Last Resort really starts flying once that Faustian bargain has been made, and we're left with Caleb in the wreckage. Strip away the insider-y publishing references (readings at Greenlight, the novelist Rachel Cusk, day trips to Storm King), and this is really a brilliant morality tale about what happens when a person refuses to learn from their mistakes, all the way down to the final scene, which had me laughing out loud and punching the air, even if it was at Caleb's expense. —Louis Cheslaw
Dilla Time, by Dan Charnas
Dan Charnas's biography of the late legendary producer J Dilla is both a meticulously compiled, compellingly illuminative retread of his long path to stardom and a manifesto on the beatmaker's true legacy. (To wit: In dragging his kick drums ever so slightly behind the rest of the beat, Dilla helped recontextualize the entire idea of rhythm in hip-hop.) Charnas turns what might be your run-of-the-mill chronicle into an exploration of the history of the producer's native Detroit, a thoroughly detailed analysis of music production and genre, and a rumination on how a voracious, unassuming kid from Conant Gardens went on to become his generation's Beethoven. — Alex Suskind
Pure Colour, by Sheila Heti
Sheila Heti's last two novels, How Should a Person Be? and Motherhood, treated self-doubt as a formal project: What shape can a writer give her own indecisiveness? Then, just as some parents of newborns find purpose and clarity, she emerged with a book full of declarations. In Pure Colour, God is preparing to scrap the first draft of existence and replace it with something better — a state of being that's more humane, more egalitarian, and perhaps less vain. In the meantime, Heti relates the life of Mira, an aesthete, a critic, and a seller of fine lamps, as she grieves her father, whose corpse she's taken up residency with inside of a leaf. The directness of Heti's writing renders even her most twee scenes into something affecting. Of Mira's work in the lamp store, for example, she writes, "The red and green stones shed its light upon her dark face and the white walls. And she loved her meager little existence, which was entirely her own." — Maddie Crum
Read Jennifer Wilson's review of Pure Colour.
Vladimir, by Julia May Jonas
Julia May Jonas's debut novel is an intimate portrait of a failing marriage, yes, but it's also a look at the reconstruction of a life meticulously built whose foundation begins to crack, then crumble. A middle-aged lit professor has to decide whether to stick beside her husband, also a middle-aged professor at the same liberal arts college, who is being investigated by the school for sexual misconduct with former students. Enter the titular Vladimir, an accomplished younger writer who's the newest tenured professor. Suddenly, she's bursting with desire — the kind that inspires her to write a book, masturbate, and ignore her increasingly needy husband. It's self-conscious in the best way, sharp and observant without being didactic, something I've found to be increasingly rare. — Tembe Denton-Hurst
Then the War, by Carl Phillips
In Then the War, Carl Phillips's newest poetry collection, he continues his exploration of love's power dynamics. Clearing, garden, backyard, forest, path: Transitive spaces of nature act as both shelter, in which Phillips can cultivate his feelings of shame, longing, and queer desire into the fruit of self-expression, and battlefield, where destruction of the self and the other fertilize the ground for new forms of interior life. Through concise lyricism — in "Blue-Winged Warbler," he locates "a nest of swords" somewhere "deep in the interstices // where dream and waking dream and what, between the two, I've called a life" — this produce is as likely to be imbued with the bitter weight of regret as it is to have sweet evanescence, mirroring back at us ideals, desires, and other possible selves, lost to us or left behind the very moment they're glimpsed. — Alex Watkins
The Employees, by Olga Ravn
Aboard the Six-Thousand Ship, sometime in the 22nd century, employees are encouraged to be present-minded lest they lose themselves to memories of Earth and of their left-behind loved ones. Such nostalgia is not productive and is bound to interfere with their work performance. The Employees, translated from Danish by Martin Aitken, is made up of interviews with these workers, some of whom are human, others humanoid, although the distinction is at times made unclear. To stave off melancholy — another deterrent to work — they're given child holograms and stimulating objects with which to interact. Unsurprisingly, labor peace eludes the ship, and a workplace novel devolves into a full-blown horror story, leaving behind few survivors. This is more than a clever reframing of sci-fi tropes, although it's that, too; the employees' voices themselves, some of them desperate, some of them meditative, form a touching, alienated chorus, narrating a tragedy that for many will ring eerily true. — M.C.
Checkout 19, by Claire-Louise Bennett
As in her first book, the exuberant and formally inventive Pond, Claire-Louise Bennett's second novel is moving in its sentence-level, voice-driven rhythms that relate scenes from a British schoolgirl's first and most formative encounters with books and with invention — silly, strange, and touching moments in their intimacy. The epigraph for one chapter is an excerpt from John Milton's pamphlet Areopagitica on the vitality of books that are free to be expressive, confessional, heretical, even; they project "a potency of life" and "preserve as in a vial the efficacy … of that living intellect that bred them." It's a familiar premise, that reading and creativity are life-giving, but in her stylish künstlerroman, Bennett gives the premise new life. — M.C.
Run and Hide, by Pankaj Mishra
Asian immigrant narratives in American fiction tend to follow a familiar script: Person arrives in the West wiped clean of caste tension, the relationships they had to money, class, and ambition in their home country subsumed by the fact of their recent arrival. In Pankaj Mishra's second novel, Run and Hide, he reorients this narrative of escape to tell a stickier tale. His protagonist Arun is a poor young Indian man whose life becomes intertwined with two ladder-climbing university classmates and, eventually, a wealthy younger lover — the kind of expat for whom borders hold little transformative power. Mishra is a public intellectual and regular contributor to the London Review of Books as well as a rare and talented fiction writer: Here, he braids a headlong plot with commentary on what you lose while trying to make it big — and what you gain when you opt out. — Madeline Leung Coleman
Oedipus Tyrannos, by Sophocles
Emily Wilson is one of my favorite working classicists; I've followed her since she wrote a deliciously biting review of a Hesiod translation for the New York Review of Books. The new Norton Library edition of her translation of Sophocles' Oedipus Tyrannos (also known by its Roman title, Oedipus Rex, which Wilson describes as a spoiler) is full of the historiographical precision and literary clarity I associate with Wilson's other works, including her 2018 translation of The Odyssey. Wilson's translation notes alone are a delight — translating Sophocles, she aims for an idiom that is "fluent, humane, natural, and also markedly artful; sometimes conversational, but never slangy … sometimes odd, but never stiff or unintentionally obscure." Wilson's verse captures the rich density of ancient poetry, and her notes also offer surprisingly funny insights into the play's original context: An abundance of foot puns would sound less ridiculous to Athenian ears, and a final line she describes as "hokey" is characteristic of the "simplistic moralizing" that is "fairly common at the end of Athenian tragedy." — Erin Schwartz 
The Doloriad, by Missouri Williams
Missouri Williams's debut novel begins after humanity has been destroyed by a natural catastrophe, the details of which we're spared. Unlike in, say, Station Eleven, pre-apocalypse days aren't the focus; instead, we spend our time with a struggling, sordid, incestuous family, possibly the last family left on earth. A woman — the Matriarch — and her brother take on the task of remaking humanity with a crew of their own children. Williams's book bears resemblances to William Faulkner in its conceit, in its wending sentences, and in its images: Noses point "off to one side like a rudder." At one point, the Matriarch disposes of a daughter's body not in a casket but with a wheelbarrow. And what could be more Gothic, more suffocating and cloistered, than an apocalypse that left behind only you and your most overbearing family members? — M.C.
Glory, by NoViolet Bulawayo
There is a long tradition in literary criticism of evaluating a new book by a writer from a marginalized community from the vantage point of an older book — usually by a white male writer. The supposed advantages of this approach are manifold: The older book might provide a point of entry for readers who are unwilling to do the work of understanding the newer book on its own terms, and the newer book can shine in the reflected glory of the older one as the wan moon to the older book's sun. I mention this because just about every appraisal — including this one, unfortunately — you will read of NoViolet Bulawayo's latest, brilliant novel, Glory, will reference Animal Farm by George Orwell. In this case, the comparison is warranted but also limiting. Bulawayo's book traverses new territory on its own radically creative terms. This book, like Orwell's, is made up of a cast of animals, but the comparisons grow weaker from there. My recommendation: Pick this up, leave any preconceptions aside, and dive right in. — Tope Folarin
The Candy House, by Jennifer Egan
With The Candy House, Jennifer Egan accomplishes the rare feat of making a series of linked short stories feel like a complete, cohesive novel, one that imagines a parallel future where people are able to externalize their memories and upload them into a cloud. There are pluses: Murders are solved, the tragically separated are reunited, children get to truly know their parents. But there are downsides, too, mainly society's collective immersion into a massive entangled web of constant surveillance. It feels like a slightly exaggerated version of our own current dilemma, down to shadowy countermovements desperate to dismantle the entire thing — if only we could all be so organized! Kaleidoscopic and epic and never boring, this sequel of sorts to 2010's A Visit From the Goon Squad takes us from a country club to a tech start-up to a government operation on a remote island that we learn about through an instruction manual narrated in the second person. It's a book unafraid of changing form because it's married to this central cluster of ideas, and Egan thoroughly convinces us to come along for the ride. — T.D.H.
Read Mallika Rao's review of The Candy House, by Jennifer Egan, and The Immortal King Rao, by Vauhini Vara.
Constructing a Nervous System, by Margo Jefferson
If every foray into writing about one's life constitutes a tense negotiation between the past and the present, Margo Jefferson's latest, Constructing a Nervous System, refuses those terms. A sequel of sorts to her award-winning 2015 memoir, Negroland, Jefferson takes the form and blows it up — in the smoldering debris, synapses of memory make new connections. Constructing blends autobiography and criticism to gift readers with reflections and ruminations on the place of music, aesthetics, and celebrity in one's personal and shared racial history. The sweat of Ella Fitzgerald, the audacity of Ike Turner, the genius of Josephine Baker, the virtuosity of Bud Powell — interwoven here are the mystifying qualities and talents of those and many other artists, all of which come together to tell of a life that has been influenced by and in turn influenced so many others — Omari Weekes
Read Jasmine Sanders's profile of Margo Jefferson.
A Tiny Upward Shove, by Melissa Chadburn
On the first page of this startingly unconventional novel, we learn that the protagonist has been murdered and her body possessed by an avenging spirit called an aswang. This premise establishes the stakes of the story as an unflinching tale that privileges the brutal realities of its battered characters. The western impulse is to wave away or demystify anything that defies rational explanation, but this book advances a subtle, potent idea: The abuse that countless women — especially women of color — face is so extreme, so sadistic, that it cannot be classified as anything but supernatural, and so the response to this abuse must be supernatural as well. Melissa Chadburn's is a harrowing and utterly unforgettable story. — T.F.
Love Marriage, by Monica Ali
When we meet 20-something Yasmin, her life appears to be approaching the precipice of perfection. She's a doctor marrying a more senior, even-more-attractive doctor who worships the ground she walks on. Soon we meet her parents, Shaokat and Anisah, Indian immigrants who have managed to achieve their slice of the British dream. But when Yasmin introduces her family to his, their differences of class (and race — he and his family are white) are abundantly clear, and Yasmin, who goes through much of the book misunderstanding or being ashamed of her mother, is shocked to find that her husband's accomplished feminist artist mother is completely taken with her son's future mother-in-law. The book is always interrogating perfection, asking if everything peachy is as it seems. The answer is often no, but it doesn't matter because there's something so much more interesting in its place. — T.D.H.
The Women's House of Detention, by Hugh Ryan
Wild to think that within living memory, in the center of Greenwich Village's present-day prettiness and wealth, stood one of the country's most notorious prisons. The Women's House of Detention, opened in 1932 at the foot of Greenwich Avenue and demolished in 1974, was grim, overcrowded, violent — and, in Hugh Ryan's telling, a significant incubator of the Village's queer history. Ryan has dredged social workers' extensive documentation of life inside, and from their files, he has excavated horrifying stories of inmates' abuse at the hands of the staff and other residents; he also reveals just how many of them awakened, while incarcerated, to their sexual identities. (A great many of those women were arrested for either sex work or public expressions of homosexuality, like cross-dressing.) Ryan argues that despite its miseries and dangers, the House of D, as it was often called, had the advantage of being a space where queer life could exist somewhat on its own terms. The building becomes a literary device, a vehicle for the recovered stories of its incarcerated as well as another affirmative point in the broader argument for prison abolition. — Christopher Bonanos
It Was All a Dream: Biggie and the World that Made Him, by Justin Tinsely
In all the barbershop arguments that shore up the Notorious B.I.G.'s deserved place as the greatest rapper of all time, it can be easy to lose sight of the human behind the lyrics. With It Was All a Dream: Biggie and the World That Made Him, Justin Tinsley goes to great lengths to provide an extensively well-researched and empathetic look at Christopher Wallace's tremendous but brief career. The book gets at not just the trivia but the structural and cultural circumstances of his life, from growing up in Brooklyn's public-housing projects during the Reagan era to living in America as a first-generation Caribbean man to entering the rap game during its innovative, lucrative 1990s heyday. Tinsley does as much as he can to get into Wallace's dark exclamation mark, the fatal East Coast–West Coast rap beef — it's still a hard narrative to crystallize, 25 years later — but throughout brings a journalist's rigor to capturing the murky details of Biggie's story, putting the legendary Brooklyn maestro in the proper context of the times he lived in. This is more than a biography, it's a snapshot of both the record industry and America itself at crucial junctures for both. — Israel Daramola
DJ Screw: A Life in Slow Revolution, by Lance Scott Walker
Robert Earl Davis Jr., better known as DJ Screw, helped define the '90s and early aughts Texas rap sound with the advent of his warped, hypnotic cassette playlists, and this book is the ultimate word on both him and his seismic imprint — one that continues to linger in modern music, from the aesthetic of Travis Scott to the slowed-and-reverbed production behind the likes of Justin Bieber and Frank Ocean. His expertly curated playlists of the era's best hip-hop and R&B tracks (with the occasional rock record thrown in) — tweaked with his namesake technique of slowing down and chopping them up — paired well with Houston's drug and nightlife culture; Lance Scott Walker transubstantiates Screw's lore into something more permanent and tangible, interviewing just about everyone that ever knew the DJ, along with a number of aficionados and famous fans of his that helped make the Screw tape the hip-hop fetish objects that they have become in the decades since Davis's death. — I.D.
An Island, by Karen Jennings
This slim, capacious novel, recently longlisted for the Booker Prize, is an allegorical meditation on colonialism and its enduring aftermath. As the novel opens, we meet Samuel, the lone inhabitant of and lighthouse keeper on a harbor island. His isolation is interrupted by an unexpected visitor — a man who washes ashore. This stranger's sudden appearance prompts Samuel to consider the span of his life and reflect on the events that led him to the island. The wonder of this novel is how expansive it is despite its length; Samuel's life doubles as beachhead for an intense examination of postcolonial African politics, xenophobia, family and its discontents, and, inevitably, the nature and meaning of love. Everything coheres because of Jennings's immaculate understanding of craft. Each polished narrative piece perfectly complements the next. This is a novel of contrasts: understated and bold, spare and sweeping, slender and grand. — T.F.
Avalon, by Nell Zink
Have you heard? The zoomers are anxious, savvy, and very online, circulating bits of out-of-context theory and cultural references: How can such a thing as an IRL love story — or a plot of any kind — emerge from this carnival? Nell Zink's Avalon is a valiant attempt; her crew of young artists bicker confidently about Marx and their dystopian screenplays, and they exist offline, too, on their parents' couches, on a road trip to the desert, and in the lean-to on a biker gang's farm. The Dickensian heroine, Bran, is an orphan at the heart of a smart and funny künstlerroman. She may know that the word used to describe her story's genre is having a moment, but she's too busy falling in love and evading danger to dwell long on trends. Like The Wallcreeper, Zink's first book, Avalon is both fast paced and overtly interested in its ideas, challenging the false dichotomy of plot versus depth. — M.C.
You Made a Fool of Death With Your Beauty, by Akwaeke Emezi
Akwaeke Emezi's novels tend to begin with a bang, and this one's no different. The first sentence reads, "Milan was the first person Feyi fucked since the accident." It immediately sends the mind spinning. Who is Milan? Who is Feyi? What accident? Was the sex any good? This explosive entrance to the book sets the tone for what follows: a not-so-traditional love story that asks: How does someone love after their world ends? Emezi takes us to an unnamed Caribbean island to find out, in a lush journey filled with beautiful paragraphs about art and so many vivid food descriptions it's best to read on a full stomach. Like Emezi's previous novels, Freshwater and The Death of Vivek Oji, the book isn't just about one thing. Sure, there's a pretty scandalous take on the forbidden love trope that pushes it firmly into the romance space (it also gets a bit steamy!), but it's also a snapshot into grief many years after a life-changing incident. — T.D.H.
Fruiting Bodies, by Kathryn Harlan
It is perhaps fitting that several of the short stories in Fruiting Bodies, science-fiction writer Kathryn Harlan's debut, center on mushrooms: Much like the fungus, the characters in Harlan's eight tales live among constant death and rot, and yet, somehow, they find surprisingly beautiful ways to keep growing. Harlan's plots are impressively diverse: "Agal Bloom," which follows two young girls daring each other to swim in a mysteriously contaminated lake against their families' wishes, bleeds effortlessly into "Hunting the Viper King," wherein a young girl and her father go on a yearslong search for a snake whose venom grants ultimate understanding of the universe. The worlds Harlan creates feel both expansively fantastical and palpably real. A stunning literary portrayal of the climate apocalypse, Fruiting Bodies provides a window into how we can make life out of decay. — Mary Retta 
Mothercare: On Obligation, Love, Death, and Ambivalence, by Lynne Tillman
When Lynne Tillman's mother, Sophie, was diagnosed with a brain disorder called normal-pressure hydrocephalus at age 86, the writer began a long journey through the complexities of elder care. The condition, which left Sophie forgetful and unsteady, required a series of invasive surgeries, and she lived for 11 years after its sudden, startling onset. Her tenacity was confounding to the many doctors she encountered who were unaccustomed to prioritizing the lives of the elderly, and much of this memoir is about the defiance required of caretakers like Tillman in the face of the medical Establishment. At the center of it all is Tillman's relationship with her mother, whom she describes as a competitive, distant personality she must nonetheless fight for fiercely. Her honesty about their irreconcilable disconnect is electrifying. — Emma Alpern
Afterlives, by Abdulrazak Gurnah
Abdulrazak Gurah, the most recent recipient of the Nobel Prize in Literature, has crafted a wide-ranging, orchestral novel. Afterlives is set in East Africa in the early 20th century after the European powers of the day carved up Africa according to their colonial ambitions. Gurnah's narrative approach is to foreground how colonialism infects and undermines every aspect of society by training our attention on the intimate details of his characters' lives — every action they take is consciously (and oftentimes unconsciously) influenced by their desire to escape its grasp. His scenes are polished, elegant, and masterfully constructed, each building effortlessly upon the last until the final pages, when his glittering narrative mosaic, glimpsed only in flashes throughout the story, is fully revealed. You will want to start over so you can experience it again. — T.F.
My Phantoms, by Gwendoline Riley
Gwendoline Riley's latest novel opens with Bridget's childhood recollections of her blustering, dodgy father, but the character's real fixation is her mother, Helen "Hen" Grant, a hopelessly naïve and needy figure. Bridget, now in her 40s, is hyperaware of all her mother's little manipulations, and each of her verbal tics — the repeated "Mmm"s and "I don't know"s, the botched jokes, the clumsy fake accents — are recorded in icy detail. Riley transcribes what other authors often skip, making her dialogue uncannily lifelike. The book is a study in irritation that unfolds with thrillerlike tension, except the central moments are less bank heist and more adversarial family dinner (a particularly memorable scene takes place in a vegetarian restaurant where Hen falls quiet while choking down a "detox salad"). By the end, the unjustness of the mother-daughter relationship takes on an unsettling new dimension. — E.A.
Read Rachel Connolly's profile of author Gwendoline Riley.
Bright Unbearable Reality, by Anna Badkhen
In the opening pages of Bright Unbearable Reality, the latest collection of essays by Anna Badkhen, the writer poses a question that she promptly answers: "What is place? A memory of our presence, a memory of our absence." In these lines one can glimpse the narrative design of this book and its primary obsession. Each of these essays is animated by questions that inspire Badkhen to immerse herself in various global contexts — the book is set on four continents — to understand how the places she visits have been shaped by humans, and how humans have been altered by them. We follow along as she leaves behind a trail of precise, glistening prose, and each time we arrive somewhere else we consider, once again, humanity's shifting, unstable, and essential relationship with place. We have planted flags and drawn maps, but — as Badkhen brilliantly demonstrates — the intersecting challenges of the 21st century (climate, economic, epidemic) might force us to reconsider our conclusions. — T.F.
Toad, by Katherine Dunn
Before 1989's Geek Love shot her to success, Katherine Dunn spent years trying to find a publisher for her third book, a semi-autobiographical novel following Sally Gunnar, a woman who spent her college years on the fringes of the 1960s counterculture scene in Portland, Oregon. In a state of middle-age isolation, Sally looks back bitterly at the unfocused idealism of her young friend group: "The hermit has an evil eye that chills the memory and upsets the digestion," she says in her narration. The central event from her student years is an ill-fated pregnancy involving the object of Sally's affection, bright-eyed, philosophy-quoting Sam, that is drawn out with savage humor. After extensive revisions to the manuscript of Toad, which the author began writing in 1971, Dunn received a final rejection letter in 1977: "I love TOAD as much as ever, more, actually," her editor wrote, but she was overruled by her colleagues. Long consigned to a drawer, the book has finally been posthumously published (Dunn died in 2016). The novel is frightfully lovable, a brutal and baroque treatise on loneliness that shares a grotesque core with Dunn's most famous novel. — E.A.