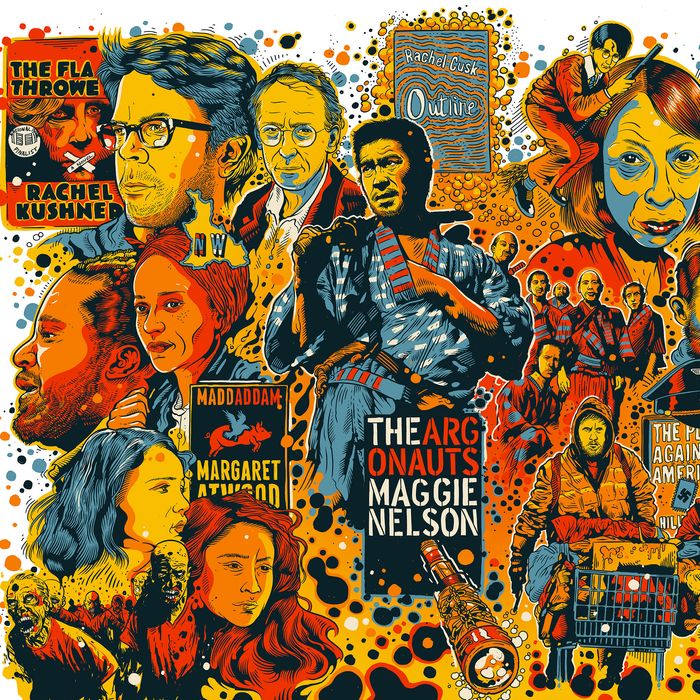 Illustration: Tim McDonagh
Why Now?
Okay, assessing a century's literary legacy after only 18 and a half years is kind of a bizarre thing to do.
Actually, constructing a canon of any kind is a little weird at the moment, when so much of how we measure cultural value is in flux. Born of the ancient battle over which stories belonged in the "canon" of the Bible, the modern literary canon took root in universities and became defined as the static product of consensus — a set of leather-bound volumes you could shoot into space to make a good first impression with the aliens. Its supposed permanence became the subject of more recent battles, back in the 20th century, between those who defended it as the foundation of Western civilization and those who attacked it as exclusive or even racist.
But what if you could start a canon from scratch? We thought it might be fun to speculate (very prematurely) on what a canon of the 21st century might look like right now. A couple of months ago, we reached out to dozens of critics and authors — well-established voices (Michiko Kakutani, Luc Sante), more radical thinkers (Eileen Myles), younger reviewers for outlets like n+1, and some of our best-read contributors, too. We asked each of them to name several books that belong among the most important 100 works of fiction, memoir, poetry, and essays since 2000 and tallied the results. The purpose was not to build a fixed library but to take a blurry selfie of a cultural moment.
Any project like this is arbitrary, and ours is no exception. But the time frame is not quite as random as it may seem. The aughts and teens represent a fairly coherent cultural period, stretching from the eerie decadence of pre-9/11 America to the presidency of Donald Trump. This mini-era packed in the political, social, and cultural shifts of the average century, while following the arc of an epic narrative (perhaps a tragedy, though we pray for a happier sequel). Jonathan Franzen's The Corrections, one of our panel's favorite books, came out ten days before the World Trade Center fell; subsequent novels reflected that cataclysm's destabilizing effects, the waves of hope and despair that accompanied wars, economic collapse, permanent-seeming victories for the once excluded, and the vicious backlash under which we currently shudder. They also reflected the fragmentation of culture brought about by social media. The novels of the Trump era await their shot at the canon of the future; because of the time it takes to write a book, we haven't really seen them yet.
You never know exactly what you'll discover when sending out a survey like this, the results of which owe something to chance and a lot to personal predilections. But given the sheer volume of stuff published each year, it is remarkable that a survey like this would yield any kind of consensus—which this one did. Almost 40 books got more than one endorsement, and 13 had between three and seven apiece. We have separately listed the single-most popular book; the dozen "classics" with several votes; the "high canon" of 26 books with two votes each; and the rest of the still-excellent but somewhat more contingent canon-in-utero. (To better reflect that contingency, we've included a handful of critics' "dissents," arguing for alternate books by the canonized authors.)
Unlike the old canons, ours is roughly half-female, less diverse than it should be but generally preoccupied with difference, and so fully saturated with what we once called "genre fiction" that we hardly even think of Cormac McCarthy's post-apocalyptic The Road, Colson Whitehead's zombie comedy Zone One, Helen Oyeyemi's subversive fairy tales, or even the Harry Potter novels as deserving any other designation than "literature." And a whole lot of them are, predictably, about instability, the hallmark of the era after the "end of history" that we call now.
At least one distinctive new style has dominated over the past decade. Call it autofiction if you like, but it's really a collapsing of categories. (Perhaps not coincidentally, such lumping is better suited to "People Who Liked" algorithms than brick-and-mortar shelving systems.) This new style encompasses Elena Ferrante's Neapolitan novels; Sheila Heti's self-questing How Should a Person Be?; Karl Ove Knausgaard's just-completed 3,600-page experiment in radical mundanity; the essay-poems of Claudia Rankine on race and the collage­like reflections of Maggie Nelson on gender. It's not really a genre at all. It's a way of examining the self and letting the world in all at once. Whether it changes the world is, as always with books, not really the point. It helps us see more clearly.
Our dozen "classics" do represent some consensus; their genius seems settled-on. Among them are Kazuo Ishiguro's scary portrait of replicant loneliness in Never Let Me Go; Roberto Bolaño's epic and powerfully confrontational 2666; Joan Didion's stark self-dissection of grief in The Year of Magical Thinking. They aren't too surprising, because they are (arguably as always, but still) great.
And then there's The Last Samurai, Helen DeWitt's debut: published at the start of the century, relegated to obscurity (and overshadowed by a bad and unrelated Tom Cruise movie of the same name), and now celebrated by more members of our panel than any other book. That's still only seven out of 31, which gives you a sense of just how fragile this consensus is. Better not launch this canon into space just yet.
—Boris Kachka
The 12 New Classics
Per our panel.
The High Canon
Books endorsed by two panelists.
The Rest of the (Premature, Debatable, Arbitrary, But Still Illuminating) Canon