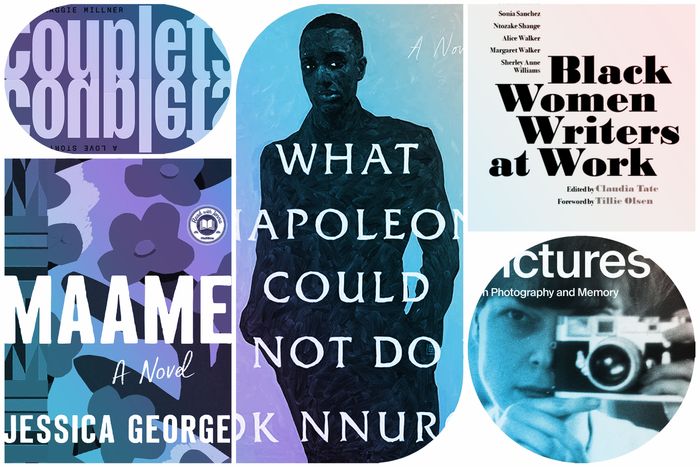 Photo-Illustration: Vulture; Photos: Farrar, Straus and Giroux, Haymarket Books, macmillan, Riverhead Books, St. Martin's Press
Now that we've reached the midpoint of the year, it's time to finally put aside those 2022 books you never got around to and turn your focus on the excellent titles entering your local bookstores and libraries. While the conversation in early 2023 was dominated by a certain prince turned memoirist, readers who looked beyond the big displays could be rewarded with a nonfiction narrative that refuses to be confined by genre; a searing debut novel with a fragmented lens on family tragedy; and an exhilarating romance told in verse. We still have many books to look forward to this year, but for now, here are the best, picked by our critics.
All titles are listed by U.S. publishing date with the newest releases up top.
Affinities: On Art and Fascination, by Brian Dillon
In this collection of essays, Brian Dillon arrives in critical spaces through personal avenues. His writing about his relationship with his aunt — a woman who became a shut-in, photographing the perimeter of her yard, growing a body of work, developing a style — opens up into a theory about careful looking as an outgrowth of anxiety. In a series of belles lettres on the artists to whom he's drawn — many of them photographers, including Francesca Woodman, Claude Cahun, and his aforementioned aunt, some of them using the medium to explore gender fluidity, others the natural world — Dillon develops an argument on the meaning of "affinity." It's not always rational, which works we most identify with; it's both simpler and more magical than that. —Maddie Crum
Losing Music, by John Cotter
John Cotter's memoir, Losing Music, follows his experience managing Ménière's disease — a condition involving tinnitus, vertigo, and sporadic hearing loss — and navigating America's health-care system as an uninsured adjunct professor. Cotter writes about hearing not only as a sensation but as a gateway to memory and other senses, which, he observes, are inextricably linked. "You hear a bad Billy Joel song in the freezer aisle at Safeway and time is refuted," he writes. Just as sight can aid his hearing, his partner assists him in navigating his most vertiginous days. Cotter writes about the embodied experience of hearing loss vividly and within a network of contexts: that of caregiving and that of medical science's many unsolved mysteries. —M.C.
Blue Hour, by Tiffany Clarke Harrison
In Tiffany Clarke Harrison's graceful, searing debut novel, a narrator — writing directly to her husband, Asher — picks apart her fears of parenthood, drawing connections between those apprehensions and a family accident, her recent pregnancy loss, and the police shooting of a Black boy named Noah, a quiet, anime-loving student in her photography class. Before these devastating events, she and Asher reveled in "late nights and liquor and displays of whatever the hell we wanted." After, they're withdrawn from each other, keeping secrets and fumbling their attempts at connection. Yet the narrator keeps fantasizing about conversations they had in the earliest days of their relationship, back when she wasn't yet the "'I love you' type" but found herself suddenly stepping over a new threshold of commitment and vulnerability. Her memories of that family tragedy and the miscarriage, though, are just as vivid. Told in fragments, the novel is somber, but the characters are alive even in their state of mourning. — Emma Alpern
Seventy Times Seven: A True Story of Murder and Mercy, by Alex Mar
Alex Mar's Seventy Times Seven orbits around an evergreen question: What is the limit of forgiveness? In 1985, Paula Cooper, a 15-year-old Black girl, invades the home of Ruth Pelke, a 78-year-old white woman, and stabs her to death. Condemnation soon follows, and Cooper is tried, convicted, and sent to death row as a minor. During Cooper's trial, another story emerges: The defense attorneys reveal that Cooper's childhood has been fraught, featuring episodes of sexual abuse and an unstable home. Millions take up Cooper's cause, and she becomes the face of the excesses of the U.S. justice system, the enduring drama of race relations in America, and an international discourse about who is worthy of forgiveness and why. Mar's narrative is probing, careful, elegant, and sure; each page yields a new dimension of the story and requires us to reengage with the facts anew. This is a complicated tale, gracefully told, that will engross readers for years to come. — Tope Folarin
Birnam Wood, by Eleanor Catton
In 2017 New Zealand, an earthquake jostles a national park, causing a landslide and a handful of fatalities. Nearby, Mira, an incendiary horticulturalist, realizes the resulting road closures have made the area the perfect place for her radical gardening collective, Birnam Wood, to plant its crops — especially compared to the sad strips of grass near sidewalks and dentists' offices they usually use. Complicating things is the American billionaire Tony Lemoine, a stunningly well-drawn sociopath, whose secret extraction of rare-earth minerals from the park actually caused the seismic activity. Written by Eleanor Catton, author of the The Luminaries, Birnam Wood is many things: an ecological thriller, a treatise about surveillance technology, and a lush meditation on friendship and desire in the vein of Sally Rooney. Each chapter peers out at the novel's world from a particular character's perspective with each person — vain, paranoid, and self-effacing in their own way — guessing at one another's intentions and believing they may somehow gain the upper hand. It's also frequently hilarious, and Catton's dry treatment of the endearingly scrappy but naïve members of Birnam Woods, with their peevish arguments about neoliberalism and identity politics, makes it something unusual: environmental fiction without an ounce of moralizing. — E.A.
The Great Displacement, by Jake Bittle
As sea levels and temperatures continue to rise, people living in more precarious corners of the U.S. are faced with the decision of leaving their homes and seeking shelter elsewhere or staying uncomfortably put. For some, the choice is easy; for others, it's not really a choice. Moving is expensive; on the other hand, some forms of affordable housing, such as RV parks, aren't exactly stormproof. Journalist Jake Bittle covers how short-term climate migration is already affecting Americans, in sinking Houston and smoke-laden Santa Rosa. He also lays out a theory for the future: In America, hot cities and coastal spots are still booming, but for how long? The answer is unclear and will depend, in part, he writes, on how much Americans come to feel we owe one another. —M.C.
I Am Still With You, by Emmanuel Iduma
There's a recent trend in literary criticism of describing certain books as a hodgepodge of genres. The implication is that these books represent an aberration; in other contexts, these critics seem to suggest, genres remain distinct. Emmanuel Iduma's quietly brilliant new book, I Am Still With You: A Reckoning With Silence, Inheritance, and History, could be described in such a manner; Iduma blends travelogue, reportage, criticism, memoir, and history in a hypnotic tale that begins with his decision to leave New York and return to Nigeria, the land of his birth, upon the death of his father. Iduma then initiates a search for his uncle, who disappeared during the Nigerian civil war four decades earlier. As Iduma assembles clues (another genre!) to determine what became of his relative, his narrative expands to encompass Nigerian history, contemporary political developments, and disquisitions on various other topics. What emerges is both an argument for narrative that resembles life — narrative that refuses to hew to the conventions of genre for the sake of it — and a subtle critique of the idea of genre itself. — T.F.
Couplets: A Love Story, by Maggie Millner
Maggie Millner's Couplets: A Love Story is so many things: a love triangle, a novel in verse, a coming-out story, a meditation on our obsession with coupledom. Most importantly, though, it grapples confidently and tenderly with the uneasy parts of being alive and in love. In Couplets, a young woman for whom "love / has been, above all things, the engine of / self-knowledge in my life" leaves a stable relationship with a man to begin her first relationship with a woman. What follows is a reflective and thrilling portrait of a person coming to terms with her queerness. Millner's book wanders through the wreckage and exhilaration, the guilt and self-discovery, of lost partnership and doomed love affairs. Who do we become in pursuit of defining relationships? And who might we need to abandon? — Isle McElroy
What Napoleon Could Not Do, by DK Nnuro
DK Nnuro's debut begins with an ending: a failed arranged marriage between Jacob and the wife he's never met in person, Patricia. It's a tense scene, and it sets the stage for the rest of the book's course. It is yet another way that Jacob has fallen short. He hasn't been able to make it to America like his sister, Belinda, and he has had trouble finding a suitable wife in his hometown like his brother. He's drifting in a family that prizes achievement. On the surface, it seems he has all the pieces to be successful (he's tall, handsome, and intelligent), but for some reason, things aren't working out. Jacob spends much of the book trying to reach his potential and attain his father's approval while resenting Belinda, who seems to do all these things (and more) with ease. She was able to move to America, go to college, and marry rich. The book is divided into three points of view: Jacob, Belinda, and her American husband, Wilder, who deals with post–Vietnam War trauma. It's both a gripping story about a family and their expectations and an interrogation of the American Dream — who gets to live it and whether it's everything it's cracked up to be. —Tembe Denton-Hurst
Maame, by Jessica George
Maddie wants to be someone new. She's spent much of her early adulthood caring for her father, who has Parkinson's, forced to grow up fast and live up to her nickname, Maame, which means "woman" in Twi, while her brother chases his dreams and her mother is mostly in Ghana. When her mother returns from her latest stint overseas and urges Maddie to move out, she's determined to make the most of it and be the kind of person she's always hoped to be. She wants to go out more and date and let loose, but tragedy strikes while she's on this quest of self-discovery, and she's forced to navigate a world that's totally unlike the one she imagined. Maame is a quick, satisfying read with characters you'll want to spend a few hundred pages with and a page-turning plot that leaves you rooting for Maddie. — T.D.H
Black Women Writers At Work, by Claudia Tate
This compilation of interviews with literary legends like Toni Morrison, Alice Walker, and Audre Lorde is a crucial resource for any person trying to be creative in our current moment of political and economic chaos. Originally published in 1983, the book feels surprisingly timely: Each woman's discussions of struggles to balance their craft, families, friends, and political visions mirrors the commonly discussed difficulties of work-life balance today. That the innermost thoughts of these literary giants have been collected in one place already makes this book a critical cultural artifact. But perhaps its most striking quality is the way each woman defined and redefined the idea of work itself. As anti-work sentiments and "quiet quitting" discourse rises across the country, these interviews are a useful guidebook for separating work as labor under capitalism and work as a dedication to your craft, a commitment to representing your community through art, and a desire to share your political visions with the world. — Mary Retta
Still Pictures: On Photography and Memory, by Janet Malcolm
When the journalist and critic Janet Malcolm died in 2021, she had published about a dozen books of nonfiction, none of them autobiographical. In fact, she was opposed to the idea of "life writing," which she thought of as hopelessly self-forgiving and, presumably, unsuited to the clear-eyed approach she took toward her subjects. So it's not surprising that Still Pictures: On Photography and Memory, structured around snapshots of Malcolm, her family, and other figures in her life, builds that hesitation in. "I would rather flunk a writing test than expose the pathetic secrets of my heart," she says at the end of a chapter about an affair she had with a married man who would become her husband. In writing about her childhood and her Czech émigré family, too, she admits every lapse of memory — though she remembers a lot, about her "grotesque" after-school teacher and her faux-suave high-school boyfriend and her touchingly middle-brow parents, who had narrowly escaped the Holocaust. The result is something lucid and honest, as much about the nature of memory as her own life. "The past is a country that issues no visas," she writes. "We can only enter it illegally." —Emma Alpern