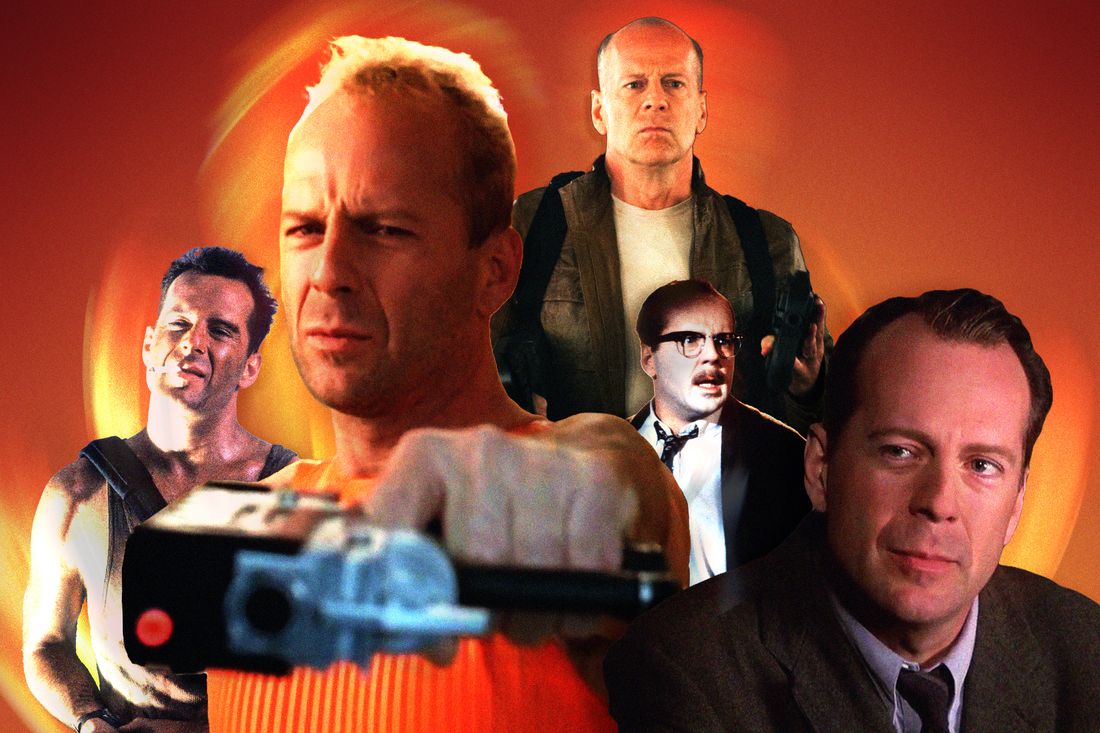 Photo-Illustration: Vulture; Photos: 20th Century Studios, Disney, Sony Pictures, TriStar Pictures, Universal Pictures
It's hard to fully express what movies have lost with the retirement of Bruce Willis. When his family announced in February that he had been diagnosed with a rare form of dementia, the scope of his expansive career was pulled into sharp focus. It's always impressive when a star breaks through with a fully formed persona, and no star manifested a persona as completely as Willis did when he first rose to fame in the mid-'80s. But then not many stars follow the path he took, either in his unusual route to stardom or his unwillingness to rely only on the traits that made him famous to keep that stardom sustained.
Willis was essentially unknown outside of those paying attention to Off Broadway (and Off Off Broadway) theater productions when producer Glenn Gordon Caron cast him opposite Cybill Shepherd in the breezy mystery series Moonlighting. It was a roll of the dice that paid off for both the series and Willis. The almost-30-year-old actor (with a hairline that made him look older) easily slipped into the shoes of David Addison, a roguish, wisecracking, blue-collar private eye with a twinkle in his eye who never seemed to be taking anything seriously but did the right thing when the moment called for it (especially if the moment called for muscle). The role made Willis a star overnight.
It also made it hard to figure out where Addison ended and Willis began. That's partly because the Willis who made talk-show appearances, appeared in wine-cooler ads, and branched out into music with the album and HBO mockumentary The Return of Bruno, appeared so similar to his star-making role. And it's partly because the tabloid stories about Moonlighting's troubled production seemed to echo the fraught relationship between Willis and Shepherd's characters. But it's mostly because Willis, even at this early point in his career, understood what he brought to the screen and what he could naturally do well.
Willis's film career — launched while Moonlighting was still in production — has been less a matter of chameleonic reinvention than of pushing that persona in new directions. Sometimes that's meant turning down the charm and emphasizing the toughness. Sometimes it's meant leaning into goofiness or playing against type with a wink. As Willis's career progressed, some of the mischievousness evaporated as he found himself more frequently playing characters overwhelmed by melancholy. Wise guys largely gave way to tough guys with tragic histories or eccentric tendencies, but this seemed less like a break from the past than a natural evolution. Not every film worked but, taken as a whole, Willis's filmography suggests an actor with a savvy sense of his own abilities who frequently looked for challenges that stretched those abilities without breaking them.
The final stretch of Willis's career is defined by a string of low-budget, quickly made direct-to-video roles, seemingly the efforts of a man attempting to work as much as possible while he still could. Though there's undoubtedly a fascinating study to be made of that work, this ranking of Willis films is pushing them aside to focus on the films that played theaters. (The list also largely skips Willis's voiceover work, apart from a pair of talking baby movies.)
This is also a list tightly focused on Willis and what he brings to the movies and thus its rankings are weighted in favor of films in which he stars. (Moonrise Kingdom and Pulp Fiction might objectively be better than some of the films that outrank them here, but they're ensemble pieces, not Willis vehicles. Willis's cameo gives Robert Altman's The Player a terrific punch line, but it's decidedly not a Bruce Willis movie.) It's a career with undeniable lows but also remarkable highs in which it's impossible to imagine anyone else playing Willis's part. That's what makes a star a star.
68.

Hostage (2005)
Like other marquee actors of the '80s and '90s, Willis struggled to find his place in the changing movie landscape of the 2000s, often making movies that vainly tried to repeat past successes. Willis's ability to anchor action movies is undeniable, but even he can't turn a bad film into a good one. Here Willis plays Jeff Talley, a former hostage negotiator pulled back into the job when criminals invade the luxurious home of a California mob accountant (Kevin Pollak). Willis effectively conveys Talley's pain in the film's early scenes, but the film quickly devolves into an assaultive, suspense-free headache.
67.

Tears of the Sun (2003)
Even without a deeply dubious premise that essentially reimagines the Nigerian Civil War of the 1960s as a story of benevolent American military intervention in the 21st century, there wouldn't be much to recommend this action film beyond occasional flashes in Antoine Fuqua's direction. Willis is fine in an unchallenging role.
66.

The Cold Light of Day (2012)
This deeply unmemorable spy thriller stars Willis as a CIA agent who teams up with his son (Henry Cavill) to rescue their kidnapped family in Spain. From Willis's tough-guy performance to the double-crosses, you've seen all of this done better elsewhere.
65.

A Good Day to Die Hard (2013)
Another passing-of-the-torch action film from the same period, A Good Day to Die Hard finds Willis returning to the role of John McClane for a fifth and final time for an adventure in Russia where McClane attempts to rescue his son, Jack (Jai Courtney). At this point, everything that made McClane and the Die Hard series distinctive has fallen away. Once an in-over-his-head everyman, McClane's now just another generic gun-toting hero stuck in an underachieving film.
64.

Look Who's Talking (1989)
63.

Look Who's Talking Too (1990)
A one-joke comedy that nonetheless inspired two sequels and a TV spinoff, Look Who's Talking stars Kirstie Alley as a single mom named Mollie, John Travolta as a New York cabbie named James, and Bruce Willis as the voice of Mikey, Mollie's kid, whose inner monologue frequently misunderstands the world around him. Though a huge hit in its day, it's pretty dire. Willis returned in the just-as-bad sequel co-starring Roseanne Barr as the voice of his sister, but neither showed up for Look Who's Talking Now in 1993; their characters having grown too old for cutesy observation, that role fell to James and Mollie's pets.
62.

Cop Out (2010)
Tracy Morgan scores the only laughs in this Kevin Smith-directed buddy cop comedy. Willis never gets above cruising speed as Morgan's long-suffering partner, and no chemistry ever develops between the two as the story plods along from incident to incident until the film eventually ends.
61.

North (1994)
Willis is all over Rob Reiner's disastrous foray into grating whimsy, serving as narrator and making periodic appearances as a string of (maybe) lookalike characters who guide the eponymous hero (Elijah Wood) on his global search for new parents. The film's a mess, but its problems can't really be laid at Willis's feet (as oversize as they are in the scenes where he's playing a shopping mall Easter Bunny).
60.

The Jackal (1997)
It's hard to say who's more miscast in this loose remake of The Day of the Jackal: Richard Gere doing a not-so-impressive Irish accent as an IRA operative sprung from prison or Bruce Willis as the international assassin and master of disguise Gere's tasked with taking down. Gere might have the edge, but at least he doesn't have to wear any silly wigs.
59.

Billy Bathgate (1991)
Still, while there are far more versatile performers than Willis, there's a lot to be said for knowing what you do best and sticking with it. That's led to a filmography whose best films have used him well and whose worst seldom seem like Willis's fault. He's solid and familiar and skilled at being good (or at least not bad) even when the films around him aren't. It's a pattern that's been in place since the early days of his film career, like his work as a flashy, duplicitous mob lieutenant to Dutch Schulz (Dustin Hoffman) in this mostly sleepy adaptation of E.L. Doctorow's 1989 novel. Willis does what he needs to do, then makes an early exit. The problems with the film lie elsewhere.
58.

Sin City: A Dame to Kill For (2014)
57.

The Whole Ten Yards (2004)
56.

Red 2 (2013)
The Die Hard franchise aside — and even there only up to a point — Willis hasn't had a lot of luck with sequels. His follow-ups to Red, Sin City, and The Whole Nine Yards all struggle, and fail, to re-create what made the first entries successful. Willis isn't really to blame in any of these cases. He's a literally spectral presence in Robert Rodriguez's Sin City sequel, mostly watching the action from the sidelines of the Great Beyond. He's game as a hit man in the middle of an identity crisis in The Whole Ten Yards, but that doesn't make the film any less irritating. Red 2 isn't so much bad as deeply unnecessary. All suggest Willis could have found better things to do with his time.
55.

The Return of Bruno (1987)
Though not a theatrical feature, so technically breaking our rules, this hour-long, Dick Clark–hosted mockumentary–concert film is a key document of Willis's early days, capturing him at a moment when his stardom had reached a point where no one was telling him no. Willis had been a singer and a harmonica player before he became famous and in 1987 released the album Return of Bruno on Motown. Dominated by covers of classic soul songs, it's unextraordinary, but Willis's love of the music was hard to mistake and the presence of legends like Booker T. Jones, the Temptations, and the Pointer Sisters helped at least partly offset the optics of yet another white guy rehashing the music of Black artists. The Return of Bruno presents a Spinal Tap–inspired account of Bruno Radolini's career, from his early days as a New Jersey bar-band legend to his appearance at Woodstock to his stint in Detroit as a musician and used car salesman (complete with appearances from Ringo Starr, Elton John, Joan Baez, and others effusively praising Bruno and discussing his important place in music history) before ending with 30 minutes of concert footage in which Willis appears to be having the time of his life.
54.

Charlie's Angels: Full Throttle (2003)
Willis makes just a quick cameo in this overcranked sequel to the hit spy comedy. It's notable mostly for two reasons: It reunites Willis with his ex-wife Demi Moore (in the same movie, if not the same scene) and allows him to wear a blond wig so fake it must have been intended as a joke.
53.

Striking Distance (1993)
Making excellent use of its Pittsburgh location as the backdrop for a well-staged car chase, this thriller from Road House director Rowdy Herrington begins promisingly before trotting out a string of serial-killer and corrupt-cop clichés. A palpable lack of chemistry between Willis and co-star Sarah Jessica Parker doesn't help.
52.

Mercury Rising (1998)
Some of Willis's best films find him working on the far edges of his comfort zone, but his filmography is still littered with less-than-memorable action films of the sort that needed a solid leading man who could provide a big name to put on the poster. At least this one has a decent gimmick. Willis plays Art, an FBI agent charged with protecting Simon (Miko Hughes), a boy on the autism spectrum whose ability to crack codes has made him the target of a murderous NSA cryptographer (Alec Baldwin).
51.

The Bonfire of the Vanities (1990)
Brian De Palma's adaptation of Tom Wolfe's state-of-the-'80s best seller is disastrous enough to have inspired the classic making-of book The Devil's Candy. The film itself isn't quite as bad as its reputation and Willis is fine, if a little on autopilot, as a smirking, morally dubious journalist who plays a central role in the hit-and-run case that becomes a lightning rod for New York's racial and economic troubles.
50.

Last Man Standing (1996)
Willis stars as drifter caught between two warring gangland factions in a Texas border town in this Prohibition-era take on Yojimbo (the Akira Kurosawa film that previously inspired A Fistful of Dollars) directed by Walter Hill. It's hard to say what went wrong with this seemingly unbeatable mix of talent and material, but the results are as dull as they are oppressively loud.
49.

Sunset (1988)
Similarly, Sunset is one of those films with a premise so clever it's a shame the execution doesn't work. Sunset casts Willis as silent-movie cowboy Tom Mix, pairing him with James Garner's Wyatt Earp to solve a Hollywood murder mystery after Earp makes the trip to L.A. to advise on Mix's latest picture. Blake Edwards, who helped confirm Willis as a movie star with Blind Date the previous year, directs, but the film falls short of its attempts to be a breezier Chinatown.
48.

Breakfast of Champions (1999)
Apart from George Roy Hill's Slaughterhouse-Five, Kurt Vonnegut's novels have largely frustrated those who've attempted to adapt them. Simply taking one on is a pretty big dare, as Alan Rudolph found in this quickly buried adaptation of Vonnegut's 1973 novel about a Midwestern car dealer (Willis) who slowly loses his mind as events push toward a meeting with a science-fiction writer (Albert Finney). Willis delivers an uncharacteristically unrestrained performance, but one that keeps perfectly with a film designed to mimic his character's madness. It's a big miss, but it's hard not to admire the big swing taken by all involved.
47.

Rock the Kasbah (2015)
Willis is fine in a supporting role as a mercenary with literary ambitions who reluctantly helps a music promoter (Bill Murray) in his attempts to turn a talented singer (Leem Lubany) into a star via an appearance on a competition show. The Barry Levinson–directed movie's problems lie elsewhere (and mostly involve Murray descending into smart-aleck shtick instead of crafting a character).
46.

Disney's The Kid (2000)
On the verge of turning 40, Rusty (Willis), an unpleasant image consultant, meets and befriends 8-year-old Russ (Spencer Breslin), whom he recognizes as the younger version of himself. Imagine a therapy session adapted into a kid-friendly Disney comedy about the importance of believing in oneself.
45.

Four Rooms (1995)
Willis reunited with his Pulp Fiction director Quentin Tarantino for this anthology film showcasing four shorts from then-up-and-coming indie talent. As a drunken partygoer, Willis is tasked with explaining the rules of the unpleasant game run by a famous director (Tarantino) with a sadistic streak. Tarantino's contribution is one of the better entries, but there's a reason this film has largely been forgotten.
44.

Surrogates (2009)
A comic-book adaptation with a neat central idea that it never quite figures out what to do with, Surrogates is set in a near future when many choose to experience life remotely by piloting beautiful androids. Willis brings gravitas to his role as an FBI agent who tries to get to the bottom of a mysterious death (and maybe heal his crumbling marriage in the process), but the film never asks him to be more than a standard-issue troubled hero.
43.

Lay the Favorite (2012)
Stephen Frears's fact-based story about illegal sports gambling never really comes to life, but it does feature winning performances from Rebecca Hall, who plays a newcomer to the gambling world with a gift for figures, and Willis as the mentor who shows her the ropes.
42.

Lucky Number Slevin (2006)
A film that plays like a leftover from the mid-'90s stretch when Tarantino wannabes flooded the market, Lucky Number Slevin is filled with stars and twists, but it's never particularly fun or suspenseful. Willis plays it cool as a mysterious killer who may or may not be helping a confused man named Slevin (Josh Hartnett) who's caught between two warring crime families.
41.

The Story of Us (1999)
Willis stars opposite Michelle Pfeiffer as a suburban couple reflecting on the ups-and-downs of their 15-year marriage while on the verge of breaking up in this Rob Reiner–directed comedy. The jokes don't work, the drama is forced, and everyone yells a lot.
40.

The Astronaut Farmer (2006)
Playing a sympathetic but disapproving Air Force colonel, an uncredited Willis reunites with his Armageddon co-star Billy Bob Thornton in a mostly sleepy movie about a farmer and former fighter pilot attempting to build his own spaceship.
39.

Glass (2019)
Making a surprise cameo in the final scene of M. Night Shyamalan's 2016 film Split, Willis reprised his role as David Dunn, the reluctant superhero introduced in Unbreakable. Set in the same connected universe, Glass serves as a continuation of both films, pitting David against both his old antagonist Mr. Glass (Samuel L. Jackson) and Kevin (James McAvoy), the dangerous man with multiple personalities at the center of Split. It's a clever idea, but nothing more and notable mostly for serving as a disappointing sequel to two films instead of one.
38.

G.I. Joe: Retaliation (2013)
Willis plays the original G.I. Joe in this second film adapted from the popular toy line. It's a silly (if perfectly watchable) film, but it understands Willis's value as an action icon, and it's fun to see him playing the elder statesman opposite next-generation stars like Dwayne Johnson and Channing Tatum.
37.

Perfect Stranger (2007)
A mystery happy to lean into its own ludicrousness, Perfect Stranger stars Halle Berry as a reporter investigating an advertising executive (Willis) who may or may not have murdered her friend. Willis serves as the gruff, still center of an overheated film filled with breathless revelations. It's not exactly good, but it's seldom less than compelling.
36.

The Expendables (2010)
35.

The Expendables 2 (2012)
When Universal's classic monsters stopped being strong box-office draws on their own, the studio started to put them together in films like Frankenstein Meets the Wolf Man and House of Dracula. What worked for monsters in the 1940s worked for action stars in the '10s. Willis appears only briefly in 2010's The Expendables, where he plays Mr. Church, a mystery man who sends Barney Ross (Sylvester Stallone) on a mission to topple the dictator of a Caribbean island after Trench Mauser (Arnold Schwarzenegger) opts out, citing his busy schedule. That Mount Rushmore of '80s action stars was together for just a single scene in the franchise's first entry but get more screen time together in the sequel, which is filled with knowing winks to their past films and offscreen rivalry. It's shameless fan service, but for anyone who grew up watching these guys, it's kind of hard to resist.
34.

Blind Date (1987)
Willis's big-screen experience was limited to a handful of appearances as an extra in films like The Verdict prior to making his starring debut in this Blake Edwards–directed comedy about Walter (Willis), a put-upon businessman whose blind date with the beautiful Nadia (Kim Basinger) takes a wild turn when she ignores her disastrously low tolerance for alcohol, leading to a string of mishaps. Though the movie is mostly bland and predictable, Edwards flashes some sparks of the visual imagination seen in his prime and Willis successfully translates his Moonlighting charms to the big screen. Critics shrugged, but the film became a hit and Willis was on his way.
33.

The Siege (1998)
Edward Zwick's film imagines a what-if scenario in which the borough of Brooklyn is placed under martial law after a string of terrorist attacks. Though crafted as a defense of equality and civil rights, it earned criticism for its stereotypical depiction of Arab Americans. Those issues aside, the film doesn't really work, but Willis, effective as a tyrant in the making, can't be blamed for that.
32.

Alpha Dog (2006)
Willis is also good as a smaller-scale tyrant in this fact-inspired story of a kidnapping gone awry. Willis plays Sonny Truelove, who's both father and supplier to Johnny Truelove (Emile Hirsch), a drug dealer who gets embroiled in a murder-kidnapping scheme. Without letting Hirsch's character off the hook, Willis's performance suggests the kid never had much of a chance not to be a criminal creep.
31.

Hudson Hawk (1991)
Willis shares a story credit on Hudson Hawk, but even without it his stamp would be all over the film. Tailored to its star's wiseacre skills — the defining element of most of Willis's early roles — it follows the globetrotting master thief Hudson Hawk (Willis) as he gets embroiled in a convoluted scheme to activate a Leonardo da Vinci–designed device that can turn lead into gold. Hudson Hawk was a critical and financial disaster whose title became synonymous with failure in 1991, but time has been fairly kind to it. It's charmingly eccentric and features a pair of memorably over-the-top performances from Richard E. Grant and Sandra Bernhard as married villains. The film is undeniably a vanity project, but it's never dull and there's nothing else quite like it. Willis bounced back easily — that it was one of four films he appeared in that year undoubtedly helped — but he must have been chastened by the rejection: He'd continue to crack wise but never quite go full Bruno again.
30.

Color of Night (1994)
If you're really in the mood to watch Willis in a ridiculous, twisty suspense film, skip Perfect Stranger and hold out for Color of Night, a widely panned but undeniably entertaining erotic thriller directed by Richard Rush (The Stunt Man). Willis fully commits himself as Bill Capa, a psychiatrist who takes over Bob Moore's (Scott Bakula) group therapy session after Bob is murdered, possibly by one of his patients. Rush tries to walk a line between stylish Hitchcock homage and camp sleaze. It's a fascinating high wire act that doesn't always work, but Willis makes for an effective, if easily seduced, everyman.
29.

What Just Happened (2008)
28.

The Player (1992)
27.

Ocean's Twelve (2004)
Instantly recognizable, Willis effectively played himself several times in cameo appearances, arriving to complicate the hall-0f-mirrors of Ocean's Twelve (a film in which Julia Roberts impersonates the famous Hollywood star Julia Roberts), and (again with Roberts), showing up to give The Player a perfect Hollywood ending. The latter appearance also suggests an understanding of how Hollywood saw him at the time, and with it an urge to stretch beyond the quippy action hero slot into which he'd fallen. His funniest and most self-deprecating cameo can be found in Barry Levinson's What Just Happened, in which Willis plays an obnoxious version of himself whose refusal to shave his beard threatens to derail an entire film production (recreating a real-life incident involving Alec Baldwin).
26.

Live Free or Die Hard (2007)
Arriving a dozen years after Die Hard with a Vengeance the fourth Die Hard installment doesn't bear that much connection to its predecessors beyond the John McClane name. It also abandons the relatively small scale of the previous film for a cyber thriller plot that could just as easily belong to a James Bond movie. It's not bad, though, thanks largely to Willis's assured presence and able support from Justin Long as a mismatched ally and Timothy Olyphant as the bad guy.
25.

Bandits (2001)
Though a bit too shaggy for its own good, Barry Levinson's quirky crime film gets a lot of mileage out of good casting. Willis co-stars as the cooler half of a crime team opposite Billy Bob Thornton as his neurotic partner. After they team up with a bored housewife played by Cate Blanchett an oddball love triangle forms. The film's a long amble to nowhere but the characters are a good hang.
24.

Death Becomes Her (1993)
Willis dialed back the movie star ego to play a stooge caught in a love triangle between two actresses (Meryl Streep and Goldie Hawn) who've stumbled into a secret that will keep them young and beautiful forever — maybe. Streep and Hawn's film-long catfight and the groundbreaking special effects are the real stars of this Robert Zemeckis–directed dark comedy, but Willis again proves he's more than capable of supporting others and willing to make himself look like a fool in the process.
23.

Grindhouse (2008)
Playing an unhinged military man who accidentally starts a zombie outbreak, Bruce Willis taps into the spirit of Planet Terror, Robert Rodriguez's tongue-in-cheek, hyperviolent contribution to the double-feature package Grindhouse. He's not the star, but it wouldn't work nearly as well with a less iconic face as a bad guy.
22.

Motherless Brooklyn (2019)
Willis's last performance in a widely released film finds him playing father figure to a gaggle of misfit private eyes in Edward Norton's underrated, long-in-the-works adaptation of a Jonathan Lethem novel. Though not in the picture for long, Willis's understated work makes an impression that lasts the rest of the film, and suggests a skill at playing elders and mentors he might have had a chance to develop under other circumstances.
21.

Hart's War (2002)
Set in a German World War II POW camp, this murder mystery/prison escape/courtroom drama casts Willis as Col. William McNamara, the torture-hardened leader of a group of American soldiers. Colin Farrell co-stars as Thomas Hart, a lieutenant tasked with defending Lincoln Scott (Terrence Howard), a Tuskegee Airman accused of killing a fellow officer, a job that finds him arguing against McNamara—though Hart begins to suspect there's more to the story. It's more solid than great, but strong performances, including Willis's pained work as a man forced to make impossible choices, helps elevate it.
20.

Die Hard 2 (1990)
In the years after Die Hard, its structure became a much-used template for action films that put ordinary people in tight quarters and asked them to perform extraordinary acts of heroism. Under Siege was, in essence, Die Hard on a boat. Speed was Die Hard on a bus, and so on. Die Hard 2 had to go bigger lest it be accused of simply repeating the original film, but it's essentially Die Hard in an airport (with a few scenes set on one of the airplanes circling it). Here John McClane once again finds himself called into action when terrorists take over Washington's Dulles Airport as part of a nefarious scheme. Though directed with flair by Renny Harlin, it's not as good as the original but it is louder and features more graphic violence and Willis looks appropriately shocked and exasperated as a character who can't believe he's stuck in such a familiar situation.
19.

16 Blocks (2006)
Cops and military men dominate the back half the final decades of Bruce Willis's career but there's good reason: he played those roles well. The final film directed by Richard Donner, 16 Blocks gives Willis one of his best cop roles, an NYPD detective who has to battle a bunch of corrupt fellow officers and a tight deadline as he escorts an eccentric witness (Yaslin Bey) to the courthouse. Willis and Bey (known at the time as Mos Def) make an effective mismatched team, the latter's non-stop chatter making it easy to understand the former's annoyance with the job at hand.
18.

Armageddon (1998)
For some, the frenetic Michael Bay style remains a permanent barrier to enjoying this blockbuster about oil drillers charged with saving the Earth from colliding with an asteroid. But Bay's always been savvy about assembling strong casts to humanize his work and Armageddon is no exception, thanks in part to Willis's contributions as a tough-but-caring dad who's willing to put his life in danger to save the world but who's mostly concerned about the well-being of his daughter (Liv Tyler). The film arrived at a key moment in Willis's career, signaling a future in which he'd cede young hotshot roles to the next generation of stars, in this instance Ben Affleck.
17.

Sin City (2005)
Robert Rodriguez and Frank Miller co-direct an adaptation of Miller's overcranked noir comics that uses a live action cast to recreate Miller's (mostly) black-and-white images in exacting detail. It's a neat trick saved from being a mere technical exercise by a cast that brings dimensionality to its hard-bitten dialogue and stock characters. Willis gets one of the meatier roles as John Hartigan, a cop who rescues a girl from a serial killer then becomes a kind of guardian angel to her in adulthood.
16.

Fast Food Nation (2006)
Willis is just one small part of a sprawling tapestry in Richard Linklater's adaptation of Eric Schlosser's non-fiction bestseller that exposed the abuses and excesses of the fast food industry, but he's a crucial part. The film weaponizes his gift for glibness in a brief appearance as an executive who waves away worries about manure contaminated meat by saying, "The truth is we all have to eat a little shit from time to time."
15.

In Country (1989)
Willis had already proven he could anchor comedies and action films by 1989, but whether or not he could hold his own in dramatic roles remained in question. Directed by Norman Jewison, In Country answered it in the affirmative. The plot focuses on Samantha (Emily Lloyd), a Kentucky teen seeking to uncover her family's past. That includes her Uncle Emmett (Willis), a Vietnam vet suffering from PTSD but nonetheless doing his best to make up Samantha's absent mother. The movie's not entirely successful, but Willis is quite strong as a tough guy shaken by a past he can't forget.
14.

Red (2010)
The title of this comic book adaptation doubles as an acronym for "Retired Extremely Dangerous," a label aptly applied to Willis's Frank Moses, an ex-CIA agent desperate for a quieter life and to spend some time with Sarah (Mary-Louise Parker), the call-center employee with whom he's struck up an ongoing flirtation. That doesn't go quite according to plan, however, when Frank becomes the target of an assassination attempt, putting Sarah in danger in the process. One of Willis's best late-career action roles, Red remembers its star has a gift for comedy, gives him an able partner in Parker, and lets him play straight man to the more eccentric characters around him, most memorably a paranoid ex-spook played by John Malkovich.
13.

The Last Boy Scout (1993)
Not for viewers with a distaste for excess, this Tony Scott-directed, Shane Black-scripted thriller brings out the best and worst of all involved. Scott piles on the style and flash, Black's self-awareness and wit often feels mean. Willis and co-star Damon Wayans turn the macho up to 11, and it's one of the most violent and sexist action films of a violent and sexist era. Still, it's undeniably compelling and it's fun to see Willis portray a character who could be John McClane gone to seed.
12.

Die Hard With a Vengeance (1995)
An argument could easily be made that Die Hard didn't need a sequel, that its story of a man repairing his marriage while taking out bad guys in an LA high rise works best as its own self-contained film. Hollywood doesn't work that way, however, and that's not always a bad thing. This second sequel finds McClane back on the beat for the NYPD (and once again trying to hold onto his marriage) when he becomes embroiled in a terrorist scheme masterminded by Peter Gruber (Jeremy Irons), brother to the original film's bad guy. John McTiernan ably returns as director after sitting out Die Hard 2, but it's Willis's contentious chemistry with Samuel L. Jackson, an electrician who unexpectedly becomes his partner, that gives the film its punch.
11.

The Fifth Element (1997)
Willis's gift for seeming like an ordinary guy no matter how extraordinary his surroundings provides some much needed ballast for Luc Besson's fanciful space fantasy in which he plays 23rd century taxi driver Korben Dallas who unexpectedly becomes central to saving the Earth from destruction when Leeloo (Milla Jovovich), a woman from another world, lands in his cab. Besson keeps throwing one idea after another into the film, which wouldn't work nearly as well without a skeptical everyman to balance it, and few stars play that part better than Willis.
10.

Mortal Thoughts (1991)
Willis has played his share of villains and tough guys over the years but most of those roles haven't asked him to abandon his innate charisma. Not so with Jimmy Urbanski, a full-on Jersey sleazebag whose murder is at the center of this Alan Rudolph-directed thriller co-starring Glenne Headley and Demi Moore (Willis's wife at the time, who delivers one of the strongest performances of her career here). As a mystery it doesn't really work, but Rudolph keeps the atmosphere tense and Willis is convincing as a man whose homicide seems 100% justifiable. It's an instance of perfect casting: this character plays like the dark side to the easygoing party guy roles that Willis is famous for.
9.

Moonrise Kingdom (2012)
Another film that suggests the direction Willis's career might have traveled if he hadn't been sidelined by illness, Moonrise Kingdom finds him easily slipping into the Wes Anderson ensemble as a kindly island police captain called upon to rescue a pair of runaways. Willis again plays a man of few words but that doesn't prevent him from being at the center of some of the film's most moving moments.
8.

The Whole Nine Yards (2000)
As Willis increasingly became associated with action blockbusters in the 1990s it became easy to forget that it was a gift for comedy that made him famous. The Whole Nine Yards provided a reminder via his work as Jimmy "The Tulip" Tudeski, a feared hitman who moves into an inconspicuous suburban home next to Oz (Matthew Perry), a dentist with money troubles who first befriends, then runs afoul of, his new neighbor. Playing off his tough guy image, Willis brings a fun sense of comic menace to the part, a contrast to the frantic plot and fun, energetic performances from Perry and, especially, Amanda Peet. There's nothing particularly inventive about the movie, but the cast offers a master class in how to elevate so-so material.
7.

Nobody's Fool (1994)
This Richard Russo adaptation belongs to Paul Newman, who delivers a late-career highlight as Sully Sulivan, an irascible New England ne'er do well. But Willis proves a worthy foil as Carl, Sully's womanizing sometime employer and the butt of both his practical jokes and lawsuits. As a man just as seemingly doomed to serve as his own worst enemy as Sully, despite his financial success and marriage to the beautiful Toby (Melanie Griffith), Willis brings more than a hint of tragedy to what could have easily been a caricature.
6.

Looper (2012)
Willis's last great starring role finds him playing opposite Joseph Gordon-Levitt (as the same character) in Rian Johnson's twisty sci-fi thriller about time travel and hit men. The plot is clever—if hard to explain succinctly—but it's the way the two leads turn the story into an exploration of regret and the meaning of second chances that makes it so memorable.
5.

Pulp Fiction (1994)
Finding untapped potential in established stars is one of Quentin Tarantino's greatest gifts. While John Travolta's comeback got most of the attention at the time, Pulp Fiction now looks like an equally transformative moment for Willis, who'd never before been so quiet and restrained on screen. In the film's central sequence, Willis plays Butchie, a boxer whose refusal to throw a fight requires him to flee the mobsters on his trail. Butchie's story climaxes in violence, but scenes of the character's gentleness with his girlfriend Fabienne (Maria de Medeiros) revealed a softer side Willis had never really gotten to showcase, opening up new possibilities in the process.
4.

The Sixth Sense (1999)
Butchie's gentle moments make it easy to draw a direct line from that character to Malcolm Crowe, the child psychologist Willis plays in M. Night Shyamalan's breakthrough The Sixth Sense. By now, everyone knows the film's big twist, but it's not the twist that makes the film great. Locked in to Shyamalan's patient rhythms, Willis brings tremendous sensitivity to his scenes with Haley Joel Osment's Cole Sear, a fragile boy who claims to be able to interact with ghosts. When the twist is revealed, it's Willis's reaction—shock, disbelief, and finally acceptance—that makes it hit so hard.
3.

Die Hard (1988)
It's not a question of whether or not Die Hard is Bruce Willis's best action movie. That's undeniable. It's more a question of whether Die Hard is the best action movie, period. If so, much of the credit belongs to Willis, whose John McClane begins the film as an East Coast guy baffled by California weirdness and hoping to repair his relationship with his wife Holly (Bonnie Bedelia), before being called upon to take out a bunch of high-tech European terrorists because nobody else can. Willis makes for a great action hero in part because he doesn't look like an action hero, at least at first. He doesn't have Schwarzenegger and Stallone's bulging physiques nor does he radiate aggression. But his McClane does have an innate toughness and cares deeply about his wife, which combine to become a kind of superpower (that and gift for well-deployed catchphrases). Both the film and Willis's performance would be much-imitated in the years that followed but never replicated and certainly never topped.
2.

12 Monkeys (1995)
Even at his most glib Willis gave his characters a sense of vulnerability. That vulnerability deepened with age, which may explain why some of Willis's strongest performances can be found in melancholy stories about time travel and second chances. In Terry Gilliam's quasi-remake of Chris Marker's classic short La Jetee, Willis plays James Cole, a prisoner in a post-apocalyptic future who's sent back in time to gather information about a deadly virus that wiped out much of humanity when Cole was just a boy. Once there, he meets and eventually falls for Kathryn Railly (Madeline Stowe), a psychiatrist who thinks he's delusional—at least at first. The film is about Cole's quest for answers but it's just as concerned with its protagonist's personal journey. A visitor from a time with no future, he finds himself awakening to life's possibilities, at least in the moments when he's not struggling just to stay alive or forced to question his own sanity. What now looks like a companion piece to Looper contains some of Willis's most intense and poignant work in a role that's far removed from John McClane. Instead of a man who takes fate in his own hands, Cole finds he's fate's prisoner as, perhaps, we all are.
1.

Unbreakable (2000)
Arriving just a year after The Sixth Sense, Unbreakable baffled viewers who expected more of the same. Sure, the M. Night Shyamalan film similarly ended on a twist, but instead of returning with another supernatural thriller, Shyamalan opted for a superhero-origin story told in slow motion. Willis plays David Dunn, a high-school-sports hero turned security guard who becomes the sole survivor of a horrific train crash. With the guidance of the frail comic book shop owner Elijah Price (Samuel L. Jackson), David comes to realize that he's essentially indestructible (in addition to having other extraordinary gifts.) As in The Sixth Sense, Willis's performance works in perfect sync with Shyamalan's deliberate pace. Neither is afraid of stillness or silence and David's hesitance to accept his calling is at the heart of the character. Willis captures that feeling and movingly conveys David's decision to take on the mantle of hero. It all pays off with a wordless exchange in which David acknowledges to his son Joseph (Spencer Treat Clark), that, yes, he's the mysterious vigilante hero the papers are writing about. It may be the single best moment in Willis's screen career. Then again, there are many more to choose from.