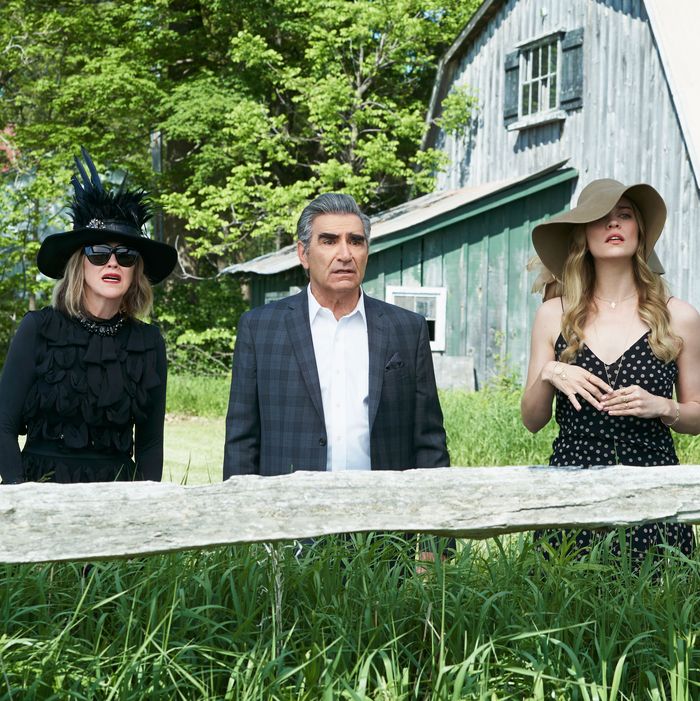 This story originally ran in 2019 and is being republished in honor of Schitt's Creek's finale.
Canada is a special place: It's a country that nurtured the invention of basketball, the discovery of insulin, and the development of sketch-comedy talent.
Down here in the States, even the casual comedy fan is familiar with the likes of Canadian's great sketch history: The Kids in the Hall, SCTV, Baroness von Sketch Show, and You Can't Do That on Television; that great sketch comedy comes from Canada is widely accepted by now.
Criminally less prominent, however, are Canada's sitcoms, which are plentiful, delightful, and as uniquely Canadian as they are funny. So, in honor of Canada, here are 25 of the best and most important Can-coms of all time.
The Amazing Gayl Pile (2014-2018)
A truly surreal and at times disturbing treasure, this is a comedy about one man's descent into madness, as he is haunted by his family legacy and bullied by his co-workers. That's the plight of Gayl Pile (Morgan Waters), who must keep afloat the low-rent home-shopping channel started by his deceased, beloved, and driven mother. (Available at GaylPile.com)
Call Me Fitz (2010-2013)
Luke Perry got all the post-90210 love, but Jason Priestley (who played Brandon Walsh) has just as much charisma, and comic chops to boot. After his teen-idol days, he returned to his native Canada to star in this edgy, unabashedly unrestrained FX-style sitcom about a sleazy, amoral, self-absorbed used car salesman. (Available for purchase on Amazon)
Cavendish (2019)
Set in and named after the real town of Cavendish, Prince Edward Island, this very new show features sketch performers Mark Little and Andrew Bush as brothers who return to their hometown for the first time in decades, only to find that the place has taken on a surreal Pete and Pete meets Welcome to Nightfall kind of vibe, albeit seeped in Canadiana. There's a local cult that worships PEI icon Anne Shirley, mediocre covens, possessed statues, and all live in fear of "The Beast" — a frightening monster who is probably just a wolf. (Streaming on CBC Gem — in Canada.)
Corner Gas (2004-2009)
Small-town shows — of which Canadian TV has many — often give off a whiff of disdain for its characters, because if they never left their tiny hometowns, they must be dumb. Corner Gas is so refreshing in that creator Brent Butt presents his very fleshed-out, three-dimensional, small-town goofball characters with respect … and they just so happen to be quirky on their own. That leads to gentle, charming character comedy, derived from the fact that most of the people of Dog River, Saskatchewan, have known each other all their lives, and bust each other's chops out of love. Little actually happens in Dog River or on Corner Gas, but that makes for an engrossing show. It's corny to say this, but watch like five of these in a row and you feel like you've spent the day in a real town, hanging out with Brent at his gas station; Lacey, the skittish Toronto transplant who operates the diner next door; or Davis and Karen, the mismatched beat cops with not much beat to cover. (Available on Amazon Prime)
Kim's Convenience (2016-present )
It's not unlike King of Kensington (see below) in that it the action revolves around a middle-aged guy who runs a convenience store in Toronto. It's very much unlike Kensington in that the proprietor, Mr. Kim (Paul Sun-Hyung Lee), is very gruff and only as friendly as he needs to be, as he concentrates his efforts on moving forward and keeping the business afloat — all while making sure his grown children stay on the straight and narrow. That makes Mr. Kim the foil for his daughter, Janet (Andrea Bang), who's trying to make a go of it as an artist despite her practical, disapproving father. Kim's Convenience is a quiet, low-drama show set amid a loud, bustling, changing neighborhood. (Available on Netflix)
King of Kensington (1975-1980)
Hugely popular when it first aired, and very much a product of its time, this shot-on-video, laugh-track-bolstered sitcom stars Al Waxman (Lieutenant Samuels from Cagney & Lacey) as Larry King (ha!), a gregarious and opinionated convenience-store operator (and later a youth-center employee) in Toronto's Kensington Market district who helps customers, neighbors, and friends deal with their problems and such. (The character, kind of the anti–Archie Bunker, is an icon of Canadian TV.) (Available to purchase on Amazon.)
Less Than Kind (2008-2013)
This is a tender, coming-of-age show that's a comedy in the sense that growing up in a middle-class family with a handful of personal issues is relatable, and therefore funny. It's based on Marvin Kaye's one-act play, They Have Mayonnaise in Montreal, and it's about a Jewish family in the prairie city of Winnipeg, particularly sensitive teenager Sheldon Blecher (Jesse Camacho). It's a series in which the stakes are low but the personal victories are huge. (Available on YouTube.)
Letterkenny (2016- )
This cult classic co-created by star Jared Keeso is set in a tiny Ontario farming community, and revolves around a group of farmers, or "hicks" (led by Kesso as Wayne), discussing their disdain for the other groups around town, including the idiotic junior-hockey players and the "skids" (EDM-obsessed drug addicts). But this is not a "friends sitting around talking show." All dialogue on this dialogue-heavy show comes via agile, tightly choreographed conversations, which are loaded with inscrutable slang, wordplay, and jokes both running and inside. Letterkenny just lives on its own strange comedic plane. (Available on Hulu)
Little Mosque on the Prairie (2007-2012)
While millions of Americans and Canadians attend Christian religious services, there haven't been all that many church sitcoms as there have in, say, the U.K. (Have there been any Stateside besides Amen?) Which means there are even fewer sitcoms about the Muslim faith or mosque life. The sweet and easygoing Little Mosque on the Prairie, with its winking title, was a groundbreaking series in its time, following the small Muslim community in a small Saskatchewan town who worship in a makeshift mosque housed in the hall of the local Christian church. (Available on iTunes)
Made in Canada (1998-2003)
Watching all of these Canadian TV shows provides a pretty good cultural window into the land of Rush and syrup, but watching this show provides a (satirical) glimpse into what it's apparently like to work in Canadian TV. Rick Mercer, best known for his work on This Hour Has 22 Minutes (a popular hybrid of SNL and The Daily Show), knows a thing or two about the industry, and here he plays Richard Strong, a television savant who climbs from script boy to the head of production at a company that makes exclusively bad and cheap television. It's like a more biting UHF. (Available on Amazon.)
Maniac Mansion (1990-1993)
This sitcom, which ran on the Family Channel Stateside concurrent to its run on Canadian television, may appear to be a cheesy cable sitcom, seeing as how it takes place in a craaaaaazy house where a craaaaaazy inventor lives with his craaaaaazy family. But it's more than that: The team of SCTV veterans on the writing staff (including Eugene Levy and John Hemphill) used boring trappings to sneak this subversive, live-action cartoon onto the air. SCTV's Joe Flaherty stars as Fred Edison, surrounded by poorly genetically-modified characters like Harry Orca, a fly with a human head, and Turner, a man who is actually a child. And the first ever episode of Maniac Mansion was its tenth anniversary special.
Mohawk Girls (2014-2017)
TV in Canada embraced its population's diversity more readily than American TV, exemplified by this sitcom about single, female Mohawks. Creator Tracey Deer wanted to make a show about young Native women, and so she did, calling it "Sex and the City for the Native set." In the broader sense, it's about people straddling multiple cultures while also trying to forge some independence. (Streaming on APTN.)
Mr. D (2012-2018)
As one of the many sitcoms in which stand-up comedians play teachers, in order to give them a built-in audience of students to tell jokes to and butt heads with, Mr. D is both funnier and more realistic than stuff like Welcome Back, Kotter or Head of the Class. That's probably because Mr. D star and creator Gerry Dee (recognizable to American comedy nerds from almost winning Last Comic Standing in 2007) taught high school PE for ten years. The comic tension here comes from Mr. D being far less qualified than his teaching peers, and the kids treating him like he's one of their own more than an authority figure. (Available on Hulu)
The Newsroom (1996-2005)
It's the superior and far more intentionally funny of the two North American shows with this title. Rather than taking the Aaron Sorkin route of patting itself on the back for taking on both current events and the industry of how they're handled, this Newsroom approaches the news and the news business with a deep, world-weary cynicism. TV news director George Findley (Ken Finkleman) is far more concerned with workplace minutia than crusading journalism, making it a worthwhile watch. (Available to purchase on Amazon.)
Nirvanna the Band the Show (2017-present)
Matt and Jay (Matt Johnson and Jay McCarrol) are a couple of loser friends and roommates desperate to play a gig at Toronto's historic Rivoli Theater, and the show follows them as they stage stunts to gain attention. Never mind how they haven't actually formed a real band yet. Nirvanna the Band the Show (based on an earlier web show of the same, wonderful name) weaves together scripted scenes of Matt and Jay's mission along with heavily improvised moments and bits shot in public around people who aren't aware they're in a show. (Available for purchase on Amazon)
Puppets Who Kill (2002-2006)
With strong cultural ties to the U.K. and the fact that French is one of its official languages, Canada maintains a strong European influence. That means they share the old world's love of puppets, and don't consider them the province of kiddie entertainment, as is often the case in the U.S. Built out of comic puppeteer John Pattison's stage act, Puppets Who Kill is a dark and twisted puppet show for grown-ups, set in a halfway house for dangerous criminals who don't necessarily want to be rehabilitated. And those criminals are all puppets with cute names, such as Rocko the Dog and Buttons the Bear. (Available on Amazon Prime)
The Red Green Show (1991-2006)
This ran on tons of American PBS stations for years. It's a show within a show about an outdoors expert (the titular Red Green, as portrayed by Steve Smith) who hosts a cable TV show about outdoor sports and such. Apart from that scripted structure, there are recurring sketch segments, like the "Possum Lodge Word Game" and "Handyman Corner." The Red Green Show is so broad that it borders on hokey, but that's quickly stripped away because of how self-aware and clever it also is. (Available on YouTube)
Rent-a-Goalie (2006-2008)
Here's an obscure and fun fact about Canada: The country is quite fond of hockey. You can't run a list of stuff about Canada without making at least one reference to the sport of ice kings, and so we have this lovely sports comedy which is also unexpectedly touching at times. A recovering addict rents out space in a small Toronto coffee shop, through which he operates a hockey goalie rental service. As one does. (Available for purchase on Amazon.)
Schitt's Creek (2015-2020)
More than just one of the best Canadian sitcoms, Schitt's Creek, a hit in the U.S. thanks to the POP channel, is arguably the best sitcom overall of the last decade. It's about the wealthy Rose family, who lose their fortune in a financial scandal and must resettle in the crappy motel in Schitt's Creek, a town they once bought as a joke. This could easily be a trite, fish-out-of-water show, or one about nasty rich people getting what's coming to them. Instead, all four Roses become better people. Johnny (Eugene Levy) rediscovers the hustle that made him successful in the first place, and he slowly makes Schitt's Creek a nicer place. Moira Rose (Catherine O'Hara, adopting a bizarre performative accent and a collection of wigs) tones down the self-absorption to serve on the town council and reconnect with her grown children, pretentious fashionisto David (Daniel Levy, Eugene's son) and spoiled brat Alexis (Annie Murphy, who might as well be a Levy, as she uncannily imitates her co-stars' expressions, behaviors, and vocal patterns). There's also quirky townsfolk, best represented by Roland Schitt, portrayed by Chris Elliott, as if this show didn't have enough comedy legends in it already. (Available on Netflix.)
Second Jen (2016-2018)
Young BFF-duo sitcoms are the best — see Broad City, Pen15, Beavis and Butt-Head, etc., for proof. This one makes the list as well. Second Jen is about Mo and Jen (Amanda Joy and Samantha Wan), braving the real world with enthusiasm after moving out of the sheltered homes of their respective, overprotective Asian-Canadian families. Joy and Wan created Second Jen for themselves after running into each other at auditions for thankless Asian female roles, and the show explores the clash between their reserved, traditional upbringings and the freewheeling and sexy youth culture of today. (Available on DailyMotion.)
Tiny Plastic Men (2012-2016)
There's so much comedic potential in a show about grown men who test toys for a living. Born out of the Edmonton improv scene, Tiny Plastic Men delivers on its premise, in which three man-children work in the basement of a toy company, playing all day with whatever bizarre toys they're ordered to play with … which also trigger surreal sketches and fantasy sequences. (Available on Amazon Prime)
Trailer Park Boys (2001-2018)
Ricky, Julian, and Bubbles are three petty criminals who live in a trailer park who succeed in committing small, trashy crimes, but almost never succeed in their grand, elaborate criminal ambitions. That's a compelling, almost infinitely refillable premise, and it's one that's made the mockumentary-style Trailer Park Boys into an extremely successful multimedia franchise, spanning more than 100 episodes, several films, and an animated series. (Available on Netflix)
Twitch City (1998-2000)
Looks-wise, Twitch City hasn't aged well — its loud colors, garish outfits, and odd camera work make it resemble Hackers. But comedically, this show was ahead of its time with an inventive, dark self-awareness as it tried to break down the stale conventions of '90s sitcoms. I mean, one of the main characters, Nathan, goes to prison at the beginning of the series for murdering a guy in Kensington Market, played by Al Waxman from King of Kensington. His absence from his apartment allows for the premise of the show: His slacker roommates Curtis and Hope (played by Molly Parker!) constantly seek out a new tenant to take over Nathan's room. Sometimes they're drug dealers, sometimes they're Nazis. Curtis, meanwhile, is an agoraphobic TV addict obsessed with a trash talk-show host played first by Bruce McCulloch and then his fellow Kid in the Hall Mark McKinney. Twitch City was bonkers. (Available on YouTube.)
Workin' Moms (2017-present)
This isn't the first series about working parents trying to "have it all," but it's maybe the first one that isn't condescending to the actual workin' moms in the audience. Most people have a hard time juggling everything, and Workin' Moms shows that the difficulty can manifest in many different ways. Kate (creator Catherine Reitman) has an important job and a new baby and struggles to nail the balance, while Frankie (Juno Ruddell) gets stymied by postpartum depression. The comedy can be dark and provocative, but the comedy is real. (Available on Netflix)
Young Drunk Punk (2015)
Imagine if they made The Wonder Years, but instead of fondness and nostalgia, the adult Kevin Arnold looked back on his youth with slight mockery and mild embarrassment. That's the conceit of Young Drunk Punk, set in early-'80s Calgary and detailing the exploits of recent high-school graduate Ian (Tim Carlson) and his easygoing best friend Shinky as they try to stay true to the punk ideals they've learned solely from Buzzcocks records and figure out their identities. Mostly they just try to stay out of the way of Ian's angry dad, who runs a planned community with an iron fist. (Kids in the Hall's Bruce McCulloch plays the dad, but really his own dad, because he created Young Drunk Punk as a loose reflection on his own time as an early-'80s young, drunk punk.)