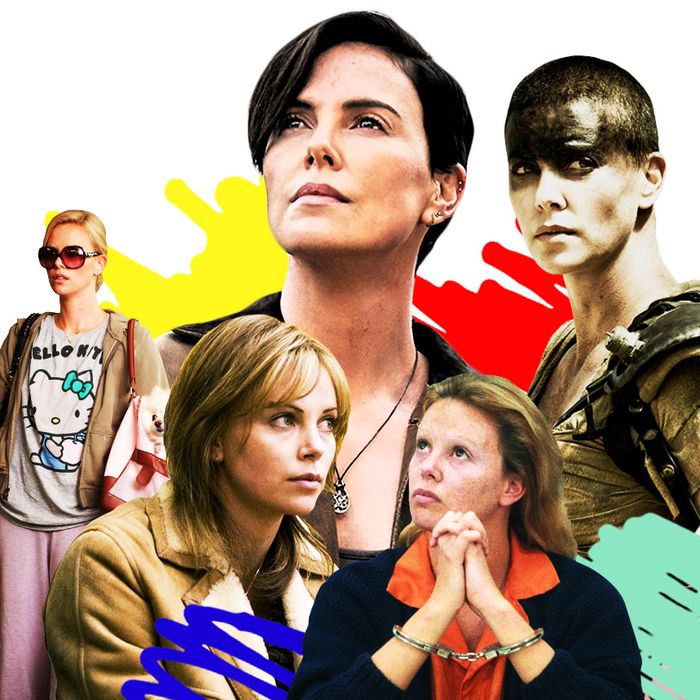 Photo-Illustration: Vulture, Paramount Pictures, Newmarket Films, Netflix, Focus Features and Warner Bros.
This article has been updated to reflect Charlize Theron's most recent work.
You've probably heard the story about how Charlize Theron was discovered. A former model and aspiring ballerina who had to give up that dream after she damaged her knee, she was at a low point in 1994 when she went into a bank in Los Angeles, blowing her lid at the teller who wouldn't cash her check since she didn't have an account. A talent manager saw her freaking out and famously told her, "I don't know what you do, but if you're interested in acting, here's my card."
What's amazing about that story is that, as accomplished as she's been over the last 25 years, Theron isn't someone we think of as being a volcanic onscreen presence. Even when she plays deeply troubled characters (like she did in her Oscar-winning turn in Monster) or ferocious warriors (as in the magnetic action-thriller Mad Max: Fury Road), the actress exudes a sense of tightly wound control. For proof, look no further than 2017's adrenalized spy thriller Atomic Blonde, in which she plays Lorraine Broughton, a secret agent who knows she's smarter, tougher, and cooler than anyone she comes across. Broughton may get beaten up or betrayed along the way but — as is typical with Theron's characters — you can't ever break her.
Theron's career thus far has been a portrait of an evolving artist who's stayed ambitious, surviving some missteps along the way while building her critical reputation at the same time as her commercial profile continues to rise. Aeon Flux, her 2005 stab at action-hero glory, fizzles out? No problem: She'll reload for hits like Hancock, Mad Max, and The Fate of the Furious. Think Theron would rest on her laurels after winning an Oscar relatively early in her career? No sir: Movies as varied as North Country and Young Adult prove that she'll continue to flex her dramatic muscles and take chances.
Below is our ranking of every Theron performance. To be clear, we're not ranking the movies but merely her role in them. (She is, for example, easily the best part of The Last Face, Sean Penn's horribly misjudged war-torn romance from last month.) We skipped voice performances — sorry, Kubo and the Two Strings — but we did include her one-scene parts when she was still an up-and-comer. There's a lot of gold here — and even when the film she's in lets her down, she's always far more composed and commanding than when she bit that bank teller's head off so long ago.
This is the movie that Theron considers the worst one she's ever been in, and hey, who are we to disagree? It's a limp, irritating prison thriller in which Theron plays a woman waiting for an inmate (Ben Affleck) to be released from jail before setting off for an unnecessarily complicated adventure. This was director John Frankenheimer's last film, and that he'd made Ronin two years earlier showed that he still had it. This was also when Affleck was starting to lose all his Good Will Hunting and Chasing Amy goodwill; after this would come Bounce and Pearl Harbor and Daredevil and, yes, Gigli. Fortunately, Theron got out of the way before he dragged her down with him.
Theron garnered one of her two Razzie nominations for this groaner of a romance (the other one was sort of an innocent-bystander nom for standing too close to Seth MacFarlane), the sort of soft-focus fuzzy glop that she has spent most of her career avoiding. This was a particularly bad version of it, leading to the classic Roger Ebert line, "Sweet November passes off pathological behavior as romantic bliss. It's about two sick and twisted people playing mind games and calling it love." It's actually a little worse than that.
Theron plays a brothel madam in this utterly forgettable Robert De Niro–Edward Burns detective thriller. She has one scene. The detectives come to her place of business and ask her questions about a murdered woman; she acts shocked and then gives them clues that lead them to their next destination. Oh, she also speaks Afrikaans at one point. That's it.
40. Waking Up in Reno (2002)
It's not entirely clear why Theron decided to do a "redneck road comedy," let alone one with Patrick Swayze, but here she is nonetheless, as "Candy," an Arkansas girl who just wants to get pregnant. (That's pretty much her whole arc.) This is an inexplicable movie that once again showed Theron trying to find the right comedic note and picking the wrong film all together. She spends most of the movie loudly chewing gum.
Welcome to the brief moment of Michael Richards, leading man! This My Cousin Vinny knockoff — directed, like that film, by Jonathan Lynn — is a dull comedy that features Theron as a waitress who helps Jeff Daniels realize the woman he's marrying isn't good enough for him. That's a silly little role for Theron to play — though she was 21 and just trying to do a comedy, who's gonna blame her? Theron is actually funny, but she's still never quite found the right comedy vehicle.
For years, actors have said they'd be so honored to appear in a Woody Allen movie that they'd happily take any role, no matter how tiny. This might explain Theron's presence in Celebrity, in which she plays an unnamed, uninteresting supermodel who seduces Kenneth Branagh's stammering, Woody-like writer. It's not a character so much as an anonymous object of desire, and Theron does as much as she can with it, including dutifully grinding up against former NBA star Anthony Mason in a club. This was very early in Theron's film career, and certainly not the sort of thing she'd be reduced to playing for very much longer.
When Tom Hanks cast Theron in his directorial debut about a fictional 1960s band, he wrote in her script, "No matter what, I will always claim to have discovered you." That Thing You Do! wasn't the first movie she made, but it helped get her foot in the door — even if the film was only a modest success and Theron is barely in it. She plays Tina, the bored girlfriend of the band's drummer (Tom Everett Scott). Legend has it that, after casting her, Hanks announced, "She's got it! That girl is going to be somebody." It's hard to tell from That Thing You Do!, but you can't argue with the man's instincts.
Yup, this Sean Penn–directed debacle is as horrible as you've heard. But we'll go to bat (somewhat) for Theron, who brings a lot of compassion to her impossible role as an international aid organizer working in the most dangerous parts of Africa. Against this backdrop of devastation and human atrocities, The Last Face tells a doomed, terrible love story in which Theron's character falls for a hunky doctor (Javier Bardem) who's equally affected by the horrors around him. We see the anguish on Theron's face, but it's hard for the audience to distinguish her pained reaction from one of sheer exasperation that she's found herself in such a misguided, offensively patronizing message movie.
Is this the worst Woody Allen movie? Even the most loyal Woody fans have a hard time finding much positive about this tired comedy-thriller, starring Woody himself as a gumshoe hypnotized by a criminal magician to carry out crimes for him. Woody has said it's one of his worst films — he blamed the casting of himself — and Theron has nothing to do but look slinky and tall, particularly when she's standing next to Woody.
You can probably tell from the title that we don't get much Theron here, and this might be the most thankless of all her thankless wife roles as the wife of a Scuba chief commander (Robert De Niro) who works with the first African-American Navy diver (Cuba Gooding Jr.). The movie itself isn't bad, but Theron might as well have a big sign around her neck that says "WIFE." Theron was 24 when she made this movie; De Niro was 57.
Wait, didn't Theron's wicked Queen Ravenna die at the end of 2012's Snow White and the Huntsman? Yes, but because Winter's War is partly a prequel, we get plenty of the evil sorceress in this even-worse follow-up. As with the first film, the Oscar-winner enjoys chewing the scenery and leaning into the ice-cold bitchiness that the part requires. But you can feel the hefty paycheck that's informing every creative decision. (And more power to Theron for fighting for a salary equal to her male co-stars.) The Oscar-winner doesn't embarrass herself, but you know that she knows she's too good for junk like this.
There's something so electric about Theron's presence that makes it hard for filmmakers to plug her into staid awards-bait — her natural liveliness overwhelms the stuffiness around her. That's especially true with The Cider House Rules, the Oscar-winning adaptation of the John Irving novel that's a rather tepid, syrupy look at love and growing up. Theron plays Candy, a young woman who visits a Maine orphanage during World War II to have an abortion, along the way falling in love with one of the grown orphans, Homer (Tobey Maguire). (And, yes, twice in her career, she's played women named Candy.) Perhaps the pinnacle of Miramax's calculated "prestige" dramas of the late 1990s, The Cider House Rules asks little of Theron other than to be a doe-eyed beauty, which she has no problem doing. But it's hardly a revelation, and the film sinks under its own self-worthiness.
Theron met her longtime beau Stuart Townsend — who would later direct her in Battle for Seattle — on the set of this kidnapping thriller, in which two grifters (Kevin Bacon and … Courtney Love!) nab the child (Dakota Fanning) of a rich couple (Theron and Townsend) and force them to pay a ransom in 24 hours. The movie is pretty hacky, and Theron only gets to play one note: scared mom. But seriously, Courtney Love and Kevin Bacon as bad guys!
Theron tried her hand at producing with this tiny indie about a girl (AnnaSophia Robb) overcoming her wayward mother (Theron) and finding a home with her roguish uncle (Nick Stahl). Theron's barely in this movie — she runs off with a trucker in the first 15 minutes — and the story is maybe a little too slight, and too small. It also features a very, very bad late-career performance from Dennis Hopper. Still, the movie is good-hearted enough. This was the second movie Theron produced, after Monster; she's now regularly a producer, including on Atomic Blonde.
Director Karyn Kusama had the right idea, maybe even a decade early, turning Theron into an action star in the movie version of the old MTV animated series, but Paramount Studios took the film away from Kusama in postproduction and turned it into a total mess. This thing could have worked — Kusama is an underappreciated director who vowed she would never work with a studio without final cut again after this debacle — but not with the studio's scissors chopping up everything. Theron would get this type of role right eventually.
It's not easy to mute the charisma of Matt Damon, Will Smith, and Charlize Theron, but Robert Redford, using the transformative power of golf, somehow finds a way. This dull sports film has the ugly trope of the Magical Negro at its center, but it's not any better elsewhere: The whole thing is shot in this "respectful" haze that makes you feel like you're watching through a museum display. You get these three all-time movie stars together, and this is the movie you make?
Theron has a thankless role as the pregnant wife of a Seattle cop (Woody Harrelson) who is accidentally beaten during the World Trade Organization protests, spurring her husband to become a furious danger to protesters and himself. Theron has a small role in a film that feels oddly dated now, even though what the protesters were angry about seems more vital than ever. Come to think of it, it might be time for another movie about protests and protesters now.
One would think, with the title of the movie being directly about the character, that the titular astronaut's wife would be more interesting. This sci-fi pic is less about the Rosemary's Baby–esque premise of a woman (Theron) being impregnated by an alien who has replaced her husband (Johnny Depp) on a space mission, and more about gross-out alien scenes. This should be creepier, almost sinister, but director Rand Ravich can't execute on a potentially promising premise. We'll also say that we're glad Theron doesn't have to play this sort of Scared Wife role anymore.
After a few years working in indies, Theron did a double feature of studio blockbusters in June 2012 with Snow White and the Huntsman and Prometheus. The former was one of two Snow White projects that came out that year — remember Mirror Mirror? — and Huntsman was the far more serious, action-packed entry. She plays the evil queen who hangs out with her magic mirror and seeks to consume the heart of the fair Snow White (Kristen Stewart). This slog of an action-adventure spectacle doesn't care much about nuance, and so Theron just relaxes and exudes regal, snide villainy. It's the least interesting big movie she's done … until the sequel four years later.
Known as the other Gillian Flynn adaptation, Dark Places stars Theron as a woman involved in an infamous True Crime murder as a child, who ends up, out of desperation, reinvestigating the crime as a grown woman. Theron landed the less fun, less showcase-y Gillian Flynn adaptation, and she definitely ended up with the wrong director: Gilles Paquet-Brenner, suffice it to say, is no David Fincher. The movie's pulp never pops, and the whole thing just feels derivative, even exploitative.
You're allowed to think Ridley Scott's return to the Alien cinematic universe is a visually arresting, intriguingly moody piece that's also pretty ridiculous and a little underwhelming. Those mixed emotions also extend to Theron's performance as Meredith Vickers, the prickly mission commander who most certainly has a secret agenda she's hiding from the rest of the crew. With almost android-like dispassion, Vickers might as well be the cosmos' most uptight boss, and Theron seems to be enjoying playing a character with such little humanity that she's all pretty, sterile surfaces. But the performance, like the movie, never really finds an extra gear — those alluring surfaces are all you're going to get.
Another Put-Upon Wife role for Theron, this one has the added bonus of brutally putting her through the ringer, including some nasty scenes involving babies and wombs. It's particularly rough because the rest of the movie is so campy and over the top: It's as if they made poor Theron suffer so Al Pacino could eat every piece of furniture in sight. Theron does her best — and this movie does have its lunatic charms — but this would be too much for any actress to overcome.
Theron certainly has earned the stature required to play a bad guy in a Fast and the Furious movie, and she's visibly game, but this series has become so bloated and busy that the movie barely has time to acknowledge her before it's running off, trying to catch up with whatever the Rock or Jason Statham is up to. Theron plays a hacker named Cipher, and she's formidable enough that she's a legitimate challenge to our heroes. But the movie never slows down, so basically you just have to catch her in passing.
The directorial debut of Guillermo Arriaga — known mostly for writing Amores Perros, 21 Grams, and Babel — is a deadly serious chore to get through, but Theron's excellent as a self-destructive woman with a horrible secret in her past. Curiously, that secret in her past happened when she was a very young woman and played by, of all people, a 17-year-old Jennifer Lawrence. The two actresses don't look much alike today, but apparently Arriaga thought they did in 2008.
You've not really made it in Hollywood until you've acted against a green screen, and Theron got the full gorilla in this Disney remake of the 1949 friendly ape classic. She doesn't quite reach Naomi Watts's fully realized performance in King Kong, but she's close: Warm, fierce and funny, she showed a light touch that many might not have expected of her just yet. The movie wasn't a hit, but she was clearly showing she could be a star in anything.
Seth MacFarlane's commercially disappointing follow-up to Ted has one good thing going for it. Theron plays Anna, the wife of a bloodthirsty outlaw (Liam Neeson), who ends up befriending MacFarlane's ineffectual wimp. A Million Ways is a strained Western spoof, but she is very fun as a sweet, smart-ass love interest with a secret. If, like us, you find MacFarlane's ironic, smarmy demeanor toxic, you might be even more impressed by how much Theron manages to humanize her co-star. When the two of them are onscreen falling for one another, A Million Ways almost sees it way past the film's endlessly juvenile jokes and inane pop-culture referencing. This is easily the breeziest work she's done this century apart from Arrested Development — and a nice reminder that she can be an awfully charming comedian when she chooses to be.
Theron has a smaller role in this odd, tonally off but still sometimes effective comedy caper, in which a big pharmaceutical company tries to rescue, and then murder, a middle-manager sort (David Oyelowo) accidentally caught in one of their Mexican drug rings. There's a lot going on in this Australian comedy, and not all of it works (though Oyelowo is a delightful leading man). Theron is razor sharp, though, as an executive at the company who both runs the shenanigans but also finds herself on the outside looking in when the shit goes down … though, true to form, not for long. Theron finds a humanity and power that wasn't on the page, and she's a kick to watch — though we're still not quite sure why she bothered.
Theron's movie debut, filmed when she was 19 years old, it's somehow a ripoff of both Quentin Tarantino and Robert Altman. Most of the massive cast gets lost, but Theron leaps off the screen as the soulless moll both seducing and battling an amusingly sinister James Spader. In a movie with Spader, Danny Aiello, Eric Stoltz, Teri Hatcher, and Jeff Daniels, it was Theron who made the poster, and for good reason. Twenty-one years later, the only reason to even think of this movie is her. That's actually reason enough.
James Gray has gone on to larger and better projects, but his heart was clearly most invested in this tale of scandal and corruption in the New York City Travel Authority, based on a real-life story that involved his father. As usual with Gray, the men are the focus — here, Mark Wahlberg, Joaquin Phoenix, and James Caan — but Theron makes every scene she's in count as a woman who's tougher than everyone in the film realizes (not that it ultimately does her much good). This was a rough period for Theron, when she was saying yes to a lot of junk, but The Yards holds up still today, and was a sign of what Theron was capable of.
Theron's first big smash was this nifty remake of the 1969 British thriller, in which she plays a sharp safecracker. Her character wasn't in the original, and Theron acquits herself nicely as one of the guys in a heist film alongside Mark Wahlberg, Jason Statham, and Mos Def. It might have been tempting for director F. Gary Gray to make her just the damsel-in-distress love interest, but instead she gets to be an actual character with some real dimensions who's treated as an equal among the team. Polished and professional, The Italian Job is the missing link in Hollywood's evolutionary timeline between the Ocean's and Fast and Furious franchises but, more importantly, it helped shape a crucial year in Theron's stardom. First was this studio blockbuster; later in 2003, she'd unveil Monster.
13. Head in the Clouds (2004)
A ridiculous, over-the-top World War II melodrama that has the good sense to foreground Theron as a globe-hopping socialite/revolutionary/troublemaker/lover who finds herself hooked up with every side of the war, some by accident. It's pulpy and loud and silly and very fun, and Theron seems to be exploring the limits of her powers here, alternately blowsy and funny and scary and basically just erasing whomever is standing next to her right off the screen. The movie might not know much, but it knows to stay out of her way. And heavens, that whip scene.
In Cormac McCarthy's Pulitzer-winning novel, the dead wife of the unnamed main character is barely heard from. But for the film version of The Road, director John Hillcoat wisely picked Theron to flesh out the role in flashbacks. The reasoning was obvious: Viggo Mortensen's rugged survivor of a post-apocalyptic devastation isn't just grieving for the world but, more specifically, the love of his life, and the Oscar winner makes that absence sting. Plus, Theron has to sell the woman's shocking decision to walk out on her husband and young son amid the grim circumstances, and she fills the scene with such tenderness and desperation that it's heartbreaking — and yet somehow understandable, too.
If you're looking for the closest precursor to Theron's no-nonsense, almost otherworldly cool in Atomic Blonde, go back to this Will Smith vehicle, in which she plays an alien superhero who was once married to the titular misanthrope. Hancock is an ambitious, nervy subversion of the comic-book movie that doesn't quite work, but it's not her fault. Where Smith is showier, she's the film's quiet center, first pretending to be Jason Bateman's blandly beautiful wife before finally revealing her true identity to Hancock. This is the sort of sly, sexy, commanding performance that would pave the way for her future blockbusters.
As Charlotte Field, the shrewd, idealistic secretary of State who's mounting a presidential campaign, Theron outclasses much of Long Shot, which is an otherwise middling variation on Seth Rogen's usual overgrown-slob-with-a-good-heart comedy vehicles. As the film begins, Charlotte encounters Fred Flarsky (Rogen), a take-no-prisoners journalist whom she used to babysit. He's secretly been in love with her ever since, so when she asks him to be her speechwriter, he jumps at the chance. Long Shot is clearly in love with Charlotte as well, giving Theron the opportunity to show off her guy's-girl comedic persona — the same one, by the way, she slyly exhibits in those new Budweiser ads — while never embarrassing herself, no matter how broad the shtick gets. (And Lord knows the movie asks a lot of her: At one point, Theron has to make a rolling-on-Molly set piece hilarious.) Presidential but also endearingly nerdy, Charlotte is a fun character that Theron turns into a minor comic gem. But like with A Million Ways to Die in the West, you wish she had a script that's as quick-witted as she is.
The first sparks of In the Valley of Elah emerged when Theron and filmmaker Paul Haggis got to know each other on the awards circuit while promoting, respectively, North Country and Crash. "We were the only two sad cases who would be outside in the alley, smoking," she later recalled. "He said, 'I will write you a script.' So, it's the best thing that cigarettes have ever given me." Haggis's Crash follow-up tackles lots of big themes — the Iraq War, the silent hell that awaits many soldiers when they return from combat — and the film is guided by Tommy Lee Jones's reliably taciturn performance as a retired cop and Vietnam vet seeking the truth of what happened to his missing soldier son. Theron plays a detective he recruits in his efforts, and she's as stony as he is — which is understandable, considering the character has learned how to block out all the casual sexism she faces on the force. In the Valley of Elah is Jones's film, but she complements his surly demeanor with her own smart, gruff presence. Theron doesn't steal the movie — she supports it, beautifully.
This David Leitch thriller isn't the first time Theron has played an ass-kicking action hero. (Don't forget about Aeon Flux, though audiences sure did at the time.) But nonetheless, Atomic Blonde plays out as a culmination of the Oscar winner's commercial ascension over the last decade or so. It's disappointing that the film didn't perform better at the box office, but the real pity is that Theron's too easily the best thing about the movie. Based on the graphic novel The Coldest City, Atomic Blonde stars Theron as a steely MI6 spy sent to Berlin at the end of the Cold War, battling myriad KGB agents while cautiously teaming up with a conniving station agent (James McAvoy). Theron has the right combination of grit, athleticism, Bond-ian swagger, and carefully concealed vulnerability, and she executes the next-level fight scenes with effortless panache — even when her character is getting the crap beaten out of her. But on the whole Atomic Blonde is too convoluted and too enraptured by its own blasé hipness to be the perfect action vehicle for a compelling star who's brought her A-game.
For years, Theron has spoken out about Hollywood's gender-pay inequality, and in 2005 she starred in a true-life drama that analyzed the subtle, insidious impact of daily sexism. A fictionalized version of the story of Lois Jenson, a Minnesota miner who successfully sued for sexual discrimination, North Country stars Theron as Josey, a blue-collar wife and mother who's just fled her abusive husband — only to wind up working in a mine where the men casually debase her and her female cohorts. (If the inappropriate grabbing isn't enough, then the deeply patronizing "sweetheart"s Josey hears from her boss would be enough to crush one's spirit.) Undoubtedly an "issue" movie, North Country nonetheless sidesteps potential awards-season sanctimony by grounding the proceedings in Theron's unvarnished, no-nonsense turn. We never forget that Josey didn't ask to be a hero, and yet she's so ruggedly heroic precisely because she simply doesn't stop, even when she's mansplained practically within an inch of her life.
Much has been made of Theron's physical transformation into Megyn Kelly, and incredible pseudo-retired makeup artist Kazu Hiro certainly draws a physical similarity between the two that would have seemed impossible. (And you should see what Hiro did with the actor playing Bill O'Reilly.) But make no mistake: This is anything but an impersonation. Theron's portrayal of Kelly as fundamentally decent and with a backbone made of steel feels, frankly, much more Theron than Kelly; this is Furiosa Megyn. (In many ways, the performance feels like the way Kelly would like to see herself more than who she actually is.) But Theron is so confident and self-assured that she transcends any limitations with the character; she'll make you sense the fury bubbling under that her Kelly is doing so well to keep hidden … until it's time for the world to feel the force of its release.
Theron's Andy initially seems like another in her long line of sleek action heroes: Steely, determined and not to be trifled with. But while Andy bears surface similarities to those past roles, in Gina Prince-Bythewood's adaptation of the Greg Rucka comic book Theron gets to be something much more fascination: A tormented god-like creature, an immortal who has spent centuries trying to save humanity but is beginning to wonder whether it was worth all the trouble. Theron is impressively physical in the action scenes as always–and they're both well-choreographed and less overtly showy than, say, Atomic Blonde–but she brings a soulful pain to her performance: You believe that she's been alive for hundreds of years and also that she's a little sick of it. Yet Theron invests so much in the part that you see the heart and, even, yeah, optimism deep down. This is a comic book superhero movie with a lot more going on than it looks at first glance. Theron draws you in, and keeps you hooked. She might be our choice to save the world after all.
Theron's gutsiest performance since the movie that earned her an Oscar could have also been called Monster. Written by Diablo Cody, Young Adult is about a stumbling, self-pitying fuckup who isn't content circling the drain on her own. Theron plays Mavis, who decides on a whim to go to her high-school reunion in the deluded belief that she can win back her old flame Buddy (Patrick Wilson), even though he's now happily married with a newborn baby. An alcoholic, a jerk, and very possibly imbalanced, Mavis isn't so much interested in reliving her past as she is in leaving a trail of carnage in her path, determined to ensure that others are as miserable as she is. Theron doesn't try to make Mavis lovable, but she damn sure gets us to feel her pain, offering a fascinating cautionary tale about what happens to some people who peak too young. Ostensibly, Young Adult is a comedy, but every laugh gets lodged in the throat.
Both a combination of Theron's two most prominent skills — physical transformation and ability to capture a particular brand of steely uncertainty — and an entirely new direction for her, Tully puts Theron front and center, in all her glory and fearsomeness, as a scared, angry, confused and utterly exhausted new mother. She gets no help from her husband, her children, her old friends or the fancy school she's struggling to pay for, so she finds it the most unlikely of places: A 26-year-old nanny named Tully (Mackenzie Davis) who seems to know her better than anyone else — and give her exactly what she needs. Theron captures the utter despair of being a new mother in a way that will feel revolutionary to anyone who has been there, but she also perfectly rides the line of being on top of everything for everyone while still slowly losing her mind. And on top of all her other skills, Theron proves herself the master of the reaction-shot eye-roll here.
The return of Mad Max to the big screen after 30 years turned out to be a bit of a ruse. Tom Hardy's stoic loner may get his name in the title, but the real protagonist of Mad Max: Fury Road is Furiosa, a fearless warrior determined to protect the Five Wives from the villainous Immortan Joe. Max is merely along for the ride, and Theron commands the movie, literally taking the wheel as our mismatched band of heroes go on an epic journey across an unforgiving desert with most of humanity hot on their heels. Theron matches Hardy's flinty reserve, but her bare-knuckle physicality can't completely hide the character's haunted, emotionally bruised inner world. It's a performance that's raw and overwhelming. Theron shaved her head for the role, and she seems to have stripped everything else away as well, making Furiosa the one person you want on your side when the whole world eventually goes to hell.
"Usually, you pick three moments in a script, and you wait for those three days to come and really stretch your acting muscles. But in this case, every scene was that scene." That's how Charlize Theron described the process of playing Aileen Wuornos, the serial killer and prostitute who is the simmering center of Monster, a deeply despairing character study and tragic romance. Smitten with her lover Selby (Christina Ricci), Wuornos goes on a killing spree, robbing her johns for cash to support the couple. At the time, Theron's transformation into this desperate murderer seemed remarkable precisely because it was so out of character for the usually glamorous star. But as Theron's critical cachet has grown in the past two decades, Monster now seems less of a left turn — and yet, the years have done nothing to blunt its impact. Theron and director Patty Jenkins made a movie not just about a monster, but also about how an inexplicable darkness can consume some people. It's a tough, unsentimental film that's, somehow, filled with compassion. When she won the Best Actress Oscar, Theron almost got choked up near the end of her speech. Quickly regaining her composure, she announced, "I'm not going to cry." Lots of people who saw Monster did.
Grierson & Leitch write regularly about the movies and host a podcast on film. Follow them on Twitter or visit their site.