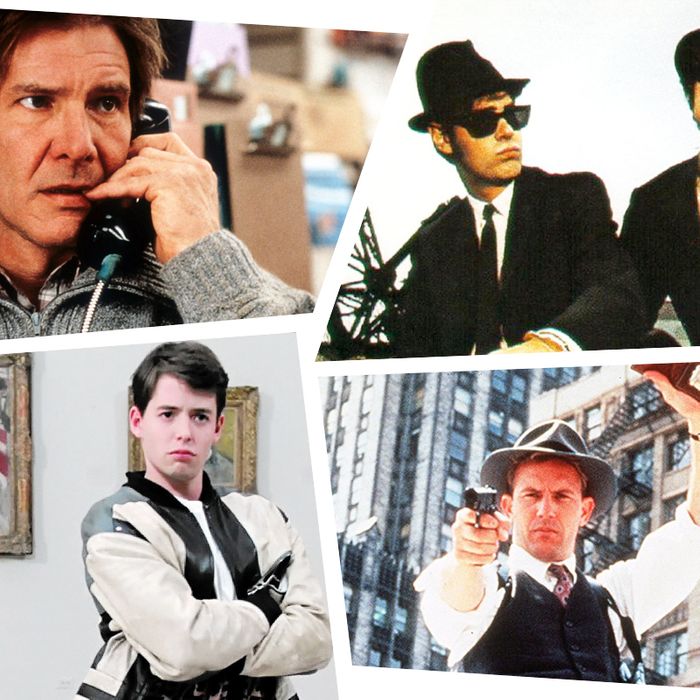 Photo: Warner Bros, Universal Pictures and Paramount Pictures.
The release of Steve McQueen's masterful Widows this week got us thinking about the long history of movies that have used Chicago as more than a mere backdrop. Filmmakers like John Hughes and Steve James have made the Windy City cinematically famous, but they're far from alone. The main criterion for this list was that the films really use Chicago. Don't just have a character mention the city and then film the movie on L.A. sets. And try not to have mountains in the background if you claim to be in the Midwest.
There is no lack of great Chicago movies, and it's heartbreaking to exclude films big (Child's Play) and small (Mickey One), but these 25 are essential to understanding how Chicago has been captured by filmmakers. So without further ado, here they are in alphabetical order, because there's just no way to accurately compare The Blues Brothers and Widows other than to say they're both awesome.
About Last Night (1986)
Edward Zwick's underrated '80s comedy is based on David Mamet's brilliant play Sexual Perversity in Chicago and doesn't hold back on the titular setting of its source material, having been filmed all over the Windy City. Stars Rob Lowe, Jim Belushi, Demi Moore, and Elizabeth Perkins deftly capture what it was like to be single and sexual in the city in the mid-'80s, hitting the bars on Division and playing softball in Grant Park.
Adventures in Babysitting (1987)
While a lot of the movie was shot in Toronto, when most people think of Chris Columbus's '80s hit, they think of the climax, in which Elisabeth Shue's babysitting night from hell ends atop the famous Crain Communications Building, sliding down its iconic roof alongside Michigan Avenue. Either that or the scene in which their car breaks down, which was shot on the city's Dan Ryan Expressway, which runs alongside the downtown.
Backdraft (1991)
Ron Howard's firefighter thriller, starring Kurt Russell and William Baldwin, has become such a part of the city's lore that the Brighton Park firehouse, seen so many times in the film, became an iconic restaurant called Chicago Firehouse; it was a mayoral favorite and even hosted a president (and itself burned in 2014, but has since reopened). The film takes full advantage of Chicago, shooting scenes all over the city, from Chinatown to the Uptown Theatre. And, of course, it's got a few shots of the "L." Every good Chicago movie does.
The Blues Brothers (1980)
Is this the ultimate Chicago movie? It's certainly a top-three contender, right? The comedy hit was filmed all over town, from a South Side church (Pilgrim Baptist) to downtown (where the climactic scenes take place). And there are, inevitably, guides to the filming locations online. Besides, who could forget their recording of "Sweet Home Chicago"? Blues Brothers 2000 committed enough sins to warrant a whole separate list of its own, but shooting the sequel to this most Chicago of movies in Toronto would probably top it.
Candyman (1992)
Few films from this era of horror have held up as well as Candyman, a film that feels as current as ever in its analysis of urban legends and racial tension in Chicago. With the notorious project known as Cabrini-Green demolished, this film serves as a historical document even more than the filmmakers probably intended it to be, and Candyman has way more to say about the racial divide in the city than you probably remember. It's a great horror movie that has become something more, especially for people who love Chicago.
Chi-Raq (2015)
Spike Lee's BlacKkKlansman was widely touted as a return to form for the writer/director, but probably only by people who didn't see Chi-Raq. The most underrated film of the controversial filmmaker's career, shot entirely on the South Side of the embattled city, updated Lysistrata for the modern era. It's imperfect but it is already an essential Chicago movie, one that documents the passion and violence in communities often ignored by filmmakers.
Cooley High (1975)
A decade before John Hughes, Michael Schultz captured what it was like to be a Chicago teenager in the mid-'70s in this excellent dramedy shot almost entirely in the city. Chicago projects like Cabrini-Green were seen by the world as dens of violence, but writer Eric Monte wanted to tell a more human story about what it was like to be a kid there, and his time at Cooley Vocational High School. The film is shot mostly in a project that stands in for Cabrini, but it's also a film that really captures Chicago in the '70s, including shots of Navy Pier and Lincoln Park Zoo at the time.
The Dark Knight (2008)
Christopher Nolan's beloved Batman movie may not have been set in Chicago, but few films of the modern era have used the city more effectively. Not only does it take full advantage of Lower Wacker Drive, but one of its best sequences is set on a famous stretch of Lasalle Street. Overhead shots of Gotham are fascinating for Chicagoans — Nolan and his team transformed the downtown into something new and vibrant. Every filmmaker working on a superhero movie should be forced to consider how this film used a real setting, rather than a generic cityscape, to its advantage.
Eight Men Out (1988)
A lot of this film was shot in Indianapolis, Indiana (at Bush Stadium), but it's such a part of Chicago's history that it would be criminal to leave it off the list. John Sayles adapts Eight Men Out: The Black Sox and the 1919 World Series, about one of the most famous sports scandals in history. In 1919, members of the Chicago White Sox took payoffs from gangsters to throw the World Series. It's a part of the history of one of the most passionate sports towns in the world, and this film is a well-made document of that story.
Ferris Bueller's Day Off (1986)
There are a lot of John Hughes films we could choose to put on this list but, love it or hate it, the story of the day Ferris Bueller skipped school is undeniably one of the first things people think of when they hear the phrase "Chicago Movie." Whether it's Ferris and Cameron heckling at Wrigley Field, the gang going to the Art Institute of Chicago, or the infamous parade sequence, Hughes shot the movie almost as a love letter to the city in which he was raised.
The Fugitive (1993)
Andrew Davis's adaptation of the hit TV show uses the city of Chicago beautifully, especially the annual St. Patrick's Day parade and the dyeing of the Chicago River green. A lot of the film was shot in North Carolina, but when it gets to Chicago, it really takes full advantage of the city, including the "L," the Pullman neighborhood, and, of course, the parade, during which you can see shots of Mayor Richard M. Daley and Illinois attorney general Roland Burris.
Henry: Portrait of a Serial Killer (1986)
A great majority of the films on this list use the city of Chicago in glamorous, touristy ways, with trips to iconic places like the Sears Tower and Wrigley Field. Not Henry. This movie has become a fascinating document of the working class neighborhoods of Chicago in the mid-'80s, something not often seen on film. As Henry and Otis scour their small part of the world, including the effectively used Lower Wacker Drive, one can feel how easy it is to get lost in a city as crowded as Chicago. It's an ideal hunting ground for a lunatic.
High Fidelity (2000)
When Hollywood came knocking to adapt Nick Hornby's hit book, they decided to relocate the action from London to Chicago, and the result is a film that deftly captures neighborhoods of the city not often seen on film. Chicagoan John Cusack adds an air of authenticity to scenes shot in Wicker Park, one of the most artistically vibrant neighborhoods in the city at the time of shooting. Back when people still went to record stores, many of them were in Wicker Park, and this film now serves almost as a eulogy to an end of an era in the city.
Home Alone (1990)
There is a lot of competition for Chicago "city films," but few movies can be identified more with the Chicago suburbs than the massive holiday hit that turned Macaulay Culkin into a household name. Shot mostly in Winnetka, a neighbor of the suburb (Northbrook) in which writer John Hughes himself grew up, Home Alone captures the look of the northern suburbs while also taking a quick trip to a church in Oak Park. It's hard to imagine North Chicago kids getting ready for a family Christmas trip and not thinking of poor Kevin McCallister.
Hoop Dreams (1994)
There are a number of documentaries about life in Chicago that we could include on this list — think Steve James's The Interrupters and Greg Jacobs and Jon Siskel's Louder Than a Bomb — but the seminal nonfiction film about life in the city is this masterpiece, also from Steve James. Shot over five years, during which the filmmakers accumulated 250 hours of footage, Hoop Dreams became a document not just of the lives of William Gates and Arthur Agee but of thousands of kids like them on the South Side of Chicago. It's as powerful and insightful over two decades later as it was when it shook the world in the mid-'90s and it is without question one of the most essential Chicago films.
Medium Cool (1969)
Haskell Wexler's groundbreaking drama was hailed for its blend of the filmmaker's documentary-style approach to life in Chicago with his gift for crafting a narrative out of it. Seen today, it really is a time capsule of life in a major city during one of the most socially tumultuous times in modern history, climaxing with footage that Wexler shot at the Democratic National Convention held in Chicago in 1968. Praised by critics as a radical new form of filmmaking, Wexler's film blurred the lines between fiction and (a distinctly Chicagoan) reality.
My Best Friend's Wedding (1997)
Whether she's driving on Lake Shore Drive or eating at Charlie Trotter's, Julia Roberts's Julianne Potter is all over the city in this hit romantic comedy. Some films use Chicago as a rather personality-less backdrop, but P.J. Hogan hops all over the Windy City in what feels like an effort to highlight its beauty and vibrance. From Comiskey Park to Union Station, you could make a tourist trip out of just the places featured in My Best Friend's Wedding, ending up at the gorgeous Fourth Presbyterian Church on the Magnificent Mile.
Public Enemies (2009)
Michael Mann's divisive biopic of John Dillinger shot a lot of footage all over the Midwest, including locations in Wisconsin and Indiana that were redressed to fit the period of the film. However, as anyone with even a cursory knowledge of Dillinger's life knows, it all culminates at the Biograph Theater on Chicago's Lincoln Avenue, which is still standing to this day (although no longer as a movie theater) and was refashioned beautifully in the film to capture the last day in an iconic life. For even more cred points, Mann and his team shot parts of their film in Chicago's smaller neighbor cities, including Aurora, Joliet, and Lockport.
Road to Perdition (2002)
Talk to enough bar-goers in the city of Chicago and you're likely to find someone who was an extra on Sam Mendes's follow-up to his Best Picture-winning American Beauty. Mendes and master cinematographer Conrad L. Hall transformed locations all over the city into their Great Depression-era selves, and their work won Hall a posthumous Oscar. The film shot at the famous University Club of Chicago, the Pullman neighborhood, and in the suburbs of Geneva and Evanston. It is truly a Chicago production, with even the interiors shot on sets built in the area.
Running Scared (1986)
For some reason, most movies about cops go to New York or Los Angeles to tell their stories, but this is an iconic "Chicago cop" movie, right down to the poster's tagline, above a photo of Billy Crystal in a Cubs shirt: "Two of Chicago's finest?" Crystal and Gregory Hines play a couple of cops about to leave the city and go to Key West when they get embroiled in one last case. It feels like every exterior shot in Running Scared includes the "L," and a major part of the film takes place in the Thompson Center.
Southside With You (2016)
Leave politics aside and appreciate this delicate romantic drama as more than just the story of Barack Obama and Michelle Robinson's first date. Not only is this a beautifully acted film, but it offers a look back at what Chicago was like in the late '80s, including a trip to see Do the Right Thing filmed at the famous Music Box Theatre on the North Side. (There's even a plaque at the Baskin-Robbins at Dorchester and 53rd marking where the Obamas shared their first kiss.)
Thief (1981)
Michael Mann certainly captures Chicago in ways no one else has before or since in one of his best films, starring James Caan and Dennis Farina, who was a Chicago cop and a police consultant for Mann before being cast in Thief. This is a Chicago film through and through, moving all over the city without feeling like it ever "hits the big spots." Chicagoans know major arteries like Ashland and Diversey, and Mann knows how to use them in this movie.
The Untouchables (1987)
Brian De Palma's Oscar winner would be an iconic entry on this list for its Union Station scene alone, but people often forget how much the movie utilized the rest of the city as well. From meetings on the Michigan Avenue Bridge to Sean Connery's famous speech about the Chicago Way (shot in Our Lady of Sorrows Basilica on West Jackson), De Palma and his crew hopped all around the city: the Chicago Cultural Center, the Blackstone Hotel, the Chicago Theater, the City National Bank and Trust Company Building — the list goes on and on.
While You Were Sleeping (1995)
A lot of movies use Chicago's elevated train system as backdrop, something to add flavor to an exterior shot and remind viewers of location. Jon Turteltaub's romantic comedy goes a step further and makes the "L" an essential part of the plot, as Sandra Bullock's character rescues Peter Gallagher's after he's almost killed on the tracks at the Randolph/Wabash station. As the movie unfolds, it includes a lot of shots of downtown Chicago, including a famous building on Lake Shore Drive and Northwestern Memorial Hospital. A lot of the family scenes were also shot in nearby La Grange.
Widows (2018)
One of the "Most Chicago" movies is also the most recent on this list, Steve McQueen's masterful heist thriller staring Viola Davis, Colin Farrell, and Liam Neeson. Not only is McQueen and Gillian Flynn's script incredibly insightful regarding Chicago politics in the late '10s, but the director uses the city with physical beauty, from the opening chase scene to one on a boat in Lake Michigan, with the gorgeous skyline in the background. Widows is a film that doesn't just use the well-known parts of Chicago — it gets under the skin of the city, as well.