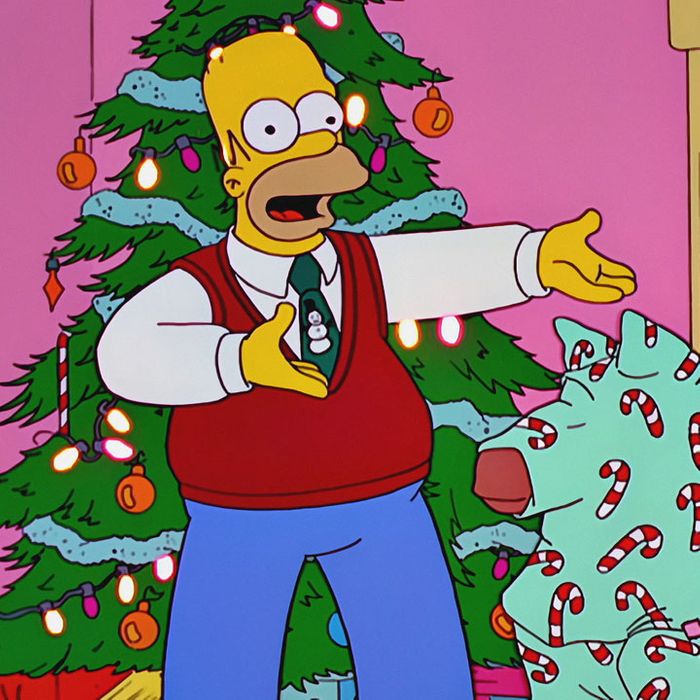 On Disney+, it's always Christmastime in Springfield.
Photo: FOX
This article features some of our favorite episodes on the new Disney+ streaming service, which you can sign up for here.
We hate to play Scrooge, but as of now, it's hard not to want more from the Disney+ library's current crop of Christmas specials and holiday offerings. The Proud Family and its classic "Seven Days of Kwanzaa" episode are absent from the platform. The New Adventures of Winnie-the-Pooh is there, but its Winnie-the-Pooh & Christmas Too special is nowhere to be found. Ditto for Goof Troop's special Have Yourself a Goofy Little Christmas and Disney's award-winning 2009 animated short Prep & Landing, about Santa's thanklessly laboring elves.
But there's good news: It's far from a bust. The streaming platform has plenty of classic season-appropriate episodes and TV specials on it if you know where to look. You and your family will just have to agree on at least one of the options below. Good luck with that part.
DuckTales, "Last Christmas!"
The original DuckTales (somehow) never aired a holiday special of any kind, but its 2017 revival is every bit a worthy successor. The time-hopping narrative riffs on A Christmas Carol and opens with Uncle Scrooge beating the crap out of a blow-up Santa Claus, for seemingly no reason at all, before hitting up the greatest Christmas parties in history. His nephew Dewey, meanwhile, deals with the loss of his mother and meets an enigmatic relative from the past. The episode balances its humanity with its humor, and did we mention it features a Sinatra-esque holiday riff on the iconic DuckTales theme? It's perfect — whether you've seen all of both DuckTales series or it's your first episode.
Darkwing Duck, "It's a Wonderful Leaf"
Apart from its title, this episode doesn't have much to do with It's a Wonderful Life, but it works all the same because of the uncanny alchemy behind Tad Stones's series about a daredevil duck do-gooder with a gas gun. In this entry, Darkwing squares off against the plant-based villain Bushroot and teaches his daughter, Gosalyn, the Christmas spirit. On this show, that means a climax that devolves into animated Douglas fir trees springing to anthropomorphic life to throw projectile ornaments, and a naughty bully who gets his just deserts before the episode wraps.
Mickey's Christmas Carol
As far as 2-D-animated adaptations of A Christmas Carol go, Mickey's belongs in the top three with Richard Williams's unimpeachable 1971 Oscar-winning short and Mister Magoo's, which was the first animated special to be made for TV. Mickey's casts Scrooge McDuck as Ebenezer and Mickey as Bob Cratchit, and when it dropped in 1983, it was the first new theatrical Mickey Mouse cartoon produced in over three decades, a reintroduction to many of its characters previously unseen for a generation. The years haven't diminished the short's heart and the fun of seeing characters like Jiminy Cricket guide him to a more charitable outlook on life. The special was directed by Burny Mattinson, who, at 84, still works at Disney and is officially the company's longest-working employee since joining in 1953.
Even Stevens, "Heck of a Hanukkah"
"There's a pile of smashed stuff outside!" is how we find out Shia LaBeouf's Louis Stevens ruins Hanukkah for the dual holiday-celebrating Stevens family. This doesn't set it apart from most Even Stevens entries, which were typified by Louis's shenanigans, but the event leads to a visit from the ghost of Louis's ancestor, Bubbie Stevens (Donna Pescow, who also plays Louis's mom, Eileen, and clearly has a blast with the second role). Bubbie shows him an It's a Wonderful Life–style reality in which he was never born. You'll have to see where it goes from there.
Kim Possible, "A Very Possible Christmas"
Kim Possible's globe-trotting holiday episode shows that even busy teen secret agents need holiday breaks. When Kim's endlessly fallible sidekick Ron Stoppable resolves to give her the Christmas gift of a day off from saving the world, he ends up in a shouting match with the series' archvillain, Drakken, at the North Pole and needs her help anyway. Fortunately, Kim's international friends and family fall over themselves to help her foil the plot, but it's Ron and Drakken's bond over their taste in holiday television specials that makes her day off a reality.
Phineas and Ferb, "Phineas and Ferb Christmas Vacation!"
"Kids transform their town into a 'thank you' card for Santa and hell ensues" turned out to be a solid logline. Disney+ made a mistake here and only included the truncated 22-minute version of this episode, but it's still a cartoon gold mine of a musical special. Every Phineas and Ferb episode featured original music written by the co-creators Swampy Marsh and Dan Povenmire, but this special had no less than 15 songs in it (sadly, one is cut from the 22-minute version). The swing band Big Bad Voodoo Daddy assisted on the soundtrack, and the special features guest performances from the likes of Clancy Brown and Malcolm McDowell. Yes, that one.
Boy Meets World, "Santa's Little Helper"
This '90s favorite aired several holiday episodes over the years, but none matched the innocent heart and class tension seen in the first season's tenth episode. It leads with preadolescent knuckleheads Cory and Shawn cracking wise through Mr. Feeny's lesson on Charles Dickens, and from there things focus on Cory learning how to be an empathetic friend when Shawn's dad gets laid off right before Christmas. Cory blows it at first, of course, and takes wise counsel from Mr. Feeny before he corrects his mistake and ultimately does right by his best friend. "Santa's Little Helper" features all the elements that made Boy Meets World special from the start — the kids clowning, William Daniels philosophizing, and, ultimately, everyone learning — and it all locks neatly into place.
Pluto's Christmas Tree
The best Mickey Mouse is a blissfully ignorant Mickey Mouse. In this seven-minute short from 1952, Mickey's dutiful dog, Pluto, fights off the chittering chipmunks Chip and Dale, who have stowed away in Mickey's Christmas tree and begin causing chaos right under his nose. Directed by the legendary Jack Hannah, who led the charge on 94 of Disney's animated shorts and helped develop the character of Donald Duck, the short starts with wintry antics outdoors before ending in crashing ornaments and a tree-wrecking disaster. It's nonstop slapstick, and one of the better Pluto shorts on Disney+.
Lizzie McGuire, "Aaron Carter's Coming to Town" and "Xtreme Xmas"
Fueled by Hilary Duff and Aaron Carter's on-again, off-again relationship, "Aaron Carter's Coming to Town" (listed as "Here Comes Aaron" on Disney+) was hyped for weeks on the Disney Channel prior to airing. Such great demographic synergy! It's not technically a holiday special, as it takes place in spring, but Carter plays himself shooting a holiday-themed music video in Lizzie's town. (Unforgettable quote from Gordo: "So who's Aaron Carter?") Lizzie and her friends successfully crash the shoot, but this wasn't the last time the show featured a famous musician in a Christmas special. The episode "Xtreme Xmas" guest-stars Aerosmith front man Steven Tyler dressed up as a mall Santa. His assessment of Lizzie's actions in that episode: "Righteous."
The Simpsons, "Marge Be Not Proud," "Skinner's Sense of Snow," and "She of Little Faith"
There are lots of Simpsons holiday episodes, but these three specifically zero in on deep and hysterical stories about Bart and Lisa. "Marge Be Not Proud" tests Bart's moral compass when Marge finds out that her son has been shoplifting, a plot based on writer Mike Scully's own life. The Emmy-nominated "She of Little Faith," a certified classic, is the episode in which Lisa renounces Christianity to convert to Buddhism. And "Skinner's Sense of Snow" shuts down Springfield when a "Class 3 Killstorm" hits the town, resulting in the kids being snowed in with Principal Skinner. If those three don't satisfy, we'd also recommend a marathon of "Miracle on Evergreen Terrace," "Grift of the Magi," and the very first Simpsons episode to air, "Simpsons Roasting on an Open Fire." Actually, just watch them all.
Mickey's Once Upon a Christmas and Mickey's Twice Upon a Christmas
These anthology specials are full of heart, and Mickey's Once Upon a Christmas features one of the most touching Max and Goofy stories ever animated: "A Very Goofy Christmas." On an intimate Christmas Eve between father and son, Goofy dedicates himself to cheering up young Max by proving the existence of Santa Claus … and failing, over and over again. When Max gradually understands the lengths Goofy will go for him, he flips the script on his dad to bring the dejected Goofy some Christmas cheer. The execution is simple and perfect, and the short is just one of eight across these two collections.
Hannah Montana, "It's the End of the Jake As We Know It"
It's not remotely cold in L.A., and it's not even Christmas yet, but Miley's shooting a special with Sheryl Crow after learning her boyfriend, Jake, has cheated on her. This episode of Hannah Montana is light on holiday cheer, but, remarkably, it has something for everybody. Crow and Miley Cyrus's banter manages to poke fun at both of them, and the episode boasts an appearance from legendary deep-cut character actor Robert Costanzo — he of Die Hard 2, Total Recall, and the voice of Detective Harvey Bullock from Batman: The Animated Series. The B-plot sees him make fun of, and later cut a shady deal with, a kid named Rico Suave. The aughts were wild.
That's So Raven, "Escape Claus"
The last thing you should do is wear your holiday gifts to school before your parents actually give them to you, but Raven did it anyway. Christmas-y chaos ensues when Raven and her friends accidentally trash the necklace in question. The all-over-the-place episode holds together, thanks to the experienced sitcom direction of Matthew Diamond (Gilmore Girls, Family Ties, The Golden Girls, Working Girl, and about 90 other credits to his name) and writing by Carla Banks-Waddles (For Your Love, Half & Half, Good Girls, Soul Man, and more). Note that it's titled "Escape Clause" on Disney+, but "Escape Claus" is the episode's correct spelling.
Phil of the Future, "Christmas Break"
Time-travel shenanigans played into every episode of Phil of the Future, but this one doubled as both an origin story for the show and a Christmas special, recounting the story of how Phil's 22nd-century family landed themselves in 2003. Apparently, they wanted a place to shop. "Wait a minute," Phil's friend Keely interjects. "You came to the 21st century to find a mall?" Yes, the premise is as capitalist as anything, but in the end it's a heartwarming Christmas-tree lighting that convinces the family to stay in the century. Worth noting: This episode was directed by Fred Savage, before he graduated to helming shows like It's Always Sunny in Philadelphia and Party Down.
The Suite Life of Zack & Cody, "Christmas at the Tipton"
A ten-foot-deep "white blanket of death" strands Zack and Cody's whole family at the hotel over Christmas — and while Suite Life was a star vehicle cynically attempting to re-create the Olsen twins' success with a new pair of child stars, this episode did manage to tackle the topic of divorce reasonably well. The twins' divorced mom and dad don't get along, but they agree to call a truce for the holidays; along the way, everyone learns lessons on family and love. It's the kind of schmaltz everyone craves around Christmastime.