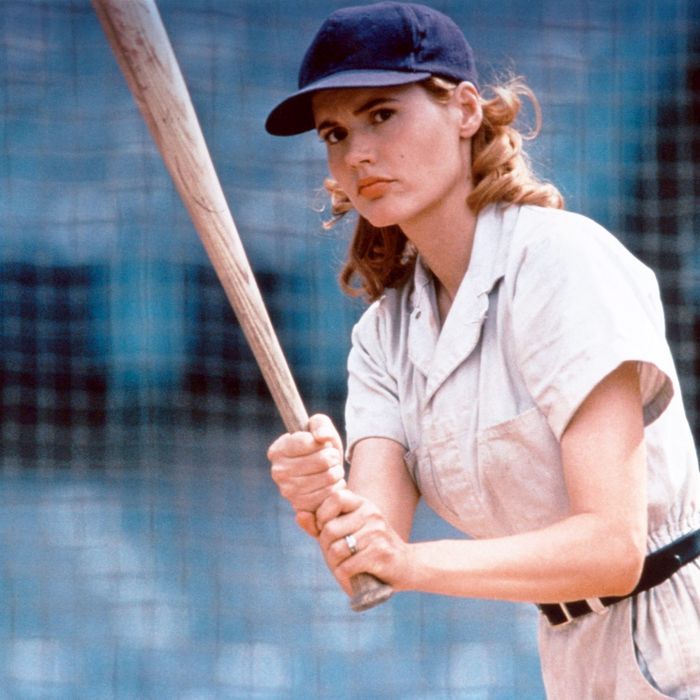 A League of Their Own
.
Photo: Paramount Pictures
This article is updated frequently as titles leave and enter Amazon Prime. New titles are indicated with an asterisk.
Everybody needs a laugh now and then, and Amazon Prime has a rotating selection of high-quality comedies for those times you need to escape the troubles of the real world and decompress with humor. From classics of the genre to Amazon originals to films that were in theaters recently, there's a bit of everything on this list. Hopefully, a few of them will hit your funny bone in just the right way.
The public opinion of Woody Allen has certainly changed over the years, but this 1977 romantic comedy remains one of the most essential American films of its era, winning Oscars for Best Picture, Actress, Director, and Screenplay. It may be tough to separate what we know now about Allen from his best work, but this is still an important part of movie history.
It's not common for a breakthrough comedy to be so acclaimed and popular that it actually becomes an Oscar nominee for Best Screenplay, but The Big Sick is not a typical comedy (and Holly Hunter was robbed of a nomination too, by the way). Kumail Nanjiani and Emily V. Gordon loosely adapt their own story, with Nanjiani starring alongside Zoe Kazan. It's really as crowd-pleasing as comedies get. You kind of have to be an asshole not to like it.
There's an appropriate amount of love out there for Bill & Ted's Excellent Adventure but also sometimes a false impression that the 1991 sequel was somehow a letdown. It's arguably better! Not only do Keanu Reeves, Alex Winter, and George Carlin reprise their roles but the great William Sadler joins the party as death himself.
Sacha Baron Cohen returned to his most iconic character in 2020 with this sequel to his smash hit Borat, and it instantly became one of the most talked-about films of the year. Cohen brilliantly plays with how much harder it was to make a Borat film now than everyone recognizes the character, while also digging deep into the issues of 2020 like response to the pandemic, the increasingly vocal racism of the country, and the grossness of Rudy Giuliani.
Dodgeball
Vince Vaughn and Ben Stiller starred in a fan favorite from 2004 that turned everyone's favorite middle school sport into a physical comedy. It's a funny flick, the story of an underdog team of dodgeball players that includes great supporting turns from Rip Torn, Justin Long, Stephen Root, and Alan Tudyk too. It's a great example of a talented comedy ensemble elevating a mediocre script.
Joel and Ethan Coen's 1996 masterpiece is only one of the best films ever made, a story of violence and redemption in the great American North. The Coens won Best Original Screenplay and Frances McDormand took her first Oscar home for playing the unforgettable Marge Gunderson, a Minnesotan cop who gets entangled in a car salesman's deeply inept foray into the criminal world.
Chris Morris co-wrote and directed an incredibly clever 2010 dramedy that introduced the world to future Oscar nominee Riz Ahmed. It may not sound like an appropriate subject for a comedy, but Four Lions is a satire about homegrown terrorists in Yorkshire, England, and how generally misguided and incompetent they are. It's a smart and very funny movie.
Classic musical comedy! The William Wyler 1968 film was adapted from the stage musical of the same name that had been a hit on Broadway just a few years earlier. Barbara Streisand gave arguably her most beloved performance as Fanny Brice, reprising her role from Broadway. It was actually the highest grossing film of 1968 and won Streisand an Oscar for Best Actress.
It's kind of become the poster boy for the worst of Sundance indie clichés, but Zach Braff's 2004 dramedy is a better film than its reputation. The writer/director from Scrubs also stars a young man dealing with a quarter-life crisis when he returns home to attend his mother's funeral. Natalie Portman, Peter Sarsgaard, and Ian Holm star in the film that introduced thousands of people to The Shins.
Buster Keaton has a bit of a moment in 2022 with two excellent books about his career and the news that James Mangold is making a movie about his life. Enjoy one of Keaton's best films in the 1926 classic inspired by the Great Locomotive Chase. There's not nearly enough silent cinema on the streamers, so take this chance to watch one of the best ever while you can.
Get Shorty
Look at me. Barry Sonnenfeld directed one of the best adaptations of an Elmore Leonard novel in the history of the great author and anchored it with one of John Travolta's best performances. Everyone remembers the comeback with Pulp Fiction, but this one really allows Travolta's incredible '90s charisma to shine. It's a perfectly calibrated comedy with phenomenal performances all around, including Rene Russo, Danny DeVito, Delroy Lindo, and Gene Hackman too.
Terry Zwigoff directed this brilliant 2001 adaptation of the comic book of the same name by Daniel Clowes. The film version stars Thora Birch, Scarlett Johansson, and Steve Buscemi, and basically reminds people that even introverts need people too. Birch and Johansson play friends whose bond is tested when Birch's Enid gets involved in the life of a loner, played perfectly by Buscemi. (He's pretty much always perfect.)
Good Morning, Vietnam
Robin Williams stars in the 1987 comedy that really solidified how much this talented comedian also had serious dramatic chops. He plays a radio DJ in 1965 in Saigon who gets in trouble with his superiors for his unorthodox style. Most of Williams's radio broadcasts were improvised, using the actor's incredible ability to think on his feet.
Relive one of the best comedies of all time over and over again on Prime Video. Believe it or not, this 1993 Bill Murray vehicle wasn't that rapturously received critically or commercially when it came out, but it's become a beloved genre classic. Murray stars as a weatherman forced to relive the same day over and over again until he gets it right. It's not just the clever premise but how much co-writer/director Harold Ramis and Murray inject humanism and truth into it. And it's held up so much better than most early '90s comedies.
Christian Slater kinda does a Jack Nicholson impression, and Winona Ryder is at the peak of her '80s emo-charm in this clever satire of high-school life. Ryder plays the school outcast with Slater as the guy who teaches that revenge is a dish best served with an attitude.
Look, a really old movie! The fact is there aren't many true classics on any streaming service, and when you get a chance to watch a movie with Cary Grant and Rosalind Russell from before World War II, you should take it. This is one of the most delightful and influential comedies ever made, a Howard Hawks masterpiece about a reporter doing one last story with his ex-wife and (maybe) winning her back in the process.
Andy Samberg's first time headlining a comedy didn't make much money or get much attention when it was released, but as Lonely Island grew in fame so did this film's rep. Samberg stars as a stuntman who tries to raise money to save the life of his irascible father, played by Ian McShane, and maybe even win his love too. It's a goofy, funny film that has held up remarkably well.
Anna Faris' best comedy acting is in the underrated 2008 Happy Madison film about a Playboy bunny who ends up mentoring a sorority of outsiders and transforming them. Some of the jokes are incredibly simple and even sexist, but Faris has an incredible commitment and energy level. She keeps it all light and entertaining.
It's a Mad, Mad, Mad, Mad World
Stanley Kramer delivered one of the most epic comedies of all time with the 1963 caper that featured a dozen or so of the most famous comedians in the world at the time, including Milton Berle, Sid Caesar, Buddy Hackett, Ethel Merman, Mickey Rooney, Jonathan Winters, and many more. Regularly making lists of the funniest movies of all time, this one really influenced so many road ensemble comedies that would attempt to follow it.
Jay and Mark Duplass, known more for their acting and producing, directed this quirky comedy starring Jason Segel and Ed Helms as two very different brothers. Segel plays Jeff, who kind of just goes wherever the day takes him, while Helms plays Pat, a businessman with a marriage that's falling apart. It's an unassuming, gentle little comedy about characters having one of the more unusual days of their lives.
No, not the Will Ferrell soccer movie, the directorial debut from Netflix darling Noah Baumbach (Marriage Story). He wrote and directed this personal story about a group of college grads struggling with how to move on from what they experienced in education and join the real world. It's a charming, funny movie that stars Josh Hamilton, Chris Eigeman, Eric Stoltz, and Parker Posey. Fun trivia: The movie also marked the first producorial effort from Baumbach's college roommate, Mr. Jason Blum.
This blockbuster comedy may not seem like an obvious family film, but it really is appropriate for all ages. Penny Marshall directed the story of the All-American Girls Professional Baseball League that includes a perfect cast of Geena Davis, Tom Hanks, Madonna, Rosie O'Donnell, and Lori Petty. A League of Their Own has held up really well since. (And there's even a Prime Video TV show starring Abbi Jacobson and D'Arcy Carden on the way.)
Living in Oblivion
Tom DiCillo wrote and directed the 1995 indie comedy that features the film debut of Peter Dinklage along with great performances from Steve Buscemi and Catherine Keener. Divided into three parts, DiCillo's film is the comedic recounting of the production of a low budget film, with Buscemi playing the put-upon director.
Relive one of Robin Williams's biggest movies, his 1993 comedy about a man who dresses up like a housekeeper to spend more time with his children. The script is pretty mediocre, but Williams throws himself into every scene in a way that made it an instant hit. He always gave his all.
No, sorry, not the Eddie Murphy remake with the fat suits but the Jerry Lewis original from all the way back in 1963. This is one of Lewis's best, a movie that really highlights his comic timing and fearlessness in doing whatever it takes to get a laugh. He is often imitated without being fully appreciated.
Joel and Ethan Coen directed one of their most beloved films with a quirky reimagining of Homer's The Odyssey that takes that epic journey and transplants it to the American South in the 1930s. George Clooney, John Turturro, and Tim Blake Nelson star as three escaped convicts who go on a wild adventure in Mississippi that actually makes them bluegrass stars. It's funny and very rewatchable.
Mike Judge's 1999 comedy is more popular two decades after it came out than when it was released. The movie made hardly any impact when it came out – it barely made back its $10 million budget – but has developed a loyal following in the years since through non-stop cable airings and DVD. You've probably seen it a hundred times. Make it 101.
The Purple Rose of Cairo
With all the animosity between Amazon and Woody Allen, it's a little hard to believe that any of his films are still on the service. One of his personal favorites, his great comedy stars Jeff Daniels as a man who literally steps off the big screen into the real world. Some of Allen's best works incorporate magical realism, and The Purple Rose of Cairo one does a beautiful job of that in the way it captures how great cinema can feel transportative.
Long before they won Oscars, Joel and Ethan Coen made one of the best comedies of the '80s about a babynapping. Of course, this Nicolas Cage and Holly Hunter vehicle is about way more than the stealing of one of the Arizona children. It's about redemption, maturity, partnership, and, of course, the advice to not put a panty on your head. It's also somehow even funnier now than it was when it was released.
Writer/director Wes Anderson's best film is arguably still his second work, a brilliant coming-of-age comedy about a teenager named Max Fischer (Jason Schwartzman) and the love triangle that forms (at least in his mind) between him, a teacher named Rosemary Cross (Olivia Williams), and a wealthy man named Herman Blume (Bill Murray). Charming, eccentric, and hysterical, Rushmore is a modern classic.
The great Sydney Pollack directed an adaptation of the classic Billy Wilder romantic comedy. Filling the shoes of a legend like Audrey Hepburn can be a tough challenge that star Julia Ormond isn't quite up to, but the male stars here — Harrison Ford and Greg Kinnear — keep the film light and charming.
Saved!
Jena Malone stars in the 2004 satire of fundamentalist religion that has a pretty loyal cult following. She plays a young woman who gets pregnant after having sex with her boyfriend in an attempt to "cure" his homosexuality. A satire of how religion fails teens, it also features clever performances from Mandy Moore, Macaulay Culkin, Patrick Fugit, and Martin Donovan.
What a fun and funny movie you can find in the 2000 buddy comedy starring Jackie Chan and Owen Wilson. Chan's physical style and Wilson's goofy personality make for a truly hysterical duo in this Western martial arts comedy that blends Chan's incredible skill with a more traditional comedy style. It's an underrated movie that's truly hard to dislike.
The true genius of Edgar Wright's 2004 horror-comedy is that it takes both sides of its clever genre coin completely seriously. Yes, the story of a zombie attack on a small British town is laugh-out-loud hysterical, but this is also a legitimately great horror movie at the same time. It kicked off Wright's Cornetto trilogy, followed by the also-fantastic Hot Fuzz and The World's End.
Alexander Payne's best film was released in 2004 with an adaptation of the Rex Pickett novel about a surly wine lover and his chance at love. Paul Giamatti stars as Miles Raymond, a misanthropic teacher who goes on a trip to wine country with his more outgoing friend Jack (Thomas Haden Church). The film won the Oscar for Best Adapted Screenplay, and was nominated for four other Academy Awards, including Best Picture.
The list of great Will Ferrell comedies has to include Ricky Bobby's story, that of a NASCAR driver who falls from grace and climbs back up again. Co-written and directed by Adam McKay and featuring great supporting turns from John C. Reilly and Sacha Baron Cohen, Talladega Nights is one of Ferrell's most consistent, wonderfully goofy comedies.
Undercover Brother
Eddie Griffin fronted this hysterical spoof of blaxploitation films that was released almost twenty years ago. A mix of dark humor and Airplane-esque broad parody, Undercover Brother features a go-for-broke performance from Griffin that's ably assisted by talented comedians like Chris Kattan, Dave Chappelle, and Neil Patrick Harris. Some of it is a bit dated, but it's still pretty funny.
It's hard to believe it's been three decades since Ron Shelton's buddy basketball movie that was about way more than just hoops. An instant cultural hit, this sports comedy stars Wesley Snipes and Woody Harrelson in two of their most charming career performances as a pair of hustlers in the court. No one makes sports movies like Shelton, and this is one of his best.
Bobcat Goldthwait wrote and directed this 2009 film that features one of the last and best performances from the great Robin Williams. He plays a single father whose 15-year-old son dies of autoerotic asphyxiation and becomes something of an inspiration to other students, even though dad knows he was kind of a monstrous jerk. A twisted dark comedy, it's an unforgettable flick.
Young Frankenstein
Any list of the best comedies of all time that doesn't include Mel Brooks's 1974 comedy masterpiece is simply wrong. Gene Wilder stars as a descendant of the infamous Dr. Frankenstein in Brooks's parody of Universal monster movies that became an international smash hit, even landing an Oscar nod for Best Adapted Screenplay. It was hysterical in 1974 and it still is today.