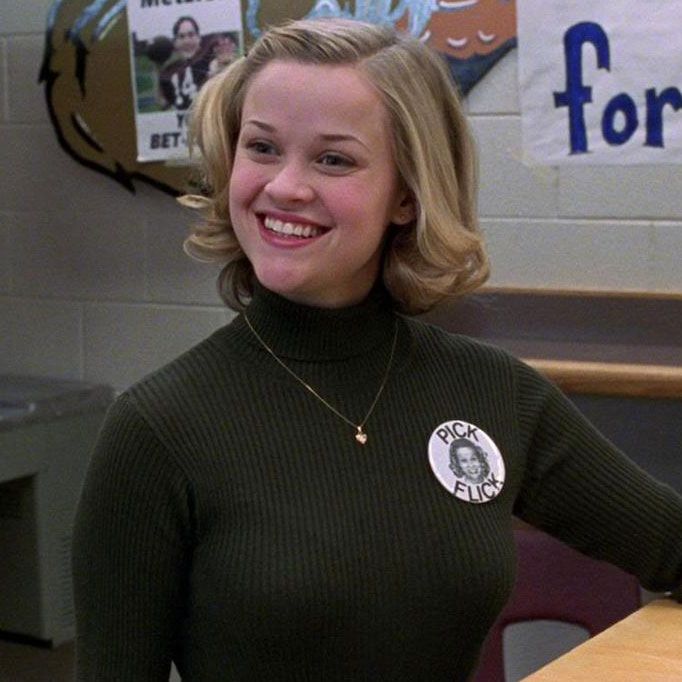 Reese Witherspoon in
Election
.
Photo: Paramount Pictures
This article is updated frequently as titles leave and enter Amazon. New titles are indicated with an asterisk.
Everybody needs a laugh now and then, and Amazon Prime has a rotating selection of high-quality comedies for those times you need to escape the troubles of the real world and decompress with humor. From classics of the genre to Amazon originals to films that were in theaters recently, there's a bit of everything on this list. Hopefully, a few of them will hit your funny bone in just the right way.
*About a Boy
There's been a bit of a reappraisal of Hugh Grant's acting ability in the last few years with his great work in A Very English Scandal and The Undoing, but his career-best work may still be in this adaptation of the Nick Hornby novel about a man-child who learns how to grow up from his friendship with a kid. Minnie Driver is pretty delightful here too.
The Addams Family
Forget that new animated version, the 1991 Barry Sonnenfeld hit is all the Addams you will ever need. Based on the TV series and cartoon by Charles Addams, this is the classic of the morbid family that everybody loves. Raul Julia is wonderful as Gomez Addams, balanced so perfectly by Anjelica Huston as Morticia Addams that she landed a Best Actress nomination at the Golden Globes. As great as they both are, the real casting coup here is a perfect young Christina Ricci as Wednesday.
*The Apartment
It's hard to believe that Billy Wilder's masterpiece is over six decades old given that it's a film that feels as timeless as ever. The template for so many movies to come, The Apartment is a daring dissection of toxicity in the story of an insurance clerk (Jack Lemmon) who lets his coworkers use his apartment to support their infidelity.
It's not common for a breakthrough comedy to be so acclaimed and popular that it actually becomes an Oscar nominee for Best Screenplay, but The Big Sick is not a typical comedy (and Holly Hunter was robbed of a nomination too, by the way). Kumail Nanjiani and Emily V. Gordon loosely adapt their own story, with Nanjiani starring alongside Zoe Kazan. It's really as crowd-pleasing as comedies get. You kind of have to be an asshole not to like it.
Sacha Baron Cohen returned to his most iconic character in 2020 with this sequel to his smash hit Borat, and it instantly became one of the most talked-about films of the year. Cohen brilliantly plays with how much harder it was to make a Borat film now than everyone recognizes the character, while also digging deep into the issues of 2020 like response to the pandemic, the increasingly vocal racism of the country, and the grossness of Rudy Giuliani.
Joel and Ethan Coen followed their Best Picture winner No Country For Old Men with one of their most cynical and hysterical movies, a comedy of errors about some incredibly stupid people. Brad Pitt, Frances McDormand, George Clooney, Richard Jenkins, John Malkovich, and J.K. Simmons star in a movie that's basically about, well, a bunch of total idiots. No one drops an f-bomb like John Malkovich.
This 1985 comedy based on the beloved board game made hardly any money or cultural impact when it was released — it didn't even make back its budget — but it has become such a cult hit over the years, quoted endlessly by Gen-Xers. The main reason is the cast, featuring a wonderful array of talents like Eileen Brennan, Tim Curry, Madeline Kahn, Christopher Lloyd, Michael McKean, Martin Mull, and Lesley Ann Warren.
Remember when Rob Scheider could carry a theatrical release? Relive those crazy days with this 1999 sex comedy that made an absolute fortune at the box office (enough to produce a much-worse sequel). Listen, this isn't a comedy classic, but one has to admire Schneider's willingness to do anything to get a laugh.
Dodgeball: A True Underdog Story
Vince Vaughn and Ben Stiller star in this fan favorite from 2004 that turned everyone's favorite middle school sport into a physical comedy. It's a funny flick, the story of an underdog team of dodgeball players that includes great supporting turns from Rip Torn, Justin Long, Stephen Root, and Alan Tudyk too. It's a great example of a talented comedy ensemble elevating a mediocre script.
Alexander Payne's best film is still this 1999 comedy that uses a student-government election to comment on not just politics on a grander scale but human nature. Reese Witherspoon stars as the unforgettable Tracy Flick, the overachiever who basically drives her teacher, played by Matthew Broderick, totally insane. Scathing and hysterical, this is a movie that could have come out unchanged two decades after its release.
*Eurotrip
Remember when studios release big dumb comedies like this every summer? Relive that "golden" era with one of the more memorable entries, the story of a bunch of dumb Americans working their dumb ways across Europe. No one would call Eurotrip a comedy classic but it could easily scratch a nostalgic itch for people of the right age or those who just want to watch Matt Damon's cameo.
In 2019, Florence Pugh had one of the best years for a young actress in movie history, anchored mostly by her Oscar-nominated work in Little Women and critical acclaim for Midsommar. But this film was actually the prologue, a fun little comedy based on the true story of an amateur wrestler's rise to fame. Pugh is charming and believable, and watching this now just reveals her already remarkable range.
Movies simply don't get much funnier than this Oscar winner starring John Cleese, Jamie Lee Curtis, Kevin Kline, and Michael Palin. The story of a jewel robbery gone very wrong, the barrister who gets involved, and the fish that gets caught in the middle is regularly included on any short list of the funniest movies ever made. You know how the Academy Awards never include any comedy performances? This one won an Oscar for Kevin Kline, who is simply impossible to deny.
Remember when romantic comedies weren't basically the exclusive territory of Netflix Original movies? It's hard to believe now, but Mike Newell's Four Weddings and a Funeral was a legitimate phenomenon, grossing more than any U.K.-produced film in history at the time of its release, on its way to an Oscar nomination for Best Picture! Why was it such a hit? A lot of the success of great rom-coms comes down to casting, and Newell got Hugh Grant and Andie MacDowell at their most absolute charming.
Hal Ashby's 1971 black comedy about the strange friendship that forms between a young man and an old woman became a beloved movie after its release, playing on college campuses and in art-house theaters before really breaking out on VHS. It's amazing to consider how a movie that was basically ignored when it was released would be on most lists of the best comedies of all time just a generation later.
Christian Slater kinda does a Jack Nicholson impression, and Winona Ryder is at the peak of her '80s emo-charm in this clever satire of high-school life. Ryder plays the school outcast with Slater as the guy who teaches that revenge is a dish best served with an attitude.
Look, a really old movie! The fact is there aren't many true classics on any streaming service, and when you get a chance to watch a movie with Cary Grant and Rosalind Russell from before World War II, you should take it. This is one of the most delightful and influential comedies ever made, a Howard Hawks masterpiece about a reporter doing one last story with his ex-wife and (maybe) winning her back in the process.
Andy Samberg's first time headlining a comedy didn't make much money or get much attention when it was released, but as Lonely Island grew in fame so did this film's rep. Samberg stars as a stuntman who tries to raise money to save the life of his irascible father, played by Ian McShane, and maybe even win his love too. It's a goofy, funny film that has held up remarkably well.
The House Bunny
Anna Faris' best comedy acting is in this underrated 2008 Happy Madison film about a Playboy bunny who ends up mentoring a sorority of outsiders and transforming them. Some of the jokes are incredibly simple and even sexist but Faris has an incredible commitment and energy level. She keeps it all light and entertaining.
Jay and Mark Duplass, known more for their acting and producing, directed this quirky comedy starring Jason Segel and Ed Helms as two very different brothers. Segel plays Jeff, who kind of just goes wherever the day takes him, while Helms plays Pat, a businessman with a marriage that's falling apart. It's an unassuming, gentle little comedy about characters having one of the more unusual days of their lives.
After the massive success of 1994's Clerks, Kevin Smith used his power to make another personal comedy, this one about a group of at a Jersey mall that it feels the writer/director knew and loved in real life. Smith assembled one of his best casts here, including Jason Lee, Jeremy London, Shannen Doherty, Ben Affleck, Joey Lauren Adams, and Michael Rooker. Some of it is a bit dated but Kevin Smith's joy in even getting to make this movie still comes through.
Woody Allen is probably done releasing movies stateside, so this will be one of his final greats, a 2011 comedy in which the writer/director explores his own fascination with the draw of nostalgia. It's the story of a screenwriter (Owen Wilson) who literally travels back in time every night, and starts to get stuck in the past, much like Allen has in some of his films. It's witty and funny in a manner that Allen wouldn't really be again.
No, sorry, not the Eddie Murphy remake with the fat suits but the Jerry Lewis original from all the way back in 1963. This is one of Lewis's best, a movie that really highlights his comic timing and fearlessness in doing whatever it takes to get a laugh. He is often imitated without being fully appreciated.
Stay Tuned
Who wants a bit of early '90s nostalgia? Stay Tuned was pretty much ignored when it was released, but it's become something of a cult hit over the years since, in part because it features one of the too-few screen performances from the great John Ritter. The Three's Company star headlines alongside another TV legend, Mork and Mindy's Pam Dawber, as average people sucked into a hellish TV world that's trying to kill them. Goofy and dated, for sure, but sometimes that's what you're looking for on Amazon Prime.
The Sweetest Thing
Does anyone else miss Cameron Diaz? The retired actor never got the credit she deserved for fearlessly throwing herself into every single part she took. 2002's The Sweetest Thing rom-com isn't exactly her best film, but it features another solid Diaz turn and supporting work from Christina Applegate and Selma Blair. It could be better, but it's a nice snapshot of Diaz's skills.
This is the funniest movie that you probably haven't seen. David Wain (Wet Hot American Summer) co-wrote and directed this 2014 spoof of romantic comedies that stars Paul Rudd and Amy Poehler as a pair of star-crossed lovers and features Wain's surreal sense of humor and incredible friends. So many people are in this movie, including Cobie Smulder, Christopher Meloni, Max Greenfield, Bill Hader, Jason Mantzoukas, Melanie Lynskey, and many more. It's hysterical.
The Airplane and Naked Gun movies will always be more popular, but true fans also love the ZAZ spoof Top Secret! from 1984 too. In many ways this parody of dozens of films has even smarter non-stop energy than the other films like it from its era, and it comes with one of Val Kilmer's funniest and most fearless performances.
*Tropic Thunder
A sharp spoof of Hollywood blockbusters, Ben Stiller's hit comedy has become divisive over the years in terms of how comedy has changed since its release. Yes, some of it hits differently now, but there's no denying the fearless performances that carry it, including Stiller, Jack Black, and, most of all, Robert Downey Jr., doing anything to get the laugh.
A24 had no idea what to do with David Robert Mitchell's follow-up to It Follows, holding it for almost a year after its Cannes premiere and then barely releasing it at all. The lack of exposure may explain how it has sneaked its way onto Amazon Prime already, but this film is developing a loyal following. It's one of those movies everyone will tell you they always loved in about a decade.
Sometimes it's fun to watch what could be a mediocre movie get totally carried by the charms of its two stars. That's the case here. Is this a great comedy? Not really, but Seth Rogen and Elizabeth Banks are so delightful and fun to watch that you just don't care.