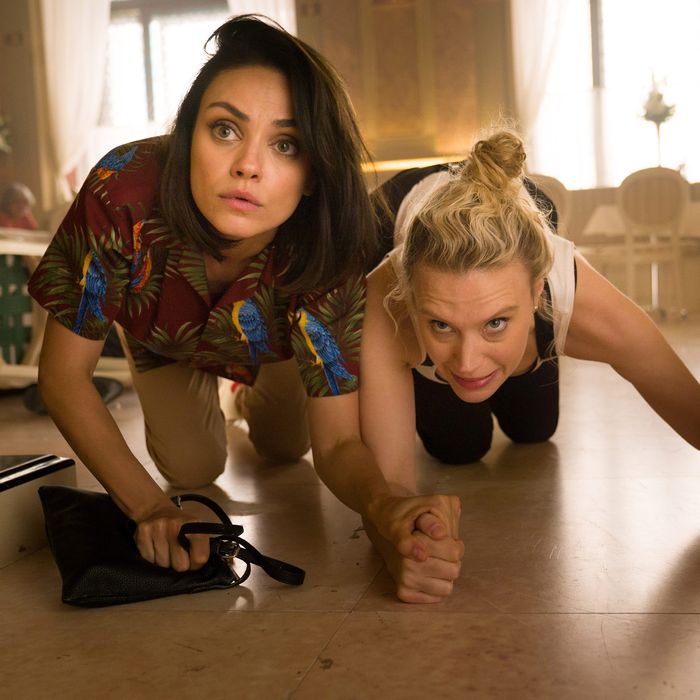 The Spy Who Dumped Me
Photo: Courtesy of Lionsgate
This article is updated frequently as titles leave and enter Amazon. New titles are indicated with an asterisk.
Everybody needs a laugh now and then, and Amazon Prime has a rotating selection of high-quality comedies for those times you need to escape the troubles of the real world and decompress with humor. From classics of the genre to Amazon originals to films that were in theaters recently, there's a bit of everything on this list. Hopefully, a few of them will hit your funny bone in just the right way.
*The Addams Family
Forget that new animated version, the 1991 Barry Sonnenfeld hit is all the Addams you will ever need. Based on the TV series and cartoon by Charles Addams, this is the classic of the morbid family that everybody loves. Raul Julia is wonderful as Gomez Addams, balanced so perfectly by Anjelica Huston as Morticia Addams that she landed a Best Actress nomination at the Golden Globes. As great as they both are, the real casting coup here is a perfect young Christina Ricci as Wednesday.
One of Jerry Lewis's biggest hits was this 1960 comedy classic that the most beloved comedian in France also wrote and directed. The film is introduced by a studio executive warning viewers that what follows has no plot — it's just the silly adventures of a silent bellboy named Stanley. He's not lying. It's a great intro to Lewis's physical-comedy style.
It's not common for a breakthrough comedy to be so acclaimed and popular that it actually becomes an Oscar nominee for Best Screenplay, but The Big Sick is not a typical comedy (and Holly Hunter was robbed of a nomination too, by the way). Kumail Nanjiani and Emily V. Gordon loosely adapt their own story, with Nanjiani starring alongside Zoe Kazan. It's really as crowd-pleasing as comedies get. You kind of have to be an asshole not to like it.
*Chuck & Buck
Miguel Arteta directed this pitch-black comedy about obsession and immaturity that was written by and stars the great Mike White. The actor plays Buck, a young playwright who becomes unmoored when his mother dies, leading to a renewed obsession with a successful childhood friend named Chuck (Chris Weitz). As much of a thriller as a comedy, this is a daring tonal balancing act and one of the best pieces of writing by White.
This 1985 comedy based on the beloved board game made hardly any money or cultural impact when it was released — it didn't even make back its budget — but it has become such a cult hit over the years, quoted endlessly by Gen-Xers. The main reason is the cast, featuring a wonderful array of talents like Eileen Brennan, Tim Curry, Madeline Kahn, Christopher Lloyd, Michael McKean, Martin Mull, and Lesley Ann Warren.
Bo Burnham's feature-film debut won him multiple awards last year, and it's already on Amazon Prime for you to see what all the fuss is about. Elsie Fisher gives a breakthrough performance as a young lady who makes YouTube videos that pretty much only she sees as she struggles her way through the most socially awkward years of existence. Smart, moving, and incredibly clever, this is a great comedy that rings true enough that it hurts.
Alexander Payne's best film is still this 1999 comedy that uses a student-government election to comment on not just politics on a grander scale but human nature. Reese Witherspoon stars as the unforgettable Tracy Flick, the overachiever who basically drives her teacher, played by Matthew Broderick, totally insane. Scathing and hysterical, this is a movie that could have come out unchanged two decades after its release.
In 2019, Florence Pugh had one of the best years for a young actress in movie history, anchored mostly by her Oscar-nominated work in Little Women and critical acclaim for Midsommar. But this film was actually the prologue, a fun little comedy based on the true story of an amateur wrestler's rise to fame. Pugh is charming and believable, and watching this now just reveals her already remarkable range.
*Frankie & Johnny
Al Pacino isn't exactly the first name that people think of when they're in the mood for a rom-com but he starred in one of the best of 1991, this excellent adaptation of Terrence McNally's beloved play. Pacino stars opposite Michelle Pfeiffer, who plays a waitress who meets Pacino's ex-convict and discovers unexpected love. It's a sweet, excellent performance piece for two great actors.
*Happy Endings
Written and directed by Don Roos (The Opposite of Sex), this 2005 comedy is an ensemble piece about modern relationship. Yes, there are roughly a thousand of those, but this one stands out through the sharpness of its writing and a great cast that includes Lisa Kudrow, Bobby Cannavale, Steve Coogan, Laura Dern, and Maggie Gyllenhaal. It's a piece that follows multiple characters in Los Angeles through various flawed relationships. Finally, it's notable for maybe Tom Arnold's best film work. Yes, you read that right.
Hal Ashby's 1971 black comedy about the strange friendship that forms between a young man and an old woman became a beloved movie after its release, playing on college campuses and in art-house theaters before really breaking out on VHS. It's amazing to consider how a movie that was basically ignored when it was released would be on most lists of the best comedies of all time just a generation later.
Christian Slater kinda does a Jack Nicholson impression, and Winona Ryder is at the peak of her '80s emo-charm in this clever satire of high-school life. Ryder plays the school outcast with Slater as the guy who teaches that revenge is a dish best served with an attitude.
Warren Beatty co-wrote, co-directed, and stars in this smash-hit remake of Harry Segall's play about a young man taken to Heaven before his time and how the powers that be try to help him get back to Earth. A massive success, it was also nominated for nine Academy Awards, which just doesn't happen that often to a comedy.
Look, a really old movie! The fact is there aren't many true classics on any streaming service, and when you get a chance to watch a movie with Cary Grant and Rosalind Russell from before World War II, you should take it. This is one of the most delightful and influential comedies ever made, a Howard Hawks masterpiece about a reporter doing one last story with his ex-wife and (maybe) winning her back in the process.
Andy Samberg's first time headlining a comedy didn't make much money or get much attention when it was released, but as the Lonely Island grew in fame so did this film's rep. Samberg stars as a stuntman who tries to raise money to save the life of his irascible father, played by Ian McShane, and maybe even win his love, too. It's a goofy, funny film that has held up remarkably well.
Jay and Mark Duplass, known more for their acting and producing, directed this quirky comedy starring Jason Segel and Ed Helms as two very different brothers. Segel plays Jeff, who kind of just goes wherever the day takes him, while Helms plays Pat, a businessman with a marriage that's falling apart. It's an unassuming, gentle little comedy about characters having one of the more unusual days of their lives.
Steven Soderbergh came back from semi-retirement with this 2017 heist comedy featuring a remarkably wonderful cast. It's led by Channing Tatum, but this movie also features simply great performances from Daniel Craig, Riley Keough, and Adam Driver. This is a fun, smart movie that's actually made for adults, which means almost everyone ignored it in theaters. Make up for that oversight now.
No, sorry, not the Eddie Murphy remake with the fat suits but the Jerry Lewis original from all the way back in 1963. This is one of Lewis's best, a movie that really highlights his comic timing and fearlessness in doing whatever it takes to get a laugh. He is often imitated without being fully appreciated.
Don Roos wrote and directed this clever 1998 comedy that you've probably forgotten about (if you even knew it existed in the first place). Christina Ricci plays a teenager who runs away from home and moves in with her half-brother in the American heartland. She causes trouble in this smart comedy that includes a phenomenal supporting performance by Lisa Kudrow.
*Planes, Trains & Automobiles
Sometimes the success of a comedy just comes down to finding the right people for the right parts. Such was the case with this John Hughes hit, which perfectly balances Steve Martin's anal-retentive persona with John Candy's average guy demeanor. The two play a perfect odd couple, sent on a problem-filled journey across the country as they try to get home for the holidays. Candy's work here is particularly moving and underrated.
Roger Dodger
Campbell Scott does the best film work of his career in this 2002 dramedy about a man who tries to train his nephew in how to talk to the opposite sex. Jesse Eisenberg plays the young man in one of the first notable roles of his career. It's a smart, tight film about generational differences between gender dynamics with fantastic performances from Scott and Eisenberg.
William Wyler directed this swooning classic rom-com starring Gregory Peck and Audrey Hepburn in two of their most defining roles. Hepburn plays a princess who goes out on her own in Rome and runs into a reporter played by Peck. Not only do they have stunning chemistry against a gorgeous backdrop, but Hepburn is so charismatic here that she won the Oscar for Best Actress.
Craig Johnson directed this dramedy about fraternal twins played wonderfully by Bill Hader and Kristen Wiig that won the Screenwriting Award at Sundance in 2014. Hader plays Milo, a suicidal young man — yes, it's mostly a comedy — who goes to live with his sister after an attempt. Wiig and Hader have wonderful chemistry as siblings, making their dynamic completely believable. It's also got one of the best lip-sync scenes ever.
Mel Brooks's last great parody is this hysterical spoof of the world of Star Wars, filtered in a comedic style that is distinctively from one of movie history's greatest writers. Spaceballs takes most of its direct aim at the Lucas trilogy (yes, there were only three back in 1987), but Brooks tackles other sci-fi properties, too, and he does it all with his wicked sense of timing and hysterical wordplay.
Mila Kunis and Kate McKinnon star in this pitch-black spy comedy about two friends who get caught up in international intrigue as they race across Europe. It's a surprisingly violent film, often playing more like action than comedy, but Kunis and McKinnon keep the laughs coming enough to be a distraction.
Stay Tuned
Who wants a bit of early '90s nostalgia? Stay Tuned was pretty much ignored when it was released, but it's become something of a cult hit over the years since, in part because it features one of the too-few screen performances from the great John Ritter. The Three's Company star headlines alongside another TV legend, Mork and Mindy's Pam Dawber, as average people sucked into a hellish TV world that's trying to kill them. Goofy and dated, for sure, but sometimes that's what you're looking for on Amazon Prime.
*Throw Momma from the Train
Danny DeVito directed this beloved riff on Strangers on a Train, and also stars as a schlub who has a problem in his awful mother, played unforgettably by Anne Ramsey. Billy Crystal plays the guy who agrees to perform the titular act of DeVito's character will help similarly with his ex-wife.
A24 had no idea what to do with David Robert Mitchell's follow-up to It Follows, holding it for almost a year after its Cannes premiere and then barely releasing it at all. The lack of exposure may explain how it has sneaked its way onto Amazon Prime already, but this film is developing a loyal following. It's one of those movies everyone will tell you they always loved in about a decade.
National Lampoon's Van Wilder
Long before he was Deadpool, Ryan Reynolds burst onto the scene as the title character in this 2002 hit from Walt Becker. Van Wilder kind of defined Reynolds's style — there's some of Wilder's charming cynicism in Deadpool too — in this story of a seventh-year senior who spends his time trying to help undergrads have the best time possible at college.