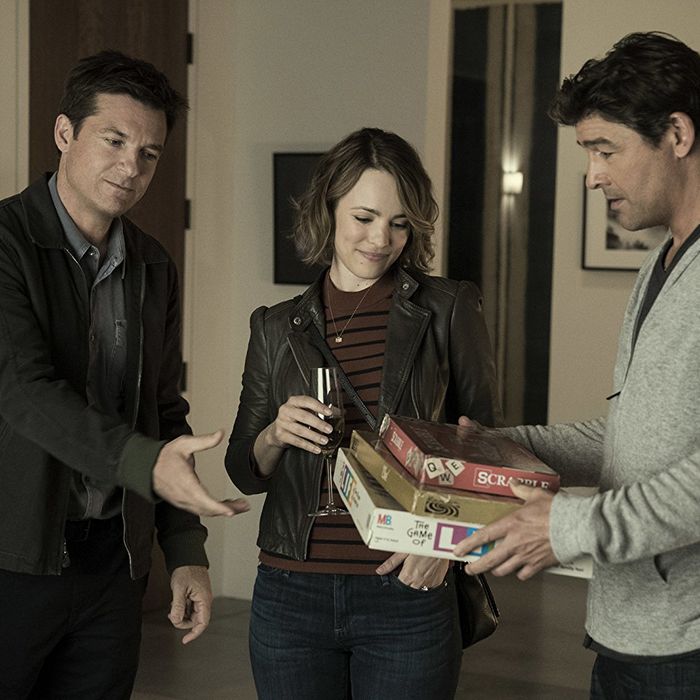 Game Night
.
Photo: Paramount Pictures
This list is regularly updated as movies rotate on and off of Prime Video. *New additions are indicated with an asterisk.
Who needs a good laugh? Prime Video has a deep catalog of comedies for every mood from romantic classics to modern blockbusters to the laugh-busters you loved when you were young. However, navigating their interface to find the best comedies can be tough, so we're here to help Amazon connect with your funny bone with this updated list of the best comedies on Prime Video.
Year: 1998
Runtime: 1h 57m
Director: Joel Coen, Ethan Coen
Well, that's just like your opinion, man. Joel and Ethan Coen followed up the biggest hit of their careers, Fargo, with the story of Jeffrey "The Dude" Lebowski, unforgettably played by Jeff Bridges. In one of his most iconic roles, Bridges captures a kind of lazy L.A. style that turned this flick into a comedy classic, a movie that's being quoted somewhere in the world on every minute of every day.
Year: 2017
Runtime: 2h
Director: Michael Showalter
The wonderful screenwriters Kumail Nanjiani and Emily V. Gordon basically told their own love story in this sweet and funny rom-com that Amazon picked up after audiences fell for it at Sundance. Nanjiani plays a loose variation on himself, a struggling stand-up who falls for a woman (Zoe Kazan) just before she becomes incredibly ill, forcing their relationship to move at an unusual pace. A smart, sweet, genuinely human film, this is one of the best romantic comedies of the 2010s.
*Bill & Ted's Excellent Adventure
Year: 1989
Runtime: 1h 29m
Director: Stephen Herek
It's really hard to dislike this charming time travel comedy about two underachieving buddies who travel through time for a school project. Keanu Reeves (Ted) and Alex Winter (Bill) are so wonderfully sweet and funny in a film that has held up better than most comedies of its era. Note: The long-awaited Bill & Ted Face the Music is also on Prime.
Year: 2020
Runtime: 1h 36m
Director: Jason Wollner
We really needed this in late 2020, right? Sacha Baron Cohen returned to his most famous character 14 years after the breakthrough, largely improvised film Borat. This time, the bumbling journalist plans to bring his daughter Tutar (Oscar nominee Maria Bakalova) as a "gift" to the U.S. Vice President Mike Pence. Current and shocking (Rudy!), this was a laugh-out-loud escape during the height of the pandemic.
Emergency
Year: 2022
Runtime: 1h 45m
Directors: Carey Williams
Carey Williams adapted his short film of the same name into this Sundance hit that Amazon picked up and dropped on Prime in May 2022. It's the story of Sean and Kunle, two average friends who decide to go on a frat party tour but have their night of debauchery interrupted by an unconscious body on their living room floor. An insightful and hysterical blend of college comedy and racial commentary, it's a sharp piece of filmmaking.
*Fletch
Year: 1985
Runtime: 1h 38m
Director: Michael Ritchie
One of Chevy Chase's best screen performances came in this 1985 comedy based on the hit novels by Gregory McDonald. The character of a reporter nicknamed Fletch who gets drawn into an investigation after being asked to kill a millionaire is perfect for Chase, blending his physical comedy ability with that oversized ego. (Note: Fletch Lives is also on Prime, but you might want to ignore that one.)
Year: 2018
Runtime: 1h 40m
Director: John Francis Daley, Jonathan Goldstein
Jason Bateman and Rachel McAdams play a couple who, along with their friends, think they're in the middle of a murder mystery party but discover that the threat is real in this very funny late '10s comedy. The supporting cast is great and the script is sharp, but take a minute to praise the perfect comic timing of McAdams, who gives one of the best genre performances of the era.
The General
Year: 1926
Runtime: 1h 15m
Directors: Clyde Bruckman and Buster Keaton
Truly classic comedies can be hard to find on streaming services, so take this chance to watch an all-timer, one of the best silent movies ever made. The phenomenally talented Buster Keaton stars and co-directs this action-adventure-comedy that has a little bit of something for everyone, and is really a great introduction to people who may not be familiar with Keaton's remarkable skills.
*Harold & Kumar Go to White Castle
Year: 2004
Runtime: 1h 27m
Director: Danny Leiner
These two stoners really get around. The iconic characters from this 2004 comedy classic jump from streaming service to streaming service, now landing on Prime. Watch this progressive and hysterical comedy before they pack up their stuff and move on yet again. (Although you'll have to look elsewhere for the sequels.)
Heathers
Year: 1989
Runtime: 1h 43m
Director: Michael Lehmann
Talk about a movie ahead of its time. Coming-of-age teen comedies were never quite as wonderfully cynical before this movie about four teenage girls whose lives are upended by the arrival of a new kid, played by Christian Slater. More than just seeking to destroy the damaging cliques at his new school, Slater's character has plans for something a little more permanent in this comedy that really shaped the teen genre for years to come.
*It's a Mad, Mad, Mad, Mad World
Year: 1963
Runtime: 2h 40m
Director: Stanley Kramer
Imagine a comedy in 2023 that features basically everyone that most people find funny. That's kind of what this sprawling, massive epic was to audiences in 1963, gathering over a dozen comedians and sending them on a madcap race around the world to find a ton of stolen cash. It's one of the most beloved comedies of the early '60s for a reason.
Kingpin
Year: 1996
Runtime: 1h 41m
Director: Bobby Farrelly
The Farrelly brothers follow-up to their hit Dumb and Dumber was an even funnier (but less commercially successful) film about another pair of idiots. Woody Harrelson stars as a disgraced bowler who tries to mentor an Amish hurler (Randy Quaid) to win a championship, toppling his nemesis, unforgettably played by Bill Murray. Fearless in its attempts to make you laugh, this one holds up.
Year: 2021
Runtime: 2h 13m
Director: Paul Thomas Anderson
A controversial nominee for Best Picture at the beginning of 2022, P.T. Anderson's latest is already on Prime Video for subscribers to screen for no extra cost. And they should. Alana Haim and Cooper Hoffman are transcendent in this story of a teenager who falls for a twentysomething woman, and the odd adventures that somehow keep falling into their lives. It's a lyrical, gorgeously shot period comedy about those hazy days when anything seems possible.
Year: 2022
Runtime: 1h 51m
Directors: Adam Nee, Aaron Nee
With echoes of beloved rom-coms like African Queen and Romancing the Stone, this film truly felt like an anomaly in 2022, and yet it turned into a pretty big hit at the theater. It's already on streaming services, and it's a great choice if you're looking for some escapism tonight. Travel to the middle of nowhere with a romance novel writer (Sandra Bullock) and the cover model (Channing Tatum) who tries to save the day.
*Moonrise Kingdom
Year: 2012
Runtime: 1h 33m
Director: Wes Anderson
After a couple of disappointments, this 2012 comedy was a smashing return to form for writer/director Wes Anderson. The story of a boy (Jared Gilman) who runs away with his pen pal (Kara Hayward) features all of Anderson's charming eccentricities, along with a fantastic ensemble that features Bruce Willis, Ed Norton, Bill Murray, and many more. It's a delight.
My Cousin Vinny
Year: 1992
Runtime: 1h 59m
Director: Jonathan Lynn
Joe Pesci may be the titular character in this hit comedy, but it's Marisa Tomei who walked away with it to such a degree that she won an Oscar. After two New Yorkers are tried for a murder that they didn't commit deep in the heartland, Pesci's Vinny has to go get them off. The city vs. country dynamic gets fresh life thanks to the film's big heart and perfect comedic timing of its entire cast.
Nacho Libre
Year: 2006
Runtime: 1h 32m
Director: Jared Hess
Jared Hess and Jack Black's goofy senses of humor meshed well in this 2006 comedy hit. Black plays a cook at a Oaxacan monastery who unexpectedly becomes a famous luchador, but that's just the skeleton of a plot on which to hang physical humor and silly behavior. It's the kind of comedy that's easy to put on in the background while you're doing other things. Sometimes that's all you want from Amazon Prime.
Year: 2012
Runtime: 1h 42m
Director: Stephen Chbosky
Stephen Chbosky adapted his own book into a tender and moving coming-of-age comedy starring Logan Lerman, Emma Watson, and Ezra Miller. It's a remarkably smart film when it comes to teen issues that are rarely reflected accurately like depression and anxiety. And Chbosky directs his ensemble to beautiful, nuanced performances.
Tucker & Dale vs. Evil
Year: 2010
Runtime: 1h 28m
Director: Eli Craig
This horror/comedy hardly made an impact when it was released in 2010 but has become a true cult hit in the decade since on DVD and streaming services. The main reason is that Tyler Labine and Alan Tudyk have perfect comic timing as a pair of lovable hillbillies who get caught up in a crazy horror movie situation that leads to a lot of laughs and buckets of blood. Now give us a sequel!
Year: 2013
Runtime: 3h
Director: Martin Scorsese
Leonardo DiCaprio should have won the Oscar for his amazing performance as Jordan Belfort, the financial criminal that rocked Wall Street and shocked audiences in one of Scorsese's best late films. Arguments over whether or not this film glorifies a "bad guy" have become prominent — and could only really be made by people who haven't actually watched it. Most of all, it's a shockingly robust film, filmed with more energy in a few minutes than most flicks have in their entire runtime.
If you subscribe to a service through our links, Vulture may earn an affiliate commission.