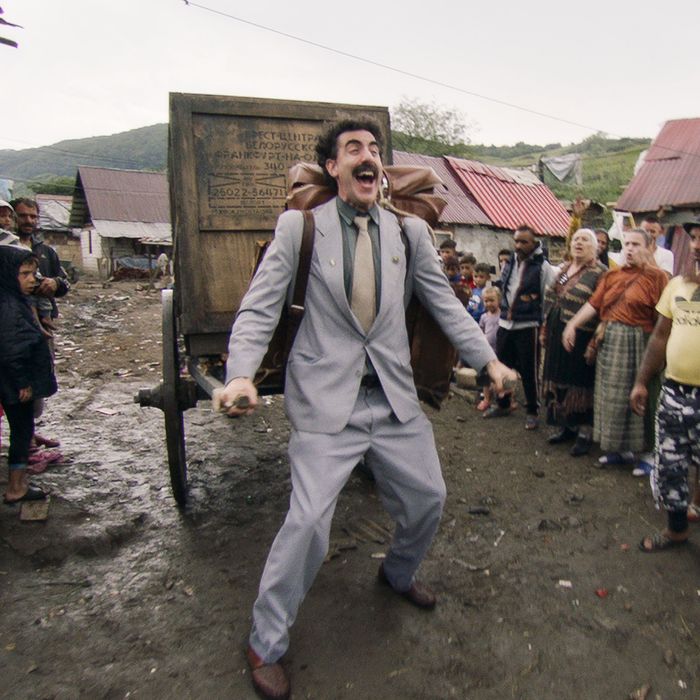 Borat Subsequent Moviefilm
.
Photo: Courtesy of Amazon Studios
This article is updated frequently as titles leave and enter Amazon. New titles are indicated with an asterisk.
Everybody needs a laugh now and then, and Amazon Prime has a rotating selection of high-quality comedies for those times you need to escape the troubles of the real world and decompress with humor. From classics of the genre to Amazon originals to films that were in theaters recently, there's a bit of everything on this list. Hopefully, a few of them will hit your funny bone in just the right way.
The Addams Family
Forget that new animated version, the 1991 Barry Sonnenfeld hit is all the Addams you will ever need. Based on the TV series and cartoon by Charles Addams, this is the classic of the morbid family that everybody loves. Raul Julia is wonderful as Gomez Addams, balanced so perfectly by Anjelica Huston as Morticia Addams that she landed a Best Actress nomination at the Golden Globes. As great as they both are, the real casting coup here is a perfect young Christina Ricci as Wednesday.
Bad News Bears
Walter Matthau rules in this Michael Ritchie classic from 1976. Pushing the boundaries of what would be acceptable in a kids movie, it's a surprisingly raw and realistic story of an alcoholic and former minor league pitcher who ends up coaching a Southern California Youth Baseball League.
It's not common for a breakthrough comedy to be so acclaimed and popular that it actually becomes an Oscar nominee for Best Screenplay, but The Big Sick is not a typical comedy (and Holly Hunter was robbed of a nomination too, by the way). Kumail Nanjiani and Emily V. Gordon loosely adapt their own story, with Nanjiani starring alongside Zoe Kazan. It's really as crowd-pleasing as comedies get. You kind of have to be an asshole not to like it.
Sacha Baron Cohen returned to his most iconic character in 2020 with this sequel to his smash hit Borat, and it instantly became one of the most talked-about films of the year. Cohen brilliantly plays with how much harder it was to make a Borat film now than everyone recognizes the character, while also digging deep into the issues of 2020 like response to the pandemic, the increasingly vocal racism of the country, and the grossness of Rudy Giuliani.
Chuck & Buck
Miguel Arteta directed this pitch-black comedy about obsession and immaturity that was written by and stars the great Mike White. The actor plays Buck, a young playwright who becomes unmoored when his mother dies, leading to a renewed obsession with a successful childhood friend named Chuck (Chris Weitz). As much of a thriller as a comedy, this is a daring tonal balancing act and one of the best pieces of writing by White.
This 1985 comedy based on the beloved board game made hardly any money or cultural impact when it was released — it didn't even make back its budget — but it has become such a cult hit over the years, quoted endlessly by Gen-Xers. The main reason is the cast, featuring a wonderful array of talents like Eileen Brennan, Tim Curry, Madeline Kahn, Christopher Lloyd, Michael McKean, Martin Mull, and Lesley Ann Warren.
March 2021 sees the Amazon Prime launch of the long-awaited Coming 2 America, so why not catch up with the 1988 original first? Eddie Murphy stars as Crown Prince Akeem Joffer, the head of a fictional African nation called Zamunda. He comes to the United States in search of a bride. Wacky hijinks ensue.
Richard Linklater's masterful comedy about teenage life is almost thirty years old! The story of the final day of high school in 1976 has lost none of its heart or humor, thanks in large part to an incredible ensemble that includes future stars Ben Affleck, Milla Jovovich, Parker Posey, Joey Lauren Adams, and Matthew McConaughey. It's hysterical and kind of perfect.
The large fan base of Stanley Kubrick often mentions dark pieces of work like 2001, A Clockwork Orange, and The Shining, but one of his best and most influential films is a comedy about the end of the world. Satirizing the Cold War this aggressively way back in 1964, Kubrick rewrote the textbook for political comedy and presented viewers with an instant classic that was both hysterical and terrifying.
Alexander Payne's best film is still this 1999 comedy that uses a student-government election to comment on not just politics on a grander scale but human nature. Reese Witherspoon stars as the unforgettable Tracy Flick, the overachiever who basically drives her teacher, played by Matthew Broderick, totally insane. Scathing and hysterical, this is a movie that could have come out unchanged two decades after its release.
In 2019, Florence Pugh had one of the best years for a young actress in movie history, anchored mostly by her Oscar-nominated work in Little Women and critical acclaim for Midsommar. But this film was actually the prologue, a fun little comedy based on the true story of an amateur wrestler's rise to fame. Pugh is charming and believable, and watching this now just reveals her already remarkable range.
Happy Endings
Written and directed by Don Roos (The Opposite of Sex), this 2005 comedy is an ensemble piece about modern relationship. Yes, there are roughly a thousand of those, but this one stands out through the sharpness of its writing and a great cast that includes Lisa Kudrow, Bobby Cannavale, Steve Coogan, Laura Dern, and Maggie Gyllenhaal. It's a piece that follows multiple characters in Los Angeles through various flawed relationships. Finally, it's notable for maybe Tom Arnold's best film work. Yes, you read that right.
These two stoners really get around. The iconic characters from the 2004 comedy classic have been jumping from streaming service to streaming service lately, now landing on Hulu. Watch this progressive and hysterical comedy before they pack up their stuff and move on yet again.
Hal Ashby's 1971 black comedy about the strange friendship that forms between a young man and an old woman became a beloved movie after its release, playing on college campuses and in art-house theaters before really breaking out on VHS. It's amazing to consider how a movie that was basically ignored when it was released would be on most lists of the best comedies of all time just a generation later.
Christian Slater kinda does a Jack Nicholson impression, and Winona Ryder is at the peak of her '80s emo-charm in this clever satire of high-school life. Ryder plays the school outcast with Slater as the guy who teaches that revenge is a dish best served with an attitude.
Look, a really old movie! The fact is there aren't many true classics on any streaming service, and when you get a chance to watch a movie with Cary Grant and Rosalind Russell from before World War II, you should take it. This is one of the most delightful and influential comedies ever made, a Howard Hawks masterpiece about a reporter doing one last story with his ex-wife and (maybe) winning her back in the process.
Jay and Mark Duplass, known more for their acting and producing, directed this quirky comedy starring Jason Segel and Ed Helms as two very different brothers. Segel plays Jeff, who kind of just goes wherever the day takes him, while Helms plays Pat, a businessman with a marriage that's falling apart. It's an unassuming, gentle little comedy about characters having one of the more unusual days of their lives.
There are too few rom-coms on Amazon Prime, so take the chance to watch this smart and sexy offering from 2010, directed by Sanaa Hamri. Queen Latifah is charming as a physical therapist who is assigned to work with a professional basketball player played by the equally charming Common, and, well, you can guess what happens off the court.
There's a movie on Amazon Prime that features Aubrey Plaza as a profanity-spewing nun and you haven't watched it yet? Jeff Baena's Sundance hit also stars Alison Brie, Dave Franco, John C. Reilly, Molly Shannon, and Fred Armisen in a ridiculous, raunchy retelling of The Decameron. It's reminiscent of classic Mel Brooks in the way it skewers classical storytelling structures with modern comic sensibilities.
Steven Soderbergh came back from semi-retirement with this 2017 heist comedy featuring a remarkably wonderful cast. It's led by Channing Tatum, but this movie also features simply great performances from Daniel Craig, Riley Keough, and Adam Driver. This is a fun, smart movie that's actually made for adults, which means almost everyone ignored it in theaters. Make up for that oversight now.
No, sorry, not the Eddie Murphy remake with the fat suits but the Jerry Lewis original from all the way back in 1963. This is one of Lewis's best, a movie that really highlights his comic timing and fearlessness in doing whatever it takes to get a laugh. He is often imitated without being fully appreciated.
Don Roos wrote and directed this clever 1998 comedy that you've probably forgotten about (if you even knew it existed in the first place). Christina Ricci plays a teenager who runs away from home and moves in with her half-brother in the American heartland. She causes trouble in this smart comedy that includes a phenomenal supporting performance by Lisa Kudrow.
Roger Dodger
Campbell Scott does the best film work of his career in this 2002 dramedy about a man who tries to train his nephew in how to talk to the opposite sex. Jesse Eisenberg plays the young man in one of the first notable roles of his career. It's a smart, tight film about generational differences between gender dynamics with fantastic performances from Scott and Eisenberg.
One of Wes Anderson's best films remains this 2001 comedy about three gifted siblings who learn that adult life may not be all that they were promised when they were young. Gene Hackman is great as Royal Tenenbaum, the irascible patriarch of the clan, but this is really Anderson's show, and it contains one of his smartest screenplays, which was nominated for the Oscar.
*Shanghai Noon
A superb, fun, and funny buddy comedy starring Jackie Chan and Owen Wilson. Chan's physical style and Wilson's goofy personality make for a truly hysterical duo in this Western martial arts comedy that blends Chan's incredible skill with a more traditional comedy style. It's hard to dislike.
Craig Johnson directed this dramedy about fraternal twins played wonderfully by Bill Hader and Kristen Wiig that won the Screenwriting Award at Sundance in 2014. Hader plays Milo, a suicidal young man — yes, it's mostly a comedy — who goes to live with his sister after an attempt. Wiig and Hader have wonderful chemistry as siblings, making their dynamic completely believable. It's also got one of the best lip-sync scenes ever.
Stay Tuned
Who wants a bit of early '90s nostalgia? Stay Tuned was pretty much ignored when it was released, but it's become something of a cult hit over the years since, in part because it features one of the too-few screen performances from the great John Ritter. The Three's Company star headlines alongside another TV legend, Mork and Mindy's Pam Dawber, as average people sucked into a hellish TV world that's trying to kill them. Goofy and dated, for sure, but sometimes that's what you're looking for on Amazon Prime.
*There's Something About Mary
Without question one of the most beloved comedies of its era, There's Something About Mary is funny from beginning to end, anchored by a likable Ben Stiller and charming Cameron Diaz as the object of his affection. The best Farrelly brothers movie, this was a massive hit with critics and fans, and it's a film that people still watch regularly over two decades later.
A24 had no idea what to do with David Robert Mitchell's follow-up to It Follows, holding it for almost a year after its Cannes premiere and then barely releasing it at all. The lack of exposure may explain how it has sneaked its way onto Amazon Prime already, but this film is developing a loyal following. It's one of those movies everyone will tell you they always loved in about a decade.