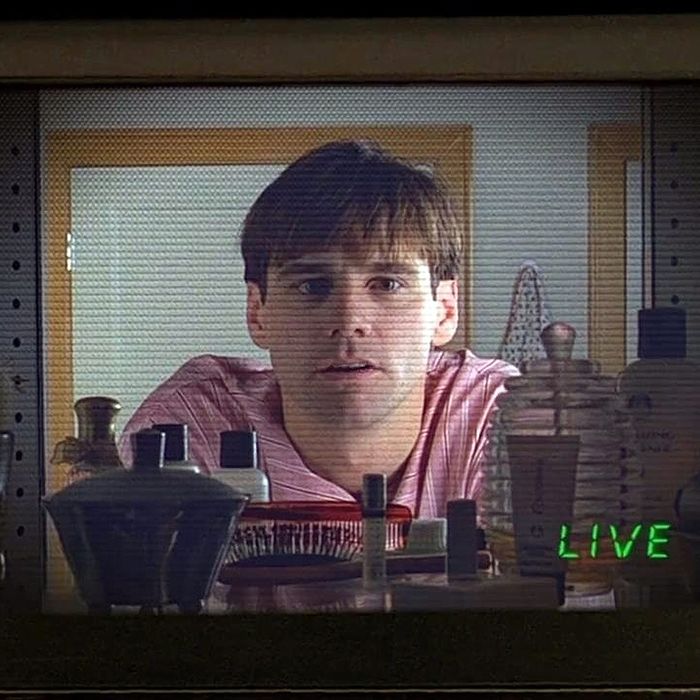 The Truman Show.
Photo: Moviestore/Shutterstock
This article is updated frequently as titles leave and enter HBO and HBO Max. *New additions are indicated with an asterisk.
Who doesn't need a laugh in the 2020s? HBO Max has one of the richest and deepest catalogs of any of the streaming services, and so it naturally has the comedy you're looking for tonight. From classic comedies starring iconic performers to movies that played in theaters recently, this rotating list of laugh generators should have something for everyone.
*(500) Days of Summer
Year: 2009
Runtime: 1h 35m
Director: Marc Webb
Joseph Gordon-Levitt and Zooey Deschanel are charming in this indie hit that has become a staple on streaming services. The structure of the film is one of its charms, bouncing back and forth through a relationship in a way that felt fresh and new at the time. In fact, it's interesting to watch this movie now in light of the number of indie rom-coms that attempted to copy its template (and failed).
Year: 1980
Runtime: 1 hour, 27 minutes
Director: Jim Abrahams, David Zucker, and Jerry Zucker
Movies just don't get much funnier than the 1980 classic from David Zucker, Jerry Zucker, and Jim Abrahams. Robert Hays, Julie Hagerty, and Leslie Nielsen star in a parody of the disaster flicks of the '70s but Airplane! has far transcended its roots to become one of the most quotable and beloved comedies of all time. It's held up.
Year: 1997
Runtime: 1h 29m
Director: Jay Roach
After leaving Saturday Night Live, Mike Myers took a gamble on a spoof of '60s fashion and spy movie culture and walked away with one of the biggest comedy franchises of its era. Myers is fearless as the title character, a bumbling spy who produced more catch phrases than successful missions. All three films are on HBO Max as of this writing, and are all kind of worth a look. Marathon, baby!
Year: 2022
Runtime: 1h 41m
Director: Loren Bouchard
Delayed two years because of the pandemic, the big screen version of the FOX hit finally landed in theaters in May 2022, but audiences mostly stayed away, which means they can catch up with it at home (on both Hulu and HBO Max for now). And you really shouldn't miss this joyous story of a family who always unites to save the day and make the best burger in town.
Year: 1996
Runtime: 1h 31m
Director: Wes Anderson
Made for almost nothing in the heart of Texas by an unknown young man named Wes Anderson, his 1996 comedy changed the indie landscape. Not only did it launch Anderson's career, it introduced the world to the Wilson brothers, Owen and Luke. It's a great film, and one that even Martin Scorsese named as one of the ten best films of the 1990s.
*Caddyshack
Year: 1980
Runtime: 1h 38m
Director: Harold Ramis
This beloved comedy classic definitely has some funny dialogue and one-liners, but it's also a phenomenal example of how far casting can go to make a movie timeless. Chevy Chase, Bill Murray, Ted Knight, and Rodney Dangerfield weren't just hysterical here, they were all perfectly cast to play off their comedy reputations. Most of all, it's still damn funny.
City Lights
Year: 1931
Runtime: 1h 26m
Director: Charlie Chaplin
Yes, silent movies can be great comedies too. In fact, Charlie Chaplin helped define comedy in his string of major motion pictures, and City Lights is one of his most beloved works, a romantic comedy that centers Chaplin's Tramp character in a love story with a blind girl and his friendship with an alcoholic millionaire. There are several Chaplin classics on HBO Max. Consider this an entry that recommends watching all of them.
Year: 2014
Runtime: 1h 39m
Director: Wes Anderson
Wes Anderson's 2014 dramedy became the biggest film of his career by far, grossing over $170 million worldwide on its way to a Best Picture nomination. Ralph Fiennes is delightful as Monsieur Gustave H., the concierge of a resort in a fictional Eastern European town, but The Grand Budapest Hotel is really one of Anderson's most memorable ensembles. It also includes some of his most detailed production design and clever screenwriting.
Year: 1992
Runtime: 1h 59m
Director: Jonathan Lynn
Joe Pesci may be the titular character in Lynn's hit 1992 comedy, but it's Marisa Tomei who walked away with it to such a degree that she won an Oscar. After two New Yorkers are tried for a murder that they didn't commit deep in the heartland, Pesci's Vinny has to go to the country to get them off. The city vs. country dynamic gets fresh life thanks to the film's big heart and perfect comedic timing of its entire cast.
Year: 1989
Runtime: 1h 37m
Director: Jeremiah Chechik
A movie so funny that it can be watched any time of year, this family favorite was the second sequel to the comedy classic Vacation. Chevy Chase returns as Clark Griswold, who suffers a wave of setbacks around the Christmas holiday, from annoying relatives to problematic lights to a boss who ends up taking him for granted. There's a reason this is the Vacation movie that has been the most watched since the franchise was popular.
The Philadelphia Story
Year: 1940
Runtime: 1h 52m
Director: George Cukor
This 1940 George Cukor classic is the movie that really made Katharine Hepburn a star, but it also features incredibly charismatic performances from Cary Grant and Jimmy Stewart opposite her. Hepburn plays a divorced woman who is about to marry again when her ex-husband (Grant) and a reporter (Stewart) complicate things. It's clever in ways that would redefine the comedy and are still influencing the genre. And the star power is blinding.
Year: 1992
Runtime: 2h 4m
Director: Robert Altman
After a rough patch in the '80s, Robert Altman came roaring back with his scathing Hollywood satire written by Michael Tolkin. Tim Robbins does his best film work as a studio executive who can't decide if his biggest problem is at work or the writer sending him death threats. Altman's skill with improvisational comedy and knowledge of the Hollywood machine blend to make a simply perfect movie, one of the best of the '90s.
Year: 1990
Runtime: 1h 41m
Director: Mike Nichols
The great Mike Nichols directed living legends Shirley MacLaine and Meryl Streep in the 1990 comedy that's based on Carrie Fisher's autobiography of the same name. Fisher herself wrote the screenplay about an actress living in the shadows of her addictions and her famous mother. It landed Streep one of her many nominations for Best Actress at the Oscars.
Sideways
Year: 2004
Runtime: 2h 6m
Director: Alexander Payne
An adaptation of the novel of the same name by Rex Pickett, this 2004 comedy is the most successful project of Alexander Payne's career. One of the reasons for that is the perfect casting of Paul Giamatti as Miles Raymond, a depressed teacher who goes on a wine trip with his buddy Jack (Thomas Haden Church) as they try to find actual happiness. It's a clever film that's deeply relatable.
Year: 1996
Runtime: 1h 36m
Director: Jon Favreau
Every few years, a comedy comes completely out of nowhere and taps something in the zeitgeist that makes everyone involved a star. No one knew who Jon Favreau and Vince Vaughn the day before Swingers came out, but its release launched them into the celebrity sphere, where they still reside. This movie is still money, baby, as it captures the posturing of young men trying to get work and get laid in Hollywood in the mid-'90s.
*Three Amigos
Year: 1986
Runtime: 1h 43m
Director: John Landis
Near the peak of their comedic powers, Martin Short, Steve Martin, and Chevy Chase collaborated on what would become one of their most beloved films. The actors play silent film stars who end up getting involved in an actual adventure when they're asked to help save a Mexican village. It's a defiantly goofy movie with some fantastic physical comedy.
Year: 1998
Runtime: 1h 42m
Director: Peter Weir
Peter Weir directed Jim Carrey to one of the best performances of his career in the 1998 dramedy that now seems far ahead of its time in the way it foretold people living lives online. Carrey plays Truman Burbank, a man who has grown up on a TV show but has no idea that his entire life has been watched by millions. Ed Harris and Laura Linney are also just phenomenal in this modern classic.
Year: 1989
Runtime: 1h 35m
Director: Rob Reiner
Any list of best romantic comedies of all time that doesn't include Rob Reiner's classic is simply incomplete. Meg Ryan and Billy Crystal give their most charming film performances as the title characters, a pair who decide to test the theory that men and women can't be friends without romance getting in the way. The real star here is Nora Ephron's sharp and ultimately moving screenplay, one of the best in the history of the rom-com.
*You've Got Mail
Year: 1998
Runtime: 1h 59m
Director: Nora Ephron
The beloved rom-com writer Nora Ephron directed a modern classic of her own in this remake of the excellent The Shop Around the Corner. Tom Hanks and Meg Ryan star in a tale of two people who meet online, not aware that they're actually business rivals. A bit quaint now in its telling of online dating, this one really relies on the blinding star power of Hanks and Ryan, along with their truly lovable chemistry.
Young Frankenstein
Year: 1974
Runtime: 1h 45m
Director: Mel Brooks
Mel Brooks's comedy is simply a masterpiece. Gene Wilder stars as a descendant of the infamous Dr. Frankenstein in Brooks's parody of Universal monster movies that became an international smash hit, even landing an Oscar nod for Best Adapted Screenplay. It was hysterical in 1974 and it still is today.
All recommendations are made independently by our editors. Services you subscribe to through our links may earn us a commission.