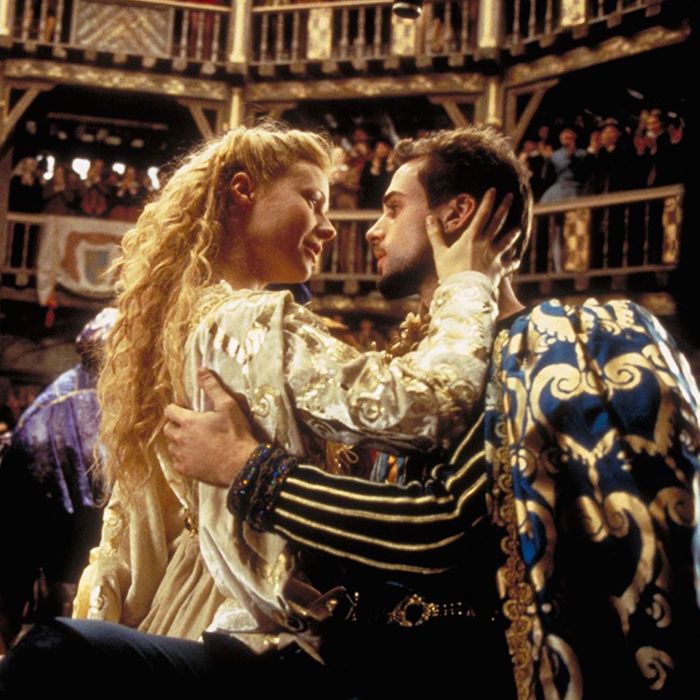 Shakespeare in Love
.
Photo: Miramax
This article is updated frequently as titles leave and enter HBO and HBO Max. *New additions are indicated with an asterisk.
HBO Max has one of the deepest and most impressive catalogs of any streaming service in the world, and their selection of comedies reflects the dense quality of their catalog overall. There's a little bit of something for anyone looking for something to make them laugh, from silent classics to recent hits. Pick your favorites, and then come back here for more.
In the subgenre of body-swap comedies, this is one of the sweeter entries, a nice showcase for Jennifer Garner and one of the lighter pieces of escapism you can find on HBO Max. Garner plays a 13-year-old girl who wishes she could be popular and wakes up to find out that she's now 30. Just enough nostalgia and self-empowerment mix in this sweet fable that co-stars Mark Ruffalo, Judy Greer, and Andy Serkis.
Judd Apatow has made several funny movies and a great TV show (Freaks & Geeks) but this remains his best and funniest movie front to back. Steve Carell can try to go dramatic all he wants, but he will always be remembered for having his chest hair waxed. Carell is great but the supporting cast really makes this one, including Seth Rogen, Paul Rudd, Romany Malco, and Catherine Keener.
Austin Powers: International Man of Mystery
Mike Myers never could have imagined that his goofy superspy parody would launch a franchise, but all three films about Austin Powers are on HBO Max, just waiting for a rainy-day marathon. The reason these movies work is Myers's complete fearlessness — he'll do anything to make you laugh.
Movies don't get funnier than Christopher Guest's brilliant mockumentary about people obsessed with their canine counterparts. Reuniting with most of his favorite colleagues and friends after the success of Waiting for Guffman, Guest and his ensemble dropped what is quite simply one of the best comedies ever made.
Mike Nichols' remake of the beloved La Cage aux Folles is a joyous comedy about acceptance and love that still works well today (which is not something you can about a lot of mid-'90s comedies). Robin Williams and Nathan Lane are phenomenal as a gay couple forced to jump through hoops for their son's new in-laws, played wonderfully by Gene Hackman and Dianne Wiest. It's funny and smart from front to back.
While there has been a great deal of debate over "dated" comedy, Mel Brooks' spoof of classic Western tropes has survived most of the critical reassessments of it over the years. Even its problematic elements are still fascinating because Brooks comedy writing was so sharp, and is assisted by Richard Pryor, who was once set to star in this instant classic.
One of Eddie Murphy's top performances is in this 1999 satire from the great Frank Oz. Steve Martin stars as a filmmaker who is trying to make a film so low-budget that his star doesn't even know he's in the movie. Martin also wrote the script, which is razor sharp and consistently hysterical.
Coming off a wave of friendly blockbusters, Jim Carrey's 1996 black comedy rubbed some people the wrong way. Those people were wrong. The story of a normal guy played by Ben Stiller (who also directed) who befriends a very abnormal guy is a classic for those who like their humor with a little bit of danger. OK, a lot of danger.
This beloved comedy classic definitely has some funny dialogue and one-liners, but it's also a phenomenal example of how far casting can go to make a movie timeless. Chevy Chase, Bill Murray, Ted Knight, and Rodney Dangerfield weren't just hysterical here, they were all perfectly cast to play off their comedy reputations. Most of all, it's still damn funny.
City Lights
Charlie Chaplin helped define comedy in his string of major motion pictures, and City Lights is one of his most beloved works, a romantic comedy that centers Chaplin's Tramp character in a love story with a blind girl and a friendship with an alcoholic millionaire. There are several Chaplin classics on HBO Max. Consider this an entry that recommends watching all of them.
Kevin Smith rocked the indie-filmmaking world with a comedy that was shot for almost nothing and became a worldwide hit. No one could have expected that Clerks, filmed at the convenience and video stores at which Smith worked in real life, would still be influencing writers a quarter-century later.
Dirty Rotten Scoundrels
Frank Oz directed this hysterical 1988 comedy starring Steve Martin and Michael Caine as two con men who compete to see which one can swindle an heiress out of a fortune first. The two stars are perfectly cast and the script for this remake of the 1964 Bedtime Story is witty and very, very funny.
*Doc Hollywood
Remember when Michael J. Fox was one of the biggest stars in the world? His undeniable charm is really all that holds together this 1991 rom-com about a Beverly Hills plastic surgeon who gets stuck in a small town in South Carolina. Sentenced to community service, Fox captures the fish out of water arc of the script with enough likability that its clichés are easy to ignore.
The large fan base of Stanley Kubrick often mentions dark pieces of work like 2001, A Clockwork Orange, and The Shining, but one of his best and most influential films is a comedy about the end of the world. Satirizing the Cold War this aggressively way back in 1964, Kubrick rewrote the textbook for political comedy and presented viewers with an instant classic that was both hysterical and terrifying.
Indie filmmaker Joe Swanberg's best film and biggest hit remains this 2013 comedy starring Olivia Wilde, Jake Johnson, Anna Kendrick, and Ron Livingston. Wilde and Johnson play friends who work at a brewery in Chicago. While they seem to have a ton in common and flirt regularly, they're both with other partners. It's no spoiler to say things get complicated.
There was a time when Jim Carrey was arguably the biggest star in the world, and this movie, coming on the heels of Ace Ventura and The Mask, was really the peak of that fame. It's also held up incredibly well, mostly because Carrey and co-star Jeff Daniels are willing to do absolutely anything to make you laugh.
There was a time when Clint Eastwood was one of the biggest movie stars in the world, and this 1978 action-comedy flick is right in that sweet spot of his fame. It's one of his rare loose, comedic parts, featuring the often-stoic actor interacting with a pet orangutan named Clyde. It's undeniably dated but in a way that's fun and nostalgic.
Friday
Ice Cube and Chris Tucker starred in this 1995 comedy that didn't make a ton at the box office but became a cultural phenomenon. Playing two unemployed friends who have to pay a drug dealer, the guys basically updated the Cheech & Chong buddy drug comedy model and created something instantly quotable. Next Friday is also on HBO Max.
It's hard to overstate how much this movie shook the world in 2009. No one on Earth thought an R-rated comedy about three buddies getting into trouble in Las Vegas would make half a billion dollars worldwide and launch a franchise. It turned everyone involved into household names and instantly became a comedy classic. Both sequels are also on HBO Max.
Harold and Kumar Go To White Castle
All three films in this trilogy are incredibly underrated examples of not just smart physical comedy but movies that encourage diversity and friendship. Get some White Castle for when you watch. As of this writing, only the first two (no Christmas for you) are on HBO Max, but maybe that will change over the holiday season.
Seth Gordon directed this critical and commercial success from 2011 about three ordinary guys (Jason Bateman, Charlie Day, Jason Sudeikis) dealing with three absolutely horrible bosses (Kevin Spacey, Jennifer Aniston, and Colin Farrell). Deciding they actually need to murder their abusive overlords, Horrible Bosses becomes an exercise in increasing insanity, held together by a fantastic ensemble.
The great Jonathan Demme directed this 1988 comedy about a gangster's widow (one of Michelle Pfeiffer's best performance) who connects with an undercover FBI agent, played by Matthew Modine. Smart and very funny, it features supporting work from Dean Stockwell, Mercedes Ruehl, and Alec Baldwin.
Whit Stillman made his directorial and screenwriting debut with this clever 1990 film about a group of rich kids in Manhattan. It's a simple movie that's more reliant on witty dialogue and the texture of its setting than narrative, but it's an incredibly smart, too, and earned Stillman an Oscar nomination for Best Original Screenplay.
Everyone talks about Waiting for Guffman and Best in Show, but this 2003 offering from Christopher Guest and his BFFs is one of the company's best too. Guest and Eugene Levy co-wrote this loving satire of the folk music scene as a counter-culture bands reunite for their first TV performance in decades. It's smart in the way it both mocks the folk world and clearly loves it at the same time.
One of the best romantic comedies of the '80s, this Norman Jewison film was such a smash hit that it won star Cher an Oscar. Rom-coms don't often win major awards, but Moonstruck connected across demographics with its story of a widowed woman who falls in love with her fiancé's brother, played charismatically by a young Nicolas Cage.
This 1994 breakthrough for Toni Collette has maintained a loyal following for over a quarter-century for a reason, and it's not just the great songs by ABBA. Collette is delightful as a socially awkward young woman who moves to Sydney to start life anew away from her small Australian town. It's a delightful comedy about a memorable oddball.
The Philadelphia Story
The 1940 George Cukor classic revitalized Katharine Hepburn's career, but it also features incredibly charismatic performances from Cary Grant and Jimmy Stewart opposite her. Hepburn plays a divorced woman who is about to marry again when her ex-husband (Grant) and a reporter (Stewart) complicate things. It's clever in ways that would redefine comedy, and it's still influencing the genre.
P.T. Anderson films like Boogie Nights and Magnolia may get more attention on Film Twitter, but this is arguably his most underrated gem, a beautiful little film about two idiosyncratic souls who find each other, played with grace and nuance by Adam Sandler and Emily Watson. It's a lyrical, unforgettable movie that really also marks a shift in Anderson's work from the epic ensemble piece to more intimate storytelling. It's just wonderful.
Rush Hour trilogy
Jackie Chan and Chris Tucker found a perfect comedy/action chemistry in three Rush Hour movies that played off their very different styles. Chan's incredible action skills are balanced perfectly by Tucker's rapid-fire comedy delivery. The first movie is still the best, but HBO Max has all three if you're in the mood for a marathon.
Lorene Scafaria wrote and directed this 2012 comedy about the apocalypse. Steve Carell and Keira Knightley make an unlikely pair for the final days of Earth, strangers who form a bond on a road trip of sorts after learning that an asteroid is about to wipe out humanity. It's imperfect but also not really like anything else on HBO Max.
Shakespeare in Love
The Best Picture winner for 1998 (controversially over Saving Private Ryan), this John Madden film stars Joseph Fiennes as the Bard himself, who falls in love with Viola de Lesseps (Oscar winner Gwyneth Paltrow) while writing Romeo & Juliet. The ensemble here is aces, including Geoffrey Rush, Colin Firth, Ben Affleck, and Judi Dench, who won an Oscar for only eight minutes of screen time.
A Shot in the Dark
The best movie in the Pink Panther franchise is actually the second one, this 1964 comedy classic, the movie that really defined the role of Inspector Clouseau as played by the amazing Peter Sellers. When you think of Clouseau's bumbling crime-solving, this is really where that began as Sellers' work in the first film made the producers shift focus from David Niven's charismatic criminal.
Movies don't get more delightful than this beloved classic about backstage drama on the advent of the talkie. Gene Kelly, Debbie Reynolds, and Donald O'Connor are as charming as charming can be, and the movie contains some of the best choreography of its era, and not just in the titular number. It's joyous from front to back.
Every few years, a comedy comes completely out of nowhere and taps something in the zeitgeist that makes everyone involved a star. No one knew who Jon Favreau and Vince Vaughn were the day before Swingers came out, but it launched them into the celebrity sphere, where they still reside. This movie is still money, baby, as it captures the posturing of young men trying to get work and get laid in Hollywood in the mid-'90s.
*Tenacious D and the Pick of Destiny
Long before Jumanji made him a star to a new generation, Jack Black was known as half of the best comedy metal band in the world, Tenacious D, with Kyle Gass as the yin to Black's yang. This 2006 feature comedy debut for the band is kind of an origin story for the most metal band of all time as they try to find a pick that belonged to Satan himself and can turn them into legends.
This is the funniest movie that you probably haven't seen. David Wain (Wet Hot American Summer) co-wrote and directed this 2014 spoof of romantic comedies that stars Paul Rudd and Amy Poehler as a pair of star-crossed lovers and features Wain's surreal sense of humor and incredible friends. So many people are in this movie, including Cobie Smulder, Christopher Meloni, Max Greenfield, Bill Hader, Jason Mantzoukas, Melanie Lynskey, and many more. It's hysterical.
*Waiting…
Before he was Deadpool or Pikachu, Ryan Reynolds was a star of a number of indie comedies, including this cult comedy about life in the restaurant business. Rob McKittrick wrote and directed the flick that made double its budget in its opening weekend, helping to really propel the careers of Reynolds, Anna Faris, and Justin Long. And it was an even bigger hit on DVD, striking a nerve with anyone who's ever worked as a waiter or waitress.
Waiting to Exhale
Ensemble romantic comedies centering female friends became an entire genre in the '90s and few were more popular than this 1995 ensemble piece directed by Forest Whitaker from the book by Terry McMillan. The cast carries this likable flick, especially Whitney Houston and Angela Bassett. People could see themselves in these four Arizona women holding their breath until they could find a stable relationship.
Comedians Nat Faxon and Jim Rash made their directorial debut with a crowd-pleasing coming-of-age comedy that premiered at Sundance in 2013. Liam James stars as a 14-year-old who's dealing with all the nonsense of puberty on a summer vacation that also includes Steve Carell, Toni Collette, Allison Janney, Maya Rudolph, and Sam Rockwell, who gives one of the most likable performances of his career.
Bruce Robinson wrote and directed this 1987 black comedy, which became a massive cult hit in the era of VHS. The wonderful Richard E. Grant plays one of two unemployed actors who share a flat in Camden in 1969 and head off on a weekend holiday. They drink a lot and generally hate the world. Everyone could see a little of these two nihilists in themselves.
All recommendations are made independently by our editors. Services you subscribe to through our links may earn us a commission.