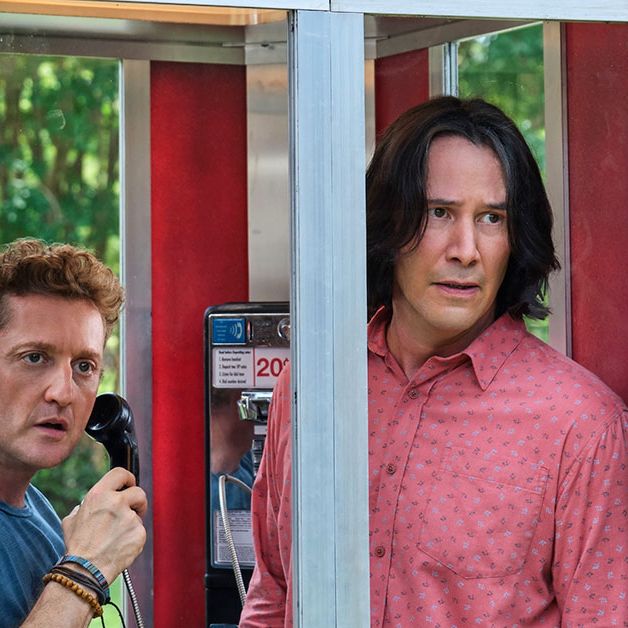 Bill & Ted Face the Music
.
Photo: Orion Pictures/
This post is updated frequently as movies leave and enter Hulu, which you can sign up for here. *New additions are indicated with an asterisk. 
The world is an increasingly strange place and appears to only get more stressful by the day. Why not release the tension with a laugh? While TV series are still the bread and butter of streaming service Hulu, they also have a large library of movies that a lot of people don't even know about — and a lot of them are funny! Here are 30 of the best from that increasingly necessary department.
Joseph Gordon-Levitt and Zooey Deschanel star in the indie hit. JGL narrates a story of a love found and a love lost that's become a massive fan favorite. (It also received an Independent Spirit Award nomination for Best Screenplay.)
The Art of Self-Defense
Premiering at SXSW in 2019, this is probably the darkest comedy on this list, the story of a shy young man (Jesse Eisenberg) who goes to a martial-arts class to gain a little courage. He discovers a strange community there led by a controlling master, played by Alessandro Nivola. Writer-director Riley Stearns isn't afraid to go there in a movie that doesn't always work but takes enough genuine risks to justify its missteps.
Zoe Lister-Jones made her directorial debut with a clever comedy about a couple (Lister-Jones and Adam Pally) who decide to turn their fights in songs. Premiered at Sundance 2017, the film is also notable for featuring a mostly female crew. It's a sweet movie that also boasts a solid supporting performance from Fred Armisen.
Along with The King of Staten Island, this is the second Pete Davidson coming-of-age story released in 2020. Jason Orley makes his writing and directing debut with this Sundance premiere that stars Griffin Gluck as a kid whose best friend happens to be that older dude with no focus in his life that your parents told you to avoid. Davidson is clever and funny in a film that captures how maturity comes at a different age for everyone.
It took almost three decades, but Bill and Ted finally returned in 2020 with this sweet and clever film about everyone's favorite time travelers. Alex Winter and Keanu Reeves return in the title roles as the guys essentially pass the torch down to their kids, played by Samara Weaving and Brigette Lundy-Paine. It may not hold together as well as the first film, but it's got enough laughs to justify a look.
Blast From the Past
There was a time when Brendan Fraser was one of the most likable comedy stars in the world and could elevate forgettable material. Take Blast From the Past, a relatively slight but undeniably sweet romantic comedy from 1999 in which Fraser does a riff on his awkward man-child routine as a man who spent his entire life in a fallout shelter and learned how to interact from classic TV. Alicia Silverstone, Sissy Spacek, and Christopher Walken co-star.
Olivia Wilde's directorial debut is one of the smartest and straight-up funniest comedies in years. Beanie Feldstein and Kaitlyn Dever star as lifelong friends who learn on the last day of school that their priorities may have been a bit out of whack — so, determined to make up for lost time, they have a wild and crazy night. Often described as "Superbad with girls," this is destined to be a cult classic.
One of the most quotable comedies of all time makes its way to Netflix to encourage young subscribers to watch movies made before 1990. This one definitely has some funny dialogue and one-liners, but it's also a phenomenal example of how far casting can go to make a classic comedy. Chevy Chase, Bill Murray, Ted Knight, and Rodney Dangerfield weren't just hysterical here, they were all perfectly cast to play off their comedy reputations.
Mike Birbiglia directs, writes, and stars in one of the better movies about improv comedy. He's a member of a group of comedians in New York City who watches as one of them becomes famous … while the others do not. How even jealousy impacts friendship is smartly examined in this funny, empathetic movie that also stars Gillian Jacobs, Kate Micucci, and Keegan-Michael Key.
Florence Pugh had one of the best years for a young actress in movie history in 2019, anchored mostly by her Oscar-nominated work in Little Women and critical acclaim for Midsommar. However, this was actually the prologue, a fun little comedy based on the true story of an amateur wrestler's rise to fame. Pugh is charming and believable, and watching this now just reveals her already remarkable range.
Greener Grass
Do you like your comedies weird? Like, John Waters weird? Then this one is for you. A deeply satirical and deeply strange comedy, this is kind of like a comedy from early in the career of Tim Burton with its exaggerated examination of suburban culture. Jocelyn DeBoer and Dawn Luebbe co-star, co-wrote, and co-directed, and this already feels like a film destined for a cult following.
Clea DuVall co-wrote and directed this holiday rom-com with a twist. While these films are almost always hetero tales of romance, the love story here is between Kristen Stewart and Mackenzie Davis, who plays a woman who hasn't told her girlfriend that she's not out to her family. Alison Brie, Aubrey Plaza, Dan Levy, Mary Holland, Victor Garber, and Mary Steenburgen fill out the fun supporting cast for this progressive Hulu original.
Harold and Kumar Go to White Castle
These two stoners really get around. The iconic characters from the 2004 comedy classic have been jumping from streaming service to streaming service lately, now landing on Hulu. Watch this progressive and hysterical comedy before they pack up their stuff and move on yet again. (Harold and Kumar Escape from Guantanamo Bay is also on Hulu now. And also funny.)
This is one of the most crowd-pleasing films that you could watch on any streaming service, and the best film vehicle yet for Nick Offerman. The Parks and Recreation star plays Frank Fisher, a single father whose daughter is about to leave the nest. Before she does, they record a song together that just happens to get some buzz. The wonderful cast also includes Toni Collette, Blythe Danner, Kiersey Clemons, Sasha Lane, and Ted Danson.
Ignore the think pieces about how Heathers plays today and watch this 1989 dark comedy, a satire that caught Christian Slater and Winona Ryder at just the right time in their careers. She plays the outcast in high school and he plays the mysterious new kid who teaches her the art of vengeance. Is some of it dated? Sure, but it's still sharp in the way it weaponizes the clique culture that has arguably become even more prominent in the three decades since.
Hunt for the Wilderpeople
Before he made Hemsworth your favorite Chris in Thor: Ragnarok, Taika Waititi wrote and directed this adaptation of Barry Crump's Wild Pork and Watercress. Ricky Baker (Julian Dennison) has a new foster family, including a sweet foster mother. Sadly, he's stuck with the surly husband when his new mom passes away, leading Ricky and Hec (Sam Neill) on an unforgettable adventure. Funny and truly heartwarming, this is a comedy that's almost impossible to dislike.
Comedies don't get much darker than this 2009 film about a con artist named Steven Jay Russell, played expertly by Jim Carrey in his last truly interesting performance. While behind bars for one of his many cons, Steven falls in love with Phillip Morris, played by Ewan McGregor. This truly oddball film was nominated for Best Adapted Screenplay by the Writers Guild of America.
Matt Spicer's 2017 Sundance hit has developed a cult following that will surely be helped by returning to Hulu. It clearly has something to say about internet obsession and viral culture in its story of a woman (Aubrey Plaza's best performance to date) who becomes obsessed with an Instagram personality, played by Elizabeth Olsen. Alternately funny and kind of terrifying, it's a movie that feels already like it was ahead of its time.
There's a movie on Hulu that features Aubrey Plaza as a profanity-spewing nun and you haven't watched it yet? Jeff Baena's Sundance hit also stars Alison Brie, Dave Franco, John C. Reilly, Molly Shannon, and Fred Armisen in a ridiculous, raunchy retelling of The Decameron. It's reminiscent of classic Mel Brooks in the way it skewers classical storytelling structures with modern comic sensibilities.
We don't give Laika enough credit. They don't make nearly as much money with films like Paranorman and Kubo and the Two Strings as companies like DreamWorks and Pixar. Their latest is already on Hulu, dropping less than a year after its theatrical release. It may not be their best, but it's gorgeous to look at, revealing that Laika is arguably the most visually fascinating animated studio around.
When it was released in 1988, this romantic comedy barely had an audience, although people who did see it could tell that co-star Julia Roberts would be something special (this was the year before Pretty Woman), and it also marked the debut of Matt Damon. In the three decades since, the cult status of Mystic Pizza has only grown. Check it out and remember the good old days.
Before Ryan Reynolds was known as Deadpool, he was Van Wilder to a generation of comedy fans. One of his early hits was this 2002 comedy in which the charismatic comedian played the title character, a seventh-year senior who tries to make the undergrads at Coolidge College cooler. It's a bit dated now but also features fun supporting performances from Kal Penn and Tara Reid.
Shane Black directed Ryan Gosling and Russell Crowe to two of the best performances of their career in this old-fashioned buddy-comedy flick. Gosling plays a private eye who gets caught up in the disappearance of a teenager (Margaret Qualley) and partners with a gruff cop (Crowe) to find her. It's clever and very funny — the kind of movie that one wishes got made more often.
The great Cameron Crowe wrote and directed this romantic dramedy that became iconic largely because of that one scene with the boom box and Peter Gabriel. But there's more to it than just that one moment. It's a great movie about people from different backgrounds finding each other, and those moments in which you learn the world, including your parents, aren't exactly as simple as you think they are when you're a kid. And it's still one of John Cusack's best performances.
Nancy Meyers gets a hard time for being somewhat superficial in her comedy, but she occasionally finds just the right cast for her material, and that's what happened in this 2003 comedy that united two of the most famous actors of all time in a rom-com: Jack Nicholson and Diane Keaton. A supporting cast that includes Keanu Reeves, Amanda Peet, and Frances McDormand doesn't hurt either.
Boots Riley writes and directs one of the most daring debuts of 2018 in this satire of modern race relations and corporate dynamics. LaKeith Stanfield stars as a man who climbs the ladder of a telemarketing company only to find true horrors on the top floors. It's smart, strange, and unforgettable.
Spontaneous
Brian Duffield's acclaimed 2020 debut isn't exactly a comedy but it combines so many genres that it qualifies. Katherine Langford and Charlie Plummer star in a truly original film about, well, kind of a pandemic. One of the most 2020 movies of last year, it's the tale of teenagers who happen to just start spontaneously exploding. Also clearly a commentary on school shootings, it asks what you would do differently if you knew you could explode at any minute.
Andrew Bujalski's charming comedy about a Hooters-esque restaurant stars the delightful Regina Hall on a particularly bad day on the job. This ensemble piece doesn't seek to make any great statement or offer deep insights, but somehow ends up doing both just by presenting truthful, genuine characters. It's a funny movie with a poignant streak about how hard people have to swim just to keep their heads above water.
The Trip Movies
Steve Coogan and Rob Brydon appeared in a British miniseries called The Trip in 2010, which was then cut down to a film version that was internationally acclaimed. Why not take more trips? Playing loose versions of themselves, the pair then appeared in The Trip to Italy and The Trip to Spain, both of which are also on Hulu. The Trip to Greece was just released this year on VOD.
Kind of poorly received when it came out, this goofy comedy has become something of a cult classic, a movie that often comes up when people talk about the work of Adam Sandler. The Uncut Gems star plays Zohan Dvir, an Israeli commando turned hairstylist in New York City. He tries to live a normal life but he's discovered by a Palestinian cab driver (played problematically by Rob Schneider, of course).
Sometimes it's fun to watch what could be a mediocre movie get totally carried by the charms of its two stars. That's the case here. Is Zach and Miri Make a Porno a great comedy? Not really, but Seth Rogen and Elizabeth Banks are so delightful and fun to watch that you just don't care.
(If you subscribe to a service through our links, Vulture may earn an affiliate commission.)