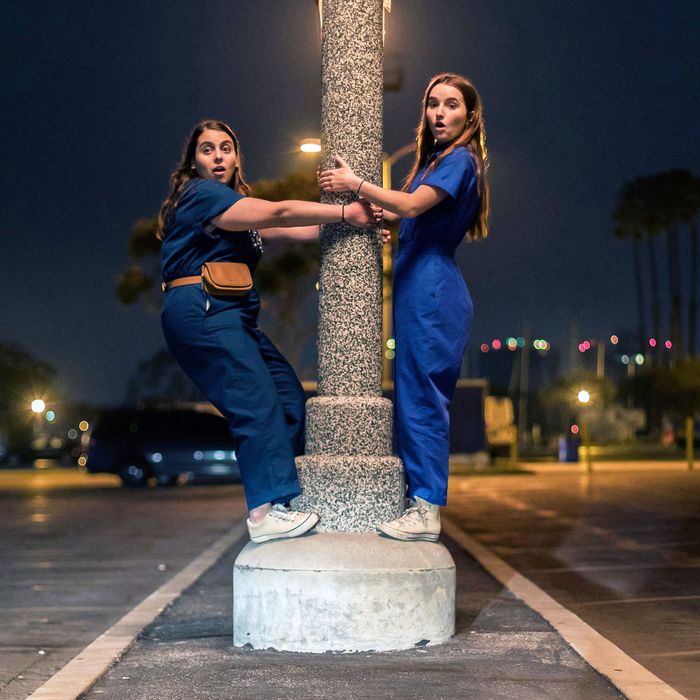 Booksmart
.
Photo: United Artists Releasing
This post is updated frequently as movies leave and enter Hulu, which you can sign up for here. *New additions are indicated with an asterisk. (If you subscribe to a service through our links, Vulture may earn an affiliate commission.)
The world is an increasingly strange place and appears to only get more stressful by the day. Why not release the tension with a laugh? While TV series are still the bread and butter of streaming service Hulu, they also have a large library of movies that a lot of people don't even know about — and a lot of them are funny! Here are 30 of the best from that increasingly necessary department.
*The American President
Rob Reiner directed and Aaron Sorkin wrote this romantic dramedy about a happier, mythical time in the White House that's very different from the reality of 2020. Michael Douglas is charming as a widower President who falls for an environmental lobbyist played by the charismatic Annette Bening. The great ensemble also includes Martin Sheen, Samantha Mathis, David Paymer, and Michael J. Fox.
The Beach Bum
Harmony Korine released his long-anticipated follow-up to Spring Breakers early in 2019, and most people barely noticed. Matthew McConaughey leans into his bongo-playing stoner persona as the wonderful Moondog, a Floridian who is kind of just chilling his way through life. There's almost no plot, but this is an unforgettable slice of debauchery complete with memorable supporting turns by Isla Fisher, Jonah Hill, Martin Lawrence, and, of course, Snoop Dogg.
Big Time Adolescence
Pete Davidson's moment in the sun in Judd Apatow's new movie, The King of Staten Island, has been delayed by the coronavirus pandemic, but his first real major film role actually came in this Sundance 2019 flick that was delayed for almost a year before getting an early drop on Hulu. The real star is Griffin Gluck, one of the talented kids from American Vandal who plays a kid with an older friend who some might call a bad influence, played memorably by Davidson. It's imperfect but sweet, and Davidson is legitimately good.
Blazing Saddles
Generally included on any legitimate list of the funniest movies ever made, Mel Brooks' send-up of the Western genre remains a comedy classic nearly a half-century after its release. Cleavon Little leads an amazing ensemble that includes Gene Wilder, Harvey Korman, Slim Pickens, Brooks himself, and a performance from Madeline Kahn so perfect that she got an Oscar nomination.
Booksmart
Olivia Wilde's directorial debut is one of the smartest and straight-up funniest comedies in years. Beanie Feldstein and Kaitlyn Dever star as lifelong friends who learn on the last day of school that their priorities may have been a bit out of whack. Determined to make up for lost time, they have a wild and crazy night. Often described as "Superbad with girls," this is destined to be a cult classic.
*Dave
Ivan Reitman directed this Gary Ross script about a man named Dave (Kevin Kline) who happens to look exactly like the President of the United States. Kline is charming and sweet as a normal dude asked to suddenly lead the free world after his doppelganger has a stroke.
Drinking Buddies
Indie filmmaker Joe Swanberg's best film and biggest hit remains this 2013 comedy starring Olivia Wilde, Jake Johnson, Anna Kendrick, and Ron Livingston. Wilde and Johnson play friends who work at a brewery in Chicago. While they seem to have a ton in common and flirt regularly, they're both with other partners. It's no spoiler to say things get complicated.
Fighting With My Family
Florence Pugh had one of the best years for a young actress in movie history in 2019, anchored mostly by her Oscar-nominated work in Little Women and critical acclaim for Midsommar. However, this was actually the prologue, a fun little comedy based on the true story of an amateur wrestler's rise to fame. Pugh is charming and believable, and watching this now just reveals her already remarkable range.
The Full Monty
There are indie comedy hits and then there are movies like The Full Monty, which was made for just over $3 million and grossed just over $250 million and was nominated for Best Picture. People fell in love with the story of six unemployed average guys who started their own striptease act to make some money. It is often listed as one of the best British films of all time and was spun off to a 2000 musical and 2013 play.
The Graduate
Mike Nichols' 1967 comedy was a game-changer, a movie that took the world by storm, turning Dustin Hoffman into a star and becoming a true phenomenon. The movie played to all demographics, making over $800 million when adjusted for inflation on its way to an Oscar for Nichols. Widely considered one of the best films ever made, not enough is written about how well it still plays today, over a half-century after its release.
*Grown Ups
One of Adam Sandler's biggest hits, this 2010 comedy gets the whole gang together, including Kevin James, Chris Rock, David Spade, and Rob Schneider. The five guys play lifelong friends who reunite after the death of their beloved basketball coach who took them to a championship in high school. It's more goofy Happy Madison stuff, but this one has a big heart and a loyal following.
Hearts Beat Loud
This is one of the most crowd-pleasing films that you could watch on any streaming service, and the best film vehicle yet for Nick Offerman. The Parks and Recreation star plays Frank Fisher, a single father whose daughter is about to leave the nest. Before she does, they record a song together that just happens to get some buzz. The wonderful cast also includes Toni Collette, Blythe Danner, Kiersey Clemons, Sasha Lane, and Ted Danson.
Heathers
Ignore the think pieces about how Heathers plays today and watch this 1989 dark comedy, a satire that caught Christian Slater and Winona Ryder at just the right time in their careers. She plays the outcast in high school and he plays the mysterious new kid who teaches her the art of vengeance. Is some of it dated? Sure, but it's still sharp in the way it weaponizes the clique culture that has arguably become even more prominent in the three decades since.
*Hitch
Remember when Will Smith made charming romantic comedies? This is one of his last crowdpleasers, a 2005 comedy about a dating consultant who teaches lovable losers how to woo women but needs to take some advice of his own. The supporting cast includes Kevin James, Eva Mendes, and Adam Arkin. It's no classic, but it's plenty of fun.
Hunt for the Wilderpeople
Before he made Hemsworth your favorite Chris in Thor: Ragnarok, Taika Waititi wrote and directed this adaptation of Barry Crump's Wild Pork and Watercress. Ricky Baker (Julian Dennison) has a new foster family, including a sweet foster mother. Sadly, he's stuck with the surly husband when his new mom passes away, leading Ricky and Hec (Sam Neill) on an unforgettable adventure. Funny and truly heartwarming, this is a comedy that's almost impossible to dislike.
I, Tonya
Not many people would have bet that a black comedy telling of the story of Tonya Harding would end up being an Oscar winner, but the '10s have been nothing if not surprising at the Academy Awards. Allison Janney took home the gold for her role as Harding's cruel mother in this version of one of the most famous sports scandals of all time.
Ingrid Goes West
Aubrey Plaza stars in this pitch-black comedy about a young woman who becomes obsessed with a social-media influencer played by Elizabeth Olsen, and then basically worms her way into her life à la Single White Female. As much of a thriller as a comedy, there's still some darkly humorous insight into the world of social media and what it produces, as well as a breakthrough performance from O'Shea Jackson Jr.
The Interview
Remember when this movie almost started a war? Simpler times. The movie that led to the Sony leak by North Korea almost became a footnote to the actual event that garnered so many headlines and led to lost jobs. It's actually pretty funny. James Franco is excellent as a vain reporter who lands the interview of a lifetime with the North Korean leader. What's funny is how relatively tame and silly the whole thing is — it's hard to believe it started an international crisis.
Jackass 3
The 3-D version of this film literally made people sick in theaters when it was released in 2010. It's still got the power to make you nauseous at home on Hulu, too. It's crazy to think that's been a decade since Johnny Knoxville and the boys made one of these joyously hysterical movies, but they're coming back in 2021 for Jackass 4. Catch up where we left off the last time these grown men nearly killed themselves.
M*A*S*H
One of Robert Altman's most popular and influential films launched not just a massive hit TV series but the careers of everyone involved and all the directors who would try to mimic Altman's inimitable style. Donald Sutherland, Tom Skerritt, and Elliott Gould star as medical personnel at the Mobile Army Surgical Hospital during the Korean War. It's funny, quirky, and helped usher in an entire era of dry comedy in the '70s.
Missing Link
We don't give Laika enough credit. They don't make nearly as much money with films like Paranorman and Kubo and the Two Strings as companies like DreamWorks and Pixar. Their latest is already on Hulu, dropping less than a year after its theatrical release. It may not be their best, but it's gorgeous to look at, revealing that Laika is arguably the most visually fascinating animated studio around.
The Overnight
Any parent will tell you that it's often your kid's friend's parents who end up being your new friends, whether you like it or not. That's the building block for this clever comedy about two couples — Adam Scott and Taylor Schilling, and Jason Schwartzman and Judith Godreche — who end up getting drunk together after their kids fall asleep at an overnight play date. And, well, things get weird.
Risky Business
Before Top Gun and long before Mission: Impossible, America fell in love with Tom Cruise when he slid across the floor in his underwear. The lip-syncing scene in this film is so iconic that people may have forgotten the coming-of-age comedy around it, the story of a young man who gets into some serious trouble when his parents go out of town.
*Robin Hood: Men in Tights
This is one of Mel Brooks' last movies and one of the few Brooks flicks streaming anywhere. No one would ever compare it to the best of the comedy master but it's got some screwball charm. Cary Elwes, Richard Lewis, and Dave Chappelle star in the comedy take on the man who stole from the rich to give to the poor.
Say Anything
The great Cameron Crowe wrote and directed this romantic dramedy that became iconic largely because of that one scene with the boom box and Peter Gabriel. But there's more to it than just that one moment. It's a great movie about people from different backgrounds finding each other, and those moments in which you learn the world, including your parents, aren't exactly as simple as you think they are when you're a kid. And it's still one of John Cusack's best performances.
The Skeleton Twins
Craig Johnson directed this dramedy about fraternal twins played wonderfully by Bill Hader and Kristen Wiig that won the Screenwriting Award at Sundance in 2014. Hader plays Milo, a suicidal young man — yes, it's mostly a comedy — who goes to live with his sister after an attempt. Wiig and Hader have wonderful chemistry as siblings, making their dynamic completely believable. It's also got one of the best lip-sync scenes ever.
*Slums of Beverly Hills
Tamara Jenkins wrote and directed this period piece about a girl growing up in the '70s played by the great Natasha Lyonne of Russian Doll fame. Lyonne's father, who drag her around to different houses in a vaguely nomadic suburban existence, is played by Alan Arkin, and the rest of the cast of this cult classic includes Marisa Tomei, Carl Reiner, Rita Moreno, and Jessica Walter.
Sorry to Bother You
Boots Riley writes and directs one of the most daring debuts of 2018 in this satire of modern race relations and corporate dynamics. Lakeith Stanfield stars as a man who climbs the ladder of a telemarketing company only to find true horrors on the top floors. It's smart, strange, and unforgettable.
Support the Girls
Andrew Bujalski's charming comedy about a Hooters-esque restaurant stars the delightful Regina Hall on a particularly bad day on the job. This ensemble piece doesn't seek to make any great statement or offer deep insights, but somehow ends up doing both just by presenting truthful, genuine characters. It's a funny movie with a poignant streak about how hard people have to swim just to keep their heads above water.
Wayne's World 2
Seen as something of a bomb when it was released because it made a fraction of the original, this 1993 sequel has grown a loyal cult following over the years. It's a wonderfully silly movie, as Mike Myers and Dana Carvey lean into the more ridiculous aspects of their characters even more than the first movie. It's just really hard not to love Wayne and Garth.
*You Don't Mess With the Zohan
Kind of poorly received when it came out, this goofy comedy has become something of a cult classic, a movie that often comes up when people talk about the work of Adam Sandler. The Uncut Gems star plays Zohan Dvir, an Israeli commando turned hairstylist in New York City. He tries to live a normal life but he's discovered by a Palestinian cab driver (played problematically by Rob Schneider, of course).