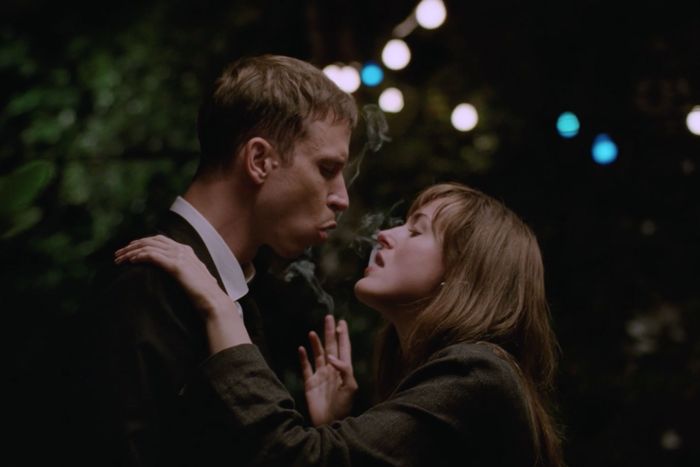 The Worst Person in the World.
Photo: Fox Searchlight.
This post is updated frequently as movies leave and enter Hulu. *New additions are indicated with an asterisk.
Everyone needs a good laugh every now and then, probably more than ever in the 2020s. Hulu's catalog is packed with television and arthouse critical darlings, so it can be hard to leaf through it when you just want something to take the edge off the day. That's why we're here. This regularly updated blend of comedy classics, indie films you may not have seen, and newer laugh generators is all you need when it's time to escape.
The 40-Year-Old Virgin
Year: 2005
Runtime: 1h 56m
Director: Judd Apatow
Judd Apatow has made several funny movies and a great TV show (Freaks & Geeks) but this remains his best and funniest movie front to back. Steve Carell can try to go dramatic all he wants, but he will always be remembered for having his chest hair waxed. Carell is great but the supporting cast really makes this one, including Seth Rogen, Paul Rudd, Romany Malco, and Catherine Keener.
50/50
Year: 2011
Runtime: 1h 22m
Director: Jonathan Levine
Will Reiser adapted his own story of battling cancer in a tender, genuine film that ended up being a sizable box office hit given its subject matter. People were attracted to the truth in Joseph Gordon-Levitt's performance as a young man diagnosed with cancer, and how that diagnosis impacted his relationships, particularly one with a good friend, played by Seth Rogen.
Another Round 
Year: 2020
Runtime: 1 hour, 57 minutes
Director: Thomas Vinterberg
The Oscar winner for Best International Film in 2021 features one of the best performances ever from the great Mads Mikkelsen. The Hannibal star plays a teacher who decides, with a group of three friends, to be a little drunk all the time. Bored and unmotivated by life, they try an experiment wherein they have a small blood alcohol content at all times. At first, it goes well. It doesn't end well. Not everything here works but it's a likable film that features a killer ending.
The Bob's Burgers Movie  
Year: 2022
Runtime: 1h 42m
Directors: Loren Bouchard & Bernard Derriman
Delayed two years because of the pandemic, the big screen version of the Fox hit finally landed in theaters in May 2022, but audiences mostly stayed away, which means they can catch up with it at home! And you really shouldn't miss this joyous story of a family who always unites to save the day and make the best burger in town.
The Breakfast Club
Year: 1985
Runtime: 1h 37m
Director: John Hughes
Few films of the '80s are more influential to this day than John Hughes' mega-popular collection of misfits, a comedy that has basically been remade almost every year since it came out. Look at any of the modern teen comedies and you can pick out the Judd Nelsons, Anthony Michael Halls, Molly Ringwalds, and Ally Sheedys. See where a subgenre basically changed forever.
The Cable Guy
Year: 1996
Runtime: 1h 36m
Director: Ben Stiller
Coming off a wave of friendly blockbusters, Jim Carrey's 1996 black comedy rubbed some people the wrong way. Those people were wrong. The story of a normal guy played by Ben Stiller (who also directed) who befriends a very abnormal guy is a classic for those who like their humor with a little bit of danger. OK, a lot of danger.
Empire Records
Year: 1995
Runtime: 1h 30m
Director: Allan Moyle
Remember record stores? This movie may not be classically great, but it's a wonderful time capsule of mid-'90s culture, a time when it was cool to hang out in CD stories all day and most people had a job at one at some point in their teenage lives. It's also got a great ensemble, including Liv Tyler, Robin Tunny, Renee Zellweger, Ethan Embry, and Rory Cochrane. It's fun and will play differently for those of you who grew up with music stores as a part of their lives than it will for the iGeneration.
Enough Said
Year: 2013
Runtime: 1h 33m
Director: Nicole Holofcener
James Gandolfini is so good in this rom-com that it will break your heart that it was his last. He plays a man who begins a tentative relationship with a divorced masseuse played perfectly by Julia-Louis Dreyfus. When she learns that he is the former husband of her friend, complications ensue. This is a smart, nuanced character study for adults—something that's increasingly rare.
Year: 1993
Runtime: 1h 41m
Director: Harold Ramis
Bill Murray gives one of his best performances ever in this sharp story of a selfish man who figures out the real meaning of life. Murray plays a weatherman who has been forced to cover a Groundhog Day event in Pennsylvania when he discovers that he has to relive the same day over and over again. An incredibly smart script co-written by director Harold Ramis is the real star here, the kind that can be appreciated through the generations.
Happy Gilmore
Year: 1996
Runtime: 1h 32m
Director: Dennis Dugan
Netflix may have all those new Adam Sandler comedies, but Hulu has the classics. Just ignore (most) of the recent stuff and go back to the beginning, watching what is still Sandler's funniest movie overall. Forever quotable and still funny twenty years later, Happy Gilmore now seems to be the comedy landmark of this face of the Sandman's career.
* History of the World, Part I
Year: 1981
Runtime: 1h 32m
Director: Mel Brooks
The living legend Mel Brooks recently returned to Hulu with a 4-night event series, History of the World, Part II. In conjunction with that, the streamer added the comedian's 1981 classic, a sketch comedy film with some hysterically quotable moments. It's not Brooks' best work, but there are enough funny moments to make it worth a look.
Humpday
Year: 2009
Runtime: 1h 34m
Director: Lynn Shelton
It's still so tragic that we've lost Lynn Shelton and this is one of her best comedies, a story of two male friends who are basically dared to star in a porn film with each other. Mark Duplass and Joshua Leonard are wonderful in a film that's smart about sexuality, friendship, and how the two can complicate each other.
I, Tonya 
Year: 2017
Runtime: 2h
Director: Craig Gillespie
Margot Robbie should have won the Oscar for playing Tonya Harding in this tonal highwire act. More than just a biopic or the true crime story of the 1994 attack on Nancy Kerrigan, Gillespie's film is an interrogation of sports and celebrity culture. Centering it all is Robbie's performance, one of the most challenging and impressive of the 2010s.
I Love My Dad
Year: 2022
Runtime: 1h 36m
Director: James Morosini
The writer/director here tells a version of his own true story of being catfished by his dad. Yes, you read that right. Morosini plays Franklin, a man whose dad is so concerned about losing touch with him that he creates a fake Facebook profile and, well, things get weird. Patton Oswalt is phenomenal as the dad in the title and Claudia Sulewski, Rachel Dratch, and Lil Rel Howery are great in supporting roles.
On the Count of Three
Year: 2022
Runtime: 1h 26m
Director: Jerrod Carmichael
Jerrod Carmichael is having an incredible moment, defined recently by his stunning Rothaniel over on HBO Max, his Golden Globes hosting gig, and his sharp dark comedy, the story of two guys who plan to take their own lives at the end of a ridiculous day. Co-starring Chris Abbott and Tiffany Haddish, this is a wickedly smart movie and a sign that Carmichael is a filmmaker to watch.
Palm Springs 
Year: 2020
Runtime: 1h 30m
Director: Max Barbakow
Adam Sandler and Cristin Milioti are wonderful in this charming sci-fi rom-com about a pair of people caught up in a time loop and forced to live the same wedding day they're attending over and over again. This is the kind of comedy gem that got a little screwed by the pandemic, forced to premiere on Hulu when it should have played to packed, laughing crowds in theaters first.
Superbad
Year: 2007
Runtime: 1h 53m
Director: Greg Mottola
Greg Mottola's 2007 comedy became so beloved for a generation that it's already a reference point for other comedies that try (and usually fail) to do the same kind of thing. Written by Seth Rogen and Evan Goldberg, Superbad turned Michael Cera and Jonah Hill into stars overnight, and introduced the world to future Oscar winner Emma Stone. Some of its gender issues already seem a little dated, but there's an innocent charm to the film that holds up. And it's just damn funny.
* There's Something About Mary
Year: 1998
Runtime: 1h 59m
Director: The Farrelly Brothers
The best movie of the Farrelly brothers' career came out in the late '90s and immediately became a comedy classic. Ben Stiller and Cameron Diaz are charming in a film that has a bit of a stalker edge nowadays but remains consistently hysterical in terms of how far it's willing to go to get a laugh. Matt Dillon, Lee Evans, and Chris Elliott are fantastic too.
Year: 2022
Runtime: 2h 29m
Director: Ruben Ostlund
A Best Picture nominee and Palme d'Or winner, Triangle of Sadness is the one of the biggest international critical darlings of 2022. From the writer/director of Force Majeure, this is the story of a model couple on a boat trip from Hell, a journey that goes so disastrously wrong that social lines are blurred forever. It's a sharp commentary on the haves and have-nots with fun performances from Harris Dickinson, Dolly de Leon, Woody Harrelson, and more.
The Worst Person in the World
Year: 2021
Runtime: 2h 8m
Director: Joachim Trier
The partnership between Neon and Hulu continues to pay off for subscribers as the streamer is the exclusive home of one of the most acclaimed films of 2021 in this Best Original Screenplay and Best Foreign Language Film Oscar nominee. Renate Reinsve is stunning as a young woman named Julie who navigates career, love, and life in a film that's funny, moving, and true.
If you subscribe to a service through our links, Vulture may earn an affiliate commission.