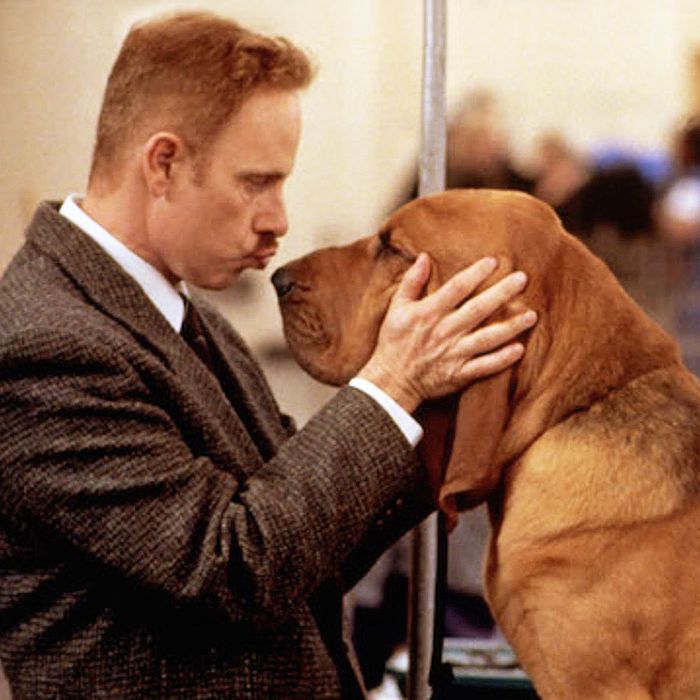 Best in Show
.
Photo: Castle Rock Entertainment
This post is updated frequently as movies leave and enter Hulu, which you can sign up for here. *New additions are indicated with an asterisk. (If you subscribe to a service through our links, Vulture may earn an affiliate commission.)
The world is an increasingly strange place and appears to only get more stressful by the day. Why not release the tension with a laugh? While TV series are still the bread and butter of streaming service Hulu, they also have a large library of movies that a lot of people don't even know about — and a lot of them are funny! Here are 30 of the best from that increasingly necessary department.
*50 First Dates
Before he shuffled his comedies off to the ownership of Netflix exclusively, Adam Sandler had one of the biggest hits of his career with this reunion with his co-star in the beloved The Wedding Singer, Drew Barrymore. In this 2004 comedy, Sandler plays a marine who falls in love with a woman who has anterograde amnesia, meaning he has to woo her again with every new day. It doesn't feel that long ago that a Sandler movie could make $200 million at the box office, but it's getting harder to remember.
The American President
Rob Reiner directed and Aaron Sorkin wrote this romantic dramedy about a happier, mythical time in the White House that's very different from the reality of 2020. Michael Douglas is charming as a widower President who falls for an environmental lobbyist played by the charismatic Annette Bening. The great ensemble also includes Martin Sheen, Samantha Mathis, David Paymer, and Michael J. Fox.
*Back to School
Rodney Dangerfield turns his rising frame from Caddyshack into a series of leading roles in the '80s, including this 1986 story of a wealthy guy who goes back to college to show solidarity with his son and get into wacky hijinks. Some of the comedy here is severely dated, but it's worth a look merely to remember when Dangerfield was one of the biggest stars in the world. Give the man the respect he deserves.
Best in Show
Movies don't get much funnier than Christopher Guest's mockumentary exploration of the world of competitive dog shows. Using most of the same ensemble he would throughout his career, Guest found that sweet spot here where he can gently mock a section of society while also displaying genuine affection for it at the same time.
Pete Davidson's moment in the sun in Judd Apatow's new movie, The King of Staten Island, has been delayed by the coronavirus pandemic, but his first real major film role actually came in this Sundance 2019 flick that was delayed for almost a year before getting an early drop on Hulu. The real star is Griffin Gluck, one of the talented kids from American Vandal who plays a kid with an older friend who some might call a bad influence, played memorably by Davidson. It's imperfect but sweet, and Davidson is legitimately good.
Olivia Wilde's directorial debut is one of the smartest and straight-up funniest comedies in years. Beanie Feldstein and Kaitlyn Dever star as lifelong friends who learn on the last day of school that their priorities may have been a bit out of whack. Determined to make up for lost time, they have a wild and crazy night. Often described as "Superbad with girls," this is destined to be a cult classic.
Billy Crystal was at the peak of his fame with this 1991 blockbuster comedy that was so popular that it won co-star Jack Palance an Oscar. Crystal stars as an average guy who channels his mid-life crisis into a week on a cattle drive with two of his best buddies, played by Daniel Stern and Bruno Kirby. Of course, everyone knows Palance steals the movie, but it's a sweeter and funnier piece overall than you may remember.
Indie filmmaker Joe Swanberg's best film and biggest hit remains this 2013 comedy starring Olivia Wilde, Jake Johnson, Anna Kendrick, and Ron Livingston. Wilde and Johnson play friends who work at a brewery in Chicago. While they seem to have a ton in common and flirt regularly, they're both with other partners. It's no spoiler to say things get complicated.
Florence Pugh had one of the best years for a young actress in movie history in 2019, anchored mostly by her Oscar-nominated work in Little Women and critical acclaim for Midsommar. However, this was actually the prologue, a fun little comedy based on the true story of an amateur wrestler's rise to fame. Pugh is charming and believable, and watching this now just reveals her already remarkable range.
One of Jason Segel's biggest hits was this 2008 comedy produced by Judd Apatow and directed by his buddy Nicholas Stoller. The How I Met Your Mother star plays a music composer who takes a trip to get over his girlfriend, only to run into her and her new boyfriend. Segel is charmingly funny here, but it's his writing that really makes the piece work, along with solid supporting work from Mila Kunis and Kristen Bell.
Hugh Grant's most famous film remains the 1994 comedy that was so popular that it was nominated for Best Picture — not a common thing for British rom-coms. Grant plays Charles, who goes on a series of adventures at, well, weddings and a funeral, falling in love with Andie MacDowell's Carrie over time. It's a smart, heartfelt comedy that unexpectedly became the highest-grossing British film of all time when it was released.
It's always a bit funny when only one movie from a series makes its way to a streaming service. Such is the case now with only the second film in the Harold and Kumar trilogy of comedies landing on Hulu. This 2008 flick reunited the stars of the hit Harold and Kumar go to White Castle and saw the boys trying to go to Amsterdam but being mistaken for terrorists. It's not as good as the first movie (or third) but it definitely has its moments.
This is one of the most crowd-pleasing films that you could watch on any streaming service, and the best film vehicle yet for Nick Offerman. The Parks and Recreation star plays Frank Fisher, a single father whose daughter is about to leave the nest. Before she does, they record a song together that just happens to get some buzz. The wonderful cast also includes Toni Collette, Blythe Danner, Kiersey Clemons, Sasha Lane, and Ted Danson.
Ignore the think pieces about how Heathers plays today and watch this 1989 dark comedy, a satire that caught Christian Slater and Winona Ryder at just the right time in their careers. She plays the outcast in high school and he plays the mysterious new kid who teaches her the art of vengeance. Is some of it dated? Sure, but it's still sharp in the way it weaponizes the clique culture that has arguably become even more prominent in the three decades since.
Andy Samberg's first time headlining a comedy didn't make much money or get much attention when it was released, but as Lonely Island grew in fame so did this film's rep. Samberg stars as a stuntman who tries to raise money to save the life of his irascible father, played by Ian McShane, and maybe even win his love too. It's a goofy, funny film that has held up remarkably well.
Hunt for the Wilderpeople
Before he made Hemsworth your favorite Chris in Thor: Ragnarok, Taika Waititi wrote and directed this adaptation of Barry Crump's Wild Pork and Watercress. Ricky Baker (Julian Dennison) has a new foster family, including a sweet foster mother. Sadly, he's stuck with the surly husband when his new mom passes away, leading Ricky and Hec (Sam Neill) on an unforgettable adventure. Funny and truly heartwarming, this is a comedy that's almost impossible to dislike.
Not many people would have bet that a black comedy telling of the story of Tonya Harding would end up being an Oscar winner, but the '10s have been nothing if not surprising at the Academy Awards. Allison Janney took home the gold for her role as Harding's cruel mother in this version of one of the most famous sports scandals of all time.
Remember when this movie almost started a war? Simpler times. The movie that led to the Sony leak by North Korea almost became a footnote to the actual event that garnered so many headlines and led to lost jobs. It's actually pretty funny. James Franco is excellent as a vain reporter who lands the interview of a lifetime with the North Korean leader. What's funny is how relatively tame and silly the whole thing is — it's hard to believe it started an international crisis.
The 3-D version of this film literally made people sick in theaters when it was released in 2010. It's still got the power to make you nauseous at home on Hulu, too. It's crazy to think that's been a decade since Johnny Knoxville and the boys made one of these joyously hysterical movies, but they're coming back in 2021 for Jackass 4. Catch up where we left off the last time these grown men nearly killed themselves.
M*A*S*H
One of Robert Altman's most popular and influential films launched not just a massive hit TV series but the careers of everyone involved and all the directors who would try to mimic Altman's inimitable style. Donald Sutherland, Tom Skerritt, and Elliott Gould star as medical personnel at the Mobile Army Surgical Hospital during the Korean War. It's funny, quirky, and helped usher in an entire era of dry comedy in the '70s.
A Mighty Wind
Christopher Guest reunited with his mega-talented troupe of comedy legends after Waiting for Guffman and Best in Show, to deliver this loving spoof of the world of folk music. Once again, Guest's improvised style allows performers like Eugene Levy, Catherine O'Hara, Michael McKean, Fred Willard, John Michael Higgins, and Parker Posey to shine.
We don't give Laika enough credit. They don't make nearly as much money with films like Paranorman and Kubo and the Two Strings as companies like DreamWorks and Pixar. Their latest is already on Hulu, dropping less than a year after its theatrical release. It may not be their best, but it's gorgeous to look at, revealing that Laika is arguably the most visually fascinating animated studio around.
My Cousin Vinny
Joe Pesci may be the titular character in this hit 1992 comedy, but it's Marisa Tomei who walked away with it to such a degree that she won an Oscar. After two New Yorkers are tried for a murder that they didn't commit deep in the heartland, Pesci's Vinny has to go to the country to get them off. The city vs. country dynamic gets fresh life thanks to the film's big heart and the perfect comedic timing of its entire cast.
Yes, everyone loved Pee-Wee's Playhouse, but it was really this amazing 1985 comedy that made Pee-Wee Herman a beloved icon. Directed by Tim Burton, making his feature debut, it's a clever road trip comedy about a boy trying to get his back bike, but it's also about so much more, including never being afraid to express yourself. It's joyous, hysterical, and has held up perfectly.
The great Cameron Crowe wrote and directed this romantic dramedy that became iconic largely because of that one scene with the boom box and Peter Gabriel. But there's more to it than just that one moment. It's a great movie about people from different backgrounds finding each other, and those moments in which you learn the world, including your parents, aren't exactly as simple as you think they are when you're a kid. And it's still one of John Cusack's best performances.
Craig Johnson directed this dramedy about fraternal twins played wonderfully by Bill Hader and Kristen Wiig that won the Screenwriting Award at Sundance in 2014. Hader plays Milo, a suicidal young man — yes, it's mostly a comedy — who goes to live with his sister after an attempt. Wiig and Hader have wonderful chemistry as siblings, making their dynamic completely believable. It's also got one of the best lip-sync scenes ever.
Boots Riley writes and directs one of the most daring debuts of 2018 in this satire of modern race relations and corporate dynamics. Lakeith Stanfield stars as a man who climbs the ladder of a telemarketing company only to find true horrors on the top floors. It's smart, strange, and unforgettable.
Andrew Bujalski's charming comedy about a Hooters-esque restaurant stars the delightful Regina Hall on a particularly bad day on the job. This ensemble piece doesn't seek to make any great statement or offer deep insights, but somehow ends up doing both just by presenting truthful, genuine characters. It's a funny movie with a poignant streak about how hard people have to swim just to keep their heads above water.
*The Trip movies
Steve Coogan and Rob Brydon appeared in a British mini-series called The Trip in 2010, which was then cut down to a film version that was internationally acclaimed. Why not take more trips? Playing loose versions of themselves, the pair then appeared in The Trip to Italy and The Trip to Spain, both of which are also on Hulu. The Trip to Greece was just released this year on VOD.
Arguably the best of the Christopher Guest ensemble improvised comedies remains his brilliant 1996 mockumentary about a community theatre group led by the unforgettable Corky St. Clair (Guest himself). Waiting for Guffman allows so many brilliant comedic talents a chance to shine, including Eugene Levy, Catherine O'Hara, Fred Willard, and Parker Posey.
Kind of poorly received when it came out, this goofy comedy has become something of a cult classic, a movie that often comes up when people talk about the work of Adam Sandler. The Uncut Gems star plays Zohan Dvir, an Israeli commando turned hairstylist in New York City. He tries to live a normal life but he's discovered by a Palestinian cab driver (played problematically by Rob Schneider, of course).