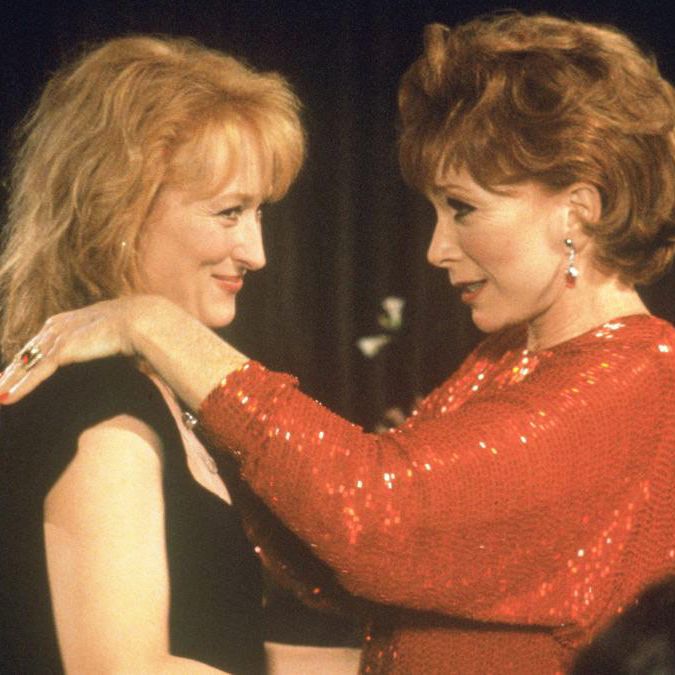 Postcards from the Edge.
Photo: Fox Searchlight.
This post is updated frequently as movies leave and enter Hulu. *New additions are indicated with an asterisk. 
The world is an increasingly strange place and appears to only get more stressful by the day. Why not release the tension with a laugh? While TV series are still the bread and butter of streaming service Hulu, they also have a large library of movies that a lot of people don't even know about — and a lot of them are funny! Here are 30 of the best from that increasingly necessary department.
The Art of Self-Defense
Premiering at SXSW in 2019, this is probably the darkest comedy on this list, the story of a shy young man (Jesse Eisenberg) who goes to a martial-arts class to gain a little courage. He discovers a strange community there led by a controlling master, played by Alessandro Nivola. Writer-director Riley Stearns isn't afraid to go there in a movie that doesn't always work but takes enough genuine risks to justify its missteps.
As Good As It Gets
Believe it or not, As Good As It Gets is the last movie to win both the Oscar for Best Actor (Jack Nicholson) and Best Actress (Helen Hunt). James L. Brooks' romantic comedy is a perfect example of a movie that caught its cast at just the right moment, getting one of the last Nicholson performances that could be called charming and supporting it with great work from Hunt and Greg Kinnear. Some of it is a bit dated, but it catches just enough lightning in a bottle to justify another look.
Zoe Lister-Jones made her directorial debut with a clever comedy about a couple (Lister-Jones and Adam Pally) who decide to turn their fights in songs. Premiered at Sundance 2017, the film is also notable for featuring a mostly female crew. It's a sweet movie that also boasts a solid supporting performance from Fred Armisen.
Originally scheduled for a 2020 release, the Annie Mumolo and Kristen Wiig comedy was delayed due to the pandemic, dropping on VOD back in February 2021. It's a comedy that's high on the quirkiness but will absolutely work for viewers on its loony wavelength. Give it five minutes and you'll know if it's for you.
Along with The King of Staten Island, this is the second Pete Davidson coming-of-age story released in 2020. Jason Orley makes his writing and directing debut with this Sundance premiere that stars Griffin Gluck as a kid whose best friend happens to be that older dude with no focus in his life that your parents told you to avoid. Davidson is clever and funny in a film that captures how maturity comes at a different age for everyone.
Olivia Wilde's directorial debut is one of the smartest and straight-up funniest comedies in years. Beanie Feldstein and Kaitlyn Dever star as lifelong friends who learn on the last day of school that their priorities may have been a bit out of whack — so, determined to make up for lost time, they have a wild and crazy night. Often described as "Superbad with girls," this is destined to be a cult classic.
The weirdest cast member on SNL, Kyle Mooney, got his feature film platform with his 2017 Sundance hit, a captivating film about a young man who while living in an underground bunker becomes obsessed with a children's program named Brigsby Bear. It turns out that the show doesn't really exist and was created by the guy's captor. From there, it gets even weirder, and ultimately, is surprisingly moving.
Definitely, Maybe
Remember before Deadpool when Reynolds was almost a rom-com star? Yeah, not really. Definitely, Maybe is actually one of the better films from that era of his career, thanks in large part to the women cast opposite Reynolds, including Isla Fisher, Rachel Weisz, and Elizabeth Banks. It's imperfect but sweet when it needs to be.
*Dodgeball
Vince Vaughn and Ben Stiller starred in a fan favorite from 2004 that turned everyone's favorite middle school sport into a physical comedy. It's a funny flick, the story of an underdog team of dodgeball players that includes great supporting turns from Rip Torn, Justin Long, Stephen Root, and Alan Tudyk too. It's a great example of a talented comedy ensemble elevating a mediocre script.
Riding the fame from his supporting role in Forgetting Sarah Marshall, Russell Brand headlined a spin-off as Aldous Snow, an obnoxious rock star who takes a talent scout played by Jonah Hill along for the ride of his personal meltdown. Brand and Hill are funny, and you may have forgotten that Rose Byrne and Elisabeth Moss pop up in funny supporting roles too.
Greener Grass
Do you like your comedies weird? Like, John Waters weird? Then this one is for you. A deeply satirical and deeply strange comedy, this is kind of like a comedy from early in the career of Tim Burton with its exaggerated examination of suburban culture. Jocelyn DeBoer and Dawn Luebbe co-star, co-wrote, and co-directed, and this already feels like a film destined for a cult following.
Clea DuVall co-wrote and directed this holiday rom-com with a twist. While these films are almost always hetero tales of romance, the love story here is between Kristen Stewart and Mackenzie Davis, who plays a woman who hasn't told her girlfriend that she's not out to her family. Alison Brie, Aubrey Plaza, Dan Levy, Mary Holland, Victor Garber, and Mary Steenburgen fill out the fun supporting cast for this progressive Hulu original.
Only 1/3rd of what is referred to as Edgar Wright's Cornetto Trilogy is on Hulu but Hot Fuzz is arguably the best of the bunch so it's OK. Not only is the comedy just a parody of dumb action movies, but it's a love letter to flicks like Point Break and Bad Boys too. The best parodies come from fandom, and Wright's film is definitely one of the best.
Comedies don't get much darker than this 2009 film about a con artist named Steven Jay Russell, played expertly by Jim Carrey in his last truly interesting performance. While behind bars for one of his many cons, Steven falls in love with Phillip Morris, played by Ewan McGregor. This truly oddball film was nominated for Best Adapted Screenplay by the Writers Guild of America.
Not many people would have bet that a black comedy telling of the story of Tonya Harding would end up being an Oscar winner but the '10s were nothing if not surprising at the Academy Awards. Allison Janney took home the gold for her role as Harding's cruel mother in this version of one of the most famous sports scandals of all time.
I'm Your Man
Shortlisted for the Oscar for Best International Feature Film, the German sci-fi/rom-com deconstructs modern relationships to history, people, and tech in ways that feel fresh, funny, and very clever. Maria Schrader plays a woman who agrees to participate in a program to match people with their perfect partner, in the form of an android. The great Dan Stevens plays the romantic robot.
Matt Spicer's 2017 Sundance hit has developed a cult following that will surely be helped by returning to Hulu. It clearly has something to say about internet obsession and viral culture in its story of a woman (Aubrey Plaza's best performance to date) who becomes obsessed with an Instagram personality, played by Elizabeth Olsen. Alternately funny and kind of terrifying, it's a movie that feels already like it was ahead of its time.
Juno
Jason Reitman's comedy was one of the biggest movies of 2007, a film that rode a wave of buzz through festival season all the way to an Oscar win for writer Diablo Cody. Elliot Page stars as the title character, a young lady forced to deal with an unexpected pregnancy. Page got a lot of attention (and an Oscar nod) but Juno is a great ensemble piece that also includes some of the career-best performances from Michael Cera, Jennifer Garner, Jason Bateman, Allison Janney, and J.K. Simmons.
*Little Miss Sunshine
Jonathan Dayton and Valerie Faris' Sundance comedy is one of the most notable breakthroughs in the history of the Park City event. It went all the way from its premiere in Utah to becoming a multiple Oscar nominee, bringing in over $100 million along the way. People were drawn to a story that encourages them to just be who they want to be, along with an incredibly likable supporting cast that includes Steve Carell, Greg Kinnear, Toni Collette, Abigail Breslin, and Alan Arkin, who won the Oscar.
It wouldn't be Christmas without arguments over whether or not the 2003 Richard Curtis ensemble rom-com is any good. And yet Hulu decided to avoid that discussion by adding it to their streaming service just before Spring. Tricky! You probably know already if you love or hate this…actually.
We don't give Laika enough credit. They don't make nearly as much money with films like Paranorman and Kubo and the Two Strings as companies like DreamWorks and Pixar. Their latest is already on Hulu, dropping less than a year after its theatrical release. It may not be their best, but it's gorgeous to look at, revealing that Laika is arguably the most visually fascinating animated studio around.
Shane Black directed Ryan Gosling and Russell Crowe to two of the best performances of their career in this old-fashioned buddy-comedy flick. Gosling plays a private eye who gets caught up in the disappearance of a teenager (Margaret Qualley) and partners with a gruff cop (Crowe) to find her. It's clever and very funny — the kind of movie that one wishes got made more often.
He's getting a lot of awards buzz for Don't Look Up in 2022, just nominated for Best Picture at the Academy Awards, but go back and check out Adam McKay's last pure comedy (and one of his last collaborations with Will Ferrell), this spoof of action clichés stars Ferrell and Mark Wahlberg as the cops who almost never get their man. A classic buddy comedy dynamic allows Ferrell and Wahlberg to riff off each other's on-screen personas in a way that's consistently funny and clever.
One of the most unexpected (and underrated) films in the career of Francis Ford Coppola was this 1986 fantasy about a woman who gets transported back to her high school days of the 1960s. Nominated for three Oscars, including Best Actress for Kathleen Turner, it also features one of the best early performances from Nicolas Cage.
The great Mike Nichols directed the living legends Shirley MacLaine and Meryl Streep in this 1990 comedy that's based on Carrie Fisher's autobiography of the same name. Fisher herself wrote the screenplay about an actress living in the shadows of her addictions and her famous mother. It landed Streep one of her many nominations for Best Actress at the Oscars.
Rob Reiner directed an adaptation of William Goldman's 1973 novel and made movie history. It's the story of Westley (Cary Elwes), a farmhand who will do whatever it takes to reunite with the love of his life, Princess Buttercup (Robin Wright). To say that people love this '80s romantic fantasy comedy would be a massive understatement.
Roxanne
Steve Martin wrote and starred in one his best films way back in 1987 when he made a beautiful romantic comedy based on the classic Cyrano de Bergerac. Reimagining and updating the tale of a man who speaks through another to tell his unrequited love how he really feels, Martin found just the right balance of whimsy and romance.
The great Cameron Crowe wrote and directed this romantic dramedy that became iconic largely because of that one scene with the boom box and Peter Gabriel. But there's more to it than just that one moment. It's a great movie about people from different backgrounds finding each other, and those moments in which you learn the world, including your parents, aren't exactly as simple as you think they are when you're a kid. And it's still one of John Cusack's best performances.
Alexander Payne's best film was released in 2004 with an adaptation of the Rex Pickett novel about a surly wine lover and his chance at love. Paul Giamatti stars as Miles Raymond, a misanthropic teacher who goes on a trip to wine country with his more outgoing friend Jack (Thomas Haden Church). Sideways won the Oscar for Best Adapted Screenplay, and was nominated for four other Academy Awards, including Best Picture.
Walk Hard: The Dewey Cox Story
After John C. Reilly's pitch perfect spoof of the rock biopic, one would think that the tropes skewered in his laugh-out-loud comedy would go away but watching this now after the success of films like Bohemian Rhapsody makes its genius seem even sharper.
Kind of poorly received when it came out, this goofy comedy has become something of a cult classic, a movie that often comes up when people talk about the work of Adam Sandler. The Uncut Gems star plays Zohan Dvir, an Israeli commando turned hairstylist in New York City. He tries to live a normal life but he's discovered by a Palestinian cab driver (played problematically by Rob Schneider, of course).
If you subscribe to a service through our links, Vulture may earn an affiliate commission.