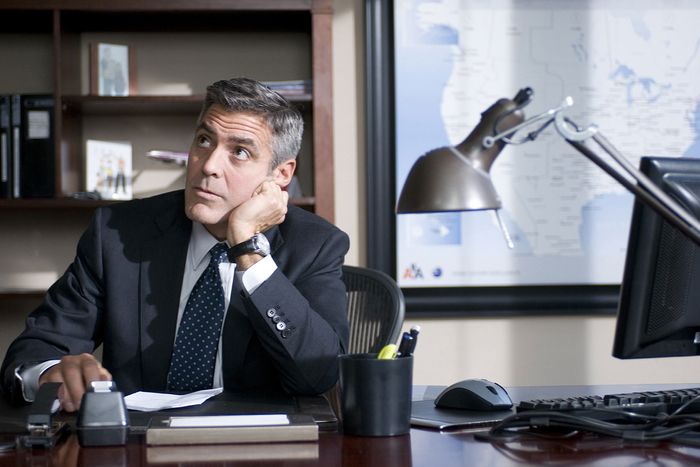 Up in the Air.
Photo: Paramount Pictures
This post is updated frequently as movies leave and enter Netflix. *New additions are indicated with an asterisk.
We could all use a laugh these days. As the world continues to depress people, turn to Netflix and find something to escape the news in their ever-rotating comedy section. There are a few originals that won't be going anywhere, but what about the studio comedies that come and go from the streaming giant? How can you keep track of where to find laughter these days? We're here to help with this always-updated list of the best comedies on Netflix right now.
The Ballad of Buster Scruggs
Year: 2018
Runtime: 2h 13m
Director: Joel Coen, Ethan Coen
The Coen brothers delivered one of their most inventive and enjoyable films in this anthology film that tells a series of stories with a Western theme. Tim Blake Nelson sets the stage beautifully with his opening bit about a singing cowboy, but there are a number of scene-stealers here including Harry Melling, Tom Waits, and Bill Heck. It's one of the most underrated modern Westerns.
*The Big Short
Year: 2015
Runtime: 2h 10m
Director: Adam McKay
The director of Will Ferrell's biggest comedies transitioned to more serious fare with this Best Picture nominee based on the non-fiction book of the same name about the 2008 financial collapse. It's got one of the best ensembles of the 2010s, including Christian Bale, Steve Carell, Ryan Gosling, Brad Pitt, and many more. Some of it is a bit dated already, but it's mostly sharp and it's the kind of quick-paced thing that's perfect for Netflix.
The Breakfast Club
Year: 1985
Runtime: 1h 37m
Director: John Hughes
Few films of the '80s are more influential to this day than John Hughes' mega-popular collection of misfits, a comedy that has basically been remade almost every year since it came out. Look at any of the modern teen comedies and you can pick out the Judd Nelsons, Anthony Michael Halls, Molly Ringwalds, and Ally Sheedys. See where a subgenre basically changed forever.
Bridesmaids
Year: 2011
Runtime: 2h 4m
Director: Paul Feig
It's hard to believe that it's already been over a decade since Bridesmaids shattered all expectations, making a fortune and turning Melissa McCarthy into a household name (especially after she landed an Oscar nomination). Smart and heartfelt, it's the story of a woman (Kristen Wiig) who struggles in her role as Maid of Honor to a friend played by Rose Byrne. It's still very, very funny.
Year: 2020
Runtime: 2h 3m
Director: David Dobkin
Why did it take so long to satirize the wonderful, unapologetic excess of the Eurovision Song Contest? It was worth the wait because one of the funniest movies of 2020 starred Will Ferrell and Rachel McAdams as a pair of hapless Icelandic singers who turn the international singing contest upside down. Unapologetically goofy, this movie is a great escape for viewers from any country.
Ferris Bueller's Day Off
Year: 1986
Runtime: 1h 43m
Director: John Hughes
One of the most popular comedies of its era turned its title character into a household name. The pitch is so beautifully simple: the most popular kid in high school takes the day off and gets into trouble in Chicago while driving his sister and principal insane. Great physical sequences mix with a very hip '80s sensibility to create a classic comedy that could be a hit if it came out today.
Year: 2022
Runtime: 2h 19m
Director: Rian Johnson
The writer/director of Knives Out returned in late 2022 with a sequel to that smash hit, exclusively on Netflix. Daniel Craig returns as Benoit Blanc, the casual crime solver who finds himself on a billionaire's island in this latest comedy/mystery. Once again, Johnson assembles a murderer's row of talent, including Kate Hudson, Janelle Monae, Ed Norton, Dave Bautista, Kathryn Hahn, Leslie Odom Jr., and more. It's smart, funny, and thoroughly entertaining.
Year: 1993
Runtime: 1h 41m
Director: Harold Ramis
Bill Murray does some of his best acting work in this story of Phil Connors, an ordinary weatherman who gets caught in a time loop on the February holiday that gives the movie its name. Not only is Groundhog Day consistently laugh-out-loud funny, it's actually a pretty philosophically deep movie about how we better ourselves as human beings. It's one of the best comedies of the '90s, a movie that plays even better three decades later.
The Jerk
Year: 1979
Runtime: 1h 33m
Director: Carl Reiner
One of Steve Martin's best comedies is on Netflix now for anyone looking for a classic genre pic. The brilliant writer and actor plays Navin Johnson in his first starring role, an unforgettable comedy creation. He's one of those classic characters who kind of bumbles his way through life but Martin brought a new film energy to the archetype, thanks in large part to the direction of another comedy legend, Carl Reiner.
A League of Their Own
Year: 1992
Runtime: 2h 7m
Director: Penny Marshall
Prime Video returned to this world of the All-American Girls Professional Baseball League with a new original dramedy series in 2022, released three decades after this family favorite taught everyone that there's no crying in baseball, but the original film is still the best. A huge hit when it was released, this is the kind of film that's easy to rewatch thanks in large part to the incredibly charming cast and the big heart in Penny Marshall's direction.
Liar Liar
Year: 1997
Runtime: 1h 26m
Director: Tom Shadyac
One of Jim Carrey's best movies is this 1997 smash-hit comedy about an attorney whose son makes a wish that dad won't be able to lie for an entire day. As with a lot of Carrey's '90s comedies, it's not the premise as much as the performer, who throws himself into every awkward situation and every bit of physical comedy with his entire being.
*Midnight Run
Year: 1988
Runtime: 2h 6m
Director: Martin Brest
Martin Brest directed one of the best '80s buddy comedies in this gem of a movie that paired Robert De Niro and Charles Grodin. The Oscar winner plays a bounty hunter assigned to bring t2back Grodin's embezzling accountant, who stole money from the Chicago mob. Easier said than done. Grodin and De Niro have perfect comic chemistry.
*Miss Congeniality
Year: 2000
Runtime: 1h 50m
Director: Donald Petrie
When Sandra Bullock finally won her Oscar, there was a theory that it was kind of a thank you for all the successful, lovable movies she had made in Hollywood for a generation. This was definitely part of that run, making over $200 million worldwide in the story of an FBI agent who has to go undercover in a beauty pageant. The blah sequel is also on Netflix.
Year: 2021
Runtime: 1h 53m
Directors: Mike Rianda and Jeff Rowe
Originally planned for a theatrical release by Sony (with the much-worse title Connected), the studio sold this off to Netflix during the pandemic…and probably regretted that decision. One of the most critically and commercially beloved animated films of 2021, this is an incredibly smart and sweet family vacation movie, a comedy that's as much about a tender relationship between a father and daughter as it is the fact that they end up having to save the world together.
Year: 1975
Runtime: 1h 29m
Directors: Terry Gilliam and Terry Jones
During a hiatus between the third and fourth seasons of Monty Python's Family Circus, the gang of mega-talented comedians decided to make movie history. Inspired by the King Arthur legend, Holy Grail is a timeless comedy, the rare kind of film that will still be making people laugh hundreds of years from now. And while the Monty Python boys were already famous, this film took them to another level, cementing their place in movie history.
The Nice Guys
Year: 2016
Runtime: 1h 55m
Director: Shane Black
A bomb at the box office, this buddy comedy grows a more vocal fan base every time it drops on Netflix. It's easy to see why — it's a smart, funny, incredibly rewatchable comedy. The flick stars Russell Crowe and Ryan Gosling as a pair of awkward allies who get caught up in the case of a missing girl (Margaret Qualley). The real star here — other than the excellent chemistry of the leads — is Shane Black's razor-sharp dialogue. Watch this one so maybe they can get the budget together for a sequel before it's too late.
*Sausage Party
Year: 2016
Runtime: 1h 28m
Director: Greg Tiernan, Conrad Vernon
It may look like it, but this one is not for kids. Seth Rogen, Evan Goldberg, Jonah Hill, and the rest of the gang behind movies like This is the End collaborated on this goofy, raunchy animated comedy about, well, a sausage. When he's not trying to place himself in a bun—if you know what I mean—he's discovering that food that leaves the grocery store doesn't have a happy fate. This is a perfect background noise comedy for after the bar.
Sleepless in Seattle
Year: 1993
Runtime: 1h 45m
Director: Nora Ephron
We could all use a little romance every now and then and movies don't get much sweeter than this 1993 blockbuster that made Tom Hanks and Meg Ryan one of the most beloved movie couples of all time. Nora Ephron directs this story of a widower who moves to Seattle and tries to raise his 8-year-old son, and the Baltimore woman who hears his tragic tale and falls in love. Hopelessly romantic, it's the kind of movie they don't make that much anymore.
*Stand by Me
Year: 1986
Runtime: 1h 28m
Director: Rob Reiner
One of the best Stephen King adaptations remains this 1986 coming-of-age story based on the author's short story "The Body." Rob Reiner directed a fantastic young cast that includes River Phoenix, Jerry O'Connell, Wil Wheaton, and Corey Feldman as four friends who go on a hike to find a dead body.
This Is the End
Year: 2013
Runtime: 1h 46m
Director: Evan Goldberg, Seth Rogen
The writers behind Superbad used that success to make their directorial debut with this goofy adaptation of a short film about idiot friends at the end of the world. Rogen co-stars with his then-BFF James Franco, Jonah Hill, Jay Baruchel, Danny McBride, and an array of wonderful cameos in a movie that's hysterically twisted.
*Up in the Air
Year: 2009
Runtime: 1h 50m
Director: Jason Reitman
One of the best midlife crisis comedies of the modern era, this Oscar winner stars George Clooney as a man who has spent more time on airplanes than he has with his family. Clooney's Ryan Bingham is a full-time "downsizer," someone who essentially ruins lives everywhere he goes. Clooney does some of his best work here, matched by Vera Farmiga and a breakthrough performance from Anna Kendrick — all three were nominated for Oscars.
If you subscribe to a service through our links, Vulture may earn an affiliate commission.