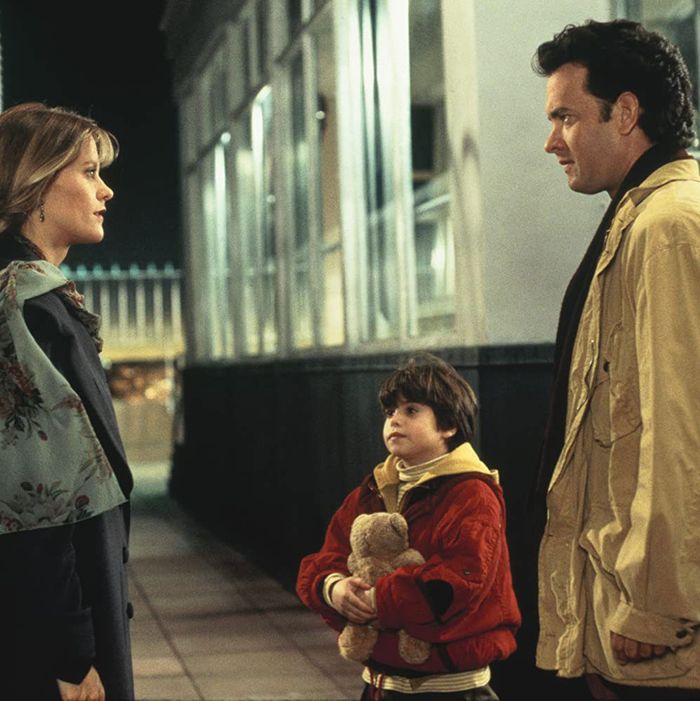 Sleepless in Seattle.
Photo: TriStar Pictures
This post is updated frequently as movies leave and enter Netflix. *New additions are indicated with an asterisk.
We could all use a laugh these days. As the world continues to depress people, turn to Netflix and find something to escape the news in their ever-rotating comedy section. There are a few originals that won't be going anywhere, but what about the studio comedies that come and go from the streaming giant? How can you keep track of where to find laughter these days? We're here to help with this always-updated list of the best comedies on Netflix right now.
Year: 2013
Runtime: 1h 44m
Director: John Carney
The writer/director of Once reportedly began working on this after the success of that indie darling, leading to his most big-budget production to date. The musical dramedy stars Keira Knightley as a singer who is discovered by an executive played by Mark Ruffalo. It's not quite up to Carney's best but the stars are just charming enough to make for a reasonable distraction.
*Big Daddy
Year: 1999
Runtime: 1h 33m
Director: Dennis Dugan
Adam Sandler's 1999 comedy was one of the biggest of his career, coming in the wake of The Wedding Singer and The Waterboy and really making the Sandman into one of the biggest stars in the world. In fact, this story of a slacker who ends up having to take care of an actual child is Sandler's biggest non-animated hit at the box office, a reminder when his comedies landed in theaters instead of just on Netflix (and when they were much, much funnier too.)
Dope
Year: 2015
Runtime: 1h 42m
Director: Rick Famuyiwa
The writer/director of The Wood has a gift with location and how it influences young lives. Just look at this 2015 Sundance hit starring Shameik Moore, Tony Revolori, and Kiersey Clemons as three average Ingelwood teens who get caught up in a dangerous situation with a drug dealer. It's a vibrant, smart comedy that captures a modern coming-of-age narrative in a manner that feels genuine and true.
*Easy A
Year: 2010
Runtime: 1h 32m
Director: Will Gluck
Emma Stone burst on the scene in this clever 2010 comedy that has built a loyal fan base in the decade since its release. Partially inspired by The Scarlet Letter, it's the story of a high school girl who pretends to have sex at a party and gains a very unexpected reputation at school. It's got a smart script, but it's Stone's instant star power that really drives it.
Year: 2016
Runtime: 1h 44m
Director: Kelly Fremon Craig
The wonderful Hailee Steinfeld stars in this excellent coming-of-age dramedy about a high school junior in the Portland suburbs who learns some tough lessons about relationships and the general idiocy of adults. Going through a crisis since the death of her father, Steinfeld's Nadine struggles through her daily life in a way that's genuine and hysterical. This one also features fun supporting turns from Woody Harrelson and Haley Lu Richardson.
Year: 2020
Runtime: 2h 3m
Director: David Dobkin
Why did it take so long to satirize the wonderful, unapologetic excess of the Eurovision Song Contest? It was worth the wait because one of the funniest movies of 2020 starred Will Ferrell and Rachel McAdams as a pair of hapless Icelandic singers who turn the international singing contest upside down. Unapologetically goofy, this movie is a great escape for viewers from any country.
Fletch
Year: 1985
Runtime: 1h 38m
Director: Michael Ritchie
One of Chevy Chase's best screen performances came in the 1985 comedy based on the hit novels by Gregory McDonald. The character of a reporter nicknamed Fletch who gets drawn into an investigation after being asked to kill a millionaire is perfect for Chase, blending his physical comedy ability with that oversized ego.
Year: 2022
Runtime: 2h 19m
Director: Rian Johnson
The writer/director of Knives Out returned in late 2022 with a sequel to that smash hit, exclusively on Netflix. Daniel Craig returns as Benoit Blanc, the casual crime solver who finds himself on a billionaire's island in this latest comedy/mystery. Once again, Johnson assembles a murderer's row of talent, including Kate Hudson, Janelle Monae, Ed Norton, Dave Bautista, Kathryn Hahn, Leslie Odom Jr., and more. It's smart, funny, and thoroughly entertaining.
*The Hangover
Year: 2009
Runtime: 1h 39m
Director: Todd Phillips
It's hard to overstate how much this movie shook the world in 2009. No one on Earth thought an R-rated comedy about three buddies getting into trouble in Las Vegas would make half a billion dollars worldwide and launch a franchise. It turned everyone involved into household names and instantly became a comedy classic. Both sequels are also on Netflix.
Year: 1996
Runtime: 2h 18m
Director: Cameron Crowe
One of Cameron Crowe's best films became something of a punchline with its heavily quoted lines ("Show me the money," "You had me at hello," everything that cute kid says), but it's actually a character-driven romantic comedy that has held up incredibly well in the quarter-century since its release. Tom Cruise plays the title character, a sports agent who is pushed into starting his own agency while he falls in love with a single mother, played by Renee Zellweger. It's sweet, smart, and funny.
Year: 2021
Runtime: 1h 53m
Directors: Mike Rianda and Jeff Rowe
Originally planned for a theatrical release by Sony (with the much-worse title Connected), the studio sold this off to Netflix during the pandemic…and probably regretted that decision. One of the most critically and commercially beloved animated films of 2021, this is an incredibly smart and sweet family vacation movie, a comedy that's as much about a tender relationship between a father and daughter as it is the fact that they end up having to save the world together.
Year: 1975
Runtime: 1h 29m
Directors: Terry Gilliam and Terry Jones
During a hiatus between the third and fourth seasons of Monty Python's Family Circus, the gang of mega-talented comedians decided to make movie history. Inspired by the King Arthur legend, Holy Grail is a timeless comedy, the rare kind of film that will still be making people laugh hundreds of years from now. And while the Monty Python boys were already famous, this film took them to another level, cementing their place in movie history.
*National Lampoon's Animal House
Year: 1978
Runtime: 1h 48m
Director: John Landis
Maybe you've heard of it? One of the most influential comedies of all time is a great example of a flick in which the fun everyone was clearly having on set translated to the big screen. People forget how cheaply made this movie was and how most of the major players weren't stars at the time. They were just a bunch of friends getting together to do something funny. And they made movie history.
The Nice Guys
Year: 2016
Runtime: 1h 55m
Director: Shane Black
A bomb at the box office, this buddy comedy grows a more vocal fan base every time it drops on Netflix. It's easy to see why — it's a smart, funny, incredibly rewatchable comedy. The flick stars Russell Crowe and Ryan Gosling as a pair of awkward allies who get caught up in the case of a missing girl (Margaret Qualley). The real star here — other than the excellent chemistry of the leads — is Shane Black's razor-sharp dialogue. Watch this one so maybe they can get the budget together for a sequel before it's too late.
Notting Hill
Year: 1999
Runtime: 2h 4m
Director: Roger Michell
Remember when rom-coms could take pop culture by storm? That was still the case in 1999 when this actually became not just a hit but the highest grossing British film of all time. Why? Perfect star chemistry between ordinary guy Hugh Grant and Julia Roberts, playing one of the most famous actresses in the world. It was such a hit that it even earned its stars Golden Globe nominations for their performances.
The Nutty Professor
Year: 1996
Runtime: 1h 35m
Director: Tom Shadyac
Eddie Murphy gives one of his best comedy performances in this update of the 1963 Jerry Lewis classic that's notorious for the veteran actor playing multiple roles in the same family. The SNL vet plays a scientist who discovers a potion that completely changes the way he looks. And a few other characters too. The sequel is also on Netflix – double feature!
Parenthood
Year: 1989
Runtime: 2h 3m
Director: Ron Howard
Long before the NBC series of the same name (not currently on Netflix), Ron Howard directed a family comedy inspired by the massive families of the producers, director, and writers. There's really not much more to it than that simple premise, but it gets by on the likability of its large ensemble, which includes Steve Martin, Tom Hulce, Rick Moranis, Martha Plimpton, Joaquin Phoenix, Jason Robards, and a young Keanu Reeves.
Year: 2010
Runtime: 1h 52m
Director: Edgar Wright
Michael Cera stars in Edgar Wright's vibrant adaptation of Bryan Lee O'Malley's graphic novel, a movie that feels like it could come out exactly the same way today, almost a decade after its release. Wright's style is perfect for this material, capturing the tone and structure of the source material with his razor-sharp editing and wit.
*Sleepless in Seattle
Year: 1993
Runtime: 1h 45m
Director: Nora Ephron
We could all use a little romance every now and then and movies don't get much sweeter than this 1993 blockbuster that made Tom Hanks and Meg Ryan one of the most beloved movie couples of all time. Nora Ephron directs this story of a widower who moves to Seattle and tries to raise his 8-year-old son, and the Baltimore woman who hears his tragic tale and falls in love. Hopelessly romantic, it's the kind of movie they don't make that much anymore.
Twins
Year: 1988
Runtime: 1h 46m
Director: Ivan Reitman
Sometimes casting a comedy is half the battle. That's the case when someone decided to pair up Danny DeVito and Arnold Schwarzenneger as fraternal twin brothers who were separated at birth. This isn't the best film for either star (or its director) but it's a funny time capsule from when Ah-nuld was arguably the biggest star in the world.
If you subscribe to a service through our links, Vulture may earn an affiliate commission.