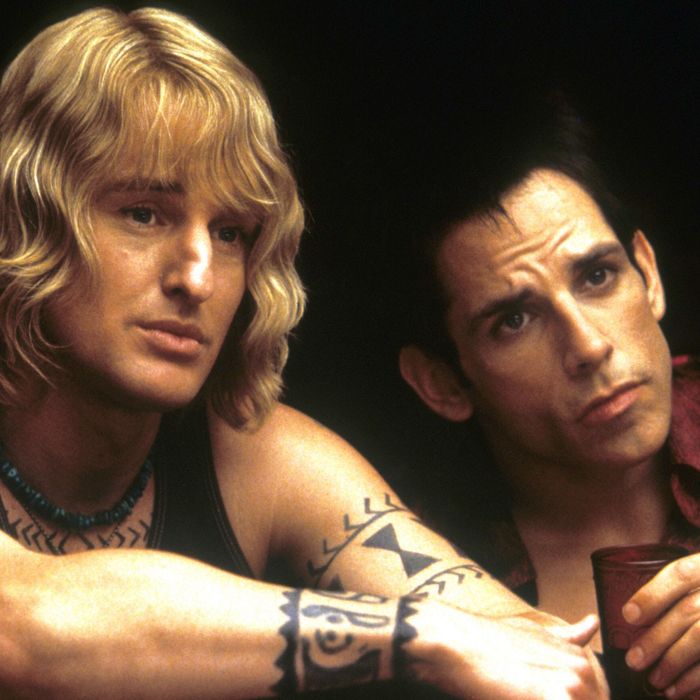 Zoolander
.
Photo: Paramount Pictures
This post is updated frequently as movies leave and enter Netflix. *New additions are indicated with an asterisk.
As the world continues to fall apart, don't you just want to something to make you laugh? Netflix is becoming the country's biggest source for a laughter after a long week at work, but it can be hard to find exactly what you're in the mood for when you log on to the service. So we're here to help. (And for more public service announcements, check out our regularly updated lists of the 100 Best Movies on Netflix and the 50 Best TV Series on Netflix.)
Sometimes the success of a rom-com comes down to little more than the likeability of its stars. That's certainly the case with this 2019 original, which doesn't break new ground as much as cast two wonderful comedians: Ali Wong and Randall Park, who play childhood friends who reunite later in life and try again.
Eric Andre turns his prank-tastic schtick into a brilliant hidden camera comedy that focuses its Borat-esque energy on the good people of this country, those who are shocked by Andre's ridiculous behavior, and often reach out to help. Andre plays a Florida Guy who travels with his buddy (Lil Rel Howery) to chase after who he thinks is the love of his life. Tiffany Haddish steals the movie, but it's really the bystanders who make it work.
Joel and Ethan Coen's Western anthology series was a part of Netflix's brand-redefining 2018. Sure, Netflix still has a bunch of junk, but they also landed the latest from Alfonso Cuaron, the Coens, and even Orson Welles. This brilliant Western works as comedy, drama, and even a commentary on the Coens themselves.
Audiences fell so in love with this look at barbershop culture in the Black community that they turned this low-budget film into a franchise with two sequels. Tim Story's 2002 film is charming and funny, held together by a great cast that includes Ice Cube, Cedric the Entertainer, and Anthony Anderson. One wonders what they'd be talking about at the barbershop in 2020. Maybe it's time for another sequel?
Beerfest
The great comedians of Broken Lizard (Super Troopers) produced one of their most underrated comedies in their 2006 flick about an underground drinking game tournament that takes place during Oktoberfest in Munich. Yes, it's a lot of dumb drunk guy humor but this ensemble is very good at this kind of thing, especially Kevin Heffernan, and Jay Chandrasekhar, who also directs.
John Carney (Once) directed this musical rom-com starring Mark Ruffalo as a record label executive who discovers a potential superstar in Keira Knightley's singer-songwriter. Like he did with Once, Carney finds the humanity in the world of creative musical expression and draws very likable performances from his two leads.
Another family movie! This adaptation of the famous kids' book by Judi and Ron Barrett completely expands on the world of its source material to tell the story of an inventor (voiced wonderfully by Bill Hader) who unleashes a storm of food. The character design here is clever and the script is very smart, written by Phil Lord and Christopher Miller, who went from this to make a little flick called The LEGO Movie and produce Spider-Man: Into the Spider-Verse. They know a thing or two about great cartoons.
The cast of directors Glen Ficarra and John Requa's 2011 rom-com hit was impressive when it came out but looks even more remarkable now. Steve Carell, Ryan Gosling, Julianne Moore, Emma Stone, Marisa Tomei, and Kevin Bacon star in an ensemble piece about the ups and downs of trying to build and maintain a relationship in the modern era.
Eddie Murphy is back! It's been a long time since we saw this version of Eddie, who reminds us how funny and charismatic he can be with the right part. That part is the flashy personality that was Rudy Ray Moore, a washed-up musician who transformed himself into the character of Dolemite. Like The Disaster Artist and Ed Wood, this is an ode to DIY filmmaking with not just a great performance from Murphy, but Wesley Snipes and Keegan Michael Key too.
Zack Galifianakis struck while the iron was hot after his breakthrough comedy turn in The Hangover movies and starred alongside Iron Man himself in another Todd Phillips vehicle. In what's basically a loose riff on Planes, Trains & Automobiles, Robert Downey Jr. and Galifianakis star as mismatched travelers trying to get across the country so RDJ can be there for the birth of his child. It's a bit forgettable but the two leads make it a worthwhile distraction on Netflix.
There was a time, young readers, when Eddie Murphy was the biggest stand-up comedian in the world. Raw remains the highest-grossing stand-up comedy concert movie of all time, and one of the funniest that will ever be made.
Great comedies about those harrowing days of late teenage life, especially from a female perspective, are few and far between. So it's a shame that more people didn't see this one with Hailee Steinfeld, Haley Lu Richardson, and Woody Harrelson. It's truthful, hysterical, and anchored in reality in a way that most of the movies don't even try to be.
One of the most delightful surprises of the dumpster fire that is Summer 2020 has been Eurovision Song Contest, an unexpectedly sweet and clever flick and Will Ferrell's best comedy in a decade. The Anchorman star plays half of an Icelandic duo who stumble their way through the Eurovision singing contest, but the movie really belongs to Rachel McAdams, who gives a performance that joyfully reminds everyone that she has absolutely perfect comic timing.
Nicholas Stoller directed a charming 2008 rom-com that stars Jason Segel as a man desperately trying to get over a recent break-up with his celebrity girlfriend named Sarah Marshall (Kristen Bell). To move on, he goes to Hawaii for a vacation, and just so happens to run into Sarah and her new boy toy, played so memorably by Russell Brand that he actually got a spin-off of his own in Get Him to the Greek.
The 2005 remake isn't as good as the 1977 film of the same name, but Netflix only has the new one, so it will have to do. Co-written by Judd Apatow, Fun with Dick and Jane is the story of a middle-class couple who hit the skids and turn to a life of crime to maintain their quality of life. It's a broadly silly movie but features a committed performance from Jim Carrey, who has fun chemistry with Tea Leoni.
Guy Ritchie's films blur the line between action and comedy. Take his 2019 ensemble piece with one of his massive casts of suave men behaving badly, including Matthew McConaughey, Charlie Hunnam, Henry Golding, Jeremy Strong, Eddie Marsan, Colin Farrell, and Hugh Grant. It's not one of Ritchie's best, but it has a loyal and growing fan base who may be excited to learn it's on Netflix.
One of Adam Sandler's biggest hits, the 2010 comedy gets the whole gang together, including Kevin James, Chris Rock, David Spade, and Rob Schneider. The five guys play lifelong friends who reunite after the death of their beloved basketball coach who took them to a championship in high school. It's more goofy Happy Madison stuff, but this one has a big heart and a loyal following.
The Coen brothers wrote and directed this divisive 2016 comedy about the film industry in the 1950s. Forget Ryan Murphy's Hollywood and stick with this razor sharp gem with a great Coen ensemble that includes Josh Brolin, George Clooney, Ralph Fiennes, Jonah Hill, and many more.
Alice Wu wrote and directed a delightful coming-of-age dramedy that spins the norms. A loose retelling of Cyrano de Bergerac, it features a star-making performance from Leah Lewis as Ellie Chu, a girl who starts writing love letters for the awkward Paul Munsky (Daniel Diemer). The object of his affection, Aster Flores (Alexxis Lemire), turns out to be more than just a typical unrequited love. It's a sweet and smart film.
The Farrelly Brothers basically ended their comedy run with this gross-out comedy that doesn't exactly hold up in terms of gender relations but works on a lazy Netflix afternoon because of the charisma of its likeable stars: Owen Wilson & Jason Sudeikis. The comedy stars play two husbands who get a hall pass for a week—the freedom to do whatever they want with other women—and have no idea what to do with it.
Netflix may have all those new Adam Sandler comedies that they promote like crazy, but they finally got back the classic one that really made the Sandman a star. Just ignore (most) of the recent stuff and go back to the beginning, watching what is still Sandler's funniest movie overall. Forever quotable and still hilarious twenty years later, Happy Gilmore now seems to be a comedy landmark that Sandler may never top.
*Harold & Kumar Go to White Castle
These two stoners really get around. The iconic characters from the 2004 comedy classic have been jumping from streaming service to streaming service lately, now landing on Netflix. Watch this progressive and hysterical comedy before they pack up their stuff and move on yet again. (Although you'll have to look elsewhere for the sequels.)
Michael Showalter just directed Jessica Chastain to an Oscar, but he also helmed a great performance from the legendary Sally Field back in 2015. She plays Doris, a woman in her 60s who decides she's going to take a stab at the happiness that has long evaded her. Tender and funny, his comedy features one of Field's career-best performances.
James L. Brooks is a legend. The man directed Broadcast News and helped create The Simpsons. The bad news is that he's basically retired as this 2010 romantic comedy is his last effort (and the last work from Jack Nicholson). It's another character study rom-com from Brooks that may not hold up with his career-best works but is worth seeing for the ensemble, which also includes Reese Witherspoon, Owen Wilson, and Paul Rudd.
Before he made Hemsworth your favorite Chris in Thor: Ragnarok, Taika Waititi wrote and directed this adaptation of Barry Crump's Wild Pork and Watercress. Ricky Baker (Julian Dennison) has a new foster family, including a sweet foster mother. Sadly, he's stuck with the surly husband when his new mom passes away, leading Ricky and Hec (Sam Neill) on an unforgettable adventure. Funny and truly heartwarming, this is a comedy that's almost impossible to dislike.
There are not a lot of great Netflix Original comedies (sorry, Adam Sandler fans) as the company has focused more on sci-fi and drama in its first few years of nonstop production. One of the exceptions is this Sundance hit, a great vehicle for Jessica Williams. The former Daily Show correspondent stars as the title character, someone trying to find happiness and love. She's charming and delightful in a movie that not enough people have seen.
The Jackass boys are coming back strong in the 2020s with Jackass Forever and the news that Paramount+ is moving forward with a new TV series iteration. Strangely enough, the alternate version of the fourth film is coming to Netflix, not Paramount+, which could explain why the streaming giant added the first three movies in May.
Just Like Heaven
There was a time in the '00s when Reese Witherspoon was one of the biggest rom-com stars in the world, and the genre was so common that writers kept coming up with weirder and weirder concepts to get beautiful people together. Take the 2005 kooky flick about a dead woman who falls in love with the apartment dweller she's haunting, played by a charming Mark Ruffalo. It's not great, but it has a pretty strong fan base who may have been just the right age when it was released.
Greta Gerwig's Oscar nominee is one of the most personal and striking coming-of-age films of the 2010s. Saoirse Ronan stars as a young Californian who longs for someplace cooler than her own hometown. It's a heartfelt and very smart film, buoyed by great performances throughout, including Ronan, Tracy Letts, Timothee Chalamet, Lucas Hedges, Beanie Feldstein, and Laurie Metcalf, who was robbed of that Oscar.
Nicole Holofcener is one of the most underappreciated writer-directors alive, even if she did just earn an Oscar nod for co-writing Can You Ever Forgive Me? You simply have to see Enough Said, Lovely and Amazing, and Please Give. Her latest stars Ben Mendelsohn as a man deep in a mid-life crisis that comes from the realization that he's not as important as he thought that he was his whole life. It's not as good as some of her best work, but minor Holofcener is still worth a look.
It wouldn't be Christmas without arguments over whether or not this 2003 Richard Curtis ensemble rom-com is any good. And yet Netflix decided to avoid that discussion by adding it to their streaming service just before Spring. Tricky! You probably know already if you love or hate this…actually.
Woody Allen is probably done releasing movies stateside, so this will be one of his final greats, a 2011 comedy in which the writer/director explores his own fascination with the draw of nostalgia. It's the story of a screenwriter (Owen Wilson) who literally travels back in time every night, and starts to get stuck in the past, much like Allen has in some of his films.
Once set to be released in theaters with the name Connected, Sony shipped the project off to Netflix, and the result is one of the most delightful animated films of 2021. Produced by Phil Lord & Chris Miller of The LEGO Movie fame, this wonderful film is like a hybrid of a family road comedy like Vacation and a robot apocalypse movie like T2: Judgment Day. With great voice work and vibrant visuals, it's a Netflix original that people will be talking about all year.
There's a bunch of Monty Python specials and movies on Netflix, but this remains arguably the career peak of one of the most beloved comedy troupes of all time. A parody of tales like those of the Knights of the Round Table, Holy Grail is one of the most heavily quoted movies of all time, a comedy that feels like it's playing in some theater somewhere in the world, probably at midnight, every single day. Its popularity simply never recedes.
Holy Grail may be laugh-out-loud funnier, but it's arguable that Life of Brian is actually smarter. Monty Python's most controversial movie stars Graham Chapman as Brian Cohen, the neighbor of Jesus Christ. It's an incredibly smart film that caused quite an uproar when it was released due to accusations of blasphemy. Modern comedy could use a little more blasphemy every now and then.
Not every movie on a list like this should be a smash hit, so we're digging a little deeper for this South by Southwest hit starring the delightful Noël Wells of Master of None and Saturday Night Live. She also wrote and directed this story of a young lady returning to her hometown and dealing with some unresolved issues regarding her ex-boyfriend, now with a new partner. Wells is charming and funny.
He's getting a lot of awards buzz for Don't Look Up in 2022, but that's not the only Adam McKay film on Netflix. One of his last pure comedies (and one of his last collaborations with Will Ferrell), this action spoof stars Ferrell and Mark Wahlberg as the cops who almost never get their man. A classic buddy comedy dynamic allows Ferrell and Wahlberg to riff off each other's on-screen personas in a way that's consistently funny and clever.
Andrew Bujalski's Support the Girls got a lot of buzz last year, even winning some awards for its great central performance from Regina Hall. If you liked it, check out Bujalski's last film, another movie about a very unique working environment. Cobie Smulders, Guy Pearce, and Kevin Corrigan star in this quirky rom-com set in the high-pressure world of personal trainers.
Road Trip
Remember in the wake of American Pie how every studio wanted a raunchy comedy for teenagers of their own? One of the more memorable of this generally awful genre was this 2000 flick from Todd Phillips, who would go on to direct Old School, The Hangover, and a little movie called Joker. One's tolerance for Tom Green will impact enjoyment here.
When Set It Up hit Netflix in the Summer of 2018, it felt like a splash of cold water for one reason: the rom-com is in a dire state. They barely get released in theaters at all any more, and they're typically awful when they do. So to see an old-fashioned, charming romantic comedy felt like something new again. It also helps that Zoey Deutch and Glen Powell have future stars written all over them. They're charming and delightful — two things we wish we could say about more rom-coms in the past decade.
Silver Linings Playbook
Sometimes a director finds a cast at just the right time and that's exactly what happened when David O. Russell tapped Bradley Cooper, Jennifer Lawrence, Robert De Niro, and Jacki Weaver in this romantic dramedy. They're all perfect, making this one of the more likable and easy-to-watch movies you could possibly bring up on Netflix.
Boots Riley writes and directs one of the most daring debuts of 2018 in a satire of modern race relations and corporate dynamics. Lakeith Stanfield stars as a man who climbs the ladder of a telemarketing company only to find true horrors on the top floors. It's smart, strange, and unforgettable.
Starsky and Hutch
Before he made a fortune with The Hangover, Todd Phillips directed an adaptation of the hit TV series from the '70s, turning the action show into more of a physical comedy. It's not a classic comedy, but it's fun to watch now to see so many great comedians near the peak of their abilities, including Ben Stiller and Owen Wilson in the title roles, and supporting turns from Vince Vaughn, Jason Bateman, Terry Crews, and the one and only Snoop Dogg.
The wonderful Lynn Shelton died unexpectedly in 2020, but her last film is on Netflix waiting to be discovered. Shelton gave her partner Marc Maron his best film role to date, and dropped him into an ensemble that includes Michaela Watkins, Toby Huss, Dan Bakkedahl, Jillian Bell, and Shelton herself, giving a fantastic performance that now feels all the more poignant. It's a funny and smart character study.
If a studio had released this delightful romantic dramedy in theaters, even just in major cities, people would have noticed. It's smart, funny, and contains a pair of wonderful young performances. It's the story of Danny (Callum Turner) and Ellie (Grace Van Patten), two struggling New Yorkers drawn together over a mysterious briefcase.
Meg Ryan and Billy Crystal star in a 1989 rom-com that became an essential movie about whether or not men and women can truly be friends without romance entering into the picture. Ryan and Crystal have arguably never been as charming as they are here, but it's really Nora Ephron's razor-sharp script that made When Harry Met Sally an instant classic.
Yes, God, Yes
Natalie Dyer (Stranger Things) is delightful in this 2020 coming-of-age comedy that has had a quick cycle from July VOD to Netflix. She plays Alice, a junior at a Catholic high school in 2000 who learns a few things about sexuality. It's a smart character study that avoids the clichés of the teen sex comedy to present something truer.
Nora Ephron reunited with the stars of Sleepless in Seattle for her massive 1998 rom-com hit. A loose adaptation of The Shop Around the Corner, this flick tells the story of two people who meet and fall in love online only to discover that they are business rivals. It's a flawed script but the charming star power and strong chemistry between Tom Hanks and Meg Ryan makes it so very easy to love.
Jason Reitman directs the always-great Charlize Theron in this 2011 dark comedy about a writer of young adult novels who returns to her hometown to wreak havoc. The movie is a bit inconsistent at times but Theron (and Patton Oswalt) is simply great, especially in the way she allows her character to be genuinely unlikable. It's a smart movie about someone who thinks she's superior to those around her and learns maybe she's not.
It's a little crazy that it's been over two decades since Ben Stiller stepped into the expensive shoes of Derek Zoolander and came back with one of the more memorable comedies of the 2010s. Directed by Russell Bates, this comedy really spins the manic energy that Stiller had on his show into something fresh and original. And Zoolander also features a great supporting turn from Will Ferrell as the ridiculous Jacobin Mugatu.