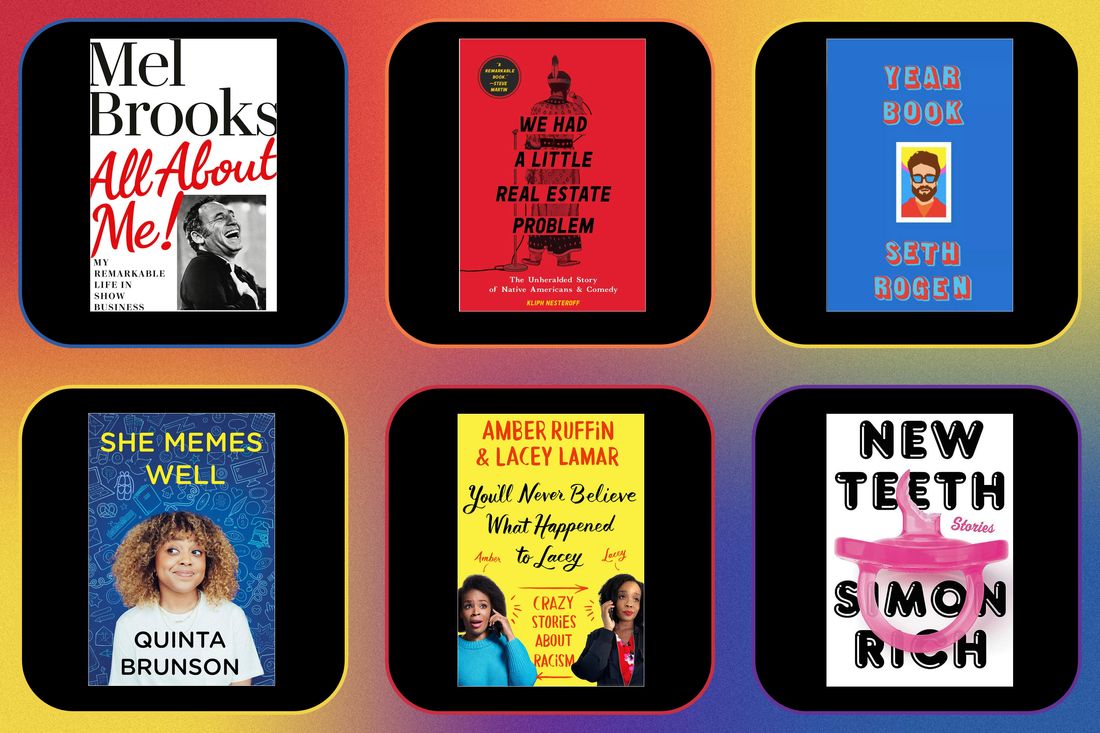 Photo-Illustration: Vulture; Photos by Publishers
Reading during times of strife — however you choose to define that — can serve two important functions: education and self-medication. Comedy books have always been a means to those ends, and 2021 introduced a number of titles offering much-needed information and entertainment alike. There arrived works of fiction designed solely to make the reader laugh and feel nice, nonfiction books about the process of provoking laughter, and titles by comedians about how they manage to be funny and stay funny in even the darkest of tough times.
Maybe it's because we were all still sheltering in place and locking down for large swaths of the year, but it seems we, as a society, read more in 2021. Perhaps we'd exhausted all our screen-entertainment options from the part of the pandemic that occurred in 2020, but it just feels as if we had more time and opportunity to enjoy a book this year — at least more than we'd had in the past.
Here, then, are the ten best books of the year that are about comedy, are comedy, or were written by comedy people or comedy-adjacent people about comedy-type things.
10.

I Am Not a Wolf, by Dan Sheehan
Writing a novel in the second person — in which the protagonist is literally "you" — is both hard and rare, not seen much beyond the Choose Your Own Adventure books of our collective childhood. In I Am Not a Wolf, Sheehan fully commits to and elevates the you-are-there and interactive-fiction concepts to absurd heights. Herein, the reader is a wolf, albeit one passing for human and enjoying a thriving, successful life while desperately trying to keep their status as a wolf a secret at every turn. It's kind of like a video game, but way funnier and somehow more fun, too.
9.

Big Time: Stories, by Jen Spyra
As a writer for the Onion and The Late Show With Stephen Colbert, Spyra's comic footprint has shaped several of our most high-profile comedic institutions, but Big Time shows her full sensibility, unfiltered and left to run to its absurd ends. Spyra has, in other words, hit the big time here (sorry), unlike the characters in her wonderful, unpredictable, and comically dazzling stories, who keep boldly pursuing their dreams only for everything to go hopelessly awry. Take the bride-to-be, willing to do whatever it takes to lose a little weight, including plunging her life into chaos and terror. And then there's the little kid who, after a magical snowman comes to life, endures that experience as if it were real — and it's far from whimsical. The comic essays that seem to hit are the ones that take a familiar or relatable premise and blow it up, and Spyra is clearly an expert at this.
8.

She Memes Well, by Quinta Brunson
Here is a book that is a comedy book, but which also provides a thoughtful critique on the predominant comedy of our era: internet comedy. And it's written by a person who makes a lot of great internet comedy. Brunson lays out the context of online humor in essays about how she and her generation live their lives almost entirely online, opening up the idea that comedy can be as democratized as the digital world. It's a fascinating look at how culture and commerce intersect, as well as the implications of the takeover of meta, silly, self-conscious comedy, much of it pioneered by Brunson.
7.

Penny Pinching Tips for the Morally Bankrupt, by Libby Marshall
Marshall is a regular contributor to some of the internet's most vital humor sites, especially Reductress and the Belladonnas, and this is her first stab at a collection of comic essays. These short stories share a common through line of death and darkness, and they're written from the supposition that day-to-day life isn't mundane, but aggressively (and hilariously) cruel. Every story is daringly high concept, and Marshall pulls it off every time. Highlights include the tale of an elderly serial killer who decides to murder her high-school nemesis when she moves into her nursing home, the saga of a man dating after his wife dies in the Salem witch trials, and a piece about a Chuck E. Cheese haunted by the ghost of Princess Diana. Penny Pinching Tips is just a startling and deeply funny book from a forward-thinking and singular comic voice.
6.

You'll Never Believe What Happened to Lacey: Crazy Stories About Racism, by Amber Ruffin and Lacey Lamar
Racism obviously isn't funny, but calling it out — ridiculing people for saying and doing racist things — can be extremely funny, particularly when the people doing the exposing are Ruffin and her sister Lamar. Ruffin is the most engaging of all the late-night TV hosts, and the alternately breezy and provocative The Amber Ruffin Show is about the only show in the genre that routinely features satirical sketches and discusses racial issues. You'll Never Believe What Happened to Lacey is an outgrowth of that — bluntly presented but also incredulously mocked examples of the times that the authors, two Black women, have encountered casual and blatant racism. All comedy points out the absurdities and cruelties of life; great comedy fearlessly strikes back.
5.

Funny Thing About Minnesota …: The Rise, Fall, and Rebirth of the Twin Cities Comedy Scene, by Patrick Strait
We've probably got enough books about the comedy scenes and movements that developed in New York, Chicago, and Los Angeles, so it's utterly refreshing to get this one about the innovation that came out of the greater Minneapolis–St. Paul area in the '70s and '80s. Strait celebrates and carefully details the unique comedy of figures like Louie Anderson and Joel Hodgson, which could only have come from a midsize, semi-isolated city.
4.

All About Me!: My Remarkable Life in Show Business, by Mel Brooks
Finally, a firsthand account from one of the few titans of 20th-century American comedy yet to publish a memoir, which also serves as a history of modern humor. Brooks is a human trajectory from Borscht Belt performers to early television to '70s renegade filmmaking. All About Me! is thoroughly in Brooks's familiar, forever hustling, supremely confident voice, his boisterous barking in your ear as he energetically remembers every untold story from every important project he worked on like Sid Caesar's sketch shows, Get Smart, The Producers, Blazing Saddles, and Young Frankenstein as well as less heralded but still influential stuff like Spaceballs.
3.

New Teeth: Stories, by Simon Rich
Every new arrival from Simon Rich, a former SNL writer whose works inspired the series Man Seeking Woman and Miracle Workers, is cause for celebration. His long short stories are often high concept with premises that anyone else would make corny and cringy. He is unfailingly, unselfconsciously clever, with joy permeating his work. That's the case for this book too, which also has a throughline of literary comedy sketches or word cartoons written by new husbands and fathers trying to reckon with the ensuing changes. This is most emblematic in a story about a sentient abandoned laser-disc player and some agile, noirish detective fiction written from the point of view of a baby.
2.

Yearbook, by Seth Rogen
There are comedy memoirs, and then there are comedian memoirs. It's a real treat when a memoir by a comedian is actually as funny and vital as the work that got them into memoir-writing territory, but Yearbook is just that delightful. This midlife look back from the man behind Superbad and Sausage Party is amusing and insightful, a glimpse into the brain workings of a pop artist who doesn't take life too seriously but who does take work seriously. Rogen writes lovingly and excitedly of his unbelievable party stories and misadventures, such as almost getting mauled by a tiger, a very bad shroom trip, and an impromptu meeting with Kanye West when he listened to an album that was never released.
1.

We Had a Little Real Estate Problem: The Unheralded Story of Native Americans & Comedy, by Kliph Nesteroff
From Nesteroff, author of The Comedians, the best and most exhaustive book ever written about stand-up comedy, comes his follow-up, a thoughtful, passionate, and extremely well-researched look at the rarely examined history of Native American comedy. Rather than provide a didactic encyclopedic-style survey of the uses and impact of comedy in Native American communities, Nesteroff takes a descriptive journalism approach, letting comedians tell their stories. Pursuing comedy is a grind, no matter who might be making it, but for the comics in We Had a Little Real Estate Problem (which derives its name from a breathtakingly perfect joke from one of the subjects profiled, Charlie Hill), it's even tougher when the battles against racism are constant and the voices of one's community, referring generally to Native Americans, have been systematically and harshly suppressed for centuries. Like The Comedians, Nesteroff provides a history of one part of American life that also tells the story of something much more vast.
Honorable Mentions
Throughout 2021, Brian Boone maintained a "Best Comedy Books of the Year (So Far)" list. Many of those selections appear above in his Top 10 picks. Below are the rest of the books that stood out to Boone this year.
Photo: Publisher
Not a cynical parody of the familiar childhood storybook pals but an update of the extremely fussy BFFs as they navigate the annoyances and problems of daily life such as WiFi, low-grade anxiety, and inhospitable technology. Fun, relatable, silly, and warm.
Photo: Publisher
Here is a giant treasury of short bits by famous and influential comedy women, most of it gritty, experimental, and a little too personal or odd to fit in the usual online, print, or TV humor channels. Solomon ties it all together with a structural framework that offers writers probing and open-ended questions and prompts like "What's the hardest you've ever laughed?"
Photo: Publisher
One of the funniest people alive, as evidenced by her work on Happy Endings and Black Monday, Wilson gives us a look into the comical mind with this essays-as-memoir collection about standout silly, humiliating, and gonzo moments.