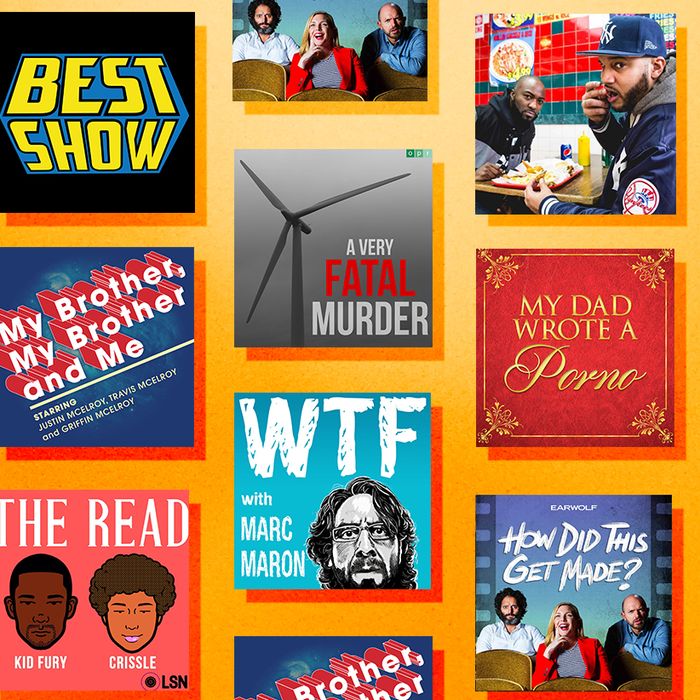 The story of comedy podcasts is actually pretty funny in itself. For a lot of people, podcasting was seen as something to do if your career had yet to take off or if it had stalled. If you couldn't get a coveted spot on late night, or your offers had begun to dry up, why not just start your own thing? Over the years, podcasts turned into a launch pad, providing the ability to raise profiles and even inspire television careers. Of course, then came the punchline: The medium came full circle, and established film and TV stars decided to also become podcasters. So what happened in between?
It can be tricky to pin down the origins of the comedy podcast, and trying to do so will surely inspire debate. From the onset, though, the medium served an important function: removing the gatekeepers. Lesser-known comedians were allowed to refine their skills in the comfort of their own home, while relative veterans were able to provide a platform to up-and-comers who might otherwise wait years to take the spotlight. This is best evidenced by podcast pioneers like Marc Maron and Scott Aukerman. Both, in their own way, sparked something not only instrumental to the comedy genre but the medium at large — Maron with WTF, a foundational modern interview podcast, and Aukerman with Comedy Bang! Bang!, whose mix of talent discovery and improv wizardry inspired a generation of podcasts.
Since then, the genre has boomed alongside podcasting itself, resulting in an endless march of shows competing for your ears. In putting together this canon of essentials, we reflected on the most important and influential titles to shape the genre to this point, with an eye toward covering the depth and breadth of a famously amorphous genre. What is a comedy podcast, anyway? You'll know it when you're laughing at it.
The Best Show's influence on comedy podcasting is undeniable. Threads of it are evident in podcasts as different from one another as Hollywood Handbook — which has heavily featured The Best Show host Tom Scharpling — and This Is Branchburg, which also relies on a fictionalized New Jersey to host its idiosyncratic characters. With a blend of music, call-in guests, and straight-up comedy, Best Show started as a proper radio show on the independent, listener-supported New Jersey community station WFMU. In 2014, Scharpling moved it to the internet and never looked back, thanks in large part to the show's insatiable fandom. Surely this is the result of the call-in aspect remaining, which allows listeners some stake in the show, reaffirming podcasting's ability to obliterate the wall between the art and its audience. It doesn't hurt that Scharpling has Jon Wurster at his side to riff on now iconic characters like Philly Boy Roy, a Philadelphia fanatic and former mayor of Newbridge, NJ, out of thin air. Put it all together, and you've got a consistently strong output that delights fans and newcomers alike.
While some of the podcasts on this list mark clear shifts in the medium, Comedy Bang! Bang! marks a beginning. It's perhaps the easiest show to single out as a juggernaut; the podcast is ten years in with over 600 episodes, a testament to creator Scott Aukerman's unparalleled collaboration prowess. A true tastemaker with an ear for talent, Earwolf co-founder Aukerman has managed to consistently deliver side-splitting long-form improv by securing repeat characters and the skills of what just happen to be some of the most hilariously absurd comedians currently working, helping create a fully formed alternate universe for listeners to get lost in. Comedy Bang! Bang! not only set the bar, it also spawned its own constellation of affiliated podcasts, including progenies like Womp It Up! and With Special Guest Lauren Lapkus. An incubator for absurd improv comedy that might not fly elsewhere, the show honors the form while simultaneously heightening its function, to reliably risible results.
Earlier this year, when Variety put Conan O'Brien on its cover under a headline that credited the comedian for "driving" a boom in podcasts (later changed to "tapping into" to more accurately reflect his contributions), most podcast listeners asked: WTF? It was a fitting reaction given that anyone tuned into the podcast scene will point to Marc Maron, host of WTF, as the de facto godfather of comedy-interview podcasting. Maron, who started WTF in 2009, continues his long and successful run of candid interviews conducted from the comfort of his garage to this day, and his voice has become ingrained in the minds of millions. From Todd Glass coming out to Barack Obama coming by (an event that is often overlooked when attempting to ascertain when podcasts "made it"), Maron offers a masterclass in both interviewing and podcasting — as well as, yes, humor — proving that this medium's currency is in its ability to showcase the sincere, unifying power of conversation.
This advice podcast hosted by brothers Justin, Travis, and Griffin McElroy is a prime example of podcasting mainstay Maximum Fun's ability to keep a finger on the medium's pulse. The network, founded and run by public-radio veteran Jesse Thorn (the very same person Marc Maron consulted when getting WTF off the ground), added My Brother, My Brother And Me to its roster in 2011, and it turned out to be a genius marriage: Thorn's savvy paired with the McElroys' charm makes for a funny, poignant podcast that sees the hosts create an escape for listeners faced with the everyday terrors of living. Sure, sometimes the brothers eschew actual advice in favor of hilarious tangents, but that's because, in the end, they're just three people looking for the same weekly respite you are. What could be more relatable?
How Did This Get Made?, a sort of Mystery Science Theater 3000 meets At the Movies, is the perfect movie podcast. It's also the perfect comedy podcast. Perhaps it's simply the perfect podcast, period. Though many (many, many) have tried to replicate its "let's talk about movies but be funny" formula, none have succeeded at the level hosts Paul Scheer, June Diane Raphael, and Jason Mantzoukas have — and continue to on a weekly basis. The trick? They riff on rather than rip apart their beloved flops, which allows themselves and listeners to find the innate humor that lies within each failed film. It's a small but important distinction that sets How Did This Get Made? apart from the field, and the result is a true celebration of cinema. It also helps that while each host is hilarious, with distinct yet complementary comedic sensibilities. If Scheer's straight man approach is the launch pad, then Mantzoukas's unbridled enthusiasm is the rocket, and Raphael's pointed and poking questions are the parachute, setting listeners up for a wild and rewarding adventure.
Kid Fury and Crissle West's podcast, as they describe it, is all about "throwing shade and spilling tea with a flippant and humorous attitude," where "no star is safe … unless their name is Beyoncé. (Or Blue Ivy.)" Note how they immediately follow a serious declaration with a highly ridiculous one, and you can instantly understand The Read. A constant reminder of podcasting's power to be rewardingly raw, the hosts are unsparing in their takedowns of toxic people and practices both in the way they refuse to hide the unpleasant truth but also in the way that they are extremely generous with their knowledge. With its a distinctive comedic vibe that rests on the hosts' levity, from West's compelling rants to Fury's sarcastic burns and both of their quick retorts, The Read is a fast-paced and well-balanced show that enlightens and entertains equally, creating a benchmark for the genre.
What's worse than finding your parent's porn? Finding the porno your parent wrote. Lucky for listeners, they can live vicariously through Jamie Morton's cringeworthy discovery, never having to experience that sort of trauma firsthand. Joined by co-hosts James Cooper and Alice Levine, Morton reads through an amateur erotic novel, titled Belinda Blinked, written by his father under the pen name Rocky Flintstone. It's hysterical, but also fueled by the very human element that is Morton's working-class father's fantasy, which gives it a slightly heartwarming undertone. This is no doubt a factor in the show's enduring popularity, even if it's the rudimentary raunch and outrageously stumbling prose that first hooks you. My Dad Wrote a Porno is lightning in a bottle, a unique entry in the genre — and, fortunately, a project that Flintstone has fully committed to as he continues to write Belinda's story, this time with a large audience following along.
Bodega Boys finds Bronx comedians Desus Nice and the Kid Mero riffing for multiple hours at a time on any number of topics in pop culture and the news, no holds barred, and almost always without any guests. On paper, that might sound like a thousand other podcasts. What differentiates it, though, is the hosts' comedic chops. After meeting as teens and later reconnecting as adults via Twitter, Desus and Mero honed their comedy skills on the platform, revealing one animated and intelligent take after another. Relevant and relatable, the duo amassed a huge following; their influence can be seen all over Twitter, where their specific brand of observational humor and political satire has become a widely replicated form in itself. Now, of course, Desus and Mero are hosts of their own late-night TV show. A clear success story, Bodega Boys highlights the medium's ability to mint genuine stars.
Although it's been confirmed that we have not yet hit peak podcast, A Very Fatal Murder is a singular example of what that might look like. A pitch-perfect parody of true-crime shows in the vein of Serial, it's from an established media company (Onion Inc.), comes in at under 15 minutes an episode, and debuted its second season on Luminary — all of which is to say, it's so embedded in the medium that it almost loops around to parody itself, the ouroboros of podcasting. It's scripted, however, which means it's among a much less saturated section of the comedy-podcast universe. But mostly, it's a prime example of what can be achieved when creators are willing to walk a fine and fulfilling line between pushing the genre's boundaries and mastering the medium's successes.
Two comedians obsessed with pop culture hosting a podcast — what could be more … expected? Here's the difference: Las Culturistas hosts Matt Rogers and Bowen Yang represent a new wave of comedy podcasting that veers away from the medium's foundational mid-aughts onslaught of "one-to-two-straight-white-dudes-interview-another-straight-white-dude" shows. Rogers and Yang aren't just examples of a diverse comedy vanguard (Yang recently became Saturday Night Live's first Asian-American cast member), they're active curators of it, avoiding guests "mined from the podcast circuit often rehashing stories they shared elsewhere," as Sean Malin has written. They're also as happy to delight in their pop-culture topics as they are to dissect them, giving their humor a satisfying bite. Las Culturistas is a leading light of the modern comedy-podcast scene, proof that the medium remains a premiere avenue for emerging talent looking to polish their shine.