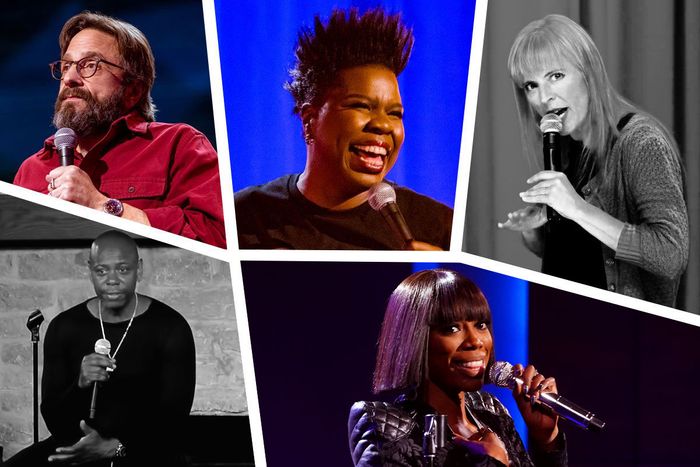 Photo: Vulture, Netflix, YouTube and Comedy Dynamics
It will be a strange year for comedy specials. Many of what would've been the blockbuster stand-up releases in the fall and winter months will be preempted, pushed back, or rewritten for some time in the future when it's safe again for comedians to perform in front of crowds. In the meantime, comedians are trying to work out how to adjust and what a stand-up special even looks like if you're not standing up somewhere in front of an audience.
So much of this list represents comedy made in a very different time, and some of it feels almost giddily out of place right now. I expect, when I update it again later this year, there will be more works like Ted Alexandro's — pieces that are figuring out how to build a new form in real time. But it's also a treat to still have comedy from before we all went into lockdown. Even the ones that can be downers sometimes (ahem, Marc Maron) still feel like vacation.
For a deeper discussion of the selections, listen to Kathryn VanArendonk on this week's Good One podcast. Tune in to Good One every Tuesday on Apple Podcasts, Spotify, Stitcher, Overcast, or wherever you get your podcasts.
Leslie Jones, Time Machine
Jones is such a buoyant, compelling stage presence, and one of the most impressive things about Time Machine is the way she embodies the time traveling she describes in the show's title. It gives the whole special a rhythm and sense of spectacle — Jones performing a dance she swears she did to try and catch Prince's attention is a particular highlight — but it's also unbelievably precise. Her body follows the dance moves, but her face communicates that she is still herself in this moment, laughing at the scene, enjoying how ridiculous it was, exhausted by this lengthy and absurd choreography. The show is deliciously silly, but the way Jones sits astride that gap between her current self and this younger, goofier person makes it a little poignant too.
Fortune Feimster, Sweet & Salty
The general arc of Feimster's hour is personally revelatory rather than strictly novel. It's a coming-out special, mostly, and she's hardly the first comedian to do extended material on sexuality, childhood awkwardness, and the sense of feeling socially out of place. Feimster's just particularly joyful about it, though. The whole special is magnetically appealing, especially because she clearly finds her own young, blinkered self to be so endearing and lovable. My favorite joke of the hour is a story about a swim meet, which Feimster somehow participated in enthusiastically even though she had no idea how to swim.
Maria Bamford, Weakness Is the Brand
Bamford's hour is so warm and weird and sharp and empathetic. She has a remarkable ability to balance her own inner monologue with her almost obsessive interest in how other people's brains work, and, as a result, she writes jokes that somehow manage to be both pointy and endlessly generous. When I reviewed this special earlier this year, it was only available as a download from Comedy Dynamics, but Weakness Is the Brand is now available on Amazon Prime, so I hope lots more people now watch it.
Taylor Tomlinson, Quarter-Life Crisis
Tomlinson's Quarter-Life Crisis is confident and snappy and so good that I quickly regretted rolling my eyes when I first read the title. I was prepared for it to be uninspired "dating in my 20s" jokes, but Tomlinson upended my expectations. Which is not to say that there aren't a lot of "dating in my 20s" jokes — there are! But she's able to tell them in a way that feels fresh and strange so they become that ideal combination of a wildly familiar topic told in an individual, interesting way. She's also especially strong when she does material about her childhood. The combination of those two ideas (dating, her upbringing) come together to become stories that are secretly about what it means to be a good parent and a good person (but funny, I promise!).
Marc Maron, End Times Fun
It's weird to make a special about the apocalypse and have it come out right as an apocalyptic pandemic sweeps the country. It's weird and good, I think, but that confluence still means that some viewers might be turned off by how frankly dire everything is in Maron's special. I hope they're not too turned off, though. The whole thing is fantastic, but it's worth watching especially for Maron's Book of Revelation–style closing segment, a mishmash of spiritual systems that combines Jesus, Iron Man, and current politics into a wildly bizarre fantasy sequence.
Ted Alexandro, Stay at Home Comedian 
It's wild and impossible to do a whole block of new material while under quarantine, staring into a screen with no direct audience feedback while stuck in a small apartment that also houses your wife and young baby. But Alexandro's Stay at Home Comedian works because it's mostly about its own impossibility and because he turns the strangeness of the situation into a twist on the usual form of the stand-up special. It's made out of sequentially edited slices of a few Instagram Live shows, and put together, they're sort of like editing multiple stand-up performances from the same venue into a single special. But because they take place over several weeks, they're also a record of Alexandro's progressing response to the crisis. It'll always be one of the works I think about when I think about this moment.
Patton Oswalt, I Love Everything
At his best in this special, Oswalt is essentially a portraitist of lovable outcasts. While he talks a little about his life, his family, and parenting, he comes alive most when he's drawing a picture of some strange character who lives in a pocket of the world Oswalt mostly invents. His joke about an apology his wife leaves on his car windshield is a classic example: It could just be a bit about the argument they've had and the strangely worded note she leaves him. But no — for Oswalt, that note conjures an imaginary serial killer, someone stalking him in the woods. The whole special is like that, just case after case of strange individuals who live almost entirely in Oswalt's mind.
Hannah Gadsby, Douglas
Douglas is less consistent and less full of righteous rage than its famous predecessor Nanette, but its looseness is still about ten degrees tighter than most hour-long specials. Gadsby has an intense love of maps and structure, and in Douglas that love becomes its own joke, as Gadsby begins the special by explaining the whole arc of the hour in fairly minute detail. It's tough to live in such a meta-aware space and have the comedy produce gut-level laughter rather than knowing chuckles of recognition, but at times in Douglas, Gadsby manages to do both. It's more fun than I was expecting, even when it also indulges in Gadsby's need to needle and scold. In all, it's exactly what a new Gadsby special should be.
Yvonne Orji, Momma, I Made It!
Yvonne Orji has an unbelievably dynamic stage presence, the kind of magnetism that would make it hard to look away, even if her material were less interesting. But her command onstage is supported by lots of sharp, carefully wrought material, and Orji comes off as both totally comfortable and absolutely meticulous in her work. In Momma, I Made It!, Orji demonstrates her skill with creating characters, and in the strongest material of the special, she's able to shift seamlessly between many voices. Her fluency is a product of Orji's background as a Nigerian-American woman, but her mastery comes from her skills in observation, mimicry, and rhythmic control.
Dave Chappelle, 8:46
Dave Chappelle's half-hour special, which appeared on Netflix's YouTube comedy channel, is perhaps not comedy — at the very least, it's not designed to make his audience laugh. But the form and the trappings of comedy are all there, at least as much as anything can be at a time when it's not safe for audiences to gather together. Chappelle stands on an outdoor stage, and while people watch (sitting safe distances from one another), he delivers a performance that works in the rhythms of comedy but uses them to discuss horror and despair. His title is a reference to the length of time a police officer took to murder George Floyd, and in the special, Chappelle comments on Floyd's death and also discusses his frustration with his own position as someone expected to comment on it. 8:46 is as much like a sermon as it is stand-up comedy, and its strength is in the bracing collision between the two forms.