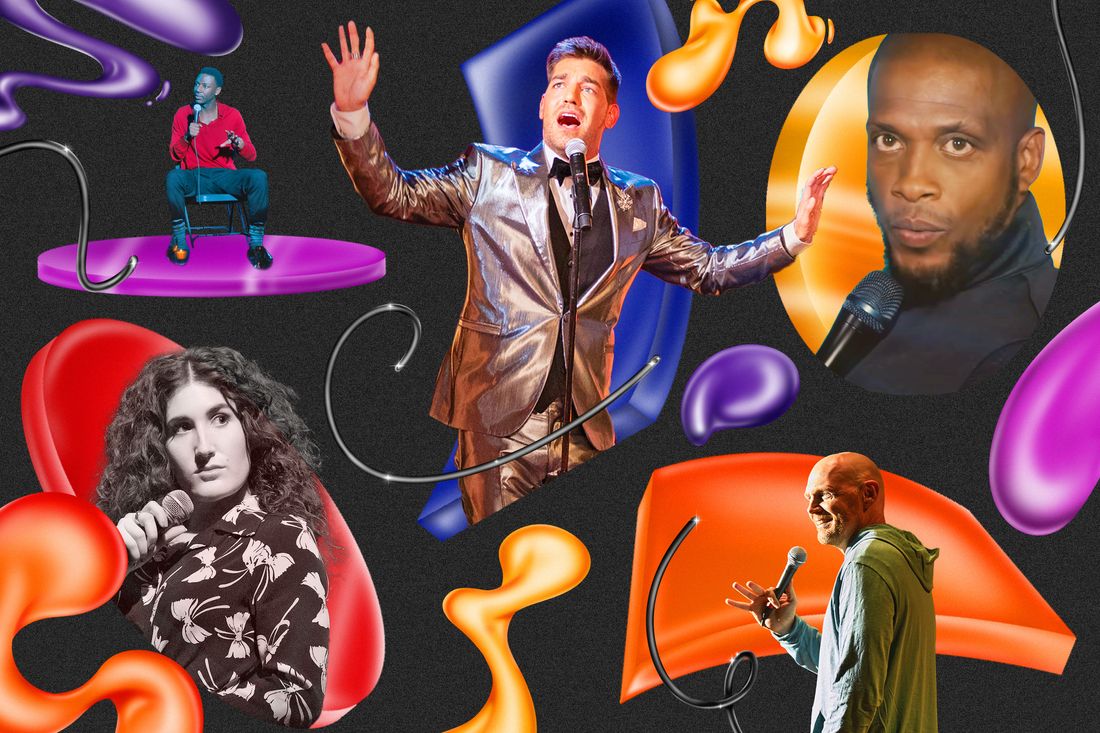 Photo-Illustration: Rowena Lloyd and Susanna Hayward; Photos: Courtesy of the Networks
For a few years now, the list of best comedy specials has been eclipsed by the realities of live performance at a time when live performance fell somewhere between impossible and "really, really hard." We're now in a world where the typical elements of comedy performances are largely back in place: Tours are happening again, clubs are open, and everyone's desperately trying to figure out how to talk about life right now without using words like sourdough or quarantine. And yet, because of the lag time between production and release, and because it can take lots of time to really develop an hour of great material, much of 2022 has felt like a recovery year. There's no way around it! Many specials this year felt like they were made by people who were gettin' back on the horse, and the only way out of that phase is through it.
The best specials of 2022, though, were ones made by comedians who had managed to skip past that feeling of awkward return. They were remarkably assured hours, sometimes from newcomers and often from comedians with a great deal more experience to help cushion the past few years' disruption. Most importantly, the year's best specials tended to be the ones that feel like they have some urgency behind their existence, a pent-up energy of needing to capture this thing at this moment. That thrumming sense of inner purpose makes it easier for a special to transcend the peculiarities of any given moment — and when there's something specific to say, it's easier to assume that there's no need for sourdough-related throat-clearing. Audiences are ready for something else, and these are the specials that provided.
10.

Atsuko Okatsuka, The Intruder
A fun, assured, well-crafted example of how to do an hour-long special on a major platform: Atsuko Okatsuka's The Intruder is a balance of introductory material for audiences who won't already know her work and a few long-form, well-developed anecdotes that make this special distinctive for established fans. The joke from the special's title is one of the latter. In it, Okatsuka uses a story about someone trying to break into her home as a way to pull together all kinds of material about herself, her family, and her comic sensibility. By using it as a framework for how she reacts to things, what her husband is like, where she lives, what she likes, and what she wants, the intruder story becomes a canny way to explore all of these facets of who Okatsuka is as a comedian. She is, as she describes herself in the special, a comedian who looks like she works in an art gallery — all abstract shapes and chunky kindercore accessories. But the aesthetic is much like Okatsuka herself: a comedian who packs a lot of intensity into one clear, organized, curated space.
Premieres on HBO on December 10.
9.

Lil Rel Howery, I Said It. Y'all Thinking It.
Some specials are highly controlled, painstaking productions that are the result of years of careful storytelling development that become showcases for everything a comedian is and can do. And some specials are a whole party. Lil Rel Howery's previous special from 2019 was one of those meticulous showcases. His 2022 special, filmed where Howery grew up in Chicago, is like someone crammed a block party into a theater and Howery is a DJ flipping through a set list of all the songs he knows this hometown crowd will love the most. Many of the jokes are literally musical: Rel is particularly fond of jokes that let him sing, and this special is full of them. More broadly, though, this hour feels like it's tuning into a radio station full of beloved cultural references — recent news stories, reinterpretations of old movies, anecdotes about high-school friends cruising around Chicago neighborhoods. It's messy and sweet, and it captures something few specials ever do: a comedian who is happy and who wants to share that feeling with everyone.
Read Kathryn VanArendonk's review of I Said It. Y'all Thinking It.
8.

Taylor Tomlinson, Look at You
It is impressive to see a stand-up special as polished, self-assured, thoughtful, and intensely funny from someone as young as Taylor Tomlinson. It's even more impressive that Look at You is the second special like this that Tomlinson has produced in the past three years. Her comedic persona and remarkable density are the same: She is bouncy and bright in a way that nearly disguises the lacerating commentary that slides underneath. But Look at You is a notable development from Tomlinson's past work, stretching into material about her mother's death and her own mental health that's taken time for the comedian to grow into. She has become increasingly confident at performing silly act-outs, and Look at You is so great at balancing those two impulses, moving between gravity and goofiness.
Read Kathryn VanArendonk's profile of Taylor Tomlinson.
7.

Sheng Wang, Sweet and Juicy
Sheng Wang's comedy has an unmistakable bong-rip quality. It's slow and relaxed; it's full of bizarre non sequiturs and silly sly one-liner moments of weirdness that seem like they should be going somewhere and then proudly do not. It is chill — so chill that it feels like a throwback. Swimming against the current stream of forthright confessional-mode comedy (or its dark-mirror version, high-minded mockery of forthright confessional comedy), Sweet and Juicy is a journey into Wang's delightfully off-kilter brain. There's a feeling of discovering the odd individuality of who Wang is, but it comes without any of the formal, throat-clearing jokes that feel like someone scribbling childhood trauma onto a "Hello My Name Is" sticker. It's just Wang, standing on a stage, describing the feeling of throwing away warm paper.
Read Vulture's interview with Sheng Wang as part of our annual "Comedians You Should and Will Know" list.
6.

Bill Burr, Live at Red Rocks
Increasingly, some parts of a Bill Burr special are an experience in gritting your teeth. It was true of his previous special, Paper Tiger, and it's even more true of Live at Red Rocks, a super-size set that dwells on every hot-button topic Burr can find. He revels in his ability to deliver shock, and to his credit, he can negotiate his way around these tiresome, overwrought ideas better than nearly anyone else of his "a comedian's job is to offend" ilk. What lets Burr continue to stand head and shoulders above the rest, though, is how well he can transition into self-insight, his willingness to connect the dots between his comic sensibility and his understanding of himself as a person. Live at Red Rocks puts both parts of Burr on magnificent display: his undeniable ability to be the funniest, angriest yelling man and his simultaneously stunning turn into remarkable gentleness.
Read Vulture's review of Live at Red Rocks, and David Marchese's 2018 interview with Bill Burr.
5.

Catherine Cohen, The Twist …? She's Gorgeous
Catherine Cohen has been developing and performing this stage show for years, and the fact that it now exists as an hour-long Netflix special feels a little bit like when everyone sighed in relief at the confirmation that someone would eventually make a movie out of Hamilton. It is the kind of hour that deserves to be recorded for posterity, a document of a performer who has defined a distinctive sensibility at a particular moment in time. Cohen's musical comedy is a Miss Piggy–esque cabaret hour. It's laden with referentiality, self-consciousness, and the style of too-online perpetual commentary that drives someone to announce "Bridge!" every time the accompanist arrives at the bridging key change. Come for the songs; stay for the way director Steven Brill captures Cohen's beautiful, sparkling tear as it falls down her cheek.
Read Kathryn VanArendonk's review of Catherine Cohen's special The Twist …? She's Gorgeous.
4.

Kate Berlant, Cinnamon in the Wind
Fall of 2022 was the season of Kate Berlant. Her popular Off Broadway show, Kate, is a daffy, wry, endlessly self-obsessed platform for Berlant as a brand while mocking the idea of Berlant as a brand. She appears in the Amazon Prime series A League of Their Own, and she has a role in the much-discussed film Don't Worry Darling. Earlier this year, Berlant released a sketch-comedy Peacock special with collaborator John Early. But Berlant's FX special, Cinnamon in the Wind, is the clearest expression of the work she has been doing for years — the improvised-comedy performance that is perpetually pointing out its own performativity. In the special, Berlant stands in a small theater in front of a mirrored background — a thematic and visual link to the camerawork in her stage show. But unlike the hyper-control of her Off Broadway production, Berlant's special is an attempt at seizing the deliberately loose, unpredictable openness of her stand-up. It's more intimate and more exciting, and where Kate is a half-joke howl about the magic of live theater, Cinnamon in the Wind comes closer to capturing what that actually feels like.
Read Lizzie Feidelson's profile of Kate Berlant.
3.

Ali Siddiq, The Domino Effect
Sometimes a special takes a while to burrow into your brain, and the proof of its success only becomes clear once you've lived with it for a while. Sometimes, though, a special is so obviously, unmistakably stellar that it barely takes five minutes before you're fully in its sway. Self-released on YouTube, Ali Siddiq's The Domino Effect begins with Siddiq seated in a chair and describing the way we can look back and see the exact moments when we made life-altering mistakes: "So, it was 1983. I'm 10 years old — oh yeah, my mistakes started very early." The next 80 minutes are a tour de force of storytelling; it is stand-up at its most graceful, charismatic, confident, and controlled. Siddiq has incredible facility with creating characters and with careful, sharp physical act-outs, but his superpower is the way he can hold extended stories, moving in and out of tangents and tensions that sprawl across years. It's a long special, but I would've been perfectly happy to keep watching Siddiq for hours.
2.

Matt Rogers, Have You Heard of Christmas?
A Christmas comedy special is a little bit genius as a concept. It's not that Christmas is a shortcut past all the necessary heavy lifting of shared references, tone, sensibility, design, or overall concept, but it does act as a beautifully contained, pre-built cultural playground for a comedian to bounce around. Matt Rogers uses it as the baseline for a delightfully oddball, intensely gay musical special that is ostensibly about how Christmas is a very sexy time of year. It is also, a little deeper under the surface, about the way holiday spirit is an elaborate performance of emotion and ambition and how absolutely unnatural, beautiful, and strange it is that we all get together once a year and put on this collective show of seasonal cheer. Fair warning, though: No other comedy special is going to get stuck in your head like this one. I have now spent an entire week muttering "Santa and Jesus — they were best, best friends" under my breath, and it makes me sound totally unhinged.
Read Kathryn VanArendonk's review of Have You Heard of Christmas? and listen to Jesse David Fox interview Matt Rogers on Vulture's Good One podcast.
1.

Jerrod Carmichael, Rothaniel
A day after the release of Rothaniel, Jerrod Carmichael appeared on SNL and proved to be his own best promoter, delivering one of the strongest monologues in recent memory. But it is fascinating to think about someone new to Carmichael's work who might watch his confidence and unflappable charm in that monologue, then turn to Rothaniel. There are remarkable stretches of that same unbelievable charisma and control, but Rothaniel is the demonstration of a comedian dismantling his own performance. Carmichael and his director, Bo Burnham, integrate elements of audience response in order to probe how we think about acceptance, reception, and the relationship between a performer and his audience. All of it is connected by Carmichael's announcement that he is gay, and it's astonishing how he frames it all through the theme of seeing things that are hidden in plain sight. Of all the specials out so far this year, Rothaniel is the only one that has immediately achieved the status of required viewing.
Read Kathryn VanArendonk's review of Jerrod Carmichael's special Rothaniel.
Honorable Mentions
Fortune Feimster, Good Fortune
For over a year, comedy specials were a strange and uncertain proposition thanks to the pandemic. The ones that did come out were often filmed beforehand, extremely intentional about why they were being filmed and how to do it safely, or they were rushed out the door in a way that gave them a strong sense of timeliness in spite of imperfections. Since then, though, many of the specials feel caught in the middle — not quite shaped by weird pandemic circumstances anymore, but not firing on all cylinders, either. Fortune Feimster's Good Fortune is a demonstration of how far a strong storytelling voice can get a comedian even under those conditions and is one of the strongest returning specials of the fall season. Feimster's persona can come off as broad and charisma fueled, but Good Fortune is a demonstration of her impressive skill in stretching an anecdote to its full comedic limit and having absolute faith that her audience will follow along. Feimster's closing move is shameless, bald-faced audience pandering that probably goes too far into adorableness, but if anyone can pull it off, it's her.
Josh Gondelman, People Pleaser
Liking the nice guy is one thing; making the nice guy into a sharp comedic voice that is self-aware enough to laugh at the boundaries of niceness without betraying them is a much higher bar to clear. Josh Gondelman's People Pleaser is thoughtful and smart about creating that trap for himself, then building some very, very funny ways out of the trap. It's clear and hilarious in his final joke, in which Gondelman describes the experience of saying yes to a wedding DJ, then having to live with the consequences, but the entire special plays with the slight thorniness inherent in wanting to be a guy people like. People Pleaser belongs on the Mount Rushmore of Wife Guy comedy, which is itself a ticklishly funny concept: extolling the virtues and achievements of one's wife while soaking in all the applause for how you portray her. No one negotiates that contradiction better than Gondelman, who can persuade you of his absolute goodness while making you cheer as he swears to destroy his wife's enemies.
Moses Storm, Trash White
As specials have become a more established art form, comedians have begun experimenting with how to push the filmed special beyond the baseline of a recorded performance. Moses Storm's Trash White is one of the most striking recent examples. Set on a stage surrounded by various junk painted white, Storm's special is an autobiographical hour of material about his childhood that weaves together jokes about poverty, scams, class, race, and teenage mortification with a close examination of his particular family dynamics. Trash White has some bumps and points of awkwardness, but it's an ideal first special: Its flaws are largely the result of too many ideas and nearly too much ambition for a first hour. It makes you thrilled to see what Storm will do next, and he explicitly ends Trash White with an invitation for what's to come. Nothing says artistic vision quite like ending a comedy special with a cliffhanger.
Listen to Roy Wood Jr. interview Moses Storm about Trash White on Vulture's Good One podcast.