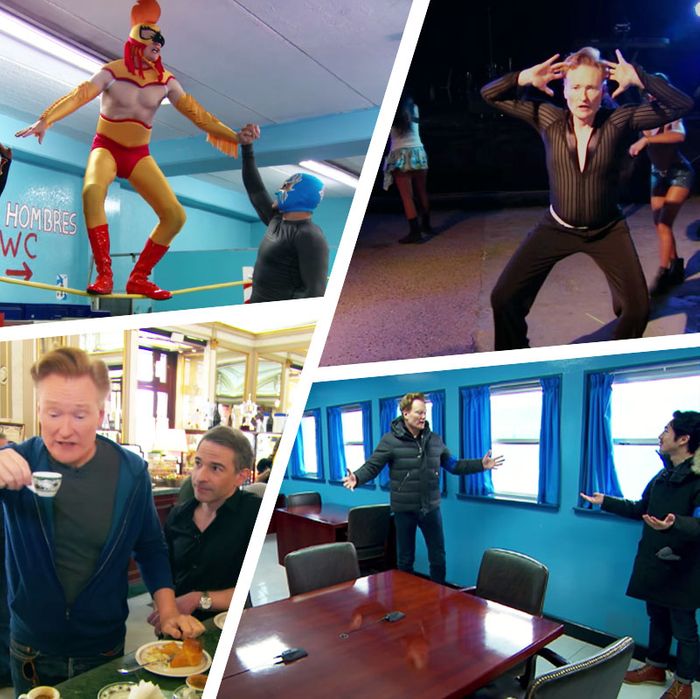 Photo: Netflix and Vulture
Over four years ago, when Conan O'Brien began Conan Without Borders, a spinoff travel segment from his TBS late-night show Conan, it became clear that he was successfully separating himself from the parlor games and politics that occupied so much of late night's real estate. And that was in 2015, when Donald Trump was still being mocked for thinking he could win the U.S. presidential election. After Trump was elected, he became an unfortunate, inescapable fixture in late night.
O'Brien, like his peers, still makes jokes about the president. But O'Brien, now the elder statesman of late night, has also responded to matters at home by increasing his international travels — not just as a reaction to Trump, but as a way to connect audiences to parts of the world they may have otherwise never seen.
And as fans of O'Brien know, he absolutely shines in his remote segments. From playing old-timey baseball to forming a hip new boy band to traveling to countries like Finland and Ireland in his NBC days, O'Brien's on-location pieces are consistently hilarious. And in Conan Without Borders, he adds an educational component, giving glimpses into other cultures, while providing abbreviated history lessons for context.
What makes Conan Without Borders work so well is O'Brien's innate ability to improvise, his willingness to make a fool of himself, and the show's effort to tackle uncomfortable topics. Whether he's speaking with refugees, covering the turmoil at the West Bank, or hearing about the permanent effects of a genocide on a country's people, O'Brien sympathetically and sensitively discusses the topics rather than mocking or avoiding them.
The cast of characters who join O'Brien have also become perfect comedic partners for the traveling host. Fan favorites like Sona Movsesian, Flula Borg, Jordan Schlansky, and Steven Yeun all perfectly complement O'Brien in their respective episodes.
By the end of 2015, O'Brien visited two countries for the show, Cuba and Armenia. Since then he's filmed in 11 additional countries, including Ghana, which premiered just last night. Though they are all worth watching, here is the official ranking of each special:
13. Qatar (2016)
When Michelle Obama asked O'Brien if he'd put on a show for the troops, the host immediately agreed and traveled overseas to spend a week at Al Udeid Air Base in Qatar, the headquarters for the U.S central command who run and coordinate air and ground campaigns in Iraq, Syria, and Afghanistan. The episode begins with an insane 3-D reenactment of O'Brien's flight with Obama. Since they couldn't bring a camera on the plane, the animation shows the host spilling his vodka causing the plane to malfunction, Obama landing the plane herself, O'Brien ejecting his seat, landing on a boat, working on the boat, only to be kidnapped by bandits and rescued by Obama.
While it's fun watching O'Brien train with a K9 unit, asking if military dogs would attack him if he were holding Cialis and antidepressants, and seeing Obama demand the host give her 50 push-ups, the episode doesn't hit the same stride as so many of the others do.
12. Australia (2019)
A prison-hat-wearing Hugh Jackman tells O'Brien via video message that he's seen the host go everywhere except Australia. "There's an old rule in show business," O'Brien says in response. "When Hugh Jackman tells you to do something, you do it."
When traveling to a new country, O'Brien usually learns some of the language, but Australia is full of English speakers, so he studies the Australian dialect instead. His coach teaches him that shrimps are called prawns, nobody drinks Fosters, and when you're surprised you say "fuck me dead." She also encourages more subtlety with his accent, which sounds more like someone whose mouth has just been numbed more than an Australian person.
O'Brien plays footie, asks a koala bear to eat some pizza for energy, and performs stand-up in Sydney. One of the best moments is when he learns how to survive in the Australian bush with a guide who warns of spiders under rocks and dangerous stinging ants that once caused his wife to turn white and crap her pants. "Does your wife mind that you put in the part where she craps her pants?" O'Brien asks. "Just leave that part out."
11. Mexico (2017)
After Trump insisted that there would be a wall built across the southern border and that Mexico would pay for it, O'Brien responded by shooting an episode in Mexico City. The host's mission was to provide positivity and optimism in an effort to combat the efforts of division. This is the only remote in which O'Brien still hosts the show from a studio, but this time with an all-Mexican staff, crew, band, and roster of guests.
Highlights of the episode are mostly outside of the studio, though, as O'Brien appears in a telenovela called Mi Adorable Maldición playing a forgetful, bolo-tie-wearing cheese merchant. He trains to become a luchador and transforms into El Gallo Loco (the crazy rooster), whose power is pecking and crowing.
Of course, O'Brien is at his best when roaming the streets, speaking with pedestrians. Since he's delivering his monologue in Spanish, he tests out jokes on the locals and asks them if they can pay for the wall by putting money in a wall-shaped box. One man tries sticking his middle finger in the box instead. Though the episode is admirable for its mission and for hiring an all-Mexican crew, the in-studio pieces couldn't muster the same momentum brought from the man-on-the-street segments. O'Brien clearly has more fun when he's not confined to the studio setting.
10. Greenland (2019)
When Trump expressed interest in the U.S. buying Greenland, he was met with a swift rejection and the Danish prime minister called the idea "absurd." O'Brien saw the absurdity and booked a flight.
The host promised to use his late-night clout to properly negotiate the deal for Trump. Venturing from the country's capital and largest city, Nuuk, to the town of Ilulissat, O'Brien negotiates a deal with Greenland's Parliament, offering them a Starbucks gift card and a suitcase full of $120,000 borrowed from some "very bad people." They reject the offer and O'Brien settles for a sheet of ice.
The beauty of this episode is that it exposes us to a rarely discussed country and their culture. Greenland is so seldom in the news that when O'Brien encounters a Greenlander wearing a Make America Great Again hat, he learns that the man only likes Trump for all the publicity he's given his country, not because he's a supporter. A tourist site for Greenland even praised the show, tracking O'Brien's journey, and calling the episode a "funny and positive insight into our people and their hospitality, and what makes Greenland unique." It's an insightful and funny episode worth watching, if not for just seeing O'Brien attempt to deliver a weather report in Greenlandic. (It doesn't go well.)
9. Japan (2018)
There can only be one Conan. When Conan in the U.S. learned there was a more famous Conan in Japan, an anime and manga character named Detective Conan — who also happened to have a town named after him, ConanTown — the Japan episode was born. "Clearly someone's been making a ton of money off the Asian version of me for 20 years." Arriving to Japan with a demand of 3 trillion yen and a pack of fans waiting for him at the airport, O'Brien greets the mayor of Conan Town, who appoints the host mayor for the day and gives him a fake check.
This episode offers a variety of great skits, including O'Brien dressing in kawaii style (cute style): a blue wig, a purple necklace, and a shirt with a dog on it, which makes him feel like he "just ate six pounds of Skittles and then took acid." O'Brien also takes an etiquette lesson and tells his teacher he's a hugger, only to be told he's not her type because of his "face."
One of the more intriguing (and slightly depressing) pieces of information was learning that if you live in Japan and you're lonely, you can rent a family for up to three years. So O'Brien rents a family with hopes of getting a wife who understands his jokes and a father who will apologize for not letting him watch The Love Boat after he spilled a bowl of creamed corn in the '70s. When he meets his new family he asks them to laugh at his jokes. His new child asks his new wife, "What if I don't understand his jokes?" The new wife tells her, "You don't need to." He also gets his new dad to say "I was wrong in the '70s" and "I'm sorry about the creamed corn."
Don't miss this episode, especially if you want to see Jordan Schlansky give his opinion on Japanese toilets and get his dreams crushed by Ralph Macchio, who shocks Schlansky by telling him Karate Kid II was not filmed in Japan.
8. Berlin (2016)
When Flula Borg invites you to Berlin with an esoteric promise of being the Tenzing Norgay to your Edmund Hillary as the two of you walk around eating raisins and peanuts, you take the invitation.
With Borg as his guide, O'Brien eats a slaughter plate at a beer hall, sings German drinking songs, and goes to a nude beach — Borg wears only his sneakers and a fanny pack. Conan then ventures solo around Berlin, learning authentic traditional Bavarian folk dancing with two lederhosen-clad brothers and their strict handlebar-mustachioed father, whom O'Brien calls a monster and says was "clearly carved out of a sausage."
The episode does a good job mixing up activities for O'Brien, having him learn to make sausage with a kindly but occasionally creepy sausage-maker, meet an intense fan who traveled hours to bring pages of Fan Corrections, and experience some nipple play with a dominatrix named Lady Velvet Steel. She blindfolds him and puts a censored piece in his mouth. "I'm hoping this is not what I think it is. Maybe a chess piece?" O'Brien says. "A rook? No, that's a bishop's hat."
This episode's more sentimental moment occurs when he speaks with Palestinian, Syrian, and Afghani refugees at Berlin Tempelhof Airport, a reminder that this whole exercise is to, indeed, broaden viewers' horizons.
7. Ghana (2019)
O'Brien travels with comedian Sam Richardson, whose mother is Ghanaian, to meet the locals and observe the Year of Return, a commemoration of the 400th anniversary of the transatlantic slave trade. This special gives us our usual lively O'Brien traveling segments as we see him learn the local customs and language (this time with a man named Kalybos who tells him that "every white person is popular in Ghana" and that O'Brien is "below average" looking) and shoot a music video with a popular singer native to the country. But what this episode does so well is bring out the unique culture of Ghana, moving past the expected segments we've seen before. The Conan crew tracks down particularly interesting folks, the first being a man who makes custom fantasy coffins. From a fish to a bottle of Coca-Cola to a turkey, this man designs any kind of coffin you want for yourself. When O'Brien spots a coffin in the shape of a rooster, he tells the man, "When my time has come, it's the cock for me." The host then receives his own handcrafted coffin customized to look like a giant O'Brien, fully equipped with a TV inside set to an eternal loop of Conan clips.
Other highlights include O'Brien visiting a painter who creates movie posters for films he's never seen (he gives Andy Richter a gun and O'Brien a six-pack in his rendering of the Conan show); a visit to Ghana's most popular cooking show, where the host is impressed with Richardson's (but not O'Brien's) ability to cut carrots; and Richardson and O'Brien receiving custom kente cloth to wear when they meet the queen mother.
The episode takes a more somber tone when O'Brien and Richardson visit Osu Castle, one of several forts from which slaves were forced across the ocean centuries ago. O'Brien speaks with a group of visitors from Chicago who tell him that coming back for the Year of Return was an "awakening." One group member says how much racial stress she's under every day in the U.S., whereas in Ghana she feels at home. This installment is yet another example of why O'Brien's travel episodes are essential: He perfectly blends humor and education while giving us a glimpse into a culture most of us rarely see.
6. Cuba (2015)
This is the very first Conan Without Borders episode, one prompted by the warming relations between the U.S. and Cuba. O'Brien was the first late-night host to visit the country since former Tonight Show host Jack Paar interviewed Fidel Castro in 1959. And it's a fun episode all the way through, with O'Brien introducing the show in a glitzy white suit, white hat, and green tie before jamming with a Cuban band in an attempt to find his clave (rhythm) and learning to dance the rumba.
One of the best bits is when O'Brien visits the Havana Club Rum Museum. He tours the museum with his guide, Gretel, who plays off his antics perfectly, like a frustrated parent to an antsy child. The segment ends with O'Brien lying on the bar counter, drunk, asking for a place to stay and requesting Gretel sing him a song. She sings and he interrupts with his own lyrics: "I'm going to live with Gretel. I'm going to move in with Gretel. I'll do the laundry. She will let me have free rum. I'll change my name to Hansel. So we'll be Hansel and Gretel. Then we will drink rum. I'll become an alcoholic."
This is a great episode to learn more about Cuba, their citizens, and to see O'Brien get very drunk and find his clave.
5. Haiti (2018)
The Conan crew made this happen almost immediately after Trump described Haiti as one of those "shithole countries." "Now I have no idea what the president has against the people of Haiti," O'Brien said. "But if the president doesn't like them, they must be lovely people."
While some countries welcome O'Brien with fanfare, Conan in Haiti shows us that some are understandably wary of an American arriving with a camera crew. He encounters Haitians who want to know who he is and why he is there. In his best Creole, O'Brien explains that he and his crew were angry about what Trump said. He tells one woman in particular — who clearly has her doubts about him — that Haiti is a beautiful country and if the U.S. doesn't get a new president soon, he may "want to stay forever." She then laughs and hugs the host.
From riding in a tap-tap (beautifully painted buses in Haiti) to speaking with expat women who returned to run their own businesses, the special is easily one of the funniest and most insightful episodes from Conan Without Borders. It emphasizes that there are many misconceptions about Haiti and its people, highlighting the perseverance and beauty of the Haitian people and their country.
One of the best exchanges is when a student of the school O'Brien visits says Americans had taken their land. O'Brien suggests, "Maybe Americans need to help Haiti put things back." "We don't need the help of the U.S.," she tells him. "They're going to come here and take our stuff." O'Brien says he wouldn't take her stuff, but she replies, "He's not going to take our stuff anymore, but he still owes us our land back." O'Brien says the girl should be the next president of Haiti. She says she wants to be president of the United States.
4. Korea (2016)
If you want to see O'Brien insult gamers at a PC bang ("Your mother does not prepare squid properly"), help a Buddhist monk shovel snow, and star in a psychedelic K-Pop music video with Steven Yeun, then this is the perfect episode for you. It was planned after Conan superfan Sunny Lee sent the host a detailed letter written on her SAT prep form inviting him to visit her country. We see O'Brien get the full Beatlemania treatment, arriving in Korea to an airport full of flashing cameras and cheering fans.
One of the best parts of the episode is O'Brien's attempt to learn Korean with his teacher Jin Shil. She tells him that his eye contact is scary, his smile is weird, and his thinking is dirty. When Jin Shil reveals that she uses a "love stick" to lightly hit her students, O'Brien tells her to punish him with the stick. "I don't like you," she says. "This is the greatest thing to ever happen to me," he tells her. "Oh my gosh, you're weird," she says. She then calls him "twisted."
The episode also covers the tensions between North Korea and South Korea. Steven Yeun and O'Brien visit the JSA (Joint Security Area) in the Demilitarized Zone that separates both countries. They put on a faux episode of Conan right on the border using a steadfast, nonresponsive guard as their audience. And of course, no trip is complete without O'Brien making an appearance on a soap opera. The one he appears on is called "One More Happy Ending."
3. Italy (2018)
Jordan Schlansky fans rejoice: This one is made for you. It's almost a full hour of O'Brien and his best foe touring Italy.
The duo has gained quite the following over the last few years because of their chemistry and natural comedic contemptuousness for one another. The trip is a chance for O'Brien to finally spend time with his producer who claims to perform "various duties" for the show and is a self-proclaimed expert on Italy. O'Brien gives viewers a chance to see Italy through Schlansky's "cold, dead eyes."
One of the ongoing highlights of the trip is O'Brien's nonsense Italian greetings directed at the locals. Schlansky confronts O'Brien in this exchange:
O'Brien: Agnolotti! It just makes it look like I'm a popular guy.
Schlansky: I think that it's sometimes considered to be insulting when you yell out a fake Italian word clearly as an American.
Conan: Not at all. Tortelloni!
In addition to seeing the pair hunt with dogs for (likely pre-planted) truffles and try various Italian wines, we get to see Schlansky break. While driving across the Italian countryside in Schlansky's red Fiat, O'Brien disturbs the silence using sound effects of a baby crying, causing the seemingly robotic Schlansky to crack a smile. Then O'Brien brings out the fart noises, and Schlansky starts laughing and calls O'Brien a toddler.
This is easily a top Conan Without Borders episode. It moves seamlessly, and if you're already a fan of the O'Brien/Schlansky dynamic, there's no doubt you'll love this one.
2. Israel (2017)
This is probably the most controversial episode of Conan Without Borders, but it's also one of the best. The trip was a response to Jared Kushner's attempt at the time to make an  Israeli-Palestinian peace plan. O'Brien's mission? "To try and make some people laugh and in the process alienate everyone."
O'Brien encounters an eclectic mix of characters, like David, an older man who invites him to his apartment for coffee, only to sit in silence with him and calls the host "beautiful." There's a hairy man on a Tel Aviv beach whose chest hair is used for O'Brien to hang his sunglasses, and a rabbi who tells the Irish Catholic host that he is "pure" — which prompts O'Brien to ask if he needs to be a virgin to convert to Judaism, "because up until five years ago I'd have been fine." After O'Brien decides not to convert and settles instead to have a bar mitzvah, he uses his newly cemented status as a man to visit Gal Gadot, who swiftly rejects O'Brien's advances to have a drink or go ballooning.
O'Brien speaks with Palestinian refugees and visits patients at an Israeli hospital on the Syrian border. He tells one of the surgeons: "I honestly, sincerely think you're doing beautiful work here. The only thing I question about you are these medical Crocs. That, I think, is the only thing that separates you from a godlike status." The surgeon says, "We are only human; we all make mistakes."
He also speaks with pro-Palestinian activists at the wall. They ask him if he thinks the wall is normal and he tells them, "No, I don't think any wall like this is normal." He continues: "I honestly don't know what the answer is. There's no way my 40-minute program is going to satisfy what it is you want me to do … what I do promise to do is make sure that people who watch this program will have an idea that this other reality exists."
The special provides a glimpse into life in Israel, both the comedic and non-comedic sides, while acknowledging there's too much to be able to successfully cover all of it in under an hour. It ends with O'Brien at the Dead Sea, being told by a beachgoer that he is more attractive covered in mud.
1. Armenia (2015)
It makes sense that after becoming the first late-night host in decades to visit Cuba, O'Brien and his assistant Sona Movsesian traveled to Armenia, another rarely visited destination on television. "That Conan O'Brien chose to take Sona to Armenia is a big deal for those of us who are Armenian," Paste writer Liz Ohanesian wrote in 2015.
The episode centers around O'Brien helping Movsesian connect with her heritage. The duo already had a well-established comedic rapport, shown in segments like when he tracked down her stolen "Gigolos" mug and when he crashed her viewing party for Magic Mike XXL. So, naturally, having the two of them travel together in Armenia made for the show's best foreign remote. Highlights include O'Brien playing a pale gangster with starkly contrasting dark facial hair in a soap opera, learning a traditional folk dance, using Armenian phrases like "I want to eat your liver" or "I die on your body" on the locals, and visiting a matchmaker to fulfill his promise to Movsesian's grandmother that he would find her an Armenian groom. "This trip is not all about what you want," O'Brien tells his reluctant assistant.
This is the first episode to grapple with more serious subjects as O'Brien speaks with Syrian refugees who fled to Armenia and listens to Movsesian's personal experience with the effects of the Armenian genocide. "Any visit to Armenia must include an acknowledgment of the country's tragic history," O'Brien says, referring to the genocide that took place over 100 years ago when the Ottoman Empire killed or displaced over 1 million Armenians.
The show doesn't aim to make light of the situation or rush through it, instead we see Movsesian visit the Armenian Genocide Memorial Complex and talk to O'Brien about what she feels while there. She tears up when mentioning her grandparents losing everyone they knew and loved as children. She says it's ingrained in Armenian culture to take as much as you can out of life. She then tells O'Brien she'd like to come back with friends and family. "You can come, too," she tells him. "Really?" He asks. "Yeah, I guess."