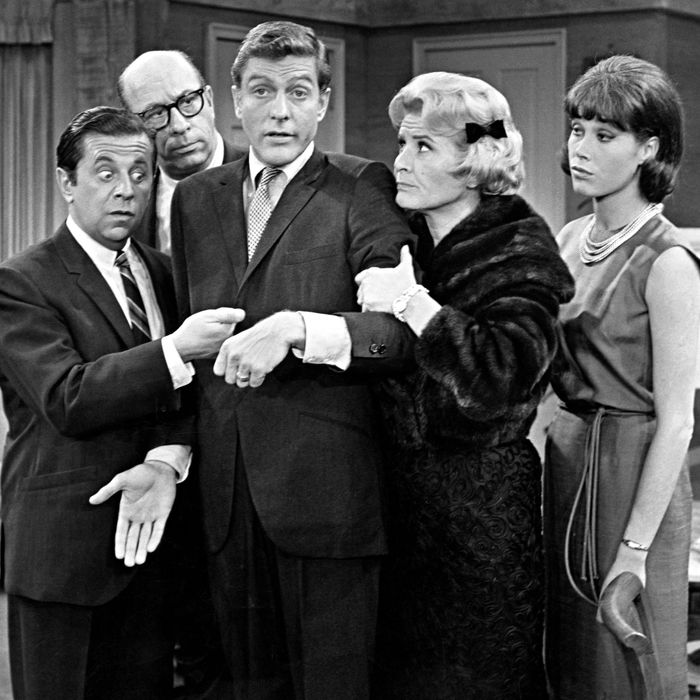 Photo: Bettmann/Bettmann Archive
This article originally ran in 2019. We are republishing it in honor of the late Carl Reiner, who died on June 29, 2020.
"What's a Dick Van Dyke?" was the punchline to an anecdote Rose Marie liked to tell about how she was offered a role on The Dick Van Dyke Show. Short answer: He's a national treasure. As his Golden Globes appearance last night charmingly reminded us, the real magic in Mary Poppins Returns is the sight of Van Dyke — 92! — doing the same energetic dance step he performed almost 60 years ago in "Jealousy," a first season episode of The Dick Van Dyke Show.
Which brings us to the game-changing sitcom created by Carl Reiner that ran from 1961-1966. It was based on Reiner's experiences as a suburban family man who wrote for Sid Caesar's variety shows, Your Show of Shows and Caesar's Hour. Van Dyke starred in the eponymous series as Rob Petrie, head writer for The Alan Brady Show, juggling the demands of his glamorous show business career with his often-harried home life.
Funny story: Reiner was originally slated to star as his own alter ego. The pilot, entitled "Head of the Family" was rejected by the network, but producer Sheldon Leonard saw gold in the season's worth of scripts Reiner had written and went to bat for the show, telling Reiner, "We'll get a better actor to play you." Enter Van Dyke, a Tony Award-winning Broadway star who looked like a romantic leading man but had the soul (and physical dexterity) of a silent movie-era clown.
Van Dyke was supported by one of TV's great ensembles. At work: vaudevillians Rose Marie and Morey Amsterdam as comedy writers Sally Rogers and Buddy Sorrell, Richard Deacon as put-upon brother-in-law producer Mel Cooley and Carl Reiner as the tyrannical Alan Brady. At home: Larry Matthews as Rob's son Ritchie, and Mary Tyler Moore, first turning on the world with her scandalous capris pants, as wife Laura. Jerry Paris and Ann Morgan Guilbert costarred as best friends and neighbors Jerry and Millie Helper.
The Dick Van Dyke Show was made for its times, JFK's New Frontier. It was a youthful, smart, sophisticated and silly workplace comedy and a family sitcom where the parents were way more interesting than the child. Decades before Seinfeld it explored from where creators of comedy mined their material. Winner of 15 Emmy Awards, including three for Van Dyke, The Dick Van Dyke Show is endlessly watchable and quotable. In the words of Big Max Calvada: "It's neither too esoteric nor too mundane. Pragmatically speakin'; hits me right in the gut."
But which of the 156 episodes — all of which are streaming on Hulu (and, perhaps less legally, YouTube) — are must-sees? (We've counted the two-parters into single episodes). Over the course of its five seasons, The Dick Van Dyke Show never jumped the shark. Even lesser episodes have at least one joke, double-take, guest star, character actor, or expertly-played pratfall to make it worth your while. With a few exceptions, you can't really go wrong.
151. "Uncle George" (Season 3, Episode 8)
No sooner does wife-seeking coot Uncle George (Denver Pyle) bound into the Petrie kitchen, you want him to bound right out again. An uninspired episode with a one-and-done character, few memorable laughs, no physical set pieces, and unearned pathos. Of note in the show's mythology is the lone appearance of Herman Glimsher's overbearing and overwrought mother, usually the unseen butt of Sally's jokes about her mama's boy boyfriend.
150. "Turtles, Ties and Toreadors" (Season 3, Episode 11/Viva Petrie (Season 5, Episode 9)
Two domestic episodes that do not serve Van Dyke well. In Toreadors, clueless Rob hires a maid, Maria, over the phone only to find a pitiable Spanish-speaking immigrant with a broken arm on his doorstep. In the uncalled for fifth season follow-up, Rob is an pushover for an imposing and unwelcome houseguest, Maria's boyfriend, who claims to be a bullfighter. Manuel Rodriguez (a miscast Joby Baker) is no Vitto Giotto.
149. "It's a Shame She Married Me" (Season 2, Episode 29)
Robert Vaughn guest stars as millionaire Jim Darling, the Alan Brady Show's new sponsor, and a former boyfriend of Laura. Financial insecurity drives Rob to make a complete fool of himself at a dinner party. Fans of The Office episode "The Dinner Party" might rank this higher, but cringeworthy does not suit The Dick Van Dyke Show.
148. "You Ought to Be in Pictures" (Season 5, Episode 28)
An old army buddy-turned independent filmmaker casts Rob to star in his newest film opposite a gorgeous Italian woman. There are some laughs in watching Dick Van Dyke, the most natural of actors, act unnaturally, but that's about it.
147. "Fifty-Two, Forty-Five or Work" (Season 5, Episode 14)
Rob recalls his first summer hiatus from The Alan Brady Show and having to find a job. The least of the series' vaunted flashback episodes.
146. "You're Under Arrest (Season 5, Episode 13)
Incriminating evidence is stacked against Rob when the police want to question him about a brawl. If this episode is remembered at all, it's for the recurring topical reference, "You slept through The Guns of Navarone?"
145. "A Vigilante Ripped My Sports Coat" (Season 4, Episode 4)
When Rob refuses to join a Jerry-led mob to poison the crabgrass on a new neighbor's lawn, tensions escalate between the Petries and the Helpers. It's no The Monsters are Due on Maple Street, but at least The Dick Van Dyke Show went where other sitcoms of the period feared to tread.
144. "Boy #1, Boy #2" (Season 4, Episode 19)
"The Little Drummer Boy" aside, Ritchie was never thrust into the performing spotlight like his parents. ("One member of the family in show business is quite enough," Rob insists.) And so when Ritchie and Freddie Helper are recruited to act in a car commercial in this subpar episode, the focus is on Laura and Millie as interfering stage mothers.
143. "The Ballad of the Betty Lou" (Season 3, Episode 10)
Little to see here, as Rob and Jerry go in together on a sloop. Laura insists that a boat partnership never works. Rob says he knows the pitfalls. Laura gets to say "I told you so" when the partnership predictably sinks. Laura and Millie navigating the Petrie's front and closet door while rushing to exit the house is a welcome bit of expertly-timed farce.
142. "The Houseguest" (Season 1, Episode 9)
Rob violates the Petrie family "system" when he brings home Buddy's German Shepherd, Larry, for the weekend without consulting Laura. Not excellent, but Van Dyke holds his own opposite the handsome dog in an extended set piece in which he tries to lull the animal to sleep.
141. "Girls Will Be Boys" (Season 4, Episode 23)
To their detriment, Ritchie episodes tended to be more about parenting issues, like how Rob and Laura deal with their son being beaten up at school by a girl. Still, this episode gets a boost from Bernard Fox (aka Dr. Bombay) as the girl's father.
140. "The Boarder Incident" (Season 1, Episode 21)
With Pickles out of town, Buddy takes Rob up on his offer to stay at the Petries. The inevitable broken dishes, late night gargling and cello playing and botched eggs benedict strain their friendship. Fitfully funny but no real payoff.
139. "The Death of the Party" (Season 4, Episode 12)
The main reason to watch this one: Van Dyke's virtuoso physical clowning as he tries desperately to keep his 24-hour virus from Laura and his dinner party guests.
138. "The Lady and the Tiger and the Lawyer" (Season 3, Episode 16)
Sally Rogers vs. Cousin Donna. Rob and Laura play competing matchmakers for their single new neighbor. A consistently funny episode, especially Donna's accident-prone dinner, but it is undermined by a queasy domestic abuse joke.
137. "The Brave and the Backache" (Season 3, Episode 20)
As psychiatry and analysis became mainstream, The Dick Van Dyke Show spoofed not the process, but the laymen who considered themselves licensed therapists after reading one magazine article. That would be Jerry, who believes Rob's backache in advance of a weekend getaway with Laura is psychosomatic. The results were mixed, but Van Dyke is a marvel at playing physical agony.
136. "Divorce" (Season 2, Episode 28)
Pickles, we hardly knew ye. Who is Floyd B. Barriscale and why has Buddy's former showgirl wife been sending him money? Rob, as he is wont to do, finds himself in the middle as Buddy rants about divorcing her. Joan Shawlee (Sweet Sue in Some Like It Hot) finds wonderful grace notes and physical bits of business as the hysterical Pickles. It would be her last episode in the series and Pickles went back to being a punchline for Buddy's wife jokes. Bonus: That's Sheldon Leonard's voice as Barriscale.
135. "Punch Thy Neighbor" (Season 1, Season 17)
Jerry the needler rears his ugly head when he incessantly teases Rob about The Alan Brady Show. When he spreads the word that a recent episode was rotten (via a memorable singing telegram), several noses end up being bruised. Believe it or not, Jerry would go on to evolve as a better and more likeable friend as the series progressed.
134. "A Nice, Friendly Game of Cards" (Season 3, Episode 18)
Rob inadvertently uses a marked deck of cards during a poker game attended by a hard-nosed former District Attorney (a pre-Get Smart Ed Platt). The panic when Rob realizes what he's done is the comedy jackpot, but otherwise, not quite a must-see.
133. "Your Home Sweet Home is My Home" (Season 4, Episode 25)
As far as flashback episodes go, the story of how Rob and Laura's friendship with Jerry and Millie is strained when they both want the same home on Bonnie Meadow Road does loom not large in the Petrie mythology.
132. "The Bad Old Days" (Season 1, Episode 28)
It's progressive Rob vs. sexist Buddy who states Rob ruins it for husbands like him by helping out around the house. Rob imagines a turn of the century household in which he rules with an iron fist.
131. "The Cat Burglar" (Season 2, Episode 15)
Rob insists he can protect his home and family after a cat burglar hits homes in the neighborhood. A panicked Rob with a gun makes for a few high caliber sight gags.
130. "Brother, Can You Spare $2500?" (Season 4, Episode 15)
A bum finds an Alan Brady Show script that Rob lost in Grand Central Station and demands $2500 when Rob gushes about how valuable it is. It's got a good guest star turn by Herbie Fay as the head of Lost and Found, but that's about it.
129. "Stretch Petrie vs. Kid Schenk" (Season 4, Episode 14)
Neil Schenk (comedian Jack Carter) is an obnoxious character from out of the Petries' past. Rob feels indebted to the pushy and opportunistic Neil because he was responsible for Rob's big professional break. Not a particularly funny episode, but further establishes Rob as a character of integrity.
128. "Sally is a Girl" (Season 1, Episode 13)
At Laura's urging, Rob does the "Sir Galahad bit" and treats Sally like a woman instead of one of the guys. This leads to a tentative and unconvincing partnership between Buddy and Mel who become convinced the two are having an affair.
127. "Love Thy Other Neighbor" (Season 5, Episode 29)
Millie and Jerry become jealous of the attention Rob and Laura are paying their new neighbors; then when Rob and Laura throw them together, it's their turn to feel left out. Laura sums it up best: "It's such a silly situation; how did we get ourselves in the middle of it?"
126. "Who Owes Who What" (Season 1, Episode 18)
A low-stakes episode in which Rob believes that Buddy owes him money but is too much of a "marshmallow" to ask for it. An episode about where the writers get their material for The Alan Brady Show…and another that ends with Rob chasing Laura around the house. A frisky couple, those Petries.
125. "A Farewell to Writing" (Season 5, Episode 2)
When a friend's book is published, an envious Rob takes him up on his offer to use his remote cabin to write. The second half of the episode is a good solo showcase for Van Dyke as he does everything to procrastinate.
124. "Where Have You Been, Fassbinder?" (Season 1, Episode 25)
"See, ma; that's one of the reasons." In the first season's third and most dramatic of the lovelorn Sally episodes, Sally puts on a brave front as she faces another birthday with no romantic prospects ("What's so bad abut being single?" she insists). A reunion with an old high school friend initially leads to more heartbreak until a rushed happy ending. The funny stuff happens mostly in the margins (watch for Rob trying to help Pickles on with her coat following a dinner party).
123. "Like a Sister" (Season 2, Episode 8)
Vic Damone rates a rare "special guest star" call-out in the opening credits. Rob pries to protect Sally when he learns her affection for suave singer Rick Valone is unrequited. An extended scene in which Valone pretends to be an abusive drunk is proto-discomfort television. Buddy's remark to Rob, "I think we ought to go home and beat up our wives," sours the proceedings.
122. "Empress Carlotta's Necklace" (Season 1, Episode 12)
A Mars-Venus episode in which an uncharacteristically clueless Rob falls prey to a wily salesman (Gavin McLeod) and brings home a gaudy necklace for Laura. Still, it's a good episode for Moore, who must hide Laura's horror from her thoughtful but misguided husband.
121. "Show of Hands" (Season 4, Episode 28)
Rob and Laura each stick their hands in a pot of black dye on the night The Allan Brady Show is to receive an award from the Committee for Racial Understanding. From the black child in Ritchie's classroom in "Father of the Week" to casting Godfrey Cambridge as an FBI agent in "The Man from My Uncle," The Dick Van Dyke Show struck subtle blows for civil rights in the early 1960s. This is a more heavy-handed take. "Understanding should be as natural as breathing," Rob proclaims. But the live audience's anticipation when Rob is about to stick his hands in the pot of die is an indelible moment.
120. "A Man's Teeth Are Not His Own" (Season 2, Episode 13)
Rob is wracked with guilt when he is forced to go to another dentist when Jerry is out of town. Not a very filling episode, but Van Dyke has some good moments trying to avoid showing Jerry his teeth and steering the conversation to "famine, drought, and pestilence."
119. "Bank Book 6565696" (Season 2, Episode 4)
A regressive episode that casts Laura in "silly wife" mode as Rob discovers she has a separate bank account.
118. "The Meershatz Pipe" (Season 1, Episode 10)
When Rob gets sick, he thinks The Alan Brady Show can get along without him. Laura plays the supportive wife. Van Dyke makes you feel every ache and sneeze.
117. "Sally and the Lab Technician" (Season 1, Episode 3)
The first of the series' "poor Sally" episodes. The show's first season defined Sally Rogers by her inability to find a fella. ("If I thought it would help, I'd put an ad in Hobo News."). But Rose Marie displays strong dramatic chops when she breaks down over the incessant jokes she believes alienated her blind date.
116. "Talk to the Snail" (Season 5, Episode 24)
Notable mainly for a brief bit in which a pre-Rowan & Martin's Laugh-In Henry Gibson appears as Sally's date and reads an inspirational poem, "Keep a Goin'" which Gibson would later set to music and sing in Robert Altman's Nashville.
115. "It Wouldn't Hurt Them to Give Us a Raise" (Season 4, Episode 11)
Rob Petrie is not one for confrontation, but it's always nice to see him take a stand after being pushed too far, in this case by the Alan Brady Show accountant (Roger C. Carmel) who refuses to give Buddy and Sally a raise.
114. "Harrison B. Harding of Camp Crowder, Mo" (Season 1, Episode 6)
A man claiming to be an old Army buddy visits Rob and Laura, but Rob doesn't remember him and suspects he may be a jewel thief. The Dick Van Dyke Show excelled at reveals, and this episode has a particularly nice one.
113. "The Man from Emperor" (Season 4, Episode 5)
We know, we know; Rob Petrie is a good man, but Laura is afraid that even a good man like Rob would just have to crumble if he accepted a job with a Hugh Hefner-esque publisher. A debate between Laura and the Emperor about marriage is pitch-perfect character-based comedy writing and Van Dyke squirms exquisitely as he tries to stay in Laura's good graces but "save a little self-respect for myself."
112. "Br-rooom, Br-rooom" (Season 4, Episode 31)
Call him The Mild One. Over Laura's objections, Rob buys a motorcycle and has more fun sitting on it in his garage, making sound effects and pretending to ride it. Though Laura plays the "klutz" card (see "Don't Trip Over That Mountain") Rob is instead inadvertently rounded by the police with another motorcycle gang. Dig the "Calvada" billboard at the drive-in.
111. "The Foul Weather Girl" (Season 2, Episode 16)
Laura begins to sound "like one of those wives in a situation comedy" when a former high school girlfriend of Rob's arrives in New York asking Rob for show business connections. "She's pushy and I don't like pushy people," Laura proclaims. We're with Laura.
110. "Jealousy!" (Season 1, Episode 7)
Laura is needlessly jealous that Rob has to work late with a glamorous movie star. She's being referred to as "Laurie" and "Mrs. Petrie" at this point. Her breakthrough is coming with the episode, "To Tell or Not to Tell."
109. "Scratch My Car and Die" (Season 3, Episode 26)
Rising above a sexist sketch, this episode finds new angles in the old wife-scratches-husband's-beloved car premise. Van Dyke deftly etches the rhapsodic bliss of owning a cool new sports car, the frustration of not having access to it, the devastation when he finds it scratched ("Rob? You gonna cry?) and his ultimate disenchantment.
108. "Who Stole My Watch?" (Season 5, Episode 15)
An overzealous insurance agent (Milton Frome) accuses Buddy, Sally, Mel and Jerry and Millie of stealing Rob's watch during a birthday party. It's fun watching everyone turn on Rob and Laura; Buddy even sides with his nemesis Mel.
107. "Anthony Stone" (Season 4, Episode 26)
Sally has a new boyfriend but is uncharacteristically secretive about him. Rob and Laura are hilariously at cross-purposes. Rob doesn't know what Laura knows: that he is a mortician. Laura doesn't know what Rob knows: that he's married. "You must be one of her square friends," Laura digs when Rob is shocked over Laura's complacency. Throw in some Nazi jokes and you have a funnier-than-usual lovelorn Sally episode.
106. "A Bird in the Head Hurts" (Season 2, Episode 11)
Rob and Laura try to get to the psychological root of Ritchie's claims he's being attacked by a giant woodpecker. But sometimes a woodpecker is just a woodpecker. "It looked like a glandular case," Millie reports. Ritchie in a pith helmet and sunglasses earns Matthews his biggest laugh of the series.
Rob and Laura try to get to the psychological root of Ritchie's claims he's being attacked by a giant woodpecker. But sometimes a woodpecker is just a woodpecker. "It looked like a glandular case," Millie reports. Ritchie in a pith helmet and sunglasses earns Matthews his biggest laugh of the series.
105. "Romance, Roses and Rye Bread" (Season 4, Episode 6)
The great Sid Melton adds heart to this pleasantly poignant episode as a butcher whose mock flirtation with Sally hide his genuine feelings for her.
104. "Happy Birthday and Too Many More" (Season 3, Episode 19)
Chaos comes to Bonnie Meadow Road when the Petries are forced to host 60 kids in their home for Ritchie's birthday. Not an especially memorable episode, but parents will be able to relate to the Petries' rebellion against the increasingly high stakes of children's birthday parties. Rob's clown song is nice.
103. "I'm No Henry Walden!" (Season 2, Episode 26)
Rob and Laura look swellegant as they dress for a dinner party for world-renowned poet Henry Walden. But Rob is self-conscious as the only comedy writer in attendance ("Nothing I write has any real permanence"). This insecurity leads him to accidentally offer a blank check as a charitable donation. Laura's loving look of approval as Rob slyly mocks a pompous party guest says it all; these two totally get each other.
102. "My Neighbor's Husband's Other Life" (Season 3, Episode 30)
A meddling (and, frankly, middling) Rob episode in which Rob thinks Jerry is cheating on Millie. The truth is somewhat more innocent but hints that even the reliable comic relief can have problems.
A meddling Rob episode in which Rob thinks Jerry is cheating on Millie. The truth is somewhat more innocent but hints that even the reliable comic relief can have problems.
101. "The Night the Roof Fell In" (Season 2, Episode 9)
In a future episode it will be observed that the worst Rob and Laura do is kiss hard, but they do fight, and this Rashoman-ish episode gets much its mileage out of seeing the couple act very much out of character in each other's telling of the incident that compels Rob to walk out.
100. "I Do Not Choose to Run/The Making of a Councilman" (Season 5, Episodes 16-17)
In the era of Kennedy's Camelot, Rob and Laura Petrie were TV's most glamorous and stylish sitcom couple (in the episode "The Return of Happy Spangler," Laura rates a Jackie Kennedy reference). This two-parter explores how far Rob's charm will carry him when he runs for city councilman. Wally Cox is his eminently more knowledgeable opponent. I reached out to Carl Reiner to ask if this would have opened a new vein of stories had the series continued for a sixth season. He said no.
99. "The Life and Love of Joe Coogan" (Season 3, Episode 17)
Alfred Hitchcock's theory about shock vs. suspense applies just as well to comedy. Rob meets a former boyfriend of Laura's about whom he knew nothing about. This stock situation plays much funnier when we learn before Rob and Laura that Joe Coogan is a priest.
98. "There's No Sale Like Wholesale" (Season 4, Episode 32)
"Uncle Buddy," the self-proclaimed Baron of Bargains, claims he can get Laura a fur coat wholesale. A fun-enough episode full of skullduggery, false identities, and deceptions for which Rob and Laura are ill equipped.
97. "Draw Me a Pear" (Season 5, Episode 6)
The flip side of "Teacher's Petrie" with an unwitting Rob not picking up the clues that his beautiful new art instructor may be interested in him. Laura gets it, though. Collateral pleasures include Jackie Joseph as a classmate who literally draws blood ("I don't do roses or apples") and Rob's toothy caricature of Laura, which Van Dyke penned himself.
96. "What's in a Middle Name?" (Season 2, Episode 7)
Ritchie triggers another flashback episode that reveals how he got the middle name Rosebud. A summit meeting with members of Rob and Laura's extended is memorable.
95. "Pink Pills and Purple Parents" (Season 4, Episode 10)
The moral of this one: Never take anyone else's prescription. The flashback: Laura, in anticipation of meeting Rob's parents, takes Millie's pills to calm her down. Moore makes the most of this rare showcase for her loopy physical comedy.
94. "Teacher's Petrie" (Season 3, Episode 32)
A good cross-purposes episode in which Rob is convinced that Laura's creative writing teacher (Bernard Fox) is flattering her to get him to lecture to his class. Extra credit to Cheerio Meredith as a sweet-looking granny with a ghastly gangster story ("Marion looked at the gaping hole in his ugly drunken body and said, 'Johnny Moxie, you stink.'")
93. "The Redcoats are Coming" (Season 4, Episode 20)
While other '60s sitcoms made fun of rock and roll music (the Bedbugs on F-Troop, anyone?) this Bill Persky-Sam Denoff-penned favorite managed a unique way to comment on the British Invasion without coming off as hopelessly square: It focused on the hysteria. Rob is recruited to put up the Redcoats (a winning Chad and Jeremy) at his home. The climactic raid on the Petrie living room by a horde of screaming teenage girls is one of the series' most memorable scenes.
92. "Go Tell the Birds and the Bees" (Season 5, Episode 10)
A sweet and funny parenting episode in which Rob and Laura are flummoxed by Ritchie taking it upon himself to tell his classmates fantastical tales about the facts of life. Visits to the school psychiatrist (Whit Bissell) are a highlight.
91. "Baby Fat" (Season 4, Episode 29)
A rare Rob and Alan Brady episode in which Alan recruits him to secretly doctor the script to a Pulitzer Prize-winner's Broadway play. Humiliations ensue. Alan hasn't fully emerged as the monster that he'll be in season five, and the dynamic between him and Rob here is more interesting. Rob stands up to Alan, and in one scene, aggressively marks up his suit when he is forced to pose as his tailor.
90. "The Man From My Uncle" (Season 5, Episode 27)
Rob gets to play cops and robbers when an FBI agent (Godfrey Cambridge) uses the Petrie household to stakeout a neighbor's house. Cambridge is a deadpan master, as witnessed when Rob accidentally takes his picture while he's napping: "Mr. Petrie, why did you do that?"
89. "The Return of Happy Spangler" (Season 1, Episode 30)
A poignant episode to end the inaugural season when "soft, sentimental Rob" gets his has-been former mentor a job on the Alan Brady Show writing staff. Two good comedy bits: Rob's impression of Alan Brady reading a comedy script for the first time and his slapstick lecture about comedy.
88. "Jilting the Jilter" (Season 2, Episode 31)
Guy Marks is loathsomely great as second-rate comedian Freddie "The Welcher" White, who opportunistically romances Sally Rogers so she'll write his act. Once again, Rob's meddling appears to backfire when he and Buddy write him an act good enough that they think he won't follow through. Mark does his signature fly and ostrich impressions and the episode ends on a bittersweet note. The Dick Van Dyke Show didn't always leave 'em laughing.
87. "The Return of Edwin Carp" (Season 3, Episode 27)
An entertaining valentine to old-time radio with appearances by Arlene Harris, Bert "The Mad Russian" Gordon, and Richard Haydn's Edwin Carp. If these names are unfamiliar or you agree with Sally that "most people today couldn't care less about the radio personalities," then this might not be the episode for you.
86. "Gesundheit, Darling" (Season 2, Episode 12)
Another good showcase for Van Dyke to sneeze and — funnier — struggle to refrain from sneezing when he fears he may be allergic to Laura.
85. "Too Many Stars" (Season 3, Episode 6)
A second community show episode that puts Rob in the unenviable position of having to choose between Laura and a fabulously talented neighborhood newcomer for the lead in the musical. Rob takes great pleasure in needling his entitled and crestfallen wife, but there are plenty of laughs to go around, including Mel Cooley's ventriloquist act and Millie's torch song audition ("But first I'll kill myself/I/m funny that way").
84. "The Sound of the Trumpets of Conscience Falls Deafly on a Brain That Holds Its Ears…" (Season 3, Episode 12)
There are eight million stories in the Naked City and Rob becomes one of them when he finds himself a reluctant witness in a jewelry store hold-up. One of a handful of Good Citizen Rob episodes in which he wrestles with doing his civic duty.
83. "Long Night's Journey Into Day" (Season 5, Episode 30)
A retrograde episode for Laura's character as she becomes increasingly panicked spending the night in the house while Rob is away. But she and Millie make a good comedy team as they try to brave it out.
82. "Young Man with a Shoehorn" (Season 4, Episode 22)
Rob invests in Buddy's uncle's discount shoe store. When the store's rough and rude star salesman (Milton Frome, from "Who Stole My Watch") quits, Rob and Buddy take over. Some good physical comedy in the interactions with difficult customer AND Lou Jacobi as Uncle Lou.
81. "The Gunslinger" (Season 5, Episode 31)
A guilty pleasure, this one. While having his wisdom tooth pulled, Rob fantasizes himself and the entire cast in an extended western spoof. Perhaps one of the series' silliest episodes with the most groan-worthy jokes ("Hominy grits"/"I don't know, about 40 or 50").
80. "The Twizzle" (Season 1, Episode, 23)
A fondly remembered episode that tackles the passing fancy of rock and roll dance crazes. Sally discovers Randy "Twizzle" Eisenbauer (Jerry Lanning) who's got a brand new dance: "You twist a little/Then you twist a lot/And when you really get hot/Then you Twizzle." That's for the kids. For the adults, Randy sings "This Nearly was Mine" from South Pacific. I could have gone through life not learning that this was among the cast's least favorite episodes.
79. "Will You Two Be My Wife?" (Season 2, Episode 17)
This episode introduces Rob's memoir, whose contents will form some of the more memorable flashback episodes. Barbara Bain reveals a hilarious side denied to her on Mission: Impossible as Rob's hometown sweetheart whom he returns home to break up with after proposing to Laura.
78. "Odd but True" (Season 5, Episode 8)
Garry Marshall and Jerry Belson wrote this fun and mildly twisted episode in which "for $500 and a million laughs," Rob allows himself to be considered for the "Odd but True" newspaper column after it's discovered that the freckles on his back form the Liberty Bell. A memorable gag is Rob and Laura's reaction to a man with the head the size of a baseball.
77. "A Day in the Life of Alan Brady" (Season 5, Episode 25)
A documentary about Alan Brady impinges on Rob and Laura's anniversary party for Millie and Jerry. Stealing the show are party guests Hi and Blanche, "the drunk and the flirt" ("Where's your husband?"/"Where's the bar?")
76. "Racy Tracy Rattigan" (Season 2, Episode 27)
Turns out you can push Rob Petrie only so far. Richard Dawson stars as a randy British entertainer filling in for a vacationing Alan Brady. As the head writer, it is Rob's responsibility to make his two weeks as pleasurable and uneventful as possible, but when Tracy makes a play for Laura, Rob, uncharacteristically, takes action. That would be enough for most sitcoms, but this Carl Reiner-penned episode goes a little deeper to have a little sympathy for the devil.
75. "The Last Chapter" (Season 5, Episode 32)
The Dick Van Dyke Show goes out with a clip show, but at least they're great clips. All represent chapters in Rob's finally completed book. A meta finish anticipates Seinfeld and the series' fitting final image is Rob and Laura in a passionate kiss.
74. "The Sam Pomerantz Scandals" (Season 2, Episode 24)
One of the better "Let's put on a show" episodes. Rob and company vacation at a new hotel run by Rob's Army buddy (Henry Calvin). No sooner does Rob injure the hotel's star attraction then the cast takes turns entertaining onstage. Rob and Laura soft shoe through "Nothing Could be Finer," and Rob performs his uncanny Stan Laurel impression. "I Am a Fine Musician" makes its debut.
73. "Bupkis" (Season 4, Episode 24)
"Bupkis" is a Yiddish term meaning nothing, and that's what Rob stands to get when an old song he co-wrote but signed away the rights to becomes an unlikely hit. Not top of the chart Van Dyke, but a good "Petrie is a jerk" episode in which he is forced to rise to the occasion and get the credit he deserves. A fun moment occurs early on when the audience catches Van Dyke in a flub: Rob calls a radio station, then realizes he forgot to look up the number and then consults the phone book. "Right," he tries to cover.
72. "My Two Show-Offs and Me" (Season 4, episode 13)
At Laura's urging but against his better judgment, Rob allows a reporter from Manhattan magazine to observe the Alan Brady Show writing staff at work leading to childish outbursts, posturing, quibbling, and backstabbing. A good episode for Morey Amsterdam's Buddy, who really goes overboard.
71. "I'd Rather be Bald Than Have No Head at All" (Season 3, Episode 31)
Rob fears he's losing his hair and resorts to desperate and unorthodox measures leading to a bad dream that rivals "It May Look Like a Walnut." Unlike that classic, this episode clues the audience in that Rob is having a nightmare. It's bizarrely funny, but there is a genuinely unexpected twist.
70. "How to Spank a Star" (Season 3, Episode 24)
"Darling, charming, and wonderful" Rob is installed as producer by diva guest star, who proceeds to run roughshod over him until he finds his backbone. Rob's inability to use the executive intercom system without buzzing Alan Brady is one of the series' great running gags.
69. "The Bottom of Mel Cooley's Heart" (Season 5, episode 19)
For five seasons, whipping boy Mel Cooley suffered Buddy's insults and Alan Brady's abuse, but after a brutal public humiliation that leaves even Buddy sorry for him, the worm finally turns (at Rob's encouragement). Richard Deacon rises to the occasion of the only Mel-centric episode. And Semitic viewers could appreciate the rare acknowledgement of their people in prime time, when a chastened Alan, evoking Captain Bligh, asks Rob, "Do you really want Mel back, Mr. Christian?" Buddy pipes in, "So does Mr. Jewish."
68. "Hustling the Hustler" (Season 2, Episode 5)
A solid Buddy episode in which his black sheep brother (who knew he had one?) reappears to announce he's reformed, but Buddy won't believe him. The episode's funniest bit is in the beginning with an office money jar for every time Buddy insults Mel. Mel makes his own deposit ("That's for what I was thinking"). Then things take a dark turn when Blackie engages Rob in a game of pool. Effective editing heightens the tension.
67. "The Ugliest Dog in the World" (Season 5, Episode 4)
Rob tries to find a home for a stray dog used in a sketch. The dog's name, Horrible, says it all. Best in show honors goes to Billy DeWolfe as Rexford Spaulding, a dog groomer who accepts the challenge to make the dog pretty ("Pretty? The best this beast will be is grotesque").
66. "The Great Petrie Fortune" (Season 5, Episode 7)
The song "Me and My Shadow" holds the key to the mystery of the "riches beyond compare" hidden in a rolltop desk willed to Rob by his eccentric Uncle Hezekiah (Van Dyke in a dual role). As in the movie Charade, the clues are in plain sight. Highlight: Laura coming upon Rob rubbing a lamp found in the desk and playing genie.
65. "I am My Brother's Keeper/The Sleeping Brother" (Season 1, Episodes 26-27)
Burford! Rob's brother Stacey (Jerry Van Dyke) makes a delightful grand entrance in the series' first two-parter. Stacey is "spirited, joyful and bubby," but only when he's asleep. When he's awake, he's shy, reserved and introverted. His audition to appear on The Alan Brady Show sets the stage for one of those great Petrie house parties where the cast entertains.
64. "Honeymoons are for the Lucky" (Season 3, Episode 23)
Another chapter in Rob's memoir recalls the "ludicrous and bizarre" honeymoon in which Rob is forced to go AWOL from Camp Crowder. Kathleen Freeman (the maid in "Never Bathe on Saturday") is an always-welcome contrarian comic foil as the caretaker on the less than deluxe inn.
63. "4 ½/The Alan Brady Show Goes to Jail" (Season 4, Episodes 7-8)
Don Rickles turns in one of the series' best guest star turns as Lyle Delp, who, in a flashback, holds up Rob and a pregnant Laura in an elevator. He does the best "Oh, Rob" this side of Mary Tyler Moore. The second part is an ensemble show in which the cast performs at the prison where Lyle is a trustee. Luckily for us, we get a limited Rickles set heckling the other prisoners: "That's why you guys are sitting here with the West Point cadet suits on, for being wise guys".
62. "Body and Sol" (Season 5, Episode 11)
Another flashback to Rob's Camp Crowder days when "Pitter Patter Petrie" fought Boom Boom Bailey for the middleweight championship. Rob faces stiff resistance from Laura, inspiring the solid episode's defining line, "You're no Lili Palmer." Van Dyke follows in the grand tradition of Charlie Chaplin, Stan Laurel, and Curly during the climactic bout.
61. "The Two Faces of Rob" (Season 2, Episode 2)
Several first season episodes climaxed with a playful Rob and Laura chasing each other around the living room and into unseen areas of the house where one imagines things got a little more amorous. This episode takes it up a notch as Rob, for a sketch, tries to prove that a husband could disguise his voice so that his wife wouldn't recognize him. He, of course, thinks Laura is flirting with a complete stranger. Her romantic mood when he comes home indicates Laura doesn't mind a little role-play.
60. "A Word a Day" (Season 1, Episode 20)
Something of a trial run for the big reveal in "That's My Boy??". Rob and Laura gird themselves for a showdown with the parents of the boy who has been teaching Ritchie naughty words. Gradually, it turns into a Very Special Episode: "How do you stop kids from slipping?"
59. "My Husband Is a Check Grabber" (Season 2, Episode 21)
This episode starts off strong as Rob reflects on an evening out during which he managed to anger Laura and tries to pinpoint what he did (the answer is in the title). Rob will redeem himself, but he's so clearly in the wrong here that it doesn't quite pay off.
58. "The Plots Thicken" (Season 3, Episode 25)
Sitcom families normally didn't discuss where the husband and wife would ultimately be buried, but this episode is a good example of The Dick Van Dyke Show's more sophisticated worldview as Rob and Laura's parents argue over competing cemetery plots. Gets into some dark territory (a traumatized Ritchie asks, "Where's Daddy going without you?") before the reassuring conclusion.
57. "My Mother Can Beat Up My Father" (Season 4, Episode 1)
This season opener returns to Rob's unfinished memoir and the latest chapter that recounts how he wound up in the hospital in traction. Laura's — aka "the adorable Amazon" — dispatch of a drunken bar patron using judo is a play-it-again moment.
56. "Remember the Alimony" (Season 5, Episode 20)
The series' last flashback episode recalls an ill-fated Mexican getaway that leads newlyweds Rob and Laura to the brink of divorce. The plus side: Good guest star turns by Bernie Koppel as a Mexican lawyer and Allen Melvin as army buddy Sol.
55. "My Husband is the Best One" (Season 3, Episode 15)
Here's another fine mess Laura gets Rob in. Sitting in on a magazine interview for a cover story about Alan Brady, Laura gushes about Rob, leading to an article in which he is mentioned 11 times more than Alan. "Buddy Rogers and Sally Sorrel" are none too pleased, either.
54. "A Surprise Surprise is a Surprise" (Season 2, Episode 30)
Laura is in the midst of planning a surprise party for Rob, and as Rob tells Buddy and Sally, "it's pretty funny." Using "deductive reasoning, knowledge of the way my wife's mind works, and accidental eavesdropping," Rob tries to stay one step ahead of Laura. Pretty funny, indeed. This episode is shameless in hooking the audience via misdirection as Rob initially thinks Laura is having an affair.
53. "The Lady and the Babysitter" (Season 4, Episode 3)
Laura has already rated a reference to Jackie Kennedy in "The Return of Happy Spangler." But it takes a lovestruck teenager, Ritchie's babysitter, to truly capture "the fairest of women" whom he compares to Helen of Troy, Cleopatra, Aphrodite, and Juliet. Which leads to this great line from Rob: "How do you feel about him?"
52. "The Talented Neighborhood" (Season 1, Episode 19)
Rob's career and suburban worlds amusingly collide when he is beset by pushy parents who want to audition their children for an Alan Brady Show talent contest.
51. "The Third One from the Left" (Season 3, Episode 14)
A chorus girl gets a crush on Rob after he recommends her for a featured role on The Alan Brady Show. Laura, rather than be jealous, coaches "gentle and self-effacing" Rob on how to get her out of his fair. This, of course, turns into an accidental marriage proposal. Buddy: "I get dibs on Laura."
50. "Stacey Petrie" (Season 4, Episodes 17-18)
Jerry Van Dyke is seen to better advantage in this second go-round as Rob's awkward, tongue-tied brother who is poised to open a new cellar coffeehouse and propose to a woman he's never met and who thinks he's James Garner (the drummer, not the actor). This is the one with the classic "Nobody knows how I feel" exchange.
49. "Laura's Little Lie"/"Very Old Shoes, Very Old Rice" (Season 3, Episodes 3-4 ) 
Moore delivers some of her best "Oh, Robs" in the first — and better — part of this two-parter. That's when Rob discovers that she lied about her age on their insurance policy and they may not be legally married. The second part more predictably trumps up a fight between the couple when they need to get remarried. Happily, a great Madge Blake (Aunt Harriet on "Batman") and Bert Mustin are on hand as elderly witnesses to offer advice to the couple.
48. "Give Me Your Walls!" (Season 2, Episode 23)
"Wall; everything gonna be fine!" The great Vito Scoti (Nazorine the baker in The Godfather) is house painter Vito Gioto, who may or may not be taking advantage of the Petries. In this season two episode the dynamic between Rob and Laura is still being fleshed out. Rob may wear the important, decision-making pants in the family, but he's a pushover for the charming Vito. "You know what I wish you would do?" Laura asks. "Something!"
47. "Sol and the Sponsor" (Season 1, Episode 29)
It's just "one of those life situations that comes along once in awhile" when Rob's uncouth Army Buddy Sol (Marty Ingalls) crashes the Petrie household on the night he is entertaining a stuffy sponsor and his wife. The anticipatory audience murmur sets up the episode's biggest laugh when Sol misinterprets Rob's hint that Sol would be the odd man out at an uneven dinner party and shows up with his friend Herman's brassy, gum-chewing sister Arlene.
46. "No Rice at My Wedding" (Season 5, Episode 5)
"You don't forget the guy who almost won your wife in a raffle." A strong flashback episode back to Camp Crowder where Laura finds herself torn between Rob and Clark Rice (a pre-Green Hornet Van Williams), who wins a date with the Bivouac Baby. Millie's recalculations of her point system in rating both men is a strong running gag.
45. "The Ghost A. Chantz" (Season 4, Episode 2)
As Bob Hope, Abbott and Costello and Don Knotts demonstrated, comedy and terror go well together. The finish is disappointing, but until then, Rob, Laura, Buddy and Sally are afforded ripe opportunities to display various shades of cowardice when they arrive at a sold out resort and are roomed together in a supposedly haunted cabin.
44. "One Angry Man" (Season 1, Episode 24)
Rob literally trips over himself as the lone jury holdout enthrall to a ravishing defendant (Sue Ann Langdon). Rob's faith in her innocence is justified, but he has a lot of explaining to do to Laura who witnesses his antics in court. One of the key elements of this episode: We learn that Rob's middle name is Simpson.
43. "The Case of the Pillow" (Season 4, Episode 21)
It's fun to watch layman Rob Petrie play lawyer to an increasingly exasperated Ed Begley as a small claims court judge hearing Rob's case against a suspect pillow salesman. Alvy Moore (Hank Kimball on Green Acres) has the episode's most famous line: "Your honor, I'd like to enter a plea of insanity; he's crazy."
42. "My Blonde-Haired Brunette" (Season 1, Episode 2)
Is Rob getting tired of Laura? She thinks so. Laura's crying jag at the end of the episode is a tantalizing hint of Moore's comic chops. Ann Morgan Guilbert makes her debut as neighbor and best friend Millie Helper.
41. "The Secret Life of Buddy and Sally" (Season 2, Episode 10)
First Buddy thought Rob and Sally were having an affair. Then Rob thought Buddy was having an affair with a married woman. This episode encourages the thought that Buddy and Sally are having an affair. But it's literally all an act. It's always fun to watch Amsterdam and Marie perform. Features the one and only appearance of "those dancing suburbanites, Lester and Esther Bushmaster."
40. "Who and Where Was Antonio Stradivarius" (Season 3, Episode 7)
A mild concussion is nothing to laugh at, but this Carl Reiner-penned gem benefits from a hilarious jump cut that finds an amnesiac Rob partying in Red Hook after a prop mishap causes him to lose his memory. Sallie Jones is wonderful as the ditz who is swept of her feet by Rob's Sergeant Antonio Stradivarius.
39. "The Curse of the Petrie People" (Season 5, Episode 18)
After more than nine years of marriage, Rob's parents bestow on Laura a ghastly family heirloom; a broach shaped like the United States, which she accidentally grinds up in the garbage disposal. A funny episode driven by Laura's panic to replace the broach
38. "Buddy Sorrell, Man and Boy" (Season 5, Episode 22)
My mother's favorite episode. Rob suspects that Buddy is having an affair with a married woman, but it's all strictly kosher — he's taking bar mitzvah lessons.
37. "Dear Sally Rogers" (Season 5, Episode 21)
The funniest of the lovelorn Sally episodes. Her relationship with Herman Glimsher on the rocks, Sally advertises for a man on Stevie Parson's late night talk show. Among the funny responses, one is seriously romantic and Rob conspires with Parsons to surprise Sally on the show.
36. "I Was a Teenage Head Writer" (Season 2, Episode 19)
We've seen how Rob met Laura. This key flashback episode recalls the forming of the other most important relationships in Rob Petrie's life, Buddy and Sally. They initially see him as an interloper when he is hired as a head writer over the show business veterans.
35. "Uhny Uftz" (Season 5, Episode 3)
Is it Rob's wild imagination or did he really see a flying saucer outside his office? Psychiatrist Phil Ridley (Ross Elliot) returns to reassure Rob that he isn't crazy. Cowardly Buddy is always fun and he makes a good sidekick for Rob as they ultimately track the UFO to an upstairs office.
34. "Buddy, Can You Spare a Job" (Season 1, Episode 14)
A solid Buddy episode as "the best one line joke writer in the business" accepts a head writer job on another show, thrilling Mel, but disturbing Rob, who is compelled to write a phony memo to help Buddy get out of his contract with Alan Brady. When that backfires and leaves Buddy unemployed, Rob and Sally conspire with nightclub comic Danny Brewster (Lennie Weinrib) to get Buddy his job back. Love his "Who's he?" joke. A rarity: Mel gets the last laugh.
33. "The Square Triangle" (Season 2, Episode 25)
Funny, yes, but this may also be one of the series' most romantic episodes. Jacques Bergeron guest stars as "the Parisian Sinatra" Jacques Savon, who must find a way to let Rob and Laura each go on believing that they are the ones who broke up Jacques' marriage and preserve a "memory that keeps (the) heart young and (the) soul warm on cold nights." Rob and Laura's passionate embrace at the end is a heart-melter.
32. "Where Did I Come From?" (Season 1, Episode 15)
This terrific first season flashback episode recounts the frantic circumstances surrounding Ritchie's birth. Classic scenes includes Rob ready to rush to the hospital at the drop of an alarm clock and Rob being caught with his pants down when the call to go to the hospital finally comes.
31. "See Rob Write, Write, Rob, Write" (Season 5, Episode 12)
A late series gem. Rob and Laura write competing children's stories. Rob's dramatic rendition of his age-inappropriate composition ("Danny was morose") is hilarious. John McGiver steals his scene as the publisher.
30. "The Impractical Joke" (Series 4, Episode 16)
"Scream like a chicken." Some clever misdirection as Buddy braces for revenge after participating in a practical joke on Rob. Lennie Weinrib gets the last laugh with Alvy Moore getting the assist.
29. "Ray Murdock's X-Ray" (Season 2, Episode 18)
While being grilled on TV by a Mike Wallace-type interviewer, Rob lets slips that Laura's mishaps inspired some of the Alan Brady Show's funniest sketches. This pivotal episode further marks the transition of Laura Petrie from sensible wife to nut.
28. "To Tell or Not to Tell" (Season 1, Episode 8)
"I'm just a housewife." Laura Petrie finally gets to cut loose during one of the Petrie's fabulous living room parties and is invited to be a substitute dancer on The Alan Brady Show. Rob wrestles with being a supportive husband, but falls prey to Buddy's outdated gender politics: "Out of the kitchen, onto the stage. You lost a wife and gained a roommate."
27. "Never Name a Duck" (Season 2, Episode 1)
Larry Matthews' finest half hour and a very special episode about the death of a pet to which all families can relate. The last five minutes dispense with the jokes for a heart-to-heart between Rob and the heartbroken Ritchie about real love vs. selfish love. Also of note are the revamped opening credits featuring Ron's iconic trip over the living room ottoman. This audience-grabber, along with the show's fortuitous move in the schedule to follow the hit show The Beverly Hillbillies, are credited with saving the show from cancellation.
26. "Forty-Four Tickets" (Season 1, Episode 11)
"Oh, Robert," Laura scolds when Rob forgets he had promised members of the PTA 44 tickets to attend a filming of The Alan Brady Show. Rob's forgetfulness, like his clumsiness, is a comedic way to ground a man who otherwise leaves an incredibly charmed life. The funniest moments are the bridge game in which Rob realizes his error ("I bid 44 no tickets") and Buddy and Sally trying to steal a cache of tickets from Mel's pocket.
25. "Father of the Week" (Season 1, Episode 22)
Take two of Carl Reiner's failed Head of the Family pilot. Ritchie is embarrassed about what Rob does for a living, but changes his tune when Rob regales the class with an impromptu master class in slapstick. A delight all around.
24. "The Sick Boy and the Sitter" (Season 1, Episode 1)
This series premiere deftly introduces its classic characters in the broadest terms. Rob is the college-educated "egghead" head comedy writer, Buddy Sorrell the old school show business veteran, and Sally the husband-hunting gag writer. Moore is in the initially thankless role as wife and mother who doesn't want to attend a party at Alan Brady's because she fears son Ritche might be getting sick. ("How often is one called upon to be a responsible parent?"). At the party, Sally does her Jimmy Durante imitation, Buddy tells jokes, and Rob does great physical shtick. Laura remains on the sidelines.
23. "My Husband is Not a Drunk" (Season 2, Episode 6)
During one of those great Petrie house parties, Rob is unwittingly hypnotized to become roaring drunk at the sound of a bell. One of Van Dyke's tour de force performances.
22. "The Alan Brady Show Presents" (Season 3, Episode 13)
Up until this episode, we only got The Alan Brady Show from behind the scenes. This looks to be an actual broadcast of a holiday special featuring the core cast. No true meaning of Christmas here; just some mostly fun musical numbers, including the Alan Brady choir and the show's most beloved song, "I am a Fine Musician." In a meta moment, the cast sings The Dick Van Dyke Show's theme song.
21. "The Masterpiece" (Season 3, Episode 2)
The Thing is the thing. This excellently seamless episode is driven by two mysteries: Who is the painter Artanis and what exactly is the object d'art Laura bought at an auction? Your Show of Shows alumnus Howard Morris, as an art appraiser, explains it all for you.
20. "Three Letters From One Wife" (Season 4, Episode 9)
After three seasons, Carl Reiner is for the first time full-frontal Alan Brady and turning up the egomaniacal taskmaster up to 11. Rob gets a reluctant Alan to host a documentary about comedy and is driven crazy in the process, exacerbated by Millie, who writes 14 fan letters for the show that is then pre-empted. The exchange in which Rob learns from Laura and Millie of the errant letters is gold.
19. "Obnoxious, Offensive, Egomaniac, Etc." (Season 5, Episode 26)
The series' last workplace episode is a terrifically played farce in which Rob, Buddy, Sally, Laura, and then Mel band together to reclaim a script accidentally sent to Alan that is loaded with the writers' insults ("bald headed fink").
18. "When a Bowling Pin Talks, Listen" (Season 2, Episode 32)
In the season three Mad About You episode, "The Alan Brady Show," Carl Reiner, reprising Alan Brady, references "the bowling pin sketch." And here it is, the sketch Rob inadvertently steals from a litigious children's TV show clown. First frame to last, a great episode, with a pie-in-the-face finish.
17. "Big Max Calvada" (Season 3, Episode 9)
Sheldon Leonard steals the show as Maxwell "Fifth Amendment" Calvada, who hires Rob, Buddy, and Sally to write an act for his nephew, who predictably is hilariously untalented. Best sidekick honors go to Arthur Bantanides as Bernard ("The kid breaks me up").
16. "Washington vs. the Bunny" (Season 1, Episode 4)
The first season was almost as much about gender politics in the Petrie household as it was about Rob's career. In this memorable episode, Laura guilts Rob about having to miss Ritchie's school play because of his work. Van Dyke's turn as a puppet in a nightmarish dream sequence is masterful. (An uncredited Frank Adamo is one the passengers on Rob's flight; get used to that face — he will appear in 49 other episodes).
15. "The Pen Is Mightier Than the Mouth"/"My Part-Time Wife" (Season 3, Episodes 21-22)
A high-stakes two-parter in which Sally's successful appearance on a late-night talk show throws the office into turmoil, forcing Rob to hire Laura as a temp until Sally returns. Moore shines in part two with her "chewy or chocolate cream" joke and her sobs when she tells off the unappreciative Rob.
14. "The Attempted Marriage" (Season 2, Episode 3)
This flashback episode recalls Rob and Laura's aborted wedding ceremonies. Scenes that rightfully loom large in the show's legend include the shivery jeep proposal and Laura's crying jag after Rob shows up late and injured to the church.
13. "Dear Mrs. Petrie, Your Husband's in Jail" (Season 3, Episode 29)
A great "what happened" episode as an incarcerated Rob recaps to Laura the events that landed him behind bars. The first half is a solo showcase for an increasingly stir-crazy Rob trying to find company while Laura is out of town; the second is his ill-fated visit to an old army buddy performing at a dive nightclub. It's got a cannon-wielding showgirl, Jackie Joseph as Alberta Schweitzer and Johnny Silver, a 15-episode veteran of the series, appearing here as a peeved gambler.
12. "Oh How We Met on the Night that We Danced" (Season 1, Episode 5)
"Why do you hate me?" "Doesn't everybody?" Rob Petrie makes a hilariously rotten first impression in the series' first flashback episode that recalls how he met USO dancer Laura. It's a brasher Rob and a more off-putting Laura, but their chemistry is undeniable. Introduces Marty Ingalls as Sol, and "You Wonderful You" as Rob and Laura's song.
11. "Don't Trip Over That Mountain" (Season 2, Episode 22)
Laura's foreboding over Rob's first-ever ski trip is justified when he trips over a skier that had collided with a goat. Van Dyke's deft body language trying to hide his "sprained body" from Laura is achingly funny.
10. "Bad Reception in Albany" (Season 5, Episode 23)
Rob has to watch a fashion show on TV to scout some talent for The Alan Brady Show. How he comes to arrive late to a wedding wearing "a hairy tuxedo" drives perhaps the series' best "what happened" episode as he recalls the increasingly frantic events to a humiliated Laura. Van Dyke earns his biggest laughs just reacting to the colorful characters and increasing craziness around him.
9. "One Hundred Terrible Hours" (Season 4, Episode 30)
Rob recalls his disc jockey days when an on-air stunt to stay awake for 100 hours jeopardized his first meeting with Alan Brady. Best remembered for an exhausted and emotional Rob falling to pieces over news of a "poor little pussycat" stuck in a tree. A classic.
8. "Somebody Has to Play Cleopatra" (Season 2, Episode 14)
The first flashback episode not related to the Petries' backstory, and it's a great one. Rob recalls being roped in to direct the local community variety show. Laura performs "True, Mon, True" (written by Morey Amsterdam) and Ann Morgan Guilbert's Millie scores as the sassy comedienne in a "Cleopatra" sketch hilariously undermined by a great, pre-Hogan's Heroes Bob Crane as the neighborhood lothario. "Ah, Cleopatra my enchanted. At last I have arromed from rive."
7. "October Eve" (Season 3, Episode 28)
As with "Never Bathe on a Saturday," this classic episode gets its considerable mileage out of Laura Petrie. From Laura's speechless panic when she learns that a nude portrait of her has resurfaced in a Manhattan art gallery to Rob failing spectacularly at playing the supportive, nonplussed husband, this is a master class of reactive acting. Scenes between Moore and Reiner (appearing here as the temperamental artist who undraped "Laurishka") were rare throughout the show's run; this one is suitable for framing.
6. "The Curious Thing About Women" (Season 1, Episode 16)
A first season gem in which Moore really comes into her own as a comic actor. An argument after Laura opens Rob's mail inspires a comedy sketch that portrays her as a wild-eyed "pathological snoopy-nose" in front of 40 million viewers. Everything just works in this episode: the initial argument that drives the episode; the creation of the sketch in the writer's room; Laura's panic when life imitates sketch comedy; and Jerry and Millie's hysterics.
5. "That's My Boy??" (Season 3, Episode 1)
In the series' best flashback episode, Rob recalls how he became convinced that the hospital where Ritchie was born gave the Petries the wrong baby, building up to perhaps the biggest laugh in the show's history. It's a reveal too brilliant — and, for its time, too daring — to be spoiled here.
4. "All About Eavesdropping" (Season 3, Episode 5)
Rob and Laura's dark side is exposed when they accidentally overhear Jerry and Millie talking smack about them on their children's toy intercoms ("Rob's no Albert Schweitzer"). They proceed to sabotage their best friends' dinner party; the game of Charades in which "Pearl Harbor" and "Stab in the back" equals "On the Street Where You Live" is one of the series' greatest set pieces.
3. "It May Look Like a Walnut" (Season 2, Episode 20)
"Danny Thomas put walnuts in my hat" are not even the strangest words spoken in this Carl Reiner-penned classic. On the morning after watching a late-night horror movie, Rob fears he may be the "the last remaining Earth person" in a world under the influence of Kolac (guest star Danny Thomas) from the planet Twilo. A complicated practical joke or a nightmare? We know something is amiss when Buddy Sorrell and Mel Cooley embrace each other as pals. Laura body surfing on a closet cascade of walnuts will haunt you the rest of your days. In a good way.
2. "Never Bathe on Saturday" (Season 4, Episode 27)
The best Rob and Laura episode, and an essential Carl Reiner-penned farce. A second honeymoon turns into craziness when Laura gets her big toe stuck in the hotel bathtub spigot. Palpably romantic and riotous, this situation affords Van Dyke the ripe opportunities to at once channel his inner David Niven and to bang futilely on the locked bathroom door. Moore reportedly complained to Reiner that she was offstage for most of the episode. Reiner assured her she'd be the star nonetheless.
1. "Coast to Coast Big Mouth" (Season 5, Episode 1)
The fifth and final season kicks off with the series' best episode, courtesy of Bill Persky and Sam Denoff, who were awarded an Emmy for their efforts. In it, Laura accidentally spills the beans on a game show that the vainglorious Alan Brady is bald. Laura's character has evolved to this point that she will not allow Rob to take the blame and attempts to apologize personally to Alan; one of the funniest scenes in the show's long, celebrated run.