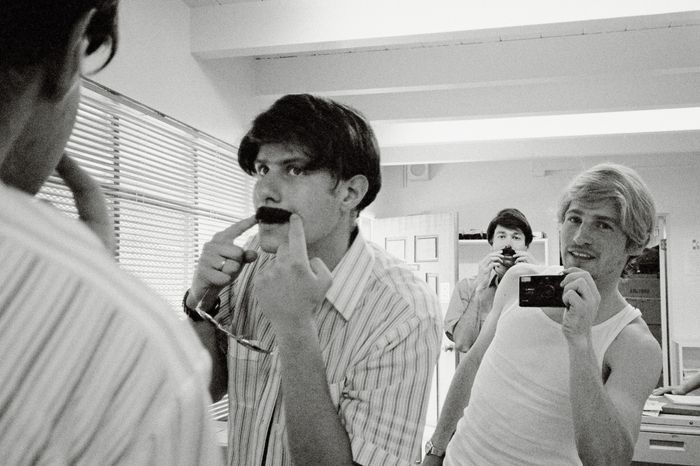 Beastie Boys Story.
Photo: Apple+
Apple has spent a fortune on star-powered TV series, but it has grown its film database more carefully, picking up projects from film festivals like TIFF and Sundance or developing its own. One of its strongest sections is nonfiction filmmaking projects about musicians, celebrities, nature, and the state of the world, and directors like Spike Jonze, Todd Haynes, and David Guggenheim provide interesting windows into various fascinating subjects. Here are the nine documentaries most worth your time this weekend — a guide we'll keep regularly updated with the best picks on the streaming platform.
Beastie Boys Story
Year: 2020
Run time: 1h 59m
Director: Spike Jonze
A legend of the music-video scene and director of Her and Being John Malkovich, Spike Jonze brings a sharp eye to this filmed version of a stage show done by the two remaining members of the Beastie Boys, Mike D and Adam Horovitz. A conversation between the two intercut with clips from their youth, this is a funny, vibrant piece of filmmaking that ultimately becomes a moving examination of how people change as they mature but never lose that Beastie inside.
Billie Eilish: The World's a Little Blurry
Year: 2021
Run time: 2h 20m
Director: R. J. Cutler
Billie Eilish burst on to the scene as a fully formed pop star, making 2019's When We All Fall Asleep, Where Do We Go? into an instant smash. Eilish was smart enough to allow a film to be produced during the creation of that album, so this is a companion piece of sorts to her breakthrough hit, but it's more than just fan service. An illuminating look at a young person who needs to create to express herself, it's a smart, revealing peek behind the curtain.
Boys State
Year: 2020
Run time: 1h 49 m
Directors: Jesse Moss, Amanda McBaine
Politics are formed early in life. If you need proof, just watch this riveting documentary about more than 1,000 teenage boys who attend a program in Texas that forces them to build a government from scratch. It's fascinating to see young men become politicians — in both the positive and negative intonations of that word. Winner of the U.S. Documentary Competition at Sundance in 2020, this was one of Apple's early acclaimed hits.
Bruce Springsteen's Letter to You
Year: 2020
Run time: 1h 30m
Director: Thom Zimny
One of the most important musicians has reached a fascinating stage of his career, looking back over his personal and professional personas with the voice of a poet. Bruce Springsteen's 2020 album, Letter to You, is a late-career masterpiece, an unpacking of life and death in a reunion with the E Street Band for the first time since 2014. This excellent music doc chronicles its production with a big heart.
Dads
Year: 2020
Run time: 1h 20m
Director: Bryce Dallas Howard
The star of Jurassic World knows a thing or two about having a famous dad, and she used her relationship with Ron Howard to help shape this directorial debut, a look at what it's like to be a father in the 2020s. Bryce Dallas Howard interviews famous dads and sons like Jimmy Fallon, Judd Apatow, Will Smith, Kenan Thompson, Jimmy Kimmel, and, of course, her own pop. The film can feel a little insulated in its look at largely privileged people, but it's telling that issues between fathers and sons are so universal.
The Elephant Queen
Year: 2019
Run time: 1h 36m
Directors: Mark Deeble, Victoria Stone
The first documentary produced by Apple was actually a nature film, a study of elephants on the African savanna that should appeal to fans of projects like Planet Earth. Once again, the creators here keep their distance, allowing subjects to exist without interference. We are merely observers of Athena, a 50-year-old elephant and matriarch of a group of pachyderms. This is a moving look at some of the planet's most majestic creatures.
Fireball: Visitors From Darker Worlds
Year: 2020
Run time: 1h 37m
Directors: Werner Herzog, Clive Oppenheimer
Who better to examine the impact of interstellar bodies on the planet Earth than one of its most ardent documentarians, the brilliant Werner Herzog. The director of Grizzly Man and Cave of Forgotten Dreams teams up with Clive Oppenheimer in this examination of meteorites. The pair traveled to 12 different locations on six continents to unpack not just the science behind these fireballs but the cultural importance they've had for centuries.
Louis Armstrong's Black & Blues
Year: 2022
Run time: 1h 46m
Director: Sacha Jenkins
One of the founders of jazz gets a bio doc that largely uses his own words to tell his life story. Louis Armstrong was billed as the U.S.'s first pop star, and Sacha Jenkins's approach is to not only detail his musical impact but how he shaped society and culture with his unique voice and personality. Louis Armstrong was an American icon, and this film gives the legend his flowers.
The Velvet Underground
Year: 2021
Run time: 2h
Director: Todd Haynes
The director of Velvet Goldmine and I'm Not There once again approaches a pivotal chapter in music history with his unique flair and craftsmanship. This telling of the life and success of the Velvet Underground embraces their avant garde influence by unfolding in a unique form — cut together with the spirit of their music. Premiering at Cannes in 2021, this is one of Apple's most esteemed projects.