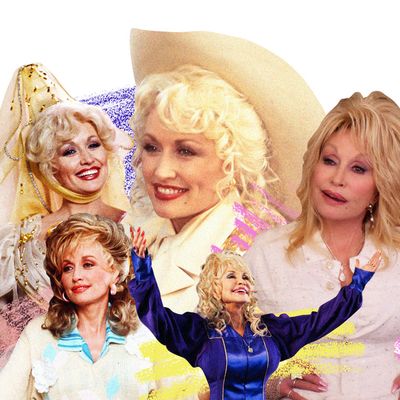 Photo-Illustration: Vulture, 20th Century Fox, Universal Pictures, TriStar Pictures, Netflix and Warner Bros.
2020 has been quite the year for America's favorite prolific musical genius and quippiest kilowatt blonde, the unsinkable Dolly Parton. She's currently winding down the year with a hat trick consisting of a new Christmas album (A Holly Dolly Christmas), a new Netflix holiday movie (Christmas on the Square), and the cure for COVID-19 (via a million-dollar donation that helped develop the promising Moderna vaccine). Your fave could never, as the kids say.
With a new entry launched into the cinematic Dollyverse, it's only right to step back and evaluate Parton's four decades in Hollywood. By the time Jane Fonda was developing 9 to 5 and laughing aloud at the spontaneous thought of the Queen of Country as a secretary, Dolly Parton already understood the power of the moving image and how to move within it. Prior to going Hollywood, Parton filmed a cool 218 episodes of The Porter Wagoner Show, followed by a single season of her own variety show, Dolly. Following her lauded 9 to 5 debut in 1980, she amassed a filmography of feel-good, music-filled films. And she was frequently irresistible in those roles.
There's a reason we don't praise Parton for her range. She's a character actor the way Joe Pesci and Arnold Schwarzenegger are character actors. By the very nature of who she is, how she speaks, and how she looks, she is functionally unable to disappear into a character. Instead, she infuses each role with her presence, and they vibrate with her wit and kindness, simultaneously giggly and self-possessed.
It follows that Parton's movies are populated by brassy, feminine, unapologetic women with good intentions and lilting southern accents. In life and on film, she radiates bon mots and no-bullshit charm. She's designed herself to be looked at, and her presence on camera is both captivating and regularly commented upon. Nails, heels, and wigs are constants never to be removed — not even for dramatic effect à la Glenn Close at the end of Dangerous Liaisons.
With Dolly starring in Netflix's latest Christmas confection, we're taking the opportunity to rank Parton's film roles. The takeaway? Whether she's embodying a gun-toting madame, a vengeful secretary, or a literal angel, Dolly-ness is inexhaustible, unconquerable, and eternal. Parton weaves her outsized personality into roles with such mastery that it becomes impossible to muse on who else might have played such a part. The appeal of Parton on film comes down to one simple question: "Who else but Dolly?"
As Olympia Dukakis (by way of Dorothy Parker) demurs to Parton during the Christmas party in Steel Magnolias, "if you don't have anything nice to say about anybody, come sit by me." And there is nothing nice to say about Frank McClusky, C.I. It's like a bizarre parallel universe version of Hot Rod, complete with blackface and a gay bar scene at a gay bar called Gay Bar. Frank (Dave Sheridan, doing a deeply misguided Jim Carrey impersonation) is a claims investigator determined to get to the bottom of his partner's murder by an insurance fraudster — right after this gay and/or fat and/or cleavage and/or tampon and/or dick joke. Parton plays the McClusky clan's safety-obsessed matriarch, and despite a mere 15 minutes of screen time (give or take), her presence is the lone breath of fresh air.
Before there was Christmas on the Square, there was Unlikely Angel, Parton's made-for-CBS Christmas special. Parton plays Ruby Diamond, a dive bar country singer who catches her boyfriend fooling around with another woman, then promptly dies in a car crash. Upon arriving at the pearly gates, St. Peter (Roddy McDowall, looking spectacular in a blindingly white turtleneck and blazer) informs her that in order to atone for her selfish ways and gain entrance to the heavenly choir, she must help a sad WASP-y family that's sorely lacking in Christmas spirit. With only a week to therapize the group dynamic of a bunch of strangers, Ruby has her work cut out for her: Mom's dead, Dad's a workaholic, daughter (a young Allison Mack, prior to her career in sex cult recruitment) is a moody teen and militant '90s vegan with a penchant for shoplifting, son loves video games and desperately wants Dad's approval — stop me if you've heard this one before. Parton and McDowall's banter is cute, but otherwise it's a sentimental snoozer. Sure, her spunky performance of "Whatcha Tryin' To Do To Me" (written for the movie and still unreleased) is fun, but movie theme "Unlikely Angel" isn't among the most memorable Dolly Parton songs. Parton waited years to release the latter, including it on her 2014 album Blue Smoke. Consider Unlikely Angel one for the most extreme Dolly die-hards, and nobody else.
The term "TV movie" has been rendered all but obsolete in the streaming era, but the Netflix-backed Christmas on the Square is a bona fide TV movie with all the schlock and awe that implies. Christine Baranski is Regina Fuller, a meaner if less horny version of her Mamma Mia! character, intent on selling the small town she inherited from her father to a mall development conglomerate. Determined to stop her are the town's good citizens, trainee angel Jeanine Mason, and veteran angel Dolly (periodically disguised as a homeless person with a box emblazoned with the word "CHANGE," not an eyelash out of place beneath her Eileen Fisheresque scarf). Somewhere between the high kicks and syllable-crammed musical exchanges, the spirit of the season melts old Regina Scrooge's heart thanks to flashbacks provided by the Dolly of Christmas Past. Christmas on the Square is heavy on the miracles and chock-full of songs, but light on memorable melodies, suffocated as they are beneath lyrical nonsense. But the most disappointing part of Christmas on the Square is how little it gives Parton to do. Flitting in and out on a floating cloud, Parton's sparkling presence still commands attention. But as a one-note character in a one-layer plot, there's not much even Dolly can do with it.
Joyful Noise's first sin is trying to convince us that outlaw country legend Kris Kristofferson is a gospel choir director. Its second sin is immediately killing him off. Parton manages to make it to the end credits as G.G. Sparrow, Kristofferson's widow and tough talkin' grandma to a bad boy on a redemption arc. Opposing her is Vi Rose Hill (Queen Latifah), newly minted choir director and overworked single mother. ("It must really gripe your ass to know there's somebody you can't charm," Vi Rose tells G.G., an incisive observation-cum-insult too smart for its script.) Nary a choir movie cliché is left unturned here: the olds preferring traditional songs to the youngins' edgier pop, a superior rival choir disqualified for cheating, the economically ravaged town that will be saved if they can win the big competition. With the movie's tragedies foisted onto Vi Rose, Parton as perky G.G. is responsible for most of Joyful Noise's actual joy. Not that she makes it easier to sit through the closing gospel pop medley, featuring clumsily Jesus-ified versions of Chris Brown's "Forever" ("It's gonna be you, me, and the good lord") and Usher's "Yeah!" ("Up in the church with my homies, trying to get a little praise on"). There's more where that came from, but we'll spare the non-believers the rest.
6. Rhinestone (1984)
Answering fan questions in 2006, Stallone said Rhinestone was one of the movies he wished he never made — especially since he turned down Romancing the Stone to do so. Director Mike Nichols was initially attached to the project, which Stallone envisioned as "down and dirty" and "Belgian chocolate dark." Instead Bob Clark took the reins, and the finished product "literally shattered [Stallone's] internal corn meter into smithereens." It's not hard to see why: looking to escape her contract, country singer Jake Farris (Parton) bets her manager that she can turn a regular guy into a real performer in two weeks. She finds her Pygmalion in Sylvester Stallone's unhinged New York cabbie, with an accent that sounds like your drunk uncle quoting Midnight Cowboy. (The words "Ravioli! You got it! Rock 'n' roll!" come out of his mouth in that order in his first scene.) Parts of Rhinestone are genuinely painful to watch as Stallone chews the scenery with a practically unhinged jaw. But Parton joins in on the hammy fun with one of her most reactive performances to date. She manages to play scene partner to Stallone without ever indicating that he's being anything besides normal. Together they make a baffling couple, but their rollicking duets are the single best thing about the movie. Neither Stallone nor Parton try to contain their delight as they mug their way through "Woke Up In Love". If Hollywood is looking for a left-field choice for a gritty modern remake, here it is.
As far as Lifetime movies go, you could do a lot worse than Blue Valley Songbird. Parton is Leanna Taylor, a seasoned country songwriter with a controlling manager-slash-boyfriend, a troubled past, and a flash of Reba-red '90s country star hair. Parts of it are surprisingly refreshing: its downtown Nashville setting (prior to the invasion of loud bachelorettes and butt-shaped signs hung by white Republican rappers from Michigan), its unglamorous depiction of what touring looks like for the vast majority of working musicians, and character actress Beth Grant as honky tonk owner Ruby. Parton elevates the boilerplate script where she can. "You don't have to show me but once. They say I'm a quick study," she tells bandmate Bobby when he gives her some lyrics he's written. There's a split-second pause as a conspiratorial grin flashes across her face. "They say." Parton's nuanced, generous performance deserves a more nuanced, generous movie. Confined to this one, she grants it some genuine humanity, portraying the aging Leanna as increasingly resigned to her regional fame despite lingering dreams of the big time. Her gorgeous solo performance of "Wildflowers" on autoharp doesn't hurt either.
Robert Harling's hyper-Southern stage play about friendship, women, and life within the male-free sanctuary of a beauty parlor, Steel Magnolias successfully made the leap from Off-Broadway smash to a star-studded $98 million box office affair, the former still running upon the release of the latter. As beauty parlor owner Truvy, a role written for and originated by Margo Martindale, Parton is breezy and ballsy, inhaling hairspray and serving as the glass-half-full foil to fatalist Ouiser (Shirley MacLaine) and snarky Clairee (Olympia Dukakis). Truvy facilitates and locates the women's friendships, and Parton's strong but spritely performance sands the harder edges of the group dynamic with optimism and elaborate holiday decor. As the battle of wills between pre-Pretty Woman Julia Roberts and on-screen mom Sally Field heads towards collective, sentimentalized tragedy, Truvy becomes the one character everyone can seemingly agree upon. Melodramatic as the dialogue gets, Parton nails some of the script's finest one-liners. "There is no such thing as natural beauty," she counsels a birdlike Daryl Hannah, decades before Facetune and another all-woman celebrity clan (with a penchant for names that start with K) carved that philosophy in stone. But hasn't Dolly always been ahead of her time?
A 1978 Broadway success turned star vehicle for Parton and co-star Burt Reynolds — the score was edited to include Dolly's original song "Sneakin' Around" and a shortened version of "I Will Always Love You" — The Best Little Whorehouse in Texas marks Parton's only capital-M movie musical (until Christmas on the Square, that is). The choreography is dizzying and the story is simple: Parton is Miss Mona Stangley, madame of the Chicken Ranch brothel and lady friend to Burt Reynolds' mustachioed Sheriff Ed Earl Dodd. True to Dolly form, Stangley does community charity aplenty, albeit in return for the law's continued willingness to overlook her house of ill repute. Cinema requires conflict, so that all goes to hell when flamboyant muckraking TV personality Melvin P. Thorpe decides the Ranch is a moral blight on the great state of Texas. Parton's banner moment is her opening number "A Lil' Ole Bitty Pissant Country Place," combining vocal acrobatics and lyrics about how pimps are wholly unnecessary with no fewer than four costume changes. Whether zipping around town in a red convertible or emasculating Burt Reynolds into trying the underwear she bought him, Parton's presence is turned up to eleven here. In quieter moments, she imbues Stangley with some self-aware gravitas: "I started out poor and worked my way up to outcast." Then she's back to business, wearing a turquoise nightgown and brandishing a double-barrel shotgun she's not afraid to use. Name a more iconic duo, I'll wait.
There's something almost quaint about watching Straight Talk, a movie set in a bygone media landscape where newspapers reign supreme, talk radio therapists are celebrities, and a young James Woods, walking the dashing-awkward line as only he can, isn't railing against fake news on Twitter. Parton is the thrice-married Shirlee Kenyon, a small-town dreamer who leaves her dirtbag boyfriend for a fresh start in Chicago to the tune of "Light of a Clear Blue Morning". Through a series of predictably wacky rom-com mishaps, she becomes "Dr. Shirlee," an overnight talk radio therapy sensation whose — wait for it — compassionate straight talk wins the hearts and minds of Chicago and lands a pink Mercedes in the garage of her new penthouse. Director Barnet Kellmen leans into the Dolly-ness: she circles job postings in the classifieds with red nail polish and snags a runaway $20 bill by attaching her chewing gum to the end of her stiletto. By the time she gets in the radio booth, writer Craig Bolotin lets Dolly rip. "Having an affair is like playing pool on two tables," she advises one caller. "You may have the balls, Bud, but you're going to wear out your stick." As workaholic journalist Jack, James Woods' professional ethics prove powerless against her invitation to come upstairs and look at carpet samples. Woods and Parton are an unconventional pairing, and Straight Talk is a strange relic of a rom-com, replete with power suits and montages. Despite its oddities, Parton's original songs haven't lost their early '90s luster, especially "Dirty Job," her jazziest labor anthem that deserves some of the leftist adulation granted "9 to 5."
1. 9 to 5 (1980)
Sure, placing women-in-the-workplace magnum opus 9 to 5 in the top spot may be the obvious choice. It's also the correct one. Parton's Hollywood debut as embattled-to-empowered secretary Doralee Rhodes remains her best-known role, one she agreed to on the condition that she could write and record the movie's theme. (That she did so between takes using her acrylic nails like a washboard, delighted by how the sound resembled clacking on a typewriter, ranks among the foremost chapters of her songwriting lore.) Roger Ebert rightly predicted her debut alone was enough to cement the movie in film history, comparing her "unstudied natural exuberance" to fellow brilliant bombshell Marilyn Monroe. Like Monroe, Parton leaps off the screen thanks to a combination of emotional engagement and magnetic presence. She's especially dexterous when the satire turns pitch-dark and trades on the premise that the most efficient way for women to step into their power might require restraining the (egotistical, lying, hypocritical, bigoted) men who stand in the way. Parton is funny as hell, but too smart to be the butt of the joke, achieving seamless chemistry with Jane Fonda and Lily Tomlin in a un-preachy show of feminist solidarity. A handful of sequences point to Dolly's other job: she gallops into her revenge fantasy sequence on horseback and lassoes her boss; the epilogue tells us Doralee quit to pursue a successful career in country music. But those moments are window dressing at best, and a misunderstanding of the Dolly effect at worst. In other words, it was never the guitar. It's the presence, stupid.