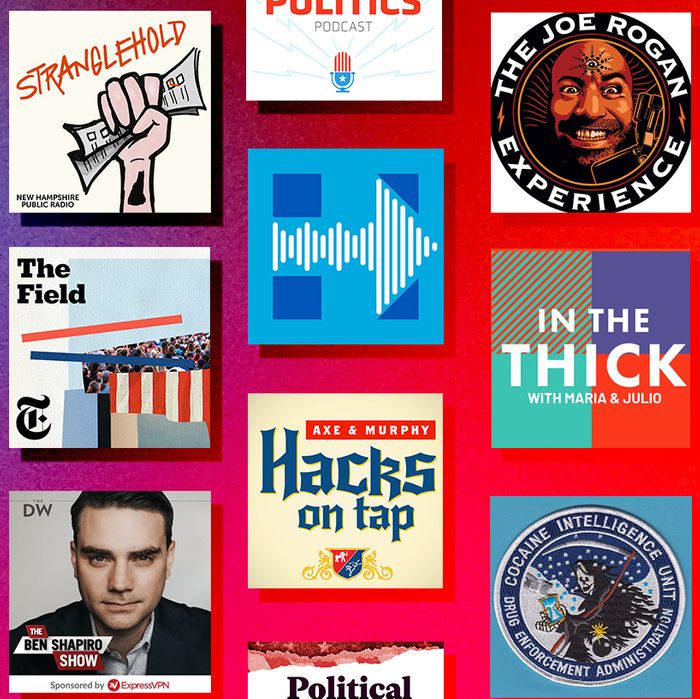 As the global coronavirus pandemic rolls on, so, too, does the American presidential election season and its associated universe of news products covering its developments. The podcast world is not immune to this, and the subgenre of politics and election podcasts is an ever-growing one. To help you get situated, we drew up a quick guide to walk you through various shows that are suitable for listeners of every stripe.
If You're Looking for a Classic
The OG of the format, Slate's Political Gabfest started its conversational roundtables almost 15 years ago. The country moved from Bush to Obama to Trump, but the fundamentals of Gabfest have remained largely the same. Each week still features Emily Bazelon, John Dickerson, and David Plotz getting together to discuss, bicker, and debate the latest in political news.
If You're a Public-Radio Lifer
➽ Now publishing every weekday as primary season heats up, each NPR Politics Podcast episode serves up gloriously succinct recaps of what happened that day. It's the obvious choice for public-radio households. Since its launch in 2015, it has become something of a talent pipeline for the industry: Sam Sanders, for example, the host of NPR podcast-radio-show hybrid It's Been a Minute, grew in prominence during his time hosting NPR Politics.
If You Love Polls
FiveThirtyEight's Politics podcast
Do statistical models excite you? Do you enjoy arguing about the use and misuse of polling? Do you continue to have faith in the church of Nate Silver? To describe his site's Politics podcast as wonky would be an understatement. It's also responsible for some genuinely enjoyable, well-composed short documentaries from time to time, like its multipart "Primaries Project" exploring how America's primary system came to be.
If You Miss the Obama White House
Hosted by former Obama staffers Jon Favreau, Dan Pfeiffer, Jon Lovett, and Tommy Vietor, Pod Save America is the highly popular anchor to the equally popular Crooked Media, the company that seeks to build a lasting empire that may well rival the vast, powerful galaxy of right-wing talk radio. Newcomers should check out the recent check-in with Faiz Shakir, Bernie Sanders's campaign manager.
If You Enjoy Dunking on the Libs
Consider Chapo Trap House a kind of fun-house-mirror image of Pod Save America. Led by Amber A'Lee Frost, Felix Biederman, Matt Christman, Virgil Texas, and Will Menaker, the podcast is a platform for what has been called the "Dirtbag Left," i.e., leftist-minded audiences disillusioned with conventional liberal politics. It is often dark, trending to socialism and nihilism and exhibiting a willingness to flirt with conspiracy theories.
If You Really Miss the "Old Days"
Hacks on Tap with David Axelrod and Mike Murphy
Put nicely, Hacks on Tap is a digital watering hole for the politically nostalgic. Former Obama adviser David Axelrod is a creature of the Democratic Establishment. Mike Murphy, meanwhile, is a Republican consultant of the old school with a client list that once included Mitt Romney and John McCain. Together, they moan over the contemporary state of politics and dispense insider takes on how things used to work.
If You'd Prefer Perspectives From Journalists of Color
Mainstream politics coverage can be particularly exhausting for people of color. Against this mostly white backdrop, In the Thick offers some reprieve. Hosted by Latino USA's Maria Hinojosa and Julio Ricardo Varela, the show is a classic roundtable podcast. Journalists of color discuss the candidates' latest wins and losses, enriched by a deep bench of diverse guest panelists who consistently open the political conversation.
If You Want to Know What It's Like on the Ground
Listeners looking for narrative documentary will find tremendous value in The Field, a spinoff of The Daily and the latest addition to the New York Times' ever-expanding family of podcasts. The Field brings listeners onto the campaign trail alongside Times journalists and audio producers as they gather information, like Jennifer Medina's reporting inside the conflict between the Culinary Workers Union and the Sanders campaign.
If You're Right-Curious
Lest you get the impression that the political-podcast universe is mostly left leaning, consider The Ben Shapiro Show, which is built around the conservative enfant terrible and founder of the Daily Wire. Unquestionably the biggest conservative podcast on the charts, the show has been picked up for radio syndication by Cumulus Media, the third-largest radio conglomerate in the country.
If You're a "Freethinker"
One of the biggest podcasts around today, The Joe Rogan Experience doesn't fall solely into the politics genre, operating mostly with a mix of Howard Stern–style interviewing and a so-called freethinking ideology that's part of the "intellectual dark web." The show has become a consequential platform for political discourse. Rogan's endorsement of Bernie Sanders this year, for example, created a minor maelstrom on Twitter.
If You Want to Get Involved
A relatively new entry to the genre, The Brown Girls Guide to Politics is the audio companion to the blog of the same name, founded by Emerge America president A'shanti F. Gholar. With two seasons under its belt and a third on the way, the podcast delivers interviews and topical discussions that serve as a resource for women of color interested in building a career in the world of politics.
If You're Rooting for the Death of Caucuses
Stranglehold is a fantastic audio documentary by New Hampshire Public Radio that interrogates why the very small, very white state gets to enjoy so much power over the presidential-nomination process. The show is sharp, critical, and thrillingly unflattering. The station's efforts haven't gone unnoticed, drawing attention and some criticism from New Hampshire's powers that be (including its secretary of state).
If You're Still Stuck in 2016
Many groaned last month when it was announced that Hillary Clinton was launching a podcast. But it wasn't her first. A few months before the 2016 elections, With Her debuted with all the bells and whistles of a normal narrative podcast. Now, we're left with a genuinely fascinating political artifact — like the hopeful pre–Election Day episode or the two-parter from September 2017 where she talks through her 2016 regrets — that her new show is unlikely to beat.
*This article appears in the March 16, 2020, issue of New York Magazine. Subscribe Now!