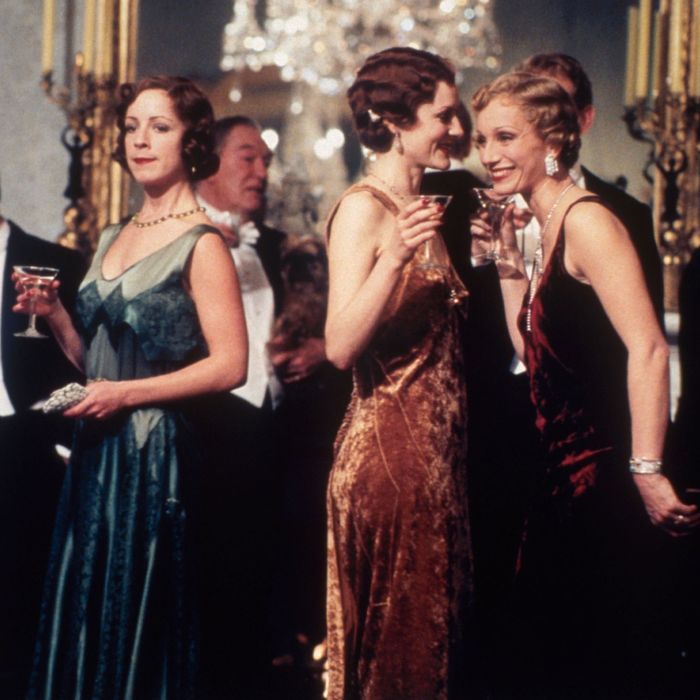 Gosford
Park
.
Photo: Chicagofilms/Getty Images
Rian Johnson's Knives Out proves to audiences that there are still, in 2019, numerous joys to be found in the classic whodunit film — the salacious central crime, the storyteller's crafty reveal of everyone's motive, and all of the satisfying ways an investigation twists and turns the story's events. But one of the greatest thrills is in seeing some of today's best actors combine their charisma for what is essentially high-stakes character work; it's worth the ticket price alone to see the likes of Toni Collette, Jamie Lee Curtis, Michael Shannon, and Chris Evans play characters who look like they could kill each other, and could have all plausibly killed their family patriarch, played by Christopher Plummer.
Johnson's Oscar-worthy original screenplay owes a lot to author Agatha Christie (especially as Johnson's detective Benoit Blanc plays as a take on Agatha Christie's goofy Belgian savant Hercule Poirot), but his mystery follows a long tradition of whodunit movies where storytellers have attempted a type of narrative engineering that can be bad (looking at you, 2017's Crooked House) but never lazy. Along with some of Christie's best work, the history of the ensemble whodunit includes monk detectives, werewolf breaks, board-games adaptations, lots of murdered rich people, the sole screenwriting credit for Stephen Sondheim, and a whole lot of "Oh my God, look at that cast!"
A good whodunit can inspire an insatiable appetite for star-studded suspects, surprising motives, and shocking reveals. To help satisfy that craving, we've made a list of 13 other ensemble whodunits, each with their own flavor across different subgenres and decades. Our criteria was to find worthwhile movies that used big ensembles (sorry, Deathtrap) to execute their twisty mysteries in a concentrated time and space; bonus points if the film featured Angela Lansbury. Watch your back.
The Ninth Guest (1934)
Agatha Christie's Ten Little Indians is one of her most popular mysteries, but was very likely influenced by the 1930 book The Invisible Host (by Gwen Bristow and Bruce Manning), which was then adapted into 1934's The Ninth Guest. The setup is largely the same, with shady members of society (played by Donald Cook, Genevieve Tobin, Hardie Albright, Edward Ellis, and Nella Walker) who are brought together by an anonymous host, to an occasion where even the servants don't know who has hired them. The ninth guest in this game of emerging secrets is, of course, Death. Directed by Roy William Neill, this is a real meat-and-potatoes, black-and-white whodunit, unfolding in one location over the course of one ill-fated dinner party. It has all the decorum, a clever ending, and some electrocutions too.
The Last of Sheila (1973)
Stephen Sondheim and Anthony Perkins were renowned by their friends for hosting some excellent murder-mystery parlor games, and were encouraged to turn their love of a good yarn into a script. That inspiration led to their only screenwriting endeavor, The Last of Sheila, a game of Hollywood personalities unwittingly unveiling who was responsible for the hit-and-run murder of a gossip columnist named Sheila. A year later, her widower (James Coburn) has brought his friends (played by the likes of Richard Benjamin, Dyan Cannon, Joan Hackett, James Mason, Raquel Welch, and Ian McShane) onto a yacht for a few nights of games, in which everyone assumes different identities that reflect the darkest parts of themselves. The Last of Sheila is one of the most underrated stories of its kind, with a big twist in the middle that shifts the film's course in a truly audacious way.
Murder on the Orient Express (1974)
Sidney Lumet's 1974 adaptation of Agatha Christie's Murder on the Orient Express was appropriately given the poster tagline "The who's who in the whodunit!" Just look at the cast: Albert Finney (as Christie's iconic Belgian sleuth, Hercule Poirot), Lauren Bacall, Martin Balsam, Ingrid Bergman (in her third Oscar-winning performance), Jacqueline Bisset, Jean Pierre Cassel, Sean Connery, John Gielgud, Wendy Hille, Anthony Perkins, and Vanessa Redgrave. All of these talents converge for Christie's top-tier mystery, which involves a brutal stabbing and a whole series of interviews by Finney's goofball take on Poirot, perhaps the most gauche character on the whole train. The delights in this story are formal yet pleasing, whether it's in a great supporting performance, or in the restraint that Lumet uses to let the clues gradually reveal themselves from his all-star team.
The Beast Must Die (1974)
The Beast Must Die is probably the only whodunit that includes a "werewolf break," in which the viewer is given 30 seconds to guess who in the cast of eight is a murderous werewolf. The movie literally pauses, cycles through the suspects (including Michael Gambon, Peter Cushing, Marlene Clark, and Charles Gray), and tells you to guess the elusive target by their demented host Tom (the electric Calvin Lockhart, a rare person of color in these predominantly Anglo affairs). Tom has lured these suspects to his estate — and informs them of the werewolf in the group — and soon, casualties start to pile up over the movie's long weekend. The Beast Must Die errs more toward an action-thriller, with Tom spending a lot of the movie trying to hunt people. But Michael Winder's original screenplay uses the Christie checklist for an especially kooky story, with a conclusion that's genuinely surprising.
Death on the Nile (1978)
The success of Sidney Lumet's Murder on the Orient Express made way for a sequel, albeit with a new director and a new Poirot. John Guillermin's Death on the Nile broke Peter Ustinov into the Poirot mode, taking an even more pedagogical and confident approach to the internationally renowned sleuth. He's joined on the S.S. Karnak by an all-star cast that includes Bette Davis, Mia Farrow, Jane Birkin, Angela Lansbury, Maggie Smith, Jack Warden, David Niven, and Lois Chiles, who all are presented early on as possible suspects behind the shooting of an heiress. Compared to Murder on the Orient Express, the pacing is even more laid-back, with a score by Nino Rota matching the ease with which Poirot puts the case together. But of all of the movies in which a detective spends the entire third act offering a lecture on who did it, Death on the Nile has one of the most satisfactory roundups.
The Mirror Crack'd (1980)
Before she was Jessica Fletcher on Murder, She Wrote, Angela Lansbury played one of Agatha Christie's beloved characters, Miss Marple in the star-studded The Mirror Crack'd. The premise involves a poisoning that happens at a movie-star party in a quaint British town hosting a Hollywood production. Much of the initial investigation is done by Marple's nephew Craddock (Edward Fox), who gathers details about a contentious relationship between two starlets (Kim Novak and Elizabeth Taylor, in her last role), while Rock Hudson, Tony Curtis, and Geraldine Chaplin also add to the mystery. But when it's time for the answers, Lansbury uses the opportunity to show off that definitive, calm manner of crime-solving that would soon became synonymous with her screen presence.
Clue (1985)
By directly taking after the game that inspired it, Clue distills the whodunit down to its most gratuitous thrills — the who, where, and weapon of a murder. Adding motive to these characters doesn't slow the movie down either thanks to the collective charisma of a cast that includes Eileen Brennan, Madeline Kahn, Christopher Lloyd, Michael McKean, Martin Mull, and Lesley Ann Warren. Their efforts to play game pieces as larger-than-life personalities helped make Clue a cult classic, but it's arguable that Tim Curry runs away with the movie wit his motormouth performance as the butler Wadsworth, a new addition to Clue who embodies the film's manic beauty. Like the game itself, Clue has endless replay value.
Name of the Rose (1986)
In Jean-Jacques Annaud's Name of the Rose, Sean Connery plays a monk detective who is summoned to an isolated, mysterious abbey for some old-fashioned crime-solving, with a young apprentice (Christian Slater) by his side. A monk has been murdered, and it's now up to Connery's William von Baskerville to investigate a shadowy group of suspects, which includes scraggly monks played by Helmut Qualtinger, Feodor Chaliapin Jr., William Hickey, and a hunchback played by Ron Perlman. It might sound as fun as going to church in 1327, but the whodunit structure gives this story a lively energy, which allows this adaptation of Umberto Eco's novel to engage what's really on its mind: the questionable existence of God, the value of knowledge, and the preservation of humor. The pedagogical thrills of the movie are sincere, like when a secret library is revealed on the other side of a literal labyrinth; the movie only gets better when F. Murray Abraham (fresh off his Oscar win for Amadeus) bursts into the picture as the badass Dominican friar Bernardo Gui.
Once Upon a Crime (1992)
The sole credit to Eugene Levy's history as a feature director is this comic whodunit that transplants its star-studded cast of clumsy Americans to the gorgeous, mysterious environs of Monaco, smack in the middle of an Italian murder plot. The story, accelerated by quick dialogue, loud Americans, and a Poirot-lite detective played by Giancarlo Giannini, starts with a dachshund — the dog's wealthy owner is found murdered after Lewis and Young try to return it in order to claim the reward. Of all the loud Americans in the movie (including Richard Lewis, Sean Young, Jim Belushi, and Cybill Shepherd), the loudest might be John Candy as a superficial high roller. Come for the '90s Hollywood comedy royalty, stay for the way in which their lowbrow characters are seamlessly woven into a highbrow mystery.
Radioland Murders (1994)
Years before Clue, someone else had the idea to combine slapstick and the ensemble whodunit, all within the setting of a radio station making its grand debut. That person was George Lucas, who imagined the extremely silly mystery Radioland Murders back in the '70s, but saw his idea become DOA when it finally arrived to theaters in 1994. Crammed with jokes until it breaks, this hyperactive take includes a batch of strong funny actors, some very self-amused editing, and PG-rated shenanigans as people are being killed by someone who sporadically interrupts the feed. And yet, the movie is like a shot of adrenaline, and the killer is hidden in plain sight in a very tactful manner. Plus, it has a double-nostalgia effect: Along with its dedication to re-creating 1930s radio shows, there's a whole lot of '90s energy with its cast: Mary Stuart Masterson, Brian Benben, Jeffrey Tambor, Bobcat Goldthwait, Larry Miller, Stephen Tobolowsky, Christopher Lloyd, Dylan Baker, Michael McKean, and Joey Lawrence.
Gosford Park (2001)
Leave it to Robert Altman to assemble possibly the largest size cast for a whodunit movie, and then to spend half of the movie hanging out with them, all before anyone gets murdered. In this period piece, personal dramas and class issues slowly rise to the surface when Michael Gambon's cranky industrialist is stabbed in the back during a weekend gathering. Scripted by Downton Abbey's Julian Fellowes (from a story idea by Altman and Bob Balaban), the movie shows both sides of the weekend, including the carnivorous nature of both the servants and the served. The pacing may not work for some, but it's an incredible roster of talent that Altman always has in motion, including Gambon, Helen Mirren, Maggie Smith, Richard E. Grant, Kristin Scott Thomas, Emily Watson, Ryan Philippe, Kelly Macdonald, Clive Owen, Balaban, and Stephen Fry as a bumbling anti-Poirot, for more obvious comic relief.
Identity (2003)
A group of strangers seek shelter in a motel in the middle of a ruthless downpour, flooded roads blocking them from getting into town. It's a situation as traditional as it is nightmarish, and that's before a shady cop (Ray Liotta) arrives with a convict (Jake Busey) in his back seat, and the impromptu guest list starts to be whittled down. Directed by James Mangold of Ford v Ferrari, this whodunit (which includes John Cusack, Rebecca De Mornay, John C. McGinley, Clea Duvall, and John Hawkes) is more about different shocking deaths instead of the standard investigation, even if Cusack's limo driver was previously a cop himself. The chaotic, rain-soaked events lead to a twist that doesn't hold up so much as date Mangold's film with other early aughts psychological thrillers. But the road to its conclusion has enough big reveals to satisfy, especially as Michael Cooney's script tactfully shifts through his plausible suspects.
Murder on the Orient Express (2017)
Some Poirot purists might find it sacrilegious to include director and star Kenneth Branagh's adaptation on the list, but Branagh's sensitive-superhero approach to Christie's detective is worth a viewing. Compared to Lumet's version this is pure Pop Art, down to the fleet cinematography and Poirot's active nature, but it doesn't lose the spirit of the story. The twist is the same, but Branagh as a director (working from Michael Green's script) frames its past heinous tragedy to give this current mystery the emotional impact that most whodunits look past. On top of that, Branagh gets some delightfully kooky accents and death stares out of the likes of Judi Dench, Olivia Colman, Penélope Cruz, Willem Dafoe, Daisy Ridley, Leslie Odom Jr., Josh Gad, Michelle Pfeiffer, Lucy Boynton, and Johnny Depp.