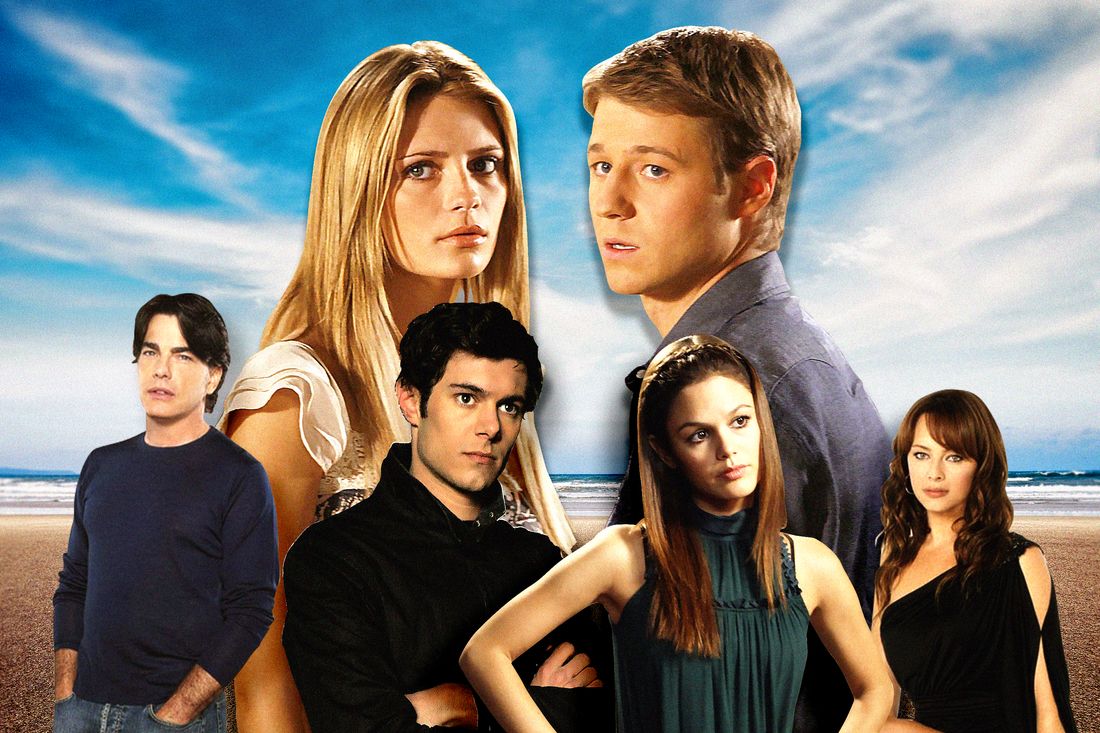 Photo-Illustration: Vulture; Photos: Warner Bros/Courtesy Everett Collection
It's hard to believe The O.C., Josh Schwartz's teen drama to end all teen dramas, debuted on Fox 20 years ago on August 5. This show helped turn indie bands like Death Cab for Cutie, Modest Mouse, Bloc Party, and the Killers into radio-friendly hitmakers. It inspired everything from MTV's Laguna Beach: The Real Orange County and Bravo's The Real Housewives of Orange County and paved the way for other prime-time soaps like Desperate Housewives. Its fashion — UGGs, strappy tank tops, graphic tees — set trends that defined the Y2K era. Schwartz himself, with his longtime collaborator, Stephanie Savage, went on to develop a dozen more shows, including the CW's original Gossip Girl and, most recently, City on Fire on Apple TV+.
Looking back, we can see how easily the Newport Beach adventures of a troublemaker named Ryan Atwood (Ben McKenzie) who came from the wrong side of the tracks (i.e., Chino) beguiled seemingly an entire TV-watching nation. Schwartz's sharp writing combined with the show's high-drama situations proved irresistible, with all of it set to soundtracks that spoke directly to a younger viewership. The chemistry of its cast, especially the core four — McKenzie's Ryan, Adam Brody's Seth Cohen, Rachel Bilson's Summer Roberts, and Mischa Barton's Marissa Cooper — set a new standard for soapy teen characters. It also made space for complex adult roles, like Peter Gallagher and Kelly Rowan's flirty parents, Sandy and Kirsten Cohen, and Melinda Clarke's love-to-hate survivor, Julie Cooper.
While nothing will ever compare to the first part of its first season — a summer fever dream that crammed more ups and downs into its seven-episode run than most shows these days manage to do in their entirety — the 92 episodes that make up its four seasons captured the mid-aughts in all its messy glory in television amber. We're ranking them all, looking at how they balance soapiness with character dynamics, their cultural impact, and, of course, their pioneering use of music. Travel back to a time of hard-partying teens wearing puka shells and low-rise jeans, real-estate moguls going bankrupt building McMansions, and comic-book nerds who were still outcasts, not the dominant force in pop culture. Yet at The O.C.'s center is a story of found families, the journey toward overcoming trauma, and rooting your life in ethics over capitalist values, which allows the show to feel both utterly of its time and remarkably timeless.
92. "The Truth" (Season 1, Episode 18)
Two of the worst plot lines of the entire series collide in this disastrous episode. Marissa's ex Luke Ward (Chris Carmack) finds out the truth about her friend Oliver Trask (Taylor Handley), a rich kid with a history of mental instability and violence. Not only has Oliver become dangerously obsessed with Marissa, but he's trying to isolate her from her closest friends, especially Ryan. As if the show's handling of Oliver's mental health as a villainous trait weren't bad enough, it uses this episode to launch the brief sexual relationship between Luke and Marissa's mother, Julie (Clarke). Nothing in it works.
91. "The Rivals" (Season 1, Episode 17)
Another terrible episode with Oliver that sees him enrolling in Harbor High School so he can gaslight Marissa & Co. while taunting Ryan about it to goad him into having violent outbursts. This episode also has Summer attempting to deny her feelings for Seth by dating a guy named Danny (Bret Harrison), the most annoying person in the entire world.
90. "The Cliffhanger" (Season 3, Episode 14)
In a low point for the third (pretty weak) season, "The Cliffhanger" features the death of Johnny Harper (Ryan Donowho), yet another boy weirdly obsessed with Marissa. In perhaps the show's most preposterous scene, Johnny gets drunk with her younger sister, Kaitlin (Willa Holland), climbs a cliff, and falls to his death as Ryan attempts to save him. It's played as straight drama but is one of The O.C.'s most laughably bad moments.
89. "The Links" (Season 1, Episode 16)
Everything in this Palm Springs–set entry is annoying. Summer spends the entire trip trying to undermine the blossoming intimacy between Seth and Anna Stern (Samaire Armstrong), and Oliver's mental health continues to widen the rift between Marissa and Ryan. Kirsten's relationship with her much younger sister, Hailey Nichol (Amanda Righetti), also crumbles. Unfortunately, all this drama comes off as shrill and creaky as opposed to deliciously soapy.
88. "The Return of the Nana" (Season 2, Episode 21)
We first meet Sandy's tough-as-nails social-worker mom, Sophie, a.k.a. "the Nana," in the first season. Veteran TV star Linda Lavin is fantastic at finding the balance between prickly and lovable in the earlier episode, which is what makes this one so disappointing. Gone is her fierce independence; instead, we're supposed to believe she would fall for a ludicrous gold-digging gigolo. Yet the depiction of Seth and Ryan finding themselves drawn into a Girls Gone Wild–style spring-break television special feels like a perfect, if cringey, encapsulation of the era.
87. "The French Connection" (Season 4, Episode 10)
It's a toss-up over what's worse in this one: Taylor Townsend's (Autumn Reeser) stereotypically oversexed, hyperintellectual French husband, whose erotic novel about their relationship, A Season for Peaches, takes Newport Beach by storm, or the absolutely stiff and charmless performance of Chris Brown as Kaitlin's classmate and newfound crush, a "band geek" named Will Tutt.
86. "The My Two Dads" (Season 4, Episode 9)
This is the first episode with Brown as Will, but mercifully he has far less screen time. Holland is actually quite funny as she rebelliously reads out a book report on Call of the Wild in barks. However, this is also the episode where we realize Julie has a thing for Frank (Kevin Sorbo), Ryan's father, who has returned to Newport Beach after being released from prison.
85. "The Dream Lover" (Season 4, Episode 11)
There are some wonderful character moments for Ryan and Julie in this episode that allow the actors to show their ability to play tender and even a little goofy: Ryan attempts to write a love poem for Taylor, and Julie goes to extreme lengths to salvage her friendship with Kirsten. But the convoluted plotting is weak compared with earlier seasons. And worst of all, there's just way too much time spent with Seth and Summer's college friend Ché (Chris Pratt) on a vision quest that aims for whimsy but misses miserably.
84. "The Showdown" (Season 2, Episode 22)
Although the tension between Marissa, Ryan, and his recently paroled older brother, Trey (Logan Marshall-Green), eventually leads to one of The O.C.'s most iconic moments, the journey to it in the previous episode involves some pretty hard to watch depictions of attempted sexual assault. And while the show does its best to grapple with Marissa's PTSD from the event, including a great scene where she confronts Trey, the way it mines her pain over and over for drama has not aged well — particularly when the writers use it to drive a wedge between her and Ryan, who ends the episode suspecting Marissa is cheating on him with Trey.
83. "The Undertow" (Season 3, Episode 18)
Somehow Cam Gigandet actually sells the romance between his surfer, Kevin Volchok, and Marissa, as does Nikki Reed's Sadie Campbell, who crafts real chemistry with Ryan. Maybe it's that Twilight magic. What pulls this episode down is Taylor. A divisive character among the fandom, she can hit or miss depending on the episode. Unfortunately here, she is way too invasive about Seth and Summer's sex life and crosses some really uncomfortable boundaries, even if her sex positivity is still refreshing today.
82. "The Outsider" (Season 1, Episode 5)
This is the only episode from the show's dynamic summer season that feels like filler. Fans of The Vampire Diaries and Star Trek: Strange New Worlds will likely enjoy catching a glimpse of a pre-fame Paul Wesley as a dirtbag waiter from Corona who befriends Seth and Ryan, crashes a Newport Beach party, and accidentally shoots Luke in the arm. Despite the soapy action, there's little-to-no character development, making this a letdown in an otherwise exceptional first string of episodes.
81. "The Shape of Things to Come" (Season 3, Episode 2)
This is the first episode with Taylor, and while her arc from this initial appearance to whom she becomes by the series finale is remarkable, her early episodes feature some of the show's cringiest moments, like her fling with the dean of discipline (Eric Mabius). Soundtrack highlights here include the debut of Death Cab for Cutie's "Soul Meets Body" and an acoustic version of the show's Phantom Planet theme song, "California."
80. "The End of Innocence" (Season 3, Episode 3)
A lot of big character moments happen in this one. Marissa and Ryan finally consummate their relationship after being on-again, off-again for the first two seasons. Jimmy Cooper (Tate Donovan) leaves the show — and his ex-wife, Julie, at the altar — after getting into yet another terrible financial situation. And Kirsten has some emotional closure after reading a sweet letter her father, Caleb (Alan Dale), wrote to her the day he died. But all of this is undone by some absolutely weird xenophobic dialogue about Hawaii that, once uttered, hangs over the whole episode.
79. "The Father Knows Best" (Season 2, Episode 13)
Another of the show's worst plot lines involves Sandy's attempt to clear the name of his first love, Rebecca (Kim Delaney), which causes a rift between him and Kirsten. One aspect of the first season that made it so much fun was the chemistry between Gallagher and Rowan, and the seemingly unflappable bond the two shared, so any episode that throws a temporary wrench into that connection is an annoyance at best. On the plus side, this is the first episode where Marissa really begins to explore her feelings for Alex Kelly (Olivia Wilde), even if some of the gay panic is a little dated.
78. "The Metamorphosis" (Season 4, Episode 4)
This one could have been really great if it had just focused on Summer's attempt to finally deal with her grief over the death of her best friend and her journey toward becoming a more fully formed person. However, the episode splits its time between this thoughtful arc and Taylor's ridiculous plot to have Ryan pose as her lover so she can get a divorce from her French husband.
77. "The Sleeping Beauty" (Season 4, Episode 5)
This episode introduces one of my favorite characters — the Bullit (Gary Grubbs), a Texas oil titan who invests in Kirsten and Julie's dating service, NewMatch, because he's got a thing for Julie. In any other actor's hands, this character would be insufferable, but Grubbs has such a hoot playing him and injects much-needed life into the whole fourth season. The only downside is all the time this episode dedicates to one of my least favorite characters — Ché, who never strikes the right balance between obnoxious and endearing.
76. "The Groundhog Day" (Season 4, Episode 12)
This is mostly a terrible episode with too much Ché and a bit with Taylor spying on Ryan while wearing a groundhog suit that just doesn't work at all. However, it does feature the absolute top-tier mid-aughts banger "Lazy Eye," by Silversun Pickups, and is one of the first to showcase the connection between Kaitlin and the Bullit, laying the groundwork for one of the show's most rewarding and unexpected friendships.
75. "The Pot Stirrer" (Season 3, Episode 13)
Kaitlin gets Seth hooked on pot to relieve his stress, which leads him to miss his interview for Brown and sets off a cascade of bad choices he makes for the rest of the season. The plot line mirrors the increasingly ethically murky decisions Sandy makes as leader of the Newport Group — the real estate conglomerate founded by Caleb — while attempting to build a new hospital. His slow realization that even someone as honorable as he is can't actually change a corrupt system is one of the highlights of a rocky season.
74. "The Day After Tomorrow" (Season 3, Episode 20)
This episode includes both one of the show's best needle drops (Radiohead's "Fog (Again)") and one of its worst (Tally Hall's "Good Day") as the core four get their college acceptance letters. It's a wonderful encapsulation of the indescribable mixture of fear, anxiety, and exhilaration that comes at the very end of high school. This is also one of the few episodes where everyone shows up for Marissa instead of callously demonizing her.
73. "The Rager" (Season 2, Episode 19)
Marshall-Green, who took over the role of Trey from Bradley Stryker in season one, brought a beguiling pathos to the character that elevates him from the show's soap tropes. However, as they did with Marissa, the show's writers continually put him in situations that only bring out the worst in him. In this episode, he becomes entwined with a one-dimensional teenage femme fatale named Jess (Nikki Griffin), who pulls him down a very dark path. Regardless, Marshall-Green's emotional, raw performance and carefully crafted brotherly chemistry with McKenzie tapped into something real, flawed, and destructively human in Trey, bringing a nuance and depth to the show that will be missed after the character exits.
72. "The Road Warrior" (Season 3, Episode 17)
Although the show's anchor was ostensibly the push-and-pull between Ryan and Marissa, it somehow came as a relief when the two finally broke up for good. Pairing Ryan with Johnny's cousin Sadie was a gamble, but it works because Reed's easy chemistry with McKenzie sells it. Same goes for the unexpected pairing of Julie with Summer's dad, Dr. Roberts (Michael Nouri), as the actors build something together that's far more complex than the writing on the page. Even the pairing of Marissa and Volchok somehow works owing to the strength of Barton and Gigandet, who quietly find a connection in the episode's silences.
71. "The Secrets and Lies" (Season 3, Episode 19)
This is one of those episodes so chock-full of plot it would be folly to try to encapsulate the whole thing in one paragraph. Instead, let's say it contains the strongest beats between Seth and Kirsten. Nine months' sober, she takes him to an AA meeting, sharing with him this new, incredibly important part of her life. It calls back to the season-two finale, when the look on Seth's face during her intervention finally gets through to a spiraling Kirsten. Both moments are shockingly — and refreshingly — raw and real in a series mostly filled with over-the-top sensationalism.
70. "The Chrismukkah Bar-Mitzvahkkah" (Season 3, Episode 10)
This is unfortunately the weakest of the show's four Chrismukkah episodes, though it's still quite fun because it's hard to completely mess up a Chrismukkah episode. Early in this season, Johnny has an accident that could derail his surfer dreams, and when his insurance won't cover the surgery he needs, the core four decide to throw Ryan a charity bar-mitzvah party to pay for it. If only the writers had just stuck to his zany presence, this could have been a great episode. Instead, there's a bizarre sequence that just doesn't land well in which Ryan stops Johnny from trying to rob a convenience store because he doesn't want to accept their charity.
69. "The Gringos" (Season 4, Episode 2)
Seth and Ryan go to Mexico to track down Volchok, who fled there after accidentally causing Marissa's death. The writers give him more grace in his moral arc here than they ever did with Marissa, and I'm still mad about it. Also, Tia Carrere randomly shows up on this episode as the new dean of discipline, and I truly wish they had not squandered the potential of that.
68. "The Shake Up" (Season 4, Episode 14)
Much of season four suffers from smaller budgets, which are reflected in how many scenes take place on the Galleria outdoor-mall set. This episode, in which Taylor's birthday party becomes ground zero for everything that's going wrong in everyone's life, is one of the best uses of its limitations. The tighter space helps ramp up the tension and then, just as everything is about to come to a head, a big earthquake strikes, throwing it all into utter chaos. The cliffhanger ending sets the stage for one of the best episodes of the entire show.
67. "The Heavy Lifting" (Season 3, Episode 15)
Aside from Chrismukkah, Valentine's Day is The O.C.'s most important holiday. Somehow, the writers manage to make this episode incredibly romantic despite kicking it off with Johnny's surf funeral (impeccably soundtracked with "For the Widows in Paradise, for the Fatherless in Ypsilanti," by Sufjan Stevens). It plants the seeds of Ryan and Sadie, which proves to be the most organic and natural of all his romantic pairings; has a sweet moment between Dr. Roberts and Julie; and includes a humorous gift mix-up between Seth and Sandy (featuring some shameless Victoria's Secret product placement).
66. "The Party Favor" (Season 3, Episode 23)
This prom episode has some of the show's most astonishing set decoration, with Taylor somehow creating an impressive Goonies-style pirate cove for the dance. Justin Chon, another Twilight alum, appears as Summer's K-pop–star date. The return of Theresa Diaz (Navi Rawat) and Anna is both refreshing and frustrating; the actresses are both great, but their appearance here mostly serves as a reminder of just how much better the show was in its first season.
65. "The Sister Act" (Season 3, Episode 12)
I'm still not completely sure how to feel about the recasting and rejiggering of Kaitlin, who was portrayed by Shailene Woodley as a horse-obsessed preteen in season one. After a long absence in season two, she returns from boarding school, now played with lightning-in-a-bottle ferocity by Holland, and has transformed into a rebellious bad girl. In this first encounter with the new Kaitlin, she's fleeing a frat party where she stole some money, bringing yet another of the show's Twilight alumni, Jackson Rathbone as Justin, in tow. Love it or hate it, there's no denying Holland's firecracker screen presence.
64. "The Perfect Storm" (Season 3, Episode 5)
This is actually a really dumb episode. Ryan decides college isn't for him since the dean is hell-bent on not letting him back into Harbor High, so he takes a job on a fishing boat. A fishing boat! It's so ridiculous that it's referenced in season four as one of the most ridiculous things Ryan ever does. Yet somehow it's so preposterous that it also transcends this bad episode to become soapy perfection.
63. "The Swells" (Season 3, Episode 6)
After the writers realized that, despite the cringey subplot with the dean of discipline, Taylor's energy — and Reeser's committed performance — added some much-needed verve to the show, they found a way to make her sympathetic by giving her a verbally abusive mother. This arc plays out wonderfully for both characters over the next season and a half. It's also the episode that introduces Volchok. Like Taylor, he's brought in as a one-dimensional cartoonish villain, yet over the season he becomes a much more nuanced, complex character.
62. "The Game Plan" (Season 3, Episode 8)
Although this episode has what may be the show's absolute worst-executed scene — Johnny getting hit by a car — it also features one of my favorites: As Marissa and Ryan both continue to doubt whether they belong at college, Sandy asks his old friend from Berkeley (Go, Bears!) over for dinner to talk to them. It's a beautiful sequence that lets the two see their complicated life stories as strengths, not liabilities.
61. "The Aftermath" (Season 3, Episode 1)
There was no way to follow up the season-two finale. "Dearly Beloved" and its final moment of shock and awe as Marissa shoots Trey to save Ryan's life is peak TV. No matter what they did for the season-three opener, it wasn't going to match viewer expectations. This one is a fine episode that leans deeply into the show's soapier aspects with Julie trying to bribe a comatose Trey into saying Ryan shot him, not Marissa, and Kirsten becoming the mark for a scammer (Jeri Ryan) at rehab. However, the sequence where Ryan sees Trey off at the bus stop, set to Bloc Party's "Blue Light (Engineers 'Anti-Gravity' Mix)," is one of the most emotionally powerful scenes of the entire series.
60. "The Girlfriend" (Season 1, Episode 6)
The male gaze is strong in this episode as we're introduced to Kirsten's ruthless real-estate-mogul father, Caleb, and his much younger trophy girlfriend, Gabrielle (Nichole Hiltz). As Seth and Ryan watch her, the camera lingers in ways that have not aged well. However, Hiltz plays the character with a grounded intelligence that transcends the stereotype she's trapped in. This episode is also the first time that Summer, who was originally a supporting character, kisses Seth, setting into motion one of TV's most enduring endgame relationships.
59. "The Cold Turkey" (Season 4, Episode 3)
This Thanksgiving-set episode is surprisingly emotional. Visiting for the first time since leaving for college, Summer can't stand being in her house because it's haunted by her lingering memories of Marissa. Kirsten helps Taylor, who has dropped out of college due to her elopement, attempt to stand up to her domineering mother. Ryan finally confronts Volchok, with the two letting out their mixed feelings of grief and guilt. Lastly, Julie finds a constructive outlet for her own grief, asking Ryan to tell her about Marissa.
58. "The Earth Girls Are Easy" (Season 4, Episode 8)
This great New Year's Eve episode leans deeply into farce. A road trip to Las Vegas takes a detour to a rave near Area 51 when a sexy space alien steals a pregnancy test that might reveal that Summer is pregnant. The escort service that Julie is running through NewMatch is nearly exposed when the Bullit hires her a bookkeeper named Frank — who turns out to be Ryan's estranged father. Yet underneath all these soap tropes, tender moments emerge between Seth and Summer, as does a new emotional path for Julie.
57. "The Case of the Franks" (Season 4, Episode 13)
In this Valentine's Day episode, Ryan and Taylor team up to persuade Julie to choose Frank, while Kaitlin helps Bullit attempt to win her heart. A sequence under a neon-lit hot-dog stand and an homage to Casablanca are some of the show's most visually creative moments. Meanwhile, through flashbacks we see why Kirsten broke up with Jimmy and how she ended up with Sandy, and a piece of Seth-Summer canon is debunked. Each thread explores the ways in which we romanticize other people, whether in the present or in our memories, and how real love is much harder — and ultimately more rewarding.
56. "The Dawn Patrol" (Season 3, Episode 21)
An episode filled with deeply emotional touchstones for multiple characters. Summer re-creates Seth's iconic coffee-cart declaration of love, only for him to lie to her about not living with her anymore. Visiting his mom in Arizona, Ryan sees she may be capable of real change. Marissa helps a girl who's about to be date raped, realizes she's headed down a dangerous life path, and reconnects with Julie. Everything hits hard.
55. "The Disconnect" (Season 3, Episode 9)
Season three is hit or miss for fans of Sandy Cohen's brand of wise-cracking, and thanks to Seth and Summer's "war" over their SAT scores, this episode gives us one his best kitchen quips. Seth, having decided to try becoming the school's mascot for his college applications, enters the kitchen with what appears to be a pirate costume under his arm. When he states he and Summer are "in a war," without missing a beat, Sandy says, "A pirate war?" with guileless, awe-filled intonation. Beyond that, the episode is also just really a great Seth-and-Summer episode, allowing the two the kind of banter that made them such a beloved pairing to begin with.
54. "The Summer Bummer" (Season 4, Episode 6)
This is both a great Ryan episode and a great Bullit episode. Ryan keeps having fantasies of Taylor as a video girl from 1980s glam-metal videos; she washes sudsy windows and Rollerblades in short-shorts through fog-machine smoke. It's purposefully a little bit sexist but also somehow manages to be endearing. Meanwhile the Bullit messes up a double date between him and Julie and Sandy and Kirsten, eventually sending a justice of the peace to their house so they can renew their vows, a move so thoughtful it's almost more shocking than his repugnant behavior at dinner.
53. "The Third Wheel" (Season 1, Episode 15)
There's way too much Oliver in this episode, but it's also the show's first live band appearance. The core four, Oliver, and Luke head to a Rooney concert, where the band plays four songs (and supposedly saw a 200 percent increase in sales from the appearance), Ryan sees Oliver get arrested for trying to buy coke, and Luke fully shifts from the big bad he was in the first few episodes into a kind of lovable oaf.
52. "The Distance" (Season 2, Episode 1)
The start of season two was also the first of the series' many big creative resets. It was the final episode featuring Luke, who has moved to Portland with his gay dad — which is also where a runaway Seth spent the summer. The empty void caused by Seth running away and Ryan's choice to live with Theresa in Chino has caused a rift to form between Sandy and Kirsten. Summer attempts to deal with Seth's abandonment by dating a water-polo preppy named Zach. The reverberations of Julie's marriage to Caleb include a jobless Jimmy moving onto a boat and an unhappy Marissa's steady decline into alcoholism. It's a lot to take in, and while some of these threads wrap up in lightning speed within the scope of the episode, others get teased out throughout the season with varying degrees of dramatic success.
51. "The Shower" (Season 1, Episode 25)
"My grandma wears Uggs," Seth declares in response to the impending nuptials between Julie and Caleb. As Kirsten plans and executes her bridal shower, we learn more about Julie's Riverside past, including her love of Def Leppard and Bob Seger and her desperate desire to completely remake her image. In her relationships with Kirsten and even Caleb, the writers manage to find actual emotional depth for Julie in what outwardly appears to just be shameless gold-digging.
50. "The Chrismukk-huh?" (Season 4, Episode 7)
One thing you can't deny about season four is that it is full of big swings. In this case, the show's final Chrismukkah episode is an homage to the great Frank Capra–Jimmy Stewart film It's A Wonderful Life. After falling off a ladder, Ryan and Taylor end up in an alternate reality where neither exist. Taylor once again exorcizes her demons, a.k.a. her mommy issues. But the real weight of the episode is found in how it finally addresses Ryan's guilt over Marissa's death. He thinks that if he hadn't been there she'd still be alive, forgetting that he also once saved her life in Tijuana. It also reveals how rather than disrupt everyone's lives in Newport, Ryan actually serves as the glue that keeps everyone together.
49. "The College Try" (Season 3, Episode 22)
Much of this episode, in which the core four visit their prospective colleges, plays like a desperate dip back into a dry well, bringing back Anna and Theresa and even Kirsten's alcoholism. However, there is one curious thread between Marissa and Volchok that is surprisingly tender, if a little misguided: Marissa tells him she always wanted to be Leisl from The Sound of Music, an homage he doesn't understand and initially dismisses. But later we see he actually rented the film to try and understand her a bit better. Leisl, like Marissa, had bad taste in men (spoiler: her boyfriend becomes a Nazi), so the sweet moment is also laced with dread.
48. "The Anger Management" (Season 3, Episode 7)
Here's a turning point in Taylor Townsend's arc: After Seth has shown her a little kindness, she becomes convinced she is the "Angelina" to Seth and Summer's Brad and Jen. Unlike most of the characters on the show, Taylor believes in directness, and after gathering a little intel from Ryan, tells Seth directly how she feels. Although he rebuffs her, their moment of bonding over samurai films and the Criterion Collection remains incredibly sweet and uncharacteristically mature for a show that revels in soapy teen drama.
47. "The O.C. Confidential" (Season 2, Episode 20)
Throughout the show Seth continually talks about his favorite band, Death Cab for Cutie, even at one point penning a Chrismukkah hymn set to one of their songs. Yet in this episode, in which the band appears at the Bait Shop — playing songs from The Photo Album and Transatlanticism — Seth chooses an event for his comic book with Zach over attending the gig. Seth's loss, as the band gives one hell of a performance. In reality, they had just signed with Atlantic Records after all the exposure they received during the show's first season.
46. "The Strip" (Season 1, Episode 26)
Along with continuing to promote bands through live appearances, by the end of season one, the show became a great launching pad for new singles. In this episode where the boys, Sandy, and Jimmy head to Las Vegas with Caleb for his bachelor party, the Beastie Boys debuted "Ch-Check It Out." The O.C.'s use of music has aged a lot better than almost anything else in the episode, which includes Hailey and Julie getting into a cat fight, the biggest insert shot of a pregnancy test ever, and some scamming sex workers.
45. "The Rescue" (Season 1, Episode 9)
Rosalind Chao's performance as Dr. Kim, the head of the Harbor School, is secretly one of the series' best, though she didn't get much of a chance to show it. Unfortunately, after a great introduction in this episode, she is vastly underused throughout the rest of the show. This episode also establishes one of Ryan's worst habits — his savior complex taking precedence over his future. Thankfully, that's a tension that the show explores more thoroughly over the next few seasons.
44. "The Way We Were" (Season 2, Episode 2)
Seth, Zach, and Summer, now deep in their creative collaboration, road trip down to San Diego to pitch their comic book, only for Seth to botch it big time due his jealousy. Seth's quip early in the episode — "I'm just having an allergic reaction to the universe" — became an early internet reaction meme and is still used to this day, unlike the technology mentioned in the episode, like BlackBerry phones and MapQuest.
43. "The Lonely Hearts Club" (Season 2, Episode 12)
A lot of drama happens in this one. Seth befriends Zach when he joins his comic-book league, only to later discover he's Summer's new boyfriend. Marissa dates DJ (Nicholas Gonzalez), her family's yard guy. Hailey exits the show for a fashion job in Japan. Caleb is arrested. But among all this, there are two great character beats: First, Summer finally realizes how selfish Seth has always been. From here on out, even when dating him, she makes room for her own goals as well. The other great beat is Ryan finally getting on the path to become an architect, something hinted at in the pilot and that would be paid off beautifully in the series finale.
42. "The Man of the Year" (Season 3, Episode 24)
Another episode that's almost too jam-packed with plot. Marissa heads to Kaitlin's boarding school to help her with some drama in what feels like an unsuccessful backdoor pilot (although an early performance from Lucy Hale is a treat). Seth's pot smoking leads to a disastrous fire and revelation of all the terrible things he's been up to all season. Sandy finally does the right thing and leaves the Newport Group. Volchok forces Ryan to steal a car with him. Fortunately, a recurrent use of "The Pioneers," by Bloc Party, and a cover by Tunng, tie the whole convoluted entry together.
41. "The Journey" (Season 3, Episode 17)
It's Ryan's 18th birthday, and while Seth gets him a joke present (a Foreigner cover band instead of one for Journey, his favorite band), Marissa re-creates the mixtape she made for him in the second episode. It, like their hopes of ever having a normal relationship, got burned up in the model-home fire. In a bit of a coincidence, Marissa finds Volchok — who is suffering from survivor's remorse after Johnny's death — working with the crew repairing the very same model home. The Marissa-Volchok pairing really should not work, but it's hard to deny the chemistry Barton and Gigandet craft in every one of their scenes together.
40. "The SnO.C." (Season 2, Episode 5)
Although Marissa and Ryan are the endgame most fans wanted, the writers spent most of the series keeping the two apart. They often paired Marissa with the worst possible partners, but Ryan fared much better. The first in a series of "good girls" Ryan found himself falling for was Lindsay (Shannon Lucio), a 16-year-old oboe-playing scholarship student hell-bent on using Harbor solely as a means to a better life. In this episode, it finally seems like the two might get a little chance at happiness — that is, until we discover that Lindsay's mom is the woman Caleb has been paying off for … exactly 16 years.
39. "The Last Waltz" (Season 3, Episode 4)
This is one of the few really great Marissa episodes in season three. She shows up to her first day at Newport Union, having been expelled from Harbor after the shooting incident, all decked out in Chanel, further highlighting the income inequality between the two schools. She supports Julie after she's evicted from Caleb's mansion, saying they may have their differences but she trusts her survival instincts. Lastly, she and Ryan share a tender moment together, choosing Youth Group's cover of "Forever Young" as their song.
38. "The Mallpisode" (Season 2, Episode 15)
Nicknamed the "Beckisode" due to a whopping five songs from Beck's album Guero making their debut in the episode, the core four get trapped in a mall after closing and are forced to work through various issues, including the fact that Ryan does indeed still have feelings for Marissa. This is the first episode with Carter, a role Billy Campbell makes a meal out of despite his clichéd arc. We also learn that Julie once had a boyfriend named Lance with whom she made an adult film called The Porn Identity.
37. "The Brothers Grimm" (Season 2, Episode 17)
Everyone's past makes their present a disaster in this episode, starting first with Logan Marshall-Green's electric take on Ryan's brother Trey. The recent parolee is falsely accused of shoplifting at the Ben Sherman store, setting off Ryan's bad habit of always believing the worst in everyone. Meanwhile, Kirsten's alcoholism accelerates as she begins drinking at least a bottle of wine a night with Carter, and Julie is humiliated as her porno tape is played instead of a promo for the magazine she's trying to launch.
36. "The Safe Harbor" (Season 3, Episode 11)
Although this episode features way too much Johnny, during Summer and Taylor's campaign to get Marissa back into Harbor, they make up "Free Marissa" shirts in the style of those "Free Winona" shirts made in the wake of her shoplifting arrest in 2001. It's the kind of wonderful mid-2000s "you had to be there" imagery that makes this show such a great time capsule of the era.
35. "The Night Moves" (Season 4, Episode 15)
It's the aftermath of the big earthquake and the penultimate episode of a season, and it became the penultimate episode of the entire show, so "The Night Moves" is a weird mixture of series-high moments and unnecessary filler. Ryan and Seth reminiscing about the various fights Ryan has gotten into over the years is a bittersweet and funny summation of their friendship turned brotherhood. The soundtrack features bangers like "Rusted Wheel," by Silversun Pickups, "Kreuzberg," by Bloc Party, and a perfectly eerie use of Radiohead's "Like Spinning Plates."
34. "The Blaze of Glory" (Season 2, Episode 16)
The opening scene features cheeky meta commentary about how critics and fans thought season one was better than the first 15 episodes of season two — which is even funnier now in retrospect because compared to seasons three and four, season two contains some of the best episodes of the whole show. This episode also marks the end of Marissa's relationship with Alex, a messy breakup that starts with a blaze of jealousy, but ends on a bittersweet note of mutual respect and admiration. Frankly, looking back now, it's probably the healthiest pairing Marissa had on the whole show.
33. "The Nana" (Season 1, Episode 23)
Unlike in the disappointing follow-up episode featuring the character, Linda Lavin as the Nana, a.k.a. Sophie Cohen, gives a complex performance as an independent woman facing for the first time an obstacle that she cannot face alone: cancer. She's prickly, yet lovable, and her heart-to-hearts with both Sandy and Seth are incredibly poignant. It's also a great Summer episode as she spends the whole day studying the Haggadah so she can impress the Nana at the Passover Seder.
32. "The Proposal" (Season 1, Episode 24)
"Welcome to Portland, bitch!" After Julie, wisely, finally breaks it off with Luke, he gets in a drunken car accident and decides he should leave Newport and live with his gay dad in Oregon. It's a bittersweet move for the show because Chris Carmack played Luke's arc — from a one-dimensional villainous water-polo player to a complicated frenemy of Ryan and Seth — so perfectly over the course of the season. Every attempted iteration of a similar character (Zach, Che) failed to fill the void he left behind.
31. "The Avengers" (Season 4, Episode 1)
Everything that was both preposterous and addictive about this show is bottled into this one terrible yet compelling hour underscored by Placebo's cover of "Running Up That Hill." Set five months after Marissa's death, we see how each character is dealing — or really not dealing — with the incident. Ryan, of course, is taking it the worst and is living in the broom closet of the bar where he works and cage-fighting at night, as one does.
30. "The Risky Business" (Season 2, Episode 18)
In one of the best cold opens of the entire series, the boys debate who the best action hero of all time is, and Sandy and Trey bond over their mutual appreciation for Steve McQueen. Sandy is then pressured into chairing the annual "pseudo-charity non-yard sale," held by the Newpsies (the Cohens' derogatory term for the social-climbing married women of Newport, a.k.a. the real, real housewives of the O.C.). While taking photos for the catalogue, the boys discover that the "crystal egg" from Risky Business is up for auction and shenanigans ensue, set to Tangerine Dream's transcendent score from that film.
29. "The Power of Love" (Season 2, Episode 8)
While the relationships between Seth and Alex, Ryan and Lindsay, Summer and Zach, and Marissa and DJ all find themselves on the kind of rocky ground you expect for a teen romance, the emotional heft of this episode comes when Sandy forgets his and Kirsten's upcoming 20th wedding anniversary. His solution? A grand gesture that includes renting out the Bait Shop and serenading her with a cover of Solomon Burke's "Don't Give Up on Me." The popularity of the show helped actor Peter Gallagher release his debut album, 7 Days in Memphis, later in 2005.
28. "The New Kids on the Block" (Season 2, Episode 3)
In an episode full of firsts, Lindsay, a new transfer student at Harbor, is introduced with a Kerry-Edwards campaign bumper sticker on her car, and Alex, an emancipated teenager, enters as the gruff purple-haired, tattooed manager of the Bait Shop, a new music venue on the pier. Thus, the show's commitment to live music begins anew with a concert featuring the Walkmen. Also, both characters become integral toward both Ryan and Marissa's character growth throughout the season, even if they also helped the writers continue to keep the two apart.
27. "The Chrismukkah That Almost Wasn't" (Season 2, Episode 16)
While a soundtrack with seven — seven! — terrible Christmas songs by Guster does its best to derail this second Chrismukkah, it's saved by the twin charms of Lindsay and Summer. The former stays up all night making yarmul-Claus hats; the latter literally saves the holiday after a fight between Kirsten and Caleb threatens to implode the festivities. The final scene is jam-packed with sparkling holiday cheer and the undercurrent of abject despair, which makes it a perfect seasonal treat.
26. "The Second Chance" (Season 2, Episode 11)
There is ample footage of Lindsay playing the oboe, and later Caleb gets so riled up by Ryan that he has a (nonfatal) heart attack. That's must-see TV.
25. "The L.A." (Season 1, Episode 22)
Summer gets the group invited to the birthday party of an actor (played by Colin Hanks) from her favorite show, The Valley (a fictional meta-show-within-the-show). At the club, they not only find Hailey working as go-go dancer, but Seth runs into Paris Hilton, who calls selfies the autograph of the future and then talks at length about her graduate studies on the work of Thomas Pynchon. Hilton's deadpan delivery in this scene remains one for the ages.
24. "The Heights" (Season 1, Episode 9)
A perfect example of the best aspects of the show during its early run: The chemistry between various cast members gets to shine, while the drama is soapy but not too preposterous. There's a prime moment where Kirsten and Sandy get a little randy in the kitchen before work. Ryan and Luke work out their frustrations with each other on the soccer field. Summer's jealousy of the bond between Anna and Seth heats up. Sandy's ethics are put to the test over a case that pits him against Caleb. And Marissa and Ryan finally share a kiss on the Ferris wheel — despite his fear of heights.
23. "The Perfect Couple" (Season 1, Episode 10)
So many great quips in this episode. Kirsten muses, "This never happened with Seth," after she catches Marissa and Ryan making out in the pool house. Summer reveals, "I like Seth Cohen," after she kisses him during Caleb's yacht party. And, of course, Jimmy's "You're Caleb's problem now," after it's revealed that Julie and Caleb have secretly been seeing each other.
22. "The Debut" (Season 1, Episode 4)
Now that Ryan is officially a ward of the Cohens, Seth tells him, "You're a Cohen now. Welcome to a life of paralyzing insecurity and self-doubt." Enter Anna Stern, a debutante who has just moved from Pittsburgh. When Summer yanks Seth around during the cotillion, Anna is a rock for him, reminding him about the importance of having "confidence, Cohen."
21. "The Gamble" (Season 1, Episode 3)
A roller coaster of an episode, it begins with Ryan almost getting shivved in jail and ends at a swanky Newpsie casino-night party. Daphne Ashbrook does great character work as Ryan's alcoholic mom Dawn, who came across as a little one-note in the pilot but here is a woman full of failings but wise enough to know that she's not the best thing for her son right now. These scenes not only lay out the emotional tracks for their reunion in season three, but also for Ryan's complex relationship with Kirsten.
20. "The Homecoming" (Season 1, Episode 11)
In this Thanksgiving-set episode, Ryan and Marissa go to Chino to help his imprisoned brother out with a debt. Here we first meet "the girl next door" Theresa and get a glimpse at the life — and people — Ryan left behind. Meanwhile, dirtbag Seth juggles making out with Summer in the pool house and Anna in his bedroom. Oh, and we first meet Captain Oats.
19. "The Ex-Factor" (Season 2, Episode 9)
Everyone is messy, messy, messy in this episode. Seth meets Alex's ex, Jody (Emmanuelle Chriqui), whom he erroneously assumed was a man; her bisexuality now makes him feel even more out of his league. Summer shirks celebrating her six-month anniversary with Zach because she realizes it's longer than she was with Seth (and she hasn't yet admitted to herself that she really just wants to be with him). Marissa attempts to bond with Lindsay but ends up getting her drunk, which in turn leads to Ryan yelling at her, which in turn leads to Marissa staying the night on Alex's couch … which in turn leads to one of the best pairing ideas the show ever had. I love mess.
18. "The Accomplice" (Season 2, Episode 10)
While this episode launches the dreaded Rebecca subplot, it also features some masterfully chaotic bisexual energy. When "Evil" by Interpol plays three separate times as Alex, Marissa, and Jody are all shown listening to it as they work out their messy situation? I felt that.
17. "The Goodbye Girl" (Season 1, Episode 21)
Theresa and Anna are both characters that shouldn't work based on the writing. They are saved, though, by the dynamic performances of Navi Rawat and Samaire Armstrong, who add a much-needed layer of wisdom and pathos to both girls. They're both given beautiful send-offs in this episode, wrapping up their arcs with great emotion heft. It's unfortunate, then, that the poignancy here is later undermined when Theresa is creakily brought back later in the season and Anna toward the end of season three. Regardless, this is an exemplary episode. Confidence, Cohen.
16. "The Ties That Bind" (Season 1, Episode 27)
In some ways, this is a great finale episode, filled with big swings and grand emotions. In other ways, it serves as a death knell for the prime of the season, embracing a level of preposterousness and maudlin drama that the show had only occasionally dabbled in previously. We see it in its treatment of Sandy and Kirsten, who begin the episode in a heavy makeout sesh in the kitchen. It ends with Kirsten sobbing alone after Ryan decides to move to Chino with a pregnant Theresa. Throughout the first season, these two were solid anchors for all the drama; after this, they become part of the drama, and the show never quite finds the right balance again.
15. "The Family Ties" (Season 2, Episode 7)
Throughout the first three seasons, it often seemed like the writers sought to put Marissa through as much trauma as they possibly could, without really dealing with the consequences beyond further drama. Despite this, Barton's talent for wrestling with Marissa's internal struggles occasionally manages to shine through. She's great in this episode, which is mostly set to the dulcet sounds of this week's Bait Shop band, Modest Mouse. As Jimmy makes plans to leave for Maui, she drunkenly calls Julie a "whore" at the goodbye party before sharing a heartfelt goodbye with her dad. The episode ends with Marissa, a bag of bagels in hand, showing up at the Cohen doorstep, finding just a little bit of safety and security with their makeshift family.
14. "The New Era" (Season 2, Episode 4)
Seth and Lindsay and Ryan and Alex and Marissa and Summer and Zach, oh my! A French farce of an episode where everyone ends up with the wrong partner, but only a few of them realize it right away. When Marissa first meets Alex, the two share a knowing look that plants a seed that takes its sweet time to blossom, but is well worth it. The episode also features three live songs performed by The Killers, who were in the midst of their Hot Fuss hot streak.
13. "The Telenovela" (Season 1, Episode 20)
Aspects of this episode, [cough] the Ryan-Eddie-Theresa love triangle [cough] don't really work well at all, but few moments in O.C. history are as iconic as Seth's coffee-cart declaration of love for Summer in front of the whole school at the end of this episode.
12. "The Heartbreak" (Season 1, Episode 19)
The first Valentine's Day episode also marks a milestone between Seth and Summer, who, in a fit of teenage horniness, have sex for the first time as a couple — and unbeknownst to Seth, each for the first time with anyone. Their trials and tribulations as they work out the physical kinks of making love is both raunchy and incredibly sweet.
11. "The Model Home" (Season 1, Episode 2)
In a clear homage to Rebel Without a Cause, Ryan and Seth and Marissa hang out in the model home for one of Kirsten's Newport Group McMansion as they try to figure out if Ryan should stay in Newport or try to build a life elsewhere. Who knew that Marissa casually saying to Ryan, "You should stay," would end up being the most powerful line in the history of the show. Barton's delivery here is so precisely calibrated, it pierces Ryan so deeply its echo is felt all the way through the entirety of the series. Upon rewatching, it also becomes laden with a rich, likely unintended melancholy.
10. "The End's Not Near, It's Here" (Season 4, Episode 16)
While previous seasons stretched to 20-plus episodes each, creator and screenwriter Josh Schwartz was tasked with wrapping everything up on episode 16 when the axe came down on season four. Somehow he manages to successfully cram what really does feel like eight episodes worth of plot and character development into one super-charged hour. Everyone gets a (mostly) happy ending. Seth and Summer break up long enough to discover who they are without each other, then finally get hitched. Julie graduates from college (and is maybe in a throuple with both the Bullit and Frank). Kirsten and Sandy raise their daughter in their old Berkeley home. Ryan, now an architect, sees a street kid who might be in distress. It's time to pay it forward.
9. "The O. Sea" (Season 2, Episode 23)
I don't know what's better: George Lucas telling Seth, "The prom is a great American experience," or Kirsten angrily telling her father, "I may like my Chardonnay, but I'm not gonna die alone, which is more than I can say for you!" — moments before he dies alone in a pool while Coldplay's "Fix You" plays in the background. What I do know is this is one hell of an episode.
8. "The Graduates" (Season 3, Episode 25)
Just when you think everyone is gonna be happy — Seth is going to RISD, Summer is going to Brown, Ryan is going to Berkeley, Marissa is gonna work on a yacht with Jimmy, Sandy is joining the DA's office again — everything falls spectacularly apart in one terrible moment. In a fit of jealousy, Volchok forces Ryan and Marissa's car off the road causing a big explosion. In an homage to both the Tijuana episode and the season one finale, Ryan pulls Marissa from the wreckage, and she dies in his arms as Imogen Heap's cover of "Hallelujah" plays. It's simultaneously the best and worst ending of any episode.
7. "The Best Chrismukkah Ever" (Season 1, Episode 13)
Despite it being the first episode with Oliver (arguably the worst character on the entire show), it also gave birth to the new holiday we all know and love, Chrismukkah. As he explains to Ryan, being the son of the Waspy Kirsten and Jewish Sandy, Seth felt it was his duty to create a holiday that features the best of traditions of both religions: In short, eight days of presents. Although the episode is wrapped in Chrismukkah cheer, it also brings the drama. A drunken Marissa disrupts Caleb's flashy Christmas party and almost causes Ryan to get arrested when the two are pulled over by a traffic cop. Meanwhile, after Anna gives Seth a handmade comic book, Summer, who dressed as Wonder Woman for her present, decides to bow out of their love triangle — for now.
6. "The Rainy Day Women" (Season 2, Episode 14)
The cold open — set to Blind Melon's "No Rain" as a deluge of rain separates Ryan in the pool house from Seth in the main house, tempting him with bagels — remains one of the satisfying single scenes of the series. That it is then capped by a similarly perfect scene, in which Seth and Summer recreate the upside-down kiss shared by Tobey Maguire and Kirsten Dunst in Sam Raimi's Spider-Man while a cover "Champagne Supernova" plays, makes this a top-tier episode.
5. "The Secret" (Season 1, Episode 12)
Yogalates.
4. "The Escape" (Season 1, Episode 7)
The core four head off on a road trip down to Tijuana, a.k.a. TJ, to celebrate before school starts. While this is the first great taste of Seth and Summer's chemistry, it's Marissa who steals the show. After learning of her parents' impending divorce and that Luke, whom she'd just slept with for the first time, has been cheating on her all summer, she downs a bottle of pills with a large amount of tequila. Ryan finds her in a dusty alley, carrying her to safety as Mazzy Star's "Into Dust" plays, a callback to a similar moment in the pilot. The show's penchant for often positioning Ryan as savior and Marissa as a damsel in distress is dubious at best, but the execution here is incredibly effective and utterly unforgettable.
3. "The Countdown" (Season 1, Episode 14)
The use of Finley Quaye and William Orbit's "Dice" at the end of this episode is the greatest use of music on the entire show. After being tricked into attending a swingers' party, Sandy reveals to Kirsten he has his own watch, meaning they'll leave the party together (and actually, the party did indeed help spice up their love life). Meanwhile, Ryan makes his way through NYE traffic, runs up a million flights of stairs, and bursts through the door of Oliver's penthouse just in time to kiss Marissa at the stroke of midnight. All of this happens in the approximately four-minute length of this one pop song. Perfection.
2. "The Dearly Beloved" (Season 2, Episode 24)
[Stefon voice] This episode has everything. A great soundtrack featuring tracks from Imogen Heap, The Bravery, and José González. A funeral. An intervention. A botched drug deal in a club. Ryan gets into a deadly fight with his own brother Trey that escalates so quickly it ends with Marissa shooting him with a gun as the scene plays in slow motion and becomes the single greatest Digital Short SNL ever produced.
1. "Premiere" (Season 1, Episode 1)
"Welcome to the O.C., bitch!"
Nothing can top the highest highs and lowest lows hit in the pilot episode. No dad was ever cooler than Sandy Cohen. No first love as mystical and puzzling as Marissa and Ryan. Some of the other characters — like Summer and Julie — are somewhat thinly sketched, but that makes their incredible and unexpected arcs over the course of the series that much richer.
In the first five minutes, Ryan and Trey steal a car, landing Trey in jail and Ryan in the care of his court-appointed attorney, Sandy. The melancholic piano riff of Phantom Planet's "California," which would later become the show's iconic theme song, paving the way for its pioneering use of indie pop, underscores the moment Ryan realizes his mother has abandoned him. As Sandy drives him from the strip malls of Chino to the sun-soaked surf of Newport Beach, Alex Greenwald's yearning vocals stretch out the word "Californiaaaa," twisting the word into a faraway dreamland, followed by "here we come," as Ryan is now fully in the dream.
But after one soulless Newpsie fashion-show fundraising that's really just an excuse for rich people to feel good while spending copious amounts of money on their spoiled children, who in turn celebrate their "hard work" with a coke-and-alcohol fueled beach-house rager, Ryan realizes he's gone through the looking glass. In just one day he observes Marissa's burgeoning alcoholism, Jimmy hanging on by a thin thread, Seth's loneliness and isolation, Luke's bullying and infidelity, and a sea of hollow people with too much money. "I think I could get into less trouble where I'm from," he tells Marissa. "You have no idea," she quips back.
Yet, along with all the excess and drama, the pilot also firmly established Ryan as a stabilizing force. He helps get Seth out of his shell, urging him to talk to his crush, Summer, and even has his back in a fight against the water polo team. He wordlessly helps a blackout-drunk Marissa after her friends dump her on her doorstep, a tender moment made iconic through the use of Mazzy Star's "Into Dust." As the show progresses through its 92 episodes, it's the balancing effect of these deeply felt relationships that keeps the show afloat in the midst of all the melodrama.
Once Schwartz brought his unique voice — and the world of Newport Beach — to the masses, culture hasn't been the same since.
Correction: An earlier version of this post misstated which season "The Chrismukkah Bar-Mitzvahkkah" was from and mixed Rachel up with Rebecca.