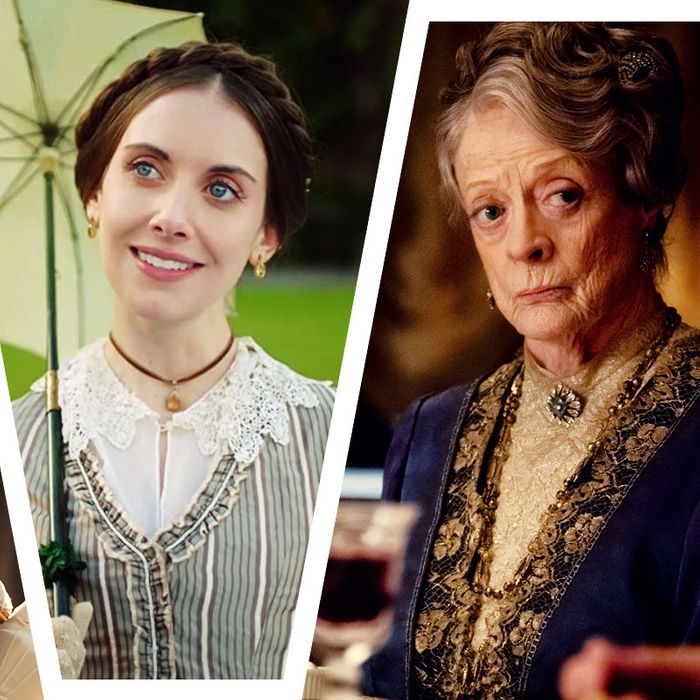 Photo: Courtesy of ITV/Epix
When everything is terrible, I find comfort by watching bites of escapist British fare, where most of the lines resemble something amusingly absurd like "But think of her dowry!" or "At least try to suckle that young heir!" The last thing I want to see unfold onscreen is anything that reminds me of the heaping load of shite going on outside my windows, so the societal, cultural, and romantic drama of pre–World War II Britain is what I've been yearning for. Luckily for me, that craving is easy to satisfy thanks to various streaming services that cater to an anglophilic clientele. If you fancy something like this, too, here are eight TV shows that I'd recommend.
Downton Abbey
What do you mean you haven't watched this yet? Do you even know what a weekend is? Looking back, the stakes have never been lower for the wildly ornate upstairs-downstairs drama, which tends to revolve around the extended Grantham family and the carousel of snobs who come to visit them at their estate. (An all-time great moment will always be a diplomatic dying in bed after a good shag with a lady.) Arranged marriage, the art of buying railroad stock, and valet blackmail are all given equal narrative importance. And the costumes? Hubba-hubba, don't even get us started. When you're done watching, go ahead and stream the equally frothy film sequel, too.
Where to stream: Amazon Prime, Thirteen Passport, Netflix
Belgravia
After you breeze through Downton Abbey, try series creator Julian Fellowes's Belgravia which is filled with even more tiara-clutching scandals if you can believe it: The action begins at an unbelievably swanky Brussels ball in 1815, and, flash-forward 25 years later in London, the ramifications of all of that randy and boozy behavior are finally bubbling to the surface. The biggest secret? A secret grandson with a fortune, of course!
Where to stream: EPIX on Demand
Doctor Thorne
What's this … another Julian Fellowes adaptation? Lucky us! The Anthony Trollope novel is transformed into a four-part miniseries, where the main 1850s village action deals with our titular, highly respected doctor (Tom Hollander, noted sex thimble), his lovely niece, and how the local noble family will do everything in their power to keep the niece from marrying their stud of an heir. They say it's because she has no money and very questionable parentage, but, oh yeah, it's also because the family secretly lost their fortune and are months away from destitution — unless their son manages to find himself a wealthy bride. A fun drinking game for this: Take a sip every time somebody scoffs "Good day!"
Where to rent: iTunes
Howards End
Howards End knows you're enticed by early-20th-century family drama. So why not add wealthy family drama on top of some middle-class family drama that also has to deal with working-class family drama? Phew, let's try to unpack this. The provocative adaptation from E.M. Forster's novel primarily puts its lens on two sisters, the superbly interesting but monetarily modest Schlegels, one of whom gets secretly jilted out of an inheritance after the family in question deems her unworthy of such a reward. Things start to unravel, though, when she begins to fall in love with the dead woman's widower (Matthew MacFadyen, the ultimate period-drama thirst trap), as well as when her sister begins to catch feelings for a poor bank clerk. Here's hoping they choose wisely, and not just because the future of their beautiful salon-esque townhouse in London depends on it.
Where to stream: Amazon Prime, Starz on Demand
Upstairs, Downstairs
If you don't fancy watching the original series, Upstairs, Downstairs was recently rebooted for nine episodes, and stuffy social banalities weren't spared for its new iteration: A young couple moves into the famed London abode years after it became dormant, only to discover it's less of a posh living space and more of a prototype for Magic Kingdom's Haunted Mansion ride. (Because of, like, way too many mothballs and cobwebs, not spooky apparitions.) But with a hired crew of servants and a good deep clean, things like "entertaining" and "hosting the countesses" can commence, and Claire Foy shows up as a saucy pre-Crown lady who's on the hunt for a husband.
Where to stream: Hulu, BritBox
Vanity Fair
Some may call her a harlot or a drunk, but others (okay, not a lot, but others) call her wife material! This miniseries adaptation of William Makepeace Thackeray's novel tells of the deliciously scrappy mid-19th-century exploits of one of the OG social climbers with daddy issues, Becky Sharp with the good hair, who will stop at nothing until she elevates herself away from her modest background. Even if she alienates all of her friends in the process, or, even worst, tries to seduce their rich fathers. Can't blame her for trying.
Where to stream: Amazon Prime
Cranford
We say this with the absolute highest respect: How nice of the BBC to give Judi Dench and her gal pals their very own show about nothing. The year is 1842, and the single and widowed older women of Cranford don't give a shit about the men in their village. (Okay, maybe they're a bit randy if a good mutton chop is involved.) But don't you dare call them spinsters! They want to go bonnet shopping. They want to gossip while dosing their tea with sugar cubes. They want to mentor the town's youth. They are … icons.
Where to stream: BritBox
Sanditon
Because the chance of you already engaging in way too many Pride and Prejudice binge-watches is high (we know, Mr. Darcy can get it), might we recommend this other Jane Austen adaptation in its place: It comes from her unfinished novel about a young, spirited woman in the early 19th century who's sent away by her family to live in a seaside town that ebbs and flows with all kinds of secrets. The mission, as always, is to find a suitable husband, and she might find one with a foxy caretaker — unless the town itself has other ideas. Vent about your finale feelings here when you're done.
Where to stream: Amazon Prime, Thirteen Passport