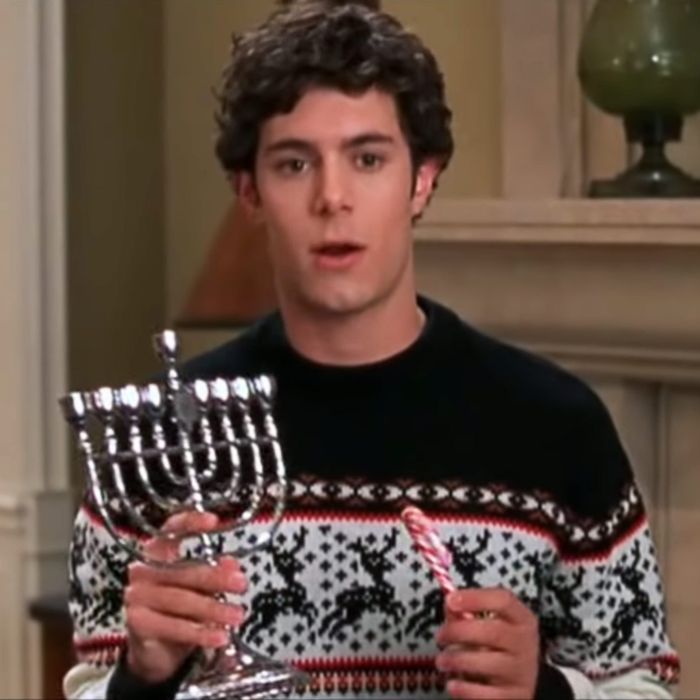 Seth Cohen, leading Chrismukkah observer.
Photo: FOX
Turn on some twinkly lights and bust out the candles, because the holidays are here … and there are so very many of them. With the arrival of December comes the month-long collection of religious, social, and secular celebrations that involve spending time with loved ones, eating seasonal treats, buying gifts, decorating, and watching the same beloved holiday movies and TV episodes we all watch each year.
The holidays comprise far more than just Christmas, of course — there's Hanukkah, Kwanzaa, New Year's Eve, and Winter Solstice, among others. That's a lot of holidays, but is it enough? We could always use more holidays, because they're fun. Perhaps aware of this, TV writers have for decades invented new, Christmas-esque winter holidays. So many of them seem like a total blast, and without any of the stressful weight of all our "real" holidays. Here are the ones that we think would be the most enjoyable to celebrate, ranked from least festive to most festive.
11. Yak Shaving Day, The Ren & Stimpy Show
A quick, time-filling segment from a 1991 episode of The Ren & Stimpy Show asks: What if Christmas was gross? Ren and Stimpy run around making last-minute preparations, as Yak Shaving Day is just days away. They've still got to leave out some shaving cream and a razor in the bathroom so that they may be blessed by the appearance of the magical Shaving Yak, who comes in through the drain, shaves his face, then leaves behind his shavings. Honestly, this is no weirder than leaving a room temperature glass of milk for a stranger who fills oversized socks with candy.
10. Knishmas, Chowder
Christmas is already preoccupied with food, but on Chowder, a cartoon in which everything is food themed anyway, Knishmas is even more food-based. In order to please a giant, Santa-like worm named Knish Kringle, a tasty, life-size gingerbread house must be constructed. If it meets Knish's exacting standards, he leaves presents. If he doesn't like it, he'll tear that gingerbread house apart. If anything, this introduces the notion of high-stakes gingerbread house construction, and gives them a reason to exist other than sit around on a table and attract winter ants.
9. Life Day, The Star Wars Holiday Special
The Star Wars Holiday Special is arguably the worst thing in television history. It aired just once in November 1978, to cash in on the Star Wars mania of the time. But nobody associated with those movies wrote this fascinating mess, which employed TV variety-show veterans like Bruce Vilanch and Rod Warren. The plot: Chewbacca and Han Solo try to get back to the former's home planet of Kashyyyk in time for Life Day, the Star Wars universe's Christmas-type holiday. While they get waylaid by some Star War business, Chewbacca's family does what we all do over those long, sleepy holiday days: They watch TV, or rather weird, holographic TV. (There's a cooking show with Harvey Korman dressed as an alien, a Boba Fett cartoon, and a softcore interactive porno starring Diahann Carroll.) The true highlight comes at the end, when Carrie Fisher, as Princess Leia, gives a batshit vocal performance of a Life Day carol.
8. Fappiano, ALF
How do you make Thanksgiving, a day of meat and pie, even better? Take the tree and gift-giving from Christmas. That's the gist of Fappiano, the big yearly holiday on Melmac, home planet of Gordon Shumway, a.k.a. ALF from ALF. Named for ALF crew member Bob Fappiano, Melmacians like ALF exchange presents in their festively decorated homes but also spend an entire day feasting on cats. The only real difference between Fappiano and earthly Western holidays (besides not eating cats) is that they limit their gorging to one day, as opposed to our monthlong orgy of overeating that stretches from Thanksgiving to New Year's.
7. Bellini Day, The Kids in the Hall
One could argue that the best recurring character on The Kids in the Hall isn't Buddy Cole or the Chicken Lady, but Paul Bellini. He's a real guy, and a writer for the show, who would show up when he felt like it, clad only in a towel wrapped around his waist. He was a fan favorite, and the show imagined that obsession would go universal in the fifth-season sketch "Bellini Day." Set on a distant planet in the distant future, a nuclear family celebrates by caroling old disco songs, eating trout with gravy, and partaking of Bellini's favorite beverage, buttermilk. Buttermilk is like very important eggnog to Bellini Day, because it was when he went out to buy a jar of the stuff that Bellini was struck by a rock and died, and in the spot grew a buttermilk tree. And it's just not Bellini Day until everybody's poked that Bellini hologram with their special stick.
6. Chrimbus, Tim & Eric Awesome Show, Great Job!
Leave it to Tim & Eric Awesome Show, Great Job! to make Christmas deeply unsettling. In this world, where a dummy like Steve Brule is a doctor and having a married news team is a big deal, the holiday everybody can't wait for is Chrimbus, in which the iconography of Christmas is stretched to absurd highs. According to Awesome Show's Chrimbus special, the Winterman — an elderly bald man wearing nothing but a vest — leaves presents in the Chrimbus Bushes of those people who ate a pound of hair over the course of the year.
5. Refrigerator Day, Dinosaurs
The holidays are a time when many of us reflect on our lives and feel thankful for what we have — family, health, and such — but how many of us ever stop to appreciate about the major, world-shaping technological advances of decades past? We take stuff like refrigeration for granted, which allowed for long-distance food shipping and storage. According to the early-1990s Henson series Dinosaurs, the dinosaurs of tens of millions of years ago development refrigeration, too, and so created Refrigerator Day in recognition. It meant they no longer had to endlessly roam for food, and could instead have fridges full of food and follow other pursuits. It's the Dinosaurs equivalent of the holidays, what with the feasting and the excuse for gift-giving. (Plus the events of the series predate Jesus by millions of years, so there's no way they could have had a Christmas on Dinosaurs.)
4. Xmas, Futurama
By the 31st century, Futurama predicts that humanity will have done away with all organized religion, except for Oprahism and voodoo. But while Christianity has presumably died, Christmas and its fun traditions have continued, albeit with some necessary adjustments. The holiday evolved into Xmas, and Xmas trees are adorned palm trees, as pine trees are extinct. The big difference is that Santa is real, although he's a misprogrammed robot who thinks all humans are on the naughty list, and he spends Christmas Eve hunting down and killing any humans foolish enough to wander outside. So instead of anxiously awaiting Santa to see what toys and treats he'll bring, it's a Purge-like tradition for people to get the hell off the streets, and hunker down in their fortified homes, safe from Santa's weapons. Nothing brings people together like the holidays. And fear.
3. Snowflake Day, Clone High
The brilliant and wonderful Clone High, created by Phil Lord and Chris Miller of The Lego Movie and The Last Man on Earth, lasted for just 12 installments of hijinks by the teen clones of historical figures. But one of those is dedicated entirely to a fake holiday that is somehow both cynical and woke. In the world of Clone High, religion-based winter holidays have been eliminated in favor of the secular, nondenominational Snowflake Day. Santa is out, replaced with holiday icon Snowflake Jake. And it just wouldn't be Snowflake Day if families and friends didn't father 'round to do the Cabbage Patch and feast on lamb tacos. These traditions are so arbitrary it makes one wonder how arbitrary our real holiday customs are.
2. Chrismukkah, The O.C.
"The holidays" comprise a lot more than Christmas, and it's good to be inclusive. Kind and thoughtful Seth Cohen of The O.C. — who grew up in an interfaith household —sought to reconcile the Christmas and Hanukkah-celebrating contingents at the age of six by creating "the greatest super-holiday known to mankind." The result: Chrismukkah, a pretty even split between Christmas and Hanukkah that takes the most fun customs and traditions from each. For example: The Cohens watch It's a Wonderful Life and also Fiddler on the Roof, put up a tree as well as a menorah, and follow up eight nights of presents with one day of lots of presents.
1. Festivus, Seinfeld
The 1997 Seinfeld episode "The Strike," co-written by Dan O'Keefe, introduced the idea of Festivus, and things haven't really been the same since. Based on a real-life practice by O'Keefe's father, it's a transgressive concept, one that simultaneously deconstructs Christmas and calls it out for what it is: needlessly materialistic and a guarantee for family fights. And so, Festivus eliminates commercialism by calling for a single decoration — an unadorned metal pole — and requires bickering with the "Airing of Grievances." It is truly a Festivus for the rest of us.