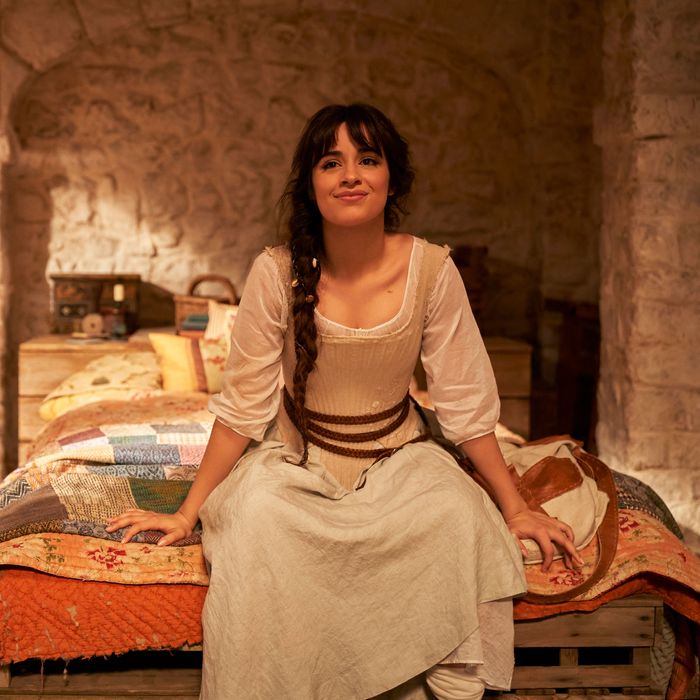 Cinderella.
Photo: Kerry Brown/Amazon Studios
This list is regularly updated as movies rotate on and off of Amazon Prime. *New additions are indicated with an asterisk.
The selection of family films on Amazon Prime's streaming service leaves a little something to be desired, but that just makes a guide like this even more useful! You have to dig through the titles on Prime Video to find something appropriate for everyone from kindergartener to great grandpa, but there are some titles worth a look, including some family classics that you may have forgotten.
Addams Family 2
Year: 2021
Runtime: 1 hour, 33 minutes
Directors: Greg Tiernan and Conrad Vernon
The characters created by Charles Addams will never grow old, even if this recent animated hit isn't exactly their best outing. There's still just enough to like in this sequel to the 2019 animated debut of the Addams Family, especially in the voice work by Oscar Isaac, Charlize Theron, Nick Kroll, Bill Hader, Wallace Shawn, and many more. This one is about a road trip for the Addams clan and despite being generally ignored during the pandemic, it still made a fortune. They're going to be making Addams movies forever.
* All Dogs Go to Heaven
Year: 1989
Runtime: 1h 24m
Director: Don Bluth
While Disney made headlines in 1989 with the return of their animated domination in the success of The Little Mermaid, animation lovers were admiring another hit from the eternally underrated Don Bluth. The man behind The Land Before Time and The Secret of NIMH directed this story of a dog (Burt Ryenolds) who gets murdered and comes back from heaven to get his revenge, partnering with an adorable child along the way. It was a massive hit on VHS, leading to a sequel, TV series, and DTV holiday movie.
The Bear
Year: 1988
Runtime: 1h 34m
Director: Jean-Jacques Annaud
The French director adapted the 1916 novel The Grizzly King by James Oliver Curwood in this unique family film for kids who want something different than a CGI laugh-fest. It's the tale of an orphaned grizzly bear and the adult male Kodiak bear as the two flee from trophy hunters in the wild. Lyrical and smart, it's a great movie for when your kids are transitioning from animation to things that might be more challenging.
The Black Stallion
Year: 1979
Runtime: 1h 58m
Director: Carroll Ballard
Remember when family films didn't have to talk down to kids? Just look at this poignant, moving adventure classic from the Walter Farley 1941 book of the same name about a boy who is shipwrecked with a wild stallion, who becomes one of his best friends. When they return to civilization, they enter a race in this film that was chosen to enter the National Film Registry as one of the most significant film works of all time.
* The Brady Bunch Movie
Year: 1995
Runtime: 1h 30m
Director: Betty Thomas
Movies based on beloved sitcoms are almost always a waste of time but Betty Thomas knew how to take the crowd-pleasing comedy of The Brady Bunch and twist it into a subversive satire of suburban norms. She took the 1970s family and dropped them in the '90s, turning their values and styles into fish-out-of-water humorous targets. It's still a surprisingly funny movie.
Charlotte's Web
Year: 1973
Runtime: 1h 53m
Director: Charles A. Nichols and Iwao Takamato
This adaptation of the E.B. White children's classic is the animated one that scarred just about every child of the '80s. The tale of a pig named Wilbur who befriends a spider named Charlotte is a classic tale of friendship with an ending that moves anyone with a heart. This one has some memorable music too from the Sherman Brothers, and voice work by the legendary Debbie Reynolds.
* Cinderella
Year: 2021
Runtime: 1h 53m
Director: Kay Cannon
Another year, another Cinderella movie. The original one on Prime belongs to pop superstar Camila Cabello, who channeled her fame from the music world into this jukebox musical take on the classic tale. That means familiar hits, intertwined with a few original songs. It's not the best Cinderella, but it's not the worst either. Maybe it will be the shoe that fits you.
Clifford the Big Red Dog
Year: 2021
Runtime: 1h 37m
Director: Walt Becker
This adaptation of the children's book series about the giant dog was originally scheduled for a theatrical release but ended up shuffled onto Paramount+ in late 2021 before also being made available to Prime subscribers. It's just sweet enough to make this list, thanks in large part to a game cast that includes a fun Tony Hale and Kenan Thompson.
Dr. Dolittle
Year: 1998
Runtime: 1h 41m
Director: Betty Thomas
Remember that little window in film history when Eddie Murphy was arguably the biggest family film star in the world. The former Axel Foley took on the challenge of updating the beloved tales by Hugh Lofting about a doctor who can talk to the animals, although this telling has nothing to do with the books or previous adaptations. It's really just an excuse for Murphy to flex his physical comedy muscle, which is always entertaining to watch.
* Galaxy Quest
Year: 1999
Runtime: 1h 42m
Director: Dean Parisot
The love for this movie seems to grow every single year. Why? It's funny. And it wasn't a big hit when it came out, which gives it an underdog/underrated status that movie watchers, especially genre fans, love. Tim Allen, Sigourney Weaver, Alan Rickman, and Sam Rockwell star in the story of a cast of a sci-fi TV series who get transported to a real battle of the stars.
Hotel Transylvania: Transformania
Year: 2022
Runtime: 1h 27m
Director: Derek Drymon and Jennifer Kluska
The massive blockbuster franchise of Hotel Transylvania films took a surprising turn in early 2022 when the pandemic forced this once-Sony property into a Prime Video exclusive. Likely the final film in this four-movie series, this one sees Dracula (Adam Sandler) becoming a human as his son-in-law (Andy Samberg) becomes a monster. Of course, it's about what's on the inside that really counts. Everybody knows that.
It's a Wonderful Life
Year: 1946
Runtime: 2h 10m
Director: Frank Capra
One of the most beloved films of all time doesn't just have to be watched around the holidays. The lessons in this film about what people value in life could be appreciated any time of the year, as could one of the most iconic performances in film history from Jimmy Stewart.
A League of Their Own
Year: 1992
Runtime: 2h 8m
Director: Penny Marshall
Prime Video is returning to the world of the All-American Girls Professional Baseball League with a new original dramedy series, released three decades after this family favorite taught everyone that there's no crying in baseball. A huge hit when it was released, this is the kind of film that's easy to rewatch thanks in large part to the incredibly charming cast and the big heart in Penny Marshall's direction.
* The Man in the Moon
Year: 1991
Runtime: 1h 50m
Director: Robert Mulligan
Reese Witherspoon made an immediate impact in her debut film, co-starring alongside Sam Waterston and Tess Harper in this family drama. Witherspoon plays Dani, a 14-year-old who falls in love with the older boy (Jason London) who moves in next door. It's a tender, nuanced coming-of-age film.
Megamind
Year: 2010
Runtime: 1h 36m
Director: Tom McGrath
A great voice cast does most of the work here in a film that skewers superhero tropes years before that became something that everybody does. Will Ferrell voices the title character, a supervillain who actually kills his nemesis, Metro Man (Brad Pitt). With no one to fight, the bad guy becomes the hero after he creates a new version of Metro Man that's even worse than he is. It's a little dated already but Ferrell, Pitt, and Tina Fey do a lot of heavy lifting.
The Sandlot
Year: 1993
Runtime: 1h 41m
Director: David Mickey Evans
This family flick made almost no impact when it was released but has become a sports movie favorite every time such a list is released. What is it about the story of a L.A. kids playing ball in the summer of '62 that has made it so timeless? We can all see ourselves in one of the kids in The Sandlot, and there's a sense of revisiting our own childhood in this sweet, funny modern classic.
Sonic the Hedgehog 
Year: 2020
Runtime: 1h 38m
Director: Jeff Fowler
It's hard to believe it but the movies about the super-fast blue hedgehog are kind of more popular than the games right now. Ben Schwartz voices the character in this first film based on the games by Sega, a movie so popular that it's already produced a hit sequel. Jim Carrey kind of steals the movie as the mustachioed villain, going so far over the top that he turns his performance into campy fun.
Whale Rider
Year: 2002
Runtime: 1h 41m
Director: Niki Caro
A lyrical and moving coming-of-age film, this adaptation of the 1987 novel stars Keisha Castle-Hughes as a 12-year-old girl in a Maori clan who wants to become the chief of her tribe, a role reserved for the men in the tribe. More than a mere girl power tale (although it is that too) this is a film that never talks down to its kids, understanding their ambitions and fears in a way that feels both poetic and true.
Where the Red Fern Grows
Year: 1974
Runtime: 1h 37m
Director: Norman Tokar
A lot of children of the '80s probably watched this in middle school and were never quite the same. Relive the trauma! Based on the 1961 novel of the same name, this is the tale of an ordinary 12-year-old boy who is obsessed with hunting dogs, even though his family can't afford them. A moving, challenging story well-told, this is a great option for a book that everyone in the family can read and a film everyone in the family can watch together.
* Yours, Mine, & Ours
Year: 2005
Runtime: 1h 28m
Director: Raja Gosnell
Who doesn't love a wacky giant family comedy every now and then? This remake of the 1968 film of the same name cast Dennis Quaid and Rene Russo in the roles of single parents who blend their families to the tune of 18 children. It's not exactly a great movie, but it's old enough now that it may be nostalgic for people who were kids in the '00s.
If you subscribe to a service through our links, Vulture may earn an affiliate commission.