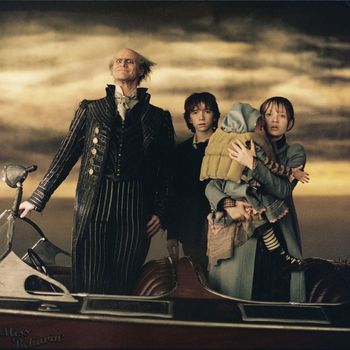 Lemony Snicket's A Series of Unfortunate Events.
Photo: Photo 12/Alamy Stock Photo
This list is regularly updated as movies rotate on and off of Prime Video. *New additions are indicated with an asterisk.
The selection of family films on Amazon Prime's streaming service leaves a little something to be desired, but that just makes a guide like this even more useful! You have to dig through the titles on Prime Video to find something appropriate for everyone from kindergartener to great grandpa, but there are some titles worth a look, including some family classics that you may have forgotten.
* Abbott and Costello Meet Frankenstein
Year: 1948
Runtime: 1h 23m
Director: Charles Barton
There was a time when Bud Abbott and Lou Costello were one of the most popular comedy teams in the world and their charming brand of physical humor is timeless. Introduce your kids to some of the best comic timing in movie history with the most classic Abbott and Costello monster movie. It's delightful.
Addams Family 2
Year: 2021
Runtime: 1 hour, 33 minutes
Directors: Greg Tiernan and Conrad Vernon
The characters created by Charles Addams will never grow old, even if this recent animated hit isn't exactly their best outing. There's still just enough to like in this sequel to the 2019 animated debut of the Addams Family, especially in the voice work by Oscar Isaac, Charlize Theron, Nick Kroll, Bill Hader, Wallace Shawn, and many more. This one is about a road trip for the Addams clan and despite being generally ignored during the pandemic, it still made a fortune. They're going to be making Addams movies forever.
* The Bad News Bears
Year: 1976
Runtime: 1h 42m
Director: Michael Ritchie
Walter Matthau rules in this Michael Ritchie classic. Pushing the boundaries of what would be acceptable in a kids movie, it's a surprisingly raw and realistic story of an alcoholic and former minor league pitcher who ends up coaching a Southern California Youth Baseball League. At first, he barely tries, but this is the classic underdog sports movie for a reason.
The Brady Bunch Movie
Year: 1995
Runtime: 1h 30m
Director: Betty Thomas
Movies based on beloved sitcoms are almost always a waste of time but Betty Thomas knew how to take the crowd-pleasing comedy of The Brady Bunch and twist it into a subversive satire of suburban norms. She took the 1970s family and dropped them in the '90s, turning their values and styles into fish-out-of-water humorous targets. It's still a surprisingly funny movie.
Cinderella
Year: 2021
Runtime: 1h 53m
Director: Kay Cannon
Another year, another Cinderella movie. The original one on Prime belongs to pop superstar Camila Cabello, who channeled her fame from the music world into this jukebox musical take on the classic tale. That means familiar hits, intertwined with a few original songs. It's not the best Cinderella, but it's not the worst either. Maybe it will be the shoe that fits you.
Clifford the Big Red Dog
Year: 2021
Runtime: 1h 37m
Director: Walt Becker
This adaptation of the children's book series about the giant dog was originally scheduled for a theatrical release but ended up shuffled onto Paramount+ in late 2021 before also being made available to Prime subscribers. It's just sweet enough to make this list, thanks in large part to a game cast that includes a fun Tony Hale and Kenan Thompson.
* DC League of Superpets
Year: 2022
Runtime: 1h 45m
Director: Jared Stern
BFFs Dwayne Johnson and Kevin Hart anchor one of the best animated voice casts of 2022 as the voices of Superman's superdog Krypto and the not-so-super Ace, who ends up becoming Batman's pooch. It's a silly super-comedy that's elevated, not just by The Rock and Hart, but by Kevin McKinnon, John Krasinski, Vanessa Bayer, Natasha Lyonne, Diego Luna, Marc Maron, and a wonderfully dry Keanu Reeves as the Dark Knight himself.
Hotel Transylvania: Transformania
Year: 2022
Runtime: 1h 27m
Director: Derek Drymon and Jennifer Kluska
The massive blockbuster franchise of Hotel Transylvania films took a surprising turn in early 2022 when the pandemic forced this once-Sony property into a Prime Video exclusive. Likely the final film in this four-movie series, this one sees Dracula (Adam Sandler) becoming a human as his son-in-law (Andy Samberg) becomes a monster. Of course, it's about what's on the inside that really counts. Everybody knows that.
How to Train Your Dragon
Year: 2010
Runtime: 1h 37m
Director: Chris Sanders, Dean DeBlois
The movies based on the book by Cressida Cowell comprise one of the best trilogies of the 2010s. It all started with this DreamWorks adventure film about a boy (Jay Baruchel) who befriends a dragon named Toothless, despite his people's fear of the flying creatures. A classic tale of never judging a book by its cover, this a beautiful adventure tale, a movie with equal amounts of heart and spirit.

It's a Wonderful Life
Year: 1946
Runtime: 2h 10m
Director: Frank Capra
One of the most beloved films of all time doesn't just have to be watched around the holidays. The lessons in this film about what people value in life could be appreciated any time of the year, as could one of the most iconic performances in film history from Jimmy Stewart.
* Lemony Snicket's A Series of Unfortunate Events
Year: 2004
Runtime: 1h 48m
Director: Brad Silberling
Before the Netflix series, there was the early 2000's adaptation of the first three novels by Lemony Snicket. Directed by Brad Silberling, Jim Carrey stars as Count Olaf, the villain of the piece, who terrorizes the Baudelaire family, including Klaus (Liam Aiken), Violet (Emily Browning), and Sunny (Kara and Shelby Hoffman). Visually inventive, it's a better movie that you remember.
Mousehunt
Year: 1997
Runtime: 1h 37m
Director: Gore Verbinski
The great Gore Verbinski directed this 1997 black comedy that works for the whole family. On the surface, it's the story of two brothers tormented by one small mouse in a house they've inherited from their father. It's filled with great physical humor from Nathan Lane and Lee Evans, who crib their style from classic comedy duos like Laurel & Hardy and Abbott & Costello.
* October Sky
Year: 1999
Runtime: 1h 47m
Director: Joe Johnston
Joe Johnston (The Rocketeer) directed this film early in the career of the great Jake Gyllenhaal, based on the memoir of the same name. Gyllenhaal plays the son of a coal miner in 1957 who tries to become a NASA engineer. Really nailing its setting in the heartland of America as the space race was just getting started, it's a big-hearted film.
Paws of Fury: The Legend of Hank
Year: 2022
Runtime: 1h 37m
Director: Rob Minkoff, Mark Koetsier, Chris Bailey
A loose remake of Blazing Saddles, this 2022 CGI animated film barely made any waves when it was released last Summer, but it's not bad! Michael Cera, Ricky Gervais, Samuel L. Jackson, Michelle Yeoh, and even Mel Brooks himself contribute voice work to the tale of a dog who becomes a samurai to help rescue a cat village from its awful owner.
Puss in Boots
Year: 2011
Runtime: 1h 30m
Director: Chris Miller
When Shrek 2 became one of the biggest animated films ever made, plans were put in motion to spin off Antonio Banderas's heroic kitty into his own franchise, which arguably reached its peak with last year's excellent Puss in Boots: The Last Wish. This first film isn't that good (and that other one's on Netflix, by the way) but it's still fun, and might be of interest to kids who saw last year's movie and wonder where it all began.
Rio 2
Year: 2014
Runtime: 1h 41m
Director: Carlos Saldanha
Remember Blue Sky? The company behind Ice Age tried for another hit franchise with a bunch of colorful Brazilian birds, and the first movie was successful enough to produce a reasonably entertaining sequel. Rio 2 is all about bright colors, catchy music, and fun voice work from people like Jesse Eisenberg, Anne Hathaway, Jamie Foxx, Tracy Morgan, and many more.
Year: 2022
Runtime: 2h 2m
Director: David Mickey Evans
With a third film in production, it kind of feels like these films about the fast little blue guy are the first new mega-franchise of the pandemic, right? And something interesting about them is how quickly Paramount has worked to make them available to subscribers. This film jumped from theatres to Paramount+ before it was even on Blu-ray and now it's on Prime Video too. There's a reason kids love these movies. Watch for yourself and find out why.
Sounder
Year: 1973
Runtime: 1h 45m
Director: Martin Ritt
It may not be the kind of family film that Minions fans are looking for, but why not challenge your kids with something more grounded every now and then? Sounder is more than just the story of a dog. It's a tale of the Deep South during the Great Depression, anchored by stunning performances from Paul Winfield and Cicely Tyson, both of whom earned Oscar nominations for their work here, and the movie was also nominated for Best Picture.
Teenage Mutant Ninja Turtles
Year: 2014
Runtime: 1h 41m
Director: Jonathan Liebesman
Who could have guessed that the pizza-loving turtles would become such a long-lasting franchise that an animated reboot film called Teenage Mutant Ninja Turtles: Mutant Mayhem is hitting theaters later this year. Before then, go back and check out the last reboot attempt in the live-action flick starring Megan Fox, Will Arnett, and the voices of Tony Shalhoub and Johnny Knoxville. It's a silly movie but it's just old enough that it might be nostalgic already for the right Prime subscriber.
Where the Red Fern Grows
Year: 1974
Runtime: 1h 37m
Director: Norman Tokar
A lot of children of the '80s probably watched this in middle school and were never quite the same. Relive the trauma! Based on the 1961 novel of the same name, this is the tale of an ordinary 12-year-old boy who is obsessed with hunting dogs, even though his family can't afford them. A moving, challenging story well-told, this is a great option for a book that everyone in the family can read and a film everyone in the family can watch together.
If you subscribe to a service through our links, Vulture may earn an affiliate commission.