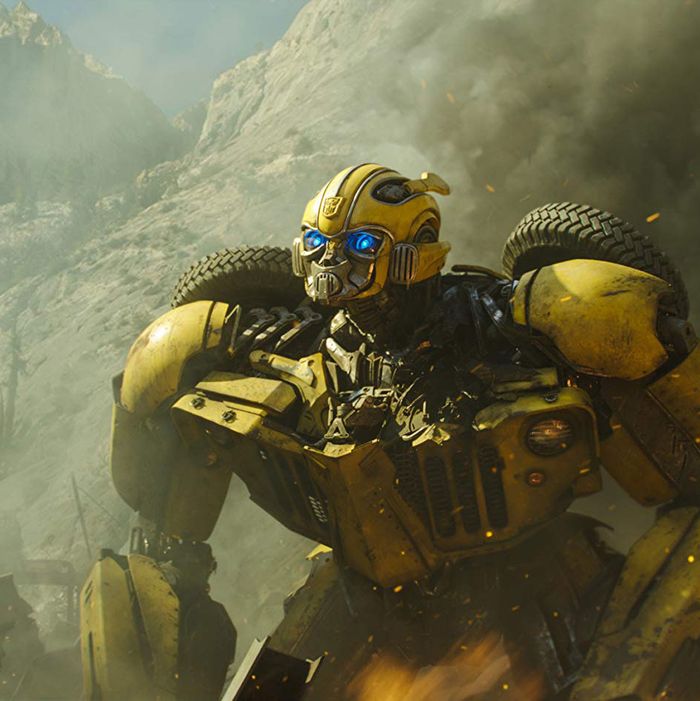 Bumblebee
.
Photo: Paramount Pictures
More than ever, families are looking for distractions that don't cost a lot of money. If you're one of those families that already has an Amazon Prime account, there's a selection of films that work for any demographic that are available right now with your subscription cost. Now, Amazon Prime seems to be the most limited streaming service when it comes to this particular section of the virtual video store, but the shelves aren't totally empty. Here are 20 films to distract the little ones or schedule an entire family movie night around.
*The Addams Family
Not the superior live-action version with Christina Ricci, but the 2019 animated version that made a minor dent at the box office. Still, kids love to see new stuff, and this was very recently in theaters, so will likely be a major draw on Prime. And if it introduces them to the live-action films and series, then it will have done some good.
The Adventures of Tintin
Steven Spielberg directed this underrated adaptation of the Hergé comic series in 2011 with fantastic voice work from people like Jamie Bell, Andy Serkis, and Daniel Craig. Spielberg can do things with animation that wouldn't be possible with live-action, and he brings his childlike wonder as a filmmaker to this engaging adventure flick.
*Babes in Toyland
Two versions of this timeless Disney tale are on Amazon Prime, the 1961 musical and the 1986 TV movie with Drew Barrymore and Keanu Reeves. Despite the charm of young Keanu, the 1961 version is better, a vibrant classic for all ages that stars Ray Bolger, Tommy Sands, Annette Funicello, and Ed Wynn.
Bumblebee
Travis Knight of Laika fame (Kubo and the Two Strings) directed the best Transformers movie in this unexpectedly joyous spinoff of the massive Hasbro series of films. It's a movie with the same kind of family/adventure spirit as '80s classics of the genre, buoyed by fun performances from Hailee Steinfeld and John Cena.
Ernest & Celestine
A nominee for the Oscar for Best Animated Film (it lost to Frozen), the 2012 gem is based on a series of books by the Belgian author Gabrielle Vincent. There aren't many family films on any streaming service that premiered at Cannes, but this one did exactly that. In fact, it was the first animated film to ever win the Magritte Award, a Belgian prize for excellence. It's a beauty.
Explorers
Joe Dante directed this beloved 1985 sci-fi/adventure film starring Ethan Hawke and River Phoenix in their film debuts. Dante himself had some issues with the final product, which was rushed to meet a release date and then fell in the big shadow of Back to the Future, but the film gained an audience over the years, in no small part because of the careers that Hawke and Phoenix would develop.
Harriet the Spy
Before she was Dawn on Buffy the Vampire Slayer, young audiences knew Michelle Trachtenberg as Harriet the Spy, the adventurous young lady who headlined this film based on the beloved books. It was actually the first movie produced under the Nickelodeon Movies banner, bringing something a generation loved from basic cable to the movie theater.
It's a Wonderful Life
Frank Capra's classic often gets a ton of replay around the holidays, but it's the kind of heart-warmer that works all year long. This is no mere Christmas movie but a story about the impact that one man can have on an entire community. It really defined the onscreen persona of Jimmy Stewart and has become a beloved film around the world, even in warm weather.
The Kid
Yes, it takes a certain kind of family to sit down in front of a silent film, but maybe you're one of those families? Even if you think you may not be, try and introduce the little ones to Charlie Chaplin at an early age. This is a great starting point for an appreciation of movies made before not just 2000 but before the advent of sound in film. Chaplin is timeless. People will be watching movies like The Kid for generations to come.
*Lemony Snicket's A Series of Unfortunate Events
Before the Netflix series, there was this 2004 adaptation of the first three novels by Lemony Snicket. Directed by Brad Silberling, Jim Carrey stars as Count Olaf, the villain of the piece, who terrorizes the Baudelaire family, including Klaus (Liam Aiken), Violet (Emily Browning), and Sunny (Kara and Shelby Hoffman). Visually inventive, it's a better movie that you remember.
*Megamind
Will Ferrell voices the title character, a supervillain who actually wins the battle against his foe, Metro Man (Brad Pitt), and realizes that he has nothing else to do. In an effort to find his purpose again, Megamind ends up creating a new supervillain, and becomes a hero himself. It's a little dated already, but the voice work is great.
*Mouse Hunt
The great Gore Verbinski directed this 1997 black comedy that works for the whole family. On the surface, it's the story of two brothers tormented by one small mouse in a house they've inherited from their father. It's filled with great physical humor from Nathan Lane and Lee Evans, who crib their style from classic comedy duos like Laurel & Hardy and Abbott & Costello.
*Popeye
Robert Altman seemed like the last person to direct an adaptation of the classic comic strip about the sailor who eats his spinach, and critics and audiences were savage when it was released in 1980. The fan base has only grown in the four decades since for this quirky, strange little family comedy featuring one of the most committed and memorable performances of Robin Williams's career.
Rango
Gore Verbinski directed one of the best animated films on Amazon Prime, this Oscar-winning featuring voice work by Johnny Depp in the lead role and some of the most inspired visuals in any animated film this decade. Rango is a chameleon who stumbled into a town called Dirt in this inventive riff on the Western genre that plays equally to children and adults.
*The Secret of NIMH
Animation great Don Bluth made his directorial debut with this twisted 1982 fantasy film, proving that he wasn't going to make movies that talked down or coddled his audience. Adapted from Robert C. O'Brien's novel, it turns the existence of average field mice into an elaborate fantasy world. Audiences of a certain generation were probably traumatized by its visuals at a young age. Pass the trauma on to your kids!
The Secret of Roan Inish
Take a break from the escapism and show your kids something culturally resonant and unforgettable in John Sayles's version of a classic Irish legend. With breathtaking cinematography by Haskell Wexler, this is the story of a girl in Ireland who hears that her brother was swept away by a selkie when he was a baby. It's a tale of magic and legends in a way that could only take place in Ireland.
Tito and the Birds
It might be a little dark for the real little ones, but this Brazilian animated film is certainly not like anything else on this list. It's the story of a boy named Tito, whose dad is developing a machine that can translate the songs of birds, but there's also some dark post-apocalyptic stuff about an epidemic of fear. The themes might be dark but it's most a visual experience with some unforgettable animated imagery.
Wonder Park
Paramount released this computer animated flick in early 2019, which feels like a lifetime ago now. It's a bit simple and silly, but that's kind of alright in our current stuck-at-home situation. Wonder Park is the story of a girl who puts her imagination away when her mother gets sick and how an imaginary amusement park helps her find that creative spark again.
The Young and Prodigious T.S. Spivet
The last film from Jean-Pierre Jeunet, the visionary director behind The City of Lost Children and Amelie, is this strange 2013 3-D adaptation of the book by Reif Larsen. As you might imagine, it's a film loaded with whimsy in the telling of the quirky life of T.S. Spivet, a 10-year-old child prodigy stuck in the middle of nowhere in Montana. It's imperfect but sweet and creative.
Yours, Mine & Ours
They don't really release family live-action films much anymore like this 2005 blended family comedy starring Rene Russo and Dennis Quaid as a couple forced to combine their massive clans, Brady Bunch style. You thought the Bradys had to deal with a lot of kids? There are 18 in this one. Imagine how they'd do during the quarantine!