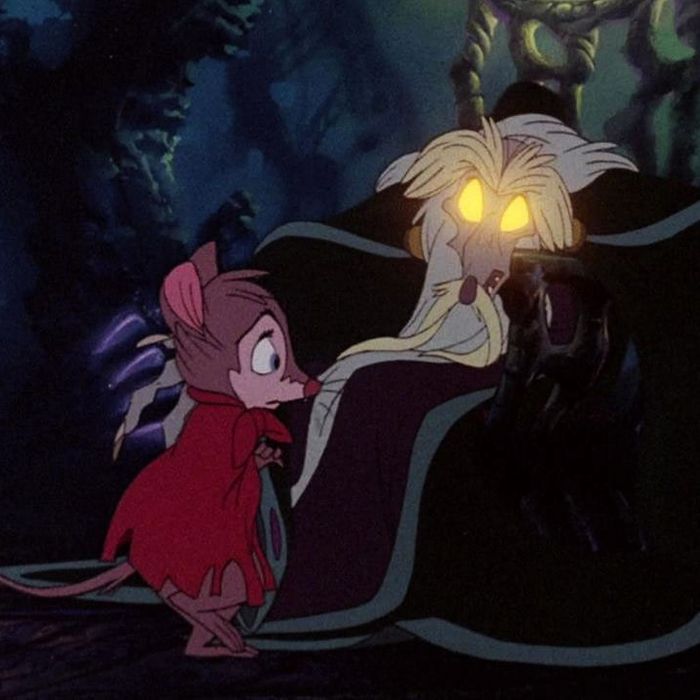 The Secret of NIMH
.
Photo: MGM/UA Entertainment Co.
More than ever, families are looking for distractions that don't cost a lot of money. If you're one of those families that already has an Amazon Prime account, there's a selection of films that work for any demographic that are available right now with your subscription cost. Now, Amazon Prime seems to be the most limited streaming service when it comes to this particular section of the virtual video store, but the shelves aren't totally empty. Here are 20 films to distract the little ones or schedule an entire family movie night around.
Fans of this movie really like this movie. The latest riff on the classic tale of the girl with the glass slipper, it's a jukebox musical that stars pop icon Camila Cabello in the title role and Billy Porter as her fairy godmother. Critics gave it mixed reviews back in September 2021, but it has such a loyal fan base that keep watching and rewatching it on Prime Video.
Explorers
Joe Dante directed this beloved 1985 sci-fi/adventure film starring Ethan Hawke and River Phoenix in their film debuts. Dante himself had some issues with the final product, which was rushed to meet a release date and then fell in the big shadow of Back to the Future, but the film gained an audience over the years, in no small part because of the careers that Hawke and Phoenix would develop.
Wes Anderson was always a perfect fit for stop-motion animation. The director has long been obsessed with the kind of detail that elevates this form, and his best work in the field remains this adaptation of the 1970 Roald Dahl novel of the same name. One of many joys in this film is the ridiculously strong voice cast, which includes George Clooney, Meryl Streep, Jason Schwartzman, Bill Murray, Willem Dafoe, and Owen Wilson.
Fiddler on the Roof
Norman Jewison directed the 1971 adaptation of the 1964 Broadway musical of the same name, and the result was a smash hit. It stars Topol as Tevye, a Jewish milkman trying to marry off his five daughters in his small village. A nominee for Best Picture, it was one of the biggest films of 1971, and played repeatedly on television in the '70s and '80s. Now you can watch it on your own terms.
The fourth film from the animated madman Genndy Tartakovsky was dumped by Sony to Prime Video, which may not be great for the producers but is a gift to subscribers who love, Drac, Frankenstein, The Mummy and the rest of these goofballs. Transformania is reportedly the final film in the Hotel Transylvania franchise, although time will tell if they stick to that promise.
It's a Wonderful Life
Frank Capra's classic often gets a ton of replay around the holidays, but it's the kind of heart-warmer that works all year long. This is no mere Christmas movie but a story about the impact that one man can have on an entire community. It really defined the onscreen persona of Jimmy Stewart and has become a beloved film around the world, even in warm weather.
Jack and the Beanstalk
Do kids still watch Abbott and Costello? The gifted physical comedians have an entire library of slapstick classics that have lost none of their power to entertain the little ones. Take this comic retelling of the classic fairy tale which landed in theaters in 1952.
A quarter-century after its release, the Arnold Schwarzenegger holiday comedy has become something of a beloved annual event. The action star plays a father who is desperate to get his child a rare Turbo-Man action figure for the holidays. He'll have to get through Sinbad first.
Kirikou and the Sorceress
The streaming services (other than Criterion) have a problem in general with their foreign film selections, and it gets worse when one looks for something for kids that was made outside of the Hollywood studio system. So it's a pleasant surprise to find this French film that draws on the history of West African folk tales in a way that offers an alternative.
My Spy
Delayed and rescheduled because of the pandemic, this action-comedy landed exclusively on Amazon Prime in June of last year to mixed reviews. It stars the reliable Dave Bautista as a CIA agent who gets trapped watching a precocious nine-year-old girl. A little violent for the real little ones, it's worth a look just for Bautista.
It's always fun when a movie transcends its original response to become a cult classic. This coming-of-age comedy barely made a dent when it was released, but years of rentals and cable airings turned it into a phenomenon. Ask people their favorite baseball movies, and most will have this on the list.
Animation great Don Bluth made his directorial debut with this twisted 1982 fantasy film, proving that he wasn't going to make movies that talked down or coddled his audience. Adapted from Robert C. O'Brien's novel, it turns the existence of average field mice into an elaborate fantasy world. Audiences of a certain generation were probably traumatized by its visuals at a young age. Pass the trauma on to your kids!
*The Secret of Roan Inish
Take a break from the escapism and show your kids something culturally resonant and unforgettable in John Sayles' version of a classic Irish legend. With breathtaking cinematography by Haskell Wexler, this is the story of a girl in Ireland who hears that her brother was swept away by a selkie when he was a baby. It's a tale of magic and legends in a way that could only take place in Ireland.
Small Soldiers
The great Joe Dante (Gremlins) directed the 1998 sci-fi/family film about toy soldiers that not only come to life but essentially go to war with each other. Frank Langella and Tommy Lee Jones lend their excellent voices to the little guys and Kirsten Dunst plays one of the non-toy characters. It's not a great movie, but it may be a nice bit of nostalgia for Prime subscribers who were the right age when it came out in 1998.
The Spy Next Door
In the '00s, Jackie Chan got paid. He starred in a broad, action-centered comedy every year or so, and The Spy Next Door was one of his most family friendly. Released in 2009, this certainly isn't anywhere near Chan's best, but it does show off his skill sets in a way that could serve as a gateway for families to watch some of his absolute bangers once they get this one out of the way.
Think Like a Dog
This story of a 12-year-old who ends being able to communicate with his dog is undeniably goofy and kind of amateurly made, but it's different than most other flicks in the family section of Amazon Prime, and so maybe it's what you're looking for tonight. Josh Duhamel and Megan Fox star as the dog-talker's parents in this 2020 flick that barely got released because of the pandemic, buried on VOD by Lionsgate and now free on Amazon Prime.
Troop Zero
There's a film that premiered at Sundance starring Allison Janney and Viola Davis sitting right there exclusively on Amazon Prime and it feels like most people have no idea it exists. This cute period piece actually stars the wonderful Mckenna Grace of The Haunting of Hill House as Christmas Flint, an outcast who tries to take down the more organized scout troops and win a competition. It's sweet and funny.
Where the Red Fern Grows
A generation of '80s and '90s kids probably remembers watching this in a middle school classroom after reading the book of the same name. Released in 1974, it's the story of a 12-year-old boy obsessed with hunting dogs and trying to work to buy pets of his own. It's a tender, character-driven story for the whole family that has survived generations.
When Robert Zemeckis directed a live-action/animated noir in which cartoons and people lived and worked alongside each other, no one expected it to be one of the best movies of the late '80s. The movie is just perfect: funny, smart, thrilling, and inventive in ways that not a lot of blockbusters were in this era. The technology would need an upgrade, but the same basic film could be released today and be a hit all over again. You can't say that about many 30-year-old films.
*The Wiz
A Black-led reimagining of The Wizard of Oz, this Sidney Lumet adaptation of the Broadway musical of the same name failed at the box office way back in 1978 but developed a loyal fan base on VHS and cable in the 1980s. Starring a charming Diana Ross in the lead role (and featuring Michael Jackson as the Scarecrow), it has some elements that feel a bit dated but it may be the perfect thing for a parent who wants to show their kids what was their favorite film a generation or even two ago.