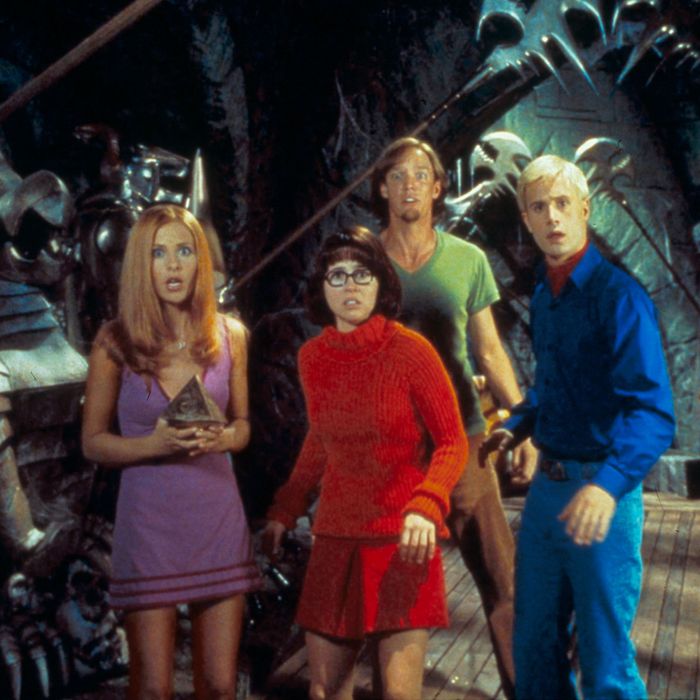 Scooby-Doo.
Photo: Moviestore/Shutterstock
This post is updated regularly to reflect the latest movies to leave and enter Hulu. *New additions are indicated with an asterisk.
You're stuck at home, pushing the remote control through so many options on your smart TV, looking for something, anything, that you can use to distract the kids and not make you feel guilty. Let us help.
The truth is that none of the streaming services are particularly great at family options now that Disney+ has cornered that market, but that doesn't mean there aren't some great choices on Hulu. Here are 30 worthy films to distract the little ones or schedule an entire family movie night around (if you have the energy after homeschooling).
Maybe you're in the mood for that holiday spirit outside of the Peppermint Mocha window? Try watching Arthur Christmas, a sweet, clever film about how the son of Father Christmas saves the day for one kid and recaptures the entire spirit of the holiday. We don't talk enough about how great Aardman, the team behind Wallace & Gromit and Shaun the Sheep, are every single time out. Aardman rules.
Antz
The weirdest animated story of the early days of the CGI form was the competition between DreamWorks with Antz and Pixar with A Bug's Life – two films that detail life of the earth's smallest creatures in clever ways. Pixar seems to have won the battle over history, but there's more to like here than you remember, including a strong voice cast and fun visuals.
Nancy Meyers co-wrote this clever family comedy about a successful woman who finds herself the unexpected mother of a 14-month-old baby girl when her long-lost cousin leaves her the child after her death. This may be for the slightly older kids, and some of its gender politics are dated, but Diane Keaton keeps it moving with her ace timing.
Casper
More people probably know the theme song than the movie, but Casper is a fun little family comedy with a spooky twist based on the classic Harvey Comics ghost kid. In 1995, the CGI for this little friendly ghost felt pretty revolutionary too. It stars Christina Ricci, Bill Pullman, Cathy Moriarty, and Bill Pullman, and reportedly had an uncredited rewrite by J.J. Abrams.
After the success of Ron Howard's hit adaptation of How the Grinch Stole Christmas, it made sense that suitcases of money would be put toward trying to do it again with The Cat in the Hat, Dr. Seuss's beloved 1957 book. Mike Myers goes all in in the title role, supported by Alec Baldwin, Kelly Preston, Dakota Fanning, and Sean Hayes.
A Golden Globe nominee that was released during the 2020 holiday season, this sequel to the 2013 DreamWorks hit is already on Hulu. The entire voice cast returns in another story of the prehistoric family that everyone loves, this time as they encounter another clan who has literally walled themselves off from the dangers of the world. It's a bit hyper but also one of the few newer family flicks on Hulu.
No one involved in the 2010 CGI family blockbuster could have foreseen the veritable industry it would spawn, including two direct sequels, another franchise in the Minions movies, toys, video games, and more. The first film is arguably still the best, detailing the softening of a supervillain, memorably voiced by Steve Carell. (The second film is on Hulu too.)
Maybe wait for the real little ones to go to bed first, but there are certainly some families that can handle this coming-of-age story from the master Steven Spielberg. Christian Bale stars in the story of a young boy whose life is changed forever when he becomes a prisoner of war in a Japanese internment camp.
Evan Almighty
It was probably a mistake to make a sequel to the smash hit Bruce Almighty without the main reason it was a smash hit, Jim Carrey. But if one looks at the 2007 follow-up as a kids' movie then it makes a bit more sense. Steve Carell stars as Evan Baxter, reprising his role from the original and the new guy who hears directly from God (Morgan Freeman), who tells the new savior to start building an ark.
The Flintstones
There once was a time in the '90s when turning animated classics into live-action feature films was a major thing in Hollywood. It didn't always work, but this trippy adaptation of the '60s Bedrock hit did well enough to produce a sequel, also on Hulu. It stars John Goodman, Rick Moranis, Elizabeth Perkins, and Rosie O'Donnell in the main roles, and just might be the nostalgic hit subscribers are looking for when they boot up Hulu.
Fly Away Home
The great Carroll Ballard is remembered for nature-driven family films like The Black Stallion and Never Cry Wolf, but his 1996 venture may be his best. Jeff Daniels and Anna Paquin star in the true story of Bill Lishman, who created an aircraft to help some stranded Canadian geese find their way home. It's an incredibly moving, beautiful film.
Horton Hears a Who
Blue Sky Studios handled the animated adaptation of the Dr. Seuss classic, the story of Horton the Elephant, voiced very well by Jim Carrey. Try to use films like this one as a portal to get your little ones to read more Seuss, one of the most essential writers in any family library. It may not do the source material true justice, but no film has, and this one has great voice work from Carrey, Steve Carell, Carol Burnett, Will Arnett, and many more.
*The Karate Kid
In 2010, the 1984 Ralph Macchio classic was remade with a wonderful turn from Jackie Chan in the role that Pat Morita made famous in the original. He's the best reason to see this film, anchoring what can be a pretty hollow cash-grab of a remake. With the action moved to China and the lead now played by Jaden Smith, the Karate Kid remake didn't have the impact of the '80s movie but likely has some fans with Hulu subscriptions.
The LEGO Movie is one of the most creative and enjoyable animated films of the 2010s. The sequel may feel a bit too cluttered at times, but it retains enough of that energy to make it worth a look on Hulu, especially as all of our creative faculties have been reduced by the insanity of 2020.
Madeline
The Madeline books are famous around the world, turning into an animated series and a 1998 family comedy that had a brief theatrical run in 1998. The movie is kind of forgettable, but it does feature a supporting turn from the great Frances McDormand, and may get little ones interested in a beloved series of children's novels.
Will Ferrell voices the title character, the supervillain who wants to get some of the credit and adoration of his superhero counterparts. After actually killing his superhero nemesis, Megamind learns that life isn't worth living for a villain without a hero and ends up creating a villain even worse for him to defeat. A clever spoof of the superhero genre that would dominate the next decade of blockbusters, this movie plays even better now than in 2010.
Jim Carrey stars in the 2011 film loosely based on the 1938 children's book of the same name. He pays a real estate entrepreneur and father of two whose father bequeaths him a group of penguins after he dies. Of course, Mr. Popper is kind of a Scrooge figure and the penguins melt his cynical heart.
We don't give Laika enough credit. They don't make nearly as much money with films like Paranorman and Kubo and the Two Strings as companies like DreamWorks and Pixar. Their latest is already on Hulu, dropping less than a year after its theatrical release. It may not be their best, but it's gorgeous to look at, revealing the company that made it as arguably the most visually fascinating animated studio around.
My Dog Skip
This family dramedy from 2000 adapts the autobiographical book of the same name by Willie Morris. It's the story of a 9-year-old who is given an adorable Jack Russell terrier on his birthday, whom he names Skip, and some formative chapters of his life that he shares with his pup. It's a sweet coming-of-age movie with added interest for dog lovers.
Listen, this movie is kind of a disaster, but it's always a fascinating disaster. Joe Wright directs this prequel telling of a new origin story for Peter Pan and Captain Hook, played by Garrett Hedlund. Hugh Jackman, Rooney Mara, and Levi Miller co-star in this undeniably strange blockbuster that seems to be gaining a reappraised following over the years. Why are people still talking about Pan? Check it out on Hulu and report back.
The Pink Panther 2
Let's just politely call this one a gateway to better things. The sequel to the Steve Martin–led reboot of the Pink Panther series isn't objectively "good," but it may intrigue your kids enough to watch the brilliant Peter Sellers movies or even some of the original cartoons. And, heck, even if it makes them want to see more of Steve Martin, that's probably a good thing too.
Planet 51
There's a strange amount of '00s non-Disney, non-Dreamworks titles on Hulu. Here's another one! This Spanish production actually marks the voice work debut of Dwayne Johnson as a NASA astronaut who lands on a planet that's actually inhabited and the alien species there try to help him get home. The voice cast also includes Justin Long, Jessica Biel, Seann William Scott, and Gary Oldman.
*The Polar Express
Yes, motion-capture animation in 2004 looks even creepier now than it did then, but there's enough charm and sentiment in Robert Zemeckis' film that people keep returning to it every holiday season. And, no, it doesn't have to be Christmas to watch it.
Rob Reiner directed an adaptation of William Goldman's 1973 novel and made movie history. It's the story of Westley (Cary Elwes), a farmhand who will do whatever it takes to reunite with the love of his life, Princess Buttercup (Robin Wright). To say that people love this '80s romantic fantasy comedy would be a massive understatement.
Ramona and Beezus
Consider Ramona and Beezus a nostalgia option for those who grew up with Selena Gomez and are now old enough to show her films to their kids (yes, that's possible, believe it or not). It's also a great option for people looking to remember the recently passed and wonderful Beverly Cleary, one of the best writers ever of books for children.
Rio
Blue Sky Studios recently shuttered but one of the best films of their prime just flew onto Hulu in the clever flick about culture in Rio de Janeiro. Jesse Eisenberg voices Blu, a domesticated macaw who ends up in the wild of Rio, where he meets colorful characters voiced by Anne Hathaway, Jemaine Clement, George Lopez, Tracy Morgan, and Jamie Foxx.
The animated version of Scooby-Doo is still the only one that really matters, but there was a funny window when all kids properties were adapted into live-action films like this blockbuster, a movie that did so well, it spawned a sequel – also on Hulu. James Gunn actually wrote the screenplay, and it stars Freddie Prinze Jr., Sarah Michelle Gellar, Matthew Lillard, and Linda Cardellini.
Frances Hodgson Burnett's 1911 novel has been adapted multiple times over the last century, most recently in this 2020 version by director Marc Munden. Dixie Egerickx plays the orphan girl who discovers a magical garden in her uncle's backyard this time, and she supported by the great Colin Firth and Julie Walters.
Smallfoot
Channing Tatum wonderfully voices the lead character in this musical comedy from 2018. He plays a Yeti who descends from his cloudy mountain village and encounters a human — both realizing that the other species thought them a mythical creature. The visuals are engaging and the jokes are just clever enough to work for all ages.
Blink and you might have missed that DreamWorks rebooted their hit 2002 film Spirit: Stallion of the Cimarron with a brief Summer 2021 release of this series (along with a Netflix animated spin-off, Spirit Riding Free). It's a thin piece of children's entertainment but parents nostalgic for the original or just those who have kids who love horses may want to check it out.
Nicholas Stoller (Forgetting Sarah Marshall) wrote this cute blockbuster with a clever concept that basically turns the stork concept of delivering babies into a buddy/workplace comedy. A junior stork in the business makes a mistake and has to work with a female human partner to deliver a baby to a new family. It's not perfect but has some clever ideas and strong voice work from Andy Samberg, Kelsey Grammar, Jennifer Aniston, Danny Trejo, and more.
*Stuart Little
Michael J. Fox voices the title character in the hit adaptation of the children's novel of the same name by E.B. White that also features Geena Davis and Hugh Laurie as the human parents of the adorable mouse. The 2002 sequel is on Amazon Prime, but you'll have to pay a rental fee for 2005's Call of the Wild if you want to keep the mousy fun going.
Does anyone remember that The Farrelly Brothers made a Three Stooges movie? It's pretty bad, but it might be a way to introduce your kids to the original works by Moe Howard, Larry Fine, and Curly Howard, replaced here by Chris Diamantopoulos, Sean Hayes, and Will Sasso.
This 1988 TV movie actually landed 14 years after the end of The Brady Bunch, and reunited almost all of the original cast members (Cindy was recast. Poor Cindy). It's pretty simple — reunite with the Bradys, this time around Christmas! With the kids all grown, Carol and Mike buy airline tickets so everyone can get together around Christmas, in-laws and grandchildren included. It's likely to make you jealous in 2020.
*Zathura
Jon Favreau has become one of the world's most popular producers of family entertainment with his involvement in the MCU and The Mandalorian, but he really cut his teeth in the world with the strong Zathura, a sequel to Jumanji. Once again, a magical game transports brothers to another place, sending them into the reaches of space, and they're forced to find their way back home again.
Kevin James stars in the 2011 comedy as a zookeeper who is unlucky in love but adored by the animals at the zoo at which he works, voiced by Jon Favreau, Sylvester Stallone, Adam Sandler, and many more. Things get really weird when James's character learns that the animals can talk, and he can understand them. Too reliant on physical humor, Zookeeper is what one would expect from a family Happy Madison flick aimed more at the whole family.