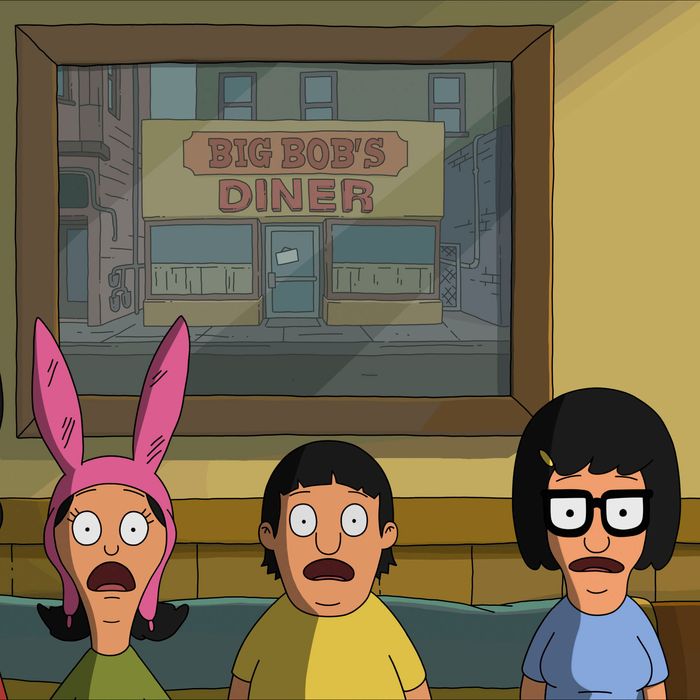 The Bob's Burgers Movie.
Photo: Courtesy of 20th Century Studios
This post is updated regularly to reflect the latest movies to leave and enter Hulu. *New additions are indicated with an asterisk.
The truth is that Hulu doesn't particularly value the family audience in the same way that companies like Netflix or Disney+ do, perhaps realizing that the latter have a monopoly on that demographic. However, that doesn't mean there's nothing to rally the entire clan around when you're looking for something to watch on Hulu. Their eclectic mix of family films include recent blockbuster hits, dramas from the '00s and '10s, and movies you won't find anywhere else.
Year: 1997
Runtime: 1h 34m
Director: Don Bluth, Gary Goldman
When this movie was released, Don Bluth's animated spectacle was competition to the Disney machine of animated hits in the '90s, but now it's technically a part of it because of Disney's ownership of Fox. Whether you consider it a Disney film or not, it's a work that has only grown in esteem over the years (like a lot of Bluth projects). This beloved hit is the story of the legend of the princess who escaped the execution of her royal family, only discovering her legacy when she grew up. It's a charming reminder of Bluth's big heart and daring style.
Are We There Yet?
Year: 2005
Runtime: 1h 31m
Director: Brian Levant
Remember that brief window when Ice Cube was a family movie star? 2005's Are We There Yet? was a surprisingly successful box office smash, even producing a sequel and a TV series. The rap legend plays a guy who starts dating a woman (Nia Long) whose kids aren't yet ready to see mom with a new man, and so they try to ruin his life. It's a bit silly, but already old enough that it might work nostalgically. (Note: The sequel is also on Hulu.)
Arthur Christmas 
Year: 2011
Runtime: 1h 37m
Director: Sarah Smith
It doesn't have to be the holidays to watch a Santa movie. One of the stronger recent holiday flicks was this 2011 film from the geniuses at Aardman Animation. Leaving behind their stop-motion mastery for a CGI adventure, this tells the tale of Arthur Christmas, the least successful son of Santa and how he saves the holiday for a little girl.
The Bob's Burgers Movie 
Year: 2022
Runtime: 1h 42m
Directors: Loren Bouchard & Bernard Derriman
Delayed two years because of the pandemic, the big screen version of the FOX hit finally landed in theaters in May 2022, but audiences mostly stayed away, which means they can catch up with it at home! And you really shouldn't miss this joyous story of a family who always unites to save the day and make the best burger in town.
Curious George
Year: 2006
Runtime: 1h 27m
Director: Matthew O'Callaghan
Who doesn't love the Man in the Yellow Hat and his lovable primate? This is the 2006 theatrically released version of the book series by H.A. Rey and Marget Rey that have been popular around the world for generations. With voice work by Will Ferrell, Drew Barrymore, Eugene Levy, and many more, it's a sweet adventure story for the whole family. (Note: The sequel and a series are also on Hulu.)
Gnomeo and Juliet
Year: 2011
Runtime: 1h 24m
Director: Kelly Asbury
Every year, there are a few animated theatrical releases that don't quite have the sheen of DreamWorks or Disney. For example, this was released by Entertainment One, and yet still went on to make almost $200 million. It's a goofy time-killer that repurposes the Shakespeare classic for a couple of garden gnomes who fall in love. James McAvoy and Emily Blunt do fun voice work in the title roles.
Home Alone
Year: 1990
Runtime: 1h 42m
Director: Chris Columbus
Christmas season may be over, but you can still watch this massive 1990 comedy that made Macauley Culkin a household name. The child actor plays Kevin McCallister, a kid left at home when the family vacation to Paris forgets him. This movie was enormous, making almost half a billion dollars and producing multiple sequels.
How to Train Your Dragon 2
Year: 2014
Runtime: 1h 53m
Director: Dean DeBlois, Tom Owens
When people speak of the best film trilogies of all time, they too rarely include the films based on the books by Cressida Cowell about a boy and his beloved fire-breathing friend. These movies are gorgeously animated and legitimately moving. And the second chapter, currently on Hulu, may be the best of the trilogy.
Lupin III: The First
Year: 2019
Runtime: 1h 33m
Director: Takashi Yamazaki
Gentleman thieves named Lupin have become more popular than ever due to the hit live-action show on Netflix, but the Monkey Punch character is his own entity — and holds a special place in the hearts of Hayao Miyazaki fans. This isn't the anime classic Castle of Cagliostro is, but the 2019 CGI-animated film is still worth your time.
Racetime
Year: 2018
Runtime: 1h 30m
Director: Benoit Godbout
This is a cute French Canadian film that's actually a sequel to another CGI animated film that you probably haven't heard of called Snowtime!. It's the same group of kids from that movie, who have to work to win a sled race over their winter holiday. It was a big hit in Canada for a reason. Find out why.
Real Steel
Year: 2011
Runtime: 2h 7m
Director: Shawn Levy
Most of the family films on Hulu skew young, so it's nice to see something for slightly older kids in this 2011 flick about giant fighting robots. Hugh Jackman gives it his all given that he has to lead a film about boxing machines, but it's the special effects that will entrance the little ones. It's all more than a little silly, but in a very escapist way.
Rio 
Year: 2011
Runtime: 1h 36m
Director: Carlos Saldanha
Does anyone else miss Blue Sky Studios? They made their reputation on the Ice Age films but they were successful enough to produce a few other flicks too, including this very fun 2011 semi-musical about a domesticated bird (Jesse Eisenberg) who finds his voice after getting lost in Rio de Janeiro. The real draw here is a fun voice cast that also includes Anne Hathaway, Leslie Mann, Jemaine Clement, Tracy Morgan, and many more.
Spider-Man 
Year: 2002
Runtime: 2h 1m
Director: Sam Raimi
Most superhero movies on streaming services are the exclusive property now of Disney+ given their ownership of the MCU, but Sony superhero films are allowed to escape the clutches every now and then and find their way to other streaming services. Right now, all three films from Sam Raimi are on Hulu. The second film is easily still the best, but they're all worth a rewatch (yes, even the third one).
The Spy Next Door
Year: 2010
Runtime: 1h 34m
Director: Brian Levant
Movies aren't the same since Jackie Chan basically retired. One of his last American action films was this family comedy from 2010 in which the stunt master plays, well, the title character. It's far from one of Chan's best but it could be a great gateway to introducing the teens in your family to one of the best action stars of all time.
We Bare Bears: The Movie
Year: 2020
Runtime: 1h 10m
Director: Daniel Chong
If you haven't heard of We Bare Bears, you probably don't have kids. The show ran from 2015 to 2019, producing over 140 episodes about Grizz, Panda, and Ice Bear, a trio of bears who try to live in a human world. It's a cute charmer and the creators closed it out with a movie in 2020 that's totally worth a look for fans of the show.
If you subscribe to a service through our links, Vulture may earn an affiliate commission.