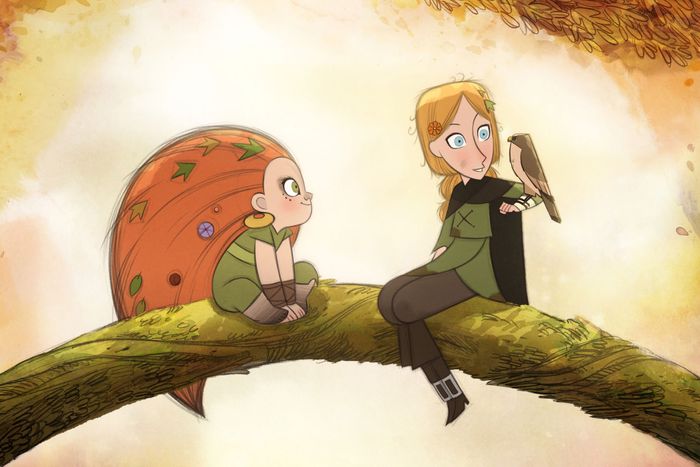 Photo: Courtesy of Apple TV+
So you have an Apple TV+ subscription and a family to entertain — what do you do? The streaming giant doesn't have the back catalogue of a company like Max or even Netflix at this point, reliant on new shows and films to keep family audiences from canceling their subscriptions. Consequently, it's not exactly a dense catalogue, but there are some interesting things you can watch with the whole family on Apple. Here's ten of the best, a list we'll keep regularly updated with new movies and TV options as they're added.
Amazing Stories
Year: 2020
Length: 1 season, 5 episodes
Creator: Steven Spielberg
Children of the '80s no doubt remember the phenomenal anthology that Steven Spielberg created when he was arguably at the height of his fame. Inspired by the science fiction magazine of the same name, the show was a clever Twilight Zone riff, and the genius returned to this world for a brief, five-episode season that dropped on Apple right at the start of the pandemic in 2020. It's a mixed bag, like most anthologies, but viewers may be tempted by the fifth episode, as it was directed by Mark Mylod of Succession and The Menu.
Central Park
Year: 2020–present
Length: 3 seasons, 39 episodes
Creators: Josh Gad, Loren Bouchard, Nora Smith
Do you love Bob's Burgers? Who doesn't, really? The creators of that show employ a similar sense of humor and visual style in this animated gem that centers on a family living in Central Park in New York City. More of a musical than Bob's, this is a funny, sharp family comedy with great voice work by Daveed Diggs, Kathryn Hahn, Titus Burgess, Josh Gad, Leslie Odom Jr., and an unforgettable Stanley Tucci.
Fraggle Rock: Back to the Rock
Year: 2022–present
Length: 1 season, 13 episodes
Creators: Matt Fusfeld, Alex Cuthbertson
It's hard to believe that the original Jim Henson Fraggle Rock series is already four decades old. The people at Apple have given Henson's company some serious cash to make a few updates, including this 2022 edition that really takes the Fraggles from the '80s to the '20s. Audiences have taken to these musical puppets yet again as they're introduced to a whole new generation.
Harriet the Spy
Year: 2021–present
Length: 2 seasons, 20 episodes
Creator: Will McRobb
The 1964 Louise Fitzhugh novel that gives this animated series its name has been huge for generations and was turned into a film once already. Apple loves familiar IPs, and so it gave an animated version of Harriet an order in 2020 and hired Beanie Feldstein, Jane Lynch, and Lacey Chabert to front the cast. It's kind of a Saturday-morning cartoon version of the source, but it could lead viewers back to the timeless books.
Home Before Dark
Year: 2020–present
Length: 2 seasons, 20 episodes 
Creator: Dana Fox, Dara Resnik
Brooklynn Prince of The Florida Project rocks in this darker YA mystery series for some of the older kids in the house. Prince plays Hilde, a girl who moves from the big city to the coast, where her father grew up, and discovers some secrets that dear old Dad has been trying to bury. A detective story for young people, this one is an underrated delight.
Jane
Year: 2023–present
Length: 1 season, 10 episodes
Creator: J.J. Johnson
Consider this one a gateway to an education about an absolute legend when it comes to how we interact with this planet and the species on it. The work that Jane Goodall did with chimpanzees redefined not just what we knew about that species but our own, too. This show reimagines Jane as a 9-year-old environmentalist going on adventures to protect animals. It's a silly idea that could lead to some really smart discoveries.
Snoopy in Space
Year: 2019–present
Length: 2 seasons, 24 episodes
Creators: Mark Evestaff, Betsy Walters
Yes, believe it or not, there have been some good new products based on the world of Peanuts! It's not just holiday specials and dated cartoons anymore. Now you can sit down with the adventures of Snoopy and Woodstock in this clever cartoon that reincorporates Charles Schulz's vision of kindness and adolescence into a new environment. It's smart and funny stuff.
Spirited
Year: 2022
Run time: 2h 7m
Director: Sean Anders
Did you know there was a big-budget musical last year with Ryan Reynolds and Will Ferrell? It feels like this one slipped under the radar of a crowded holiday season, but Apple is probably hoping that it becomes an annual favorite. It just might because of the comic chemistry of Reynolds and Ferrell, who play this version's Scrooge and the Ghost of Christmas Present, respectively. Their can-do spirit goes a long way here.
Swagger
Year: 2021–present
Length: 1 season, 10 episodes
Creator: Reggie Rock Bythewood
This is the most underrated series on Apple, a heartfelt and genuine family drama about a young man trying to navigate the choppy waters of potential sports superstardom. The number of people who want a piece of a young man when it looks like he might be the next LeBron James is staggering, and the writers on this show avoid melodrama in favor of truth. It helps to have a great ensemble that includes O'Shea Jackson Jr., Isaiah Hill, Shinelle Azoroh, and Quvenzhane Wallis, fulfilling all of that promise from Beasts of the Southern Wild.
Wolfwalkers
Year: 2020
Runtime: 1h 43m
Director: Tomm Moore, Ross Stewart
The best original animated film on any streaming service, this should have won the Oscar in early 2021. It's a lyrical and gorgeous final act to Cartoon Saloon's "Irish Folklore Trilogy," the story of a girl named Robyn Goodfellowe whose father has been hired to hunt wolves. Robyn befriends a shape-shifter, a girl who is both wolf and human, in a story that incorporates modern storytelling with Irish folklore and inspired visual style. It's a beauty.