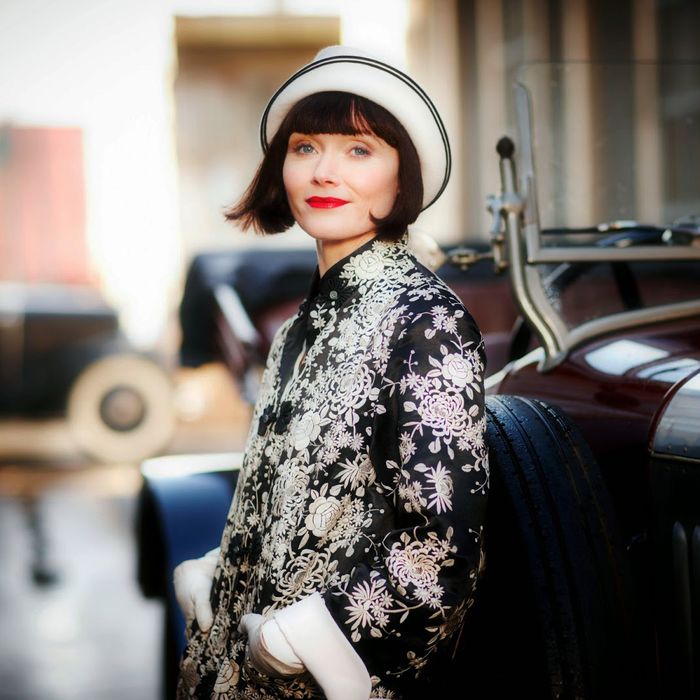 Miss Fisher in all of her glory.
Photo: Acorn Media Group
Maybe they can all band together and solve the case of how many bottles of alcohol we've consumed in quarantine. (Hint: It's … a lot.) With the coronavirus pandemic raging on and my streaming preferences still favoring upbeat period pieces with fabulous hats and pleasantries, a new type of subgenre has also curried favor with me in recent weeks: Lady sleuths getting shit done, era be damned! If you, too, are interested in watching what competent leadership looks like for a change, here are six TV shows that embody that spirit immensely, all with an added side of glamour — because if you're catching murderers, lord knows you deserve nice earrings.
Miss Fisher's Murder Mysteries
As the patron saint of glamorous lady sleuths, Phryne Fisher and her knack for piecing together clues (and, yes, her never-ending bank account) makes her quite a valuable asset for the Melbourne police department in 1920, where the biggest cases mostly revolve around murders at the dance halls or down by the docks. (She could also be the secret cousin of Downton Abbey's Lady Mary, for all we know. Look at that hair!) Also in her orbit is the sexual chemistry she shares with the city's handsome detective inspector — her de facto partner — as well as her "paid companion" at home, which isn't as weird as it sounds. Just wait until you see her fire that mini gold pistol.
Where to stream: Amazon Prime, Acorn
Elementary
As the humanistic and very stylish heart of this modern adaptation of Arthur Conan Doyle's Sherlock Holmes stories (which ended its run last year after more than 150 episodes), Lucy Liu portrays a gender-flipped Watson who's initially hired to work as a sober companion for the famed detective (played by Johnny Lee Miller) in New York City. However, as time passes in his eclectic brownstone, Watson's natural inclinations as an investigator soon come out to play and she trains with Sherlock as his apprentice. It doesn't take long before she turns into a skilled detective in her own right, especially since they keep working more and more cases with the NYPD.
Where to stream: Hulu, CBS All Access
Agatha Raisin
Talk about retirement goals. After leaving her glitzy PR job in London and relocating to a charming village with Big Hot Fuzz Energy, our titular gal tries to integrate herself in her new community, where she, at first, stands out like a sore, hot-pink thumb. (Remember that scene in Leap Year when Amy Adams trudges her Louis Vuittons through a bunch of mud patches? Yeah, think of that!) But when she gets accused of poisoning a villager with a homemade quiche, her quest to exonerate herself ends up inspiring a fulfilling second career act in the form of an investigator for hire — which comes easy thanks to her gift of gab and resources back in the big city.
Where to stream: Amazon Prime, Acorn
The Mrs Bradley Mysteries
Think of her as Miss Marple's long-lost socialite sister who's down to fuck. With a loyal Rolls Royce–driving chauffeur in tow, Mrs. Bradley (played by a purring Diana Rigg) investigates some of the most white-collar crimes you can imagine in 1920s England. (I mean, there's a school reunion … at the opera.) Best not underestimate her, though. Since she's pretty much rotating in and out of parties at any given time, she sure knows how to snuff out a baddie and with plenty of time to spare to enjoy her bottle of Champagne.
Where to stream: Amazon Prime, BritBox
Murder, She Wrote
What? You thought we wouldn't include the widow who humbled herself by living in a snoozy Maine town despite fame and fortune as a late-bloomer mystery writer? This is our O.G. glamour icon! Please respect her signature preppy button-up blouse–and–sweater combo! We get an astounding 264 hourlong episodes of Angela Lansbury's amateur natural-born sleuth on the prowl for justice in Murder, She Wrote, which aired for an equally astounding 12 seasons on CBS. We love her so much that we're willing to overlook the greater Cabot Cove area's alarmingly high mortality rate.
Where to stream: Philo
Frankie Drake Mysteries
Decades before Perry Mason was doing the same thing in Los Angeles, Frankie Drake owned and operated her very own private detective agency in 1920s Toronto, where she works closely with a team of all-female associates and informants to bring justice to those who can fork over her rate. (Note to future private eyes: Always have a friend who works at the morgue.) If you think Frankie can't hold her own against a sea of gangsters and flyboys, well, you obviously haven't seen her knock back a one-two punch to their faces.
Where to stream: Amazon Prime, Thirteen Passport