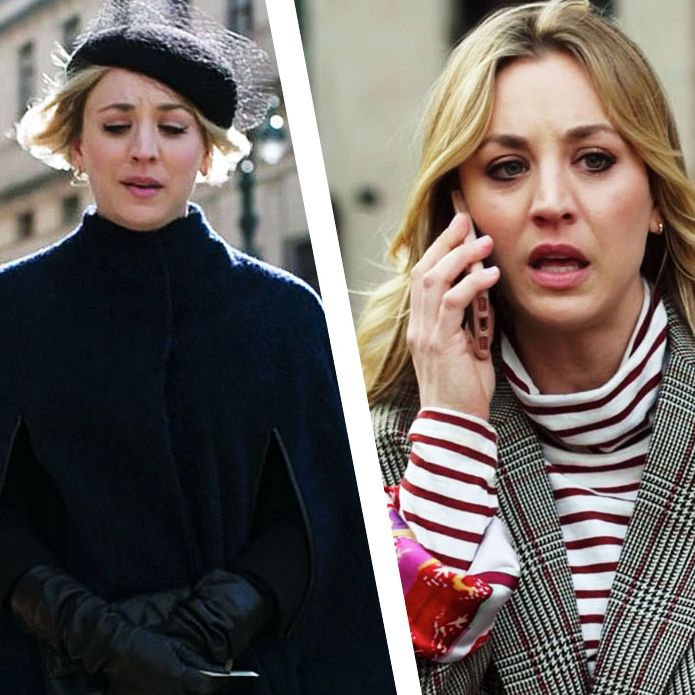 HBO Max's The Flight Attendant, a splashy murder mystery and psychological thriller is one of the best TV shows of the year. It's exemplary for many reasons, especially Kaley Cuoco's performance as Cassie Bowden, an alcoholic flight attendant who wakes up in a Bangkok hotel room to find last night's one-night stand brutally murdered in bed next to her. Chaos ensues, and everyone is hot.
One of the most notable things about the show, beyond its performances, thoughtful writing, and manic energy, is its costume design by Cat Thomas (who designed Cassie's iconic funeral cape herself.) The show, unlike HBO's Girls, acknowledges that winter is a season in New York City, so Thomas provides Cassie with a fascinating and seemingly endless coat collection.
Because Cassie is well-traveled, she knows it's important to have a coat for everything. Cassie has a travel coat. She has fashion coats. She has many blanket coats. She has a leather trench coat. She even has a cape at the ready for a sexy funeral.
Here are all of Cassie's coats from The Flight Attendant, ranked.
This ranking includes spoilers for season one of The Flight Attendant.
10. Pink bouclé coat, "Rabbits"
This pink bouclé coat is the first of Cassie's many coats with a silhouette inspired by the incomparable Columbo. Cassie's favorite coat shape, like Columbo's iconic trench, is slightly oversize and billowy enough to make a statement, but still a little tailored and, most important, practical for city life. The bright pink is a little uncharacteristic for Cassie. The colors Cassie wears for the rest of the season are more muted neutrals; the only bright, saturated colors are her accessories. This is, perhaps, Cassie's first heroic attempt at adapting a professional, approachable persona while she attempts to uncover more details about Alex, the very hot man who was murdered the night Cassie slept with him. Cassie has the mind of a spy/soon-to-be CIA operative, but she also has enough coats to pull off a plethora of disguises. She definitely learned a lot from Elizabeth Jennings on The Americans. 
9. Brown coat, "Funeralia"
Cassie briefly wears this coat when she finds out someone has been in her apartment after getting home from Rome, and immediately seeks sanctuary at Annie's, only to find Annie's boyfriend taking a shower in the glass shower that is in the middle of the apartment. It's a classic and boring greenish-brown tailored coat with big buttons on each sleeve. The most important thing about this coat is that it is the coat she wears when she goes to Annie's apartment and stays there for the rest of the season. That suitcase you see above is the suitcase that the rest of the coats in this blog somehow fit inside. It's miraculous.
8. Croc coat,"Rabbits" and "Funeralia"
This lacquered crocodile-skin jacket is the kind of item that would force a Bravo Real Housewife to have all of her assistants and interns abandon her for weeks to acquire, and that is why it is good. It's elegant but chaotic, quite like Cassie.
7. Leather trench, "Rabbits" and "Arrivals and Departures"
This rare body-hugging coat from Cassie's closet is primarily worn in moments when she's feeling particularly — sometimes misguidedly — confident. That is, completely coincidentally, the only times I wear leather, too. In hindsight, we all should have known that season one (of hopefully 28 seasons) of The Flight Attendant would end with Cassie working for the CIA because she looks so good in this leather trench, which is, obviously, a spy coat.
6. Beige wrap, "In Case of Emergency"
Is this a coat? No, but it's technically outerwear and also I just wanted an excuse to write about it. Cassie's ability to turn a sheer, fringed wrap into a discreet mock-neck cape that completely disguises the gold-sequin dress she is wearing in Thailand is exactly why the CIA needs her. Later, Cassie shows off her spy skills once again by incorporating this wrap into an outfit that will disguise her face as she leaves the hotel (at least for a few days).
5. Gray striped shawl-collar coat, "Other People's Houses," "After Dark," and "Hitchcock Double"
Here's yet another Columbo chic coat, with an effortless blanket-made-by-Grandma vibe. Like much of Cassie's wardrobe, it's simple on the surface but pulls your attention with tiny details. From even a short distance, this looks like a solid gray coat, which nearly every woman in New York City has. But its subtle striped pattern demands attention, and the enormous flap pockets are practical for holding the tiny liquor bottles Cassie steals from airplanes. This coat is, unfortunately, on sale.
4. Navy oversize trench with green lining, "Conspiracy Theories"
Columbo chic once again. This navy, oversize trench is where Cassie's dapper flight-attendant style meets her chaotic energy: She wears this when she arrives what turns out to be a passenger-less plane in episode four, "Conspiracy Theories." It has the shape of Cassie's streetwear aesthetic, but the dark navy is more reflective of her polished travel style. The best thing about this coat is the green lining, which is visible on the cuffed sleeves. This woman's devotion to showing off the work that went into all of the expensive coats she can somehow afford on a flight attendant's salary and somehow store in a carry-on suitcase at her friend Annie's apartment takes my breath away.
3. Plaid oversize coat with pattern lining, "Conspiracy Theories"
Like The Lord of the Rings: The Return of the King, Cassie's Columbo-but-make-it-high-fashion coat collection has no end. This plaid pattern is called Glen plaid or Prince of Wales check, named after Edward VII, who preferred the pattern for his bespoke suits. We are owed a season of The Crown that tells this incredibly boring story. (Before writing the rest of this paragraph, I took a few minutes to do more research on the Prince of Wales plaid story, which led me to shop for a Prince of Wales plaid coat for myself. But then I realized I don't need a coat, so I bought a blazer instead and now I'm back.)
Isn't it nice that you actually learned something from reading this? Cassie's Prince of Wales plaid coat, which she wears to the New York Aquarium, is from a Stella McCartney pre-fall 2019 collection that was inspired by the Beatles (her dad). The bright pattern in the coat's lining, which Cassie so generously shows off here, is inspired by "Lucy in the Sky With Diamonds."
2. Navy wrap travel coat, "Rabbits" and "Arrivals and Departures"
As a flight attendant (hey, that's the name of the show!), it's part of Cassie's job to appear polished. In uniform, Cassie is always more put together than she is in her civilian life. Her uniform (a dress I would very much like to own please) is architectural and sharp. When she's in uniform, her high, erratic ponytail becomes a controlled bun, and her curtain bangs are pulled a little farther away from her face. And when she's not working on the airplane, Cassie's delicious navy belted longline wrap coat, which she wears exclusively while traveling, is more structured and tailored than any other piece of outerwear she owns. If I ever become a supervillain, it will be in pursuit of a coat like this (or the money for one). So, like, Cruella de Vil but a dog person.
1. Funeral cape, "Funeralia"
Now this is how you dress for a very hot person's funeral. The fact that Cassie not only had this in her closet ready to go, but that she decided to wear something this extra to the funeral for the hottest man she's ever slept with (who is also the voice inside her head now), knowing she'd have to go through Penn Station to get there? This woman is a hero.