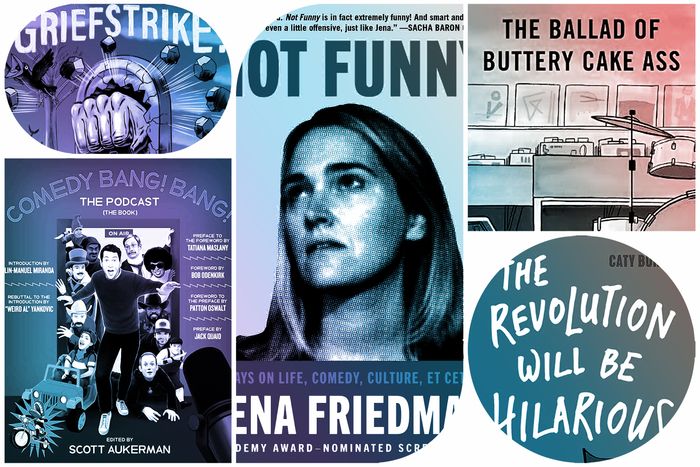 Photo-Illustration: Vulture; Photos: Abrams Image, McSweeney's, Simon & Schuster, Stone Soup, NYU Press
Comedy is often reactive, historically and in practice. Humor helps us comment on the world around us, make fun of that which needs to be made fun of, and process an increasingly absurd world that was actually always nonsense. In that regard, comedy as a genre has always been ephemeral, but that's where comedy books come in. These books preserve and legitimize humor, they maintain a permanent record of whatever people are upset about or reacting to during a certain era, and add to the general discourse.
That's all pretty pretentious, but then, aren't books on the whole a bit much? All high and mighty with their printed words on paper, bound between two thicker pieces of paper? Here then is a record of our times, via the best comic minds of our current moment. These are the best comedy books of 2023 — nonfiction, fiction, memoir, instructional, and anything else that makes us laugh.
All titles are listed by U.S. publishing date with the newest releases up top.
Comedy Bang! Bang! The Podcast: The Book, by Scott Aukerman
Podcasts have become such a part of the culture that people are making books about them now. One of the first of these is about one of the most influential comedy podcasts ever, Scott Aukerman & Co.'s Comedy Bang! Bang! As that show deconstructs and sends up podcast conventions (and the former Comedy Bang! Bang! TV program presented itself as a surreal hybrid of absurdist sketch and talk show), this humor book parodies humor books while being a pretty good one itself. It opens with endless introductory and preamble material that pokes fun at its own pomposity. But then, when the book starts in earnest, it's like a sketch-comedy show in literary form. Not only do readers get to delve into the lives of characters from the podcast (like Seth Morris's Bob Ducca and Andy Daly's Dalton Wilcox), they're bombarded with silliness like faux ads, mini-games, sheet music, and a taffy order form.
You Will Find Your People: How to Make Meaningful Friendships as an Adult, by Lane Moore
Comedy doesn't have to have a target. It can be life-affirming and empathetic. (It's supposed to get to the core of humanity and what connects us, right?) Lane Moore previously proved to be a viable chronicler of modern relationships with the hilarious and thoughtful How to Be Alone, and here, she trains her attention on the specifics of a miraculous act of human connection: friendship. That adults don't know how to make friends is a cliché at this point, but Moore explains how it's quite real and tragic, and in this revelatory and sweet guide, she offers real assistance in the reader's quest for friendship with a humorous dose of encouragement to always be good to yourself.
America the Beautiful? One Woman in a Borrowed Prius on the Road Most Traveled, by Blythe Roberson
Blythe Roberson has come to look for "America," to embark on the great American road trip — that seemingly magical, romanticized act of declaring independence. But in America the Beautiful? she renders that pretentious literary dream of white dudes (like Jack Kerouac) to be false. Sure, she sees a lot of beautiful national parks and bodies of water, meets interesting people with compelling stories and actual problems, and realizes that we're all in a climate crisis, but she concludes that the idea of such a quest — one that makes good content (on the page or social media) — is perhaps a little too self-indulgent.
Not Funny: Essays on Life, Comedy, Culture, Et Cetera, by Jena Friedman
Not Funny is refreshingly and astonishingly different from the surface-level, self-deprecating essay collections written by many other comedians. Through her writing and her act, Jena Friedman acts as a conduit of existential dread, her own and that of those around her. This book captures the hopelessness, cynicism, and utter exasperation with the world that makes Friedman's stand-up so honest, funny, and uncomfortable. Friedman — showing the audacity and bravery she brought to her work as one of the writers of Borat Subsequent Moviefilm — is as critical of her younger, more naïve self as she is of a crumbling, hostile, increasingly misogynistic world. From her adventures in the insular world of improv to her pointed and thorough takedown of American Girl (the doll company) culture, Friedman mines laughs out of bleakness and resignation.
A Guide to Midwestern Conversation, by Taylor Kay Phillips
Taylor Kay Phillips's A Guide to Midwestern Conversation is a wildly entertaining, precisely critical, and lovingly mocking taxonomy of the people of "flyover country." Of her own quintessentially midwestern brethren, Phillips (a staff writer at Last Week Tonight With John Oliver) breaks down the elements of the aggressively normal — those friends, relatives, and acquaintances who are content to drive around, eat a lot of casseroles, reluctantly entertain guests, engage in gift-giving one-upmanship, and never ever say what they're thinking or feeling. If you have a passive-aggressive person in your life, even if they aren't from the Midwest, you will find A Guide to Midwestern Conversation rather cathartic.
Funny You Don't Look Funny: Judaism and Humor from the Silent Generation to Millennials, by Jennifer Caplan
It's a cliché, if not a cringey joke at this point, to mention how humor is a big part of Jewish culture; Caplan's history of comedy as it relates to the 20th-century Jewish experience is as entertaining as its subjects, examining how the last few generations of Jewish Americans have held humor in high esteem and use its tools to express cultural identity. Funny You Don't Look Funny reveals that as the Jewish American community has changed, American comedy developed in parallel. Early 20th-century entertainment was very racially and culturally targeted — vaudevillian, ethnic-based humor and early sitcoms like The Goldbergs, for example. But 100 years later, because of mainstream entertainers whose Jewish identity influenced and permeated their works, which carry on the tropes of Jewish humor — Joseph Heller, Larry David, and the Coen brothers, in particular — Jewish comedy is American comedy.
The Revolution Will Be Hilarious: Comedy for Social Change and Civic Power, by Caty Borum
Beyond your typical satire comes the more direct approach of activist comedy. It's a brand of humor designed to make the audience entertained but so angry that they'll go out and do something to right the injustices or end the cruelty of which they've just been made aware. The Revolution Will Be Hilarious charts the rise, impact, and extreme importance of activist comedy, which has enjoyed a real moment in the U.S. since, oh, late 2016, early 2017. This pointed form of sermonizing-meets-jokes fueled the anti-Trump resistance with encouragement and nightly breakdowns on how to focus anger and attentions on late-night shows. The Daily Show, Patriot Act, Full Frontal — these were relatively new bully pulpits that could reach a mass audience, and The Revolution Will Be Hilarious shows how much media can emerge, converge, and use comedy as an effective tool for bringing about lasting change.
The Time Meowchine: A Talking Cat's Y2K Quest to Save the World, by Marty Beckerman
What can I, as a critic, tell you when the book's subtitle lays everything out so bluntly and hilariously? You're either going to read this right now or permanently reject it with disgust over its dad-joke title and spoofy sci-fi elements. Clearly influenced by The Time Machine and Slaughterhouse-Five, it's actually a well constructed time-travel novel with a palpable authorial commitment to eliminating paradoxes and plot holes so common in the genre. Dr. Tara Switcher lives in 2040 in a hellish, post-climate-change world with a robot cat. That timeline is the result of the book's other timeline, which begins in 2000, where Tara is a Nader-loving young environmentalist living amid Y2K anxiety. Thanks to her talking cat and brilliant technology, Tara might be able to reverse global and personal catastrophe by changing the past. It's funny but poignant, ridiculous but bittersweet.
The Ballad of Buttery Cake Ass, by Aug Stone
In this comic novel send-up of fan culture, some dudes (because it's always dudes) love a band so much that they remove all heart and joy by turning their appreciation into sporty, clinical consumption. Here, a couple of friends are so obsessed with (fictional) rock band Buttery Cake Ass — not with the group's music but instead demonstrating their own quantifiable fandom — that they'll go anywhere and spend anything on a gig or bootleg. They don't even like what little they've heard of BCA, but they simply must own the elusive recording Live in Hungaria. The '90s-set book reads like a silly version of a Nick Hornby novel, but with more jokes and riffing on the absurdities of masculinity.
Griefstrike! The Ultimate Guide to Mourning, by Jason Roeder
It's relatively easy to make fun of death. It takes true nuance and comic skills to skewer the deeply unpleasant and universally human experience of grief. Roeder, who's previously written for The Onion and McSweeney's, is up to the task with Griefstrike! — a memoir in the form of a third-person faux manual. Roeder wrote the book as part of his own process in coming to terms with the loss of his mother, which serves as a selfless public service to those who need it. Humor can and should be defiant and transgressive against the overwhelming forces that dictate our lives, and there's nothing more imposing than death, which we fearfully romanticize. (To wit: the "Surefire Eulogy Starters" Roeder offers, including "I'm going to keep this short, as my mother always said my speaking voice was a source of humiliation and sorrow.") While earnestly offering legitimately helpful advice, Roeder shows readers that there's a way to grieve beyond weeping one's way through self-help manuals — that one can process it through laughter, an emotional response almost as powerful as sadness. Here, the reader laughs with the dead and grief-stricken, never at them.