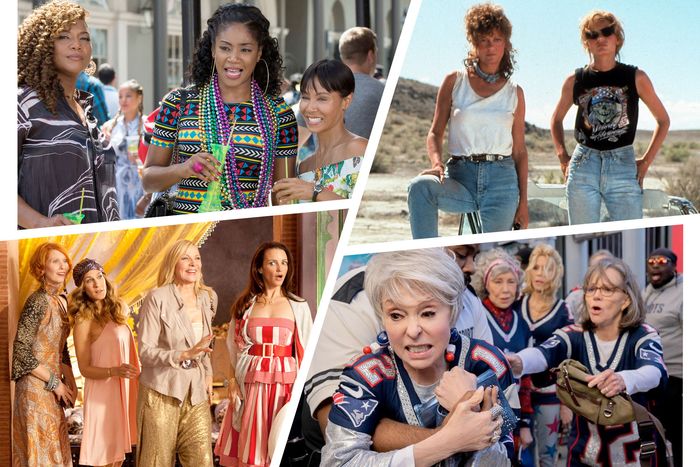 Photo-Illustration: Vulture
The official trailer for Thelma & Louise, released by MGM ahead of the film's 1991 premiere, painted the movie as a spunky buddy comedy about two women on a wild fishing vacation. While Thelma and Louise do initially embark on a fishing trip, the film takes a darker turn within the first 20 minutes when the duo stop at a roadhouse and a man attempts to rape Thelma. Louise, who we later discern has been grappling with her own traumatic past of sexual assault, intervenes and ends up killing him. Fearing that the police won't believe them, the pair decide to flee to Mexico in their car and embark on a madcap, ultimately fatal road trip for the ages.
In addition to being a remarkable meditation on rape culture, the movie became the blueprint for the Girls Trip canon, a sub-genre of film defined by its women-led casts and journey-based storytelling. The movies feed off of the inherently transcendent nature of travel, be it the surplus of unsanctioned time on a road trip or the endless possibilities that come with flying to a new place. While several Girls Trips premiered in the wake of Thelma & Louise, many of which took on similarly dramatic tones, the subgenre mostly disappeared after the early 2000s. Bridesmaids, even though it isn't technically a Girls Trip, shares many of the same elements and revitalized the sub-genre in 2011, helping to spur on an R-rated boom for women-driven comedies. Since then, the Girls Trip has seen many versions of itself, most recently in the form of the reproductive rights road trip and the 70+ sweep.
The uptick in these types of movies, and a pointed turn towards raunch, has culminated in Joy Ride, the latest promising entry in the Girls Trip canon. In theaters July 7, the Adele Lim-directed movie follows four friends whose business trip in China turns into a search for one girl's birth mother. Lost passports, drug mishaps, and a friendship-altering fight later, the movie ranks high among its predecessors. From the classic comedy-dramas that defined the genre to the recent raunchy adventures, we're revisiting the most essential Girls Trip movies. So grab your bestie, buckle up, and come along for the ride.
Thelma & Louise (1991)
The Girls Trip sub-genre owes itself to Thelma & Louise, even if the Ridley Scott-directed comedy-drama looks much different than the Girls Trip movies of today. After Thelma (Geena Davis) and Louise (Susan Sarandon) decide to escape to Mexico, the road trip gains a bit of levity, but they also find themselves in increasingly dire situations: robbing a store, holding a police officer at gunpoint, and attracting the attention of the FBI. The duo never make it to Mexico and, rather than turn themselves into the G-men who are hunting them, opt to share a kiss and drive off a cliff together at the Grand Canyon. Poignant and eternally timely, the movie became an instant classic (and even nabbed an Oscar for its script).
Boys on the Side (1995)
The closest, most immediate reaction to Thelma & Louise was Boys on the Side, starring Whoopi Goldberg, Mary-Louise Parker, and Drew Barrymore. The film, which again blended serious topics against a road comedy backdrop, starts with a car ride between strangers. Jane (Goldberg) answers a newspaper ad to join Robin (Parker) on a cross-country trip to California. When the two pick up Robin's friend, Holly (Barrymore), they accidentally end up responsible for the death of Holly's abusive boyfriend. The trio take off together and eventually start new lives in Tucson, Arizona. In a winking nod to Thelma & Louise, Jane tells the other girls, "I am not going over a cliff with you two." The movie tackles queer stories, AIDS, and domestic abuse with surprising openness for a 90s flick.
Romy and Michele's High School Reunion (1997)
The first Girls Trip to be a straight comedy, fondness for Romy and Michele's High School Reunion has only increased over the years. When high school best friends and current roommates Romy (Mira Sorvino) and Michele (Lisa Kudrow) learn of their impending 10 year high school reunion, the two desperately attempt to make themselves seem more successful. Sporting "business women" attire and driving a borrowed Jag, they set off for Arizona from California. By the time they reach Tucson, they get in a massive fight and decide to go to the reunion separately. Hijinks ensue and they learn that most of their classmates are also trying to make their lives seem better than they are (with the exception of Alan Cumming and Janeane Garafolo).
Crossroads (2002)
Britney Spears' lone movie outing was a quickly-forgotten take on the Girls Trip that straddled the comedy-drama line. Three childhood friends embark on a cross-country trip from Georgia after their high school graduation. Kit (Zoe Saldaña) and a pregnant Mimi (Taryn Manning) want to go to L.A. to visit a fiancé and have an audition, respectively, and Lucy (Spears) hopes to reunite with her mother in Tucson, of all places. While all of the girls eventually get to their destinations, the results are upsetting and they are forced to grapple with abandonment, infidelity, rape, and miscarriage.
The Sweetest Thing (2002)
Two months after Crossroads, The Sweetest Thing premiered and offered something previously unheard of: a mainstream, female-driven, R-rated raunchy comedy. When Christina (Cameron Diaz) meets and falls for a man who swiftly departs for his brother's wedding, she and a friend (Christina Applegate) take off for a road trip to find him. While the movie doesn't offer much in the way of lasting memorability and wasn't making any end of year lists, The Sweetest Thing introduced the very important gross-out factor (thanks in no small part to a disgusting pitstop bathroom) that had previously evaded female-driven comedies and instead only been featured in stories centered on men.
Sex and the City 2 (2010)
Despite the retroactively monumental existence of The Sweetest Thing, female-driven R-rated comedies evaded the limelight for nearly a decade after the fact. Sex and the City 2, while peppered with offensive depictions of the Middle East and an overall inferior sequel, hinted at a triumphant return of the Girls Trip movie. The film employs one of the most reliable sequel devices by sending the quartet on a trip, taking them from New York to Abu Dhabi on behalf of one of Samantha's (Kim Cattrall) PR clients. As Carrie (Sarah Jessica Parker), Charlotte (Kristin Davis), and Miranda (Cynthia Nixon) grapple with some of the obstacles of married life and long-term relationships, Samantha tries her best to outrun the unsavory effects of menopause.
Bridesmaids changed the game in 2011, thanks more than anything to the talents of Melissa McCarthy, who earned an Academy Award nomination for her work. The film launched her high-profile career and she went on to appear in a number of raunchy comedies, including Tammy, which also marked Sarandon's return to the road. In Tammy, McCarthy (under the direction of her husband-turned-frequent-collaborator, Ben Falcone) plays a woman who discovers that her spouse is cheating on her the same day that she gets fired. Frustrated, she decides to leave town, but can only do so with her grandmother's car and funds. Pearl (Sarandon) has only one request – that she can accompany her granddaughter – and the two take off for a booze-filled trip to Niagara Falls with a robbery scene that might spark some fond memories for Thelma & Louise fans.
The summer of 2017 was the clearest testament to the Bridesmaids effect, with two star-studded, R-rated girls trips backed by major studios. In the first, the Lucia Aniello-directed Rough Night, an up-and-coming politician's (Scarlett Johnasson) hopes are dashed when her Miami bachelorette party ends in the death of a stripper (or, at least, a man they think is the stripper they hired). The girls – a mix of old college friends and one study abroad acquaintance played by Kate McKinnon, Jillian Bell, Zoë Kravitz, and Ilana Glazer – attempt to cover up the accidental death and instead end up embroiled in a more nefarious crime.
The superior of the two 2017 movies (and the most aptly named), Girls Trip tracks four longtime friends (Queen Latifah, Jada Pinkett Smith, Regina Hall, and Tiffany Haddish), known as the "Flossy Posse" in college, who have a chance to reconnect at the Essence Music Festival in New Orleans when Hall's character is invited as a keynote speaker. Their lives are in various forms of disarray, including financial troubles and infidelity, and the trip quickly turns messy. Thanks to a memorable club scene under the influence of absinthe and a high-stakes fight, the movie became an instant classic and a worthy namesake.
While most Girls Trip movies tend to focus on younger women, Wine Country took a cue from a few recent hits (including the Bad Moms movies) and some classics (like First Wives Club) to craft a R-rated romp for the 50+ crowd. In Amy Poehler's directorial debut (and based on her own experiences), the film follows a group of friends (an all-star cast featuring Poehler, Maya Rudolph, Ana Gastayer, Rachel Dratch, Paula Pell, and Emily Spivey) who gather in Napa, California. Meant to be a 50th birthday celebration for Dratch's character, the weekend dissolves into a wine-soaked existential reckoning.
Unpregnant (2020)
Throughout 2020 and 2021, several films popped up in reaction to the diminishing reproductive rights in the U.S. While most fell under the drama classification, a couple of lighter-hearted streaming movies cropped up, including Unpregnant. In the movie, popular girl Veronica (Haley Lu Richardson) reaches out to loner Bailey (Barbie Ferreira) for the first time after drifting apart in high school in the hopes that the other girl would be able to drive her to a faraway abortion clinic. She needs an abortion, but nowhere nearby will allow her to get the procedure without her parents' permission. The girls take off for Albuquerque, New Mexico from Missouri and end up on the ride of their lives.
In the Natalie Morales-directed Plan B, Sunny (Kuhoo Verma) enlists her high school best friend Lupe (Victoria Moroles) to help her get the morning-after pill following a condom mishap. When the girls are denied sale by the pharmacy, they opt to drive to the nearest Planned Parenthood in Rapid City, South Dakota. Chaos ensues and the girls struggle to access one of the pills, due to predictable comedy dilemmas as well as the devastating impact of reproductive crackdowns. Like Unpregnant, Plan B utilizes the familiar road trip comedy premise to subtly tackle the severity of the situation.
Part-Bridesmaids reunion and part-Austin Powers, Barb and Star Go To Vista Del Mar was one of the most delightful surprises of 2021. After the furniture store they work in closes down, Barb (Annie Mumulo) and Star (Kristen Wiig) decide that they're in need of an adventurous change and take off for Vista Del Mar. Meanwhile, a villain (also played by Wiig) plots her Vista Del Mar-set revenge plan, with the help of her not-boyfriend (a singing and dancing Jamie Dornan). Both Barb and Star work to find themselves on vacation: Star with the first boyfriend since her husband left her and Barb by trying her hand at adventurous independence. The highlight of the movie, however, comes in the form of the initial plane ride, wherein Barb and Star imagine the free spirited life of a woman named Trish.
2023 has brought with it a slew of friendship movies featuring women over 70, with one of the strangest and sweetest collaborations inspired by the real-life story of a group of friends who travel to see Tom Brady at the 2017 Super Bowl. In the screen version, Jane Fonda, Lily Tomlin, Rita Moreno, and Sally Field play four longtime friends and New England Patriots fans who attempt to get into the Super Bowl at any cost necessary after they lose their tickets (and eventually find them, only to discover that they're fakes). While the movie at the outset appears to be a sporty Girls Trip, it's ultimately about sickness, aging, and the fear of not making enough memories.
Book Club: The Next Chapter (2023)
Fonda strikes again in Book Club: The Next Chapter, this time without Tomlin at her side. Five years after the first Book Club, the literary quartet (Fonda, Diane Keaton, Mary Steenburgen, and Candice Bergen) travel to Italy for a bachelorette party, finally reunited after being relegated to Zoom meetings due to Covid. The trip takes a turn after their luggage is stolen and one of them loses her late husband's ashes, but some hitchhiking misadventures and an arrest later, the vacation ends up being a revitalizing journey (and surprisingly reminiscent of their latest book club pick).
When childhood best friends Audrey (Ashley Park) and Lolo (Sherry Cola) embark on a trip to China as part of the former's business trip, their outing ("like Romy and Michele," per Lolo) is complicated by the addition of Lolo's cousin Deadeye (Sabrina Wu) and Audrey's college friend Kat (Stephanie Hsu). After the initial business trip goes awry, the unlikely quartet take off on a wild journey to find Audrey's birth mother and help her connect to her roots. Joy Ride's comparisons to past Girls Trip movies are everywhere; in addition to the Romy and Michele reference, Deadeye likens themself and Audrey to Thelma and Louise, bringing the conversation full circle. But the movie also ratchets up the stakes of the sub-genre, going full raunch in ways that have not previously been seen in a mainstream female-driven comedy.