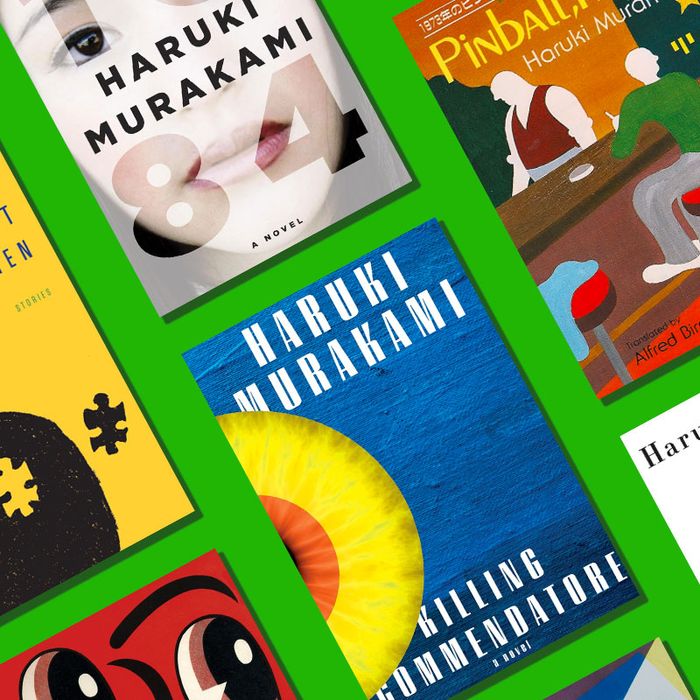 On the occasion of today's American release of Haruki Murakami's latest novel, Killing Commendatore, below is a loosely ranked list of every Murakami book published in the U.S. — the classic, the recommended, books for diehard fans, and those we'd throw down one of his deep, dark wells.
Classic
The Wind-Up Bird Chronicle (1997)
In this jam-packed novel about alienation between husbands and wives, Japan's postwar role in the world, the aftereffects of sexual abuse, and more, Murakami channels Joyce, Philip K. Dick, and Don DeLillo, braiding their styles into one all his own. The overarching narrative concerns Toru Okada's strange quest to recover his missing cat — and missing wife. But the heart of the novel is an expansive detour about the aptly nicknamed Boris the Manskinner, a Russian operative sent into the Manchurian countryside during the brutal Second Sino-Japanese War. Murakami, at his very best, captures the 20th century — surreal, unbelievable, and too horrifying not to be true.
Norwegian Wood (1989)
This is the book that transformed Murakami from Japanese success to international phenomenon. A rare work of realism, it chronicles the long-distance love affair of Toru and Naoko — the former girlfriend of Toru's childhood best friend, who killed himself at 17. In soft, spare prose, Murakami juxtaposes Naoko's life inside a rural mental-health clinic with Toru's languid days, loving her from afar while falling for another woman. It's a defining love story of the twentieth century, proof that Murakami is at least as effective without his surrealist shtick, if not more so. Read it if you've ever been in love, are in love, or want to be in love.
Kafka on the Shore (2005)
Fifteen-year-old runaway "Kafka" Tamura has taken up residence inside a library, where he has erotic dreams about the librarian. Elderly Nakata, who lost his higher cognition in a bizarre childhood incident, searches the streets for missing cats. Their stories develop in tandem, and as Murakami explained in an interview, the book "contains several riddles," and "through their interaction the possibility of a solution takes shape." This sounds maddening, but instead if feels like a scavenger hunt among dreams far more beautiful than your own. John Updike called it "an insistently metaphysical mind-bender"; it's also one of the deepest works in modern fiction.
The Elephant Vanishes (1993)
A chained-up retired circus elephant disappears from a small town without a trace. A woman stays up all night, every night, reading Anna Karenina. A couple wakes up hungry in the middle of the night and robs a McDonald's for 30 burgers. Murakami's first collection of stories remains his most incisive and surprising, a masterwork in the art of starting tales in medias res. One of his own characters, in "The Widow," nails what makes Murakami tick: "Don't try so hard to be the penetrating observer. Writing is, after all, a makeshift thing."
Recommended
South of the Border, West of the Sun (2000)
When Murakami drops the quirk and sticks to classic forms, he can plumb deeper into the pervasive oddity of society than he does depicting vast underground societies or talking cats. This quiet, erotic bildungsroman is the perfect example. Hajime and Shimamoto are childhood best friends, separated by a move and reunited in adulthood. As they struggle to recapture their childhood intimacy, the novel asks you to suffer alongside them, rewarding you with page after page of increasingly poetic, sensual imaginings.
Sputnik Sweetheart (2001)
Sumire is a fledgling novelist working odd jobs when she meets Miu, a mysterious businesswoman who offers Sumire a part-time job and movie-montage-worthy life makeover. They fall in love and jet off to Greece for a work holiday, from which Sumire disappears. The narrator, a friend of Sumire's, joins the search party and picks up clues in Sumire's writing. I won't ruin the ending, but this is one of Murakami's most plaintive works about loneliness and longing.
Underground (2000)
Given his obsessions with loners and Japanese national trauma, it's no surprise that Murakami's sole work of long-form investigative journalism focused on the Sarin gas attack that killed 13 Tokyo subway riders in 1995. His dedication to creating detailed portraits of the victims while adroitly examining its effects on Japanese society make this the standout primer on the topic — and on the twisted psychological roots of modern terrorism.
What I Talk About When I Talk About Running (2008)
In a twist on the old self-help book, Murakami writes, "most of what I know about writing I've learned through running every day." This "kind of memoir" about training for marathons dips and climbs through morning routines, after-lunch naps, and thoughts on how a runner's endurance transfers to the writing life. The prose isn't masterly, but this is a book about the daily grind. The memoir's Murakami is strikingly similar to his protagonists — ordinary men pushed to extraordinary limits, desperate to come out the other side intact.
Killing Commendatore (2018)
After an unnamed portrait painter is left by his wife, he moves into a mountain house, hears a mysterious bell, discovers a disused well, and becomes entangled with a mysterious, wealthy businessman on a quest to make contact with a local 13-year-old girl. Murakami beautifully captures the evanescence of inspiration in a well-paced and fascinating addition to his oeuvre. But there's a sexual undercurrent relating to the young girl that leaves a bad aftertaste and breaks the Murakami spell.
Blind Willow, Sleeping Woman (2006)
To put it colloquially, Murakami is random. Characters disappear, protagonists veer off into alleyways for no reason, fantastical elements intrude — often with great skill and subtlety. This massive collection of 24 stories makes no attempt at coherence. One piece stars a narrator named Haruki Murakami, another a man who eats only spaghetti for a year, and still another a night watchman whose reflection becomes a different person. Ultimately, the collection hangs together as a representative sampling.
For Fans Only
Colorless Tsukuru Tazaki and His Years of Pilgrimage (2014)
Alas, the title adjective applies to the narrative, too. Unexpectedly ousted from a group of friends in college (all with color-related names), Tsukuru, long devastated and perplexed, eventually embarks on a journey to question his former clique and discover his unknown crime. What follows hovers between the Murakami of the real and the Murakami of the imagined, and it never quite finds its own voice.
Men Without Women (2017)
There was something almost insulting about Murakami's self-own in this collection. Readers hoping for some introspection about his use of women as maze bait won't find answers here. Instead, just more wandering men avoiding confrontation and asking why they're so alone. Still, the prose is often beautifully cold, and the title story, about a man who considers himself "the second-loneliest person the world," has a wonderfully jarring Dali–meets–Sleepless in Seattle feel to it.
After the Quake (2002)
Six short stories set precisely one month after the massive 1995 Kobe earthquake — and one month before the Sarin gas attack on Tokyo's subway — muse on the coming apart of Japanese society in that fraught time. A few, like "UFO in Kushiro," slyly work, but most of the connections are too tenuous for American readers to grasp.
Absolutely on Music: Conversations With Seiji Ozawa (2016)
A playlist of all the music that Murakami's protagonists slip onto turntables would include Italian opera, classical masterpieces, every imaginable 1960's American pop hit, and more jazz than you knew existed. This collection of two years' worth of conversations between Murakami and conductor Ozawa is so niche that it only rewards true melomaniacs, but it's worth it if you really want to dig into the writer's psyche.
After Dark (2007)
Murakami's characters are insomniacs and lucid dreamers — up half the night sipping tea and having visions. In After Dark, he managed to fit an entire novel into one late night during which two acquaintances, Mari and Takahashi, meet at a Denny's and embark on a metaphysical mission to "awaken" Mari's sister from a catatonic state. Like Mrs. Dalloway on acid, it attempts to interrogate social convention, but without much success, or any urgency at all.
1Q84 (2011)
Readers practically mowed each other down to grab copies of this book, hyped as Murakami's magnum opus and the literary event of 2011. And the premise sounds so thrilling: Aomame, an assassin who kills abusive men, awaits orders for her next target while Tengo, a schoolteacher, investigates a mysterious manuscript called the "Air Chrysalis." The two eventually collide — but by then you'll be out cold, benumbed by a narrative that doesn't even have the decency to go in circles.
Forgettable
A Wild Sheep Chase (1989)
The first Murakami novel translated into English holds a special place in many hearts, but its bombast can't quite obscure the fact that this rambling detective story is mostly the splatters of a thousand zany ideas thrown against the page. Dollops of Americana in a Japanese novel that felt fresh at the time now read as a little forced. If you want Murakami at his most Kafkaesque — that is, wild and weird but fully in control — skip a few decades ahead.
Dance Dance Dance (1994)
Murakami's first novel after Norwegian Wood made him world famous is also a sequel to A Wild Sheep Chase — and a step back for the author, cramming about ten pounds of oddity into a five-pound bag. There's a poet with one arm, a clairvoyant 13-year-old girl, numerous fugue states, and a lonely, perplexed protagonist, variations of which can all be found in a number of his more astute and compelling novels.
Hard-Boiled Wonderland and the End of the World (1991)
In the odd-numbered chapters, titled "Hard-Boiled Wonderland," a computer narrates the last 36 hours of its conscious life as part of an underground experiment in "sound removal." "The End of the World" (even-numbered chapters) concerns a shadowless narrator who learns to extract dreams from unicorn skulls. Eventually, the two stories converge. Any further description would take several hundred words, a semiotics degree, and a very high tolerance for joyless storytelling.
The Strange Library (2014)
The Sheep Man who haunted Murakami's first four novels made an unwelcome return in this novella, this time helping imprison a researcher in a (yup) strange library, forcing him to read books so they can eat his "yummy brains." Beyond the token weirdness, there isn't much here to latch onto, even for the kids it was marketed to. Nor do accompanying Pop Art–esque illustrations add much verve.
Hear the Wind Sing and Pinball, 1973 (2015)
Murakami thought his first two novels were so "immature" and "flimsy" that he avoided having them translated into English for 35 years. Once they popped up on this side of the Pacific, it was easy to see why he'd been leery of them. There are sparks of the Murakami to come, but absolutely nothing to fire you up.