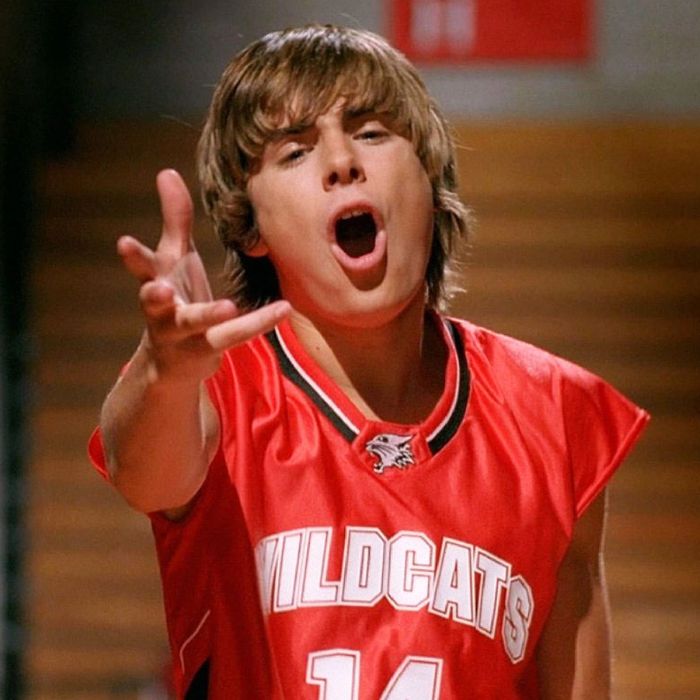 Zac Efron, star of the
High School Musical
franchise.
Photo: Disney
Star Wars isn't the only intellectual property that got a big TV-show launch on the first day of the existence of Disney+: High School Musical: The Musical: The Series (yes, this is the title, please don't blame me for the double colons!) is a mockumentary series following students as they work on performing their own version of High School Musical: The Musical at the (fictional) high school where the High School Musical movies were shot.
This is a big deal! But if you need a refresher because (1) you haven't seen a High School Musical movie in a while or (2) you've never seen a High School Musical movie, we'll happily remind you of the franchise's importance. In 2006, High School Musical swept the nation after its debut on Disney Channel. It follows Troy Bolton (Zac Efron) and Gabriella Montez (Vanessa Hudgens), who meet while performing karaoke together as strangers on New Year's Eve. Gabriella ends up attending East High, so obviously Troy and Gabriella fall in love and get involved in the school's musical. And in doing so, they clash with Sharpay (Ashley Tisdale) and her brother Ryan (Lucas Grabeel), who feel threatened by their talent.
Less than a year later came High School Musical 2, which followed a similar formula but took place during the summer. And in 2008, we got High School Musical 3: Senior Year, which is pretty much the same thing but there's prom and graduation and too many people getting into Juilliard despite not even applying.
Of course, the thing that made the franchise such a hit, apart from its likable stars, was its music. So, without further ado, here's every single song from all three original movies, ranked from worst to best.
27. "I Don't Dance"
(High School Musical 2)
I don't listen to "I Don't Dance," which was an ironic attempt to display Corbin Bleu's impressive dancing skills. He deserved better because the whole thing about Corbin Bleu is that he was always the best dancer in the cast by a long shot. His character, Chad, had already danced several times in the first movie and many times before this song appears in High School Musical 2.
26. "Stick to the Status Quo"
(High School Musical)
This song is a little out of place in the HSMCU (High School Musical Cinematic Universe). It's a little too self-aware and satirical because it's mocking high schoolers for being the way they are. Meanwhile, the audience — mostly children, preteens, and teens — are not aware that sticking to the status quo and "sticking to the stuff you know" is actually bad? It feels like this was written as a joke just so the movie could have a big cafeteria number, then they forgot to change the lyrics and Disney Channel didn't notice.
25. "Walk Away"
(High School Musical 3: Senior Year)
In every HSM movie, Gabriella has a crisis in which she decides she needs to break up with Troy and make a big change in her life, so she sings a song about it. This is the worst one, but the least nasal-y.
24. "I Want It All"
(High School Musical 3: Senior Year)
A better title for this song would have been "I Want It All (Except This Song)." They just wanted Sharpay in the (very clean) cafeteria singing an auto-tuned song about her narcissism that ends with her naming all of the cities that she knows. There is not enough Ryan in this. No thanks!
23. "When There Was Me and You"
(High School Musical)
Gabriella sings this melancholy ballad when she's sad about Troy and balancing her dream of doing musicals with her dream of doing science. It's one of Vanessa Hudgens's most nasal-y performances.
22. "Just Wanna Be With You"
(High School Musical 3: Senior Year)
This was just a big showcase for Ryan to prance around in a white fedora (which he pulls off), but it immediately becomes about Troy and Gabriella. Like many (most) songs in the HSMCU, this one would have been better if Ryan and Troy sang it together and kiss at the end.
21. "What Time Is It?"
(High School Musical 2)
I'm sure this song was relatable to me at some point, but it doesn't resonate anymore. When you are an adult, it is hot outside and the pool is open but you still have to go to work. Let's move on to the next song, please.
20. "Now or Never"
(High School Musical 3: Senior Year)
This is just an impression of the 2008 song "4 Minutes" by Madonna featuring Justin Timberlake and Timbaland but with a bunch of basketball language. It's fine and Troy Bolton singing this song helped the Wildcats come back with a win after being behind by more than 20 points. Music is a miracle.
19. "Right Here, Right Now"
(High School Musical 3: Senior Year)
This boring emotional song comes out of a conversation in which Troy and Gabriella sneak away from a big basketball party (relatable, except I always do this by myself!) to chat in Troy's tree house. Gabriella — who got into Stanford because, in addition to singing, she does science — is scared because Stanford is over a thousand miles away from the tree house, which is in Albuquerque, New Mexico. But Troy isn't worried! They might be going to different colleges, but they got the rest of senior year to hang out and definitely have sex in Troy's tree house.
18. "Work This Out"
(High School Musical 2)
This song's primary reason for existence is to remind the audience that the one guy on the basketball team loves to cook.
17. "Can I Have This Dance"
(High School Musical 3: Senior Year)
Troy and Gabriella sing yet another boring emotional song aboveground. This time, they sing about their feelings — which remain the same as they did in their first song in the movie less than 20 minutes earlier — on the high school's quaint rooftop garden, which probably has lily of the valley growing somewhere (fellow Albuquerque resident Walter White is, logistically, a chemistry teacher at this high school). Right before dancing during the entire song, Troy Bolton, who got into Juilliard despite not knowing what Juilliard is, says, "I've never been to a dance, much less a prom."
16. "Start of Something New"
(High School Musical)
This song is a little on the nose, and the worst part is that absolutely no one would be happy to hear this at a karaoke night — especially on New Year's Eve. (The only song that someone can sing at karaoke that gets everyone excited and involved is "I'll Make a Man Out of You" from Mulan.)
15. "High School Musical"
(High School Musical 3: Senior Year)
Yes, the High School Musical trilogy ends with a song called "High School Musical." Meta peaked in this song.
14. "Scream"
(High School Musical 3: Senior Year)
This is what happens when you unsuccessfully try to re-create "Bet on It" (more on that song later) with choreography inspired by the zero-gravity scene in Inception.
13. "All for One"
(High School Musical 2)
It's not a High School Musical movie if the entire cast doesn't get together for a song at the end with the word all in the title! This one is a bit mushy for me, but it gives everyone in the cast — from main characters to side characters — a proper chance to shine with a little solo. Plus, they're all in summer attire, which is always good.
12. "The Boys Are Back"
(High School Musical 3: Senior Year)
It's really sweet to have a whole song and dance about dudes being best bros and pursuing their dreams at a car dump. It was very kind of the costume designers to cater to my very specific needs by dressing Zac Efron in a flannel button-down, a white tee, jeans, Converse, and a bandanna tied around his head.
11. "We're All in This Together"
(High School Musical)
During this positive number that contains a lot of clapping, Zac Efron prances around the basketball court in a white tracksuit and pretends to sing (it is not his voice in the first movie). I still remember how to do the dance. Unfortunately, the entire cast forgets the message of this, because they argue throughout the next two movies.
10. "Fabulous"
(High School Musical 2)
This should be the official theme song for hair extensions.
9. "A Night to Remember"
(High School Musical 3: Senior Year)
The best thing about the mostly forgettable High School Musical 3 is that with a bigger budget and a plot about the kids writing a musical about themselves, it fully embraced its musical-theater roots. In this movie, all of the songs look more like a production than in the first two movies. "A Night to Remember" goes all out: It's performed as a performance of the musical within the movie on the school's stage. You can feel the entire cast really going for it, especially Zac Efron, who does an extremely sexual pelvic movement while wearing a baby-blue suit with a ruffled shirt. The only downside is that the contrast between the girls getting ready for prom (they love it!) versus the boys getting ready for prom (they hate it!) feels a bit dated. However, the theme of East High's senior prom is "the Last Waltz," which is also the name of a 1978 Martin Scorsese concert documentary, all but confirming that High School Musical 3: Senior Year is cinema.
8. "Gotta Go My Own Way"
(High School Musical 2)
Gabriella gets a breakup ballad that mirrors the one from the first movie. This one is much better: It makes more sense because Gabriella and Troy have known each other for more than a month (they have known each other for a few months now!), it takes place at a beautiful country-club pool at night, and Vanessa Hudgens has since made her voice like, 40 percent less nasal-y. It's also a song about a woman leaving a relationship because she needs some time to figure herself out independently, which was a pretty innovative concept in 2007.
7. "Everyday"
(High School Musical 2)
Forever hottie Zac Efron and future Coachella attendee Vanessa Hudgens singing a song about how you only have one life in front of a giant screen with cumulus clouds on it? This is the kind of content that you love to see.
6. "What I've Been Looking For"
(High School Musical)
An iconic ode to musical theater — everybody loves a good jazz square! If it's ever revealed that Stephen Sondheim ghostwrote this one one, I wouldn't be surprised. But what the world needs right now is a romantic version of this song sung by Ryan and Troy where they kiss at the end. Lucas Grabeel and Zac Efron can't be that busy. The last notable thing Grabeel did was play Laurie in a 2018 modern retelling of Little Women, and Efron is probably still pretending to be Ted Bundy. So I think both of them really need this opportunity right now.
5. "Bop to the Top"
(High School Musical)
This song really makes me wonder why Ashley Tisdale and Lucas Grabeel aren't the most famous people on planet Earth.
4. "Get Your Head in the Game"
(High School Musical)
I may be biased toward "Get Your Head in the Game" as someone whose head was very much in the game of basketball in 2006. I felt seen, and to this day I find the line "Don't be afraid to shoot the outside J" inspiring and helpful as a player who was too shy to shoot an outside J because I was always incredibly embarrassed when I missed, which was often. A year later, when I was coaching a chatty basketball team full of 10-year-old girls who also loved Zac Efron, I told them that if they stopped talking over the coaches during practice that we could play "Get Your Head in the Game" during drills. That season, my team was undefeated the entire season and won the championship in a very competitive Catholic school basketball league. This song's influence!
3. "You Are the Music in Me"
(High School Musical 2)
"You Are the Music in Me" walked so "Shallow" could run.
2. "Breaking Free"
(High School Musical)
This song is as powerful as when Captain America swings Mjölnir in Avengers: Endgame. (Disney owns the rights to Marvel and HSM, so maybe they can release a version of Endgame on Disney+ in which this song is playing at that moment?) When I was 16, I listened to "Breaking Free" every morning in my car on the way to school for inspiration and confidence. It didn't work, but now I can do both the Troy and Gabriella parts to perfection at karaoke. The only downside to this power ballad is that Zac Efron didn't do the singing for it. He wasn't ready, and we have to live with this sad consequence forever.
1. "Bet on It"
(High School Musical 2)
This is the best song ever recorded, and the only other actor living or dead who could have pulled off angrily prancing around an American Southwest golf course in an all-black summer ensemble is Adam Driver.