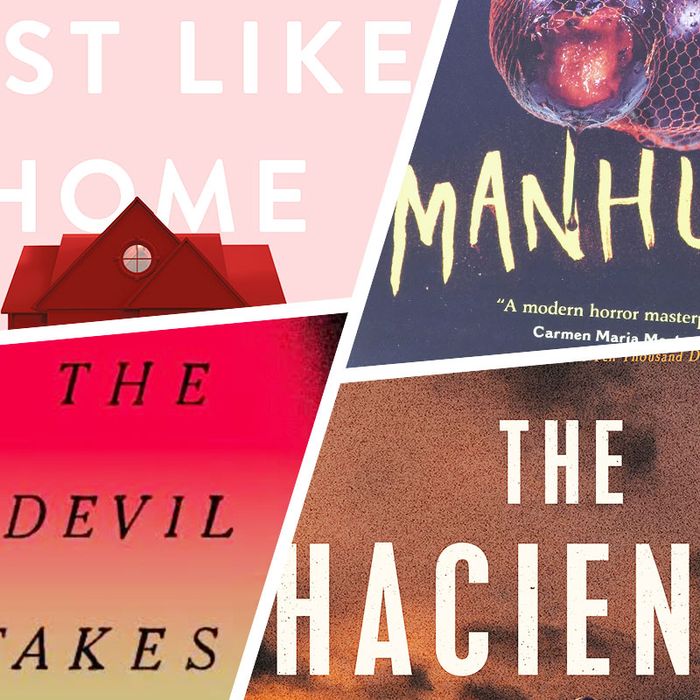 Photo-Illustration: Vulture; Photos by Publishers
To be a horror fan in 2022 is to find yourself at a feast after many years of famine. You're not just limited to writers named King, Straub, or Koontz anymore – horror fiction has come back with a vengeance over the past decade after a long fallow period (at least in mainstream publishing) with well over 250 new horror books publishing this year, there's something for everyone, whether you're looking for a gently creepy Gothic tale or the most transgressive splatterpunk imaginable. Here are some of the best on shelves.
February
Photo: Publisher
In an era of cultural remakes, remixes, knockoffs, and infinite bland variations on corporate IP, it's all too rare to encounter a book like Manhunt — a true original that not only eviscerates an existing subgenre (gender-based apocalypse stories like Y: The Last Man, in this case) but also plants a flag in its steaming corpse and says, This is the future of queer horror.
Anger simmers underneath every word of Felker-Martin's prose as she tells a story of trans women and men fighting for survival after a plague transforms anyone with a certain amount of testosterone in their system into a feral monstrosity. In the world of Manhunt, the already life-or-death nature of transition is taken to new heights: Protagonists Beth and Fran have to scavenge enough estrogen to keep from succumbing to the virus, while Robbie tries to forge a life in a state of persistent dysphoria since taking testosterone is a death sentence. Their odyssey across a postapocalyptic New England showcases an array of threats, from feral men to militant TERFs, self-loathing chasers to rich-idiot survivalists. The book is timely, visceral, grotesque, unflinching, and unexpectedly fun, full of sex and gore and messy, beautiful humanity; think of it as The Road with a sense of humor and 110 percent more queer sex.
March
Photo: Publisher
Equal parts cosmic horror, road-trip adventure, and adrenaline-fueled thriller, Lyons's sophomore novel swings for the fences. On a trip through the mountains and deserts of the American West, semi-estranged siblings Nell and Jonah find themselves pursued by a violent biker gang bent on revenge, an itinerant stranger who sees more than most, and the Thing inside Nell that has decided to hitch a ride. Lyons is an engaging writer who doesn't shy away from his characters' worst traits — both protagonists are, to put it gently, a mess — but you can't help but root for them anyway. The pace is breakneck, the villains deliciously detestable, and the action top-notch — plus you're in for some of the most viscerally memorable scenes of body horror we've read in a long time.
Photo: Publisher
Wilkes's debut novel is a compelling feat of historical horror storytelling about an early-20th-century polar expedition beset by a series of disasters. After their ship sinks, the members of the Randall expedition must try to survive the winter on the frozen plains of Antarctica and hope for rescue the following year. But something is stalking them on the ice — something impossible, something that takes the shapes of their lost friends and loved ones. As the explorers fall one by one, young Jonathan Morgan must try his best to stay alive, even as the spirits of his dead brothers call to him through the snow. Some of the best survival horror we've read in years, with a uniquely menacing adversary at its heart.
May
Photo: Publisher
There's just something irresistible about the gothic. You can hardly walk through a bookstore without tripping over any number of gothic variations, innovations, and pale imitations. What makes The Hacienda a refreshing change of pace is how straightforward it is: It's a classic historical gothic novel, impeccably executed. Cañas isn't reinventing the wheel here; she's just making a really, really good wheel.
The standard gothic elements are all here: a remote estate crumbling into decay, a woman searching for stability in an unstable world, a husband with dark secrets, and, of course, a haunting. But rather than the damp English moors, we find ourselves joining Beatriz at her new husband's estate, Hacienda San Isidro, in the baking Mexican countryside, shortly after the Mexican War of Independence. San Isidro doesn't want Beatriz there, and the longer she stays, the darker and more violent her dreams and visions become. Enter Padre Andrés, a young troubled priest hiding brujo powers. Together they must try to uncover the hatred at the heart of San Isidro or risk becoming its next victims. The Hacienda is romantic, frightening, claustrophobic, and entirely satisfying.
July
Photo: Publisher
Gailey is one of those rare writers who jumps from genre to genre with virtuosic ease, and their first foray into horror is remarkably accomplished. Vera has come home to take care of her dying mother's affairs, which means returning to the house where her infamous father killed his victims. All is not well in the house, of course — a menacing artist is hell-bent on using the family's tragic history as fodder, Vera keeps finding notes in her father's handwriting, then there's the matter of the thing under the bed that won't let her sleep through the night. Just Like Home deploys familiar haunted-house and true-crime tropes so adeptly that even the most seasoned horror reader may miss the narrative sleight of hand at work here until it's too late and the story has turned into something else entirely. The last act of this novel is like nothing we've ever read before.
August
Photo: Publisher
Desperate for funds to pay his young daughter's medical expenses, Mario reluctantly takes a job as a killer for hire — but his daughter doesn't survive, and neither does his marriage, and it turns out it's not so easy to quit such a profession. When he is offered a life-changing amount of money for one last job stealing money from the cartel, Mario accepts against his own better judgment. What follows is a brutal journey across America's southern border and back again, through an underworld in which unearthly powers are used for unsavory purposes (there's a scene involving bolt cutters that haunts our dreams). It's a devastating book about cyclical violence, poverty, and love, one that posits that the true test of life in America may ultimately be deciding which devil you sell your soul to.