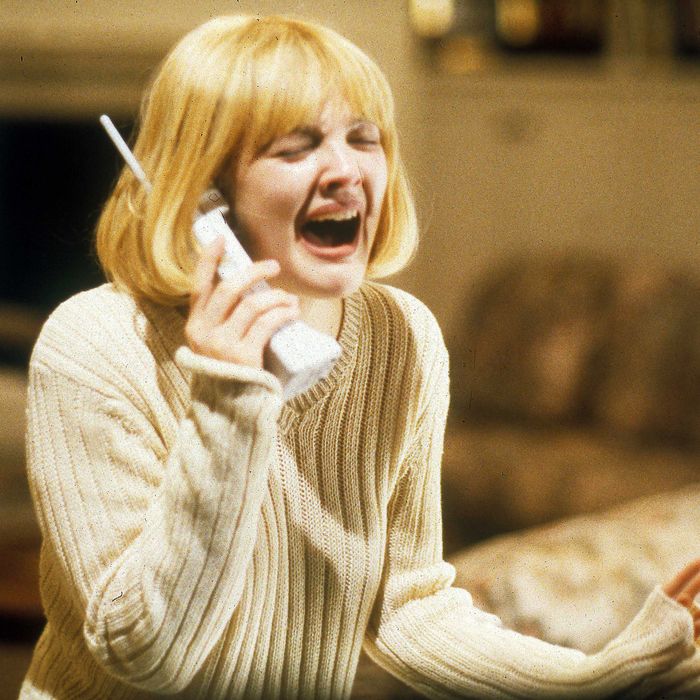 Wes Craven's
Scream
.
Photo: Moviestore/Shutterstock
The gatekeepers at HBO Max have one of the deepest catalogs of any streaming service, thanks in large part to their access to libraries from Warner Brothers, TCM, and Studio Ghibli, along with being the home for everything playing on HBO that month. Naturally, this means they're going to have a diverse array of options in various genres too, and horror is no exception. If you're a fan of things that go bump in the night, there are plenty of choices on HBO Max, although most of them tend to classics from previous generations, with a nice mix of current horror flicks now playing on HBO. If you're looking for indie horror, head over to Shudder or even Netflix, but stick with HBO Max for horror classics like most of the films below.
Altered States
Everyone loves the surreal horror of David Lynch, but it feels like not enough people have appropriately honored the crazy vision of Ken Russell, who adapted the novel of the same name by Paddy Chayefsky into this totally bonkers thriller about the impact of sensory deprivation. This 1980 flick features the film debut of William Hurt, who plays a psychopathologist who experiments with altered states of mind with terrifying results. (It also marks Drew Barrymore's debut, for all the trivia nuts out there.)
The Blob
There's something so timeless about the image of an actual slimy blob crawling through a small town. Horror filmmakers have been remaking the bare bones of The Blob over and over again (and the 1988 version is great too), but it's the original 1958 genre classic that's on HBO Max, known for its icky killer stuff but also because it's the film debut of Steve McQueen, who plays the only guy who can stop an interstellar entity that grows bigger with each life it takes.
Francis Ford Coppola's 1992 epic retelling of the classic novel is one of the most lavish and ambitious Hollywood productions of its era. Gary Oldman gives one of his best performances as the title character, but it's Coppola's incredible craftsmanship and unforgettable design that make this movie an underrated horror classic.
The Brood
This thriller is one of David Cronenberg's best, the story of a controversial psychologist (Oliver Reed) whose treatment of a mentally ill patient and her ex-husband gets, shall we say, intense. A series of brutal murders takes place against this twisted, very Cronenberg backdrop. It was only mildly received in 1979 but has become a cult classic in the four decades since.
Carnival of Soul
One of the best horror movies ever made, Herk Harvey's 1962 film is an early cult classic, a film made for almost no money that became an influential masterpiece. Candace Hilligoss plays a woman who starts having terrifying visions after surviving a car accident. These visions lead her to an abandoned carnival. You can see this film's DNA in hundreds of horror movies to follow, but it's still wonderfully creepy when judged on its own terms.
Is this the biggest horror movie of the 2010s? Not only did it make James Wan into a major director, but it spawned its own multiple title franchise with spin-offs like The Nun and Annabelle. Go back to the beginning and watch the first and arguably still best film in the series, a fantastic haunted house movie that revitalized the genre.
James Wan followed up his smash hit franchise-launcher with a sequel that was arguably even more confident and accomplished. Note the incredible sound design and use of space in this smash hit, a movie that made over $320 million worldwide on positive reviews. Remember horror blockbusters? Yes, we miss them too.
Francis Lawrence directed this 2005 adaptation of the beloved DC comic book Hellblazer and it has grown a more and more loyal following over the years since it was released. Is it perfect? No, but Keanu Reeves gives his all to the story of a man who exorcises demons back to Hell in this noir/horror hybrid. The most exciting news is that a long-anticipated sequel is reportedly in pre-production.
Long before winning awards for Pan's Labyrinth and The Shape of Water, the brilliant Guillermo del Toro made his directorial debut with this 1993 Mexican vampire film. A low-budget stunner, this film instantly announced Del Toro as a major voice in the genre (and started his working relationship with Federico Luppi and Ron Perlman).
Day of the Dead
The brilliant work of George A. Romero is too thinly represented on streaming services, so take the chance to watch this entry, the third film in his Dead series after the breakthrough Night of the Living Dead and masterful Dawn of the Dead. The third film in the series is an examination of how authoritarianism and the military machine might respond to a world-ending crisis. In other words, it's strangely timely in 2020.
Dead Silence
Before he really broke through with The Conjuring movies, James Wan directed this supernatural flick back in 2007 from a script by Leigh Whannell (The Invisible Man). It barely made a dime when it was released, but has developed a loyal following since it came out thanks to its excellent use of space and sound.
Diabolique
Alfred Hitchcock reportedly made Psycho because he wanted to make a movie that scared him as much as Diabolique. Don't you owe it to yourself to see a movie that can boast that trivia? The final act of Diabolique is a beauty, anchored by a wonderful horror movie twist that no one saw coming when it was released but has been copied dozens of times since, including by the masters of the form.
The Frighteners
Before he won all the Oscars for the Lord of the Rings series, Peter Jackson directed his last horror film in this 1996 action flick about a ghost hunter with special powers. Michael J. Fox stars as the man with the power to talk to ghosts, who are friendly enough at first that he can use them to help his business — until he discovers that a malevolent ghost is in the mix and killing people. Clever and visually inventive, this is a better movie than it was given credit for back in 1996.
The Girl With All the Gifts
This is the best zombie movie you probably haven't seen. It's a post-apocalyptic piece about children being held prisoner in an underground bunker because they possibly hold the key to a decimated future. The less you know about this movie the better, just trust that it's a complex, frightening new take on classic ideas that even George A. Romero would love.
Before you argue that this is more comedy than horror, you should take another look at Joe Dante's 1984 mega-hit. It's scarier than you remember. In fact, the reason that Dante's film became such a phenomenon, and the reason it holds up today, is that the super-talented director knew how to balance both the comedy and horror in his story of Gizmo, Stripe, and the rest of the Gremlins. It's a family movie, action movie, comedy, and horror — movie all rolled into one.
When the service launched, only the second film based on the Stephen King masterpiece was on HBO Max, but now they've both returned, which means you can watch the entire Pennywise saga in one sitting. These movies made an absolute fortune, really kickstarting a recent wave of King adaptations.
Adrian Lyne's 1990 horror film has developed an increasingly vocal fan base in the three decades since its release (helped in part by a horrible remake in 2020 that reminded everyone how much better the original was.) Tim Robbins stars as Jacob, a man who starts having increasingly terrifying visions and hallucinations, many of them related to his time in Vietnam. A stunning journey into Hell, it's also an anti-war film that's given weight by Robbins's genuine, in-the-moment performance.
The movie that ushered in the blockbuster era is often viewed more in terms of how it changed the industry than the fact that it's, well, perfect. Seriously, you don't need to change a single frame, line reading, or edit in Jaws, a film that works to raise tension from its very first scene.
Before found footage films were overdone, Daniel Stamm made one of the best in 2010. Patrick Fabian stars as a man who agrees to participate in a documentary about his exorcism business, one that's largely a scam. The problem is that the charlatan stumbles onto a real possession when a farmer reaches out and tells him that his daughter is acting, well, strange.
Joel Schumacher directed this comedy/horror film about two boys who move to the small town of Santa Carla after their parents get divorced and discover their new home has a secret. Wonderfully dated in that '80s style, this clever cult classic features strong work from Jason Patric, Corey Haim, and Kiefer Sutherland too.
Magic
Richard Attenborough directed and William Goldman wrote the most unforgettable horror film about a killer ventriloquist's dummy ever made. Based on Goldman's novel, this is the story of a ventriloquist named Corky (Sir Anthony Hopkins), who finds success with a dummy named Fats, also voiced by Hopkins, but can't tell anyone that the dummy is actually doing more of the controlling in this twisted partnership.
Misery
Three decades ago, Kathy Bates shook the world with her portrayal of toxic fandom — so much so that she rode a wave of support all the way to an Oscar. The great actress plays Annie Wilkes, who ends up kidnapping her favorite author Paul Sheldon (James Caan) in this Rob Reiner classic. Terrifying and unforgettable, it still has great power.
The movie that changed it all. It's really hard to overstate the impact that George A. Romero's classic black-and-white masterpiece had on not just the zombie genre but DIY microbudget horror filmmaking in general. So many people have been chasing that game-changing impact of Night of the Living Dead in the half-century since it came out, but it's the original that's passed the test of time.
One, two, Freddy's coming for you. One of the benefits of having as deep a library as Warner Brothers is that it allows for major marathon viewing like being able to sit back and journey through the entire run of Freddy Krueger (although sometimes titles in this franchise roll through HBO Max's unusual revolving door). Wes Craven's surreal original remains the best of the bunch, but we won't blame you if you want to watch them all.
Tobe Hooper's haunted house story was one of the biggest films of 1982, ushering in a franchise that fans still adore to this day. Hooper and producer Steven Spielberg tapped into a truly terrifying idea by presenting the comfort of suburban America as something built on a history ready for vengeance. Add to that the simple terrors of Poltergeist like a snowy TV screen in the middle of the night or a tapping branch of a tree on a window, and you have a movie that's really held up.
Red Dragon
Sure, it's the weakest of the three films in which Sir Anthony Hopkins played Hannibal Lecter but the Oscar-winning actor still makes it worth a look if you're seeking genre fare on HBO Max. Telling the story of Manhunter again with the original title from the Thomas Harris book, this is the story of Will Graham (Ed Norton), who goes to Lecter for helping in catching a serial killer, played by Ralph Fiennes.
One of the many things that the pandemic robbed movie goers of in 2020 was Spiral, the reboot of the Saw series starring Chris Rock and Samuel L. Jackson. It will come out someday, but experience the franchise that it's rebooting with the entire pre-Jigsaw series on HBO Max, including all seven movies from the original through The Final Chapter. Yes, there were seven of these things.
Scanners
More Cronenberg! One of the best films by Canada's demented genius is this 1981 flicks most remembered for its exploding heads, but it also contains a politically charged narrative that still feels timely. The tagline really says it all here: "There are 4 million people on earth. 237 are Scanners. They have the most terrifying powers ever created…and they are winning."
Sometimes what's available on HBO Max makes little sense. For the first month of the year, only parts 2 and 3 in this 4-part franchise were available, but February 2021 saw the addition of the first and still best movie in the series, a horror film that really changed the landscape. And horror fans everywhere are pumped that the series is being rebooted with a fifth installment in 2022. Maybe part four will finally be on HBO Max by then.
Seven
Do you want to know what's in the box again? If you somehow have never seen David Fincher's 1995 masterpiece, this is the story of two detectives (Brad Pitt and Morgan Freeman) who hunt a serial killer basing his crimes on the seven deadly sins. It shook the movie world when it was released, and it's still influencing thrillers released twenty-five years later.
The true genius of Edgar Wright's 2004 horror-comedy is that it takes both sides of its clever genre coin completely seriously. Yes, the story of a zombie attack on a small British town is laugh-out-loud hysterical, but this is also a legitimately great horror movie at the same time. It kicked off Wright's Cornetto trilogy, followed by the also-fantastic Hot Fuzz (also on HBO Max) and The World's End.
Forget what Stephen King himself has said about this Stanley Kubrick movie — it will likely always be the best adaptation of the literary legend's work. Kubrick made the story his own and then allowed Jack Nicholson to give one of the most unforgettable performances in horror history. The Shining isn't just an essential film for horror fans, it's essential for everybody.
Sisters
One of Brian De Palma'w early breakthrough films was this Hitchcock homage about two separated conjoined twin sisters, one of whom is suspected of murder. Inspired by a true story, this stunner stars Margot Kidder, Jennifer Salt, and Charles Durning, but De Palma is the real star here, showing off his visual flair and style in a way that would reshape the horror/thriller genre in the '70s and '80s.