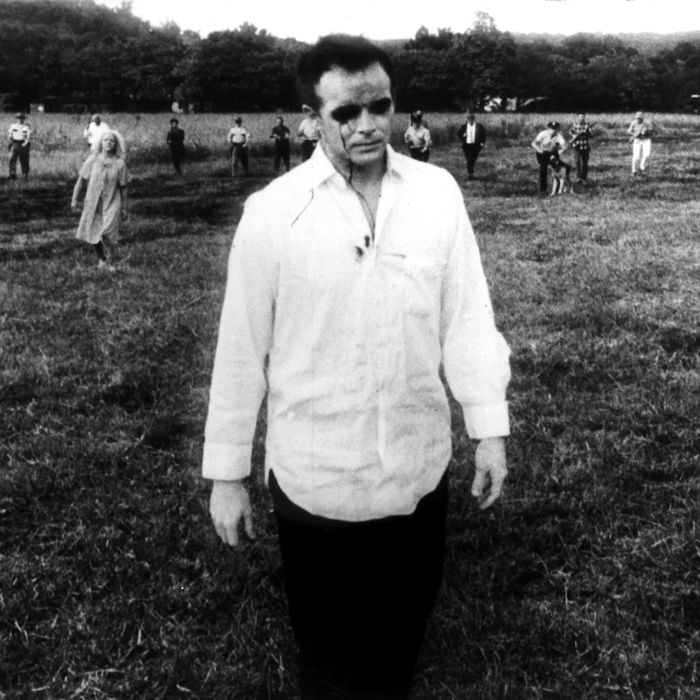 Night of the Living Dead
.
Photo: Image Ten/Kobal/Shutterstock
This article is updated frequently as titles leave and enter HBO Max. *New additions are indicated with an asterisk.
Want a good scare tonight? Check out into the haunted and stalked section of HBO Max, which features a dense catalog of genre films from all eras. From legit classics in the Criterion section through the hits of the '80s and '90s to the theatrical blockbusters of today, HBO Max knows a thing or two about horror. Their selection is so rich that we will be rotating out entries in this horror guide regularly, so please check back often…if you dare.
Year: 2000
Runtime: 1h 41m
Director: Mary Harron
Mary Harron's adaptation of the Bret Easton Ellis novel was instantly controversial but also instantly iconic. Christian Bale stepped into the role of the serial killer that had caused an uproar in the literary world and redefined the way we see psychopaths in cinema. His performance has been mimicked so many times just in the two decades since this unforgettable film was released.
Carnival of Souls
Year: 1962
Runtime: 1h 18m
Director: Herk Harvey
One of the best horror movies ever made, Herk Harvey's film is an early cult classic, made for almost no money and became an influential masterpiece. Candace Hilligoss plays a woman who starts having terrifying visions after surviving a car accident. These visions lead her to an abandoned carnival. You can see this film's DNA in hundreds of horror movies to follow, but it's still wonderfully creepy when judged on its own terms.
Year: 2013
Runtime: 1h 52m
Director: James Wan
One of the biggest horror films of the 2010s introduced the world to Ed and Lorraine Warren (Patrick Wilson & Vera Farmiga), the real investigators of paranormal occurrences, and it launched an entire industry of horror movies. The first film is still the best, anchored by Lili Taylor's great performance as a woman whose ordinary life was turned upside down by a ghost in her farmhouse in the early '70s. Note: The Conjuring 2 and The Conjuring 3 are also on HBO Max.
Dead Ringers
Year: 1988
Runtime: 1h 55m
Director: David Cronenberg
David Cronenberg co-wrote and directed the terrifying story of identical twin gynecologists played unforgettably by Jeremy Irons, giving one of the best performances of his career. Irons plays Elliot and Beverly Mantle, infertility experts with a twisted practice of seducing clients and passing them off to one another. And then it gets really weird.
Year: 2001
Runtime: 1h 47m
Director: Guillermo del Toro
Most people have seen Pan's Labyrinth, but it has a spiritual predecessor in the 2001 gothic horror from the masterful Guillermo del Toro that's nearly as good. Set in Spain in 1939, at the end of the Spanish Civil War, it's a story of a haunted orphanage that displays Del Toro's stunning visual language and mastery of tone.
* Doctor Sleep
Year: 2019
Runtime: 2h 31m
Director: Mike Flanagan
Almost four decades after Stanley Kubrick's The Shining, Mike Flanagan (The Haunting of Hill House) adapted the sequel by Stephen King with what felt like mixed results. However, in just the few years since this movie came out, it feels like the cult following has grown. It's a stylish drama that kind of falls apart in the final act, but has enough good stuff before that to recommend a look.
Year: 1973
Runtime: 2h 1m
Director: William Friedkin
It's hard to overstate the impact that William Friedkin's adaptation of the novel by William Peter Blatty had on the movie world. Not only was this the rare horror film to get a Best Picture nomination, but it shattered expectations about a genre too often dismissed as secondary to "Serious Drama." Using fears embedded in cultures since the beginning of time, Friedkin made a movie that people would never forget.
The Fly
Year: 1986
Runtime: 1h 35m
Director: David Cronenberg
David Cronenberg delivered one of the best remakes of all time when he tackled the classic tale of a scientist who slowly becomes a fly after an experiment goes very wrong. Eschewing cheese for true body horror, Cronenberg pulled arguably the best performance of Jeff Goldblum's career as the poor guy at the center of this waking nightmare. It's gruesome and timeless.
Invasion of the Body Snatchers
Year: 1978
Runtime: 1h 55m
Director: Philip Kaufman
There's a reason that Hollywood keeps returning to Jack Finney's novel The Body Snatchers—it strikes at a common fear that our neighbors and loved ones today aren't who they were yesterday. The best film version of this tale is the '70s one with Donald Sutherland, Brooke Adams, Veronica Cartwright, Jeff Goldblum, and Leonard Nimoy. A riveting unpacking of '70s paranoia, Invasion of the Body Snatchers is a truly terrifying movie.
Year: 2017
Runtime: 2h 15m
Director: Andrés Muschietti
When the service launched, only the second film based on the Stephen King masterpiece was on HBO Max, but now they've both returned, which means you can watch the entire Pennywise saga in one sitting. These movies made an absolute fortune, really kickstarting a recent wave of King adaptations.
* Misery
Year: 1990
Runtime: 1h 47m
Director: Rob Reiner
Kathy Bates gave one of the most memorable horror performances of all time as Annie Wilkes, the #1 fan of a writer named Paul Sheldon (James Caan). When her favorite horror scribe gets into an accident near her home, Wilkes ends up kidnapping Sheldon, and the rest is movie history. Bates won a well-deserved Oscar for her work in a film that's held up remarkably well.
Year: 1968
Runtime: 1h 37m
Director: George A. Romero
The movie that changed it all. It's really hard to overstate the impact that George A. Romero's classic black-and-white masterpiece had on not just the zombie genre but DIY microbudget horror filmmaking in general. So many people have been chasing that game-changing impact of Night of the Living Dead in the half-century since it came out, but it's the original that's passed the test of time.
Year: 2021
Runtime: 2h 30m
Director: Guillermo del Toro
Guillermo del Toro adapted the acclaimed Tyrone Power noir and gave it his unique, daring style, and it's already on HBO Max. Take the chance to watch one of 2021's Best Picture nominees while you can! Step right up! Bradley Cooper stars as a carny who turns into a different level of grifter in Del Toro's stylish and mesmerizing descent into madness.
Year: 2013
Runtime: 1h 25m
Director: James DeMonaco
Forget most of the sequels and go back to the original film in this surprisingly sturdy franchise in the 2013 movie by James DeMonaco. Ethan Hawke and Lena Headey play the parents of a wealthy family who find themselves targets on a night when all crime is legal. A massive hit, it's an effective home invasion thriller with strong political subtext.
Poltergeist
Year: 1982
Runtime: 1h 54m
Director: Tobe Hooper
Tobe Hooper's haunted house story was one of the biggest films of 1982, ushering in a franchise that fans still adore to this day. Hooper and producer Steven Spielberg tapped into a truly terrifying idea by presenting the comfort of suburban America as something built on a history ready for vengeance. Add to that the simple terrors of Poltergeist like a snowy TV screen in the middle of the night or a tapping branch of a tree on a window, and you have a movie that's really held up.
*Seven
Year: 1995
Runtime: 2h 6m
Director: David Fincher
Some movies are in these guides to highlight movies that readers may not have considered watching, but pretty much everyone with HBO Max has seen David Fincher's 1995 masterpiece already. The question is if you want to know what's in the box again? If you somehow have never seen it, this is the story of two detectives (Brad Pitt & Morgan Freeman) who hunt a serial killer basing his crimes on the seven deadly sins. It shook the movie world when it was released and it's still influencing thrillers released a quarter-century later.
Year: 1980
Runtime: 2h 23m
Director: Stanley Kubrick
Forget what Stephen King himself has said about this Kubrick classic — it will likely always be the best adaptation of the literary legend's work. Kubrick made the story his own and then allowed Jack Nicholson to give one of the most unforgettable performances in horror history. The Shining isn't just an essential film for horror fans, it's essential for everybody since it transcended genre to become a cultural phenomenon.
Vampyr
Year: 1932
Runtime: 1h 13m
Director: Carl Theodor Dreyer
Can black-and-white horror films from nearly a century ago still have power for modern audiences watching HBO Max on their tablets? We'll see. Carl Theodor Dreyer's 1932 horror contains some of the most striking imagery of its era in the story of a student of the occult who travels to a village in search of a vampire. He regrets it. Vampyr is nearly silent, but it contains visuals that you'll never forget.
*We're All Going to the World's Fair
Year: 2022
Runtime: 1h 25m
Director: Jane Schoenbrun
Anna Cobb gives a fantastic breakthrough performance as Casey, an ordinary teenage girl who spends more time online than she does outside. Casey becomes more entrenched in an online game until the line between reality and fiction starts to blur. Schoenbrun's film is a stunning debut, a movie that really gets under your skin.
The Witch
Year: 2016
Runtime: 1h 32m
Director: Robert Eggers
The directorial debut of the future director of The Lighthouse and The Northman was an instant hit for A24, a film that felt like nothing else on the market. Anya Taylor-Joy made her film debut in this tale set in the 1630s as a Puritan family faces an evil entity in the woods near their home. With stunning sound design and unforgettable visuals, it's one of the best horror movies of its era.
If you subscribe to a service through our links, Vulture may earn an affiliate commission.