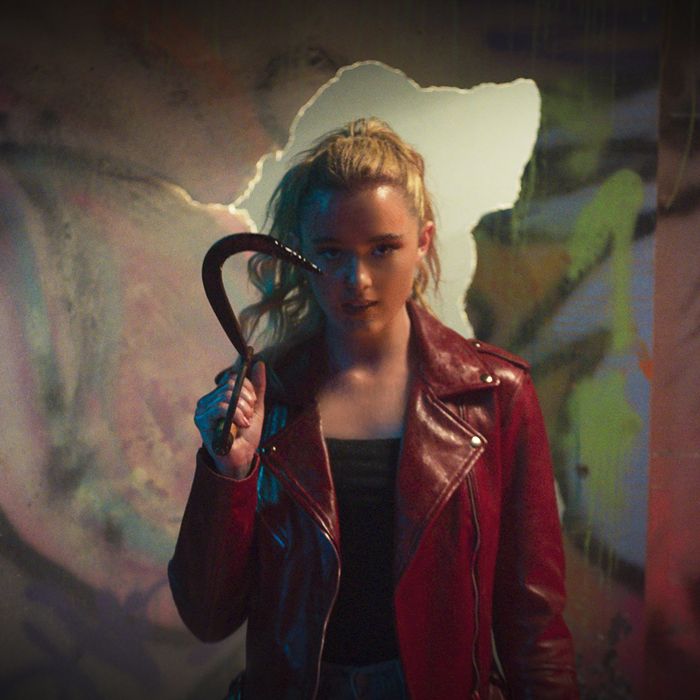 Freaky
.
Photo: Universal Pictures
This article is updated frequently as titles leave and enter HBO Max. *New additions are indicated with an asterisk.
The gatekeepers at HBO Max have one of the deepest catalogs of any streaming service, thanks in large part to their access to libraries from Warner Brothers, TCM, and Studio Ghibli, along with being the home for everything playing on HBO that month. Naturally, this means they're going to have a diverse array of options in various genres too, and horror is no exception. If you're a fan of things that go bump in the night, there are plenty of choices on HBO Max, although most of them tend to classics from previous generations, with a nice mix of current horror flicks now playing on HBO. If you're looking for indie horror, head over to Shudder or even Netflix, but stick with HBO Max for horror classics like most of the films below.
Danny Boyle directed this unexpected critical and commercial darling, a film that influenced dozens of inferior works in the two decades since its release. It's the story of a man (Cillian Murphy) who wakes up to discover that the world around him is gone. Society has disappeared because of a highly contagious virus. Yes, it will almost certainly play differently after the events of 2020 than it ever has before. The impressive sequel, 28 Weeks Later, is also on HBO Max.
Altered States
Everyone loves the surreal horror of David Lynch, but it feels like not enough people have appropriately honored the crazy vision of Ken Russell, who adapted the novel of the same name by Paddy Chayefsky into this totally bonkers thriller about the impact of sensory deprivation. This 1980 flick features the film debut of William Hurt, who plays a psychopathologist who experiments with altered states of mind with terrifying results. (It also marks Drew Barrymore's debut, for all the trivia nuts out there.)
Before anyone really knew that there would be such a thing as the Conjuring Universe, with multiple spin-offs creating mini-franchises of their own, there was the doll. That damn creepy doll from the first James Wan movie launched her own franchise with a mediocre prequel in 2014 that was followed up by this vastly superior sequel/prequel in 2017. Depicting the origins of Annabelle, it's one of the best modern horror sequels.
The Blob
There's something so timeless about the image of an actual slimy blob crawling through a small town. Horror filmmakers have been remaking the bare bones of The Blob over and over again (and the 1988 version is great too), but it's the original 1958 genre classic that's on HBO Max, known for its icky killer stuff but also because it's the film debut of Steve McQueen, who plays the only guy who can stop an interstellar entity that grows bigger with each life it takes.
The Brood
This thriller is one of David Cronenberg's best, the story of a controversial psychologist (Oliver Reed) whose treatment of a mentally ill patient and her ex-husband gets, shall we say, intense. A series of brutal murders takes place against this twisted, very Cronenberg backdrop. It was only mildly received in 1979 but has become a cult classic in the four decades since.
Carnival of Souls
One of the best horror movies ever made, Herk Harvey's 1962 film is an early cult classic, a film made for almost no money that became an influential masterpiece. Candace Hilligoss plays a woman who starts having terrifying visions after surviving a car accident. These visions lead her to an abandoned carnival. You can see this film's DNA in hundreds of horror movies to follow, but it's still wonderfully creepy when judged on its own terms.
Is this the biggest horror movie of the 2010s? Not only did it make James Wan into a major director, but it spawned its own multiple title franchise with spin-offs like The Nun and Annabelle. Go back to the beginning and watch the first and arguably still best film in the series, a fantastic haunted house movie that revitalized the genre.
Francis Lawrence directed this 2005 adaptation of the beloved DC comic book Hellblazer and it has grown a more and more loyal following over the years since it was released. Is it perfect? No, but Keanu Reeves gives his all to the story of a man who exorcises demons back to Hell in this noir/horror hybrid. The most exciting news is that a long-anticipated sequel is reportedly in pre-production.
Long before winning awards for Pan's Labyrinth and The Shape of Water, the brilliant Guillermo del Toro made his directorial debut with this 1993 Mexican vampire film. A low-budget stunner, this film instantly announced Del Toro as a major voice in the genre (and started his working relationship with Federico Luppi and Ron Perlman).
Diabolique
Alfred Hitchcock reportedly made Psycho because he wanted to make a movie that scared him as much as Diabolique. Don't you owe it to yourself to see a movie that can boast that trivia? The final act of Diabolique is a beauty, anchored by a wonderful horror movie twist that no one saw coming when it was released but has been copied dozens of times since, including by the masters of the form.
20th Century Fox had absolutely no idea what to do with David Prior's adaptation of the graphic novel of the same name, and so quietly shuttled it into theaters and then VOD. The funny thing is that this ambitious study of an ex-cop (James Badge Dale) who investigates a missing girl has already started to develop a cult following of its own. It's a smart, unique piece of work that is only going to get more and more popular.
Paul W.S. Anderson's 1997 sci-fi/horror movie didn't exactly set the world on fire when it was released — it didn't even make back half its budget — but it's become a cult hit over the years with some very loyal defenders. Laurence Fishburne and Sam Neill star in the story of a crew of astronauts sent to figure what happened on a missing spaceship. It's there that they discover, well, truly awful things. Merging the grandeur of space movies with something that's more like a haunted house tale, this is Anderson's best film, one that has influenced many imitators in the last two decades.
When Sam Raimi and Bruce Campbell went into the woods to make a cheap horror film, they couldn't have fathomed the influence they would have on the genre. All three films in the original series are on HBO Max and they really serve different purposes. The first is a great example of DIY filmmaking; the third is an amazing horror/comedy. The middle one? Only one of the best horror films ever made.
Stephen King is everywhere in 2021, as each streaming service has something new from the most popular writer of his generation. Why not go back to one of his first hits, the 1984 adaptation of his 1980 novel of the same name, a movie that helped make Drew Barrymore a star? The legend plays a young girl who, well, can start fires with her mind. Some of it is dated, but it might fit for those looking for a bit of nostalgia with their horror.
Michael Landon (Happy Death Day) co-wrote and directed this bloody twist on Freaky Friday, the story of a teenager (Kathryn Newton) who unintentionally switches bodies with a serial killer, played memorably by Vince Vaughn. It's not perfect, but Landon is one of the few modern horror filmmakers who seems to be trying to have fun with his projects, and Newton and Vaughn are having a hell of a good time.
The Frighteners
Before he won all the Oscars for the Lord of the Rings series, Peter Jackson directed his last horror film in this 1996 action flick about a ghost hunter with special powers. Michael J. Fox stars as the man with the power to talk to ghosts, who are friendly enough at first that he can use them to help his business — until he discovers that a malevolent ghost is in the mix and killing people. Clever and visually inventive, this is a better movie than it was given credit for back in 1996.
Before you argue that this is more comedy than horror, you should take another look at Joe Dante's 1984 mega-hit. It's scarier than you remember. In fact, the reason that Dante's film became such a phenomenon, and the reason it holds up today, is that the super-talented director knew how to balance both the comedy and horror in his story of Gizmo, Stripe, and the rest of the Gremlins. It's a family movie, action movie, comedy, and horror — movie all rolled into one.
One of the best horror films of 2020 has returned to HBO Max in the form of Leigh Whannell's brilliant reimagining of the H.G. Wells classic. Taking the story of a man who figures out how to become invisible and turning it into a story of possessive, toxic masculinity resulted in an instant classic, a status helped greatly by another incredible performance from Elisabeth Moss.
When the service launched, only the second film based on the Stephen King masterpiece was on HBO Max, but now they've both returned, which means you can watch the entire Pennywise saga in one sitting. These movies made an absolute fortune, really kickstarting a recent wave of King adaptations.
*Lady in White
Here's the hidden gem for this list, a 1988 ghost story staring Lukas Haas, Len Cariou, and Katherine Helmond. It's the story of a boy in 1962 who meets the ghost of a girl who was murdered in his school's coat closet. Can he figure out who killed her? A clear influence on The Sixth Sense, this is an effective, old-fashioned ghost story. One wishes they still made more movies like it.
Magic
Richard Attenborough directed and William Goldman wrote the most unforgettable horror film about a killer ventriloquist's dummy ever made. Based on Goldman's novel, this is the story of a ventriloquist named Corky (Sir Anthony Hopkins), who finds success with a dummy named Fats, also voiced by Hopkins, but can't tell anyone that the dummy is actually doing more of the controlling in this twisted partnership.
It's been three decades since Kathy Bates shook the world with her portrayal of toxic fandom, a role that took her all the way to an Oscar. The great actress plays Annie Wilkes, who ends up kidnapping her favorite author Paul Sheldon (James Caan) in this Rob Reiner classic. Terrifying and unforgettable, it still has great power.
The movie that changed it all. It's really hard to overstate the impact that George A. Romero's classic black-and-white masterpiece had on not just the zombie genre but DIY microbudget horror filmmaking in general. So many people have been chasing that game-changing impact of Night of the Living Dead in the half-century since it came out, but it's the original that's passed the test of time.
It's rare for horror sequels to surpass the original as much as this 2016 flick does compared to 2014's Ouija. Why is it so much better? Well, it helps to have The Haunting of Hill House mastermind Mike Flanagan in the director's chair. He brings so much style and tension to this origin story, one of the better studio genre flicks of its generation.
Tobe Hooper's haunted house story was one of the biggest films of 1982, ushering in a franchise that fans still adore to this day. Hooper and producer Steven Spielberg tapped into a truly terrifying idea by presenting the comfort of suburban America as something built on a history ready for vengeance. Add to that the simple terrors of Poltergeist like a snowy TV screen in the middle of the night or a tapping branch of a tree on a window, and you have a movie that's really held up.
Forget most of the sequels and go back to the original film in this surprisingly sturdy franchise in the 2013 movie by James DeMonaco. Ethan Hawke and Lena Headey play the parents of a wealthy family who find themselves targets on a night when all crime is legal. A massive hit, it's an effective home invasion thriller with strong political subtext.
Red Dragon
Sure, it's the weakest of the three films in which Sir Anthony Hopkins played Hannibal Lecter but the Oscar-winning actor still makes it worth a look if you're seeking genre fare on HBO Max. Telling the story of Manhunter again with the original title from the Thomas Harris book, this is the story of Will Graham (Ed Norton), who goes to Lecter for helping in catching a serial killer, played by Ralph Fiennes.
The Return of the Living Dead
The great Dan O'Bannon directed this gore fest from 1985 that had no connection to the George A. Romero movies other than its love for the undead. It's more of a comedy than a horror film, a ridiculous affair about zombies who take over a small town over the Fourth of July weekend. Relatively dismissed at the time, it's gained in appreciation over the years, in part because of its influence — it was the first film to feature zombies running and speaking.
Scanners
More Cronenberg! One of the best films by Canada's demented genius is this 1981 flicks most remembered for its exploding heads, but it also contains a politically charged narrative that still feels timely. The tagline really says it all here: "There are 4 million people on earth. 237 are Scanners. They have the most terrifying powers ever created…and they are winning."
Seven
Do you want to know what's in the box again? If you somehow have never seen David Fincher's 1995 masterpiece, this is the story of two detectives (Brad Pitt and Morgan Freeman) who hunt a serial killer basing his crimes on the seven deadly sins. It shook the movie world when it was released, and it's still influencing thrillers released twenty-five years later.
Forget what Stephen King himself has said about this Stanley Kubrick movie — it will likely always be the best adaptation of the literary legend's work. Kubrick made the story his own and then allowed Jack Nicholson to give one of the most unforgettable performances in horror history. The Shining isn't just an essential film for horror fans, it's essential for everybody.
Sisters
One of Brian De Palma'w early breakthrough films was this Hitchcock homage about two separated conjoined twin sisters, one of whom is suspected of murder. Inspired by a true story, this stunner stars Margot Kidder, Jennifer Salt, and Charles Durning, but De Palma is the real star here, showing off his visual flair and style in a way that would reshape the horror/thriller genre in the '70s and '80s.
The great Park Chan-wook (Oldboy, The Handmaiden) made his English-language debut with this tense and underrated 2013 thriller starring Nicole Kidman, Mia Wasikowska, and Matthew Goode. Heavily influenced by Hitchcock's Shadow of a Doubt, it's the story of an 18-year-old girl who ends up living with her unstable mother and discovers that her uncle Richard has a few secrets. The script isn't exactly airtight, but Park brings his typical impeccable craft and style.
This 2007 anthology film is proof that the horror community will make an under-promoted movie into a genre classic if they like it enough. This film was barely release, but it's become such a hit with fans that it has merchandise and even a section at Universal Orlando Resort's Halloween Horror Nights. It's a smart, wicked little anthology film, and it doesn't have to be Halloween for you to watch it.