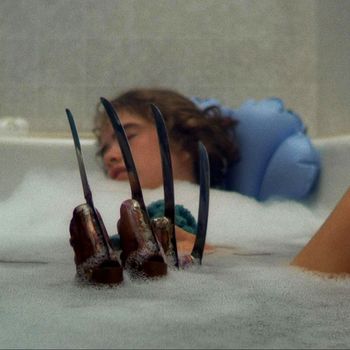 A Nightmare on Elm Street.
Photo: Paramount Pictures
This article is updated frequently as titles leave and enter Max. *New additions are indicated with an asterisk.
Want a good scare tonight? Check out into the haunted and stalked section of Max (the streaming service formerly known as HBO Max), which features a dense catalog of genre films from all eras. From legit classics in the Criterion section through the hits of the '80s and '90s to the theatrical blockbusters of today, Max knows a thing or two about horror. Their selection is so rich that we will be rotating out entries in this horror guide regularly, so please check back often…if you dare.
Year: 2022
Runtime: 1h 42m
Director: Zach Cregger
Georgina Marshall plays a woman who discovers that her AirBnB has been double-booked when she arrives and finds someone already staying there—the excellent Bill Skarsgard. Despite her instincts, she decides to stay too, and then things go very sideways, but not in the way you expect them to. A truly odd movie, Barbarian was a massive hit, making ten times its budget and producing roughly a million WTF TikToks.
The Cabin in the Woods
Year: 2012
Runtime: 1h 35m
Director: Drew Goddard
Drew Goddard's dissection of the entire horror genre is so great because it's also a wonderful scary movie on its own terms. With a great cast that includes a pre-huge Chris Hemsworth, Richard Jenkins, and Bradley Whitford, The Cabin in the Woods is endlessly rewatchable thanks in large part to a razor-sharp script from Goddard and Joss Whedon, bringing some of the wit that we saw in their collaborations together on Buffy the Vampire Slayer and Angel to the big screen.
Carnival of Souls
Year: 1962
Runtime: 1h 18m
Director: Herk Harvey
One of the best horror movies ever made, Herk Harvey's film is an early cult classic, made for almost no money and became an influential masterpiece. Candace Hilligoss plays a woman who starts having terrifying visions after surviving a car accident. These visions lead her to an abandoned carnival. You can see this film's DNA in hundreds of horror movies to follow, but it's still wonderfully creepy when judged on its own terms.
* Carrie
Year: 1976
Runtime: 1h 39m
Director: Brian De Palma
Long before Stephen King was an entire industry, he was the guy who wrote Carrie, a 1974 novel about a bullied teen girl who unleashes hell on her classmates. Every once in a while, there's a perfect combination of source material and creatives, and that's what happened when King, De Palma, and Sissy Spacek combined forces here. Horror movie history would be made. Note: The underrated Chloe Grace Moretz remake is also on Max.
Child's Play
Year: 1988
Runtime: 1h 27m
Director: Tom Holland
Who could have guessed the industry that would spawn from the 1988 story of a boy who ends up playing with a doll that's been cursed by the soul of a serial killer? Unforgettably voiced by Brad Dourif, Chucky came at the end of the era of horror icons like Freddy, Jason, and Michael Myers, carving out his own loyal fandom, one that's so strong that Chucky products, like a new TV show are still being produced over three decades later.
The Descent
Year: 2005
Runtime: 1h 39m 
Director: Neil Marshall
The claustrophobic need not apply to Neil Marshall's breakthrough film, a movie wherein if the tight spaces won't kill you then the monsters will. This smash hit tells the tale of six women who navigate an increasingly dangerous cave system only to find that there are things living underground that aren't taught in most Biology classes. It's one of the most popular and influential horror films of its era. (Note: The inferior sequel is also on Max.)
Evil Dead Rise
Year: 2023
Runtime: 1h 37m
Director: Lee Cronin
A hit in theaters in April, Warner Brothers has already shuffled their horror smash over to Max, free for subscribers. Rebooting the Evil Dead series for the second time (after the successful 2013 iteration), this one moves the action to an L.A. apartment building where a single mother (the phenomenal Alyssa Sutherland) gets taken over by the same evil force that once terrorized poor Ash. Twisted and clever, this is a gruesome horror flick that was so successful that it feels like a sixth film in the series won't take a decade to rise from the dead.
The Fly
Year: 1986
Runtime: 1h 35m
Director: David Cronenberg
David Cronenberg delivered one of the best remakes of all time when he tackled the classic tale of a scientist who slowly becomes a fly after an experiment goes very wrong. Eschewing cheese for true body horror, Cronenberg pulled arguably the best performance of Jeff Goldblum's career as the poor guy at the center of this waking nightmare. It's gruesome and timeless.
* Friday the 13th
Year: 1980
Runtime: 1h 36m
Director: Sean Cunningham
It's hard to overstate how much Friday the 13th changed the landscape, really redefining the slasher genre not only in this film but the many sequels that would follow. As any horror fan will tell you, the infamous Jason Voorhees wasn't even the killer in the first movie! Who was? Watch it and find out. (And then check out almost all the sequels, also on Max.)
Year: 2018
Runtime: 2h 7m
Director: Ari Aster
Toni Collette gives a fearless performance in Ari Aster's debut feature, a movie that traumatizes new viewers every day. The Oscar nominee plays a woman whose life is turned upside down after the death of her mother, sending everyone into a terrifying tailspin. What starts as a family drama becomes a waking nightmare in Aster's unforgettable vision.
The Host
Year: 2007
Runtime: 2h
Director: Bong Joon-ho
The success of Parasite brought an entirely new, larger audience to the work of Bong Joon-ho, and they probably loved this riveting genre piece about a giant monster living in the Han River. Parasite star Song Kang-ho plays the patriarch of a family that's forced into action when the creature kidnaps his daughter. When it was released, it became the highest-grossing South Korean film of all time. It rules.
Invasion of the Body Snatchers
Year: 1978
Runtime: 1h 55m
Director: Philip Kaufman
There's a reason that Hollywood keeps returning to Jack Finney's novel The Body Snatchers—it strikes at a common fear that our neighbors and loved ones today aren't who they were yesterday. The best film version of this tale is the '70s one with Donald Sutherland, Brooke Adams, Veronica Cartwright, Jeff Goldblum, and Leonard Nimoy. A riveting unpacking of '70s paranoia, Invasion of the Body Snatchers is a truly terrifying movie.
Year: 2022
Runtime: 1h 47m
Director: Mark Mylod
A regular director on Succession, Mylod made his directorial debut with this black comedy/horror film about a chef's tasting to remember. Ralph Fiennes bites into a juicy role as a celebrity chef who has decided that the meal he's cooking for his wealthy guests might be their last. Anya Taylor-Joy, Nicholas Hoult, Hong Chau, and Janet McTeer star in the film as well.
Year: 1968
Runtime: 1h 37m
Director: George A. Romero
The movie that changed it all. It's really hard to overstate the impact that George A. Romero's classic black-and-white masterpiece had on not just the zombie genre but DIY microbudget horror filmmaking in general. So many people have been chasing that game-changing impact of Night of the Living Dead in the half-century since it came out, but it's the original that's passed the test of time.
A Nightmare on Elm Street
Year: 1984
Runtime: 1h 31m
Director: Wes Craven
The world of horror changed forever with the introduction of Freddy Krueger, a terrifying variation on the boogeyman in the form of a creature who could kill you in your dreams. The first movie is an unqualified genre masterpiece. The series would never quite match it but Craven's return to the series in New Nightmare is also on Max, and also worth a look. (Note: So are most of the sequels and even the remake.)
Orphan
Year: 2009
Runtime: 2h 2m
Director: Jaume Collet-Serra
Vera Farmiga and Peter Sarsgaard play a grieving couple who adopt a child after losing one of their own. As the tagline says, "There's something wrong with Esther." More than just a traditional "bad seed" movie, Orphan is a clever thriller with great performances all around. It's darkly humorous too, constantly taking risks that other filmmakers would have avoided. It's held up remarkably well.
Piranha
Year: 2010
Runtime: 1h 28m
Director: Alexandre Aja
Sadly, it's not 3D on Max, but you can use your imagination. Alexandre Aja helmed his loose remake of the B-movie classic about a school of piranha that causes bloody chaos at a waterside resort. Elisabeth Shue and Adam Scott totally understand that this movie needs to be as over-the-top as possible, and they play along wonderfully with the tone of this entertaining remake. (Note: Piranha 3DD is also streaming on Max.)
Poltergeist
Year: 1982
Runtime: 1h 54m
Director: Tobe Hooper
Tobe Hooper's haunted house story was one of the biggest films of 1982, ushering in a franchise that fans still adore to this day. Hooper and producer Steven Spielberg tapped into a truly terrifying idea by presenting the comfort of suburban America as something built on a history ready for vengeance. Add to that the simple terrors of Poltergeist like a snowy TV screen in the middle of the night or a tapping branch of a tree on a window, and you have a movie that's really held up.
The Shining
Year: 1980
Runtime: 2h 23m
Director: Stanley Kubrick
The most popular adaptation of a Stephen King novel is also the one the writer notoriously hated. Radically changing key elements, including the ending, Stanley Kubrick made the movie his own and made movie history. One of the most iconic horror films ever made, this one has lost none of its power in the four-decades-plus since it was released. It's still a terrifying study in claustrophobic horror with one of Jack Nicholson's most unforgettable performances.
The Silence of the Lambs
Year: 1991
Runtime: 1h 58m
Director: Jonathan Demme
Movies don't get much better than Jonathan Demme's adaptation of Thomas Harris' chilling thriller about Clarice Starling and Dr. Hannibal Lecter. With career-defining performances from Jodie Foster and Sir Anthony Hopkins, this movie still absolutely slays a quarter-century after it was released. It's fascinating to see its DNA in so many modern genre films. Nothing about it is dated, which isn't something that can be said about many films that are three decades old.
Year: 2014
Runtime: 1h 48m
Director: Jonathan Glazer
A trippy, sci-fi masterpiece, this flick stars Scarlett Johansson as an alien being exploring the world around her and, well, doing some terrifying things to the men she comes into contact with. Although that only scratches the surface of why this is a special movie, a terrifying tone piece that has more in common with Twin Peaks than Species. It's unforgettable and brilliant, one of the best films of the '10s.
Vampyr
Year: 1932
Runtime: 1h 13m
Director: Carl Theodor Dreyer
Can black-and-white horror films from nearly a century ago still have power for modern audiences watching Max on their tablets? We'll see. Carl Theodor Dreyer's 1932 horror contains some of the most striking imagery of its era in the story of a student of the occult who travels to a village in search of a vampire. He regrets it. Vampyr is nearly silent, but it contains visuals that you'll never forget.
The Witch
Year: 2016
Runtime: 1h 32m
Director: Robert Eggers
The directorial debut of the future director of The Lighthouse and The Northman was an instant hit for A24, a film that felt like nothing else on the market. Anya Taylor-Joy made her film debut in this tale set in the 1630s as a Puritan family faces an evil entity in the woods near their home. With stunning sound design and unforgettable visuals, it's one of the best horror movies of its era.
If you subscribe to a service through our links, Vulture may earn an affiliate commission.