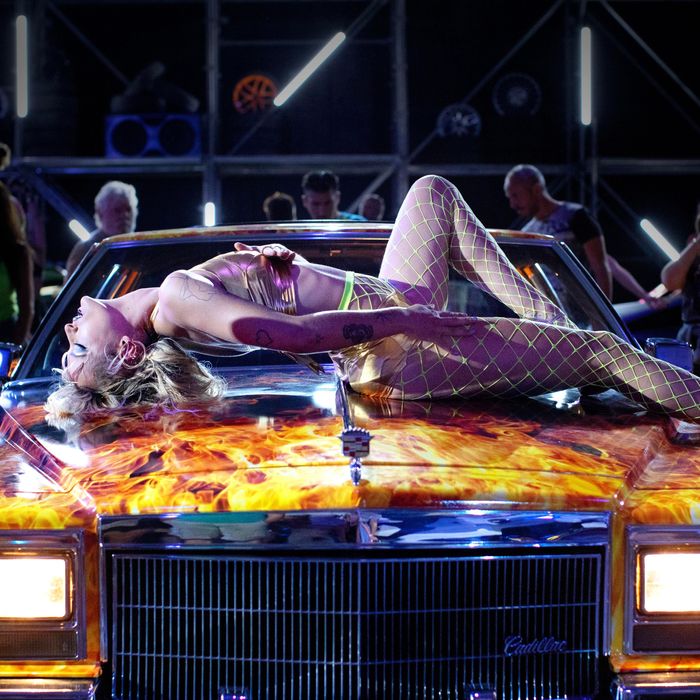 This post is updated frequently as movies leave and enter Hulu. *New additions are indicated with an asterisk. 
Isn't the world scary enough nowadays? Of course not! Everyone needs a good break from reality now and then, and horror can be the best way to do that. And Hulu has a remarkably deep catalog of horror films, including massive hits, indie darlings, and even a few originals. These are the best chillers on Hulu right now, updated monthly.
Year: 2010
Runtime: 1h 48m
Director: Darren Aronofsky
Natalie Portman won her only Oscar for her fearless performance in Aronofsky's study of commitment and madness. She plays a ballerina who will go to whatever lengths necessary to nail a new production of Swan Lake, even as she fends off the competition of a new dancer, played by Mila Kunis. Unforgettable and terrifying, it's a true horror film that captures how dedication can be pushed far enough to tear apart reality.
Censor
Year: 2021
Runtime: 1h 24m
Director: Prano Bailey-Bond
Isn't it cool when you can learn something while you watch a horror movie? Viewers may not know that the British Board of Film Classification and the Video Nasty wave of censorship were real things, into which Bailey-Bond tosses the character of Enid, a woman who goes down a rabbit hole of madness as she becomes more attached to her job.
Culture Shock
Year: 2019
Runtime: 1h 31m
Director: Gigi Saul Guerrero
The best film in the Into the Dark anthology was its tenth chapter, a film set around Independence Day. Director and co-writer Gigi Saul Guerrero turns the tables on the holiday in the story of a young woman (Martha Higareda) who has illegally entered the United States and finds herself in a nightmare version of America. With great supporting turns from Richard Cabral and the legendary Barbara Crampton, it's a must-see.
* The Eyes of My Mother
Year: 2016 
Runtime: 1h 16m
Director: Nicolas Pesce
Make sure the kids and grandparents are sound asleep before you watch one of the most disturbing movies on Hulu. Nicolas Pesce's black-and-white indie film is a brutal look at the dark side of humanity. If you're at all squeamish about sharp objects and soft body parts, you might want to check out Hulu's best comedies list instead.
I Saw the Devil
Year: 2011
Runtime: 2h 22m
Director: Kim Jee-woon
The great Korean director Kim Jee-woon (The Age of Shadows) directed this intense thriller that gets so dark that it qualifies as horror. Lee Byung-hun plays an NIS agent whose fiancée is murdered by a serial killer, played by Choi Min-sik, and so he dedicates his life to tracking him down and bringing him to justice.
In the Earth
Year: 2021
Runtime: 1h 47m
Director: Ben Wheatley
There have already been a number of movies about COVID, but this is one of the most interesting in the way it captures both a sort of isolated insanity and that sense that the Earth is trying to wipe us out. Joel Fry and Hayley Squires star in the story of two scientists who go out into the woods to find a missing colleague and discover madness there. It's a trip.
Little Monsters
Year: 2019
Runtime: 1h 34m
Director: Abe Forsythe
Lupita Nyong'o can do absolutely anything. Just look at this horror-comedy about a group of schoolchildren who get attacked by waves of the undead. Lupita rules as the teacher and the only one who knows how to act heroic in the moment. And she's joined by a fun supporting performance from Josh Gad, who is very from Olaf here.
The Lodge
Year: 2019
Runtime: 1h 40m
Directors: Veronika Franz & Severin Fiala
Riley Keough rules as a woman who is about to become stepmother to two suspicious children, played by Jaeden Martell and Lia McHugh. The family goes on a trip to a remote lodge and get stranded there after dad leaves on business. The kids start to play with mom's mind, and the results are unbelievably terrifying.
Nightmare Alley
Year: 2020
Runtime: 2h 30m
Director: Guillermo del Toro
One of the best living directors adapted William Lindsay Gresham's novel of the same name, one that had already been made into a brilliant noir from 1947 with Tyrone Power. The result as another Best Picture nominee. This one stars Bradley Cooper as a carnival worker who becomes a con man, and how the journey into darkness allows him to lose his soul. Atmospheric and mysterious, this is precisely the kind of film that feels like it's not getting made that often anymore.
No Exit
Year: 2022
Runtime: 1h 35m
Director: Damien Power
Based on the 2017 novel of the same name, this Hulu original has just enough twists and turns to keep people guessing. Havana Rose Liu plays a recovering addict who ends up stranded at a rest stop on a snowy night. She discovers a kidnapped child in a car in the parking lot, and realizes that there's at least one villain sheltering in place with them.
* Piggy
Year: 2022
Runtime: 1h 40m
Director: Carlota Pereda
Premiering at the 2022 Sundance Film Festival, Piggy is a brutal and fearless Spanish horror film, a story of a person pushed way too far and what happens when bullying leads to violence. Laura Galan plays an overweight teenage girl who is harassed by three locals. When she discovers something horrible is happening to the girls who tormented her, it sets in motion a sequence of events that leads to bloodshed.
Possessor
Year: 2020
Runtime: 1h 43m
Director: Brandon Cronenberg
It turns out that the creative apple didn't fall too far from the tree in the case of the Cronenberg family. David's son Brandon helmed this shocking piece of body horror about a future wherein people possess others to commit crimes. That's just the beginning in a fearless film that stars Andrea Riseborough, Christopher Abbott, Sean Bean, and Jennifer Jason Leigh.
Sea Fever
Year: 2019
Runtime: 1h 29m
Director: Neasa Hardiman
After premiering at TIFF in 2019, this film got kind of buried on release on VOD at the beginning of the pandemic. Search it out. You won't regret it. Hermione Corfield plays a woman on a fishing boat when it's overcome by…something. Echoes of classic horror like The Thing and Alien filter into this fun sci-fi/horror flick.
Splinter
Year: 2009
Runtime: 1h 22m
Director: Toby Wilkins
This might be the most underrated action/horror movie of the new millennium. Toby Wilkins directed this 2008 low-budget flick that stars the great Shea Whigham (Gaslit) as an escaped convict who ends up at a gas station in the middle of nowhere at the most wrong time. A John Carpenter-inspired tale of people trapped inside while something unimaginable hunts them from outside, this is a gem. Darkly humorous and remarkably vicious, it's the closest to The Thing that recent horror filmmaking has gotten.
Thelma
Year: 2017
Runtime: 1h 56m
Director: Joachim Trier
Long before he would become an arthouse darling for The Worst Person in the World, Joachim Trier directed the only horror movie on his resume so far in this tense thriller about a young woman who discovers she has unique powers that manifest when she feels desire. Echoes of Carrie naturally filter into a tense, taut piece of clever filmmaking.
Titane
Year: 2021
Runtime: 1h 48m
Director: Julia Ducournau
The shocking winner of the Palme d'Or in 2021, this horror drama by Julia Ducournau is about … you know, it's almost impossible to put in a capsule. There's a woman who has a titanium plate in her head who has a carnal relation with a car before committing a few murders and hiding her identity to escape, forming an unusual relationship with a man who believes she is his missing son. That doesn't really capture this daring, unforgettable piece of work.
We Need to Do Something
Year: 2021
Runtime: 1h 37m
Director: Sean King O'Grady
With an energy that feels impacted by the pandemic, this is a great single-setting scare-fest. Sierra McCormick, Vinessa Shaw, John James Cronin, and the amazing Pat Healy play a family who get stuck in their own bathroom on the day world happens to end. It doesn't go well. And, believe it or not, this film features a demon dog voiced by Ozzy Osbourne. You know you need to see that.
Wounds
Year: 2019
Runtime: 1h 36m
Director: Babak Anvari
The director of the excellent Under the Shadow followed that up with his first American film, a Sundance premiere that stars Dakota Johnson and Armie Hammer in a tale of surreal madness. Hulu picked up it up, where it lives exclusively, ready to break your brain. Undeniably Cronenberg-inspired, this is the tale of a bartender who basically loses his mind.
You Are Not My Mother 
Year: 2022
Runtime: 1h 33m
Director: Kate Dolan
Hazel Doupe stars in this fantastic story of a young woman who watches her mother start to drift away, possibly under the grip of madness. When she disappears, the daughter suspects something supernatural is at play. A smart horror fable, this film premiered at TIFF in 2021 and was released early in 2022. It's exclusively available on Hulu.
Zombieland
Year: 2009
Runtime: 1h 28m
Director: Ruben Fleischer
Before they were household names, Emma Stone and Jesse Eisenberg rocked this story of a group of misfits united by the zombie apocalypse. If you're wondering why people have been clamoring for a sequel for the entirety of the '10s, do yourself a favor and catch up with this very clever movie before you catch up with the sequel. (And then maybe skip the sequel altogether.)
If you subscribe to a service through our links, Vulture may earn an affiliate commission.