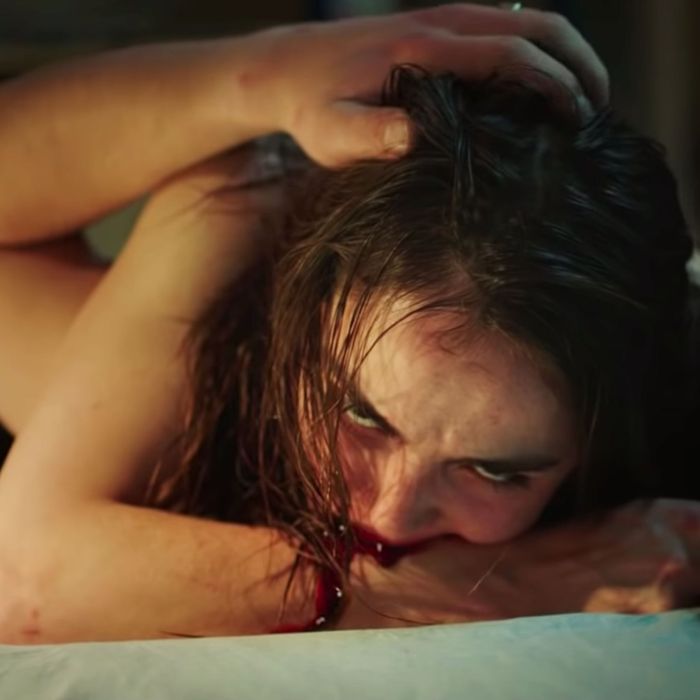 Raw
.
Photo: Focus Features
This article is updated frequently as movies leave and enter Netflix. *New additions are indicated with an asterisk.
You want to see something really scary this October? Netflix subscribers have commonly made horror films the most-watched on the streaming service, and the original filmmaking factory at the company keeps churning out new ones in time for Halloween — or picking them up at film festivals. The truth is that the horror section of Netflix's movie library is one of its deepest catalogs, which can make separating the quality from the junk harder than in some other sections. That's why we're here. These are the best horror films on Netflix right now.
Apostle
Year: 2018
Runtime: 2h 10m
Director: Gareth Evans
Did you know the director of The Raid (and its awesome sequel) has also directed a kick-ass Netflix Original horror movie? Released in 2018, Apostle stars the great Dan Stevens (The Guest) as a man who journeys to a Welsh island in search of his missing sister and finds a community that's not exactly welcoming. Kind of written off as a riff on The Wicker Man, this is a wicked little movie, elevated greatly by a fantastic performance from Michael Sheen.
Year: 2018
Runtime: 1h 35m
Director: Daniel Goldhaber
You haven't seen a mindf*ck quite like this one. Madeline Brewer stars as a camgirl who will do whatever it takes to rise the ranks of her online service. As she does so, she discovers that there's a competitor who has basically taken her place, leading to a Lynchian dissection of how much someone can give of themselves to the internet machine. It's unforgettably weird.
Year: 2013
Runtime: 1h 51m
Director: James Wan
One of the biggest horror films of the 2010s introduced the world to Ed and Lorraine Warren (Patrick Wilson & Vera Farmiga), the real investigators of paranormal occurrences, and it launched an entire industry of horror movies. The first film is still the best, anchored by Lili Taylor's great performance as a woman whose ordinary life was turned upside down by a ghost in her farmhouse in the early '70s.
The Conjuring 2
Year: 2016
Runtime: 2h 13m
Director: James Wan
The massive success of The Conjuring launched an entire franchise of sequels and spin-offs. One of the best was the first direct sequel to the original film, a movie that brings back Vera Farmiga and Patrick Wilson as the most famous ghost hunters of all time, this time investigating the supernatural activity at the Enfield council house. Wan uses forced perspective brilliantly in this one, keeping viewers always uncertain about what might be creeping just out of frame.
Creep
Year: 2014
Runtime: 1h 22m
Director: Patrick Brice
Everyone is a little tired of the found footage genre, but this one is an exception. Mark Duplass is chilling as a man who hires a videographer (played by co-writer/director Brice) to record his final days as he has a brain tumor. In a film that was basically put together as they shot it, the protagonist learns that his subject has some truly dark secrets. Note: Creep 2 is also on Netflix.
Year: 2015
Runtime: 1h 59m
Director: Guillermo del Toro
Everyone seems to love the director of Pan's Labyrinth and The Shape of Water, but this 2015 gothic romantic horror flick often falls through the cracks when people talk about Guillermo del Toro. It shouldn't. It's a masterfully made period piece with sumptuous details and perfectly calibrated storytelling. Mia Wasikowska plays a woman who moves to a remote mansion with her new husband (Tom Hiddleston) and his sister (Jessica Chastain) and discovers the secrets buried in the earth.
Year: 2021
Runtime: 1h 47m
Director: Leigh Janiak
Remember how much this took over the horror world in Summer 2021? Based on the books by R.L. Stine, these three films told the story of a curse that had descended on a small town and unfolded across three films set in different eras — 1994, 1978, and 1666. Fans argued over which one was the best (1994), but it's best to appreciate these now as one piece of sharply-written horror entertainment. And a couple of the most talented Stranger Things stars (Sadie Sink and Maya Hawke) help too.
Year: 2017
Runtime: 1h 43m
Director: Mike Flanagan
Before he helmed The Haunting of Hill House, Mike Flanagan co-wrote and directed one of the best Netflix Original horror films in this adaptation of Stephen King's 1992 novel of the same name. Carla Gugino is phenomenal as a woman who gets handcuffed to her bed by her toxic husband…and then he has a heart attack. As she tries to figure out how she will survive, she accesses the trauma of her past.
Year: 2020
Runtime: 1h 33m
Director: Remi Weekes
What if it's not houses that are haunted but people? That's the question at the core of this story of an immigrant couple (a fantastic Wunmi Mosaku and Sope Dirisu) from South Sudan who move to an English town and face enemies both outside of their new home and within it. This is a strikingly original horror flick that has been largely underrated. Don't miss it.
Year: 2016
Runtime: 1h 27m
Director: Mike Flanagan
Even before Gerald's Game, the future creator of The Haunting of Hill House and Midnight Mass helmed this tight little thriller about a deaf-mute woman (played by Flanagan regular and his wife Kate Siegel) who has to survive a home invasion at her remote location. Sharply constructed, this is the kind of old-fashioned horror movie that Hitchcock would have liked.
Year: 2014
Runtime: 1h 40m
Director: David Robert Mitchell
Maika Monroe stars in this 2014 indie horror breakthrough hit as a young woman who discovers that her recent sexual activity has cursed her with a supernatural force that will chase her until she passes it along to someone else. Stylish and striking, this felt like nothing else on the American horror market in 2014, really ushering in the era of what is now called "elevated horror." Whatever you call it, It Follows is still an unforgettable genre flick.
The Mist
Year: 2007
Runtime: 2h 6m
Director: Frank Darabont
People typically think of The Shawshank Redemption first when they consider Stephen King adaptations directed by Frank Darabont, but history has slowly elevated this powerful adaptation too. Based on the 1980 novella of the same name, it's a study of how quickly people can divide themselves when trapped in an unimaginable situation. It's no wonder the divides of the real world of the 2020s have made this flick as timely as ever.
Year: 2016
Runtime: 1h 39m
Director: Mike Flanagan
Sequels to mediocre horror films aren't traditionally any good. Every rule has an exception. The director of Gerald's Game helmed this fantastic prequel about a couple who have a phony séance business. Their lives are turned upside down when they bring a Ouija board into their act, unknowingly unleashing a spirit that possesses their daughter. Smart and tightly made, it was a sign of things to come from the future Hill House creator.
Year: 2019
Runtime: 1h 30m
Director: Richard Shepard
Girls and Get Out star Allison Williams stars in this twisting and turning tale of a talented young musician who travels to Shanghai where she meets a competitor named Lizzie, played by Logan Browning. A story that keeps shifting and changing ultimately arrives at a shocking conclusion in this Netflix Original that took the festival scene by storm in 2018 and 2019.
Raw
Year: 2016
Runtime: 1h 38m
Director: Julia Ducournau
The writer/director of Titane broke through five years earlier with this unforgettable story of everyday cannibalism. Justine has been a lifelong vegetarian, but she's forced to eat raw meat as a part of a hazing ritual at a new school. She discovers she likes it, and things get much worse from there. This is one of the most memorable horror films of the 2010s, and unlike anything else on Netflix really.
Year: 2020
Runtime: 1h 28m
Director: Dave Franco
AirBnBs are weird, man. The general discomfort of staying in someone else's house gets the horror treatment in this tense 2020 horror film, the directorial debut of Dave Franco. Two couples head off to a rental house, and sense that something's not quite right about their chosen location. What starts as a relationship drama becomes something very different in a film that suggests Franco may have a rich life behind the camera.
Scary Stories to Tell in the Dark
Year: 2019
Runtime: 1h 47m
Director: André Øvredal
Guillermo del Toro produced this clever adaptation of the short story collections by Alvin Schwartz that warped an entire generation or two. Several of the most beloved stories work their way into a story that takes place on Halloween in 1968 in a Midwest town. Some of the big stuff about a magical book is a little silly, but there are unforgettable little horror vignettes that give this movie its strength.
The Stranger
Year: 2022
Runtime: 1h 57m
Director: Thomas M. Wright
After premiering at Cannes earlier this year, this true crime thriller dropped without much fanfare on Netflix in October 2022. It's more of a procedural than a horror film but it's creepy and unsettling enough to qualify. Sean Harris plays a man who was a suspect in Australia's most famous missing child case and Joel Edgerton plays the cop who goes undercover to entrap him.
Synchronic
Year: 2020
Runtime: 1h 41m
Director: Justin Benson, Aaron Moorhead
Anthony Mackie and Jamie Dornan star in this original sci-fi/horror flick from the directors of Spring and The Endless. They play paramedics in New Orleans who discover a drug that, well, allows for time travel. It's the kind of crazy idea that really shouldn't work but the talent of Benson and Moorhead hold it together.
Under the Shadow
Year: 2016
Runtime: 1h 24m
Directors: Babak Anvari
The Iranian-born Anvari wrote and directed this brilliant interplay of horror tropes and commentary on how war and violence can shatter the world more than a ghost could ever consider. A mother and daughter are haunted in 1980s Tehran during the historical War of the Cities. If the falling bombs won't get them, something more supernatural might.
If you subscribe to a service through our links, Vulture may earn an affiliate commission.