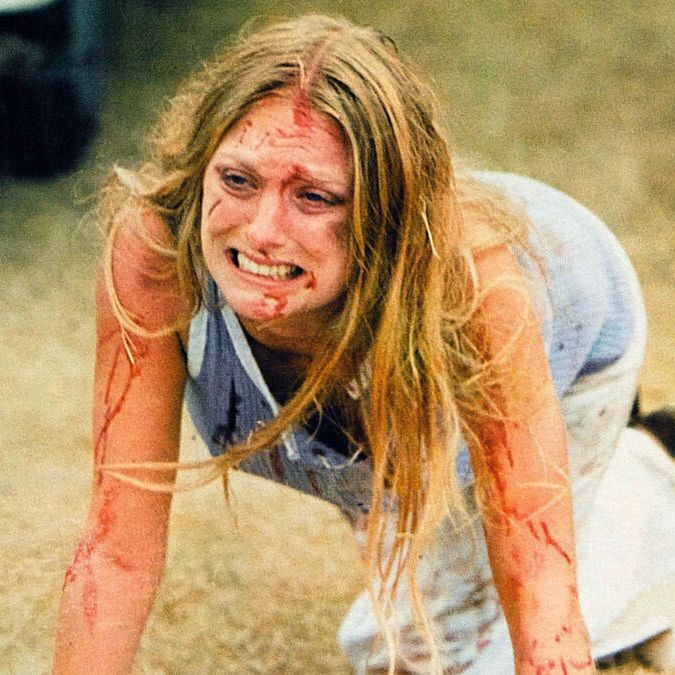 The Texas Chainsaw Massacre
.
Photo: Bryanston Distributing
This article is regularly updated as titles leave and enter Shudder. New titles are indicated with an asterisk.
Yes, there are plenty of good horror movies on Netflix (including a sturdy selection of originals). Amazon and Hulu certainly have some great titles as well. But the real horror heads know the truth: Shudder is the best streaming service for them.
If you're new to the service and wondering where to start, don't fret: We've dug into Shudder's increasingly impressive catalogue to find the best films worth your time, from classics like Halloween to newer entries like Mandy. Watch them all.
After Midnight
Titled Something Else when it first appeared on the festival market, this genre hybrid is an incredibly smart piece of what might be called "elevated horror," blending traditional romantic drama elements with something far more terrifying. The very talented Jeremy Gardner wrote, co-directed, and stars as Hank, whose girlfriend Abby (Brea Grant) just left him, right before something scary starts lurking around his house at night.
The Amusement Park
George A. Romero shot this short film for the Lutheran Service Society of Western Pennsylvania when they hired him to produce something about ageism. The result shocked them to such a degree that it was basically buried for a half-century, now available exclusively on Shudder. It's a stunning chapter in Romero's filmography, featuring his incredible skill with framing and undeniable social conscience.
Anything for Jackson
Julian Richings and Sheila McCarthy play a pair of grandparents who are willing to do anything to get back their grandson in this brilliant Shudder original. Justin G. Dyck happens to be a director of TV holiday movies with names like 48 Christmas Wishes, but he tells a very different kind of nativity story here as grandma and grandpa try to perform a reverse exorcism and put the soul of their dead grandson in the unborn child of a pregnant woman. It does not go well.
There are very few horror movies with as perfect a set-up as this one. Brian Cox and Emile Hirsch star as coroner and his son in a small town. They get a late-night delivery of a body that doesn't make sense. Her exterior looks pristine but everything on the inside is a mess. As they're trying to solve the mystery, things get very, very creepy.
One of the best horror films of the 2010s has not been widely available for streaming subscribers so take the chance to watch it again while it's on Shudder. Jennifer Kent's directorial debut centers on a mother (Essie Davis) who struggles to raise her problem child alone after the death of her husband. Oh, and there's also a real monster in the boy's room.
Jeffrey A. Brown's directorial debut is one of Shudder's best original films to date, the story of two couples in an isolated beach house when the world just happens to end. With echoes of H.P. Lovecraft and Stephen King's The Mist, Brown's film starts as a straightforward character piece but turns into something much gnarlier. Those with aversions to foot-based grossness may want to look elsewhere.
45 years after the release of the original, a remake of Black Christmas is about to hit theaters, so it's a great time to catch up with the influential 1974 film. Something to keep in mind is that this slasher classic about a group of sorority sisters hunted on Christmas (including Margot Kidder and Olivia Hussey) predates Halloween and Friday the 13th. In other words, it's really one of the first slasher pics, a movie that shaped dozens of films to come.
There's a wonderful collection of Mario Bava films on Shudder, so consider the Italian master's 1960 classic Black Sunday as one entry for multiple pieces of gory splendor. One of Bava's most beloved films, this is the story of a witch who returns two centuries after her death to get her vengeance. The other Bava films on Shudder are Lisa and the Devil, Kill Baby Kill, Black Sabbath, and A Bay of Blood. Watch them all.
A Shudder original, this Canadian film premiered at TIFF 2020, where it was the Opening Night entry for the Midnight Madness program. It's a clever riff on the zombie genre (yes, that's still possible) in which a tribe of indigenous people discover that they're the only people immune to the bite of the walking dead. It's the kind of social commentary meets brain-eating that George A. Romero would have liked. And there are zombie fish!
Carnival of Souls
One of the best horror movies ever made, Herk Harvey's 1962 film is an early cult classic, a film made for almost no money that became an influential masterpiece. Candace Hilligoss plays a woman who starts having terrifying visions after surviving a car accident. These visions lead her to an abandoned carnival. You can see this film's DNA in hundreds of horror movies to follow, but it's still wonderfully creepy when judged on its own terms.
Peter Medak's 1980 ghost story was promoted largely for its scares, but it's a bit tame now in that department; now it's more valuable as an example of how great George C. Scott was every single time he got in front of a camera. Scott plays a man grieving the loss of his wife and daughter who moves to Seattle and discovers his new house is haunted. It's interesting to watch this movie now and consider how much it visually influenced the world of films like The Conjuring and Annabelle. It's a clear inspiration.
Stephen King has arguably never been more popular than in the era of blockbuster adaptations It, Doctor Sleep, and the Pet Sematary remake, but this is nothing new. Hollywood has been adapting the work of the master of horror for decades. Take, for example, this 1984 adaptation of a short story that King wrote over four decades ago. It may not be a great movie, but it's becoming a cultural touchstone – every time there's a creepy kid in a flick, audiences think of the little monsters that give this movie its name.
James Ward Byrkit wrote and directed a gem that has developed quite a cult following over the years since its Fantastic Fest premiere. The idea for the 2013 film is one that Rod Serling would have loved: A group of people get together for a dinner party when the whole neighborhood goes into a blackout except for the house at the other end of the street, in which the same dinner party appears to be taking place. Strap in.
Color Out of Space
Richard Stanley co-wrote and directed this adaptation of the H.P. Lovecraft short story of the same name, marking his first time behind the camera since the disastrous 1996 production of The Island of Dr. Moreau. This one went much better. Nicolas Cage plays the patriarch of a family that moves to a remote farm, at which a glowing meteor seems to crash in the front yard. And then things get really weird in a way that only a Lovecraft movie can.
The Columnist
If you subscribe to Shudder, you probably are the kind of person who knows that Evil is one of the best shows currently on television (get thee to Paramount+ if you don't). The star of that show, Katja Herbers, carries The Columnist, a wicked black comedy about an author who starts receiving death threats on social media, and sets out to take care of her problem with the kind of bloody finality that most trolls never expect. It's not perfect, but a totally fearless Herbers holds it together.
Bryan Bertino (The Strangers) wrote and directed one of the best horror films of 2020, and it's already on Shudder. The Dark and the Wicked is the terrifying, brutal story of a pair of siblings who return to the family home when their father gets sick and discover there is something much darker at play. This film earned comparisons to The Shining and Hereditary when it was released, if that helps inspire you to watch it.
There's a reason that so many horror directors bow at the altar of Dario Argento, the king of the giallo film. Also known as The Hatchet Murders, this is one of his masterpieces, a great starting point if you're just getting into Argento's career. The story of a pianist (David Hemmings) who gets caught up in the investigation into a serial killer contains some of Argento's most unforgettable set pieces. The superb score by Goblin doesn't hurt.
The Deeper You Dig
Billed as an Adams Family Production, this is a real labor of DIY indie filmmaking love for a husband/wife writing/directing team, who also star alongside their daughter. It's the tale of a single mother whose daughter is killed one night in a roadside accident. The driver covers up the accidental death, leading to a tear in the fabric of supernatural happenings. It's creepy and effective.
The 2009 drama/horror film Dogtooth was the breakthrough for Yorgos Lanthimos, who would go on to direct The Lobster, Killing of a Sacred Deer, and The Favourite. It's an unforgettable piece of work, telling the story of parents who shelter their children to such a degree that they control every aspect of their lives. It isn't a standard Shudder horror movie, but it features such an unforgettable ending that it makes sense to put it on this list.
The brilliant Justin Benson & Aaron Moorhead directed and star in a fantastic sci-fi thriller about two brother who return to a cult from which they escaped years earlier. They learn that there's more to this group than they remember or understand. It's a riveting film about cycles and trauma, embedded in a truly thrilling story.
This Canadian has become a true cult classic in the nearly two decades since its release. People who love Ginger Snaps, really love this movie. Do a Google search and you'll find passionate arguments that it's a modern masterpiece. And then check out this feminist werewolf tale for yourself and see if you agree.
Sometimes when you see a new film, you know you are in the hands of a daring debut director. Such was the case when this black-and-white vampire western — yes, another one of those — premiered at Sundance. Ana Lily Amirpour has a style that is distinctly her own, blending her background and interests into something daring and new.
Maybe you've heard of it? It seems unlikely that anyone subscribing to a service called Shudder hasn't seen John Carpenter's game-changing masterpiece, but maybe it's been a few years for you and you're considering a revisit. You really should go back to Haddonfield and see where the saga of Michael Myers began. It's the rare horror movie that can send chills up your spine every time you see it.
The Haunting
No, not that silly Liam Neeson remake but the 1963 true genre classic from the great Robert Wise. The British director adapted Shirley Jackson's The Haunting of Hill House long before Mike Flanagan was even born, and the result would send shockwaves through the horror genre. Anyone who thinks that a film made almost six decades ago can't scare modern viewers must watch the film with the tagline "You may not believe in ghosts, but you cannot deny terror."
More comedy than horror, this 1989 cult hit with Winona Ryder and Christian Slater now looks to be ahead of its time in so many ways. Consider the way Michael Lehmann captures the clique culture of youth in a manner that feels like it's still relevant today. On top of that, it's a film that predicted the tragic way in which violence would become a hazard for people just trying to get an education. A box-office flop when it was released, this is a movie that seems to grow in popularity every year for a reason.
Hell House LLC
A cult following has been growing around this smart 2015 found footage indie by director Stephen Cognetti. (So much so that there have already been two sequels.) It's a cleverly made film about a group of documentarians investigating a tragedy at a haunted house when they realize that the place might actually have a few real supernatural secrets.
*Hellbender
The Adams family rules. The creative clan writes, stars, directs, and does just about everything else on a set for their wonderful little DIY horror movies. They followed up the phenomenal The Deeper You Dig with this 2022 Shudder original that blends coming-of-age storytelling with supernatural elements related to witchcraft. It's a smart and cleverly crafted flick.
Hellraiser
Forget that Clive Barker movie on Hulu and dig back into the franchise that helped make the author a household name, at least in households with horror fans. Hellraiser is still an incredibly powerful film, the only one really to get that mix of surreal horror and human frailty that defined the Barker brand. Just the first two movies are currently on Shudder, but that's really all you need.
Henry: Portrait of a Serial Killer
John McNaughton's document of the life of a serial killer and his new also-homicidal friend is one of the best independent films of its generation. Not only does it use a dark, rarely seen side of Chicago brilliantly, but its balance of horror and even humor remains powerful three decades later.
*High Tension
High Tension is bonkers. Directed by Alexandre Aja (and sometimes called Switchblade Romance), it stars Cecile de France and Maiwenn as two young women who go to a secluded farmhouse, where they're attacked by a serial killer. The twist ending to this brutal film will likely either make it or break it for you.
Rob Savage directed the first major pandemic-produced horror film, a movie about a séance gone wrong over Zoom, which was filmed since the COVID-19 outbreak shut down the world. Directing the project via Zoom himself, Savage produced a surprisingly effective piece of work. And it only runs 56 minutes!
Housebound
Gerald Johnstone's SXSW hit works from such a clever premise: What if you were assigned house arrest in a haunted house? Kylie (Morgana O'Reilly) is the one in such a predicament, and the house just happens to be her mother's. Some dark family secrets mix with a tight structure to make an underrated modern ghost story.
One of Takashi Miike's breakthrough films internationally, this 2001 action flick is still banned in several countries around the world. There is naturally a lot of violence on Shudder, but Ichi is its own special category of crazy. When it was released, it was the kind of film that one had to special order from online companies, and now it can be streamed directly to your phone while you're on the bus. Isn't technology wonderful?
The midsection of what is sometimes referred to as Dario Argento's Three Mothers Trilogy, this 1980 giallo often gets ignored when people discuss the career of one of Italy's best directors. It may not be Suspiria, the first film in the trilogy, but there's still so much flair and craftsmanship on display here that you owe it to yourself to take a look, especially if you like Argento's more popular films.
Jayro Bustamante reimagines the classic legend of the Weeping Woman in a way that makes this 2020 horror film a sharp commentary on corruption, despotism, and revolution. Set in the 1980s, it's the story of a brutal Guatemalan dictator who has been released from prison on a technicality, basically forcing him into his home because of the protestors outside every day. A young woman comes to work at the estate and things get weird.
There have been several documentaries about historically doomed film productions (Hearts of Darkness, Burden of Dreams), but the story of what went down on the 1996 set of The Island of Dr. Moreau with Val Kilmer and Marlon Brando is one of the most riveting and insane in film history. Your mouth will be open in shock for half of this crazy story.
Lucky
Brea Grant, who broke through on HBO's Heroes, has quietly become one of the most interesting voices in horror, appearing in After Midnight and Lucky just last year, while also directing 12 Hour Shift. Lucky might be her best work yet, playing a writer who is stalked every single night, but is basically gaslighted by everyone around her when things don't start adding up. Grant feels right on the cusp of major things in this industry, and this film is the best proof of that yet.
Tilman Singer writes and directs this film that feels more like a lost flick from the '70s era of European horror than something that came out in 2019. It's truly impossible to describe a film that plays out like a hallucination more than a literal story. There's a police station, a possession, and then a deconstruction of the very genre. You won't forget it.
Panos Cosmatos gave Nicolas Cage one of the best roles of his career in this 2018 film that already feels like a cult classic. For about an hour, Mandy is a slow burn about a man who goes through a living hell when a cult kidnaps and murders his wife (Andrea Riseborough). And then for the second hour, it's a crazy movie that's just washed in blood and features a chainsaw fight. You can't adequately describe it in words, so you just need to see it.
All three films in the original trilogy about a killer cop are on Shudder to satisfy your B-movie need for cheesy violence. The 1988 William Lustig original was ignored when it came out but grew a following over the years on VHS and DVD, leading to sequels and even a remake. Both 1990's Maniac Cop 2 and 1993's Maniac Cop III: Badge of Silence are on Shudder. Time for a marathon!
In March 2022, Shudder added several films from the modern French horror resurgence like Inside and High Tension yet Martyrs is one of the most infamous of that bunch. A 2008 gorefest by Pascal Laugier, the stomach-turning film made waves around the world. Mylene Jampanoi and Morjana Alaoui star as a woman, and her friend, seeking revenge on the people who tortured her when she was a child. It's not for the faint of heart.
In just the short time since this Joe Lynch film premiered at South by Southwest in 2017, its stars have become significantly more popular, which should spark interest in this dark comedy–horror flick. Those stars are Steven Yeun (Burning) and Samara Weaving (Ready or Not), who play two people in an office — he works there and she's a client — when an inhibition-destroying virus unleashes total havoc. It's like Office Space meets Fury Road.
Mohawk
Ted Geoghegan continues to carve out a career as unpredictable genre filmmaker by taking a sharp turn from his excellent to We Are Still Here to this period action/horror film set early in the 19th century. So few filmmakers are willing to reckon with this country's relationship to its indigenous people, much less turn that into genre storytelling. Kaniehtio Horn stars as a Mohawk woman named Oak who is caught between her people and the British soldiers who are killing them. It's essentially a chase movie, anchored by a physical performance from Horn and a captivating one from the villainous Ezra Buzzington.
The Mortuary Collection
After premiering at this year's semi-virtual Fantasia Fest, this anthology film lands exclusively on Shudder, and it's one of their best originals. The great Clancy Brown stars as a creepy mortician who shares the scariest stories that he's ever heard with a young woman who comes to his door. With echoes of practical effects gore masters like Sam Raimi and Peter Jackson, this is a wonderful riff on the Tales from the Crypt brand of bloody horror.
My Heart Can't Beat Unless You Tell It To
Jonathan Cuartas wrote and directed this low-key vampire movie from 2021 that earned comparisons to the work of Claire Denis and Jim Jarmusch. Effectively claustrophobic, it's the story of two people (Patrick Fugit & Ingrid Sophie Schram) who hunt for victims to keep a third (Owen Campbell) alive. You see, he needs to drink the blood of others to live. Creepy and tense, it's the best indie vampire film in years.
Clive Barker wrote and directed this adaptation of his Cabal and released it to a much more muted response than the one that greeted his hit Hellraiser. But kover the years, Nightbreed has developed a loyal following, in part due to the various versions of it now available. The one on Shudder is the theatrical version, in which Craig Sheffer plays a man who becomes convinced his therapist is a serial killer, and his own investigation leads him to a tribe of monsters. Good times.
This Japanese indie is a great example of a true word-of-mouth phenomenon, a movie made for almost nothing (reportedly as little as $25,000) that has made over $30 million worldwide, largely through recommendations. The less you know the better, so try and avoid spoilers. All we'll say is that what you think this movie is for the first half-hour is not exactly right, and it takes a turn that results in one of the smartest, most heartfelt zombie flicks in years.
Poltergeist
Few horror films from the 1980s have held up better than this story of traditional American suburban life gone very wrong. Tobe Hooper's story of an average family who moved into the wrongest home possible has held up because it destroys the calm of where people expect to be the safest, in their own homes. It's even more influential and impressive than you remember. (Crazy trivia: This movie is rated PG! You'd think the bathroom face-ripping scene alone would make that illegal.)
Pumpkinhead
Stan Winston's incredible creature work is the main reason to watch this effective 1988 horror film that built up a strong enough cult following to produce three sequels and a comic book series. Actually, it kind of feels like Pumpkinhead is way overdue for a reboot. Check out the original before he returns.
Rare Exports: A Christmas Tale
The rare Christmas movie that could also be called a horror film, this Finnish flick from 2010 has also become a cult classic. What if the legend of Santa Claus had much darker origins? That's' the premise for the story of the discovery of a Joulupukki, a figure in Finnish folklore that led to the jolly fat man. It's a truly twisted and odd kind of holiday classic that's kind of like The Santa Clause crossed with The Thing.
A lot of filmmakers have tried to incorporate H.P. Lovecraft into their work either as an influence or direct adaptation, but Stuart Gordon's 1985 cult hit arguably remains the best. Adapting Lovecraft's Herbert West — Reanimator into a feature film, Gordon is fearless, making a movie that contains some of the most memorably twisted images and ideas of its era. Originally X-rated for its overall insanity, this is a riff on the classic tale of medical science gone malevolent as a doctor starts reanimating dead bodies. Never a good idea.
Horror has too long been a man's game, so we should celebrate when a great film by a female director lands on Shudder. The people behind the company enjoy this movie so much that they've been using a blood-soaked image of its star, Matilda Lutz, in a lot of their marketing. Lutz plays a woman who is raped and nearly murdered by a trio of monsters. You will cheer her bloody, vicious vengeance.
Scare Me
Tell me a scary story. Who doesn't love a good frightful fable every now and then? Josh Ruben directs, writes, and stars in this clever Sundance hit making its exclusive streaming premiere on Shudder. Ruben plays a struggling writer who rents a remote cabin, only for the power to go out. Another horror writer (played by the great Aya Cash) happens to be his neighbor, and the two share scary stories throughout the night. More meta comedy than most movies on this list, it still builds to a surprising ending.
Slaxx
Sometimes horror films repeat the same set-ups and concepts over and over again. This is not one of those times. After all, how many movies have you seen about killer jeans? Yes, this is a clever comedy/horror hybrid about a pair of designer blue jeans that goes on a killing spree at a trendy clothing store. It's like Friday the 13th if Jason were pants and Camp Crystal Lake was The Gap.
*Southbound
Who doesn't love a great anthology film? Southbound is one of the best modern ones, as it takes five different stories by different directors and intertwines them into a Twilight Zone-esque nightmare. As in any anthology, there are highs and lows, but more of the former here.
*Spring
Aaron Moorhead and Justin Benson don't make traditional horror films. The directors of The Endless and Synchronic wrote and directed a masterful romantic drama that kind of plays out like Before Sunrise reimagined by H.P. Lovecraft. That's all you really need to know.
Brandon Christensen co-wrote and directed this shocking film, a twisted tale that envisions a woman's postpartum grief turning into something much darker. Christie Burke is phenomenal as a woman who gives birth to twins but loses one in the process. The natural depression combines with the unimaginable grief to convince her that something is coming for her other child. Or maybe she's right?
Remember that slightly unsettling kid in your neighborhood? Kevin Phillips' acclaimed indie thriller digs into the development of a sociopath in the story of two friends who respond very differently to a horrible, violent accident. It's a sharp, memorable character study with unforgettable imagery. See it before a friend recommends it to you.
Few films made the same cultural impact as Tobe Hooper's 1974 splatter classic, a movie he shot with his friends and unknown actors in central Texas for almost no money and that would change film history forever. A lot of horror movies, even great ones, come and go, but people are constantly returning to the world of Leatherface and his cannibal family. It's one of the few horror films of its era that feels nearly as terrifying today as it did the day it came out.
Them
Reportedly based on true events, 2006's Them is one of the best home invasion movies ever made. David Moreau and Xavier Palud direct the story of an average couple living in a country house near Bucharest, Romania. They are far from society one night when they are attacked by mysterious, silent assailants. Think The Strangers but creepier, and in French.
There aren't enough films on Shudder that aren't from the United States or Asia. This Mexican offering from Issa Lopez is an exception, and it's a good one — a tender, empathetic tale of the orphans of the Mexican Drug War with stylistic echoes of one of its biggest fans, Guillermo del Toro.
A legitimate phenomenon that has grossed almost $100 million worldwide, this 2016 South Korean movie is one of the best zombie flicks of its era. It's simple — zombies on a train — but that's one of the reasons it works so well. It has a propulsive, nonstop energy, and it feels like its legacy is just getting started. There's a reason that James Wan is working on a remake and director Yeon Sang-ho is prepping a sequel to his own hit.
Claire Denis may be better known for dramas like Beau Travail but she can also do genre. Look no further than this 2001 erotic horror flick starring Vincent Gallo and Beatrice Dalle. Stylish and unforgettable, it's the story of a doctor seeking a cure for his wife, who murders men at night for pleasure. A uniquely strange horror film, Trouble Every Day is a vampire movie like only Claire Denis could make.
V/H/S/94
Seven years after the dismal V/H/S: Viral, the gang behind this anthology series have rebooted it with arguably the best entry in the entire run. With shorts by Simon Barrett (The Guest), Timo Tjahjanto (The Night Comes for Us), and more, it's a clever series of short films that has more hits than misses.
Violation
Heavy trigger warnings for anyone intrigued by this searing drama, one of the 2021 Shudder Originals that premiered after its late-2020 festival run. Madeleine Sims-Fewer co-writes, co-directs and stars as a woman whose brother-in-law betrays her trust in the vilest way, but Violation becomes a very powerful film about vengeance and trauma. It's shocking and brutal, but never exploitative.
Na Hong-jin's 2016 film is not one you should pick to watch casually on date night. It takes a commitment of over 150 minutes, but it's worth every one of them. There's a cumulative power to this story of a policeman who investigates a strange series of events in a small town and basically discovers ancient evil. The Wailing is epic, and it rewards your commitment to it with a final act that's devastating and unforgettable.
Every editorial product is independently selected. If you buy something through our links, New York may earn an affiliate commission.