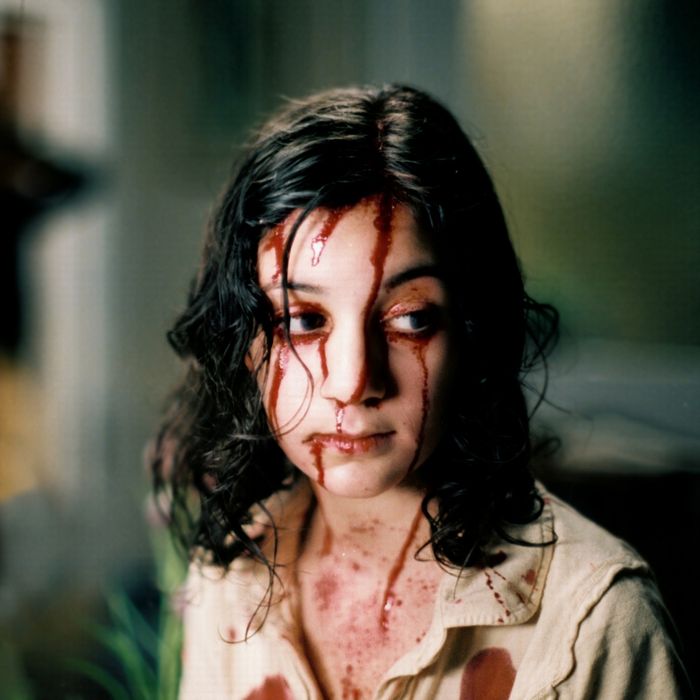 Let the Right One In
.
Photo: Magnolia Pictures
This list is regularly updated as movies rotate on and off of Prime Video. *New additions are indicated with an asterisk.
Who wants to be scared tonight? While there are fantastic streaming services dedicated to horror nuts, there's also a wealth of genre hits and indie darlings on Prime Video. In fact, they have one of the most diverse arrays of horror hits, including films by vets like Tobe Hooper and Dario Argento, alongside newer films from indie studios. This regularly updated list will keep Prime Video subscribers in the know on what are the best horror movies they can watch right now. Turn the lights off and lock the doors.
The Black Phone
Year: 2022
Runtime: 1h 43m
Director: Scott Derrickson
One of the biggest hits of the Summer of 2022, this horror film stars Ethan Hawke as a sociopath who kidnaps and murders children in the late '70s. Hawke is terrifying, but the lead is actually Mason Thames as his latest victim, who discovers that he has a special ability that could save his life. Taut and tight, this is a solid old-fashioned horror movie that echoes the early work of Stephen King in a good way.
Year: 1992
Runtime: 2h 7m
Director: Francis Ford Coppola
Francis Ford Coppola's 1992 epic retelling of the classic novel is one of the most lavish and ambitious Hollywood productions of its era. Gary Oldman gives one of his best performances as the title character, but it is Coppola's incredible craftsmanship and unforgettable design that make this Dracula an underrated horror classic.
Carnival of Souls
Year: 1962
Runtime: 1h 20m
Director: Herk Harvey
An independent filmmaker who had made his career doing industry safety videos just happened to direct one of the most essential horror flicks of all time in this absolute classic. Candace Hilligoss stars as Mary Henry, a woman who barely survives a car accident and starts seeing ghostly, zombie-like figures in the new city she's trying to call home. As the figures draw her to an abandoned carnival, some of the best horror imagery of the 1960s surfaces in a film that didn't get much attention on its release but has gone on to be recognized as a genre masterpiece.
Coherence
Year: 2013
Runtime: 1h 29m
Director: James Ward Byrkit
Eight friends get together for a dinner party in Northern California as news of a passing comet overhead can be heard. What starts as a traditional character-driven drama becomes something very different when the power goes out and, well, things stop making sense. An incredibly smart script anchors this study of alternate universes that plays out in a disturbingly relatable way.
Year: 2012
Runtime: 1h 29m
Director: Craig Zobel
In Kentucky in 2004, something horrible happened. A prank call went way too far when someone phoned a fast-food restaurant and pretended to be a police officer. How far would you go if you believed the voice on the other end of the line was an authority figure? Ann Dowd plays the manager who ends up humiliating an employee, played by Dreama Walker. We all like to think we would do the right thing in a situation like this but the horror here is how easy it is to be fooled.
Hell House LLC
Year: 2015
Runtime: 1h 23m
Director: Stephen Cognetti
We're all tired of found footage movies but this flick can be one of the exceptions. So popular that it spawned a franchise (there have already been two sequels), this is the story of a documentary crew that captures the creation of a Halloween haunted house that becomes all too real, ultimately killing 15 ticket buyers and staff. Structured both in a "what happened that night" and in-the-moment found footage doc, this is a truly clever indie horror film.
Hellraiser
Year: 1987
Runtime: 1h 34m
Director: Clive Barker
The horror author Clive Barker directed this adaptation of his own novella The Hellbound Heart and made genre movie history. Introducing the world to the iconic Pinhead, who would go on to appear in so many sequels, the original film here is still the best, the tale of a puzzle box that basically opens a portal to Hell. The sequels have kind of lost the thread, but the original is still incredibly powerful. It's one of the few films from the '80s that would still shatter audiences if it were released today.
High-Rise
Year: 2016
Runtime: 1h 58m
Director: Ben Wheatley
The director of Kill List helmed this adaptation of the infamous novel of the same name by J.G. Ballard, a study of opulence and inequity that devolves into a gruesome nightmare. Tom Hiddleston, Jeremy Irons, Sienna Miller, Luke Evans, and Elisabeth Moss star in a film that unfolds in a luxury high-rise in the '70s that gradually becomes cut off from the rest of the world, becoming its own crumbling society. It's stylish and unforgettable.
Honeymoon
Year: 2014
Runtime: 1h 27m
Director: Leigh Janiak
Before she made Fear Street, Leigh Janiak directed this indie gem, a film that stars Rose Leslie (Game of Thrones) and Harry Treadaway (Penny Dreadful) as a couple who are honeymooning in a rustic cabin. One night, well, something happens, and it seems like Leslie's Bea is changing. An allegory for how we sometimes don't know our partners as well as we think we do, it's an effective little experiment with two great performances.
Invasion of the Body Snatchers
Year: 1978
Runtime: 1h 55m
Director: Philip Kaufman
There's a reason that Hollywood keeps returning to Jack Finney's novel The Body Snatchers—it strikes at a common fear that our neighbors and loved ones aren't who they were yesterday. The best film version of Finney's tale is the '70s one with Donald Sutherland, Brooke Adams, Veronica Cartwright, Jeff Goldblum, and Leonard Nimoy. A riveting unpacking of '70s paranoia, this is a truly terrifying movie.
Jacob's Ladder
Year: 1990
Runtime: 1h 53m
Director: Adrian Lyne
Adrian Lyne's 1990 horror film has developed an increasingly vocal fan base in the three decades since its release (helped in part by a horrible remake in 2020 that reminded everyone how much better the original was.) Tim Robbins stars as Jacob, a man who starts having increasingly terrifying visions and hallucinations, many of them related to his time in Vietnam. A stunning journey into Hell, it's also an anti-war film that's given weight by Robbins's genuine, in-the-moment performance.
Let the Right One In
Year: 2008
Runtime: 1h 54m
Director: Tomas Alfredson
Based on the 2004 novel of the same name, this is one of the best vampire movies ever made. It's the tale of an ordinary pre-teen who is bullied at school and has a lonely life at home. That's the case until a new child moves in, one with a secret. She's a creature of the night, and her connection with this new friend will change both of their lives forever. Moody and moving, this is a modern classic.
The Machinist
Year: 2004
Runtime: 1h 50m
Director: Brad Anderson
The big story around this indie hit was the physical transformation that Christian Bale went through to star in it. Losing a dangerous amount of weight, Bale played a deeply paranoid young man who has been unable to sleep for an entire year. His grip on reality starts to shift in a way that would make movie history.
Rosemary's Baby
Year: 1968
Runtime: 2h 16m
Director: Roman Polanski
Psychological horror films would change forever with Polanski's classic. His first American film, Rosemary's Baby tells the tale of a young, pregnant woman in Manhattan, played fearlessly by Mia Farrow. She comes to suspect that the people in her seemingly ordinary high rise might be members of a Satanic cult, and they want her baby. This movie is still terrifying, but it must have truly played like a shock to the system to less-numb audiences in the late '60s. They never looked at their neighbors the same way again.
Run Sweetheart Run
Year: 2022
Runtime: 1h 44m
Director: Shana Feste
Ella Balinska is excellent in this thriller that sat on the shelf from Sundance 2020 until a spooky season drop in October 2022. It's also been recut a bit and come out as a really solid little genre exercise about a woman who is forced by her boss (Clark Gregg) to go to dinner with a client who turns out to be a sociopath (and maybe something even scarier). As she flees through the Los Angeles night, RSW gets crazier and crazier.
Year: 2019
Runtime: 1h 24m
Director: Rose Glass
Morfydd Clark is fearless as a hospice nurse who converts to Roman Catholicism and becomes convinced that only she can save the soul of her latest patient, a former dancer (Jennifer Ehle) who is in the final days of her life. Is Maud a true vessel for miracles or could she be going insane? Rose Glass's debut stunner plays with audience expectations until its final unforgettable shot.
Year: 2022
Runtime: 1h 55m
Director: Parker Finn
Paramount has been regularly funneling some of their biggest theatrical hits to their streaming service for a small window of time before they roll over to Prime too. That was the case with Parker Finn's debut feature film that was in theaters just last summer and made a fortune worldwide (over $200 million). One of the biggest commercial and critical horror hits of 2022, Smile is about a therapist who discovers something supernatural stalking her patients. It will get under your skin.
Tales from the Darkside: The Movie
Year: 1990
Runtime: 1h 33m
Director: John Harrison
They don't make anthology movies anymore, do they? It's too bad because they used to be a fun part of the genre scene, such as in this 1990 adaptation of the TV series of the same name with segments starring Deborah Harry, Christian Slater, Steve Buscemi, and Julianne Moore. It doesn't hurt to have segments based on stories by Stephen King and Sir Arthur Conan Doyle too.
Train to Busan
Year: 2016
Runtime: 1h 58m
Director: Yeon Sang-ho
Prime Video isn't the best place for foreign films of any kind, and definitely not horror. So take the chance to watch something from another part of the world in this international smash hit about a high-speed train from Seoul to Busan in the middle of the undead apocalypse. Incredibly well-directed, this movie flies from beginning to end with the speed of the bullet train at its center. There's a reason it's become a smash hit on every streaming service that houses it, including Amazon Prime.
Tucker & Dale vs. Evil
Year: 2010
Runtime: 1h 28m
Director: Eli Craig
This horror/comedy hardly made an impact when it was released in 2010 but has become a true cult hit in the decade since on DVD and streaming services. The main reason is that Tyler Labine and Alan Tudyk have perfect comic timing as a pair of lovable hillbillies who get caught up in a crazy horror movie situation that leads to a lot of laughs and buckets of blood. Now give us a sequel!
If you subscribe to a service through our links, Vulture may earn an affiliate commission.