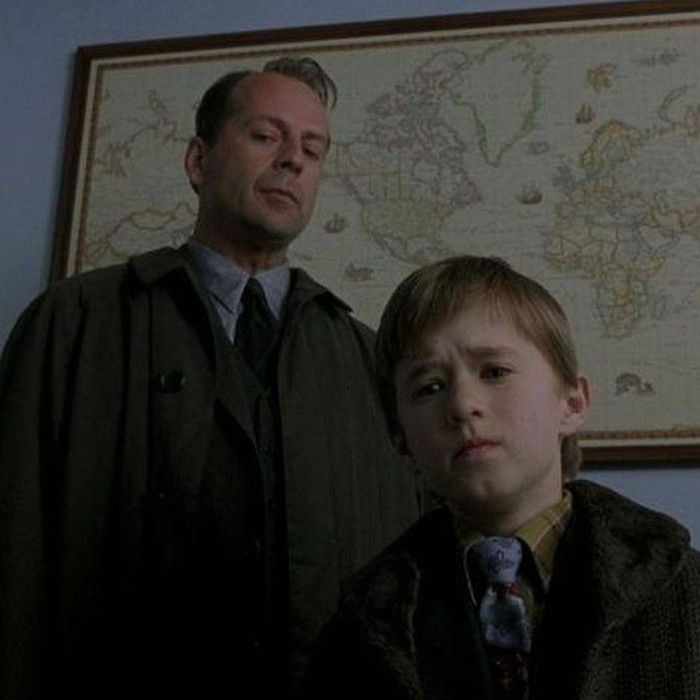 The Sixth Sense
.
Photo: Courtesy of Studio
This post is updated frequently to reflect the latest movies to leave and enter Amazon Prime. *New additions are indicated by an asterisk.
Amazon Prime is one of the better streaming services for horror fans (and that's even before you add on the essential Shudder service for a little extra blood and guts). Someone over at Amazon HQ is clearly a fan of the genre, because there are an unusually abundant number of quality films on the service that will make you double check that the doors are locked at night when you're done watching. Here are the 40 best of them. Sleep tight.
The second year of Prime's Welcome to the Blumhouse had one stand-out in the latest from the clever director Gigi Saul Guerrero, who also helmed the Into the Dark stand-out Culture Shock, over on Hulu. Bingo Hell isn't as good but features great turns from Adriana Barraza and Richard Brake, as a Faustian bingo hall owner who comes to a community on the edge of poverty and nearly destroys it.
Blacula
There's a subgenre of the subgenre that is Blaxploitation from the 1970s that centered Black horror stories and Blacula is one of the most famous ever. William Marshall stars as the title character, reimagined as an 18th century African prince turned creature of the night by Count Dracula himself. Critics were mixed, but it was actually one of the biggest hits of 1972.
Bubba Ho-Tep
It's been twenty years since this instant cult classic came into the world, featuring one of Bruce Campbell's most purely enjoyable performances. The Evil Dead star plays Elvis Presley—yes, that Elvis—who didn't actually die and now lives at a nursing home with an old Black man who claims to be JFK, played wonderfully by Ossie Davis. Things get even weirder when an ancient mummy terrorizes their facility.
Stephen King has arguably never been bigger than he is now, with remakes of his classics hitting theaters and new books released every few months. Watch Brian De Palma's masterpiece to flash back to a time when King wasn't yet a household name. Sissy Spacek gives one of her best performances as the title character, a bullied girl who discovers that she's not your ordinary teenager. Carrie is still one of the best King adaptations of all time.
James Ward Byrkit wrote and directed this 2013 gem that has developed quite a cult following over the years since its Fantastic Fest premiere. The idea is one that Rod Serling would have loved. A group of people get together for a dinner party when the whole neighborhood goes into a blackout except for the house at the other end of the street, in which the same dinner party appears to be taking place. Strap in.
Sometimes you're looking horror a bit off the beaten path. Take the trip to this Ant Timpson film that premiered at Tribeca in April of 2019. Elijah Wood stars as a young man who seeks out his estranged father (the great Stephen McHattie), and the two attempt to bond, but, well, something isn't quite right with daddy. With some clever twists and turns, this could become a cult hit on services like Amazon Prime.
Craig Zobel wrote and directed a stunning 2012 thriller that premiered at the Sundance Film Festival. Based on a true story, it depicts a time that a man posed as a police officer, calling a restaurant manager and forcing her through a series of increasingly embarrassing and dangerous tasks. It stars Ann Dowd, Dreama Walker, Pat Healy, and Bill Camp, and it's a must-see.
Dead Snow 2: Red vs. Dead
Dead Snow 2 is the best horror/comedy that you probably haven't seen. Tommy Wirkola followed up his own cult hit with an inspired sequel about Nazi zombies trying to take over the world. Martin Starr and Jocelyn DeBoer join a cast of largely German actors in this story of Nazis returned from the dead to get their gold. It's gleefully gory and truly fun.
The Deeper You Dig
Billed as an Adams Family Production, this is a real labor of DIY indie filmmaking love for a husband/wife writing/directing team, who also star alongside their daughter. It's the tale of a single mother whose daughter is killed one night in a roadside accident. The driver covers up the accidental death, leading to a tear in the fabric of supernatural happenings. Creepy and effective.
*Eyes of Laura Mars
Irvin Kershner directed the 1978 noir thriller that starred the great Faye Dunaway, hot off her Oscar win for Network. She plays Laura, a photographer who begins to see murders through the eyes of a killer. A twist on the Giallo style of Italian filmmaking but with an American perspective, Eyes of Laura Mars is a great, taut movie.
Donkey Punch
Go Google the title of this film (NSFW) and come back. Yes, this a horror film that uses an obscene sex act as the inciting incident for a disaster aboard a yacht in Mallorca. It's a ludicrous thriller filled with people doing the absolute wrong thing that they should be doing in that moment, but its commitment to doling out punishment to its very bad characters makes for an effectively tense experience.
Get Duked!
Known by the better title of Boyz in the Wood when it premiered at SXSW, Get Duked! became a Prime Video original in 2020 and largely disappeared under the waves of new streaming content. It's worth finding this clever little indie about a group of Scottish boys who stumble onto something insane in the Scottish Highlands.
Yes, it's more thriller than horror, but you get a pretty dark, vicious, horrific view of the world — especially if you watch the entire Millennium trilogy (The Girl Who Played with Fire and The Girl Who Kicked the Hornets' Nest are on Prime too). This film was famously remade by David Fincher, but this is the powerful, foreign original, the film that made Noomi Rapace a star.
Hell House LLC
A cult following has been growing around the smart 2015 found-footage indie by director Stephen Cognetti. (So much so that there have already been two sequels.) It's a cleverly made film about a group of documentarians investigating a tragedy at a haunted house when they realize that the place might actually have a few real supernatural secrets.
Hellraiser
Forget that recent Clive Barker movie on Hulu and dig back into the franchise that helped make the author a household name, at least in households with horror fans. Hellraiser is still an incredibly powerful film, the only one really to get that mix of surreal horror and human frailty that defined the Barker brand. (And they just announced they're remaking it!)
Rose Leslie (Game of Thrones) and Harry Treadaway (Penny Dreadful) star as a couple on their honeymoon in a remote location that becomes a nightmare. The indie horror flick premiered at South by Southwest in 2014 and became one of the most acclaimed genre films of that year. It's smart, sexy, and wonderfully strange.
House
No, not the FOX doctor show but the 1980s horror/comedy with the unforgettable VHS cover. Scratch that nostalgic itch with Steve Miner's film about an author (William Katt of The Greatest American Hero fame) who moves into a haunted house. Critics largely dismissed House, but it was successful enough that it produced three sequels.
House on Haunted Hill
Not the cheesy remake but the 1959 original with its wonderful scenery-chewing performance from the singular Vincent Price. The horror legend plays Frederick Loren, an eccentric millionaire who invites five strangers to his haunted house and tells them that he will pay anyone who can stay the night a whopping $10k. It doesn't go well.
The great Korean director Kim Jee-woon (The Age of Shadows) directed an intense thriller that gets so dark that it qualifies as horror. Lee Byung-hun plays an NIS agent whose fiancée is murdered by a serial killer, played by Choi Min-sik, and so he dedicates his life to tracking him down and bringing him to justice.
There's a reason that this story of pod people has been remade pretty much for every generation. It taps into something timeless about the fear of distrusting our fellow man (and seems pretty ready for a 2021 update). The '70s version by Philip Kaufman is arguably the best, anchored by one of Donald Sutherland's best performances.
The installment of the first Welcome to the Blumhouse in 2020 that garnered the most attention was this thriller from Veena Sud (The Killing) that actually premiered at TIFF way back in 2018. It's an absurd film with an insane twist, but that's what gets attention in a film like The Lie, and it does have a strong cast for this kind of thing, including Mireille Enos, Peter Sarsgaard, and Joey King.
Do you think the people at Amazon have a sense of humor? Or is just a coincidence that they dropped a film about two people going crazy in a confined space together during the beginning of the pandemic? Robert Pattinson and Willem Dafoe are fearless in Robert Eggers' black-and-white nightmare about two people who learn that nothing is scarier than being trapped with someone unbearable.
Fans of the brilliant The Orphanage should check out this Spanish film from the same writer, Sergio G. Sanchez that had a young cast in 2017 that now looks almost legendary: George MacKay, Anya Taylor-Joy, Charlie Heaton, and Mia Goth. It's about the Marrowbone siblings, who move from England to Maine, and into, you guessed it, a haunted house.
Master
Mariama Diallo directed her Sundance 2022 debut that's already on Prime. It stars the wonderful Regina Hall as the first Black dean of a snooty New England university, and some of the microaggressions she faces every day. At the same time, a new Black student hears the tales of a haunted dorm and starts seeing strange things in the middle of the night. It's an ambitious piece about American institutions not only built on foundations of racial hatred but continuing to support them.
My Heart Can't Beat Unless You Tell It To
Jonathan Cuartas wrote and directed a low-key vampire movie from 2021 that earned comparisons to the work of Claire Denis and Jim Jarmusch. Effectively claustrophobic, it's the story of two people (Patrick Fugit & Ingrid Sophie Schram) who hunt for victims to keep a third (Owen Campbell) alive. Creepy and tense, it's the best indie vampire film in years.
No one makes movies quite like Nicolas Winding Refn. The director of Drive delivered one of his most unforgettable flicks in this horror film about the fashion industry, featuring a fearless performance by Elle Fanning. And Keanu Reeves is in it too!
Long before directing The Haunting of Hill House and Doctor Sleep, the great Mike Flanagan adapted his short film into a chilling, heart-pumping horror starring Karen Gillan of MCU fame. She plays a young woman who discovers that an antique mirror holds incredibly deadly secrets. It's not Flanagan's best film but it has some unforgettable visuals.
Odd Thomas
It may not be as strong as the Dean Koontz source material but this 2013 supernatural thriller is worth a look because it contains one of the few leading performances of the tragically deceased Anton Yelchin. The Star Trek actor stars as the title character, a young man who can see dead people. It's a messy movie but watch it to consider what might have been if Yelchin was still around.
Doesn't 2018 feel like forever ago? That's when A Quiet Place premiered at SXSW and started a horror phenomenon. John Krasinski directs and stars in a story of a family who has basically survived the apocalypse but now can't make a sound, in fear of getting murdered by aliens. It's a smart, tense riff on the alien horror genre that has now launched a franchise.
It's interesting to hear people use Jordan Peele's career as evidence that people are taking horror more seriously than ever. With no offense to Peele, horror has had critically adored genre entries before, including the Jonathan Demme Oscar winner above this entry and M. Night Shyamlan's multiple Oscar nominee, one of the most popular films of 1999. The movie that made Shyamalan-esque a thing, The Sixth Sense is still the filmmaker's best, a powerful piece of work about grief and loss that works well beyond the twist ending that would come to define it culturally.
Tim Burton ended a phenomenally creative run in the '80s and '90s with his take on the classic Washington Irving story about a headless horseman. Burton's muse, Johnny Depp, plays Ichabod Crane, a New Yorker sent to the titular town to investigate a series of murders reportedly committed by the supernatural villain. Dripping with style, it's arguably Burton's last great movie.
Luca Guadagnino directed the 2018 remake of the Dario Argento classic, one of the best horror movies ever made. This one may not hold up to the original, but it has an intense, gory power of its own thanks to Guadagnino's visual gifts and fearless performances from Dakota Johnson, Tilda Swinton, Mia Goth, and more.
Train to Busan
A legitimate phenomenon that has grossed almost $100 million worldwide, this 2016 South Korean movie is one of the best zombie flicks of its era. Train to Busan's premise is simple — zombies on a train — but that's one of the reasons it works so well. It has a propulsive, non-stop energy and it feels like its legacy is just getting started.
We Are Still Here
Ted Geoghegan directs a wonderful cast, including icons Barbara Crampton and Larry Fessenden, in his 2015 film about how grief can open a door to the other side. Crampton and Andrew Sensenig play a couple dealing with the loss of their son as they move into an old home in New England in 1979. Clearly influenced by haunting and occult films from the era in which it's set, We Are Still Here is an indie gem and one of the best horror flicks of the '10s.
When a Stranger Calls
When Fred Walton's thriller was released in 1979, it became the definitive interpretation of one of the most retold urban legends of all time. We've all heard the tale of the call that was coming from inside the house, but it's put on film here in a way that would really shape the horror landscape, even influencing the Scream franchise.
Willard
One of the weirdest horror hits of all time, Daniel Mann's film was released in 1971 and became one of that year's biggest films, ending it as the 12th highest grosser of the year! It's insane when one realizes that Willard is about a young man (Bruce Davison) who is so socially inept that his only friends are the rats in his backyard, who end up doing his dirty work for him.
*The Wolf of Snow Hollow
The great Jim Cummings wrote, directed, and starred in a 2020 horror comedy that kind of plays out like if the Coen brothers directed a werewolf movie. (You know you want to see that.) It's a funny, terrifying tale of a small Utah town that might be under the spell of a creature of the night. Cummings deftly integrates some commentary on toxic masculinity and general incompetence into one of the best genre movies of the last few years.
The Woman
Lucky McKee (May) adapted Jack Ketchum's novel of the same name into a disturbing study of sexism, violence, and the façade of family life. Pollyanna McIntosh is devastating as the title character, a feral woman whose kind has lived in the woods for generations. She is found one day by a normal guy named Chris (Sean Bridgers), and taken home as a sort of pet, restrained in the family cellar. It's intense and unforgettable.
Marc Forster directed the 2013 action/horror film based on the phenomenal book of the same name by Max Brooks. Brad Pitt stars in another story of the undead end of the world. He plays Gerry Lane, who travels the country trying to figure out how to stop a zombie pandemic. It's more action than horror, but it has enough terrifying imagery to qualify for a list like this one.