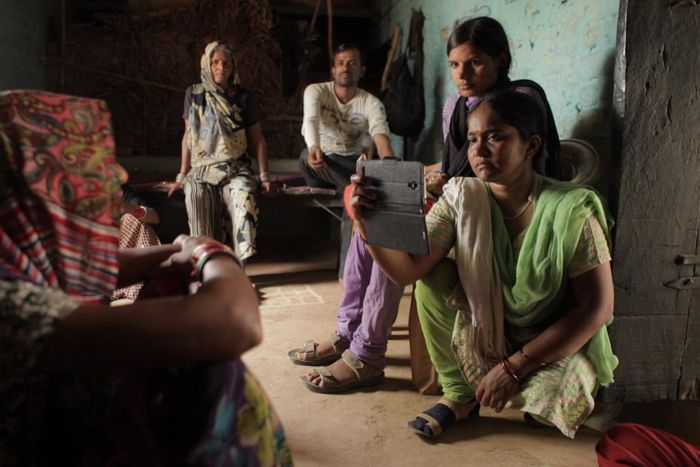 Writing With Fire
.
Photo: Black Ticket Films
The Elephant Whisperers, a documentary about an Indigenous Tamil couple who tend to an orphaned elephant, charted a historic path at the 95th Academy Awards by becoming the first Indian documentary to win an Oscar. Kartiki Gonsalves accepted the award for Best Documentary Short over 50 years after India's first documentary nomination, for the 1969 short The House That Ananda Built.
In some ways, the win feels like a culmination of a noticeable cachet that Indian nonfiction has amassed globally almost overnight. Last year, Rintu Thomas and Sushmit Ghosh's Writing With Fire made history as the first Indian documentary feature to be in the running for the Oscars. This year, Shaunak Sen's All That Breathes, a pointed examination of Delhi's polluted skies and society told through the tale of two Muslim brothers who heal injured kites, replicated that feat, becoming the second successive Oscar-nominated Indian feature-length documentary.
To that end, the triumph of The Elephant Whisperers is foremost a testament to the resilience of Indian filmmakers — especially at a time when every nonfiction film coming out of the country feels like an act of artistic rebellion. Despite India's rich cinematic tradition, there's no formal ecosystem for documentary filmmakers. Many, especially those attempting to make documentaries with a political bent, fight a battle against all odds, bearing the brunt of zero institutional and financial support and harsh censorship under Prime Minister Narendra Modi's ruling right-wing Bharatiya Janata Party. Still, more and more Indian filmmakers are taking to the medium, refusing to be backed into a corner. The result is out there for the world to see. This is a list of eight remarkable Indian documentaries that represent the varied possibilities of Indian nonfiction in their diverging ambitions, approaches, and aesthetics. If the breathtaking visual imagery of All That Breathes or the extraordinary empathy of The Elephant Whisperers has resulted in even a sliver of curiosity about Indian documentaries, consider these titles as an entry point into the heady world of Indian nonfiction, an industry left out of mainstream discourse for far too long.
Something Like a War (1991)
Director: Deepa Dhanraj
Language: Hindi, English
The distinct political bent that permeates recent Indian nonfiction outings owes a considerable amount to the artistic clarity of Deepa Dhanraj, the country's leading feminist filmmaker, who has forged an essential model for activist nonfiction cinema. Something Like a War is the pièce de résistance of the 69-year-old filmmaker's rich oeuvre, stacked with dogged documentation of the varied ways in which women's lives and autonomy have been oppressed in Indian society. Tracing the history of the Indian government's cruel family program from the perspective of the women who became its primary targets, Dhanraj exposes the hypocrisy of a morally corrupt society prone to commodifying and controlling women's bodies. Structured around conversations amid a group of impoverished, lower-caste women who lament about the threat to their wombs, the 63-minute documentary is a daring and exacting screed against the brutality of imperialist reproductive violence. Working with cinematographer Navroze Contractor, the filmmaker's careful compositions pays keen attention to women's pained faces and inner anxieties, infusing frames with electric urgency and fury. Available to stream on the Criterion Channel. 
Supermen of Malegaon (2012)
Director: Faiza Ahmad Khan
Language: Hindi
There's arguably no other Indian documentary that has vivified the spirit of independent filmmaking as exuberantly as Supermen of Malegaon, Faiza Ahmad Khan's ingenious debut feature. Setting it in Malegaon, an industrial town in Maharashtra predominantly inhabited by a Muslim population, Khan affectionately tracks the indefatigable spirit of local cinephile Sheikh Nasir and his entourage of Bollywood fanatics as they make spoofs of the biggest blockbusters. Supermen of Malegaon stands out for its emotional honesty and crackling energy — Khan doesn't look down upon the cinephilia of her protagonists, jubilantly chronicling the hilarity and hurdles of the artistic pursuit of filmmaking. For some, cinema is a hobby; for others, it is an industry. But for these low-budget strivers negotiating life in a town rife with flares of communal tension and economic depression while dreaming of a better future, believing in the magic of cinema becomes a necessity. Available to buy on Prime Video.
An Insignificant Man (2016)
Director: Khushboo Ranka and Vinay Shukla
Language: Hindi, English
Khushboo Ranka and Vinay Shukla's An Insignificant Man marked a watershed moment for Indian nonfiction, pioneering a vital direction for political-minded documentaries. Set in Delhi, An Insignificant Man captures one of the most outrageous political debuts in India: the formation and rise of Arvind Kejriwal's Aam Aadmi Party following the 2011 anti-corruption protests through its first state-election campaign two years later. In their rousing portrait of the churn in Indian democracy, Ranka and Shukla drew from the aesthetics of mainstream filmmaking, constructing An Insignificant Man like a nerve-wracking heist thriller. The unvarnished verité that charted Kejriwal's coming of age, from a fiery activist taking an oath to end political corruption to a tactical politician grasping that it's impossible to achieve that goal if he remains an outsider, made the film essential and riveting. A decade later, Kejriwal is no longer the outsider, and indeed his current conservative politics is at a far remove from the thrilling idealism that he displays in the film — the politician is now enmeshed in the very system he once set out to challenge. Still, the dissonance of the past and the present infuses well-earned nostalgia into An Insignificant Man, immortalizing a moment in time that will certainly be impossible to recreate. Available to stream on YouTube.
Reason (2018)
Director: Anand Patwardhan
Language: English, Hindi, Marathi, Gujarati
In a career spanning five decades, Anand Patwardhan — India's most prolific documentarian — has courted censorship for virtually all of his films, which have meticulously tracked the many ways in which India's secular post-Partition ideals were dismantled into extremist Hindu majoritarianism. Reason is no different. It sees the 73-year-old filmmaker castigate the Modi government for the collapse in the country's democratic ideals since coming to power in 2014. Divided into eight parts that run upwards of four hours, Reason vividly casts an unflinching eye at the murders, deaths, and arrests that have ruptured the social rubric of modern India. Armed with testimonies from witnesses to mob lynchings, archival footage demonstrating the rise of hypernationalism, and interviews with Hindu extremist organisations responsible for assassinating critics of Hindutva, Patwardhan reveals the extent to which BJP's communal poison has normalized atrocities against Muslims and Dalits. Working within his typical realm of a cinematic essay that tends to favor the verbal over the visual, Reason is an impassioned, meticulously researched historical catalogue of BJP's blood-laden attempts to reimagine the country as a Hindu state. Available to stream on YouTube.
A Night of Knowing Nothing (2021)
Director: Payal Kapadia
Language: Bengali, Hindi, English
Formal invention and ambition coalesce in Payal Kapadia's A Night of Knowing Nothing, a lyrical documentary that holds a mirror to the wave of student-led protests that erupted against the right-wing government's distortion of art, education, and expression in contemporary India. The film's amorphous structure feels groundbreaking in its insistence to expand the boundaries of experimental cinema with a fictitious plot of intercaste love layered over a collage of 8-mm and 16-mm grainy monochromatic footage, news broadcasts, mobile-phone recordings, and illustrations. The narrative device proves to be an empathetic choice, capable of immersing viewers in the mindscape of students forced to witness their campuses transform into sites of political violence, rife with fee hikes, caste-based discrimination, religious bigotry, sexism, and brutal police intervention. Indeed, it is impossible to watch A Night of Knowing Nothing and not be enraged and moved by its mournful spirit, an outcome of living under a culture of fear cultivated by a government adamant to control hearts and minds. As it delves deeper into confronting the connection between the personal and the political, situating it within the context of India's protest culture and youthful idealism, A Night of Knowing Nothing transforms into a magnificent piece of creative resistance. Available to stream on the Criterion Channel.
Writing With Fire (2021)
Director: Rintu Thomas and Sushmit Ghosh
Language: Hindi, English
Tracing a pivotal moment in the existence of Khabar Lahariya, a Dalit-led grassroots news organization run entirely by women, Writing With Fire strikingly underlines the price of being a female journalist in an upper-caste, male-dominated landscape of Indian journalism. For much of the Oscar-nominated film's 94-minute-long runtime, it creatively cuts between its three Dalit protagonists, who cover brutal stories of murder, rape, and bureaucratic injustice while battling their own personal demons. Employing handheld images and long takes, Writing With Fire is ablaze with both inspiration and a revolutionary spirit, committed to distilling Khabar Lahariya's dedication to safeguard the sanctity of journalism against the backdrop of nationalist politics and disinformation. Within the confines of a conventional journalistic narrative, Rintu Thomas and Sushmit Ghosh make room for revelations of the varied injustices rampant in the country, right from caste-based discrimination and political corruption to bureaucratic apathy and gender violence. In that sense, Writing With Fire turns into a triumph of both independent journalism and filmmaking. Available to rent or buy on Prime Video.
While We Watched (2022)
Director: Vinay Shukla
Language: English, Hindi
A poetic love letter to Indian journalism and a throbbing elegy for press freedom, Vinay Shukla's While We Watched follows journalist Ravish Kumar's last few years in NDTV, an independent news channel that has consistently come under government attack. In a rapidly changing news landscape where journalists are content with toeing the party line, Kumar cuts a lonely figure as the sole voice determined to challenge the rising wave of government-enabled disinformation and propaganda.
In a way, the film frames Kumar's personal and professional crises, which include low ratings for his show, pay cuts in the organization during COVID-19, and the decline of journalism, as a microcosm of the challenges that newsrooms face worldwide. Eschewing the traditional talking-heads structure of a journalism documentary, Shukla constructs While We Watched as a slow-burning newsroom horror, fixating his camera on Kumar's weary face in a bid to watch the man whom the whole country has seen only as a news presenter. Rather than casual optimism, the images of While We Watched are suffused with a quiet rage, simultaneously indicting the hate-fueled mentality of nationalist politics as well as Indians who fall prey to it. The film is currently awaiting US distribution. 
Against the Tide (2023)
Director: Sarvnik Kaur
Language: Koli, Marathi, Hindi, English
The third successive Indian documentary to premiere at Sundance Film Festival and win an award there, Sarvnik Kaur's compelling Against the Tide conjures a melancholic portrait of the helpless existence of the Kolis, a lower-caste fisherfolk community indigenous to Mumbai. Blurring the lines between naturalism and drama, Kaur spotlights an endangered profession, quietly capturing protagonists Rakesh and Ganesh battle insurmountable odds: mounting debt, dwindling catch, pollution, and climate change. Their despair-ridden reality is at the center of Kaur's razor-sharp examination of the violent force of the sea and the insurmountable toll it exacts from the people whose livelihoods depend on it. On the face of it, Against the Tide — compassionate and incisive — is plotted like a piercing personal drama about two fishermen friends whose divergent means yield interpersonal conflict. Yet look deeper and the film's mesmeric lensing lays bare more pieces through the story of these two friends. Against the Tide is simultaneously a desolate ecological fable with a conservationist bent, an anthropological study of a marginalized Indian caste, and an intimate look at the rock bottom of survival in modern India, where the poverty line is a beast of its own. The film is currently awaiting U.S. distribution.