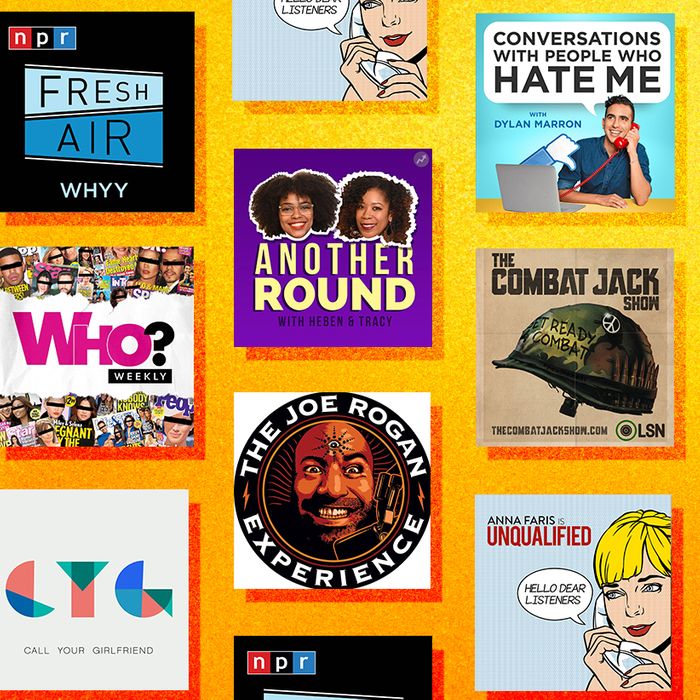 The wide universe of podcasting is much more than simply "radio on the internet" … but, you know, in many ways it is still radio on the internet. So many of the early-era podcasts that found success did so because they inherited (and in many cases, perfected) some of traditional talk radio's core strengths. Perhaps chief among them: the unmistakable electricity of a really good conversation.
Naturally, magnetic personalities are the key to this genre, though they come in many varieties. (And for those of you already wondering: Marc Maron is on a different list.) It's pretty hard to find a common thread that succinctly connects all the people who anchor the shows that appear below. A few are comedians, others are writers and journalists. Some have decades of experiences, others mere years. A handful could make a happy living on commercial talk radio; some, not so much. But all the hosts on this list do share one thing: They've been instrumental in pushing forward one of podcasting's bedrock formats.
Fresh Air With Terry Gross
We'll begin this list with two well-worn accolades for Fresh Air, both inarguably true. Number one: The long-running public-radio program is the gold standard for interview shows, close to a podcast institution and probably entry-level course material for visiting extraterrestrials. Number two: Terry Gross's interviews are probing and revealing, collaborative and investigative, comprehensive and singular. It's not too hyperbolic to say that the entire endeavor of podcasting would likely look different if it weren't for Fresh Air.
The Combat Jack Show
"Combat Jack" was the pseudonym — and then, later, official alter ego — of Reggie Ossé, the former Def Jam lawyer whose work proved to be influential across the hip-hop world in the 1990s. The Combat Jack Show was Ossé's second great marker of influence — the podcast, which he started in 2010, became his primary platform for facilitating discourse on hip-hop history, culture, race, and beyond. It also served as the anchor for the Loud Speakers Network, the podcast network he founded with Chris Morrow, which remains one of the principal organizations explicitly trying to develop more podcasts by people of color. Combat Jack ended in early 2018, shortly after Ossé's death, but its shadow continues to loom over not just hip-hop podcasts, but the community at large.
The Joe Rogan Experience
Likely (and understandably) a controversial entry for some, it is nevertheless a historically notable one. The Joe Rogan Experience is thought to be one of the most successful podcasts currently in operation, and increasingly, one of the more culturally consequential. A conversation show that's fully committed to the long-form structure, Rogan Experience is perhaps best described as an unregulated outlet for a certain kind of libertarian (technoliberalism?), free-for-all ideology — often contentious and at odds with more mainstream corners of the media. It's the kind of scene where both Bernie Sanders and Alex Jones are equally welcomed as guests, and treated with equal gravity.
The Bill Simmons Podcast
Regardless of your opinion on the famed sports columnist — and there are many opinions out there, it seems — The Bill Simmons Podcast is a crucial fixture in the podcast ecosystem. As an extension of its predecessor, The BS Report, Simmons's current show is one of the most complete attempts to adapt all the effective parts of talk radio into the more controlled context of podcasting. More broadly, though, The BS Podcast also serves as the flagship show of the Ringer's ever-expanding audio operations, one of the more interesting and innovative podcast creators in the business.
Call Your Girlfriend
Aminatou Sow, Ann Friedman, and Gina Delvac's podcast for long-distance besties everywhere is a model operation: an independent show that's grown deeper over time and expanded its ambition, all while staying true to its intention. Five years on, the podcast — which feels, at times, like the most realized version of an audio zine — continues to weave out valuable, enriching studies in politics, feminism, race, gender, power, and everything in between.
Death, Sex, and Money
Anna Sales's excellent interview-driven show is a conscious exploration of all the things in our lives that we usually feel uncomfortable discussing. That includes the three titular topics, and all that comes with them: debt, infidelity, addiction, parenthood, loss. DSM represents the most effective use of the medium's potential for intimacy, with each episode feeling like a private room occupied only by Sale, her guest, and the listener.
Anna Faris Is Unqualified
If you take a quick gander around various podcast charts, you're bound to see a certain kind of celebrity podcast. Usually, it's the one that features a celebrity who's prominent, but still somewhat accessible. The show itself is broadly built around the interview or conversation format, but often it's pitched as an advice dispenser. Often, it's little more than your run-of-the-mill brand-building purpose for said celebrity. But when this type of show is firing on all cylinders, it occasionally becomes the kind of podcast that can take listeners into some truly rarified interpersonal places. Vulnerable, fun, and built on a solid stream of celebrity guests, Anna Faris Is Unqualified is the archetype of this subgenre, proving that celebrity-oriented podcasts aren't all gimmicks.
Who? Weekly
According to Who? Weekly, the universe of celebrities as we know it is divided into two kinds of people: "Thems" and "Whos." Thems are self-evident: think Leonardo DiCaprio and Gwyneth Paltrow. Whos are the trickier species — sufficiently famous enough to have some celebrity capital, but unknown enough that the mere uttering of their names in conversation would likely generate a "Who?" A much-needed public service, Bobby Finger and Lindsey Weber's podcast is your definitive guide to the world of Whos, and, just as often, a sly critique of the media that covers them.
Another Round
Despite its relatively brief life, Another Round had one of the best runs in podcasting history. Hosted by Heben Nigatu and Tracy Clayton, the beloved BuzzFeed podcast used its energetic, segment-driven conversational format — Pew! Pew! Pew! — to build out a rich space for sharp, compelling, and revelatory feats of cultural criticism. These days, you can find Nigatu on the writing team on Showtime's Desus & Mero, while Clayton hosts a Netflix podcast called Strong Black Legends. But their work on Another Round, rooted in an understanding of vicariously experienced joy, lives forever.
Conversations With People Who Hate Me
Dylan Marron's podcast is built on a high-wire premise: What if you reached out to someone who called you something horrible (online, but not always) and you tried to have an actual, honest conversation about it? The very idea has a certain cringe-y quality to it, particularly given the current state of the world, but Marron's social-experiment-meets-performance-art piece poses a rebuttal, asking listeners to follow through to see what happens if you really committed to the process. A genuine human connection isn't always struck, but the attempt matters, and Conversations With People Who Hate Me is an unorthodox reminder of that.