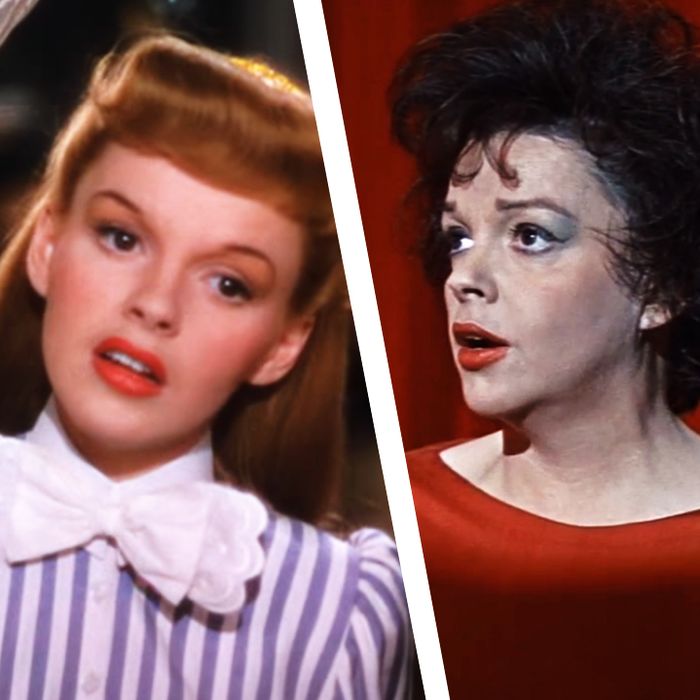 Photo: Vulture and YouTube
Rupert Goold's triumphant biopic Judy imagines the last few months of Judy Garland's life as an inner battle — a star burned-out and wrestling with a pill addiction and family-custody battle between performances in London that demand every breath of her full-bodied voice. In Judy, what we see is culmination of everything that happened to Garland behind the scenes of her illustrious career, including the horror inflicted on her by greedy studios and the self-destructive behavior that followed.
While Renée Zellweger presents the Hollywood icon's struggle with great care, it's the way that she reckons with Garland's star power that makes the performance award-worthy. Zellweger captures Garland's miraculous natural talent — she was a one-woman orchestra whether she was playing a sold-out concert hall or the girl next door.
Oz was only the beginning for Garland, whose career included Technicolor musicals, contemplative black-and-white dramas, meta musical numbers, and recurring collaborations with the likes of Mickey Rooney, Gene Kelly, and director Vincente Minnelli. On the occasion of Judy's release, here are 15 definitive roles from across Garland's filmography.
Pigskin Parade (1936)
It all started with a football movie: Garland made her feature debut as a scene-stealer with colossal talent in Pigskin Parade, a football-based lark about a hillbilly star quarterback; Garland plays his little sister, who joins him on his ride to college prominence. In the last of her three music sequences, she provides pregame entertainment with the rousing ballad "It's Love I'm After," and the way she holds that first open vowel in the title lyric proclaims a voice that's mature beyond her years. Even at 14, Garland was already captivating audiences with her full-throated singing and outstretched arms.
The Wizard of Oz (1939)
The Wizard of Oz has long held the imagination of moviegoers since its release, with Garland acting in her first feature lead role as Dorothy, a surrogate into the wonders of author Frank L. Baum's world. But lingering longer than the film's dreaminess is its sense of humanity, which comes directly from Garland's profound innocence and curiosity. It's a stunning display of empathy within Garland's girl-next-door persona — she hangs on every worried word from her new friends, and urgently wants to help. Garland embodies one of the film's most famous quotes: "A heart is not judged by how much love, but by how much you are loved by others." The performance is all the more impactful, and tragic, given the abusive environment behind the scenes (detailed powerfully in flashbacks in Judy), with The Wizard of Oz inspired by a degree of tenderness that was not afforded Garland in real life.
Presenting Lily Mars (1943)
Anyone who wants to see an especially high-energy Garland show off her silly side should seek out Presenting Lily Mars, which has her playing an underdog actor fumbling to get the attention of curmudgeonly play producer John Thornway (Van Heflin). In this bouncy performance, a blonde Garland shows off her comic fearlessness and is particularly funny when overacting a monologue from Macbeth, or dashing around a party in high heels, chased by an angry Thornway. On two occasions, her character finds herself randomly in front of an orchestra, and in one highlight performs "When I Look at You" with an array of gauche accents, but a bigness that's all Garland.
Girl Crazy (1943)
For all of her onscreen moments, only once did Garland introduce herself by emerging from under a car chassis, in Girl Crazy, voluminous curls and all. This out West college comedy would mark the final time she'd be paired onscreen with Mickey Rooney (after three Andy Hardy movies, Babes in Arms, and more), but Garland is once again the main event, especially as she puts her own touch on George and Ira Gershwin classics like "Embraceable You" and "I Got Rhythm." Rooney plays Danny, an insatiable playboy who settles his gaze on Garland's incredibly charismatic Ginger Gray — not only is she the local postmistress who can fix her own car, she's also one of the few women around. Along with her entrance, Girl Crazy has other delightful moments of Garland kookiness, like the dry comedy-musical number "Bidin' My Time." Seemingly liberated by her self-amusement, a guitar-carrying Garland sings and saunters with a few other drowsy cowboys, sneaking in different funny faces that culminate in a big smile, and then a wink.
Meet Me in St. Louis (1944)
Garland is but another bright color in the Technicolor palette of Vincente Minnelli's period classic Meet Me in St. Louis, but she's at the center of the film's best moments, performing the now-classic tunes "The Trolley Song" and "Have Yourself a Merry Little Christmas." She even gets away with one of the film's cheesiest lines — "Oh no, John. I don't hate you. I just hate basketball!" — legitimizing it within her character's undeniably wholesome emotional palette. Her best moment is the opening ballad "The Boy Next Door," a fitting number for Garland playing yet another girl next door, but injected with a grandiose sense of longing.
Ziegfeld Follies (1945)
Before taking on the reflective characters in later films A Star Is Born and I Could Go on Singing, Garland addressed her star power with an appearance in Ziegfeld Follies, playing a woman billed as The Star. In her flawless ten-minute sequence (titled "A Great Lady Has an Interview"), Garland toys with an uppity accent and a sarcastic self-importance, embodying the type of movie star that was alien from her own persona. Garland talk-sings through musings about her career, including her screen potential: "I'd like to be pin-up girl, a cheesecake girl too / and what is Ginger Rodgers that I am not?" In a mint-green gown, she's a true Hollywood queen who seemingly hypnotizes the male reporters that circle her, and glides around them while using an Oscar as a prop. The self-referential winking gives the sequence an irresistible playfulness, as if Garland was finally getting ahead of the machine that long controlled her image.
The Clock (1945)
For her first nonmusical role, Garland displayed the grounded side of being an empathetic girl next door in this two-hander directed by Vincente Minnelli. She stars opposite Robert Walker in this New York romance, where his anxious soldier on leave, Joe, bumps into Garland's Alice at a train station and convinces her to show him around the city. Soon after, he asks her to marry him before he goes back to war. Garland's function is often to merely soothe Walker's inner turmoil, but she comes out as the more nuanced performer, especially with a painful, wordless moment of silence for their ill-fated attempt at marital bliss. The bittersweet undertone in The Clock is thanks to Garland, who reveals the vulnerability of a character that could easily be one-dimensional.
The Harvey Girls (1946)
Garland played an Ohioan who joins a team of waitresses in Arizona in the Technicolor Western-comedy The Harvey Girls, which won an Oscar for the now classic tune "Atchison, Topeka and the Santa Fe." The film places Garland at the center of some comic gems, including a sequence where she tries to rob a saloon, even though she keeps fumbling with two guns and is still wearing her waitress apron. The Harvey Girls also has the not-too-common spectacle of Garland sharing big scenes with other leading women, as with the gorgeous trio "It's a Great Big World" with Virginia O'Brien and Cyd Charisse, or a main plotline that has her going up against the leader of the enemy "dance-hall girls," played by Angela Lansbury. Even in the musical's token romance, in which Garland is paired up with the particularly drab John Hodiak, Garland mines the contrived connection with flashes of sadness and regret, before taking us back into the sunny delights of this underrated romp.
The Pirate (1946)
In what's far and away the silliest of the three musicals they made together, Judy Garland and Gene Kelly pulled some gaudy magic out of The Pirate, a Caribbean adventure with Cole Porter songs, directed by Minnelli. The movie is largely steered by Kelly's vivacity and silliness, playing an obnoxious actor named Serafin who hypnotizes Garland's Manuela, and pretends to be the fugitive pirate that she adores. Garland eventually gets the upper hand when she finds out the actor's true identity, and the two practically try to out-ham each other in a scene where an angry Garland tries to smash every vase in the room over Kelly's head. Their best moment comes at the very end with the slap-happy song "Be a Clown," with Garland kicking up her heels in clown makeup. The film is essentially a disaster, but Garland's work has a hammy enthusiasm that's tough to beat.
Easter Parade (1948)
Easter Parade is one of Garland's more grandiose MGM musicals, featuring her only onscreen collaboration with Fred Astaire. The two have infectious fun with its ridiculous premise — Astaire's Broadway fixture Don Hewes thinks he can make anyone into a star, and is lucky to stumble upon Garland's Hannah Brown. As they build their act, they shine with catchy gems like "Snookey Ookums," and charm in raggedy clothes and dirty, smiley faces in "A Couple of Swells." Hannah upgrades their relationship from dance partners to lovers when she sings "It Only Happens When I Dance With You" to Astaire. It's a top-notch ballad, delivered poignantly in Garland's sensitive performance, as she resists eye contact with Astaire's loving gaze until the final measure.
Summer Stock (1950)
The most iconic aspect of Summer Stock arrives at the end — a rendition of "Come On, Get Happy" performed by Garland in a tuxedo, a slanted fedora, and salacious black nylons. But before that, Garland doles out her charisma as a farmer with a penchant for song-and-dance, like in the musical number "Howdy, Neighbor (Happy Harvest)," which has Garland singing her heart out while driving a tractor. When Gene Kelly's theater director comes to her barn with his troupe, Summer Stock unlocks the chance for a spontaneous tap-dance duet between Kelly and Garland, "The Portland Fancy." The two keep the movie light on its feet, especially with its sunny culture clash of theater kids being thrown into farm life. Garland is a constant delight, especially with the wistful ballad "Friendly Star," which is snuck in between Kelly's more bombastic numbers.
A Star Is Born (1954)
After a four-year hiatus, Garland returned to the silver screen at full force in George Cukor's remake of A Star Is Born. Her role as Esther Blodgett, a star with "that little something extra" reaching Hollywood prominence after getting support from actor Norman Maine (James Mason), is a pure celebration of Garland's gifts; massive, intricate show numbers like "Born in a Trunk" and "Swanee" pulse with her innate energy. The story's emphasis on contrasting authentic talent with the phoniness of Hollywood allowed Garland to shrug off the unabashed schmaltz of her earlier work. The film has everything viewers loved most about Garland, while providing her more of a chance to bare the complicated soul behind behind the master entertainer.
Judgment at Nuremberg (1961)
She was only onscreen for approximately 18 minutes, and yet Garland is one of the most memorable characters of the powerhouse cast in Stanley Kramer's three-hour Judgment at Nuremberg. Garland plays a German woman named Irene Hoffman, who is brought to the post–World War II military tribunal to testify in a miscegenation case involving an elderly Jewish man during Nazi-era Germany. She begins her testimony stoically, but she's progressively broken down during her two trips to the stand. In her last scene, Garland radiates sadness and fear — her answers carefully doled out while being cross-examined by a comparatively over-the-top defense attorney played by Maximilian Schell. Schell won an Oscar for the role, and Garland was nominated, with even her brief screen time proving her potency as a dramatic actress. Hollywood missed an opportunity in not casting her in similar roles.
A Child Is Waiting (1963)
Garland gave one her most somber performances in John Cassavetes's A Child Is Waiting as a concert pianist who starts working at a school for mentally challenged children. After failing to help one boy named Reuben (whose mother is played by Gena Rowlands, in a standout scene), she's persuaded by the headmaster (Burt Lancaster) to use her skills to lead a musical. Toward the end of the film, she guides the children in a singalong, playing the melody note by note, her fingers forcefully pressing each piano key, accompanied by an urgency in her voice. A Child Is Waiting is by no means a musical, but it includes one of the greatest examples of Garland's alternating delicacy and forcefulness performing any scene or song.
I Could Go on Singing (1963)
Garland's last film role was a meta sendoff, the character of Jenny Bowman being not so different from her: a popular singer and actor playing sold-out shows in London, but whose emotional emptiness renders her vulnerable offstage. In the movie (the time period in which Judy is set), Bowman tries to gain some autonomy and reconnect with her estranged son in London. Despite her drug and alcohol use, when she is onstage, she dominates with bombastic, perfect musical numbers. This is a performance built from the raw parts of Garland's charisma while offering a less-bleak look at Garland's true strife. In musical numbers like "Hello Bluebird" and especially the grand finale, "By Myself," her voice defies her character's pain in a way that's equally gorgeous and heartbreaking. She appears onstage — on the last occasion, dangerously late — gives the crowd every note she's got inside of her, and then returns to a life far less rosy than her songs would suggest.