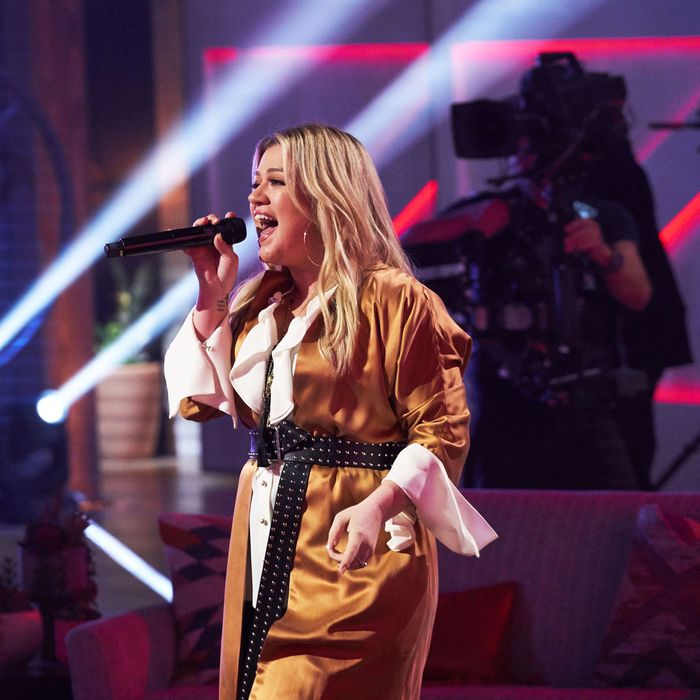 We still don't deserve her.
Photo: Adam Christopher/NBCUniversal
It's easy to forget that radio and charts didn't make Kelly Clarkson a star — television did. Season one of American Idol introduced the world to a woman who could put on a show and truly sing the phone book. After she won, she didn't stop giving fans of the show what they wanted, performing a cover every night on her tours. Judging The Voice put her back on TV on the other side of it all, coaching other singers through covers; she's since won three of her four seasons.
Somehow, she hadn't done it all yet. In fall 2019, Clarkson at long last launched her own daytime talk show, kicking it off with a cover of Dolly Parton's "9 to 5." Her daily Kellyoke covers have quickly become must-see videos on social media, much like her weekly Idol performances were nearly two decades ago. With Kellyoke moving to Clarkson's Montana home due to social distancing and on the heels of her new, all-original single "I Dare You," it's the perfect time to go back through the 120-plus (yep, that many) Kellyoke covers she's recorded so far and praise the best of the best.
13. "Dancing on My Own" (Robyn)
Clarkson excels the most when she surprises us, and this cover is a case in point. You might not expect her to cover Robyn, a European dance auteur who doesn't get much radio play or sing conventionally big vocal parts, but Clarkson does and makes it her own. From the live-band backing to reaching higher in the chorus, it's a relatively simple adaptation of a sparkling track that shines thanks to the sheer force of Clarkson's voice.
12. "9 to 5" (Dolly Parton)
Kelly came out swinging. Even if we didn't know what joys awaited us in future Kellyokes, Clarkson showed us in her premiere performance that she isn't just a singer — she's an entertainer. "9 to 5" is a production, with Clarkson traversing Hollywood sets for the first verse until we're at her talk show's studio … and Steve Carrell is there? Only to scream Kelly's name before she walks out and we experience the true wonder of Kellyoke: that she sounds even better live and can sing almost anything.
11. "If I Can't Have You" (Shawn Mendes)
Hot boys of pop, beware — Kelly Clarkson can, and will, sing your songs better than you. Her cover of "What Makes You Beautiful" is great, and her cover of "Jealous" is amazing, but her cover of "If I Can't Have You" is the real treat. Clarkson turns a run-of-the-mill Mendes song (as it pains this fan to say) into a dual showcase for her delicate higher register and her powerful belt. Toward the end, she decides that the chorus is too simple and she wants to sing something bigger. That's called going for it.
10. "Black Velvet" (Alannah Myles)
"I'm almost allergic to that song, because I've heard it so many times in auditions where people have absolutely murdered it," Simon Cowell once said of "Black Velvet" on American Idol. I hope this cover has changed his mind. It builds, dark and sensual, blossoming with an assertive Southern wail that we don't hear often enough from Clarkson. Also like a perfect Idol performance, her stare cuts through the camera, right to us.
9. "Let Me Blow Ya Mind" (Eve featuring Gwen Stefani)
Real fans know that Kelly Clarkson can more than passably spit a few bars, and now so do her viewers. And sure, she raps just fine on "Let Me Blow Ya Mind," but she really puts in work on Gwen Stefani's chorus. I don't just mean making it more melodic — did you hear that key change? Bonus points for performing this the day after Dua Lipa's "Blow Your Mind."
8. "I Wanna Dance With Somebody" (Whitney Houston)
A Whitney cover for Kellyoke was always a when, never an if. Not only was "I Wanna Dance With Somebody" Clarkson's first Whitney cover on the show (she's now done three), it was the right one for her — not a ballad but a dance song that still has room for some big notes. You can just tell Kelly's having a good time: She's ad-libbing some come-ons, she's up in the audience, she's doing her signature lean-back-and-slow-shimmy move. And when Kelly's having a good time, we're having a good time.
7. "The Story" (Brandi Carlile)
A cover of "The Story" should be approached with caution, like "I Will Always Love You" or "My Heart Will Go On." It has high peaks and low valleys, and Clarkson knows the lay of the land. The belt in the second verse might be the big attraction, but I'm just as impressed by the softer singing that comes before and after. It's an unbelievably dynamic performance for just a minute and a half, and whenever I hear it, I want to melt into those final notes.
6. "Ain't Goin' Down 'Til the Sun Comes Up" (Garth Brooks)
Let us not forget that Kelly Clarkson is from Fort Worth, Texas, and could've been the best damn country singer to come out of American Idol. I mean, look at how excited she is to sing with Garth Brooks, reigning king of live country music. And while I'm making big claims: She out-sings him, no question. "It's a big song," Clarkson says, before Brooks tells her to take the last chorus. Somehow, after burning through two of those rapid-fire verses, she still has enough energy for a signature big finish.
5. "Won't You Be My Neighbor" (Fred Rogers)
It's stunning to hear Clarkson do such a simple, muted performance, adapting a song that's not really sung in the first place. Her voice doesn't lose any of its power — her confident delivery still comes through past the classic pop arrangement and Mason's wonderful dancing. If you didn't know Mister Rogers' Neighborhood, it'd just sound like a perfect performance of a standard; if you did, I'm sure it's already made you cry.
4. "Seven Nation Army" (The White Stripes)
Kelly Clarkson does something in her "Seven Nation Army" cover that gives me chills every time. When she gets to the third verse (second in this performance), the band cuts out unexpectedly as she sings, "And I'm bleeding, and I'm bleeding, and I'm bleeding, RIGHT BEFORE THE LORD!" It's entrancing and sexy — words I'd never use to describe the original version — and then the song explodes. As if this performance weren't already big enough, a dozen or so members of the University of Southern California Marching Band hold things down behind her.
3. "Home" (Marc Broussard)
Sometimes you kill a cover so much that you now own the song, like Aretha Franklin and "Respect" or Janis Joplin and "Me and Bobby McGee." Clarkson has performed the hell out of Marc Broussard's Southern-rock song "Home" for over a decade, so I'm drafting a new certificate of ownership. It's almost cheating for her to perform the song for Kellyoke, except that it gives way to the highest-quality recording of the song, in which she belts almost an entire verse and chorus. Plus, how good does her voice sound against a pedal steel guitar? More of that, please.
2. "I Put a Spell on You" (Screamin' Jay Hawkins)
Kelly can belt and wail, and, oh yeah, she can growl like nobody's business too. Despite her Hocus Pocus–inspired outfit, she opted for an honest cover of Jay Hawkins's rough performance of the song. Clarkson's growls are the focal point, but at the end of the day, this performance is about restraint: knowing when to hold back so the big notes hit harder. She does it all while navigating the audience, dancers, and set pieces in full costume for her biggest Kellyoke live production yet. It's a performance that deserves an EGOT — Grammy for the singing, Oscar for the acting, Tony for the set design, and Emmy for making it happen in one take on TV — all by itself.
1. "Mine" (Bazzi)
For Clarkson, "Mine" — formulaic and uninspired in its original form, popular only thanks to a Snapchat filter — is a blank canvas on which all her best qualities can shine. The performance is a party, with dancing audience members surrounding her. But in less than 20 seconds, what seemed like a rote performance of a one-and-gone hit turned into one of Clarkson's most passionate performances yet. She sings with an urgency that's missing from even some of her best covers, like she wrote the song and knows what it's about. I'm sold when her voice cracks in the second chorus, and then she does it again at the end. And notice her face when she steps away from the mic afterward. That's pure joy.